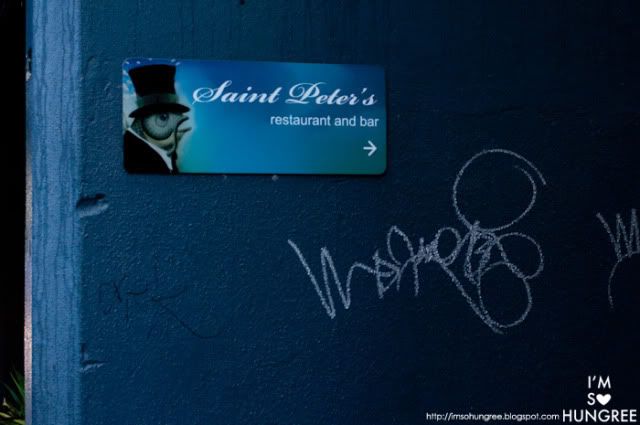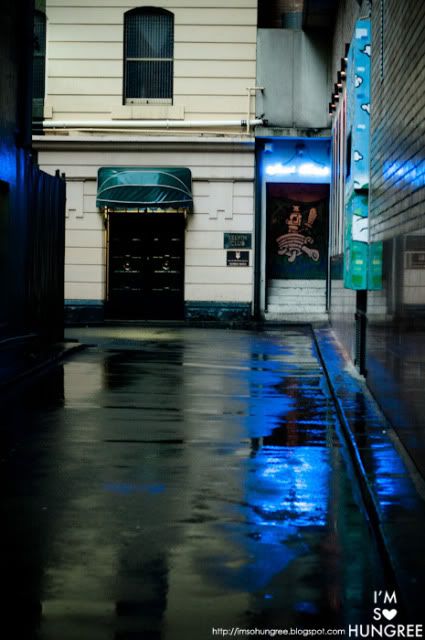 There's something romantic about approaching the glowing neon lights of Saint Peter's. The light reflecting a blue sheen off from the freshly rained on concrete, with the breeze lightly teasing to whisk my umbrella out of my hands (which could very well happen while juggling a handbag, a camera and wearing heels at the same time).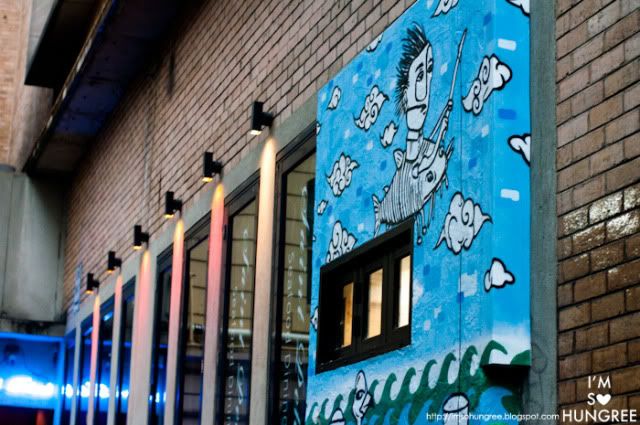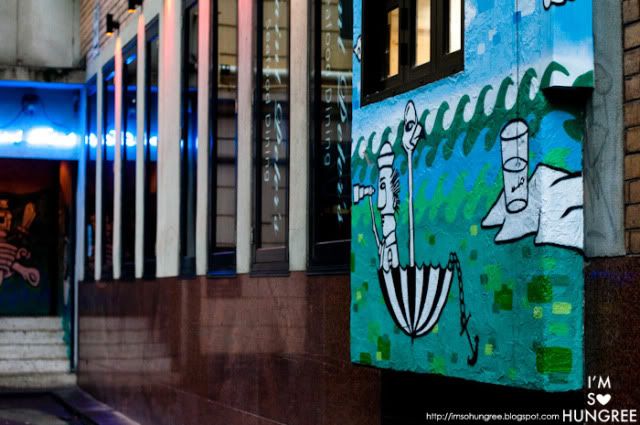 So lest I be rained upon more, I quickly took my photos (or not so quickly. I was having fun) and followed the graffitied sailors into the haven where all good fish go....Saint Peter's Kitchen.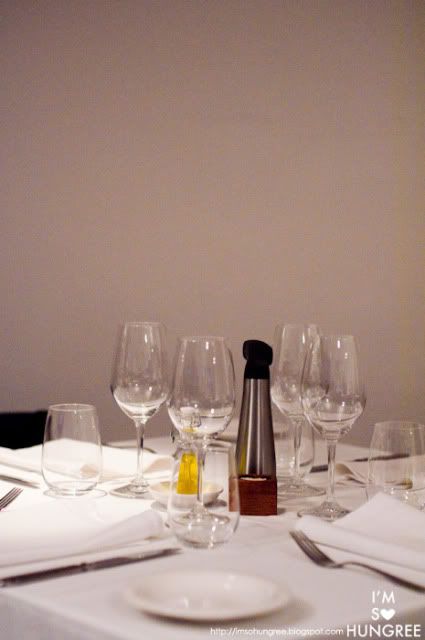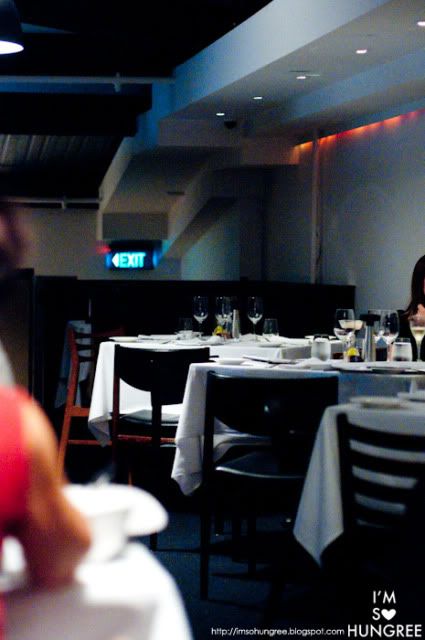 I had visited Esposito in Carlton some years ago, but remember having an excellent time (although I was with excellent company) and some delicious food. So was looking forward to what the newer restaurant was going to be capable of.
I was on a dinner date with the lovely Miss Caryn, squeezing an outing with her before she jetted off to strut around in France and Italy (ah the life of the fabulous). I had jumped at suggesting Saint Peter's when I discovered they still had their "Split the Bill" promotion going, and when I told Caryn about it, she jumped at it too!
In contrast to the moody and broody exterior, inside the warm restaurant (upstairs was a little bit too warm for me considering how humid it was that day), it was streamline, minimalist and quite prim and proper. Oh and there were a couple of waiter's wandering around with French accents. Mmmmm. (Don't tell Brad.)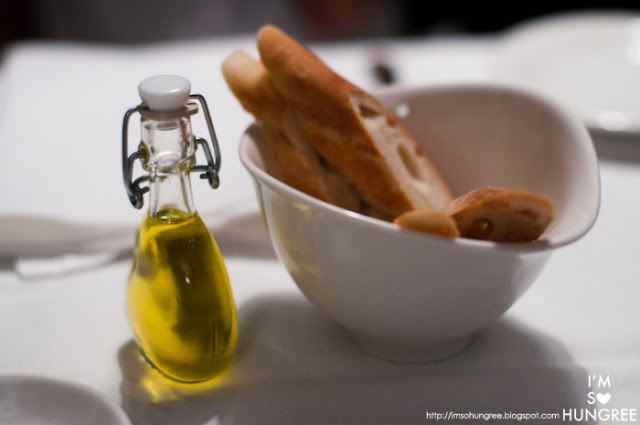 While Caryn indulged in a bit of wine and bread, I opted out from alcohol, since I was still getting over the amount of wine I had drunk the night before at the Duckfest.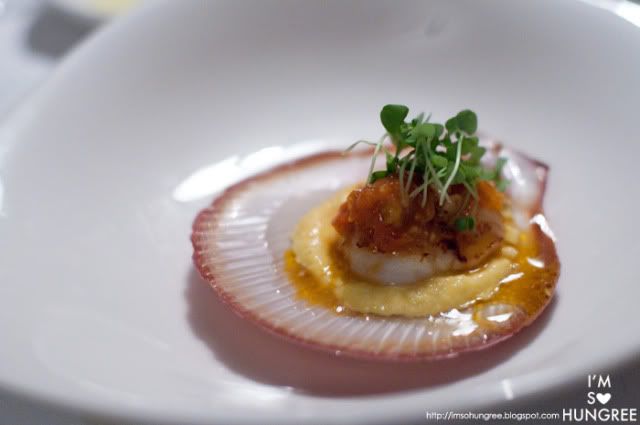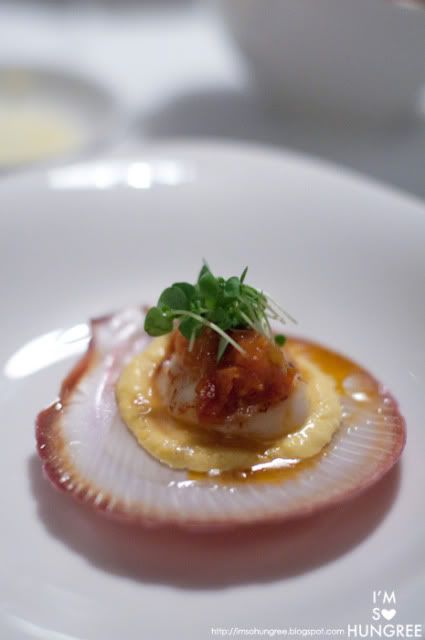 These little Shark Bay Scallops entrees are a treat that aren't a regular on the menu. The benefits of signing up for restaurant newsletters (I do suggest you follow St Peter's, they have little specials usually once or twice a month)! The scallops were presented on a lovely little bed of what tasted like corn, so I'm assuming a corn puree? Topped with a tomato chutney of some sort. I loved the warm punchy colours and of course, the sweet tenderness of the scallop. Very sweet and just the perfect few mouthfuls to start the meal.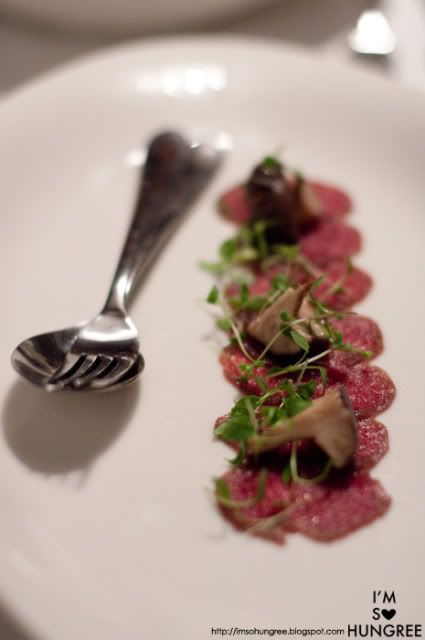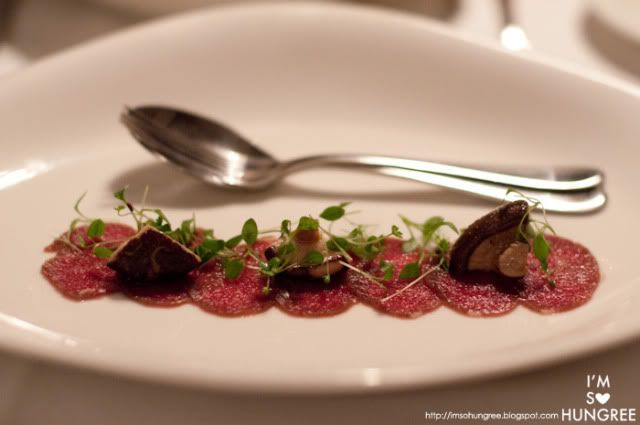 Caryn and I decided to nibble on something (or two) from every part of the menu. So we started with a few 'Tastes', the first being this beautiful carpaccio of venison, with a couple of mushrooms and micro herbs delicately scattered over the top. The venison was just beautiful, sliced impossibly thin and oh-it's-so-tender-it's-melting-in-my-mouth. And surprisingly not too gamey (not that I would have minded).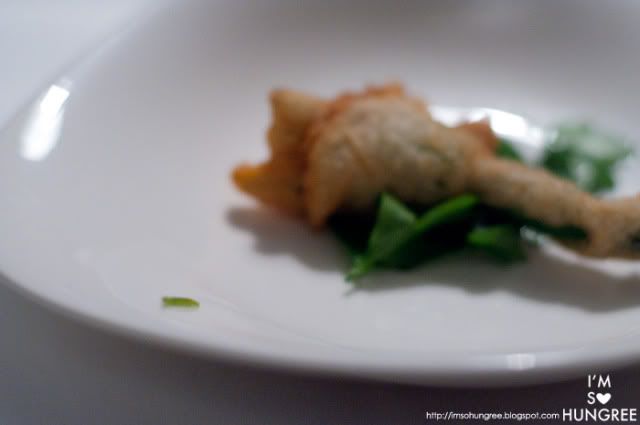 Next we had a...wait, what is that?! Straight after having my plate placed in front of me, a very energetic and wriggly little green caterpillar made it's way out of my bowl! This little fella had a lot of life in him which sent Caryn and I into a massive giggling fit until I managed to take a breath and wave down a waiter. My plate was immediately whisked away and replaced after a short wait with a fresh dish.
Some may get a bit snot-faced if this happened to them, but I look at it this way. The salad greens are exceptionally fresh! (As I assume he can't have come out of the zucchini...which is deep fried.)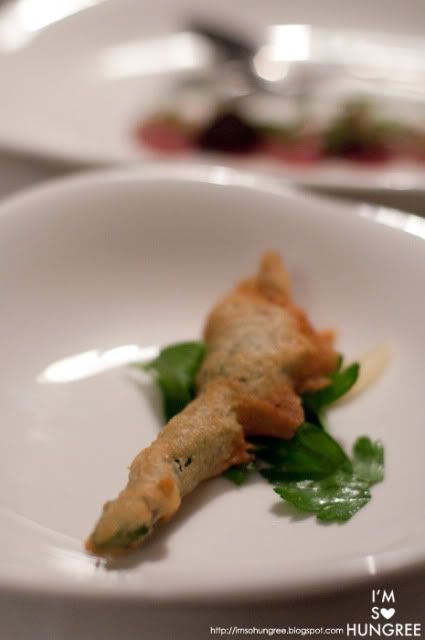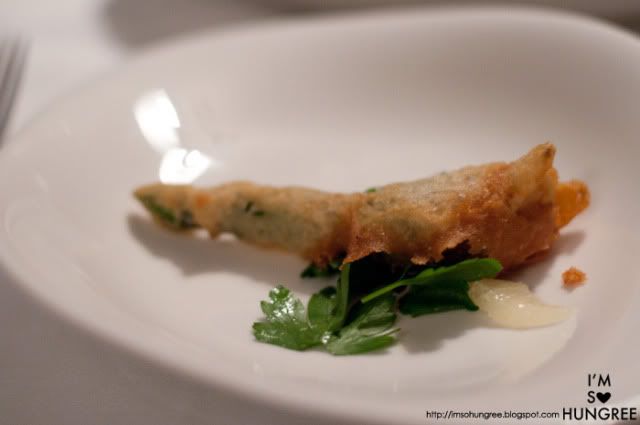 With that little episode out of the way, we settled into our second taste of the night. Zucchini flower with smoked eel mousse, beer battered and deep fried (what isn't good deep fried?!). The batter was fresh and fairly crisp, and I was all over that eel mousse! Although it definitely is quite smokey, if that's not your cup of tea.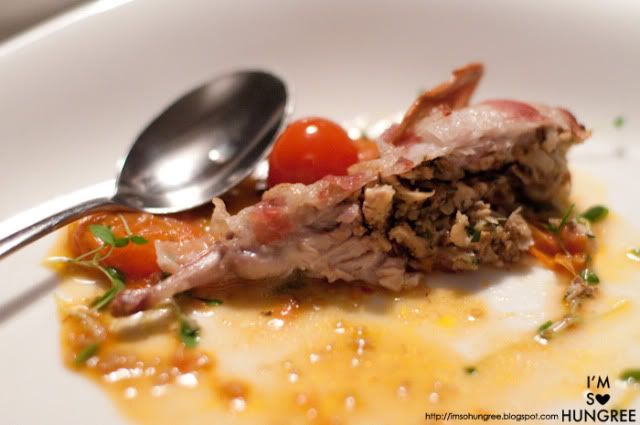 With tastes out of the way, it was onto entrees! After seeing this on a few blogs, I was intensely curious to try it for myself. A whole quail, wrapped in pancetta and stuffed with fontina cheese and mushrooms, with some vine dried tomatoes on the side. Although the presentation was absolutely, in my opinion, quite adorable, it frankly was probably the least memorable dish of the night. I didn't find the quail particularly tender nor the filling overly tasty. Also by using the whole quail, I found it quite bony and hard to eat around. The pancetta to me was a bit overpowering over the quail as well. It was okay, but not great.
Hope you enjoyed the food porn anyway. :)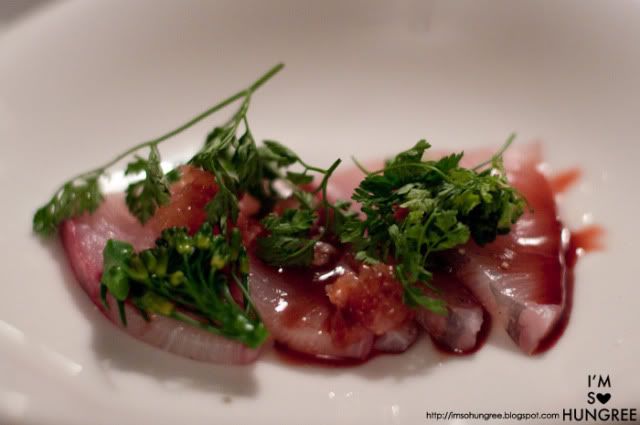 The kitchen quite kindly split this dish into two plates for Caryn and I, so we could get a neat little serving each. So this picture is only half of the serving! Carpaccio of yellowtail Kingfish with florets of broccolini, chervil and pomegranate dressing. This was nice and refreshing.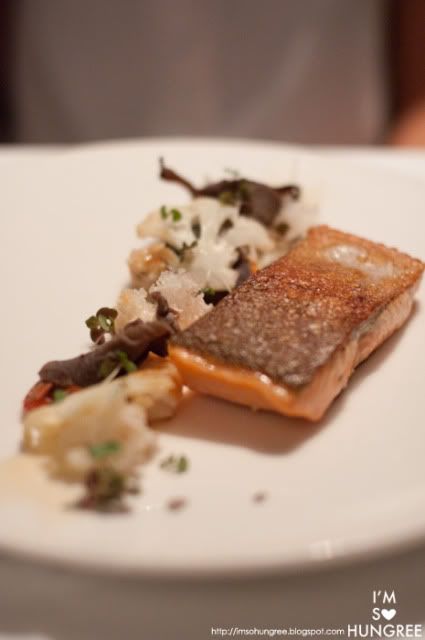 Ah and (finally) onto mains we went!
Caryn went with the ocean trout, with prawns, cauliflower, coral mushrooms and horseradish. I just loved the presentation of the cauliflower and other accompaniments, it's like a pretty little floral arrangement, so delicate!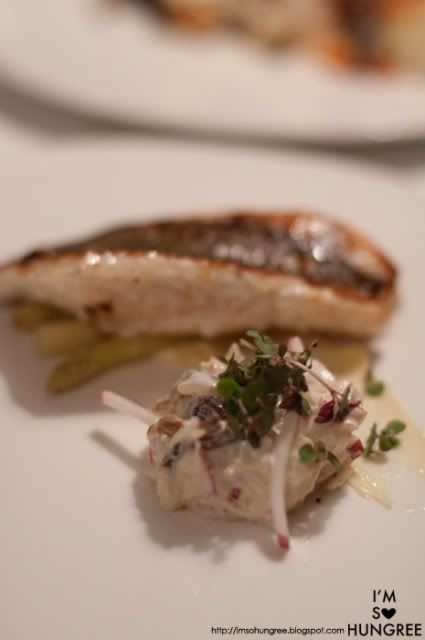 I opted for the John Dory, with a white asparagus and a little salad (I think?) of mud crab, radish and a warm Cinzano Bianco mayonnaise. The john dory was good, inoffensive and well cooked. And I do like white asparagus. But for me, the thing I really liked most about the dish, was the mud crab in mayonnaise. The mayo was kind of sweet, like the Japanese mayonnaise, which everyone knows goes with just about everything. It was incredibly addictive, sweet and tender. Does this make it a not so stellar main? If I'm more enamoured with the mini salad rather than the main portion?
So while we both enjoyed our dishes, I would say I'm a little more impressed with the tastes and entrees. Again, more that 'good' not 'great' category.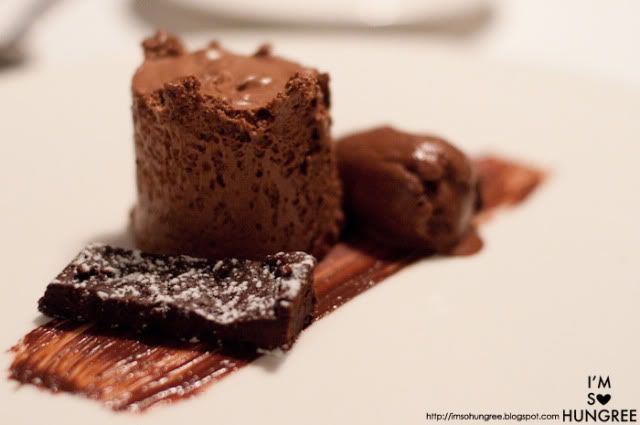 And of course to finish, dessert. Yup, we still had space for more. (Or we delude ourselves into thinking so)
Again, sometimes being the last blogger to the party has it's advantages, I had seen this on a few blogs and was adamant (not that Caryn put up much of a fight) to have it. It simply says 'Chocolate Semifreddo" on the menu. They kinda neglect to tell you that chocolate semifreddo is showing up with his entourage, chocolate ice-cream and chocolate fudge(?). Um yum.
...
What, you need to know more? It was rich, and just heavenly, couldn't have enough of it! I loved how the dish had the different textures and consistencies, the super thick and dense fudge, next to the kinda spongy (in consistency) but light semifreddo and then the soft melty ice-cream. Although the ice-cream was a little annoying as it kept melting everywhere and it's kinda hard to scoop up on a plate!
Could and would (and will?) come back just for dessert. Yum.
Our bill at the end of the night, after the 50% discount, ended up being a perfect $100. $50 a head for so many dishes?! I ain't complaining. The service through the night was fairly professional, if a little cool and our food always came out efficiently. Although I think if it were full price, I would have ordered a little more carefully and maybe only had one entree before my main and dessert. I don't think it's bad value for money otherwise though, the produce is all quite fresh and well cooked, and the servings whilst maybe on the smallish size, are still quite fair. Although I am a woman talking. Gym junkies and testosterone fuelled males may want to defer instead to a steakhouse. Just sayin.