In the 1920s in the US, when the manufacture and transport of alcohol was made illegal, during the Prohibition, the term "speakeasy" arose from the manner that patrons would order alcohol. The bartenders would tell them to be quiet and "speak easy". Or so is one of the theories.
Essentially? A "speakeasy" is (or was) an establishment that illegally sells alcoholic beverages.
In more modern times, New York, in particular, went through a phase (whether they're still in to it or not is another question) where they tried to replicate this concept, albeit more so to be exclusive and only spread by word of mouth, than to stay secret from the law, with unmarked, unlit doors and nary a trace of marketing or visual presence anywhere.
In essence really Melbourne's bars are a lot like this already, usually through a random little door, unmarked by anything, yet Melbournians just somehow seem to stay in the know…I have a great story of Ben and myself wandering around Little Lonsdale for about half an hour trying to find Troika one night...
I veer off course from why I got on the topic though.
Speakeasy Kitchen Bar just opened on Chapel Street. I had passed by it a few weeks ago when it was still under construction and excitedly gestured at it to Brad and got into a flush of excitement. It left my mind after though, but fortunately, Teegz, who lives in the area came across it and tweeted about it excitedly, which led me to being excited, which led to brunch the next day. I'm that easy to persuade. And also that easily excitable (Brad loves to remind me).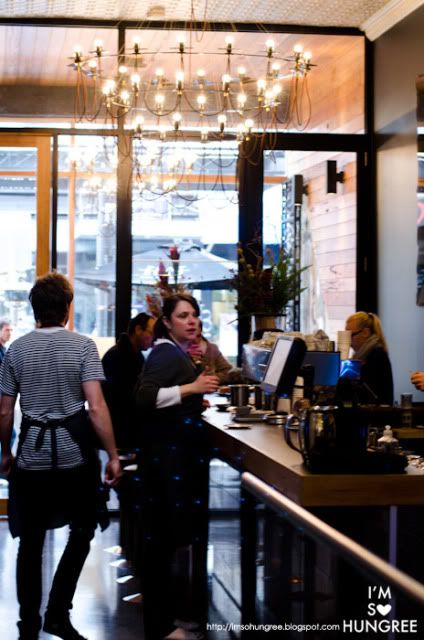 It's funny they should call themselves 'Speakeasy' when they clearly have a liquor license and look very legal, but I suppose to be fair, I haven't heard much in ways on twitter or other sources of this place opening up...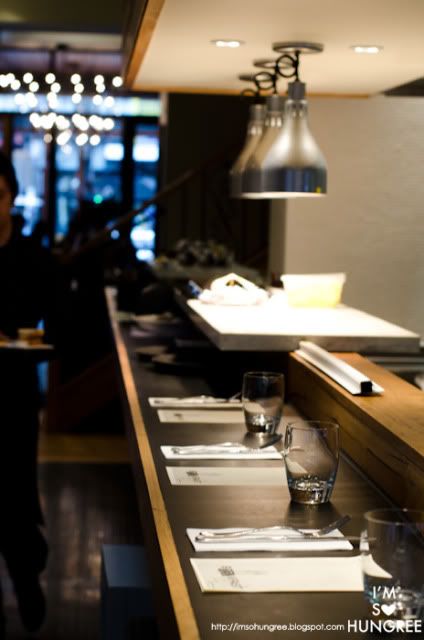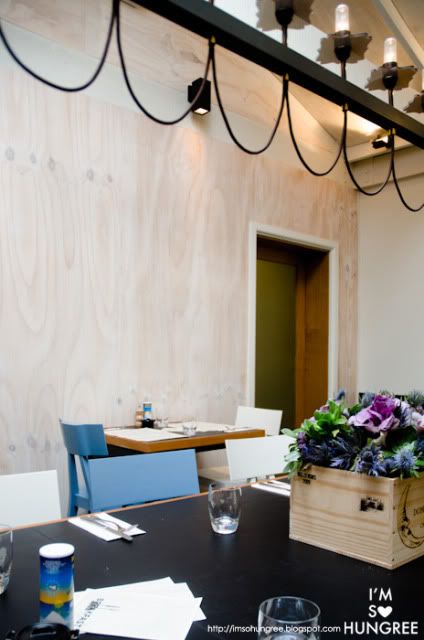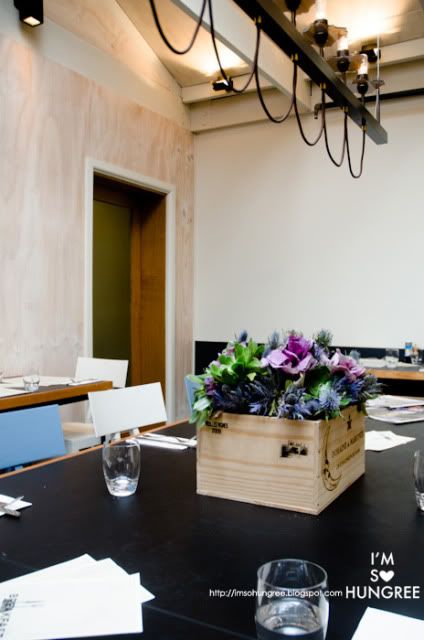 From the cosy and chic wooden and glass entrance, where there is a very fun little outdoor area which I think will be a hoot with smoking coffee drinkers, Brad and I were led through. The front is very deceptive, as there is quite a lot of seating space out back! Several tables for two dotted along the walls, a communal table, then a further outdoor but fenced-off-from-the-elements outdoor area and then, clearly in anticipation for summer, yet even more outdoor seating, which was unoccupied and quite wet on this rainy Sunday.
Speakeasy has an easy going, chic vibe to it, it was very clean and very tidy, but avoided being clinical with lovely woods, pretty light fixtures, dark table tops and gorgeous little flower arrangements on the table.
And oh my god. At the back, natural light from skylights (is that what they're called?) in the roof. Loved. Loved so much. I wanted to take pictures all day there. Although we had the option of a table for two on the wall, I immediately migrated over to the communal table, to our waiter's surprise.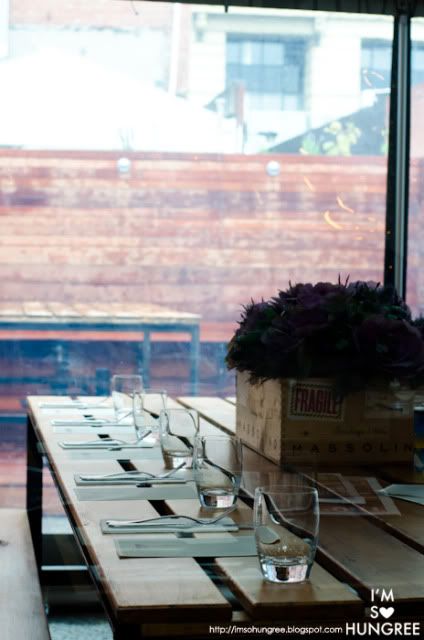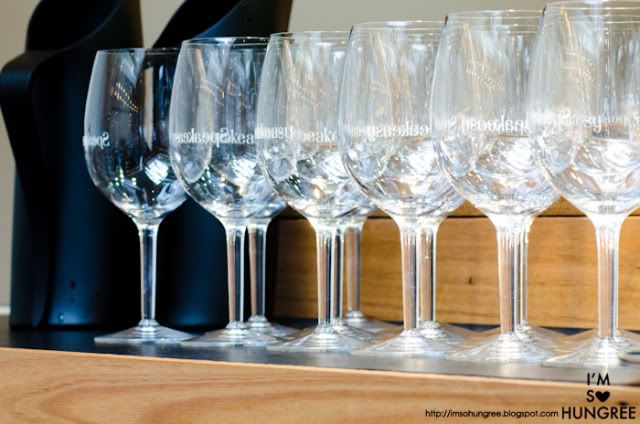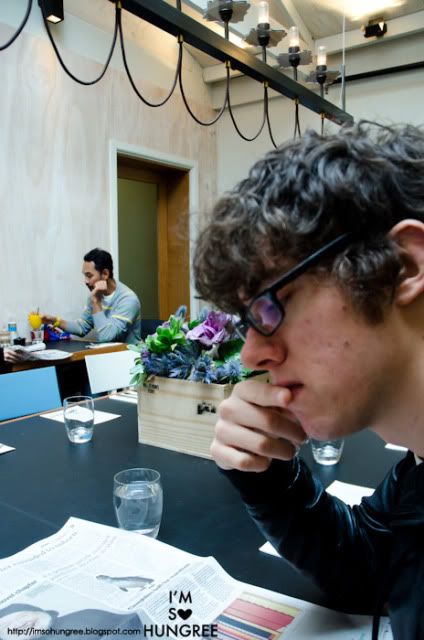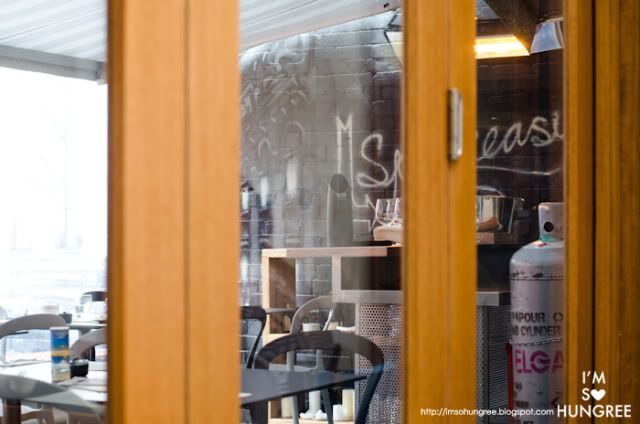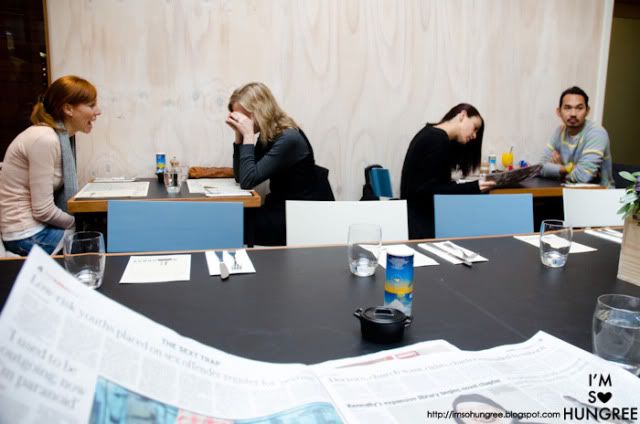 Have to wonder what the girls were talking about over there...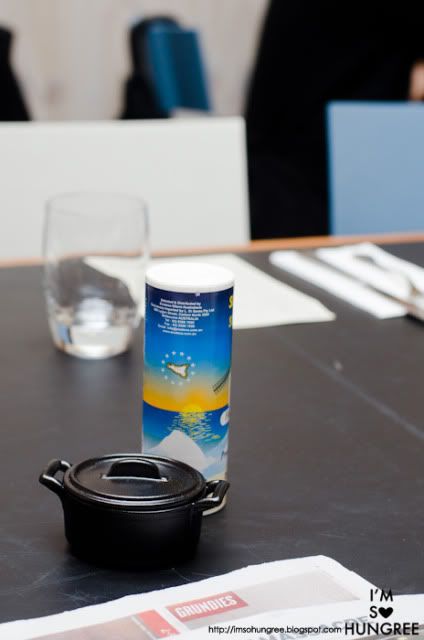 The container the sugar was kept in is so cute, it's a little faux cast iron pot!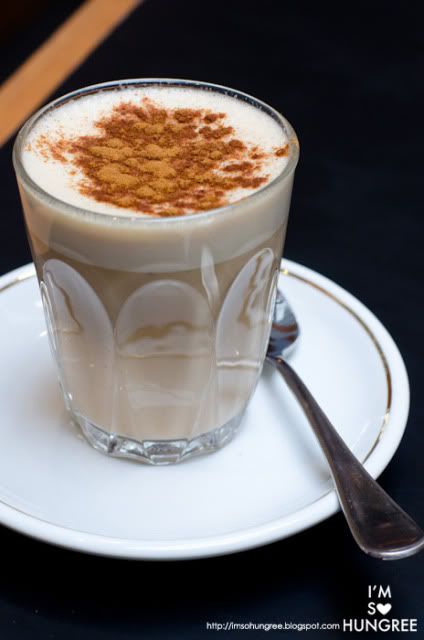 We were asked if we wanted drinks straight away when we sat down, I went for a chai latte with soy milk. I don't tend to stick to soy or regular milk, it just depends on my mood on the day and what comes out of my mouth first (this is funnily how I often make my decisions when I go out for meals if I'm tossing up between options...). The flavour was lovely, I should find out what soy milk they use as it was particularly tasty with the chai and not too sweet. I did find however, the milk was surprisingly hotter than most places I've come across, and due to this, the milk was not quite as velvety as it could be. I only complain about the hotness really, because I tend to be the type of person who gulps their hot drinks down and don't tend to delicate sip them like I know my mum likes to do. I've never understood how people make one coffee last for an hour...
Besides this though, I really enjoyed the flavour and ended up having two (although my second one they used regular milk, oh well!).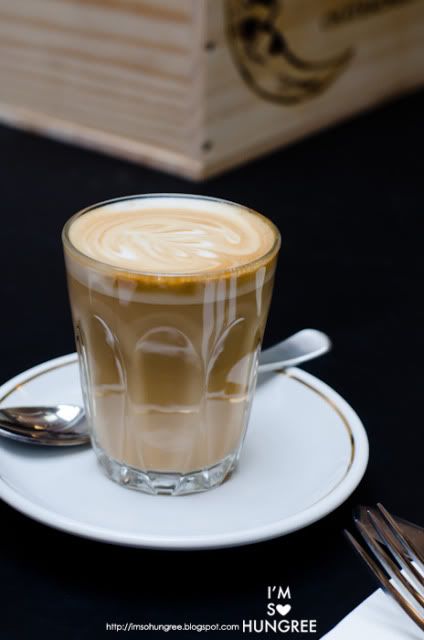 Brad got a latte, obviously, they use Dukes coffee here, which is quite exciting as I haven't seen many other places that carry it. I think Brad's latte milk looked better than mine, so I suppose the issue with my chai latte milk might have just been...the chai!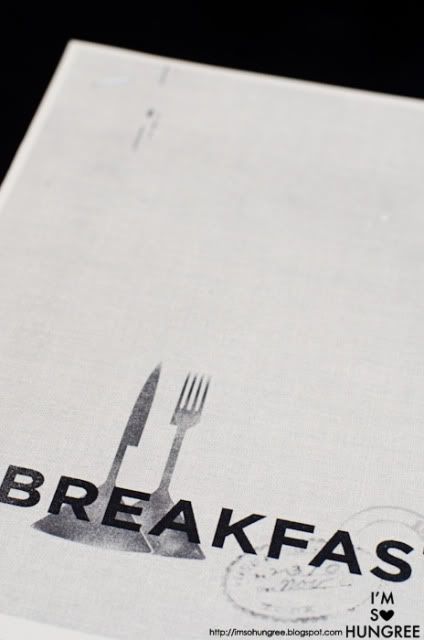 The breakfast menu is very straight forward and limited. It's quite refreshing. I like seeing a place that picks things they can do well and not try and please absolutely everyone. I did get a squiz at the lunch menu though and it is quite a bit more extensive....definitely plan to come back and check it out!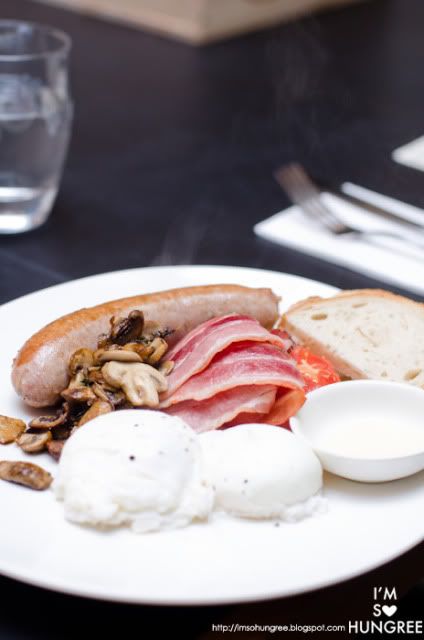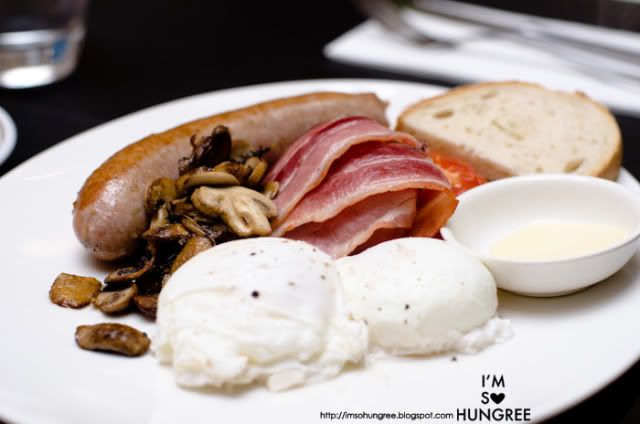 Brad essentially ordered the big breakfast, with your choice of poached or fried eggs, mushrooms, tomatoes, sausage and bacon it was quite a comforting looking pile. Surprisingly neat too. Look at how fresh and lovely it is, steam still rising!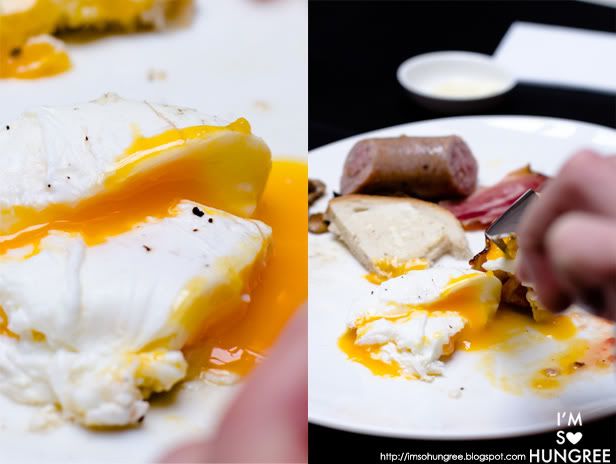 The eggs were poached perfectly, with oozy yolky centres, just the way I personally like them. I nibbled on the mushrooms which were insanely delicious, a bit of rosemary or something, but they were so well seasoned. The sausage was surprisingly light, which I really liked, not too oily and didn't taste too heavily of meat, there was some nice spices in it instead that came through a lot more predominantly.
Honestly, I think it's one of the better big breakfast type dishes I've come across, at least aesthetically, as I mentioned, and also not too oily and quite wholesome. I'm not even put off by the fact there's no greens or other colours at all! (I generally like a little more colour palette variation)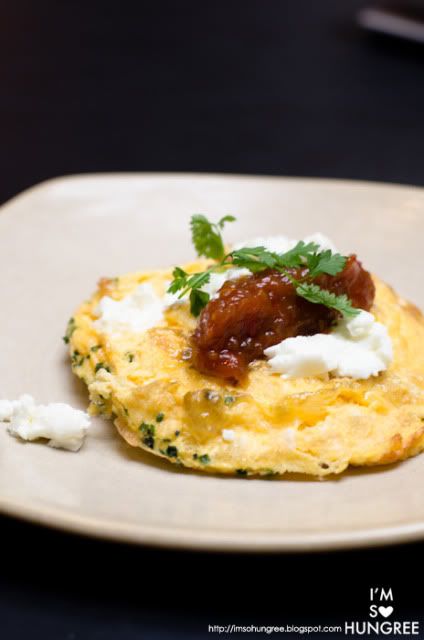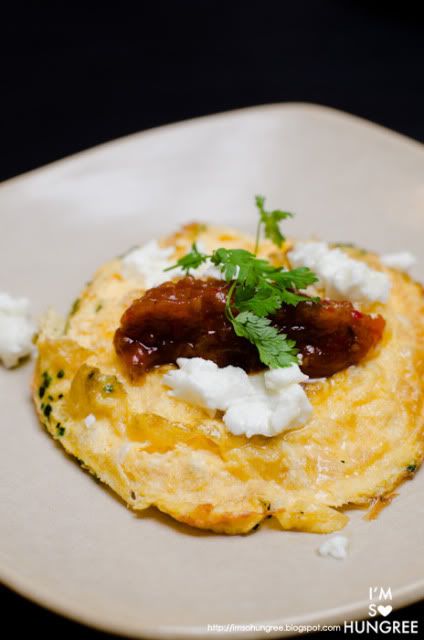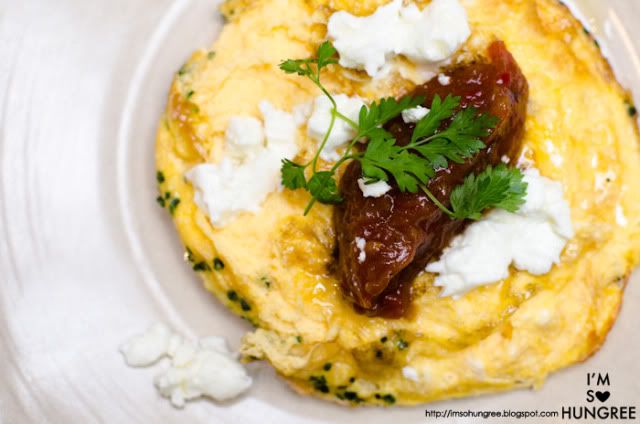 I went with the pumpkin and feta frittata served with tomato chutney. I usually expect my frittata's to come to me as a wedge, this was almost more like a baked omelette, but you know what? I ain't complaining in the slightest. What my dish lacked in size and presence that Brad's had, mine was absolutely freaking delicious.
The eggs were creamy and fluffy, filled with little diced pieces of pumpkin, which still had some firmness to them, they weren't cooked to mush. The feta was perfect with the egg, enhancing the creaminess and I loved how it matched with the sweet tomato chutney. Savoury but sweet all together. This was absolutely my kind of breakfast and I would come back for this dish if it's served like this anytime of the day.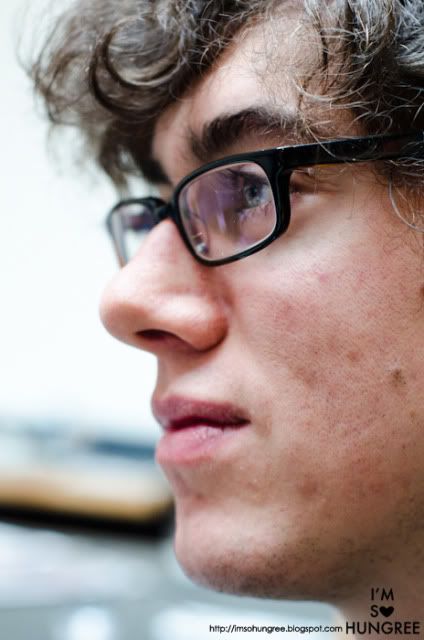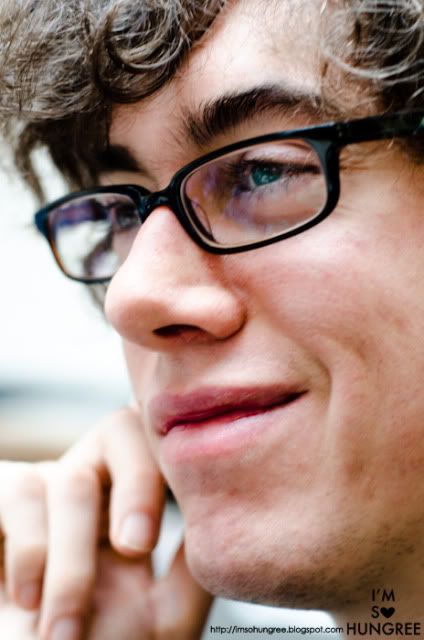 Brad approves as well! So much perfect light, I was getting all caught up in how his eyes caught the light. Was quite funny as I was snapping away at Brad and getting him to look this way and that, he commented on how it should feel more awkward for him, but he's so used to me sticking my camera in his face it doesn't really bother him at all these days. Terrible girlfriend aren't I?
I'm honestly very reluctant to share this post (and I'm probably breaking some Speakeasy rule), but at the same time, quite excited to. I'm not looking forward to this place getting better known and to have it potentially be very busy and hard to get a table at! But alas, as I have mentioned, Melbournians seem to be notoriously good at finding out and getting on to new things quite quickly, so regardless, it will probably happen.
So my first impressions are, great fit out, moving away from the industrial look of most of Melbourne cafes and reminding me more of Huxtable or something similar, the aesthetics just speak to me. And oh my gosh, that natural light in the back room. I die for it! They have food that is presented gorgeously, is well cooked and fresh. Coffees came out a tiny bit slow, but it's a Sunday, what would I be in a rush for?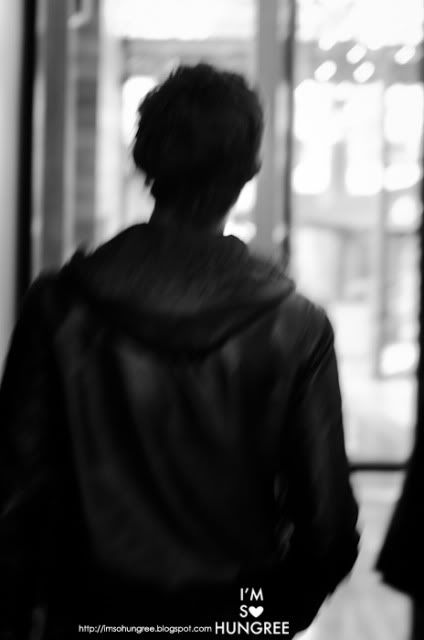 I'm sure we'll be back soon....
359 Chapel Street, South Yarra
South Yarra, 3141