With a new job, Chinese New year, a truckload of family visiting in about a week and a trip to Asia coming up in two weeks that I have been doing all the planning for, life's been a bit full on at the moment. I'm still in the midst of working out a new work/life balance, figuring out what my priorities are and what I am and am not willing to do to make sure those priorities happen.
And in thinking about that, as I sit in my room where the baskets of laundry have started to pile up, sorely neglected, whilst I am so happy with the job and the things it has brought, there are plenty of things I would still like. Longer hours to get work done, an hour in the middle of the day where it's okay to have a nap and recharge, more time in the gym, more time to blog, more time to do nothing in, more time to spend with my family and of course, more time with Brad.
Which makes our ritual of weekend brunching together now even more special to me.
Forunately, our recent visit to Plenty of Windsor left us wanting for nothing.
As the name might suggests, Plenty is located on the Windsor end of Chapel Street, an area that I've become more and more fond of, with it's smattering of op shops, and quirky little eateries.
Opened by Jason Chan, who we probably all know quite well now from West Winds Gin, with chef Darren Daley overlooking the menu and the kitchen, Plenty has a smart industrial fit out, with copper piping trailing down the wall, minimalist wire grids housing twiggy pot plants and what looks to be a tree keeping the Slayer espresso machine well shaded.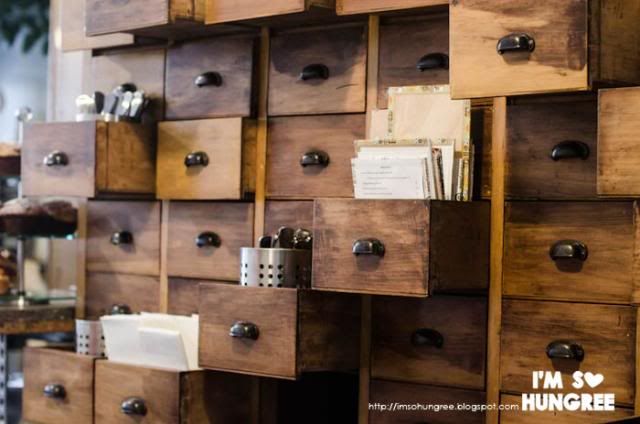 I'm quickly charmed by the little details, the huge chest of drawers playing a game of peek-a-boo and doubling up as storage, and the menus that are in fact taped to the backs of cigar box covers, ranging from the minimal Habanos, to the romantic Romeo Y Julieta, what will you get?
The breakfast menu is short and snappy, but rather sexy, a whole lot of good with a tiny bit of indulgent slipped in on the side.
Take the fruit pot for example, with buffalo yoghurt and some sponge crumbs for good measure, or you might go a bit richer and grab the pan fried truffle, prosciutto and parmesan sandwich. I won't lie, I was very tempted.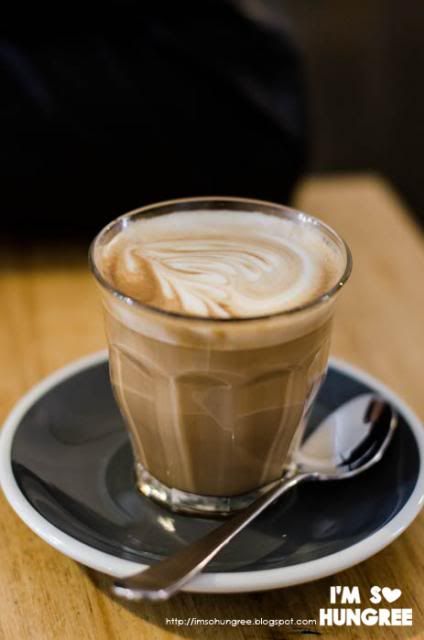 While deliberating Brad enjoyed a beautiful latte and I very happily supped at my chai, with honey on the side.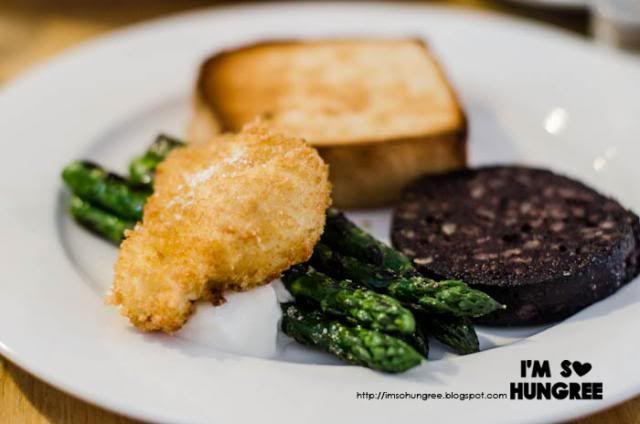 In the end I decided to go down the more breakfast-y route and ordered the asparagus with goat's curd and crumbed poached egg. There's a suggestion of chorizo to go with it, but when I spy black pudding as a side, there's really no competition for me here. Although simple in presentation, it's just executed beautifully.
The crumbed poached egg, making more of an appearance on menus these days, is the best I've had, with a healthy sprinkle of salt, the crust is light and crisp, just ever so lightly covering the egg. Open that up, and it just melts into the goats curd, which surprises me with it's richness, creamy and smooth, just the most marvellous flavour. A spot of brightness from the asparagus finishes it all up, and the black pudding puts a smile on my face with it's kick. Yes. Good breakfast. Deceptively filling too!
Brad's ham hock with pearly barley mash, fried egg and broad beans and an additional side of mushrooms, is also deceptively filling, I even thought it would be too little for him at first! It's a solid savoury hit, I remember having a nibble but not all the flavours, but I do recall that mash, with that egg being totally comforting and awesome. The type of thing I would like hungover, as much as I enjoyed it sober.
Having both settled in nicely after our meals, I was reluctant to leave, as I sipped on my chai and talked serious business with Brad (does anyone else have their most serious conversations over breakfast?), soaking in the relaxed vibes.
Although cosy in size, Plenty is doing some pretty formidable stuff with flavours, keeping it simple but real punchy. I'm totally keen to return for the truffle, prosciutto and pressman sandwich (that sounds like so much sin, but so much win), and look forward to seeing what these guys do with their evenings when they eventually start opening up for dinner.