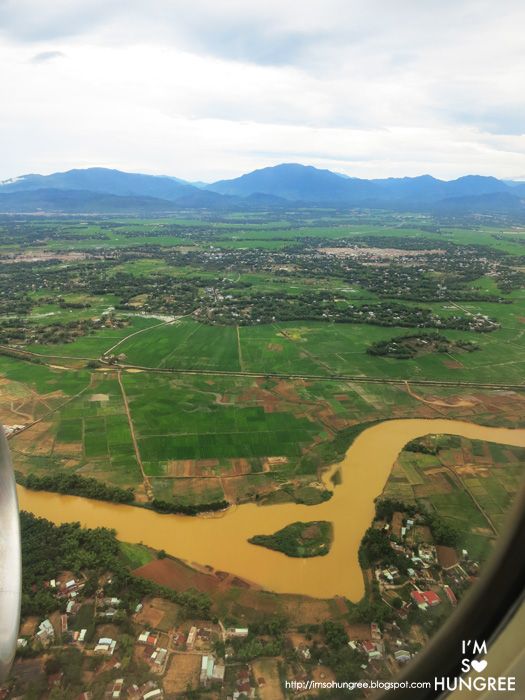 I don't even remember how we decided to visit Hoi An on our trip to Vietnam. I really don't.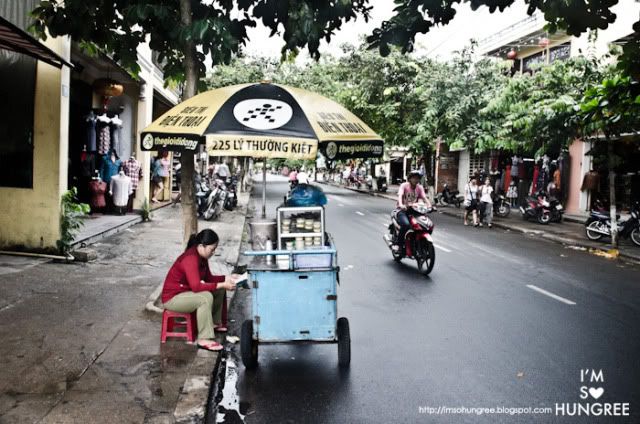 But you know, that doesn't really matter. Because the fact is that Brad and I went there, and I fell in love with the charming UNESCO Heritage site and the people who lived there.
We flew into Da Nang, and from there organised to be picked up by the hotel which only cost an extra $15 or so for a 40 minute ride to Hoi An.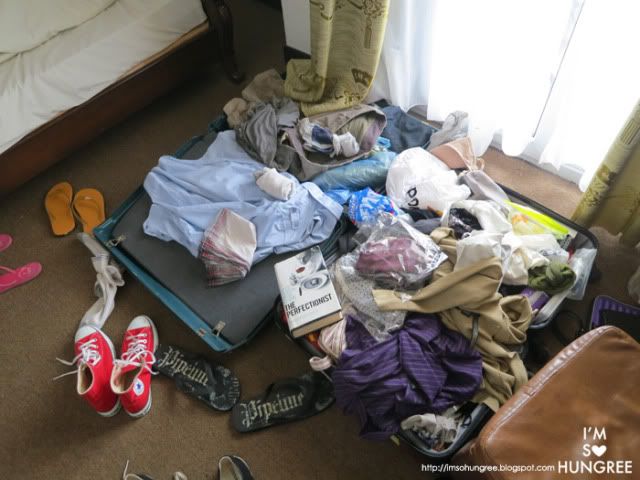 We stayed at Phuoc An Hotel (Thanks for the recommendation Heidi!), a short 5 minute walk around from the Heritage part of town, in a very, very reasonably priced room. Love these cheap hotels with truckloads of space! We certainly made the best of it...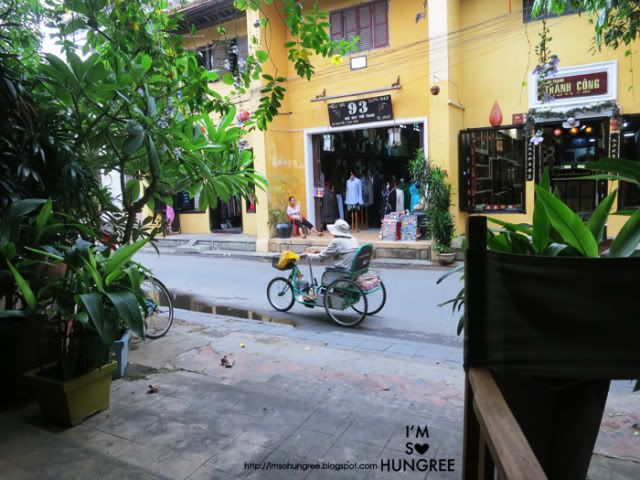 It's not weird for me to say that I think I'm in love with Hoi An (partially) because it's all yellow is it? I'm such a sucker.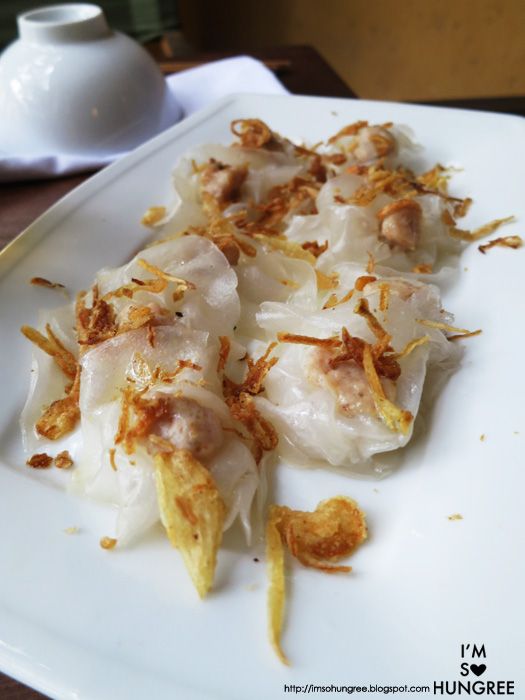 Our time in Hoi An was very laid back. We ate a lot. Tucking into local specialities such as their rose dumplings and the Cao lau noodles. Apparently both are famous because it can only be made in Hoi An, because of the water there which is drawn from wells. More minerals or something I assume, that give a unique and springy texture. Although we tried both the rose dumplings and cao lau noodles in various places around the town, I couldn't really get into the rose dumplings as whilst the texture of the dumplings themselves was nice, it just didn't do much for me in the way of flavour.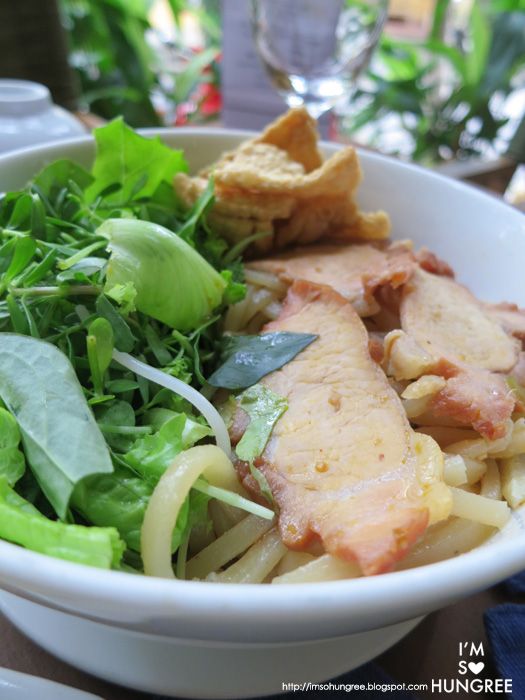 On the other hand I generally loved the cao lau noodles, with sauce, sliced pork and pork crackling (uh yeah!), herbs and veggies and the springy noodles, it was clean and fresh but naughty too. Naughty? Pork crackling. How could you forget so soon? Life was all good.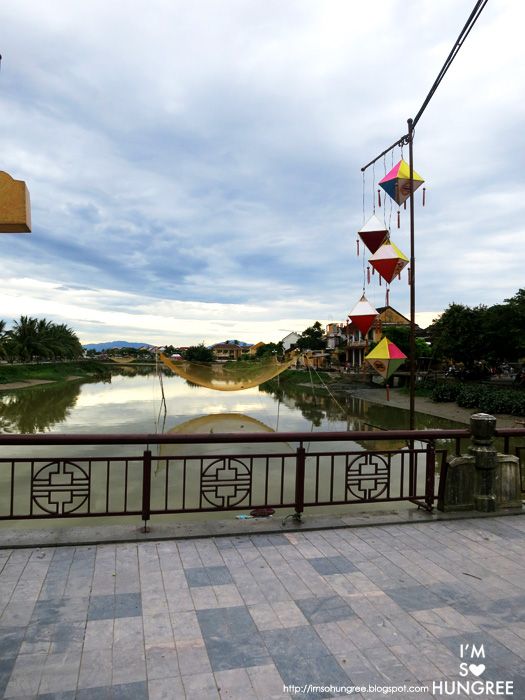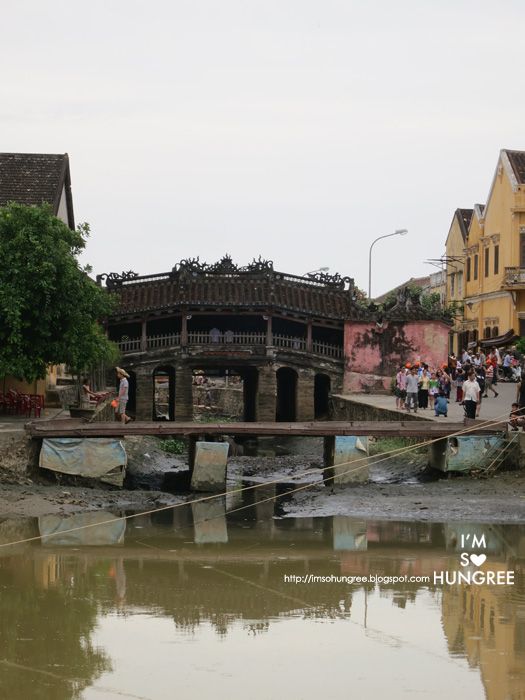 We walked a lot. It's easy to walk Hoi An in one day, or at least the heritage listed area, it's small and cosy with few major landmarks to see. One of the touristy things to stop and look at was this old Japanese bridge, apparently 100 years old or something as such!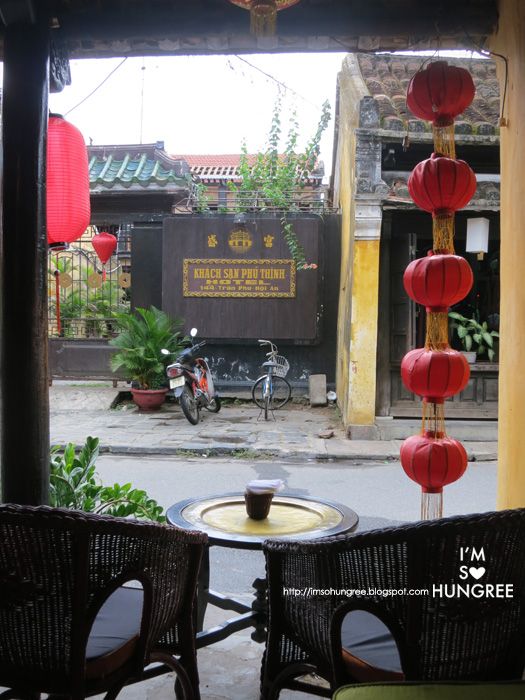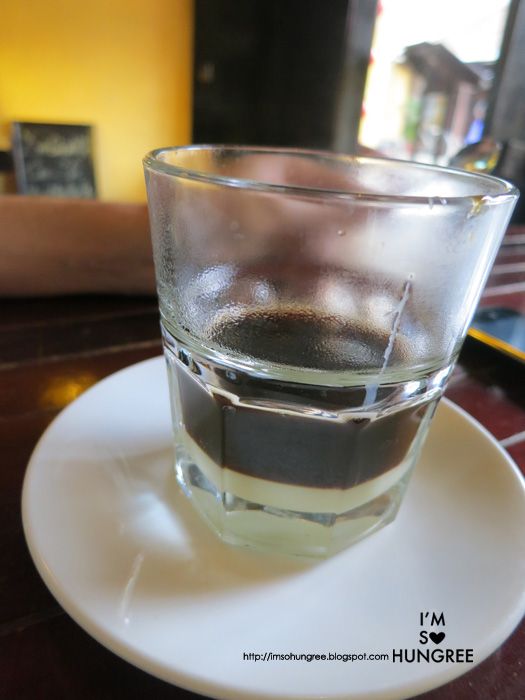 And then we would stop at a random cafe, where shiny and creamy cakes tempted us (or just me), have a local coffee (that I would inhale and Brad actually drink), and reflect on where we had visited already and our thoughts on each spot.
One of the hidden gems of eating in Hoi An appeared in the most random of places. Right next door to our hotel!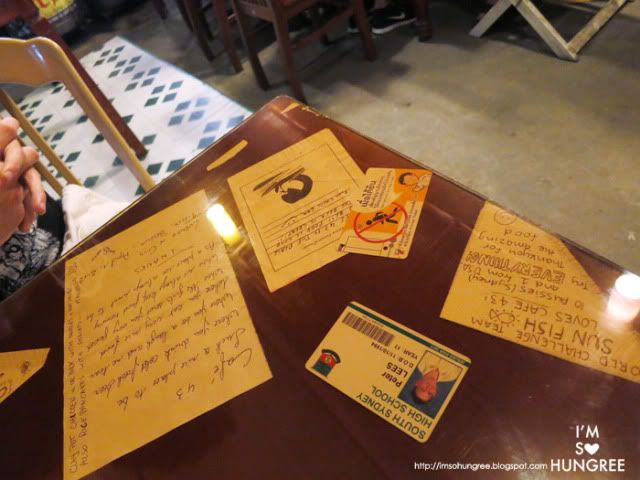 Cafe 43 is run by a jovial family, where Daddy carries a thick wad of cash in his back pocket to give to customers as change, and the daughters and nieces (I assume), laugh, bring their one month kitten over to play with you and serve you some of the tastiest Vietnamese food you have ever come across.
The cafe is quite literally just their front porch, where glass topped tables encase testimonials from past visitors with glowing praise and many recommendations for the new comer.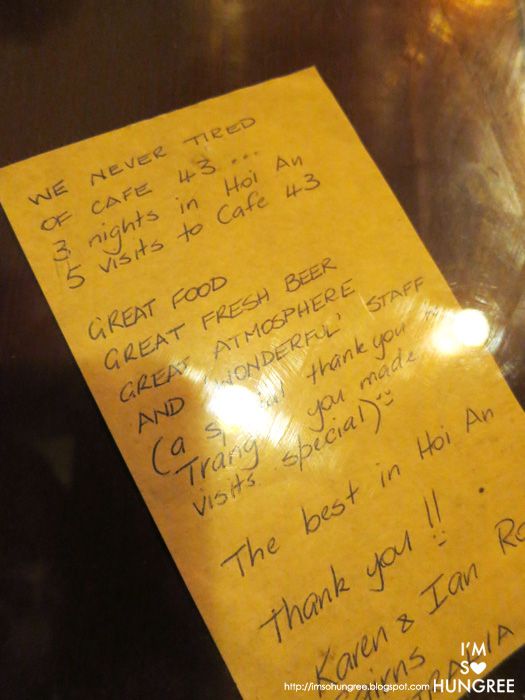 Just to give you an idea of how much we liked the place, in 3 nights, we had 5 meals there I think (one breakfast, 2 lunches and 2 dinners...at least). And many of the testimonials under the glass had similar experiences. It was hard to go past, the food was stupidly cheap, the cold beer was 3000 dong a glass (about 30 cents?) and the family were a joy.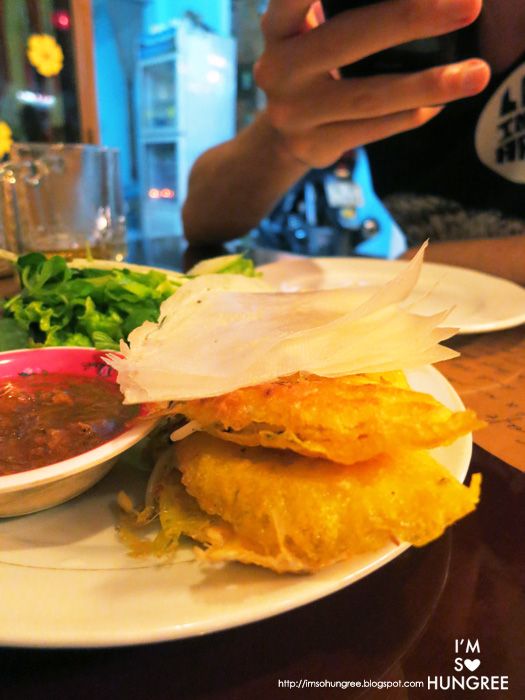 I had never had banh xeo before this trip, and I do not think I will be able to relive the experience and the flavours and the joy I had eating the banh xeo at Cafe 43. The pancakes were crispy and light, filled with bean sprouts and generously seasoned. Just yum.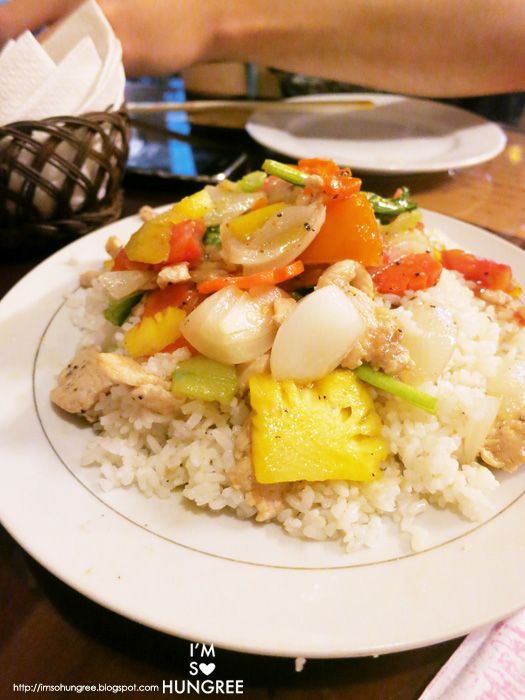 Even their chicken rice, Com ga, was to die for. It was oily all over, without being too greasy, fluffy rice that was sweet as well. Probably MSG, but who really cares? I wanted more plates of this, I haven't come across anywhere else in the world yet that does chicken rice like this. Simple pleasures folks, simple pleasures.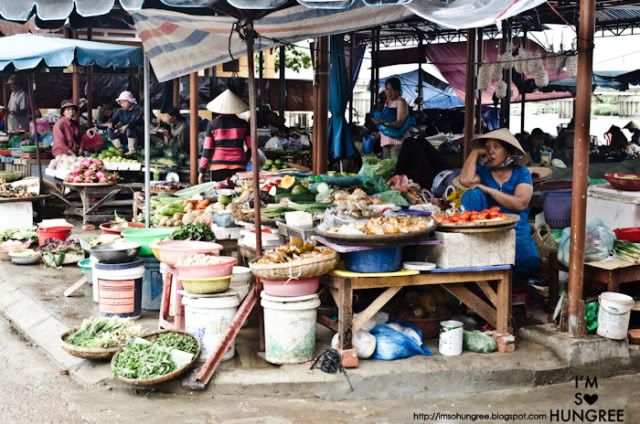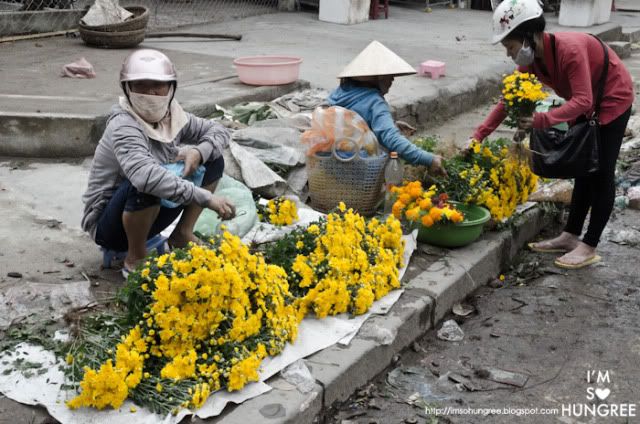 On the second day, we realised we had access to free bikes from the hotel. So I lugged out my SLR and we cycled around town again, making sure to pass by the market area which we had some how missed the day before.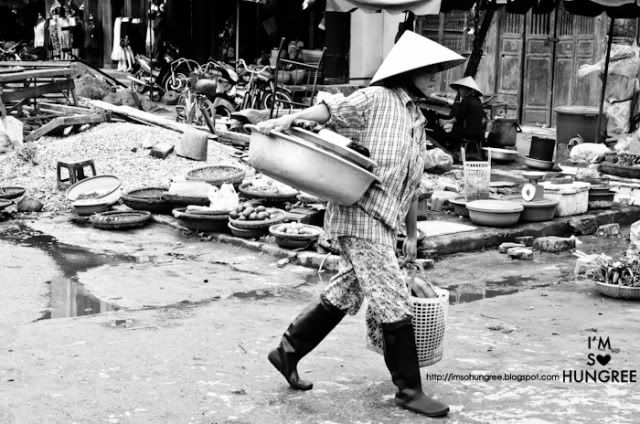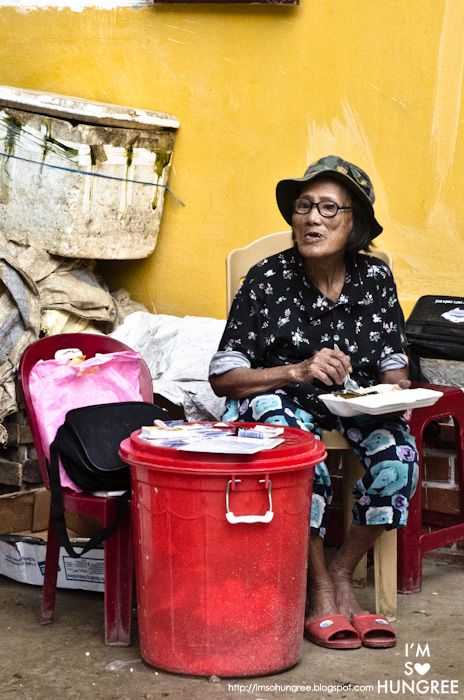 The hustle, the bustle, the ladies watching over their shops and gas bagging away to each other. I loved the vibe and just watching the activity, it's certainly not a touristy market and catered more for the locals, but that's what was so pleasant.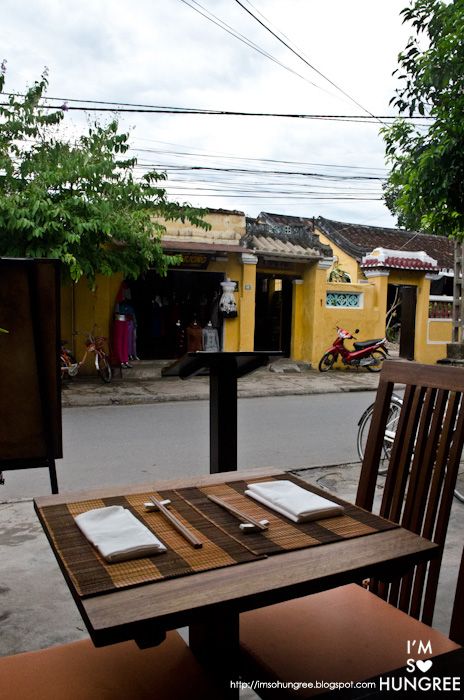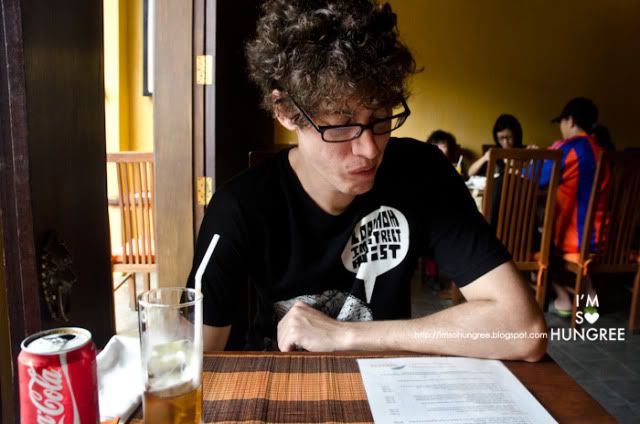 We stopped for lunch at STREETS, where like HAVEN in Cambodia, (what's with these hospitality social enterprise places and their love of caps lock?) they take in street kids and other disadvantaged youth and train them in hospitality. I love initiatives like this, as hospitality is one of those industries where you always can use people somewhere, especially in Asia.
On a random note, I had never seen Brad drink so much coke before this trip we had in Asia. In fact, I don't think I had ever seen him drink coke before this trip...I kid you not! When you think you know somebody...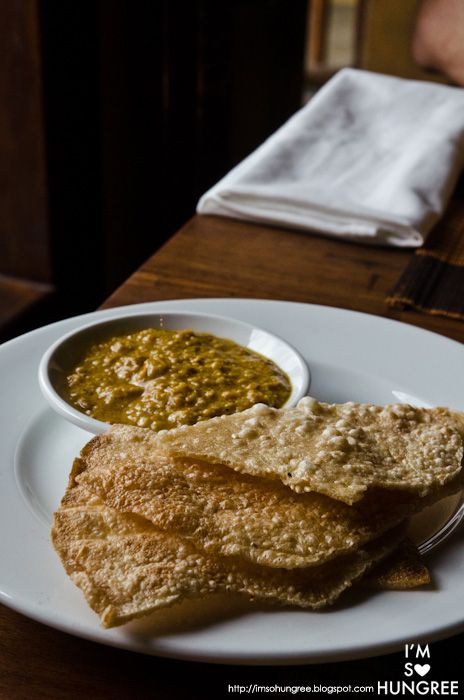 Crispy rice cake things with insane-o peanut sauce. Reminded me of satays…just with crunchy rice cakes instead.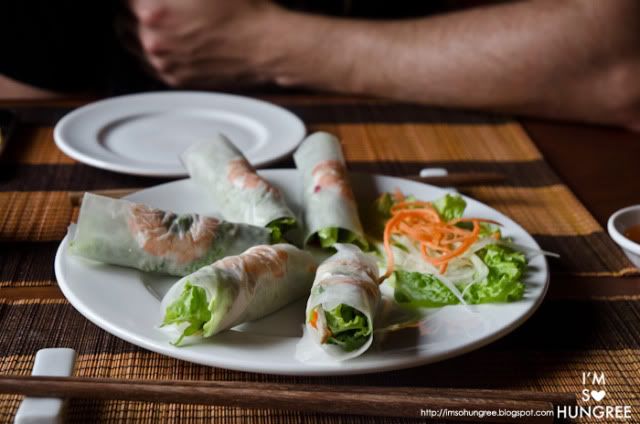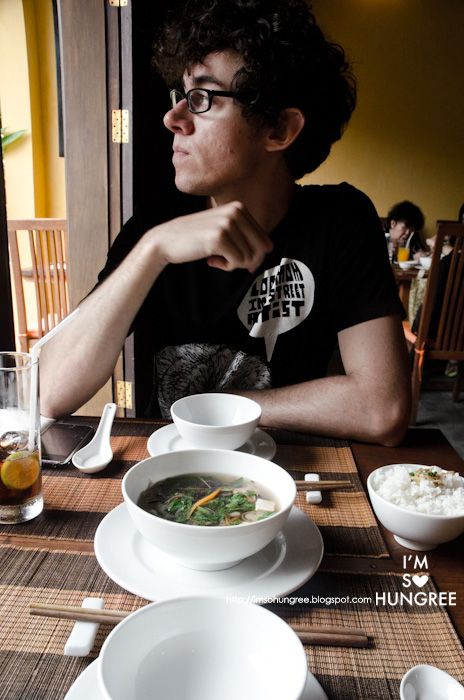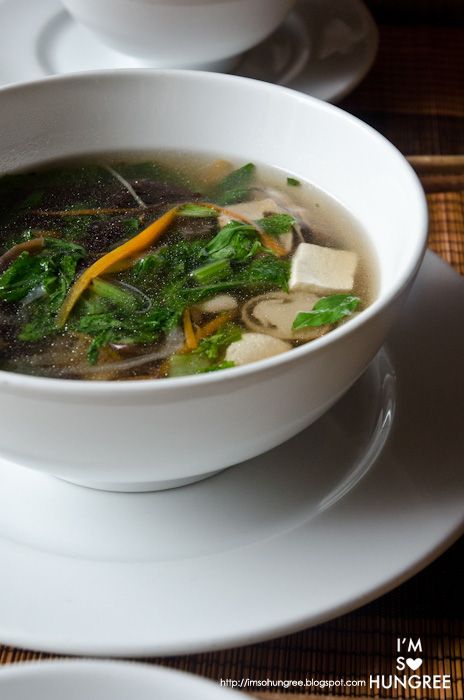 The spring rolls were pleasant but a little ho-hum, the vegetarian pho was just delighful and pleasant. I'm not sure how traditional it was, but it was clean and light, which is just what our systems needed. It's kind of easy to neglect vegetables sometimes when you're travelling...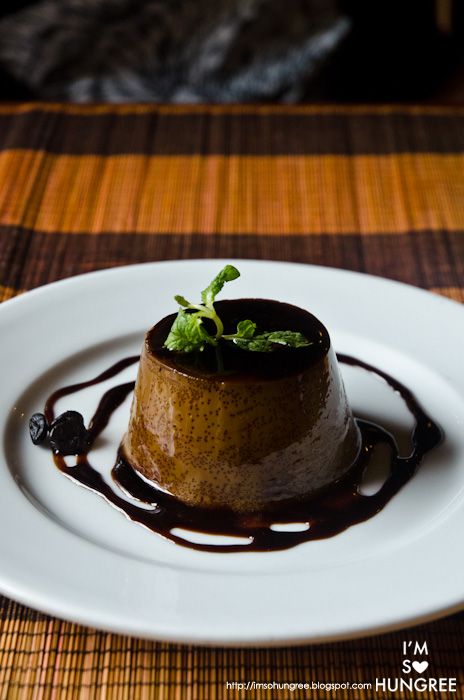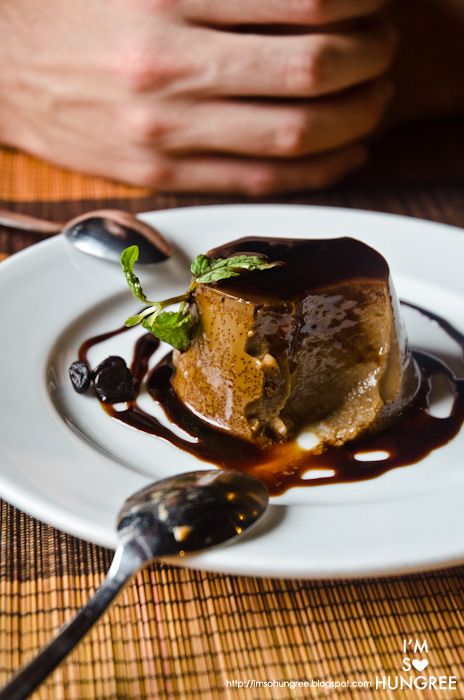 Who can stay away from dessert? Not me for sure. I couldn't resist trying the Vietnamese coffee pannacotta. I was immediately smitten with it's dark and even glossiness and it's spray of freckles. Just charming. And also rich, smooth and cool. I was a little worried I would find the coffee overwhelming, but fortunately that was not the case.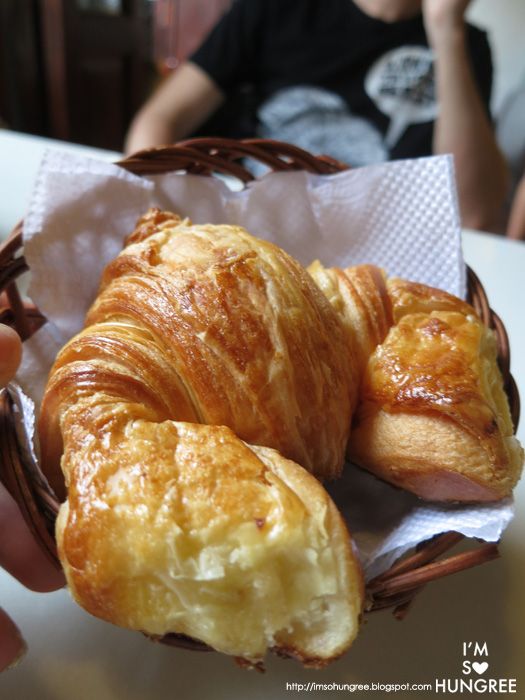 And here's some more pastries. We were probably having coffee again as well.
Later that afternoon as Brad caught up on emails and all academia type of things in the hotel room, I biked down to a spa, where I got a lovely back massage, manicure and pedicure for about $17. Man they really scrubbed my feet clean!
Dinner at Cafe 43 again. I didn't take a picture, but the stuffed squid was absolutely divine. Especially at $3.50. Sigh…take me back!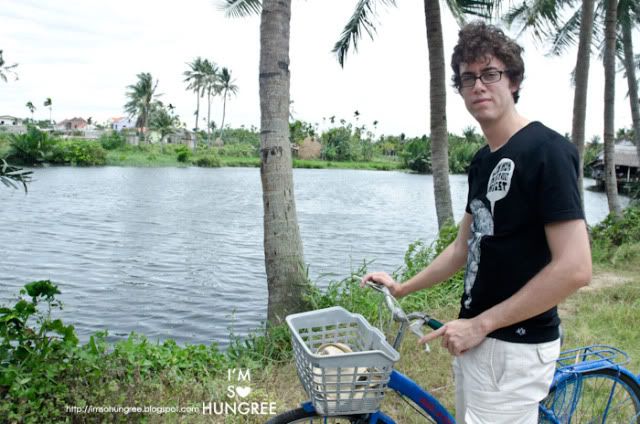 Day 3. We took the bikes out again, but this time made the 5km ride out to Cua Dai beach.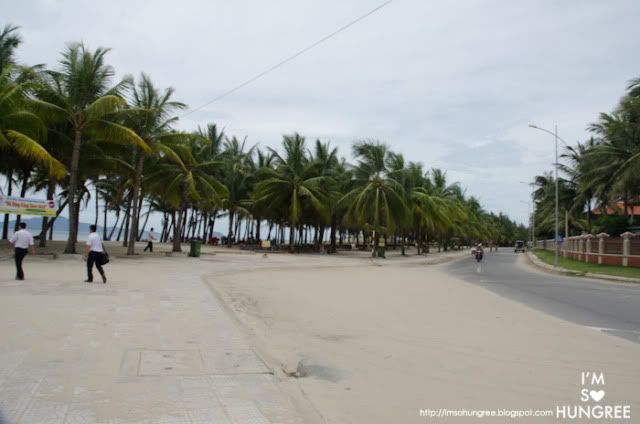 This is probably one of my favourite things that we did while we were in Hoi An. The ride was lovely, with lots of serene and beautiful scenery, although we did have to be wary crossing the narrow bridges when trucks and cars were passing over….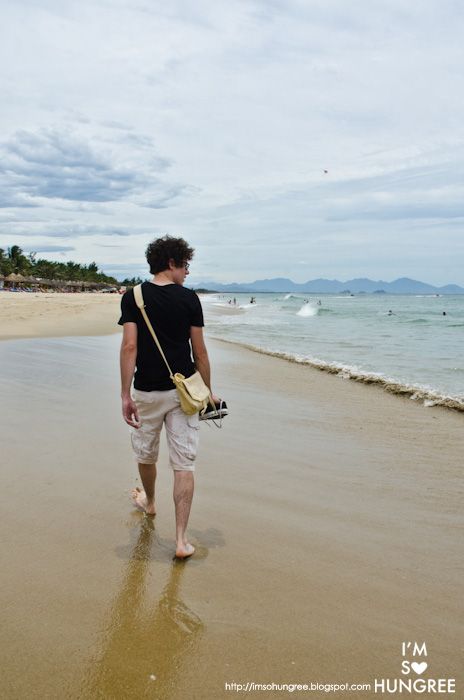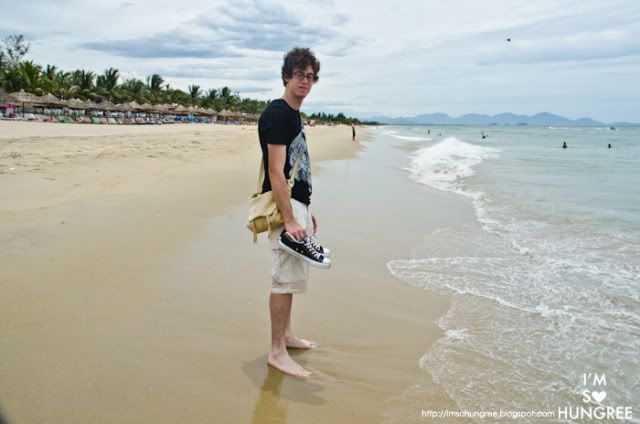 I was floored when we actually ended up at the beach. After paying 10000 dong to park our bikes (50c), we wandered over to the beach which was quiet with some of the whitest and cleanest sand I had seen in a while. I guess we were quite lucky to be there in the low season, so we pretty much had the beach to ourselves to stroll up and down and listen to the waves.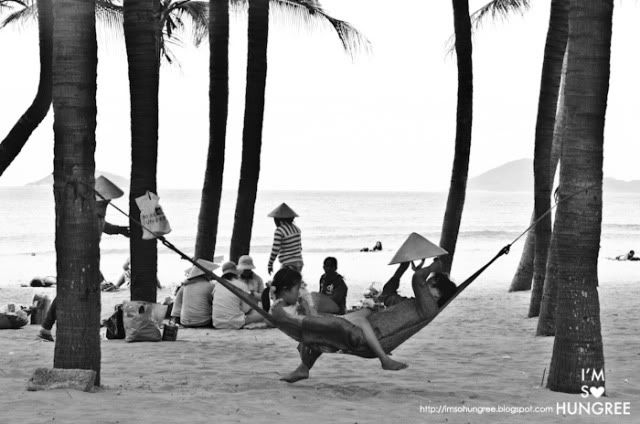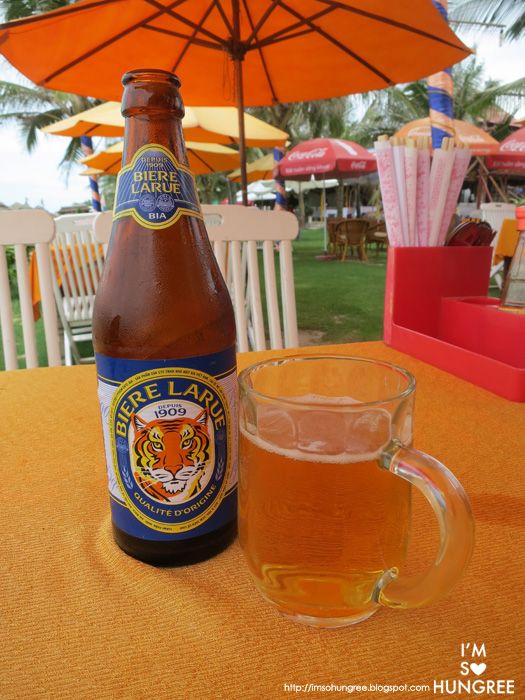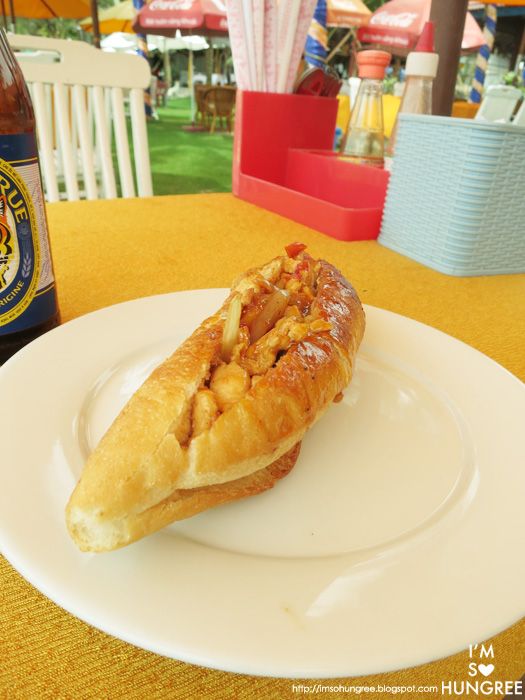 Beer and banh mi by the beach. It was pretty good. Although the chicken banh mi didn't come out looking like I thought it would, it was damn well one of the tastiest sandwiches I had had. The whole thing was piping hot, with the bread warm, toasted and crunchy, and the chicken swimming in some spicy tomato sauce thing, with sweet, sweet sauteed onions.
…did I remind you to take me back?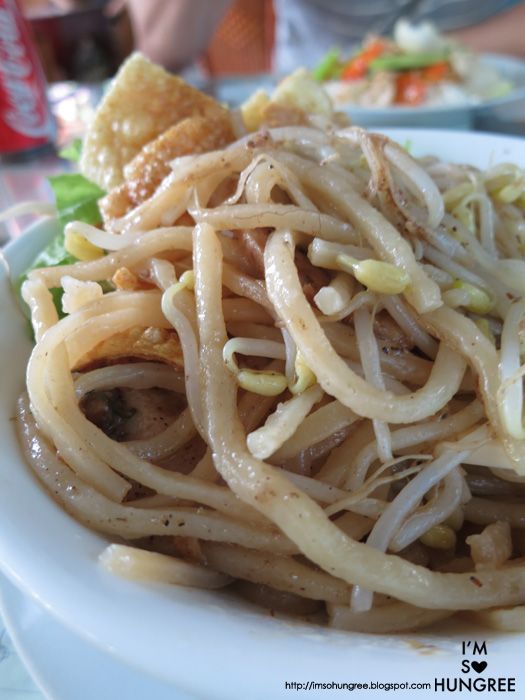 Back to Cafe 43 again. More chicken rice. More Cao Lau. Just look at those noodles!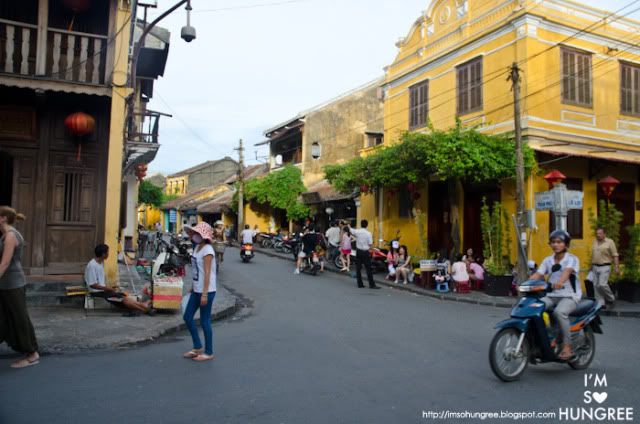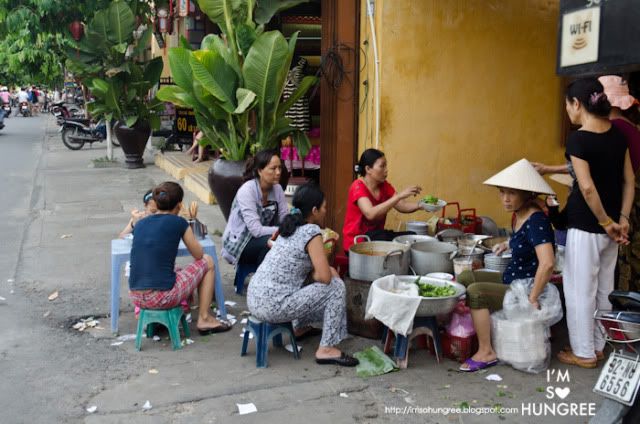 I spent the afternoon catching up on some more photography and shopping, which is great fun in Hoi An…at least for me. Maybe not so much for Brad. They are famous for their tailoring in Hoi An, but you do have to make sure you check where you go. I didn't really have time to get anything custom made, but I did buy a few things right off the mannequins at Ao Ba Ba, with a few adjustments made since I wasn't quite as flat chested as the mannequins were…but the clothes are really an outright steal if you get them made to fit. I bought one silk dress for about $60 and a gorgeous retro style cotton dress for $70 or so. Where do you get that value anywhere else?!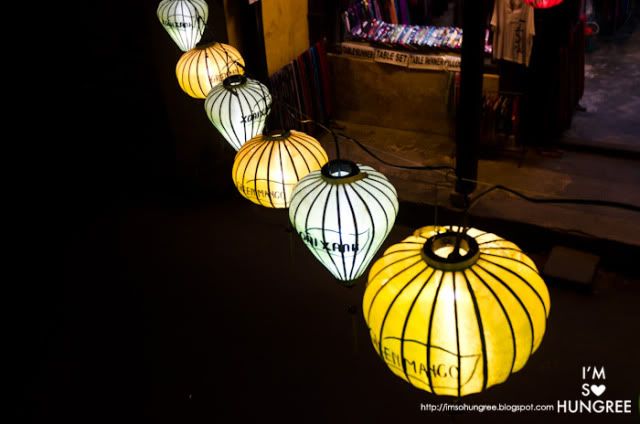 Dinner that night was a little more upmarket, with a friend recommending that we find the Green Mango and get a table on the balcony.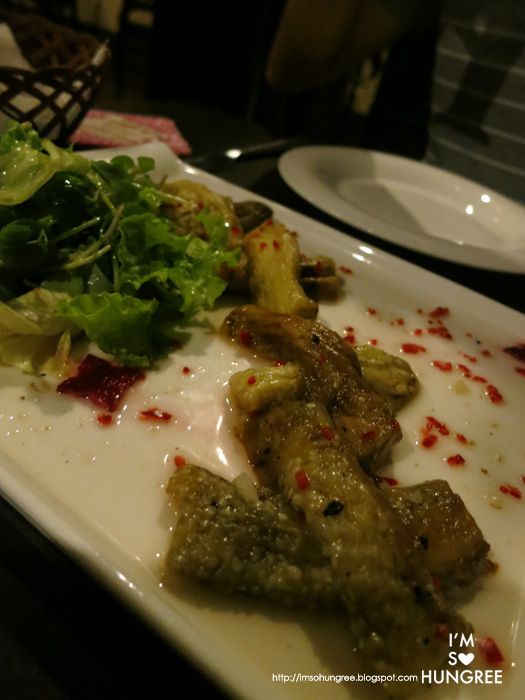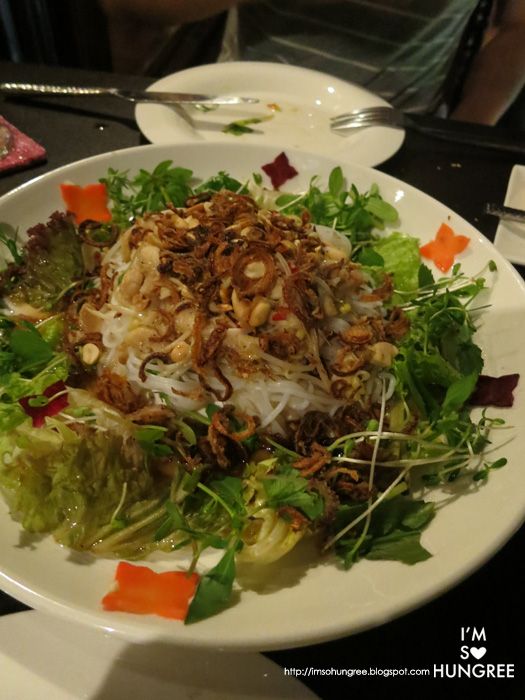 We had eggplant, and great big noodles dishes with delicious sauces and a mango creme brulee. All in all, it was very nice, but I think we had simply just been too spoiled by the homeliness of Cafe 43 that I don't think I enjoyed my meal as much as I should have! Too much flair and not enough substance for me perhaps...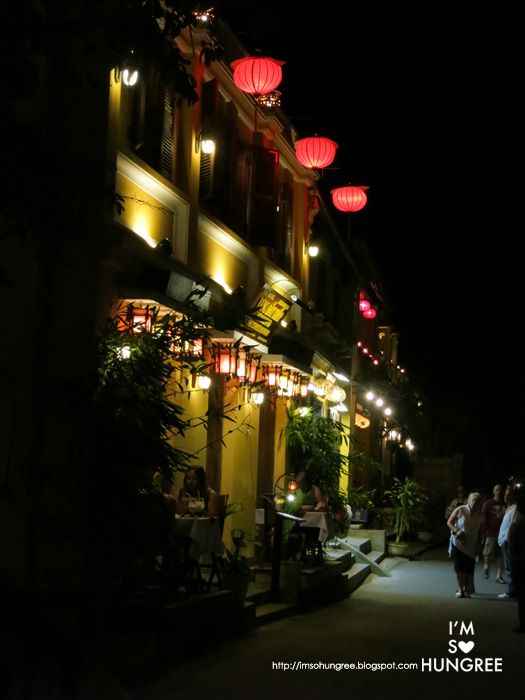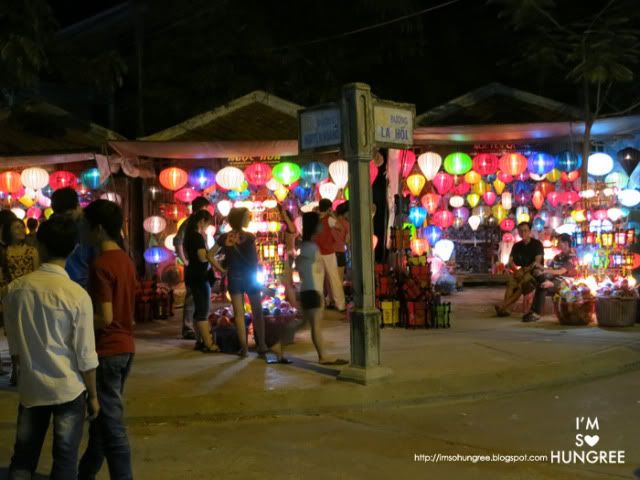 Hoi An at night is quite beautiful as well, there happened to be some street market on, on our last night so one street was just lit up with brightly coloured lanterns. Kind of makes you feel like a kid just looking at them you know?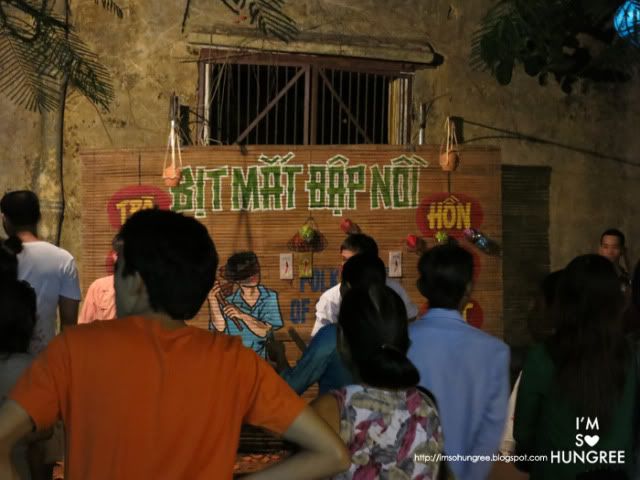 There was also this amusing game that the locals were playing, which seems to almost be a Vietnamese version of a pinata, except they used small ceramic pots and when the person was blind folded, they had to try to position just one hit to get the pot. It was kind of hilarious watching them be instructed by those watching and trying to judge how much they should move their whacking sticks a little more left or right. We did see a few of them hit the pot off in one fell swoop though! It was absolutely lovely to see such liveliness on our last night in Hoi An.
As all too soon, we were due to fly off.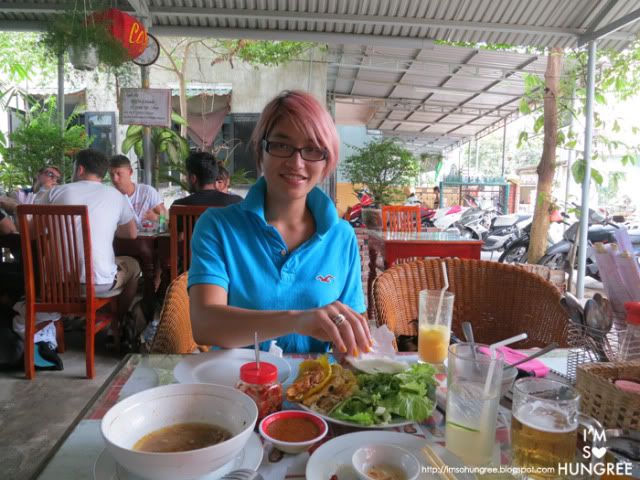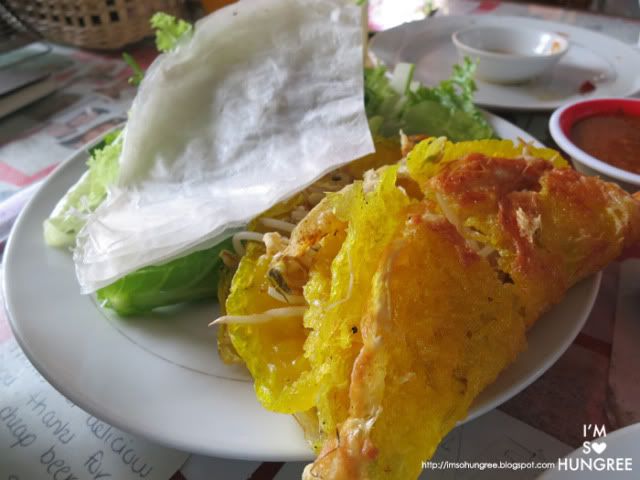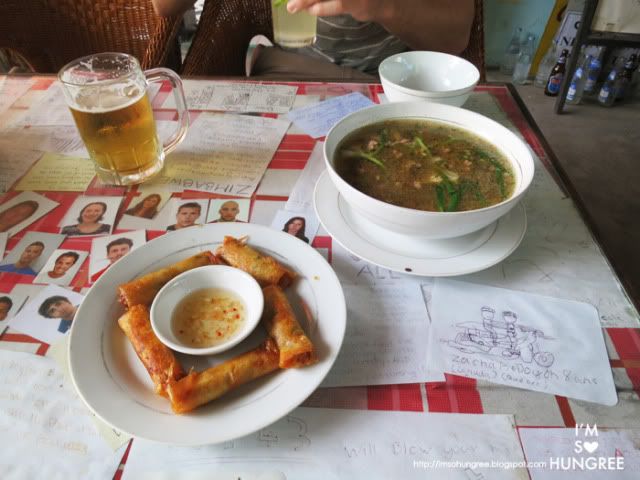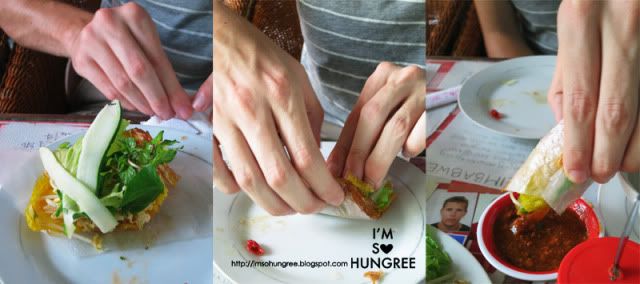 That simply meant squeezing in one more lunch at Cafe 43 before our car drove us to the airport in Da Nang. We made sure to try out the pho which I very much enjoyed, again, I'm not well versed in pho as I've said before. Maybe a bit on the oily side? Hard to say, but still very tasty. I also swear my collar was unintentionally popped. Really. I'm not that douche.
Hoi An is, again, just charming. It definitely came at a good time after running around Bangkok, Cambodia and Ho Chi MInh, it was nice to have time to sit back and read, or just go explore. I would definitely say 3 days is more than enough, as it is enough to do everything within Hoi An, unless you want to head down to Da Nang to pamper yourselves in one of the high end spas, or go on a day trip to see other sights away from the town. But really, if I wanted a beach destination to just kick back and chill out? Screw Bali, I'm going to Hoi An.
31/1 Tran Cao Van St.
,
Hoi An
,
Vietnam
43 D Tran Cao Van
,
Hoi An
,
Vietnam
17 Le Loi Street
,
Hoi An
,
Vietnam
54 Nguyen Thai Hoc
,
Hoi An
,
Vietnam