I'm not sure what's taken me so long to visit Saint Crispin. Despite endless vows of love on Instagram, ravings through the mainstream channels and through friends testimonials, I've just never gotten around to it (but then we do live in Melbourne and something new is opening every other day and a half, so it's not really my fault…)
So it was only fitting that when I made my first visit to Saint Crispin, it was with Rob, veteran eater at Saint Crispin, creating the hype and almost pre-explaining every dish on the menu to me, which meant I was positively salivating over the menu by the time it came around to ordering.
For anyone who's been living under a boulder in the centre of the earth, just a rock is not a good enough excuse, Saint Crispin is the second restaurant under Scott Pickett's belt, with chef Joe Grbac also at the helm, and follows after the Estelle, bringing a modern approach to food, that could easily be passed through pass the fine dining wand, but is instead presented in a relaxed and far more casual environment. Some might even say hipster, since we are on Smith Street and there are high ceilings, some bare brick wall and what not, but with a couple more polished finishes, like the rich timber along the ceiling, and a clean uncluttered aesthetic, there is still a pleasant elegance.
I arrived a little late, shuffling into the space looking like a bag lady with work bag, hand bag and gym bag all in tow. Fortunately the staff whisked my mess into a tidy corner and Rob had the bubbly all ready.
Our evening started with a little amuse bouche of (what I believe is) bright tangerine coloured cubes of compressed watermelon, with lightly fried seaweed. Goodness, what a sweet (literally) way to start, tingle the taste buds a bit and get them all ready to go!
The caramelised onion cream cheese (bit of a mouthful there) that came with our bread was a force to be reckoned with. I mean, do I need to put any more awesome words together? Light in texture and rich in flavour, it's almost a wonder why they bother to include the butter next to it, as I'd rather just have a bigger serve of the caramelised onion cream cheese!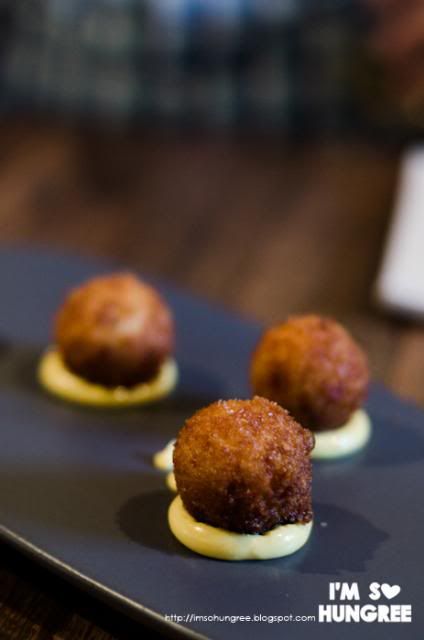 The famous smoked eel croquettes that followed were beautifully spherical and simply exquisite. So smooth, so creamy and full in flavour and aroma, with a ever so gentle crisp from the exterior. One was definitely not enough.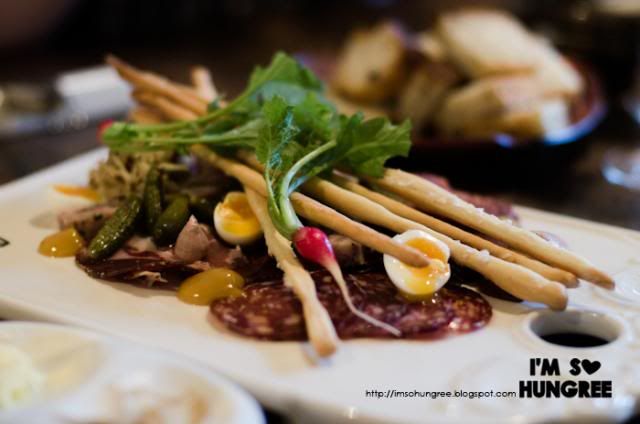 On a bit of a parfait quest in recent times, and with a lot of encouragement from Rob, we ordered the charcuterie plate, which is one of the most gorgeous ones I've seen recently. Piled richly with a beautiful selection of cured meats, wagyu breasola, spicy chorizo, crunchy gerkins, radishes and of course, my beloved parfait. It's honestly a meal of a plate in itself, even when shared by four!
A beautiful plate of quail, shaved cuttlefish, shiitake mushrooms and kombu, is complemented with a clear but intensely aromatic broth, steaming away as it's poured in. The quail is juicy and perfectly cooked, and the dish packs a delightful umami punch, leaving me licking my lips!
The marron with vegetables a la Creque, herb puree and grey ghost mushrooms is just a work of art to look at, how can one imagine eating it?!
So when it came to our mains, there was a bit of a mix up and we did end up eating an extra course by accident. Slip up on their end, and ours as well for not thinking too much about it, but at least I got what I wanted eventually!
I do normally find myself favouring appetisers, as I find there tends to be much more of a finnesse in presenting and preparing them, whilst, let's be honest, mains can be lovely, but a bit boring sometimes, with the protein and some vegetables on the side. However at Saint Crispin, there are so many beautiful elements incorporated into the dishes, that it's quite an exciting flavour journey.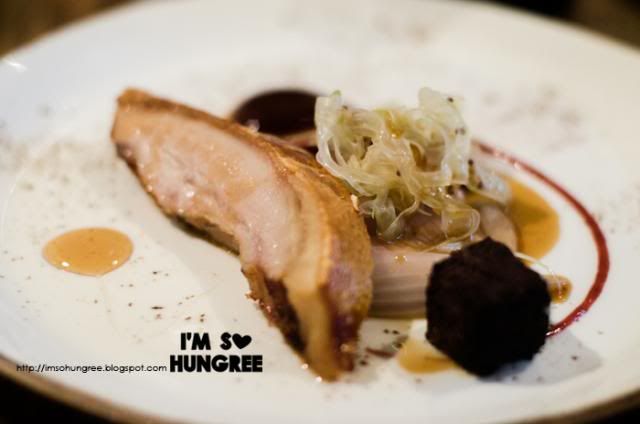 A couple of highlights included the Greenvale pork, with blood plums, baby fennel and mustard. Oh my, that crackling on that pork! A satisfying crunch, followed by a tenderly textured meat, I was amazed at how well rendered the fat was, and that it didn't feel fatty and oily in the mouth.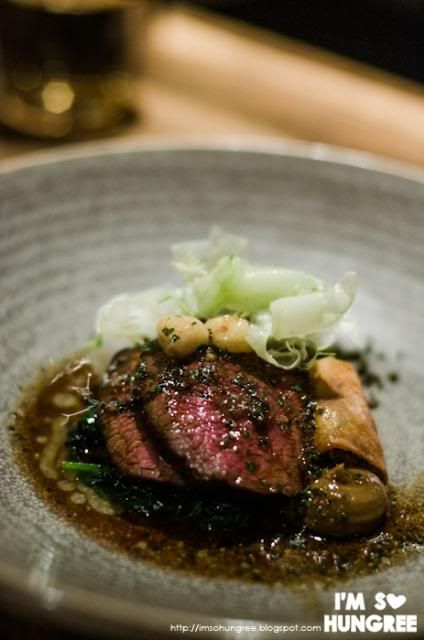 The boys tucked into wagyu rumps and cheeks with a spring roll filled with oxtail and miso and bordelaise. Wow. I couldn't get over the colour, a deep and rich pink colour, bordered by a perfect sear. The nibble I had was just so tender and juicy, quickly filling the nose with it's moreish aromas.
Surprisingly though, despite the wagyu tempting and taunting me with it's aromas, I didn't really have too much food envy, as my mushroom main of slippery jacks and pine mushrooms, a 65 degree poached egg, parmesan foam and wild rice just filled my heart with so much happy.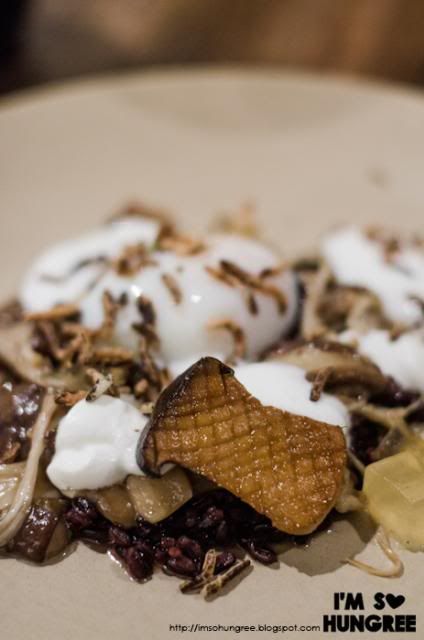 How do I start talking about it? I'm a sucker for wild mushrooms, and I'm loving that they're in season at the moment and popping up on menus everywhere. The meatiness of the pines and the herbaceous nature of the slippery jacks win me over every time. The parmesan was quite intense, but as a foam just added that touch of richness, just melting into the poached egg and all that runny yolk. I loved the crunch of the puffed rice, and the al dente texture and nutty flavour of the wild rice, there's so much heart in this dish, I could eat it all the time.
You reckon I can get a restaurant to adopt me? Hmm….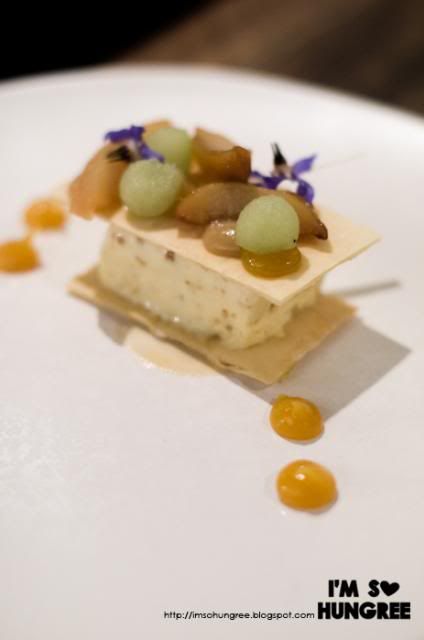 After a few courses, we're pretty full, but still determined to get dessert as well, which are appropriately all quite reasonably sized and on the lighter side of things. My hazelnut and honey parfait with apple, pear and chamomile, is light, floral and fruity.
The frangipane tart with Yarra Valley figs and vanilla ice cream is another work of art, with delicately cut figs, tiled out neatly, looking rich and lush in comparison to my light and bright dessert.
A couple of chocolate truffles with the bill and we're sent up the dangerously narrow stairs to Thomas Olive, where my night is finished off (in more ways than one) with a dangerously smooth martini, made with a gin I had never come across before from the UK (which I can't remember the name of, because a few glasses of wine will do that to you).
By the end of the night, I'm again left with the question, what on earth took me so long to get to Saint Crispin? We had an absolutely wonderful night, with beautifully crafted food and impeccable service, that is both professional and warm, friendly but not in your face either. I found the pace of the meal well timed as well, the kitchen and the staff a well oiled machine, which means you've almost always got something in your mouth.
I also love do love that Saint Crispin sits between your frequent visit, and special occasions restaurant. There are some places you save up and wait to go to, for special occasions, and restaurants that you can visit several times a month. St Crispin feels expensive, so is great for special occasions, but with a menu that's surprisingly affordable for what you're getting, and the touch of casual to the atmosphere, I'd be quite happy to find myself in on a semi-regular basis.
So what's kept you from visiting? Hurry along and get you butt on a seat soon!