My brother's an odd character. He's handy, got great hand eye co-ordination, excessively tall for an Asian, creative, into sewing costumes for his cosplays, loyal to the death for his friends and exceptionally stubborn. He also has aspergers syndrome (which technically no longer exists, but it's the easiest way to refer to it), hence many of his traits (good and bad). I love him to the death, but as an older sister, I naturally also wield an iron fist and always make sure he's in his place. Teehee.
There was one morning where he insisted I take him to a fabric store in Resevoir (which had me asking, where?!), which he had visited once upon a time to buy fabric. When I asked him why he couldn't just go to Lincraft or Clegs or something else close by....this place was cheaper.
So after much whining and groaning I finally gave in and drove 40 minutes there to find...well...it wasn't sale to public anymore. I wasn't very impressed, but fortunately, since I don't normally come up this way, I had the opportunity to sniff out somewhere different for lunch and after driving by the location about 4 times, being unable to find it, I did manage to spot it, find a park and get my grandma, brother and I settled in.
The location was Jackson Dodds, very quietly located on Gilbert Street, somewhere right in the middle of West Preston and Resevoir, or something of the sort. I'm terrible with my suburbs up this way. There's really not much else around it, but for some reason, I found it exceptionally hard to find since I guess I didn't know what I was looking for!
Inside it's quite quirky and cute, it feels like an open plan dining room meets kitchen, there's barely any wall or separation between the eating area, coffee machine, dishwasher and kitchen! It gives an airy and honest feel to the place, with little knick knacks dotted around, an airplane hanging from there, a mini shelf of toys over here and the cutest little mini table and chairs for kids to draw and play with toys on. Definitely children friendly.
Staff were bright, laid back and friendly. It wasn't long before I got my chai latte. Mmmmm.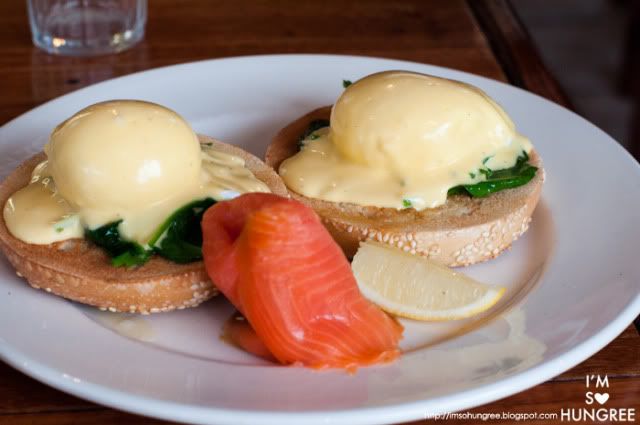 We all ended up deciding on breakfast really and my brother ordered the eggs benedict on a bagel with spinach and smoked salmon. Could you really ask for a prettier looking plate of eggs? I loved how tidily the benedict sauce blanketed the eggs, so that you couldn't even see an edge of white. They just look like eggs that are yellow all through instead!
The eggs bled magnificently, the bagel was perfectly crisp, I don't think I've ever seen a more beautiful tanned colour for a toasted bagel. I also don't think I've ever ordered an eggs benedict (I know, as a massive breakfast goer is a shocker), as I usually foresee it being heavy and extremely unhealthy, but I would easily love to come back for this fresh and healthier looking version!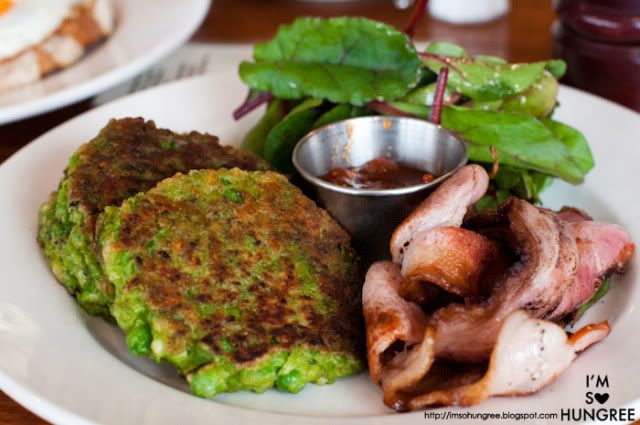 I went with the pea and haloumi (I think) fritters, with bacon, chutney and beetroot leaves (or something like that?). A little bit of a twist from the ever so popular corn fritters. I used to hate peas as a kid. Fortunately I grew older (although I certainly haven't grown up yet!).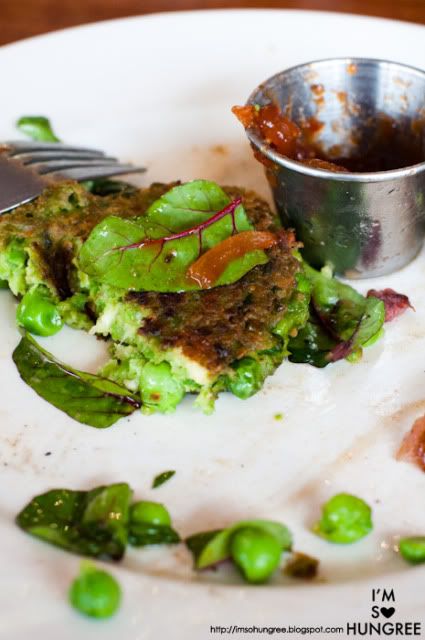 Everything went so well together on this plate, the fritters were bursting with flavour (and peas) and was hardly doughy, the bacon I found surprisingly comforting, I loved that the slices were thick and hearty and not oily and fried to a crisp. The beetroot leaves were also a surprising touch, I don't think I've ever consciously had them and I really enjoyed the natural sweetness they parted.
For my grandma, she never orders anything on her own these days, always gets me to pick for her, we got a simple order of eggs, ham and mushrooms.
The yolks of the eggs were again beautifully runny, but my grandma seemed to enjoy two things the most.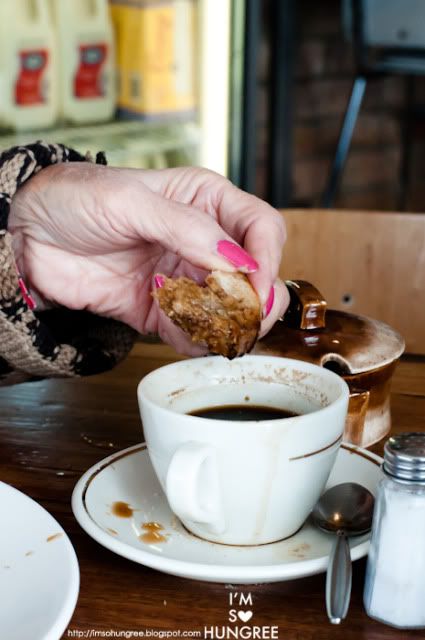 Her long black and her bread! She sat, quite contently, quietly taking her thick and crunchy toasted sourdough, dipping it into her coffee and happily chewing away on it afterwards! I honestly found it quite amusing watch her splash her coffee about a bit as she dunked her bread in, and then eating every inch of her bread, when she normally eats quite light!
So uh, I guess that's good bread?
At the end of the day, I guess it's good Tim's stubbornness bought me all the way up north, as I otherwise would never have come across this little gem of a cafe. Food is just so honest, fresh, flavoursome and good, space is comfortable with a good vibe and it's just pretty relaxed in general. It's nice to see a little twist and variation in the breakfast options. It's just a shame it's so far away from home!
Jackson Dodds
611 Gilbert Rd, West Preston
Melbourne 3073