I love living in the Eastern suburbs. I'm close to the city, there are great eating strips which are just 10 minute drives from me and for the most part, life is pretty convenient.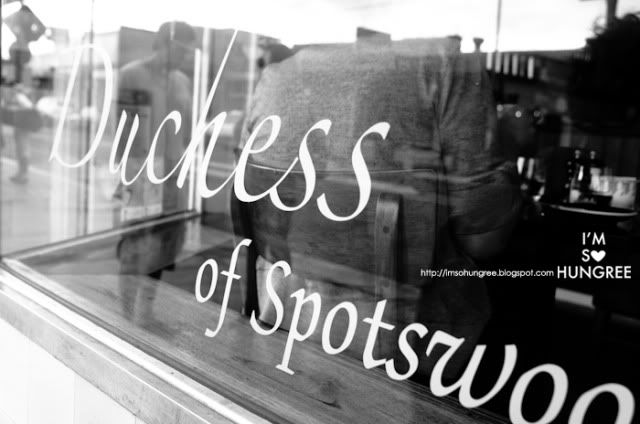 However, that is except, when it comes to The Duchess of Spotswood. Aaah. Bane.
It is one of those cafes where I have spent many a time drooling over fellow bloggers blogposts about, dreaming about meaty, meaty brunchy goodness but too scared (read as: lazy) to make the long, long, long, long (did I mention it was long), trek from Kew to Spotswood. And not just that, but having to wait for a table? Well I'm never keen on that and it sounded like everybody was hanging out to see the Duchess.
One weekend though, I brought up the idea to Brad to make it a little day trip to the westside and visit Scienceworks along the way, which he fortunately agreed to. And so off and over the Westgate bridge we went.
It was quite a trip too, having forgotten that the 'Run for the Kids' charity run was in, we were met with blockades and detours the whole way to the Westgate. Although it was kind of amusing to see sooooo many people running on the freeways in the direction of the Westgate…mass exodus anyone? Hurr hurr?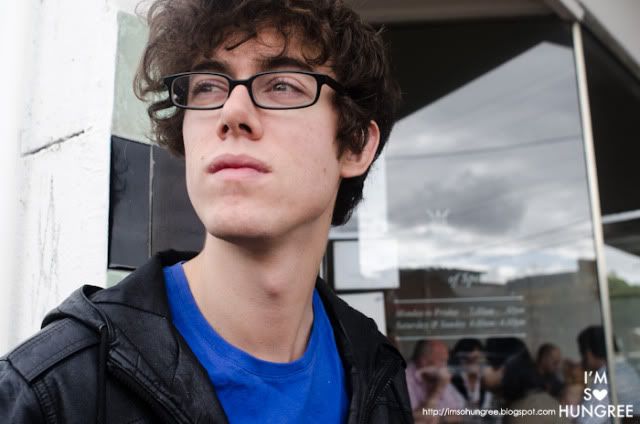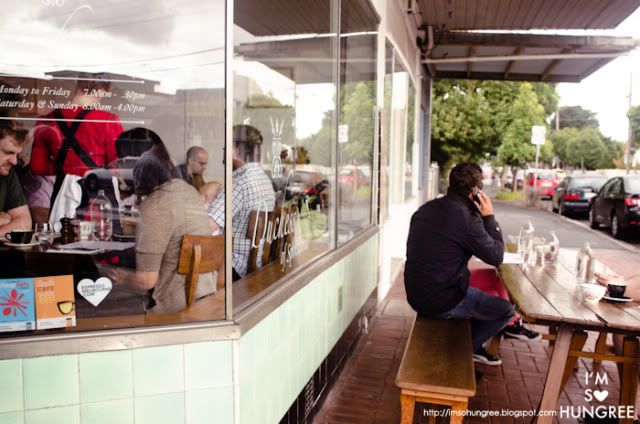 Anyway. A good 40 minutes later, we approached the Spotswood royalty. She's a busy one, and we had to pop our name down on the waiting list to have an appointment. We had made pretty good timing though and the list wasn't too long, as the clocks had just bounced back an hour and we had woken up much earlier than we usually do!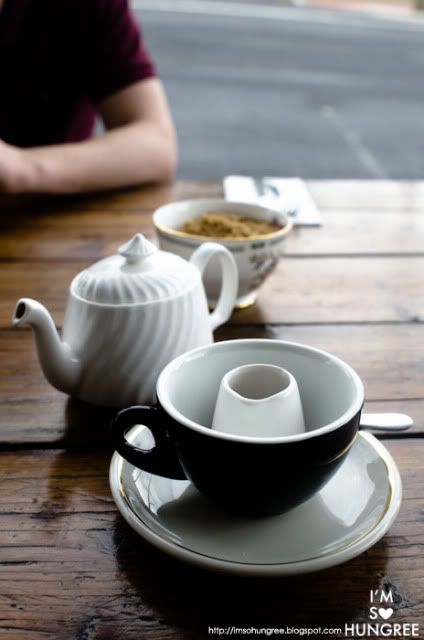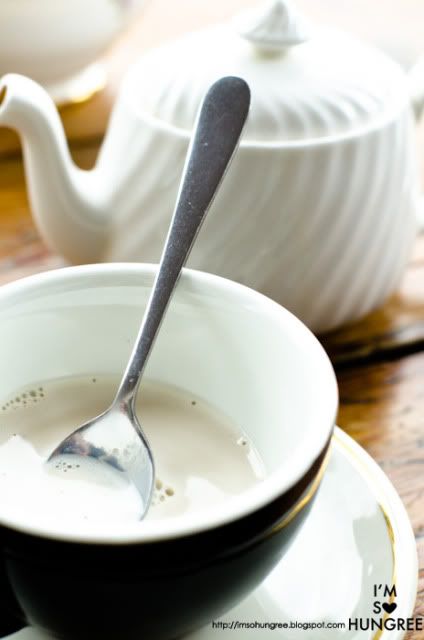 We were allowed though to sit outside and have coffees while waiting, which we did. My usual soy chai latte, which came in the most dashing of teapots and Brad's latte. The milk was smooth and the chai was a little more sweet than spicy, but a delight all the same. My only wish would for it to be a little hotter, as it was quite fresh outside!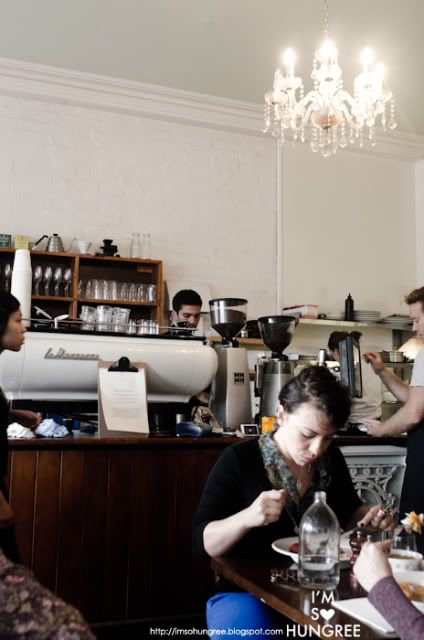 It wasn't long before a table cleared up inside for us, and we moved into the simple, but rather cool space, with a touch of elegance from the crystal chandelier hanging from the ceiling. I will also say I loved the tables in here, dark, solid looking timber, there's just something about it that looks kind of grand y'know?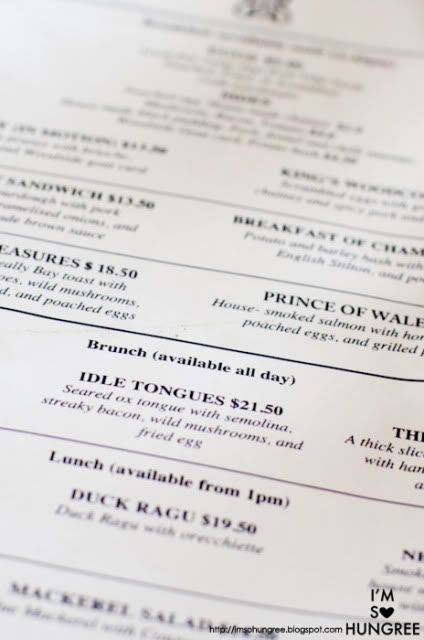 The Duchess of Spotswood menu definitely shows the British influence and pushes the boundaries on what constitutes breakfast or brunch food, at least in Melbourne. It's quite refreshing!
Brad went with the 'Breakfast of champignons', got to love the fun 'titles' all the dishes have, with potato and barley hash with field mushrooms, English Stilton and poached eggs. Mushrooms can be a bit of a difficult ingredient to pretty up, but with that golden hash, I couldn't help but smile. It looked so bright!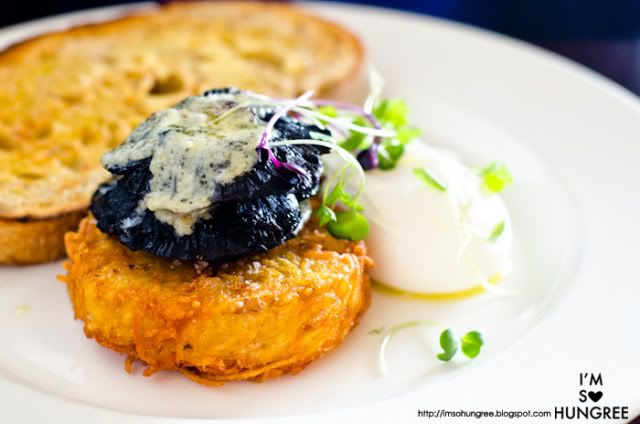 Having read the description quite quickly, Brad didn't fully realise what English Stilton was and couldn't quite put his finger as to what the flavour was on the mushrooms while eating. So I took a bite and swooned. It was rich blue cheese. On mushrooms. So luxurious. Need this combination more in my life. I was really quite tempted to steal his whole dish and make it mine, all mine!
I had initially wanted the 'Idle Tongues' dish, as I am a bit of a sucker for ox tongue, but learnt that they had just run out of tongues and were replacing them with veal sausages.
Although tempted, I was also determined to have the full and originally intended Duchess experience, and opted for the 'Duchess of Pork' instead. And I certainly wasn't disappointed.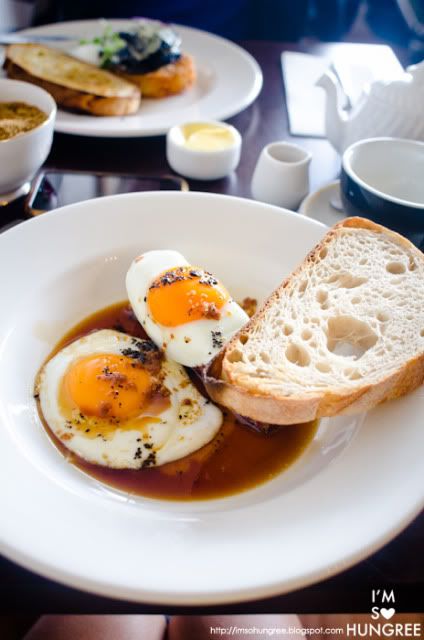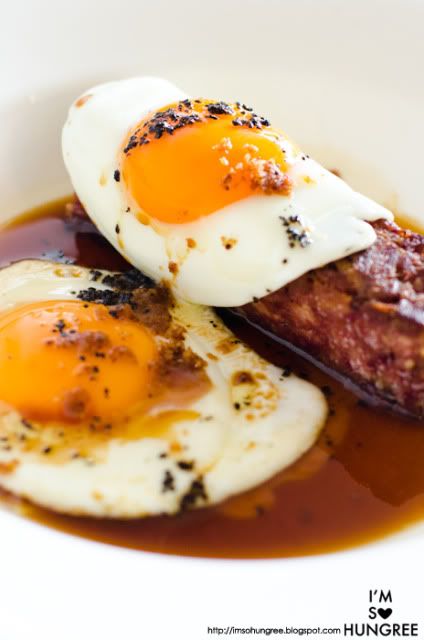 Crispy pig's jowl with fried eggs, rich truffle sauce and sourdough toast. Hello protein overload! I loved that the pork wasn't too fatty, as I have been struggling to eat pork belly's lately (buhuhuhu), it was just perfect, heartily meaty. Paired with eggs that had yolks that lazily pooled around the generous portion of pork. Food porn has never been hotter. Just scrumptious darling!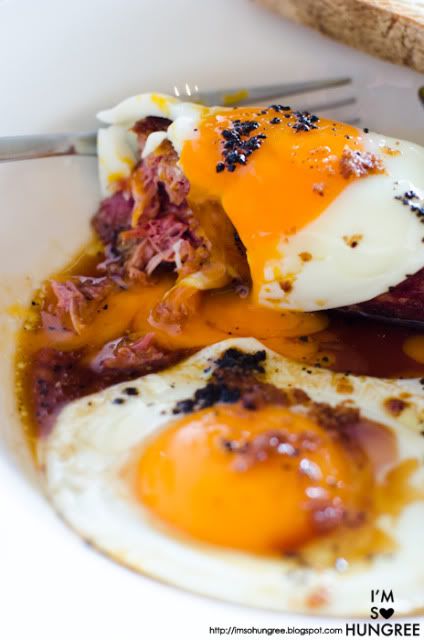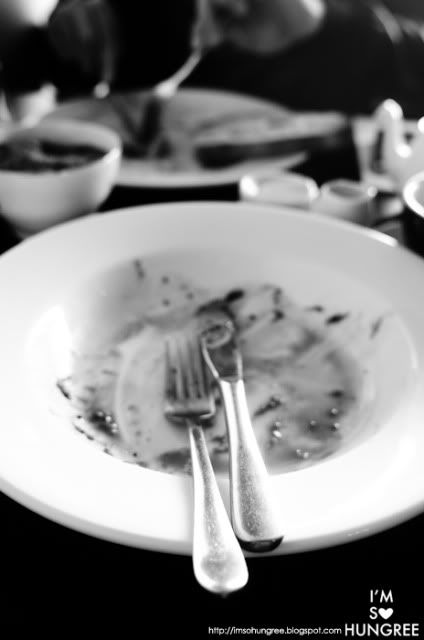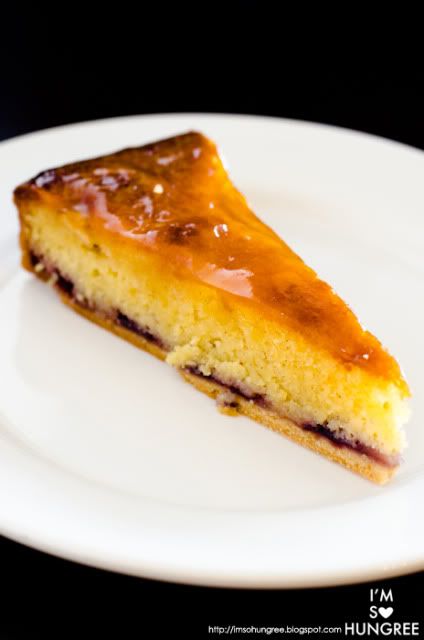 Having decided I had been good since I had only eaten protein (sorta), I decided I could afford something a little sweet from the cabinet. Although tempted by the most adorable looking cupcakes and beautifully iced cakes, my eyes for some reason, were drawn to the rather shiny tart. Simply a joy. I really love cakes and tarts that are more almond meal than flour, as I do love the density and the nuttiness, with a nice sweet glaze to compliment and a pop of tarty berries in the base.
All in all, our expedition to meet the Duchess was just lovely. The food was fun, brilliantly executed, immaculately presented and a touch experimental, for brunch at least. Her people are also the lovely smiley sort, who are always seen fluttering around, busy as bees. Although the little shop was quite full, it was still a lovely comfortable space and can imagine how charming it would look for their dinner services.
Our trip to Scienceworks was not quite as charming, the poor old museum is really showing it's age these days…
87 Hudsons Rd
Spotswood, VIC 3015

View I'm So Hungree in a larger map