The last time I had seen Mr. B was when we went to dinner at
Boire
….back in February. Oops.
So before I hopped off to Asia for a month, I sent Mr. B a note that I needed to borrow 'The Perfectionist' (which I've almost devoured in a week, excellent read for anyone curious about the haute couture food culture in France) from him and that we needed to get a meal before I disappeared again.
Pei Modern was decided on and we agreed to meet on Friday night (as Monday night, our original choice, was fully booked out for a Gourmet Magazine event).
I had taken the tram in a bit earlier than expected, so I decided to whet my appetite for expensive goodies and strolled around the Parisian end of Collins Street, alongside the Asian tourists touting 3 or 4 designer bags each, popping in and out of each boutique like travelling salesmen.
I had just done a double take at the Prada shop, eyes glued to a gorgeous square denim tote, trimmed in a brilliant orange leather, when Mr. B snuck up on me, having taken the tram in as well, and, with a smile, walked me into the shop to satisfy our curiosity of how much the bag was.
Naturally we left bag-less (much to the relief of my bank account), and we strolled up into Pei Modern, where the bar was bubbling away at 6:45pm and the dining room quite a bit quieter in comparison.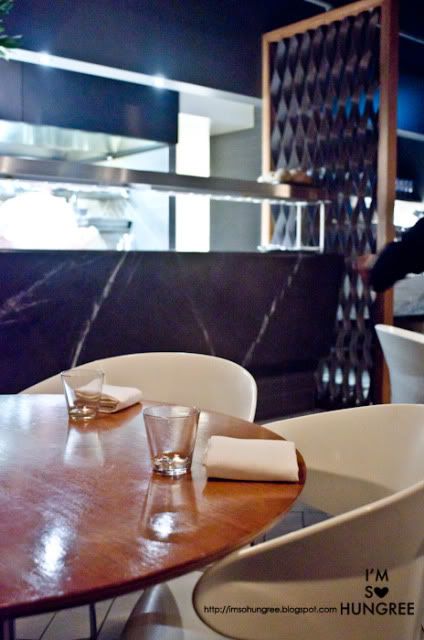 Pei Modern's bar and dining area are quite surprisingly different in atmosphere, the bar, lined with wood is warming and inviting, especially with the nip of May winds. The dining room we found, at least upon first entry, was a bit cool and sterile with it's white tables, white chairs on a white floor. However, I do have to say, as the night went on, and the dining room filled out, there was a very comfortable buzz and the dining room was much more inviting to be in afterwards!
There's also something I really liked about the all white theme as well, I felt everything put on the table was really showcased and highlighted, since the surroundings were so subtle and neutral. Table turned easel?
Mr. B and I spent some time drooling over the menu. The food is explained simply, and with items such as lamb sweetbreads, beetroot tarts, pork jowls and hanger steak, the menu was just small enough to be in love with, but a little too big to order everything in one sitting. Curse you Mark Best for making me need to visit again!
"I'm starving"
"Me too."
"Ashley, can we just pig out?" Mr. B asked me. How could my response be any thing else than an enthusiastic: "Yes!".
We ended up going with…I can't remember what they called it, but essentially a 'chef's menu', 7 courses, picked out by the chef. All for an easy $90.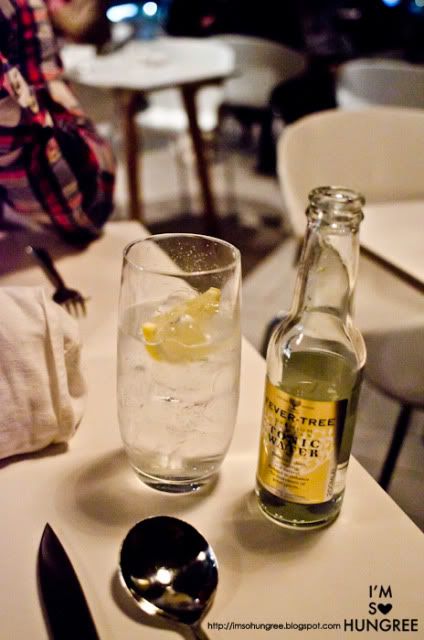 We limbered up with a few drinks, a delicious gin and tonic for me, gin from Seven Winds and tonic form Fever Tree. This pleased me greatly, as I had only recently gone to the
Fringe Food Festival
's gin tasting event and been introduced to these products.
I easily convinced Mr. B to get a treacle, an old favourite cocktail of mine, which he thoroughly enjoyed, and we tucked into some of their sourdough bread. Made with the same 14 year old starter which they use in Sydney, the bread was to die for. I don't usually munch on too much bread, I have been a little more lately, but after a few bites, I completely and wholly gobbled up two slices of the stuff. It was absolute perfection in terms of bread, the crust crisped away to reveal a soft, pillowy dough that was heaven with the butter at the perfect density for spreading.
Mr. B also noted, how there was only one butter knife between us, and of course, no bread plates. Although I've always been a big advocate of sharing, it wasn't until he pointed it out, that I sort of felt that sharing the bread knife created more of a…community feel to the meal. We had to be engaged in what each other were doing and thus, more interaction. I also personally loved eating straight onto the tables. If you've left a mess, surely it means you've enjoyed your meal right? And after all, why not?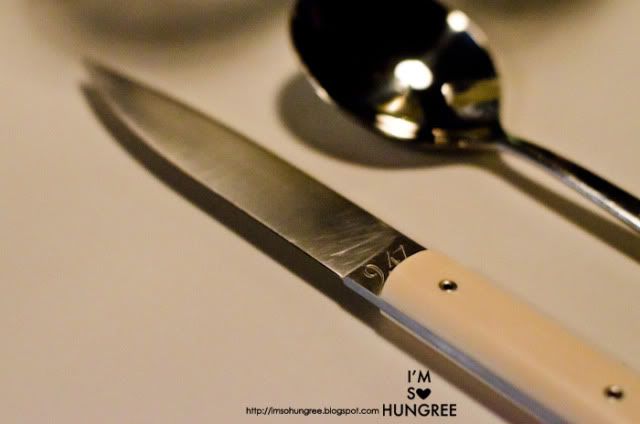 We were introduced to our very sleek Perceval knives, made and imported from France, they stayed with us the whole night, even whilst other cutlery was used, removed and replaced. We were told that they were supposedly, the perfect knife to go with every protein, and they were indeed, a nice table side companion.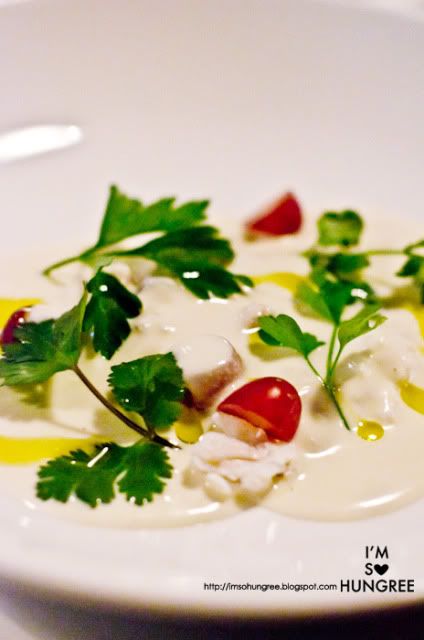 Our first course was the almond gazpacho with blue swimmer crab. Whilst gazpacho's are usually light and refreshing, Pei Modern's version was creamier and richer, with a slight nuttiness. Uh. Yum. Yet there was still a balance, and a lightness to the dish, compliments to the grapes and sweet, sweet crab, making it a brilliant first dish.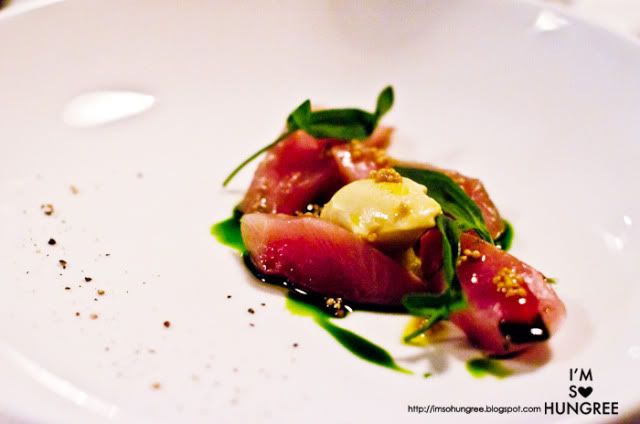 Following on the fresh theme, our next plate featured a beautifully bonito, a gorgeous dark rouge, with a sprinkling of mustard seeds, green rhubarb and a fat dollop of foie gras mousse, teasing seductively with promises of good things. It didn't fail to deliver. Beautifully fresh, and I loved how a typically rich and heavy ingredient (foie gras), was given a bit of a lighter makeover.
The dishes at Pei Modern were paced perfectly, as we finished dish, it was promptly cleared away, along with the forks and spoons, but not the knife of course, and our next course wasn't more than 5 or 10 minutes away.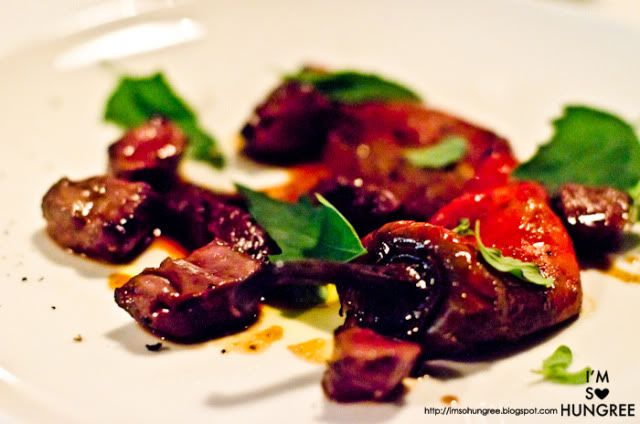 A big fat bullhorn pepper, in it's full glory, with grilled ox heart and harissa. The pepper, although rather intimidating, was fortunately not spicy, and had a really lovely flavour with a touch of sweetness. Fairly polite, enjoyable, but not incredibly memorable for me. And I apologise I really don't have as much to say about this dish…as the next dish is what the whole meal was all about for me.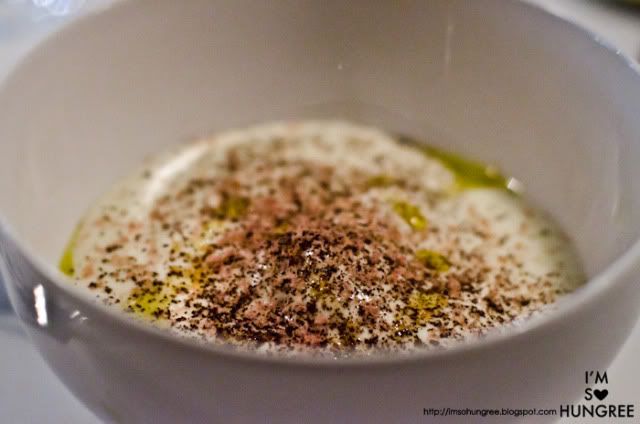 Say hello to the dutch creams. In the dimmed evening light, the dish didn't look as exciting. I sort of thought it looked like a porridge initially, however, it did smell fairly intoxicating. And my gosh, with one bite, I was hooked. The dutch cream potatoes, that melted in your mouth, swam in a decadent and creamy potato foam, laced with mojama, coffee and bone marrow. This was a dish for comfort, definitely not for the weight conscious (although they should shove the diet books to hell and eat this anyway). Mr. B commented on how it brought him back to a Polish potato dish his mother would cook when he was younger.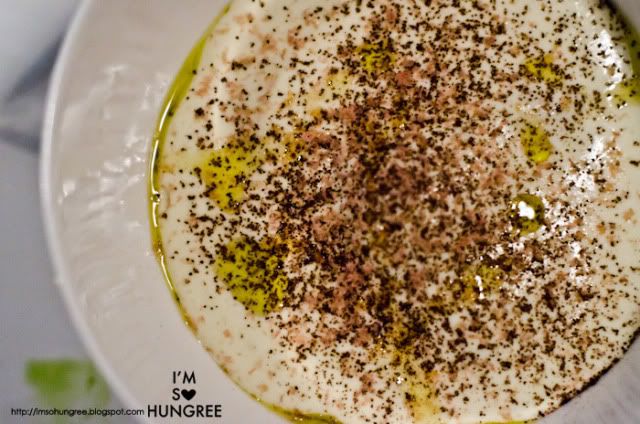 But sigh. Sigh! I dreamt of these potatoes for the next few days! You should ask Brad how often I brought them up. Along with anyone else I came into contact with for a few days after. Borderline obsession!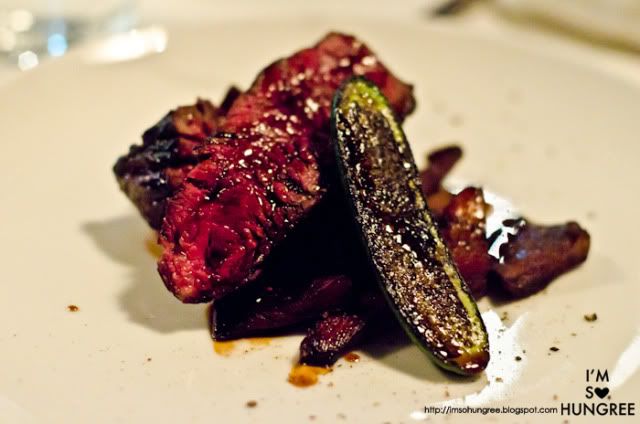 To get our protein fix, we were served up hanger steak with pine mushrooms and charred cucumber. Having also just come back from the Fringe Food Festival's mushroom foraging event, I was ecstatic to have pine mushrooms, which did not let me down. Meaty and wholesome, I did make the comment that they kind of stood out more than the steak to me! Although to be fair, the hanger steak was enjoyable in it's own right, gorgeous and rosy, I really enjoyed the char on it.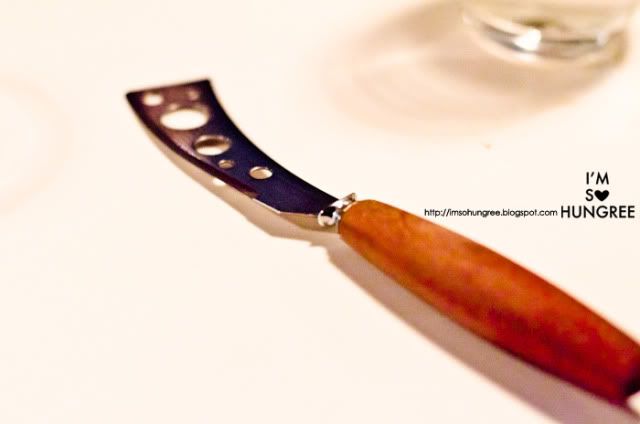 It was then that Mr. B and I bid farewell to our Perceval knife (somewhat thankfully, don't know how much more savoury we could have taken!), which was instead replaced with a rather cute cheese knife. We both loved the wooden handle on it.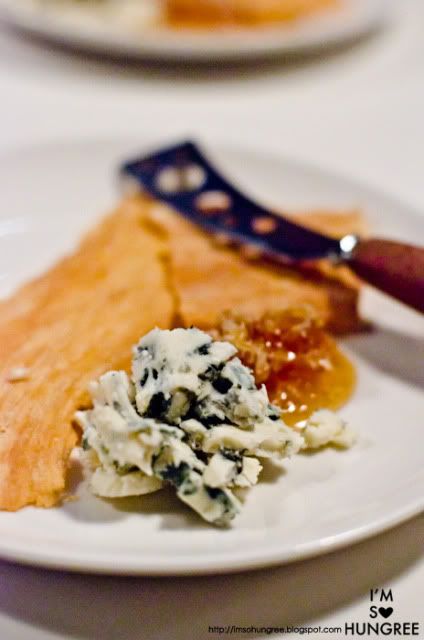 Our cheese course was big and bold and I do admire Pei Modern for unquestioningly presenting it's diners with a blue cheese. And not just any blue cheese, but a big, heavy, smelly and rather intense blue cheese. Although it was totally my thing anyway. I had never had fresh honeycomb with cheese before and absolutely adored the mix of ever so sweet with…well…blue cheese. They neutralised each other out so well! I could quite easily see my mum freaking out though if this was presented without question to her...!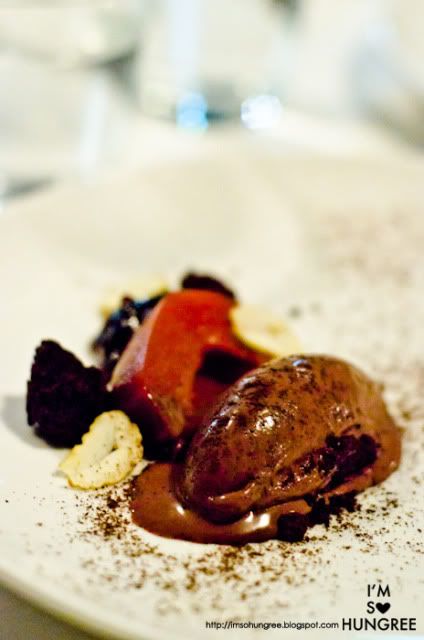 After all the richness and boldness of our meal, our sweet ending was a little bit toned down and easy to digest. I can't remember exactly what it was, but along the lines of chocolate ice-cream, with dehydrated chestnuts, some poached fruit (which I've forgotten) and pieces of chocolate cake. Pleasant, but not overly exciting. Which was more Mr. B's comment than mine, but I do have to agree.
When making the booking, Mr. B and I were initially told we would have to be out by 8 or 8:30, but we happily stayed on until closer to 10pm. The waitstaff were charming and so friendly, and the food overall so enjoyable, it was so easy to lose track of time. I felt here, the ingredients really came through, the dishes were for the most part, actually fairly simple without too many complicated flavours. A very comforting meal indeed.
And so we popped on our coats, and rolled out the door, he went home and I trained down to Hoddle Street to watch a friend's gig. That I missed. Not that I'm complaining!
Pei Modern
45 Collins St
Melbourne
,
VIC
3000