Disclosure: I was invited to dine at Crown at No.8 by John Lawson and Nobu by Media Moguls
When I was in high school and uni, I surprisingly used to spend quite a lot of time by Crown. It somehow always just ended up being a meeting spot, where we would go get gelato and then burn off the calories at the Galactic Circus videogame arcade.
No, I wasn't gambling when I was 17! What are you thinking?!
A couple years on (or maybe a few more than that), I wish I was at Crown to play in Galactic Circus, but more often, I find myself checking out the what's on offer in terms of food and wine (duh).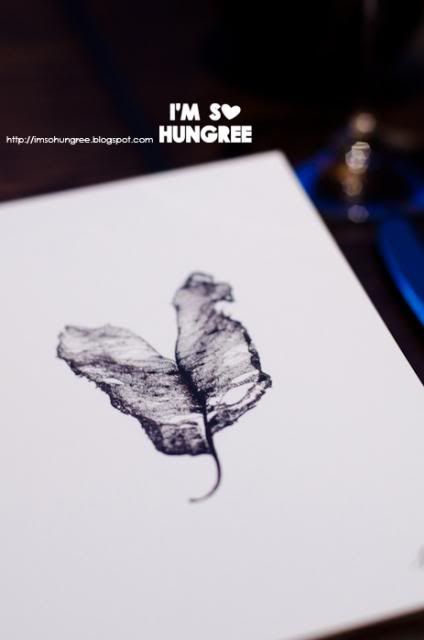 Crown's been seeing a fair few changes recently, with the West End kicking into gear, Giuseppe Arnaldo and Sons closing, Lucky Chan moving into a bigger space…and No.8 getting a facelift, and a new addition to the name.
I have memories of riding my scooter (the Razor's when they were cool) past No.8 back when I wasn't so into food, and always noticing how busy it was, bright, white and very elegantly nautical.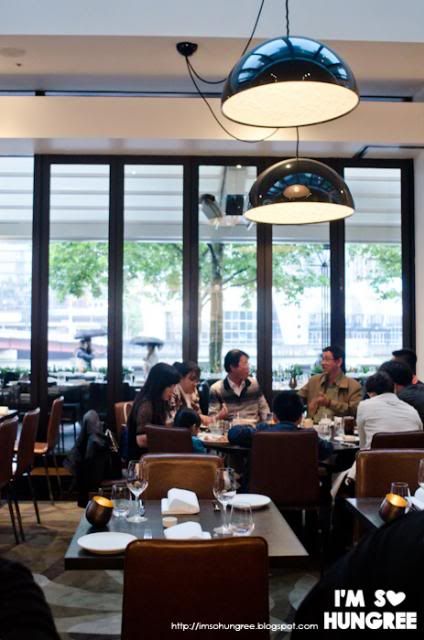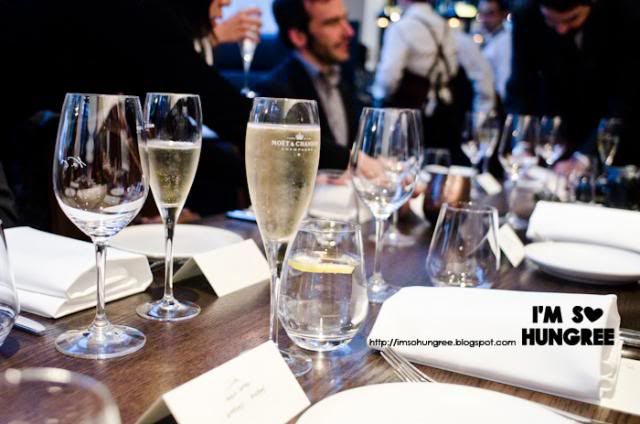 But no longer, No.8 by John Lawson has toned down, adopted a palette of softer and more neutral tones, accented with dark grain wood. Although darker, and slicker, it still exudes a soft and comfortable environment, with lots of circular and gently rounded shapes, not many hard edges here.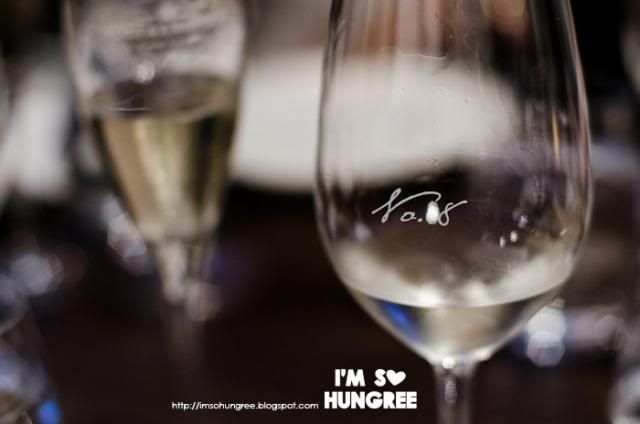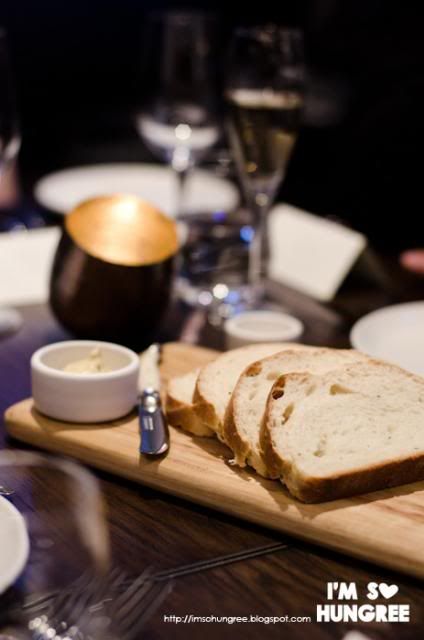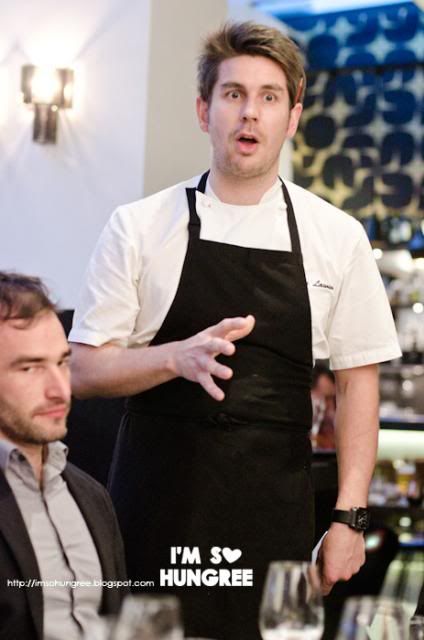 As we nibble on the amazing potato, rosemary and honey sourdough bread, softly wafting up decadent aromas, John Lawson greets us and introduces his food and his ethos with great enthusiasm. Passionate about local produce, which stems from his time in France where he cooked dishes with produce from local farms, he walks us through the menu, pointing out some of the produce and his favourite dishes.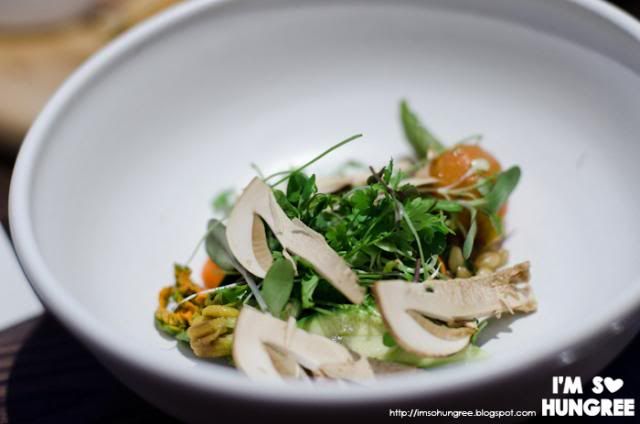 Take our entree for example, a Flowerdale Farm spring salad with wheat berries, baby carrots and sunflower shoots as well as some almond mushrooms, which I had never seen anywhere else. A very light and elegant way to start our meal, the almond mushrooms providing a curious nuttiness and the wheat berries adding texture with a spot of chewiness.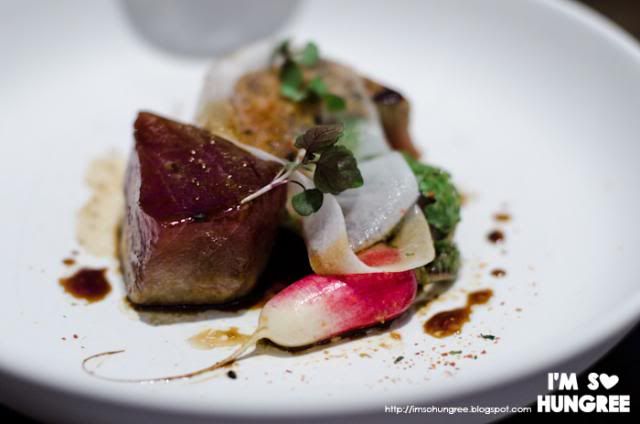 The Portland black and blue tuna, with black garlic, yuzu jam and aged soy, one of John's signature dishes, was popular with the group. The name is a play on the American 'black and blue' steaks, which are charred on the outside and red on the inside. For the tuna, it's seared on one side, with the other side left raw. The Asian inspiration really comes out in the flavours, and the texture is beautifully smooth.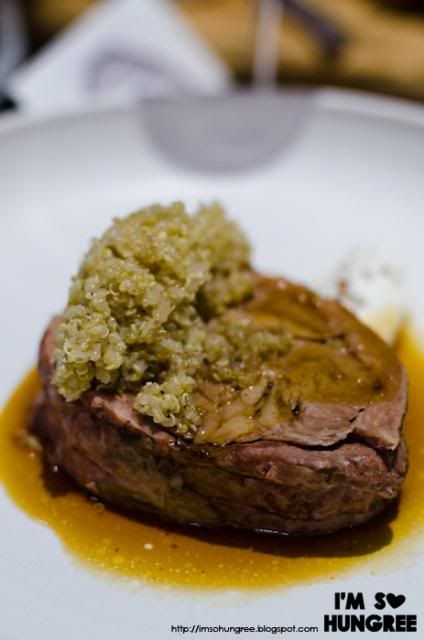 Our mains, a choice of a Barwon River lamb shoulder or a Milawa duck breast, both showcase John's relationships with his producers, with the particular breeds of duck and lamb used in the dishes, bred exclusively for John. Both dishes were exceptional, and although the popular vote went marginally to the duck, I personally adored the juicy and tender lamb. In both dishes, John allowed the produce to be the king, keeping the dishes simple and unfussy.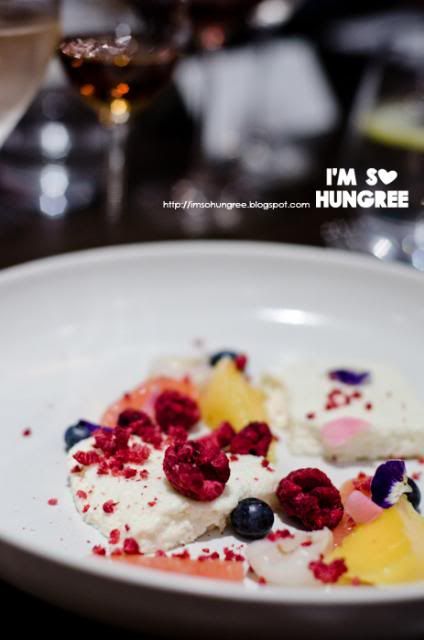 Whilst the mains may have been unfussy, John ramps it up for dessert, the yoghurt and honey mousse with lychee, blueberries and mango making a lovely and summery dessert, with a little bit of table side flair whilst the banana split, with rum caramel and toasted hazelnuts is an adult take on a childhood favourite. I was particularly impressed by the thin slice of banana bread at the base, even in such small quantity it was incredibly moist and dense, and full of delicious banana flavour. I only wish it was bigger!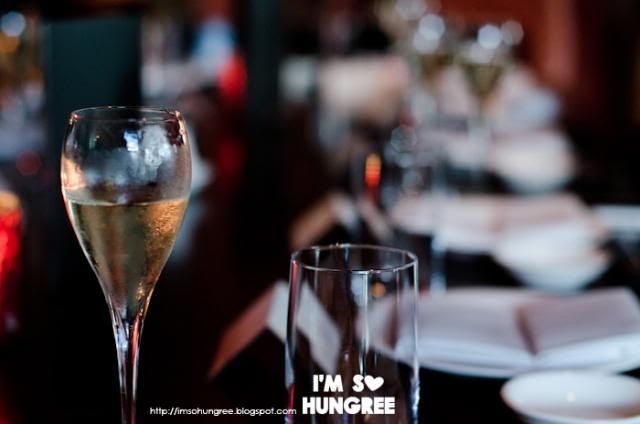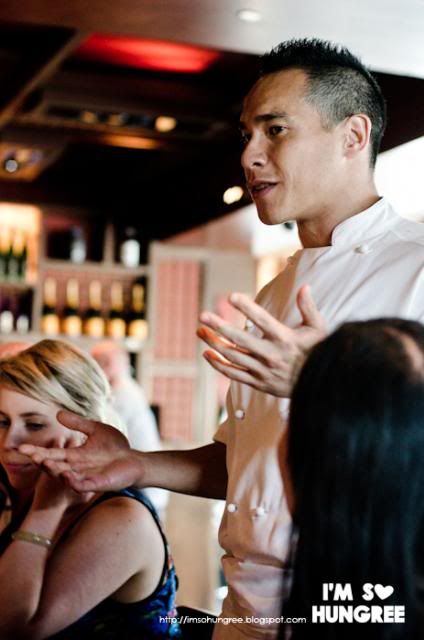 Another venue that's branching out a little bit as well is Nobu. Although well known for it's Japanese fare, in the sultry dining room underneath ground level, Executive Chef Christopher Shane is taking Thursday evenings to give Melbourne 'A Taste of Peru'. Paying homage to Nobu Matsuhisa's early years in Peru, Shane works Japanese precision technique with big and gutsy South American flavours in a range of tapas and cocktails.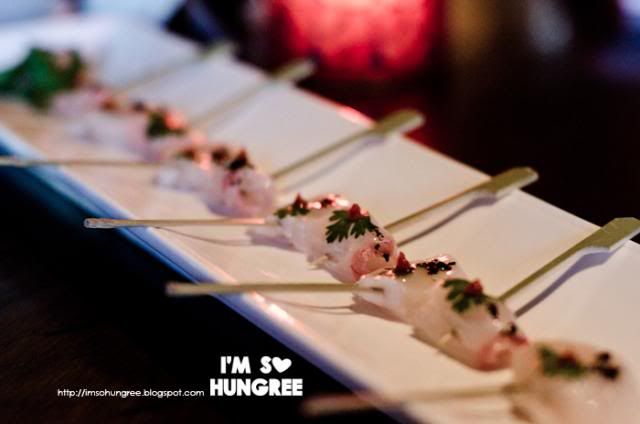 Starting with the scallop tiradito, which looked a bit like a scallop lollipop (oh what a novelty of an idea!), was a beautifully fresh way to start the evening, the coriander providing a nice contrast and a sharp bite of chilli just to give a little extra boost in flavour.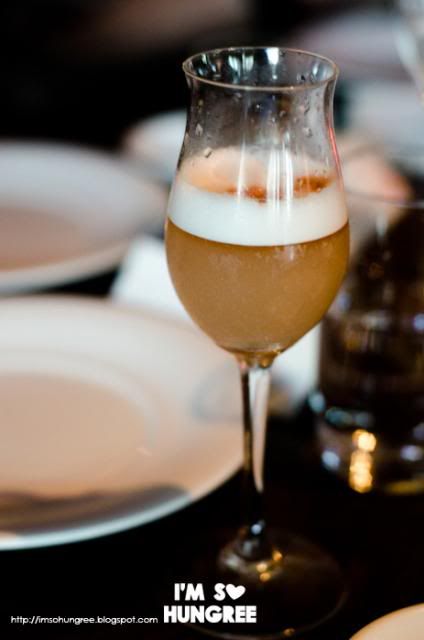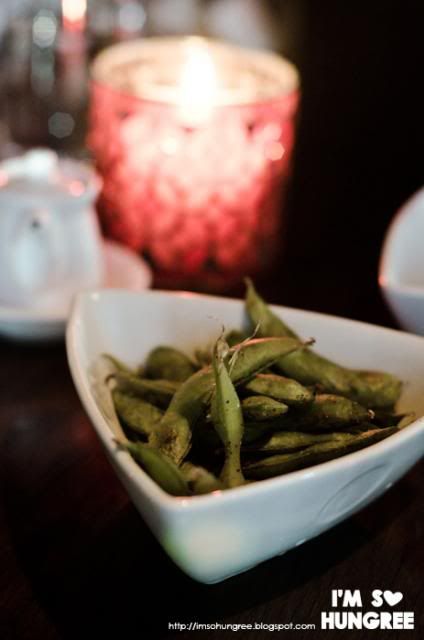 The tapas menu seemed to split between small and refreshing bites, usually seafood, served cool and bigger meatier skewers, covering a broad range of needs between work and dinner, whether you need something little and refreshing, or you're a little more peckish than you'd like to be.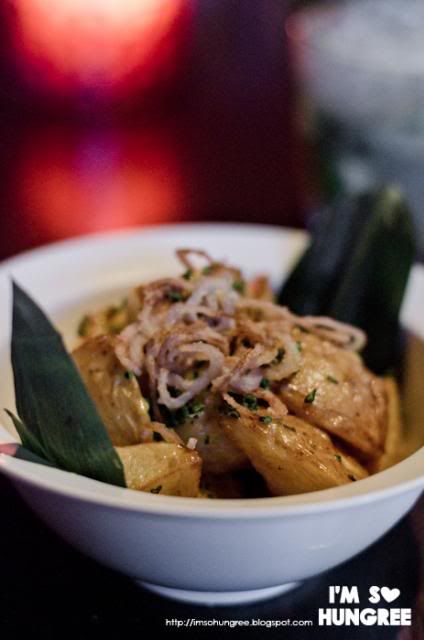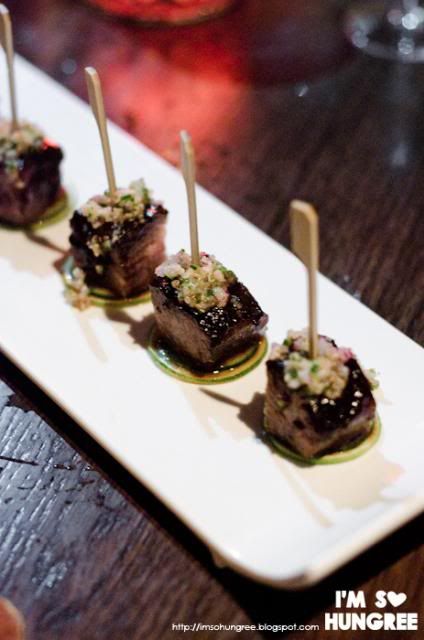 I also loved the Vieira, grilled scallops with Aji Amarilo salsa, the potato salad with creamy Aji Amarilo and crispy shallots (warm potato salad, mmm….) and the Tira de Asado, Nobu style, a short rib with Aji Panca tomato gastrique and a sprinkle of cous cous.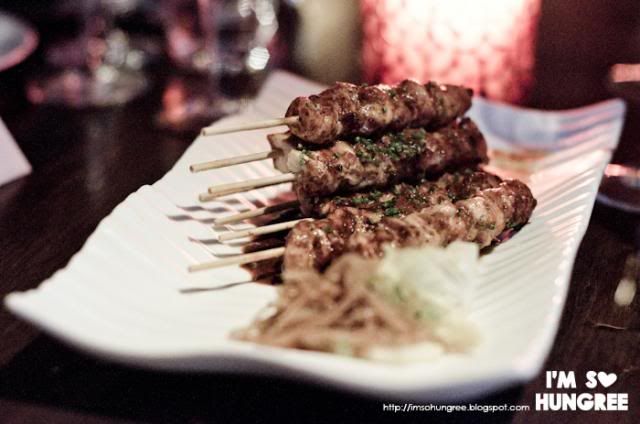 Although you'd need to be ordering quite a lot to make a meal, for a pre-dinner nibble, I thought it was a great size.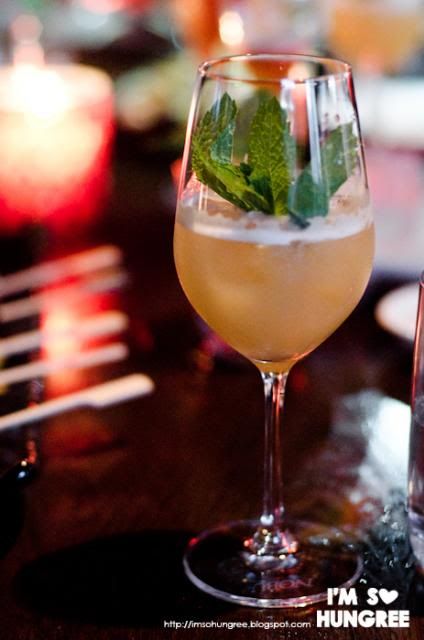 It had been a while since I had really tucked into cocktails, favouring a simple gin and tonic or glass of wine more recently, so I was a little floored when our waitress informed us we would be trying ALL the cocktails. Eek! My Asian metabolism isn't prepared!
Fortunately we got half sizes of everything, otherwise I'm pretty sure I would have been on the floor by the time we left!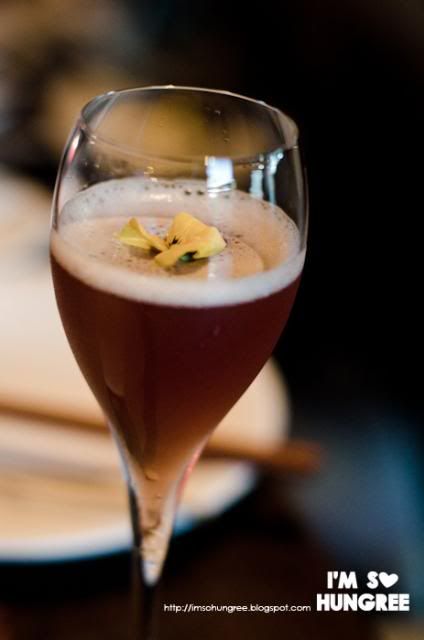 The cocktails were fresh and fun, with lots of interesting flavours that you wouldn't find in your typical cocktail bar. The Peruvian pisco sour was a surprisingly sturdy and rich cocktail to start our night, with an emphasis on the bitters, whilst the La Rosa Vaha (which translates to 'Bed of Roses'), probably my favourite, pushed the sweetness with a plum Pisco liqueur, but didn't come across as too sweet either. I appreciated the balance in the cocktails, definitely sweet enough to satiate the girly need for sugar, but enough acidity to stop it from being sickly.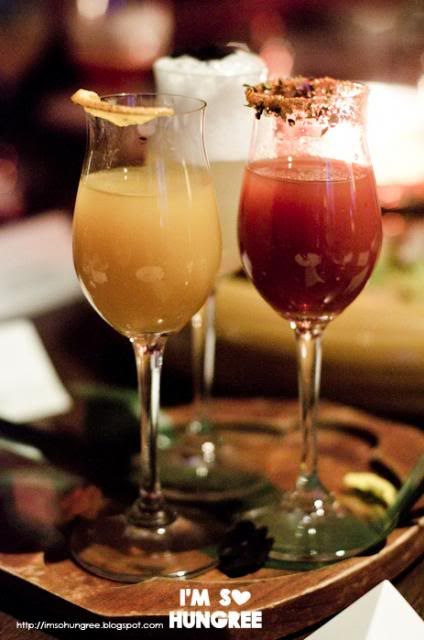 At $20 to $22 a pop, it may seem a little on the high-end for cocktails, however, the regular portions are huge! For real value though, do check out the Peruvian Cocktail Flight, $35 getting you three different cocktails, although you will need to be a little open minded with your flavours. Whilst the orange based cocktail and the elderflower based cocktail were well and easily received on the table, the savoury tomato cocktail challenged palates. Some of us sipped, pursed our lips and put the glass down and others supped, before returning for more.
As mentioned, with the cocktails being around $22 each, and the tapas ranging from $12 to $35, if you haven't done Nobu before, and balk at the idea of dropping $250 for dinner (as I have once), the Taste of Peru on Thursday nights might be a nice introduction (especially on the wallet), and something a little different.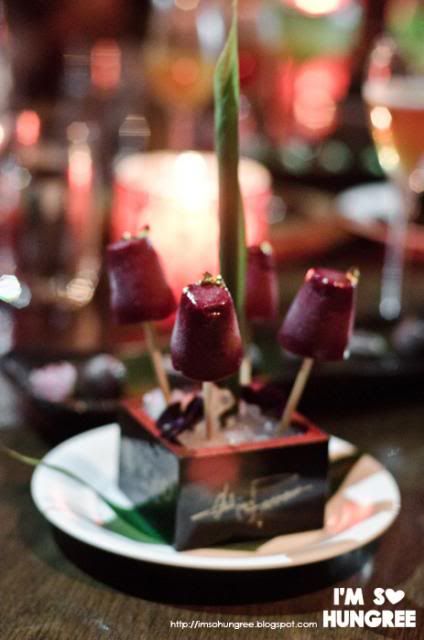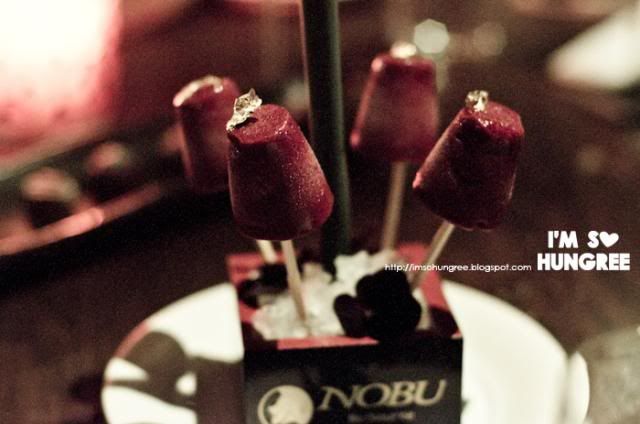 And speaking of different, you must ask for these popsicles for dessert. I believe they were plum wine and blackberry; whatever they were, it was sexy summer perfection!