About a month ago, Chef Valvasori (who has now relocated to Perth and has gone fishin' (according to twitter)), asked me to take some photos for him before he left. So on a day when the sun was out, we battled with light was made available to us (which was a lot harsher than I would have liked), and took a couple of shots in the gardens and vegetable plots at the Collingwood Children's farm.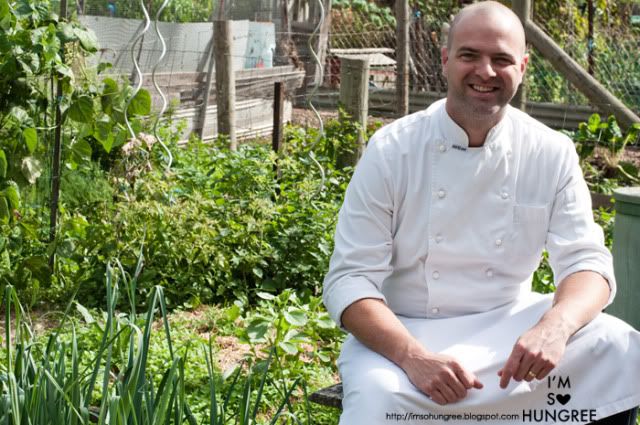 Who's a good lookin' fella? :D
As part of my payment, I asked for something sweet and well, Joel certainly delivered with a marvellous box of goodies from Chez Dré. Far more than I ever expected to get! So after our shoot, I quickly rushed home, tore the box open....and took photos of it. (Ah life of a food blogger...?)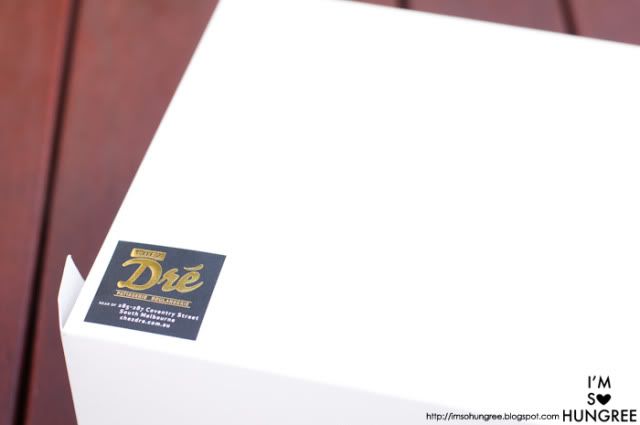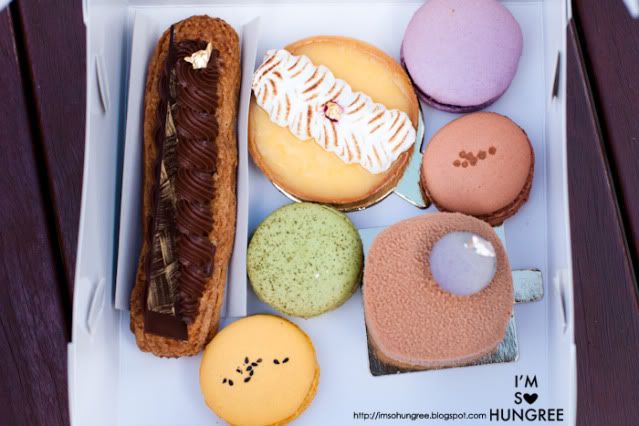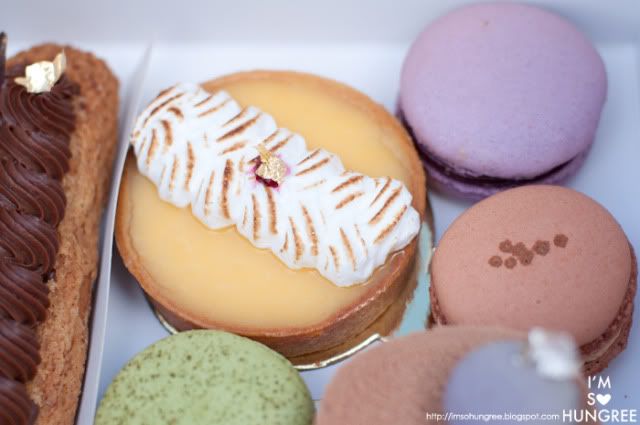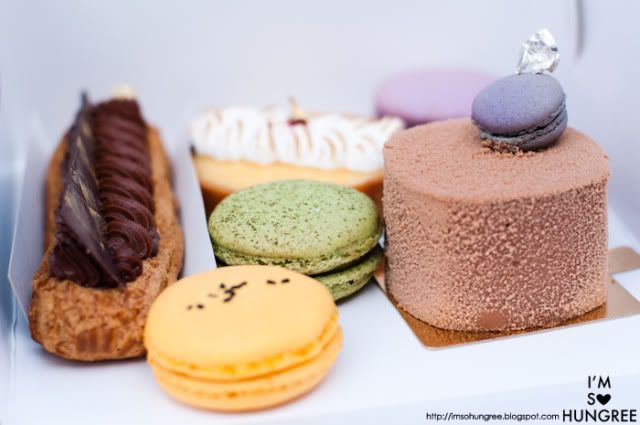 First thing's first, I just fell in love with the delicate pastel palette. The colours are so rich but gentle! And then of course, everything was SO delicious. I wish I had taken pictures of the chocolate eclair, in the midst of eating it, but it was so delicious, I was a bit distracted. It was just filled to the brim inside with chocolate custard, like, SO much custard. I was expecting to be able to taste more of the pastry, but the second you bite it, your mouth is just injected with a surge of the rich, smooth and velvety chocolate custard...and all is right with the world.
The lemon tart was also a delight, again it pleasantly surprised me just how tart and citrus-sy it was! The lemon flavour was much more concentrated and authentic than many more lemon flavoured sweets I have come across in the past.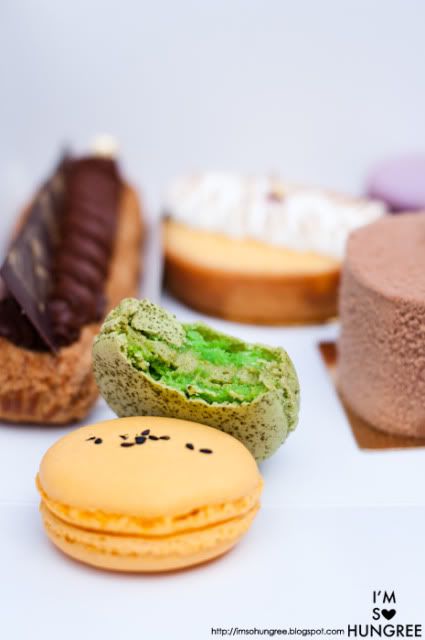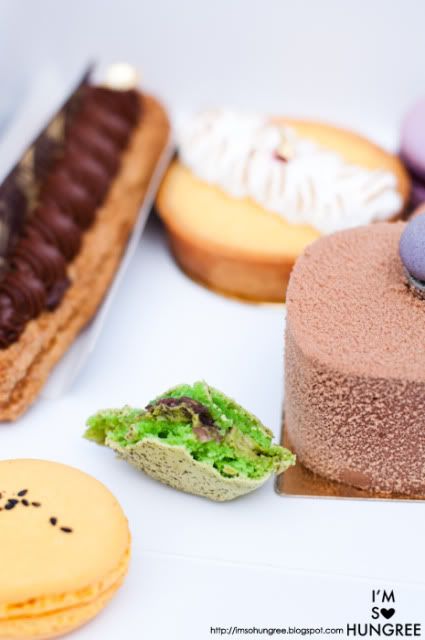 I can't remember all the macaron flavours, but the green was definitely green tea and the yellow I think was passionfruit.
Oh my goodness, beautifully executed. A light crisp followed by just the right amount of chewy in the shell, the macarons all just melted merrily in my mouth. They were also so flavoursome, I was immensely impressed at first bite of my green tea one, which came with a little surprise of red bean paste in the middle. The perfect Japanese inspired macaron? Just about I think!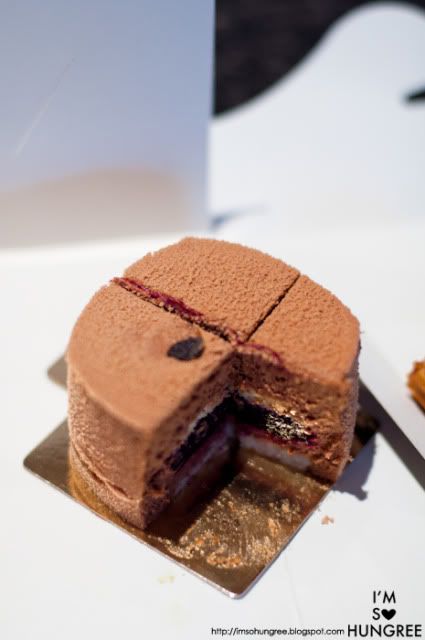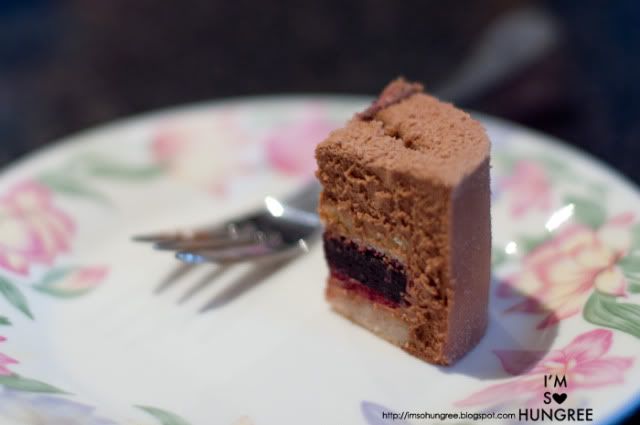 I waited until the rest of my family came home to try more of the cakes (hence terrible lighting for this little beauty...), but I loved the little surprise inside this cake. What looks like a light chocolate mousse cake on the outside...actually has an amazing amount of depth with other flavours to compliment and develop it. Loved the little layer of jelly inside. Added a wonderful texture.
Although I haven't visited Chez Dré in person yet...I do hope this changes soon and based off what I have tried, I certainly would recommend it!
(rear of) 285-287 Coventry Street