You know how some people get cravings for certain types of food? I mean, I get them too, and mine tend to linger on until I actually satisfy it. Had a burger craving a while back and have been having a pizza craving for a good few weeks that I still haven't satisfied. Cheesy-goodness come to me!
On top of types of food though, I find I kind of crave restaurants....eating the food made in them, not eating the restaurants themselves (don't think brick and mortar is very tasty...).
I had had Mamasita on the brain for ages. Yes, I know people say it's overpriced, over-hyped and definitely not worth a 1 and a half hour wait. I do agree, I hate waiting for restaurants, especially when I'm in the heart of the city and there's 20 billion places (or not quite) to eat at.
So when mum asked me on my birthday where I wanted to go for a birthday lunch, with just the two of us, Mamasita was first on the list.
Our plan of attack was to have a mid morning snack and then only proceed into the city for a late lunch.
My heart pounded as we walked up Collins Street towards the tiny little door, neatly tucked next to the seven eleven. They couldn't possibly still have people queueing for lunch surely? Would I have to compromise and eat somewhere else?
I breathed a sigh of relief as we walked up the infamous stairs. We were spoilt for choices on where we wanted to sit.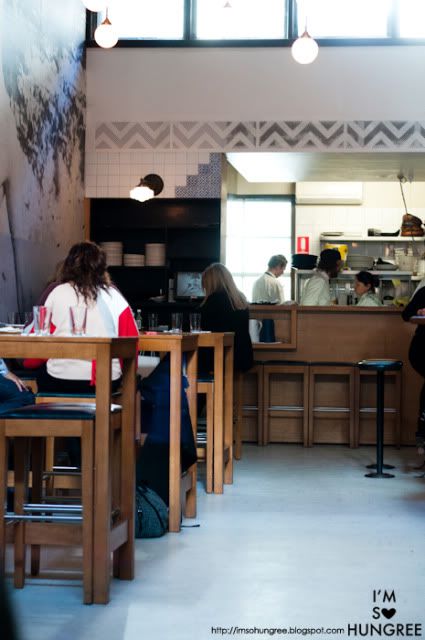 I have already visited Mamasita twice. Once I visited for an early dinner with David (which you can read about here), before all the reviews came out and it became as well known as it is now. We had a fabulous meal. The second time, we managed to get in with a booking for 7, but it was crazy busy, the food was a bit hit and miss (really was not a fan of the chicken mole) and overall it made me a bit sad that Mamasita was this popular!
So the question was, would I still like Mamasita?
I've always liked the space (when it's not sardined with people). It's unpretentious, spacious, just a bit fun, with a gorgeous pin up wallpapered across one of the walls and the huge windows. I love those windows.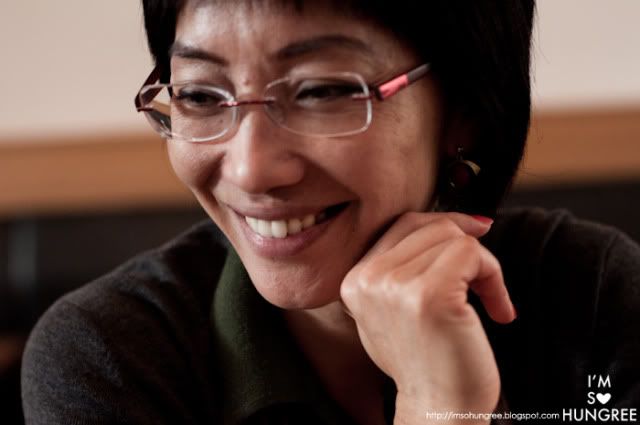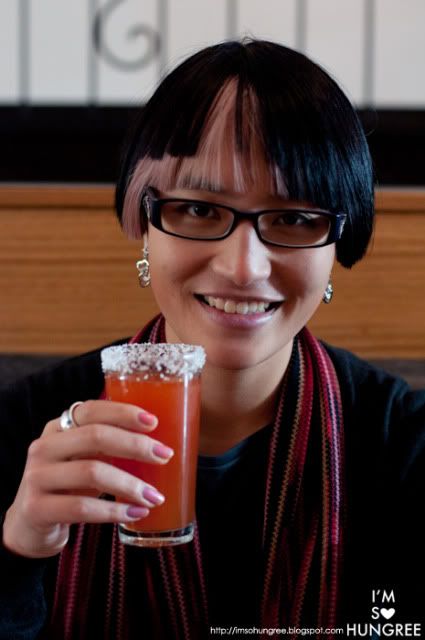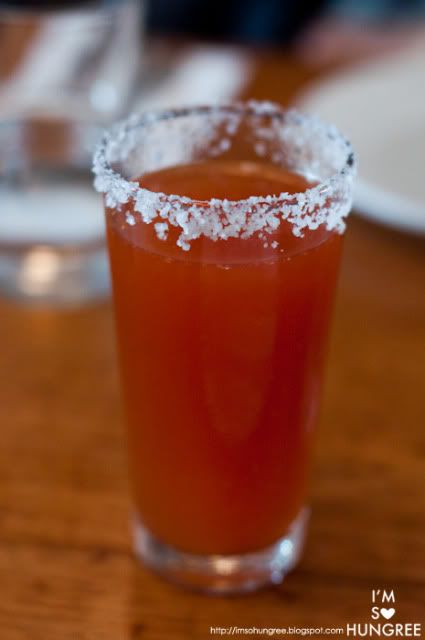 It was past noon, it was my birthday, I was due for a drink. I was quick to order the Michelada. The mickey-who? The Michelada is a...beer cocktail, made from Minerva Viena (a type of beer from Mexico), habanero hot sauce, tomato juice, fresh lime and a lovely crusty salty rim. This would possibly be an amazing thing to have hungover, but even if you're not, it's a nice pick up. I love the punchy flavours, the hint of warmth from the habanero sauce as it goes down my throat and the tiniest tinge of tart from the lime. It's really well balanced.
We started our meal with the tostaditas, fried tortilla chips with toppings. We opted for 'de Maiz' topping, which came with sweet corn, black beans, epazote, jalapeno salsa and queso fresc. I was a bit surprised that it was cold when we bit into it, but it was a nice light opener to the meal. The corn was beautifully sweet and I loved the heartiness of the black beans.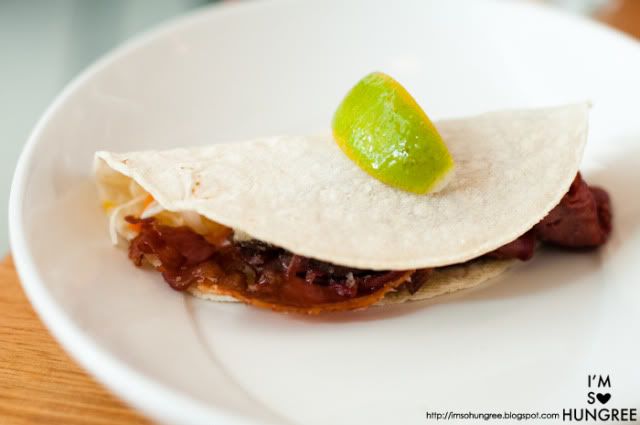 Argh! I just realised I forgot to take a picture of the three prawn tacos we ordered!
We ordered one set of three 'de Camarones' tacos, soft shell taco shells filled with marinated prawns, habanero chillies and chipotle almond salsa. Then just for me, one lonely 'de Lenguag y Mejilla' taco, again, a soft shell taco filled with braised veal tongue and ox cheek, pickled vegetables and ghost chilli mayonaise.
Before the tacos were brought to our table, a bowl of green salsa was popped down first, which we were told went with the tacos (obviously).
The prawns in the 'de Camarones' were gorgeous, you got 3 or 4 big, plump looking prawns in each taco. However, just had on it's own, it was a bit bland. Mum shortly discovered afterwards though, how much the salsa enhanced the flavour of the prawn taco, really bringing out the subtleties of flavours, the almond in the salsa really came out.
So fortunately we enjoyed those. But only with the salsa.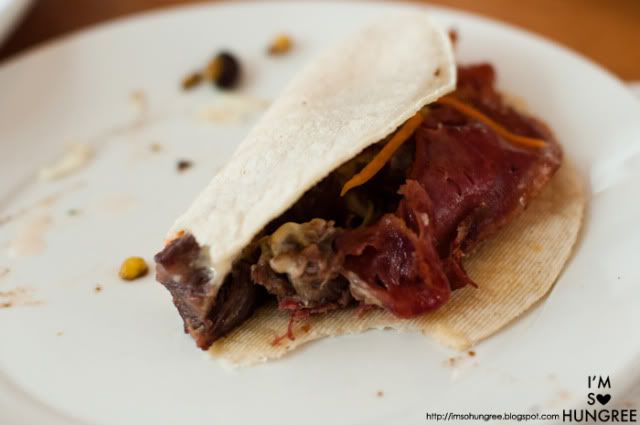 However on the other hand...'de Lengua y Mejilla'....oh my goodness. We only ordered one as mum unfortunately refuses to touch offal, can you imagine?! It was fantastic. The meat was so tender and flavoursome and my gosh, it was SO spicy. I don't normally enjoy super hot and spicy chillis, but for some reason, even as I started to skull down my Michelada to cool down, I loved every bite of this.
Kind of wish I had ordered three. Hmmm.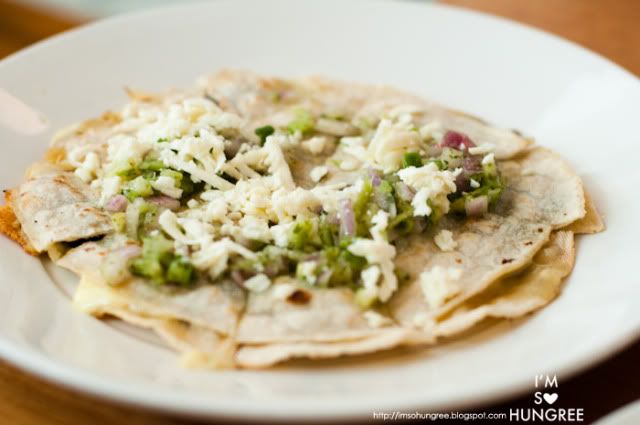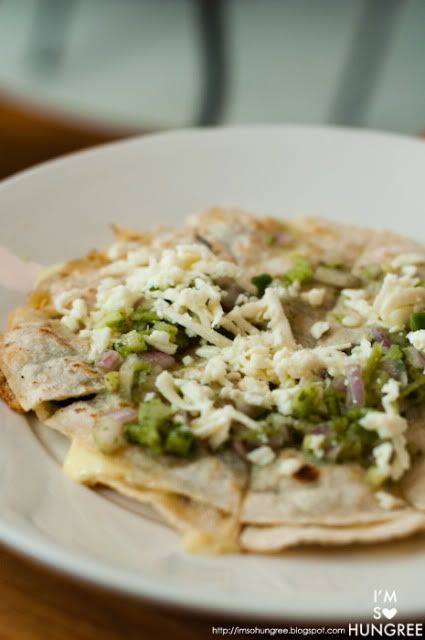 Next up was a quesadilla. This was one of the dishes I had on my second visit....that I had loved. 'de Huitacoche' quesadilla was filled with Mexican truffle, mushrooms, roasted corn, epazote and queso fresco. Gosh. Do I need to say anymore? It came out warm, with melty cheese. MELTY CHEESE. Mexican comfort food at it's best, the flavour of the mushrooms and the cheese combined together was just a total winner.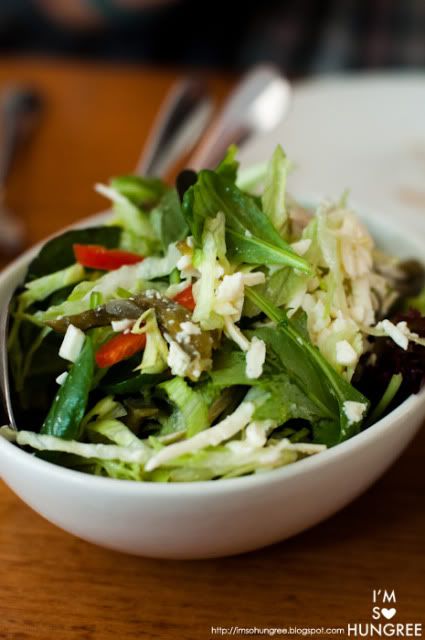 To try and lighten the meal, we also ordered an 'Ensalada de nopales', a salad of cactus, red peppers, beans, queso fresco and lime.
Whilst refreshing, this didn't really excite me. The flavours were fairly bland, especially after all the punchy or rich flavours from the other dishes and I felt that there was quite a lot of lettuce to buffer everything else up.
However, other than the salad, mum and I enjoyed eating everything else. The only comment from mum, although I think this is also because we chose a lot of vegetarian dishes, is that the garnish is all quite same same. The queso fresco is on a lot of dishes so you end up with that same cheese flavour, with the other garnishes, time and time again. Though we both agreed it was still nice to have something a bit different from our usual meals. It's a very different flavour palate to other cuisines.
For me I think Mamasita is strongest in it's easy to eat dishes, the tacos, the tostaditos, the quesadillas. For some reason the mains really just don't appeal to me, maybe because it is indeed quite hard to find good authentic tacos in the city. They really aren't too far off from what I remember having in New York and L.A (except that it's quite a bit more expensive...).....ah....those were good times.
So fortunately, Mamasita was still enjoyable and absolutely worth a visit for me. The trick to get a table? Show up heaps later than you normally would for a typical meal. Early in the week if you can. As much as I do enjoy my visits here, I would never line up for an hour, nor tolerate the place if it was absolutely full to the brim. I need a little space to breathe!