I love my friend Crystal. She's from Vietnam, although she lived in California for a vast majority of her life. As a result she definitely carries off that confident, slightly sassy, but easy going air about her. She's incredibly worldly, one of the smartest and wittiest people I know, and maybe one of the more important things, absolutely adores good food. I think there's a trend here with my friends. Hmmm.
Anyway. So we're here in Bangkok together on our second day with Andrew (who I do love too) as well. From day one, Crystal had insisted we visit this 'hole in the wall' restaurant that she and her father had visited some years ago for lunch. So of course, we don't really bother putting up a fight, as her recommendations have always been good, as she had proven the last time we were altogether in Vietnam.
So with only an address in hand, Andrew started driving us around, dipping in and out of the tiny streets. I don't know how he could figure out which one's were one way and which one's weren't.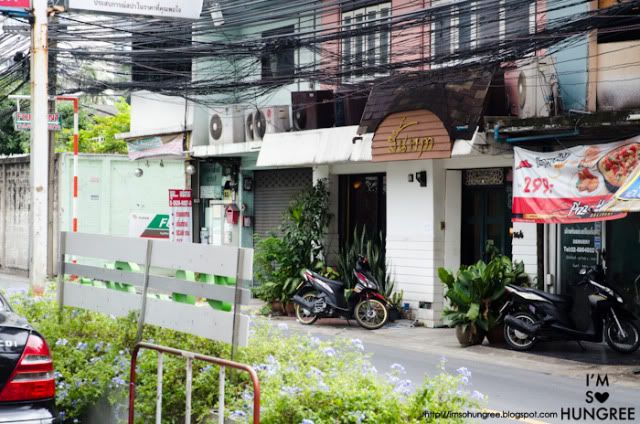 In time, in a row of unsuspecting shops, we find our restaurant, Santawa. It's just as well Andrew is Thai, and can read it, since we had the address in English, but the restaurant name was in Thai letters! Crystal and I would have never gotten here on our own!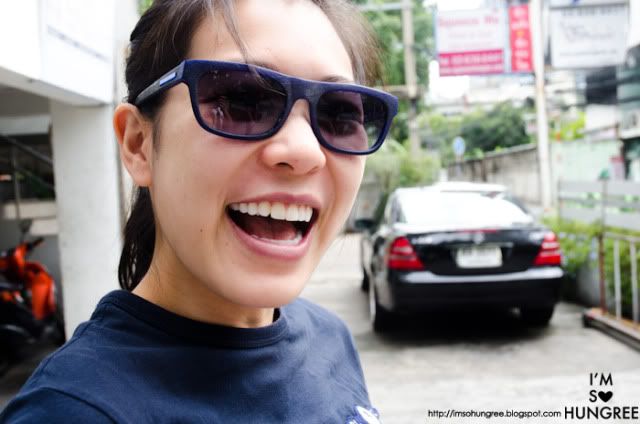 Crystal was very excited.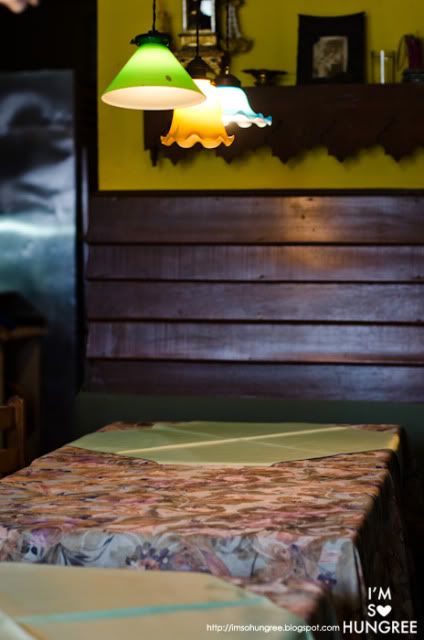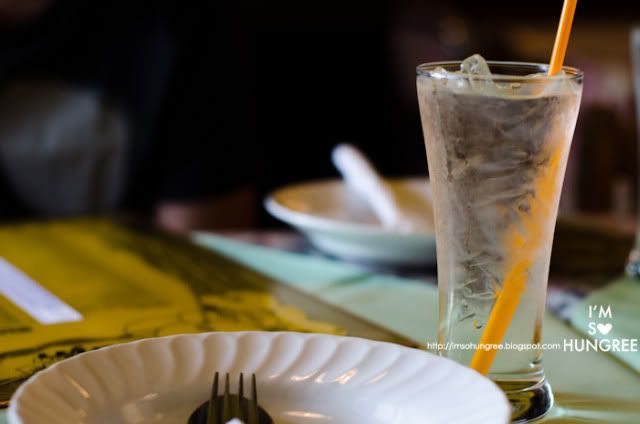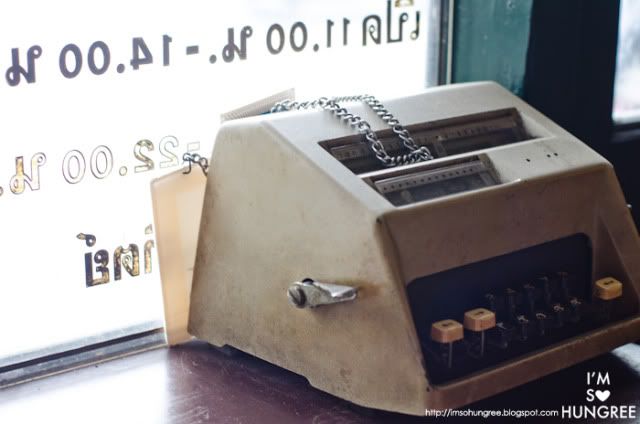 Santawa is as old school as you can get. We were there on a weekend, where we were the only customers, but according to Andrew, they're probably busier during the working week, getting workers coming by for lunch. Despite injections of colour through yellow walls, a mix of floral and green tablecloths, it was a dingy little place and just looked like it had been here forever. Smelt like it too, the place was a touch musty, but you kind of got over it by the time the food came out. Crystal's excitement, upon stepping through the door, was absolutely infectious.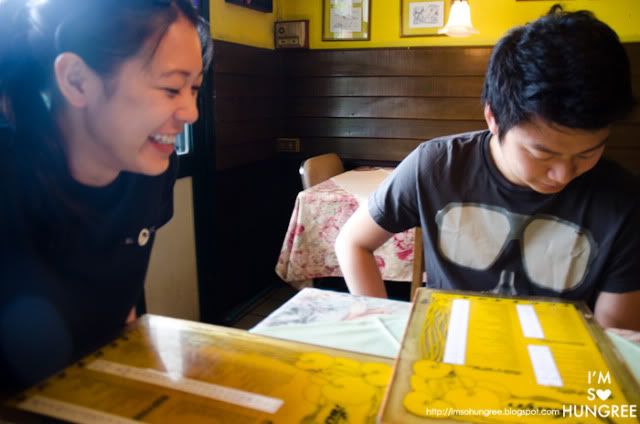 Much giggling, pointing and ordering through Andrew ensued once the menus were placed in front of us.
I was initially a bit worried at all the food we were ordering, but Andrew assured me to not be concerned. And with good reason! Being so used to Western sized portions, the hand span sized plates were quite refreshing and inviting…to try even more!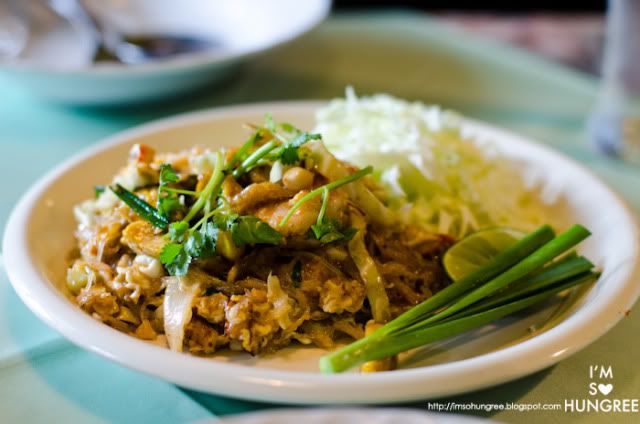 My love of pad thai, had me demand for it. Who cares if I had it for lunch the day before. I wanted it everyday! I rarely order Pad Thai when I'm in Melbourne, as not many places I feel do it justice. Not that I reaaaally know what I'm looking for, but there's just something about the sticky, salty and sweet that I love.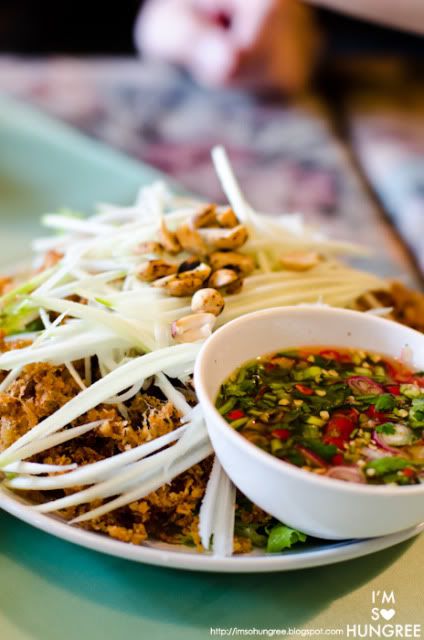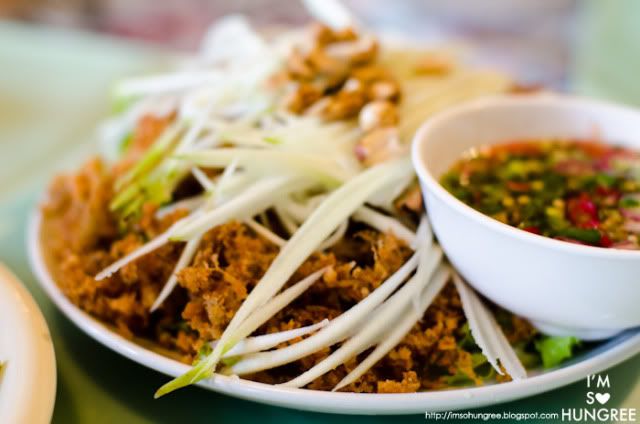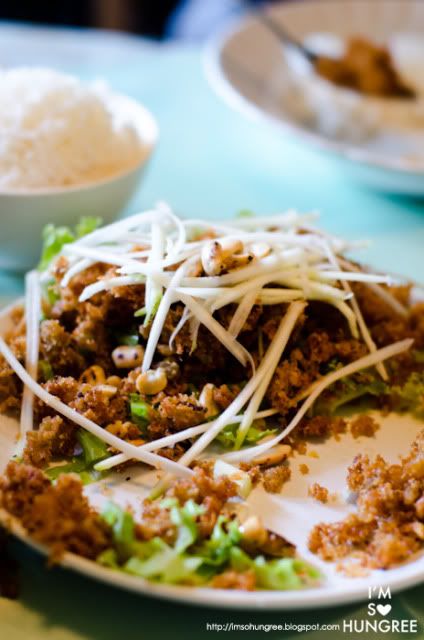 This was Crystal's must have dish at Santawa, and my god. It did not fail to live up to the hype she gave it! Essentially, a crispy catfish salad (I think it's called Yum Pla Dook Foo in Thai), it was everything you love in fried food. Light, crisp, bit of salt, freshness from mango, and a bit of flavour from fish sauce. We were very very tempted to order a second round of this!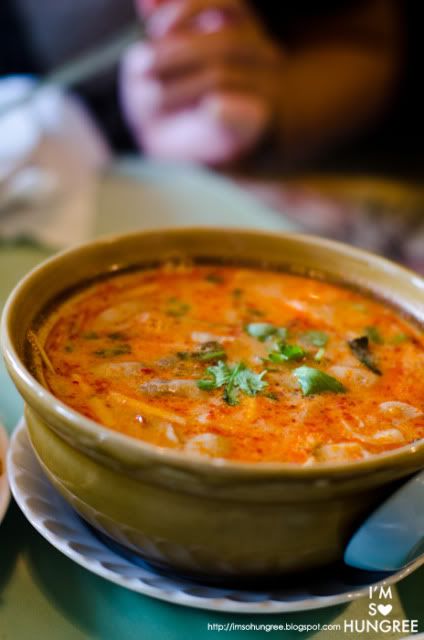 Crystal also loves soups, so Tom Yum Goong it was. Andrew opted to order the 'cloudier' version of the soup, which apparently becomes cloudy because of the lime juice. It wasn't as spicy as I expected it to be, my tolerance is pretty good, but I can't take super hot, regardless, a good homey flavour.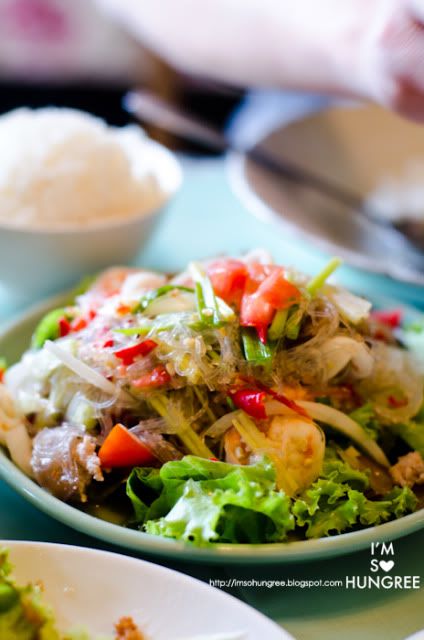 Glass noodle salad, I don't recall eating a lot of this. We were too busy with the catfish salad…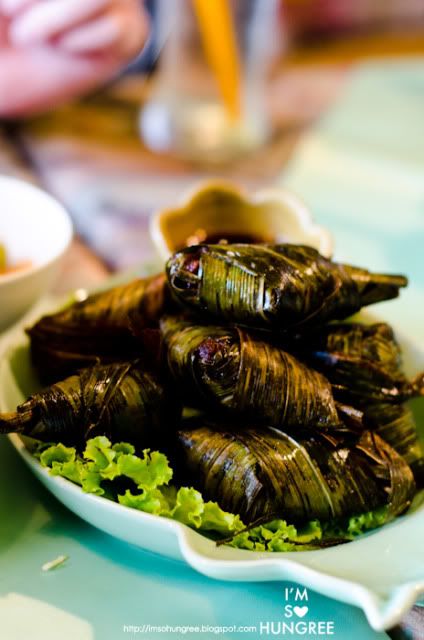 The pandan wrapped chicken was a nice protein packed addition to our meal, which came with an absolutely moreish, rich, thick sauce. The sort you want to pour all over your rice and eat as is.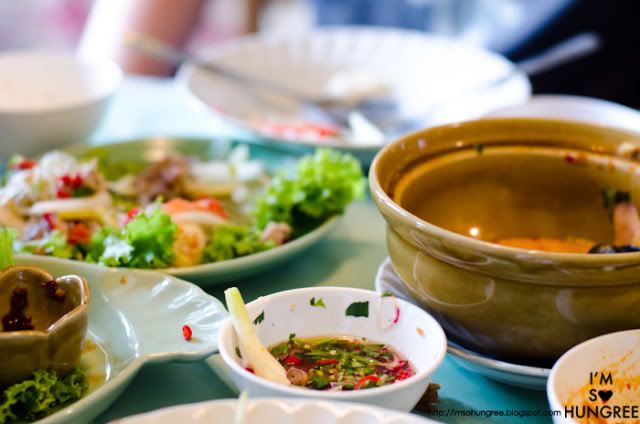 In hindsight, we did eat quite a bit. But in our defence, we didn't really have a proper breakfast that morning!
Andrew decided we weren't quite finished (since he was craving sweets) and unexpectedly, drove us to a cute little white house, in the style of an English tea room. The sort you see in romantic movies, usually where the girl lives….actually, the cafe had quite a fitting name. Secret Garden.
We had cake.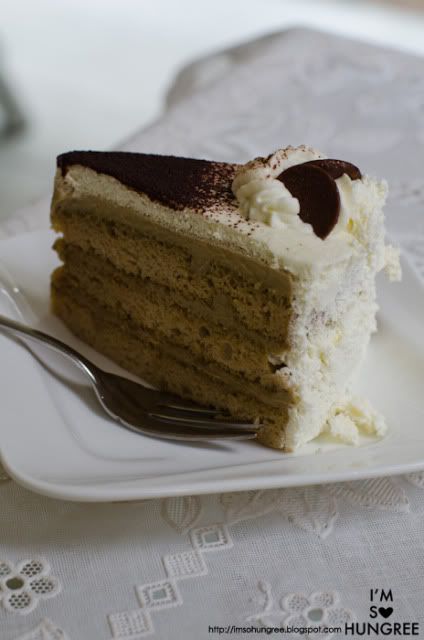 Crystal opted for the very elegantly dressed, beautifully layered, Earl Gray cake. Naturally stealing a few bites myself, I would have liked more flavour through the whole cake, as the flavour of the earl gray for me was most prominent in the icing, and a bit lacking after.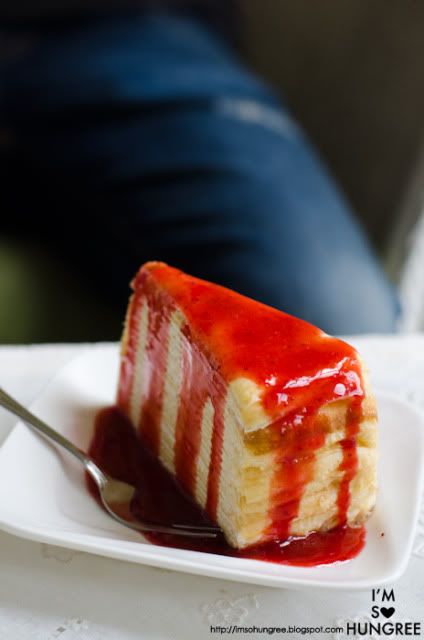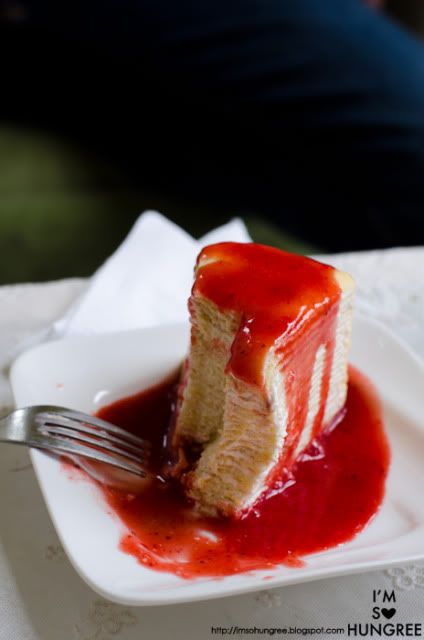 Secret Garden is reportedly famous for it's crepe cake, served with a strawberry sauce, a secret recipe that belongs to the owner. Andrew went straight for it. It's fine, fine layers are a sight to behold, especially in profile, where every layer is perfectly laid on top of the previous, without a variation in thickness. And then of course, it just has to have the strawberry sauce lazily draping itself over the cake and pooling deliciously on to the plate. Delicious. Damn secret recipes!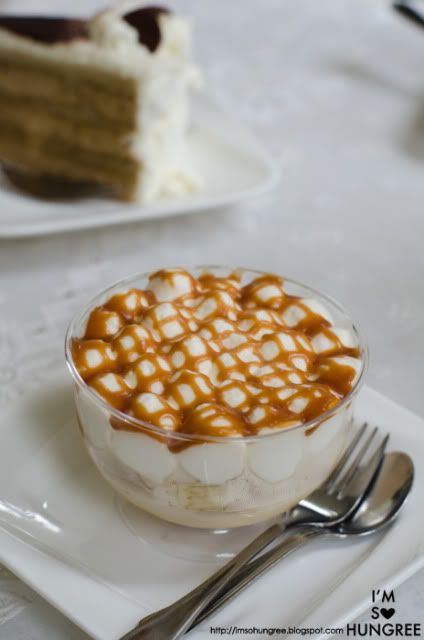 I went with their version of a banoffee pie. Banana, whipped cream, caramel…? How could you go wrong?! It had been ages since I had bananas too, so I intended to enjoy them as much as I could!
I also forgot to take a picture of it, but I had a pretty good thai iced tea here. Mmmm.
To think of it, I would probably never have found either of these places on my own, so I'm so glad to have friends who are happy to take me around, or come prepared with places to find. Basically, friends who like good food and are adventurous about it! What about you guys? Do you have friends who take you out of your eating comfort zone now and again?
#16/6-7 Soi Silom Road
Bangkok, Thailand
+662-2330-940