Disclaimer. This is a long post. I know the rules of blogging are to keep it short and sweet, but I tend to be insanely comprehensive when I tell my friends about places I've been, things I've done. So why should I be any different on my blog? ;) Hope you all enjoy my recount of the Eat Drink Blog Conference!
Bloggers.
Food bloggers.
We're many kinds of people.
But we're all kind of the same as well.
Get us together in one space and we all switch on to the same thing.
Eating. Cooking. Drinking. Merry making.
Being able to meet food bloggers within one's city and fostering friendships is already a wonderful experience. However being able to potentially connect with over 70 other food bloggers? Now that's something!
I was so honoured that I was granted an invitation, as one of the twelve bloggers from Victoria, to attend the Eat Drink Blog Conference this year, held in Sydney. Amazingly organised by the team of Trina, Simon, Reem and Jen. It is just mind blowing to think of all the work they would have had to do, while still working day jobs, while blogging and just..living life to put this together, in their own time, for us. So many thanks and so much credit must go to them.
It was an event with chatter and laughter bouncing off the walls, more information that you would find trawling through a library (possibly exaggerated), furious fingers tweeting or if you were lazy like me, retweeting (#eatdrinkblog2011 was trending in Australia at one point!) and meat. Lots of it. Stick around, you'll want to see it.
With topics ranging from legal matters to bread, if I were to just write my notes down here for you, word for word, well, that'd be a little difficult as my hand writing is as drunk as a sailor with a barrel of rum.
But for those of you who don't want the whole shebang, the main message for me at the end of the day? Bloggers need to be fuelled by passion, and as much fun as it is, it's still work!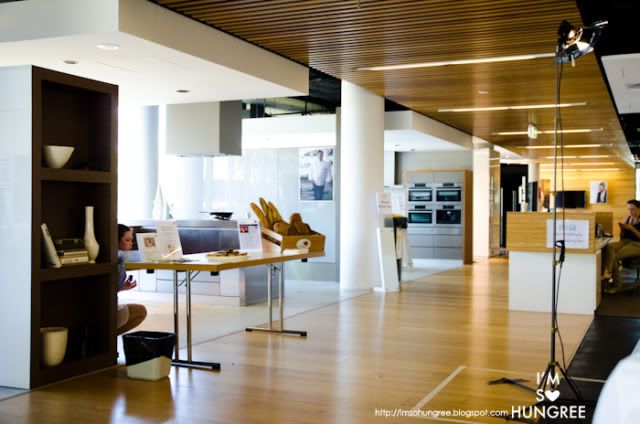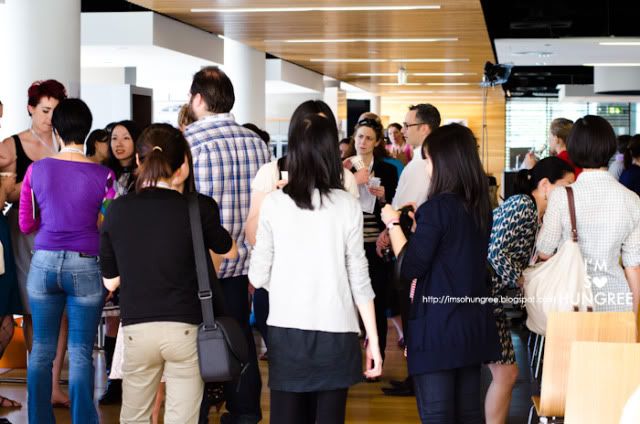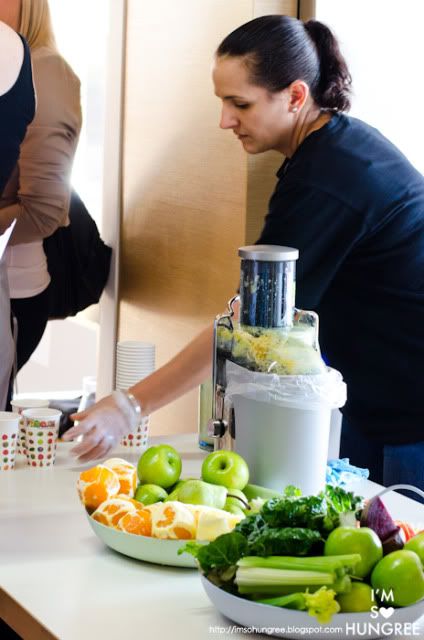 It was an early call to the start of a long day, bloggers filling the Electrolux showroom from 9am. We were greeted by the complaining grunt of the hard working Toby's Estate coffee grinder and the mechanical whiz of the Breville juicers, churning out two different juices to get that healthy kick start.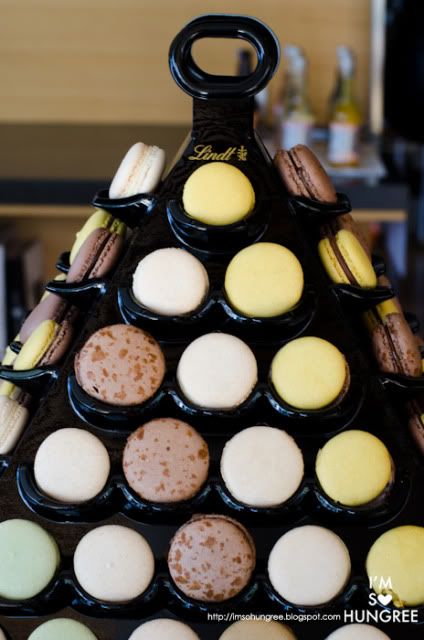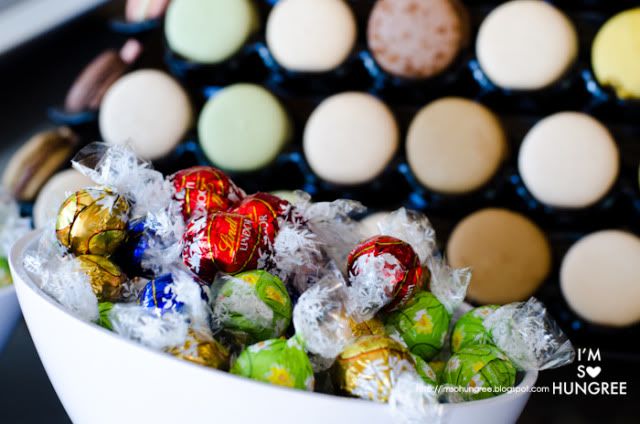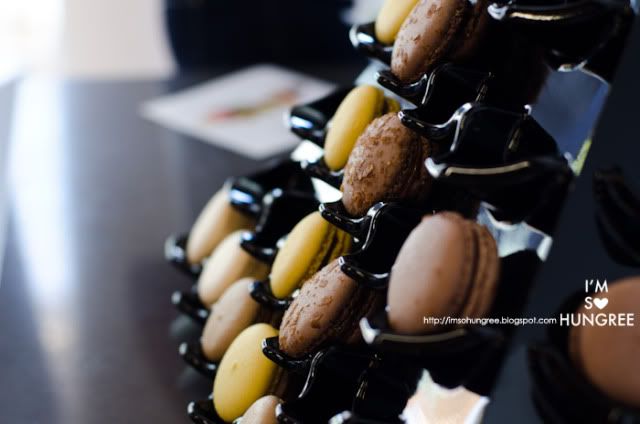 Although being positioned right next to the Lindt macaron tower and chocolates probably wasn't a very good move. The salted caramel macarons proved to be quite the hit…
I was quite amazed by how time conscious the organisers were, I have been to many events where one talk goes on for an extra 20 minutes than it should, meaning the next speaker is late, meaning stomach's start rumbling and dinner gets delayed. Catastrophe. However, this was not the case at Eat Drink Blog, where at 10am, Trina quietly moved amongst the crowd and ushered us to our seats, where we sat to attention like school children in their first class.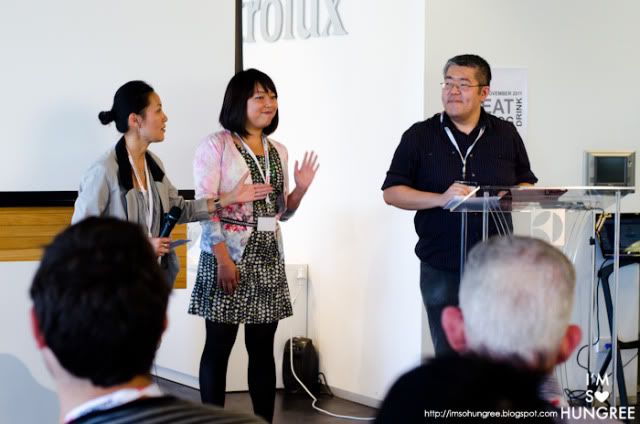 Brief introductions of the team and Tammi (who was our MC all day) and then we launched straight into our first topic of the day. Legal. Phew, starting with the heavy stuff much?
Though one may expect well…food, to be discussed at a food blogging conference, starting with matters of the law, was a surprisingly good move. It's a topic that is never explicitly explained and a little confusing to understand, which the bloggers I sat with, nodded and agreed upon.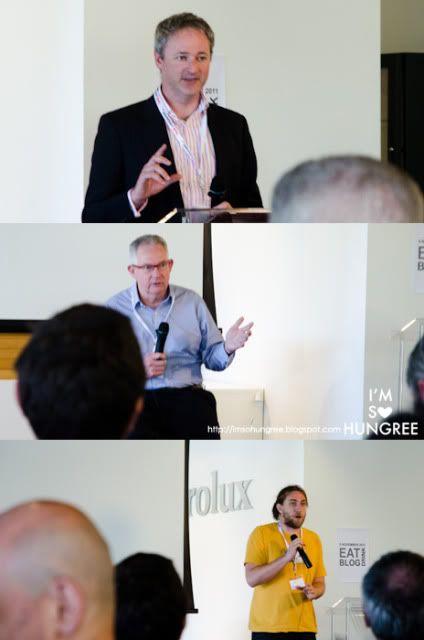 Dominic Villa, covered a few important points. Our rights to take pictures, the copyrights of the photos and also copywriting recipes. He was followed by Stephen Estcourt, with the slightly intimidating discussion of defamation.
The main things I took away from the talks, that were most relevant to me, were:
- You can take photos, wherever, whenever, of whoever or whatever you want, and generally don't need permission to take photos
- Restauranteurs can request you stop taking pictures on their property, and if you don't comply, may ask you to leave (nothing stopping you from taking pictures outside though…)
- Cannot ask you to delete a photo, seize your camera or memory card
- Cannot stop your use of photos afterwards, unless arrangement was made in advance of your visit
- Taking a photo of a dish, does not breach copyright!
(You can read more details about Dominic's talk here)
- If you imply a restaurant's food is unpalatable, a blog is liable to be sued for defamation, sotone down anything that is critical, as it can be used against you
- Even retweeting someone's defamatory tweet, or linking to a defamatory website is suing material
- Leave a disclaimer on blog that it is indeed, your opinion as a food blogger and not a statement or fact
(You can read more details about Stephen's talk here)
From legal, to modern and tech, Michael Gall then discussed SEO with us and tips on how to improve our blog rankings on search engines. SEO is a topic I have always personally struggled to understand but I was quite impressed with how well Michael explained it, even when his slides weren't working! The main point here? GET PEOPLE TO LINK YOUR BLOG ON THEIR WEBSITES. Link back, spread the love!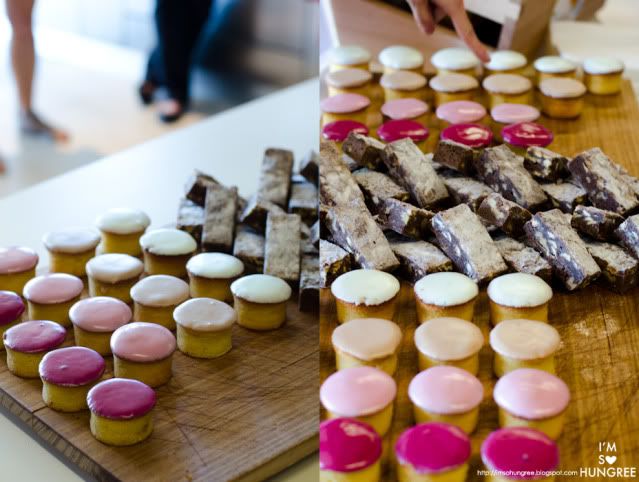 A quick break was then had, with bloggers quickly flocking back to the coffee cart to reenergise with coffee and tea. Smartly lined up, an army of rainbow soldiers, the tea cakes and brownies, provided by Brasserie Bread, made for a delightful morning tea. Was so pleased that they had flourless chocolate brownies, that smelt as good as good they tasted and fell away in my mouth. I might have had two.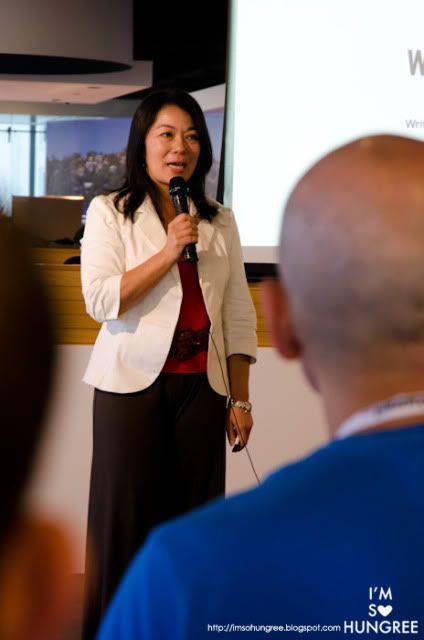 Valerie Khoo, full of smiles, continued our day and provided 7 tips on how to make our writing shine. I know I was not the only one who was leaning forward eagerly, jotting down as many notes as I could take. To recount her tips, as I perceived them:
1. Know Your Reader!
- make a typical reader profile, what's their age, gender, demographic, education, level of understanding of your topic? Maybe even give them a name!
- Write a one pager about your reader
2. Plan your writing
- What is the beginning, middle and end of this article?
- Add some order and structure to your writing, rather than being overly free flowing
- Do some extra research into your topic and provide little extra information, add some value!
3. Active vs. Passive
- Try to use active passages rather than passive ones, involves your readers into the story
4. Show Don't Tell! (we all know this one, we just need to practice more…)
5. Size Matters
- Can refer to newspapers for good references to paragraph and sentence length
- Sentences should average around 15-20 words at most!
6. Killing Your Darlings
- Don't write a post just because you've taken the pictures and done the draft
- You don't have to write about EVERYTHING!
- Writing chronologically may not be the best method, if the 'wow' factor of your article is 3/4 of the way in, it's too far!
7. Rewriting and Editing
- Do it!
- Read it out aloud, helps you find awkward spots easier
- Consider a feedback or blogging buddy!
- Do you have a pet word you use too much (then, and, that)? Go through and see if you can edit it out!
Between Valerie's talk, and reading the book I received from the indolent cook, Will Write for Food, there's still just so much growth in my writing that needs to be developed! It was also certainly interesting to hear about how to develop one's writing, specifically for magazines, which seemed to be of great interest. One point I found interesting for this was to try writing an entire post without the word 'I', which makes sense, after all who is supposed to be the star of the article? You? Or the restaurant/recipe?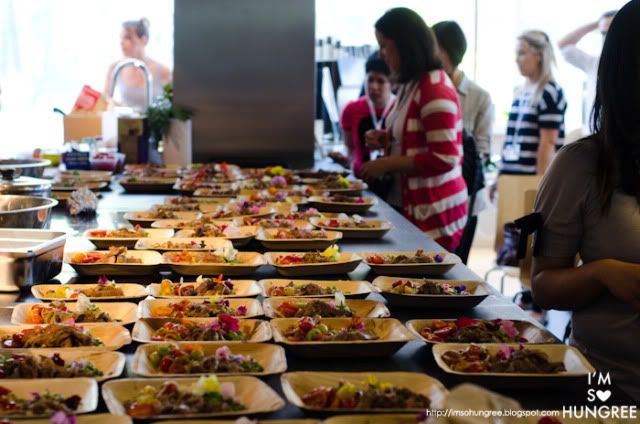 I'm not sure if any tummies were rumbling at lunch time, since we had been so well fed all morning, but the meaty aromas that wafted up from the kitchen were obviously of distraction, as many tweets, accompanied by pictures of the lunch prep, were prevalent close to 12:30pm.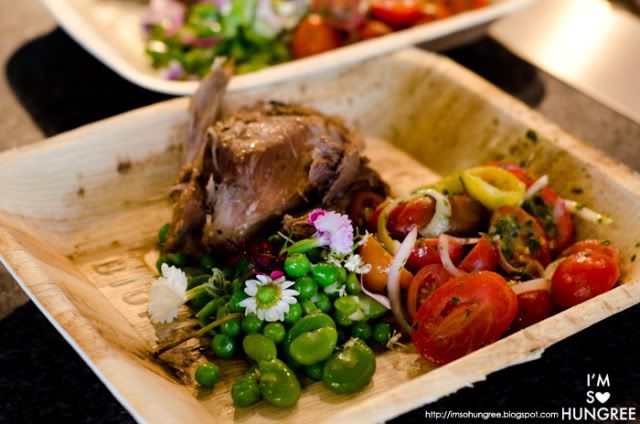 Perfectly understandable as the lamb absolutely smelt delicious, and bloggers were soon lined up, canteen style, picking up trays of the most elegantly catered lunch I had ever seen. The arrangement, the colour and the pretty flowers really made me think of springtime. Beautifully seasoned lamb with a sumptuous salad of broadbeans, and a tomato salad that oozed tangy juice with each bite.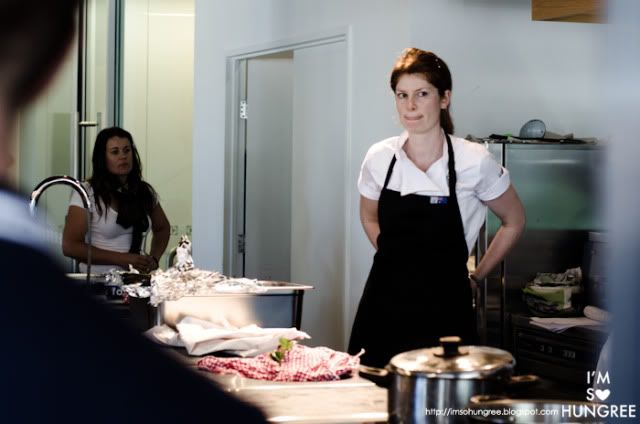 I just thought this photo of Nonie Dwyer (who prepared our lunch) was adorable. Hehe!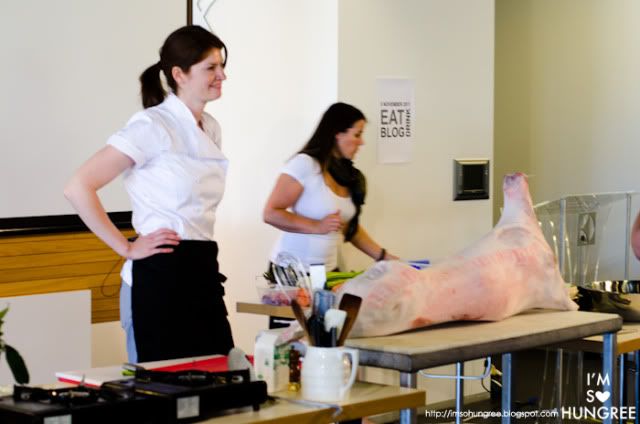 And the next thing you know, as lunch finishes up, whallop! Check out that lamb from Mirrool Creek!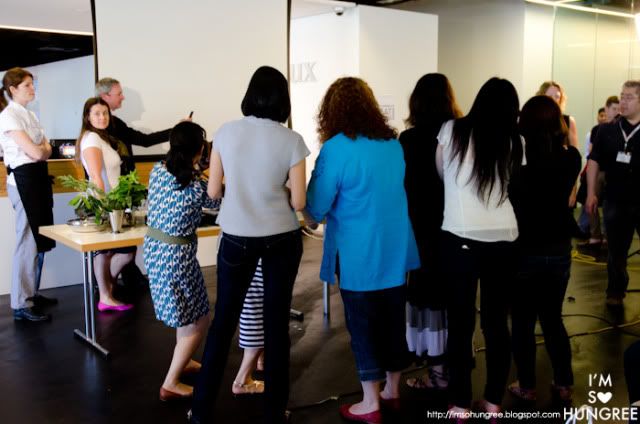 Naturally, bloggers swarm over with cameras, phones and iPads, trying to squeeze in and find the best angle.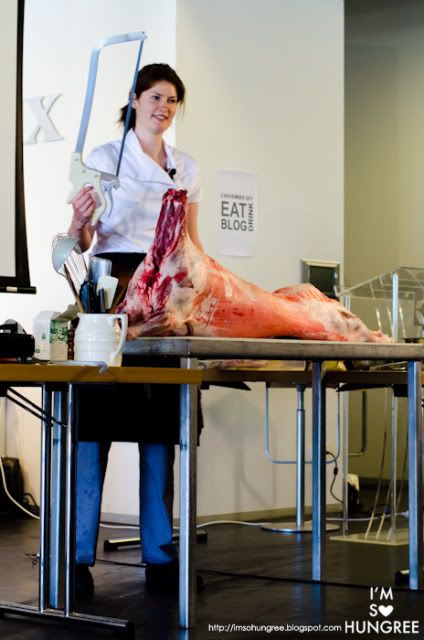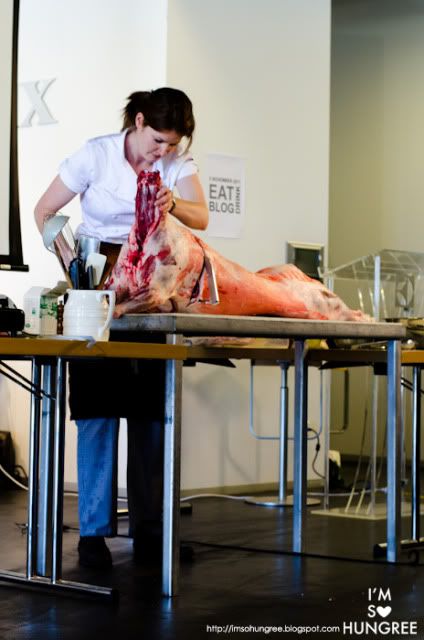 Nonie taught us how to butcher a lamb and it was quite, in a way, grotesquely fascinating. After all, there's nothing sexier than a woman who knows how to wield a saw and grind it right through bone….right? Apparently, you only cut through meat with a knife, and bone with a saw, sawing meat destroys it! Whilst I don't know when I'm going to need to know how to butcher a lamb, it was a great way to understand where all the cuts were coming from as she pointed them out before slicing and dicing.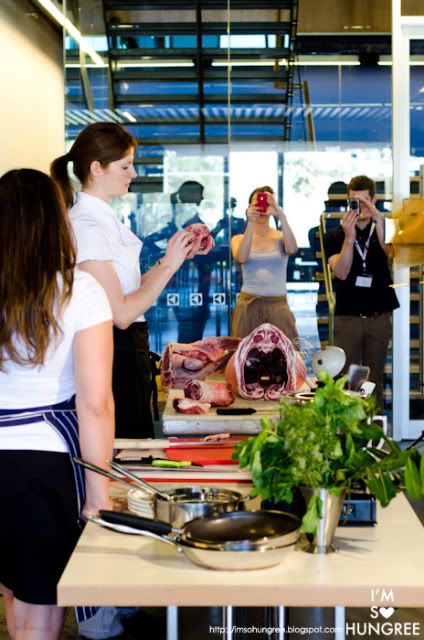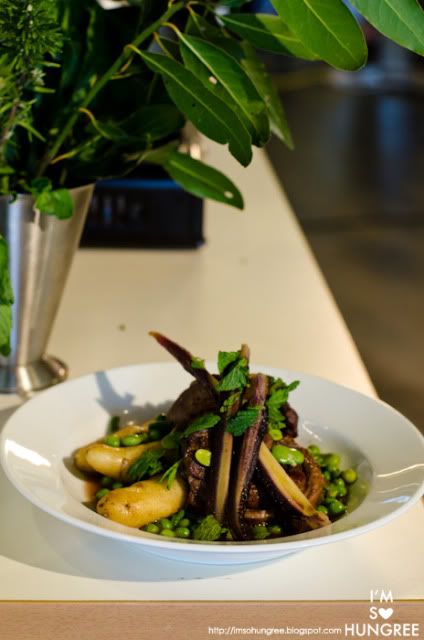 Nonie fondly talked of how the lamb neck was one of her favourite cuts, and gave us a quick crash course in cooking an Irish inspired stew, which was one of the first things she ever ate in Ireland, which as left an impression on her and also how she made our lunch. What I found interesting was for the stew. She made a sauce with carrots, and all other vegetables, but after it was just about ready, she drained the sauce away from the vegetables. Then she cut up some new carrots and potatoes and let them simmer. Which makes sense, as the first batch of vegetables would have parted with all their best flavour into the sauce already!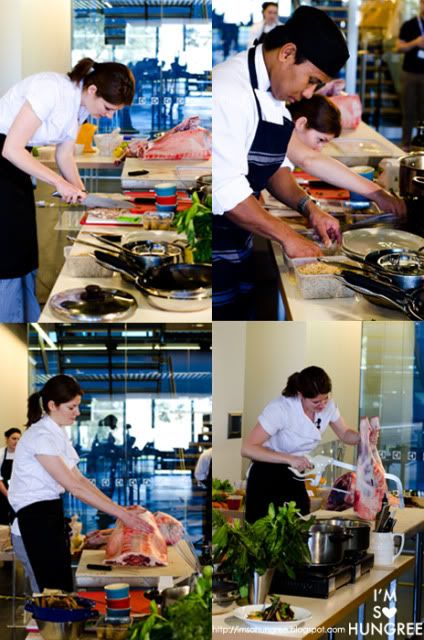 What Nonie did next, solidly put her in all our hearts. After slicing out the lamb 'breast', a cut that is less used, due to the fattiness of it and the fact that there is a bit of an awkward rib bone in it, she made…wait for it. Lamb bacon. Lamb. Bacon. Lamb. Bacon.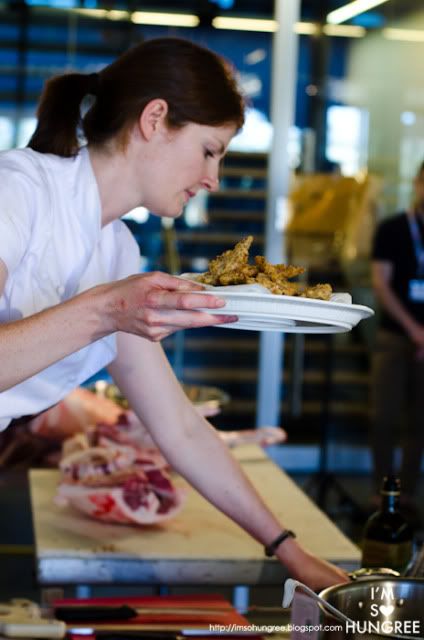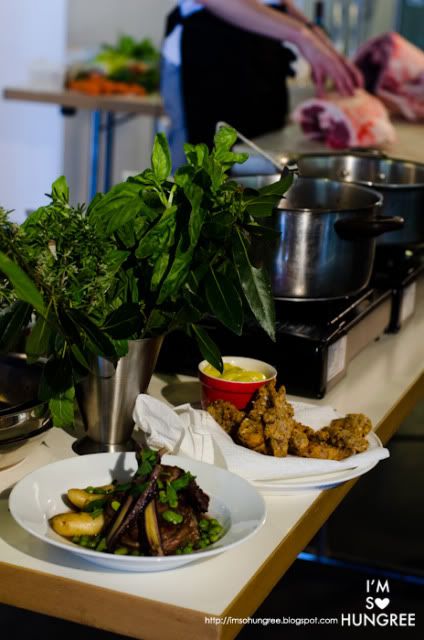 A moment of silence, followed by gasping whispers as the room came to realisation the amount of amazing that just occurred, as the lamb breast was cured and simmered to turn it into bacon. The cries of 'oh my god', number of guys picking up their jaws on the floor, and gasps escalated as she then proceeded to deep fried it. Say it with me. DEEP FRIED LAMB BACON. There are no words to describe how amazing the room smelt.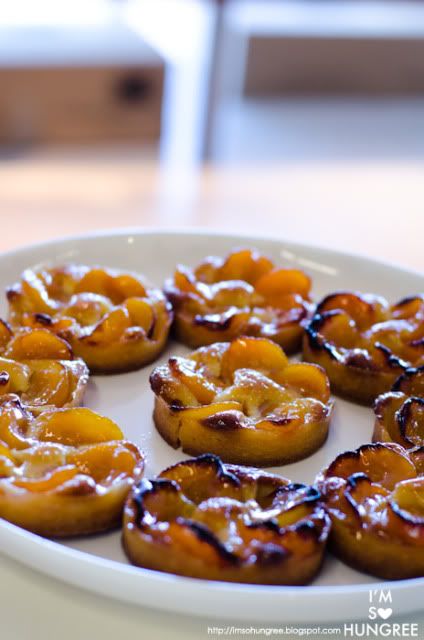 Since there was unfortunately not enough lamb bacon to go around (which just means I'll have to try it out myself sometime…), Brasserie breads appeared again, with more lovely fruit pastries and some spelt banana bread, which was dense and delightful.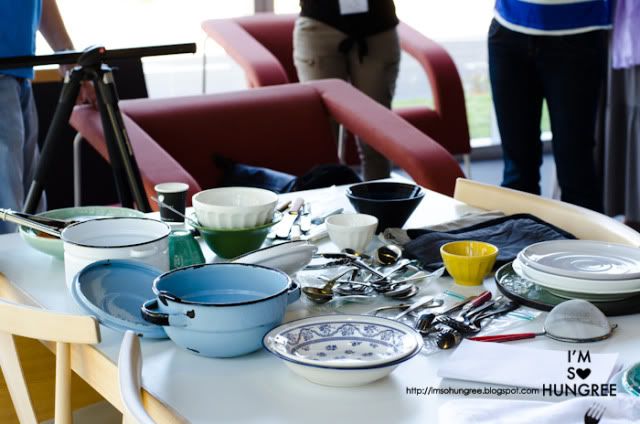 Workshops followed up next. I attended the photography workshop held by Quentin Jones, and although I didn't really learn too much new, there were definitely some handy little tips in there. The second workshop I attended to was the food styling workshop conducted by Peter Georgakopoulos, who's passion for what he did absolutely poured out of him. It was great to have someone reassure us that the food styling didn't have to be old school, where everything is treated so that it is inedible and just made to look pretty. That not every plate had to be clean as a hospital floor, and that it really just depended on your style.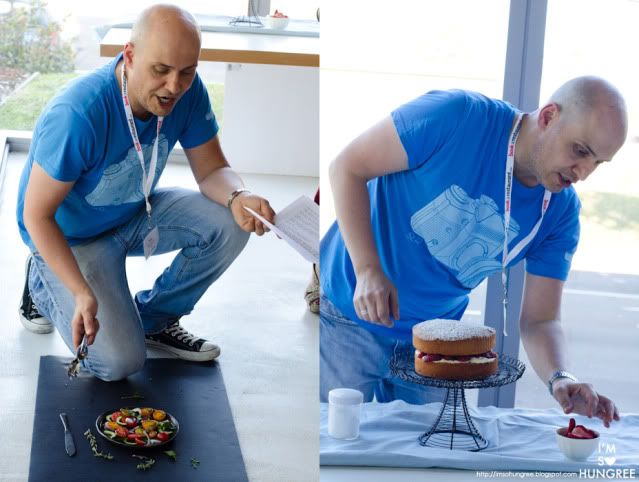 It was funny whilst Quentin was not a fan of top down shots, Peter indescribably had a fondness for them. Really shows how subjective all this creative stuff is hey?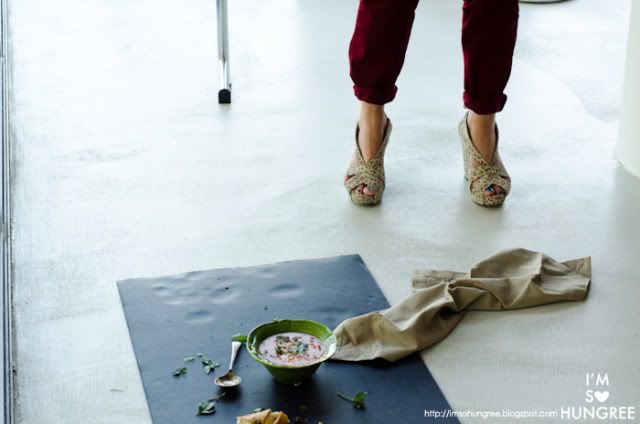 No, I'm not perving on Giannina's shoes… :)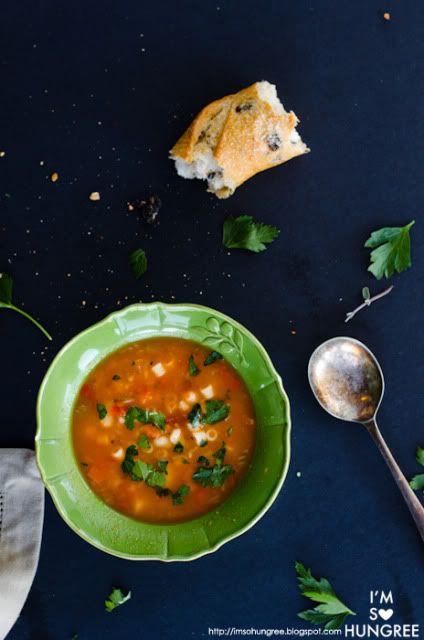 The results from Peter's food styling workshop! Now if I only cooked at home…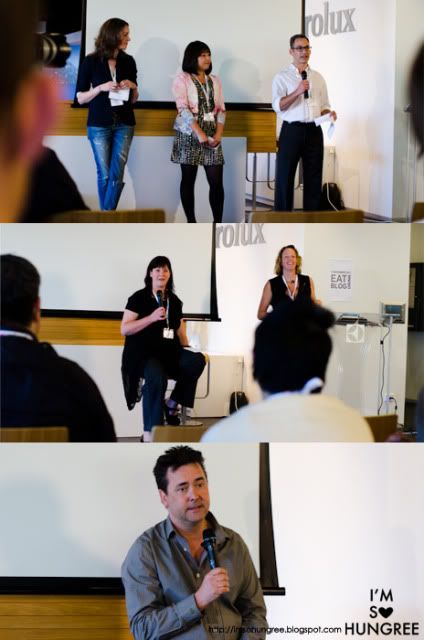 It was then back to the chairs to listen to a couple more speakers. Starting with monetising and professional blogging, where Jennifer Lam, Jules Clancy and Michael Shafran all talked of their different experiences on how they were making income from their blog. What was most amazing to me, was that each was so different, Jules focusing on making her own products and selling them online through her readership, Jen being an advertising guru of her own space, amongst other things, and Michael being fortunate enough to get a book deal. What was most reassuring though, was that none of them had any idea what they were doing starting out!
Simon Marnie had a very open and personal conversation with us on the evolution of food culture in the media. As someone who used to write for the good food guide, that mainstream food reviewing media stuff, it was a little bit surprising how much he loved what bloggers did. And he did make some very good distinctions. As he explained, when it comes to restaurants, you could critique or you could review. If you were critiquing, you are expected to then criticise what the restaurant is doing and make an evaluation. However, as a reviewer, you are describing your experience, you don't have to say if something was good or bad, and you empower people to decide and make the judgement for themselves if they want to visit where you reviewed or not.
To finally wrap things up, the all favourite topic of ethics. More of a Q&A session or conversation with Tammi and Zoe, there were definitely quite a lot of opinions on the topic, although in my view, they were quite similar at the same time. It's a little hard to condense the conversation that did happen, but a few points I did like were:
- Have a terms and conditions on your blog of what you're comfortable with, A Cooks Notebooks states if she doesn't like a book or product, she won't blog anything, but might give individual feedback in an email instead. And even if she does like it, she may not blog about it anyway, if it does not suit her voice
- It's our responsibility to be as authentic and civil as we can, this is what differentiates us as bloggers and also gives us credibility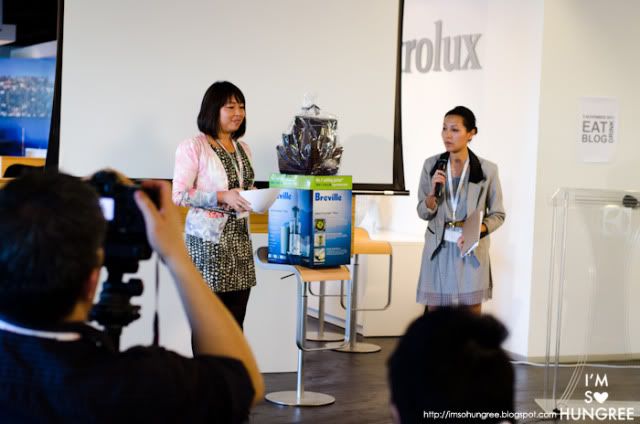 To close up, I won one of the Lindt Chocolate hampers. Is my sweet tooth happy? Oh you bet. Except I don't have it yet. Twitter will explode with pictures once it does arrive on my doorstep though!
Fast forwarding on to dinner, which myself, Christina, Jan and Joe, got to quite early as we cabbed it straight over.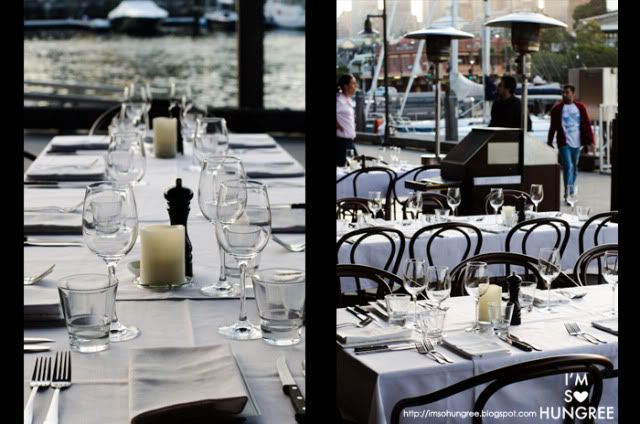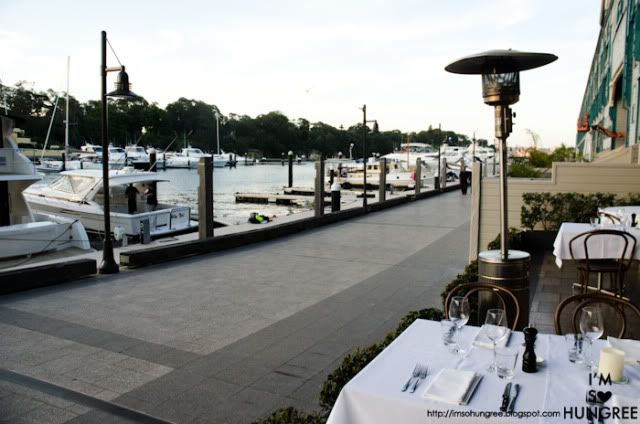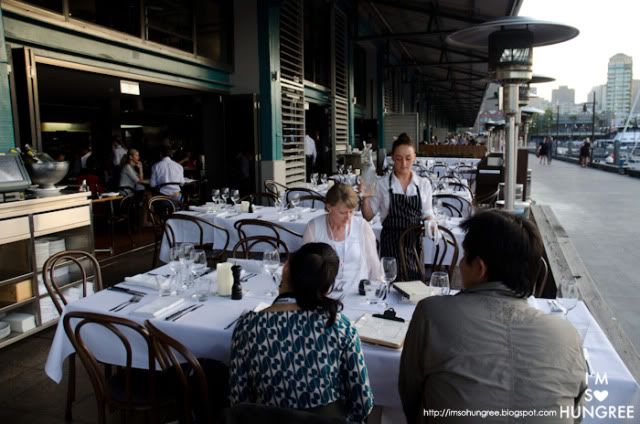 Dinner was held at Kingsleys Steak and Crabhouse, located on a wharf in Woolloomooloo (so many o's…). We were spoilt rotten with the absolutely amazing weather, especially since we were sitting outside. With rather romantic views of the water, the city standing tall behind it, for a change it was incredibly pleasant not to have tourists everywhere!
I converted Jan onto Hendricks gin. Win!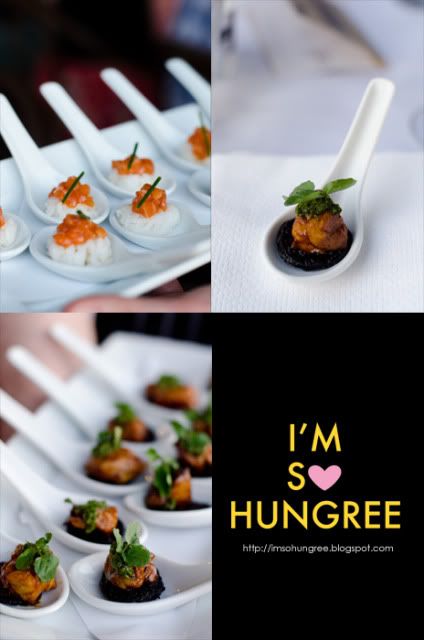 While waiting, we had some amouse bouche's, salmon on vinegared rice and veal sweetbread (I think?) on black pudding, which I may have snuck in two of. Offal goodness!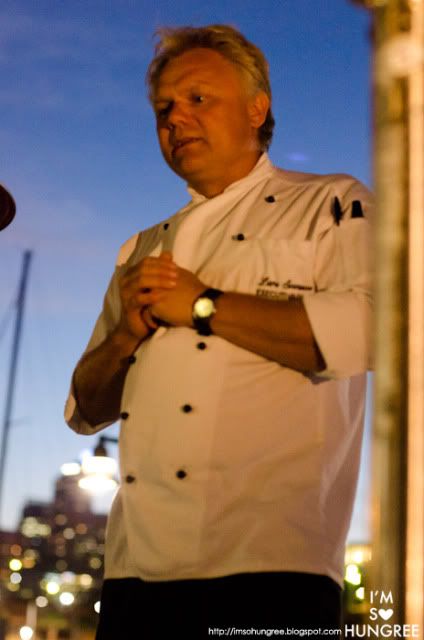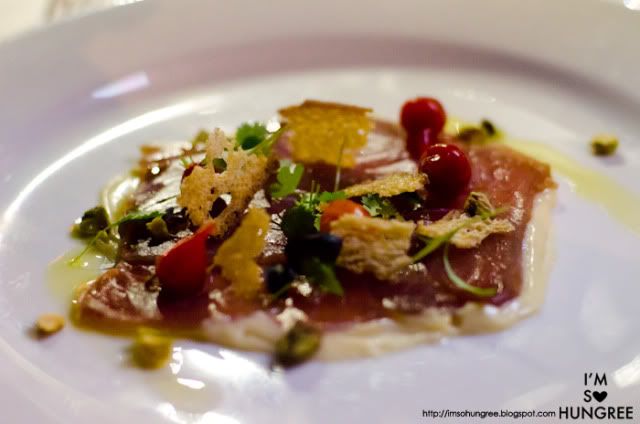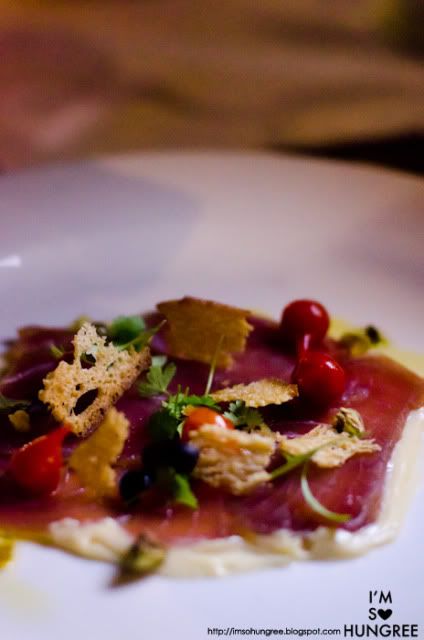 Dinner was an enjoyable 3 course affair, although it was unfortunately getting quite dark, so iPhones came out in all their glory to aid in picture taking... We started with the smoked yellow fin tuna carpaccio, with pickled chilli and pistachio nut. The pickled chilli was the surprise for me, giving that pinch of vinegary tartness that makes you momentarily purse your lips together before going 'ooh!'. There was a mayonnaise or something similar under the carpaccio which made the dish heavier than expected. Still quite delightful though. Served with the St Hallet Riesling, which was quite fruity.
Waiters then came over to clear our array of glasses and make room for the upcoming smorgasbord. In the all popular family sharing style, plates of meat and bowls of veggies were placed down the middle of our long table.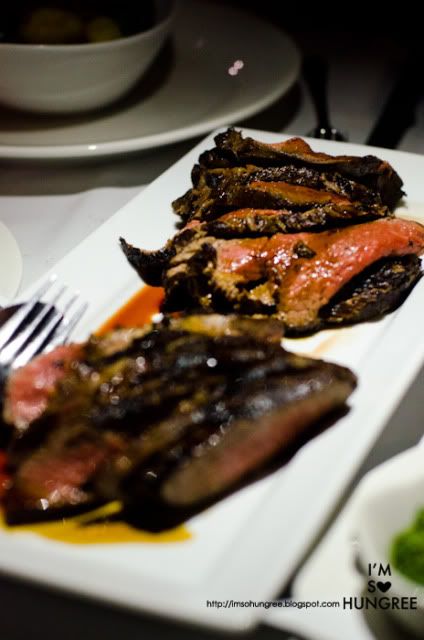 We had the choice of two meats, a slow roasted beef tenderloin and a wagyu flat iron steak. The 'flat iron' cut is an American term for the cut and in Australia, it's more commonly referred to as the 'Oyster blade steak'. This cut is taken from the shoulder of the cow. I personally was loving the flavour in the wagyu and the tenderness. The tenderloin was beautifully cooked as well, and seemed to retain a somewhat smoky flavour to it.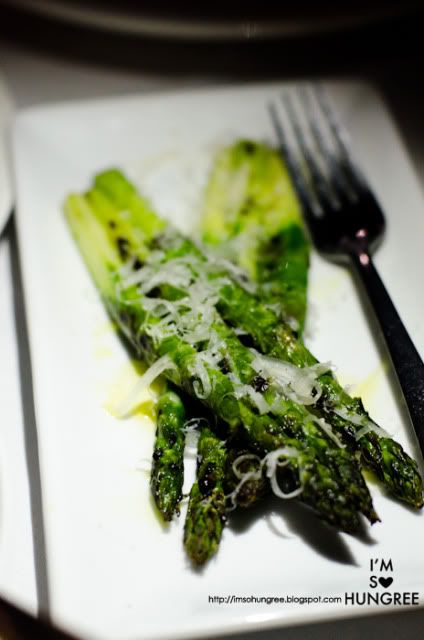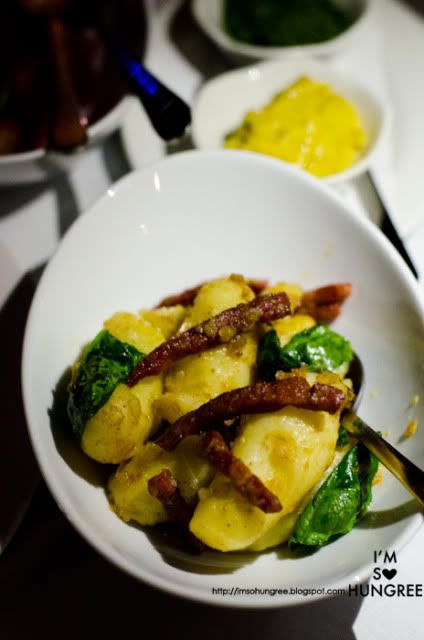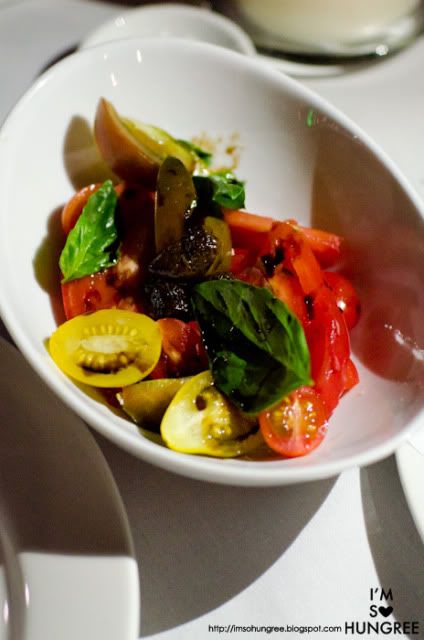 We had a ridiculous selection of vegetables, beautifully grilled Victorian asparagus with a bit of parmesan on it was just perfect and the heirloom tomato salad was a refreshing breath from everything else. Delish.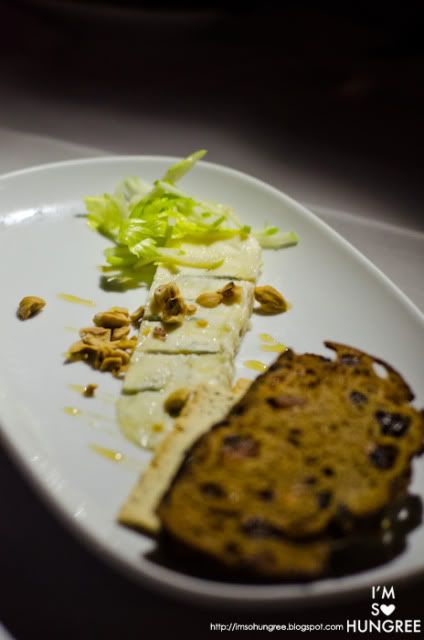 Dessert, while half of our table looked upon it in slight horror, I was quite overly delighted. Blue cheese, it has been much too long! The gorgonzola dolce that was served though, as explained, is a sweeter and gentler version of the typical gorgonzola. With a drizzle of honey and some hazelnuts for crunch, I really enjoyed this. The cheese was so creamy! Mmmmm. Was quite pleased at all the extra plates that were getting handed down my way by the end of the night…
Phew! If you guys stayed with me this long, congrats! Maybe you'll get a Lindt chocolate ball from me. ;)
Again, it was an absolutely wonderful day, whilst it's slightly impossible to meet everybody in such a short span of time, it was great getting to meet some of the bloggers. Thanks again to the team who put it together and the sponsors for also making this possible!
If you'd like like recipes, or some of the resources from the talks at the conference, the Eat Drink Blog team have put together a Post Conference Media Kit and Resources! :)