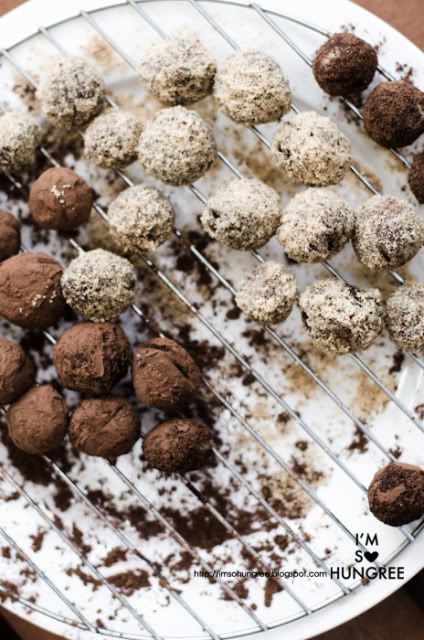 I went to google.
I typed: "define chocolate". Being a rebel. Not using capitals, etc. etc.
So according to google the definition of chocolate is this:
choc·o·late/ˈCHäk(ə)lit/
Noun:
1. A food preparation in the form of a paste or solid block made from roasted and ground cacao seeds, typically sweetened.
2. A candy made of or covered in this.
Well. I think a movement should be made, because the definition of chocolate should be a lot simpler.
YUMMY. YUMMY. YUMMY.
That or: PMS CONTROL DEVICE.
In all seriousness though, I don't think one day goes by when I don't have chocolate. Which is just going to creep up on me when I'm in my forties or fifties and just hang around my hips and tummy.
Oh well. Chocolate will probably be the death of me, but that's okay. If I am to die, it better be in the most delicious way possible right?
Which is why I'm so glad that I am able to contribute to the Sweet Adventures, "Death By Chocolate", blog hop! At first I was worried I wouldn't have time, just because the past few weeks have been choc-a-block full with work and socialising!
Although I am cheating a little bit and using a recipe my mum and I made in December that I just haven't gotten around to posting up. But don't worry, it fits the theme to a chocola-tee!
I also cheat a bit with my recipes in that, I don't usually try many new recipes on my own. My mum is the adventurous one in the kitchen, so she'll try something, make some edits, it'll be awesome and delicious and I just steal the finished recipe and product. But y'know, if I don't share, no one else will be able to get to all her goodies, since she's quite technically illiterate. Although I do hope to change this a bit more this year. More cooking, I swear!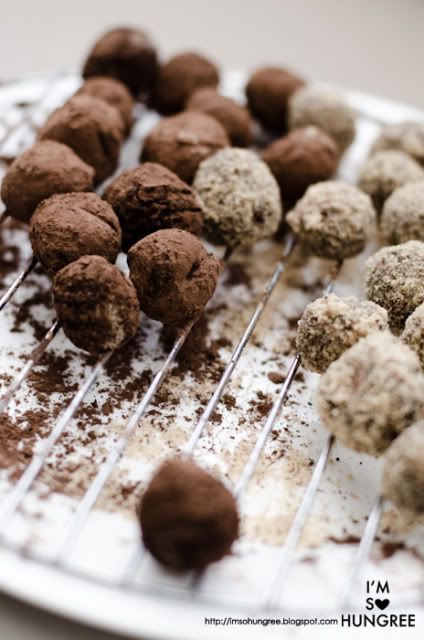 Anyway. Mum made these chocolate cheesecake truffles for the first time in 2010 for Christmas and they were such a hit, we busted them out again for 2011. And I might've eaten all of them. But y'know. It's Christmas. You're allowed to surely?
I love this recipe because it is really easy and so easy to adapt depending on your tastes. Whilst the original recipe coats the truffles in a packet of crushed tim tams, we decided to make our truffles sleeker and a little more elegant and coated them with cocoa and crushed (read: blitzed up) almonds. The original recipe also suggests to melt the chocolate in a microwave, but I still like to put it over the stove. Up to you really.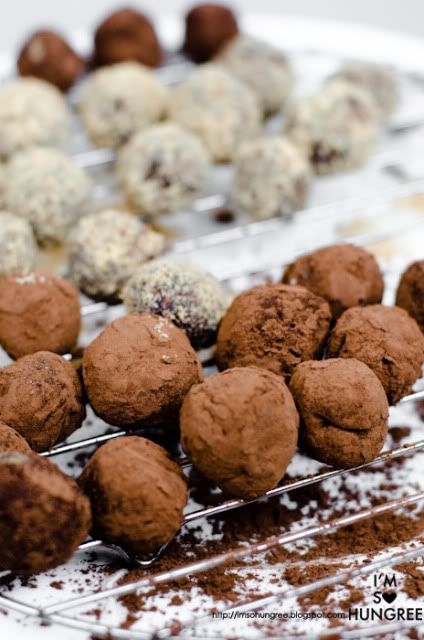 I also love this recipe because it's like…just having a bite of cheesecake. You know how you can feel a tiny bit guilty if you have a big slice of cake? Well what's one little truffle ball? Or 4..? Or 6…? Hmm. Maybe not such a good idea after all.
I could imagine changing this up with white chocolate, or maybe coating these with sprinkles if you want something colourful for the kids, you could even use two types of chocolate and have a marble effect! Oh the options! Just going to have to make this more and more…
Chocolate Cheesecake Truffles
INGREDIENTS
200g dark chocolate, chopped
250g cream cheese
1/4 cup icing sugar, sifted
(I do actually recommend sifting it)
1 tablespoon dark rum
(although the original recipe asks for Irish cream liqueur…pick your poison!)
dark cocoa for coating
almonds crushed/blitzed/blended/get-them-as-fine-as-you-can for coating
(again do note you can change your coating, original recipe asks for 1 packet of crushed tim tams)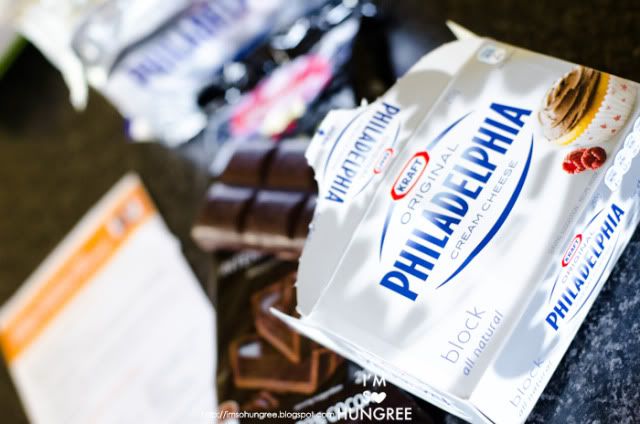 METHOD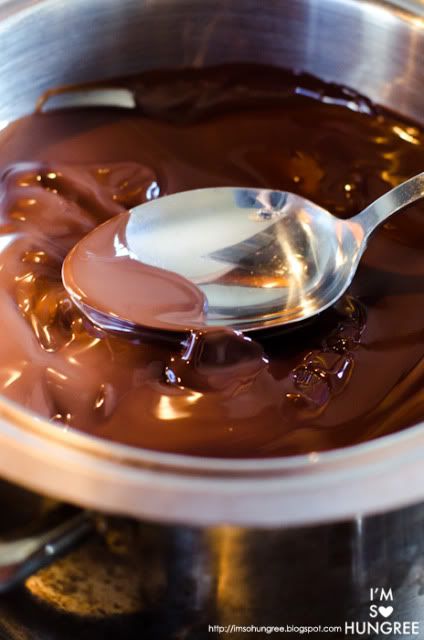 Melt the dark chocolate. You can do this in a bowl over a pot of hot water over the stove. Stir to make sure all the chocolate has melted. Or you can use the microwave. If you're doing it in the microwave, cook on high power for 40 seconds, stir, and cook for another 30 seconds, then stir until chocolate has fully melted.
Let your chocolate cool.
Beat cream cheese and icing sugar until combined and stir in your alcohol of choice.
Stir in your cool and melted chocolate.
Pop the mixture in the fridge to chill until it's firm enough to handle. Hard to say exactly how long, it definitely takes longer on hotter days as we've discovered. A couple of hours should definitely be enough though!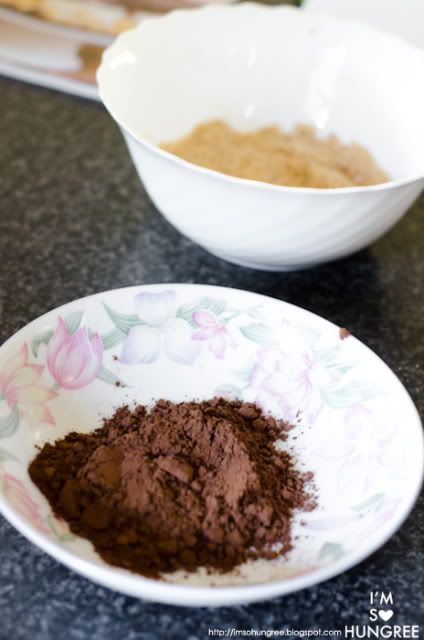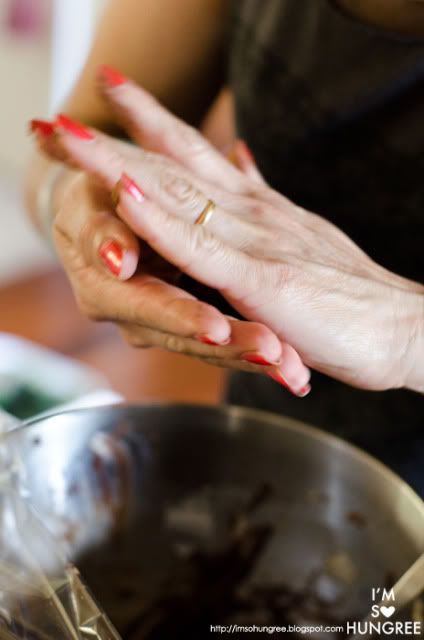 Once the mixture is firm enough, roll them into small balls (teaspoonfuls are usually a good size) and roll them in the cocoa or almonds, depending on what you feel like. My mum liked to just pop the balls onto small plates with the covering and use the plate to roll them around so that you don't actually have to touch the pretty little chocolate balls and get fingerprints on them.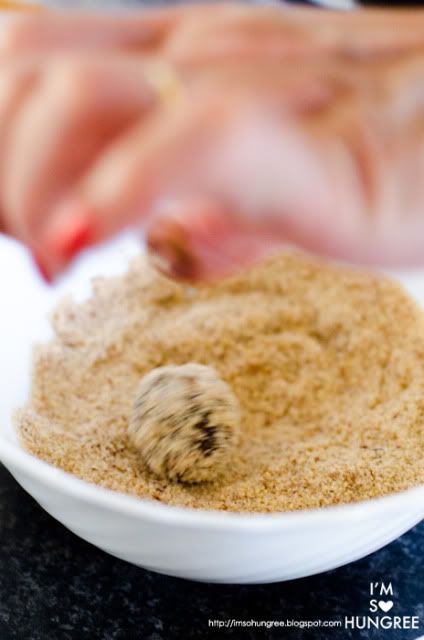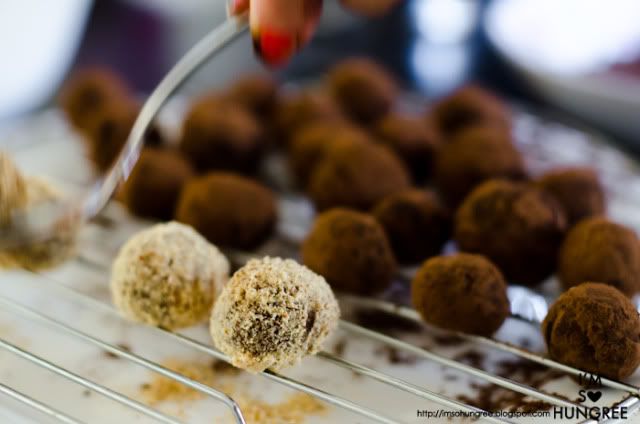 Use a fork to lift the now coated truffle balls and put them on to wire racks (if possible, a plate would probably suffice too) and pop into the fridge again to firm up and have the cocoa or almond stick to the truffle better. Overnight to be sure, but you can also get away with just leaving them in for a couple of hours.
Then enjoy! Over a week, or in one night...it's all up to you...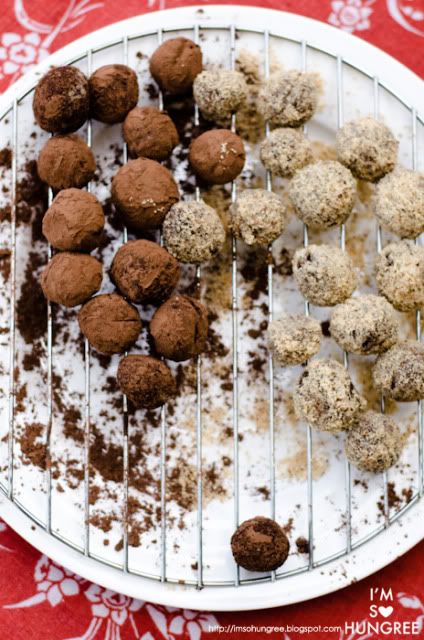 Want more deathly chocolate recipes? Visit the other recipes as part of the blog hop!