You know I've all been here for breakfast already, so if you'd like a little romantic tale of the vibe and the atmosphere, just pop by here.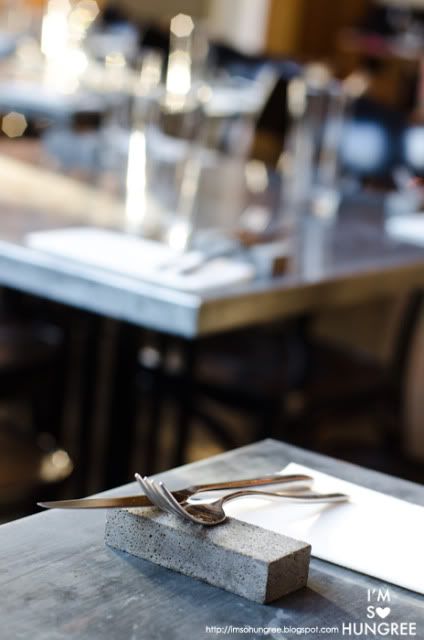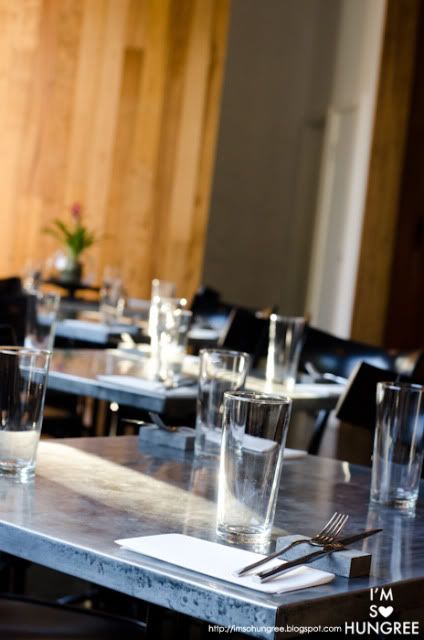 But I'm going to try to keep introductions short. I was back. With Bryan and Fakegf/Jo. Our mission? To indulge in the $80, 5 course degustation menu. 5 courses for $80? Not a bad deal if you ask me.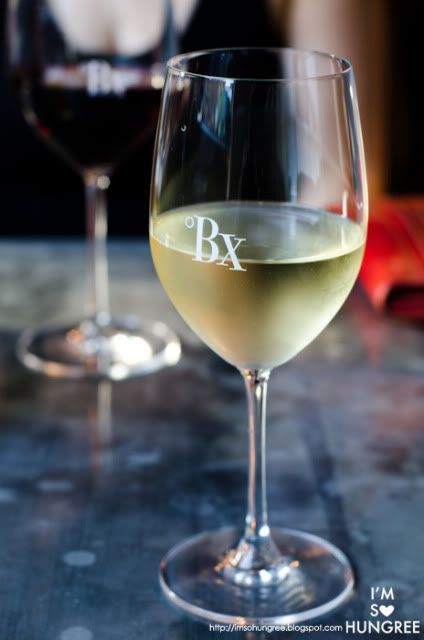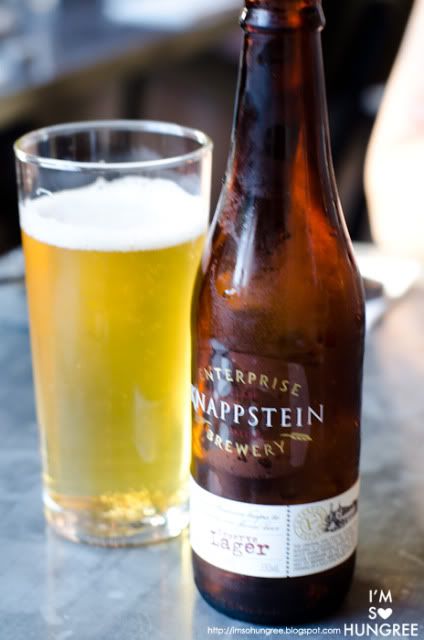 To replace our usual chai lattes and coffees, a glass of the Keller Trocken Riesling for me and bottle of Knappstein (which I am personally quite fond of myself) for Bryan.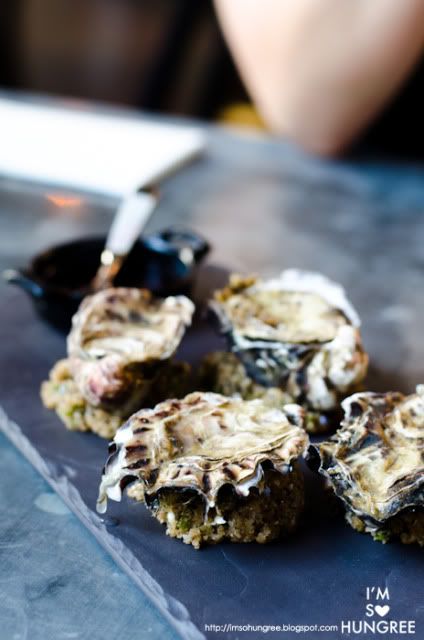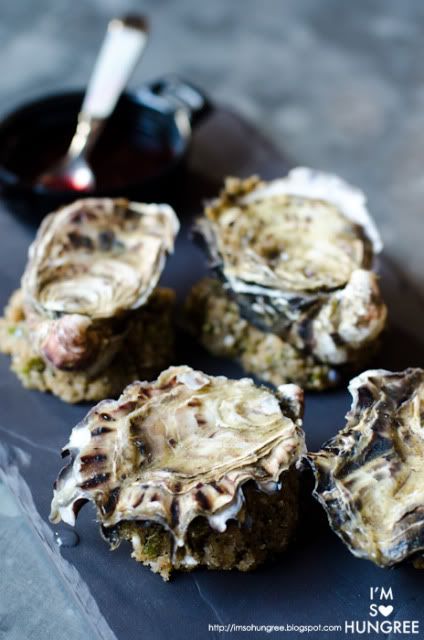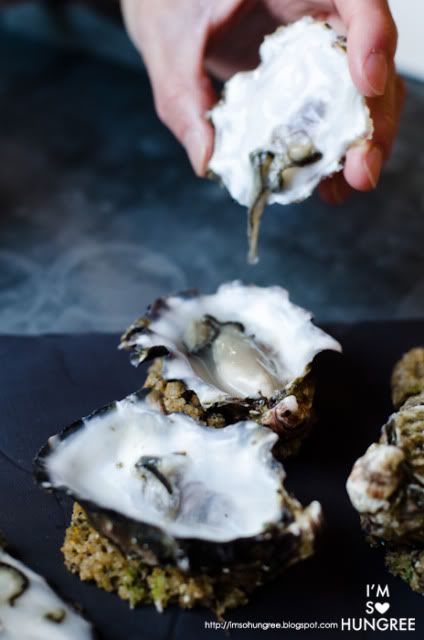 I don't often do oysters when I go out, but we figured we'd add a course to our degustation and get the Duck Bay oysters with a red wine and shallot vinaigrette to start our night. They were sweet, they tasted so fresh. Not an expert on oysters, but still fully enjoyed. Love the little 'sand' bases they are sitting on as well!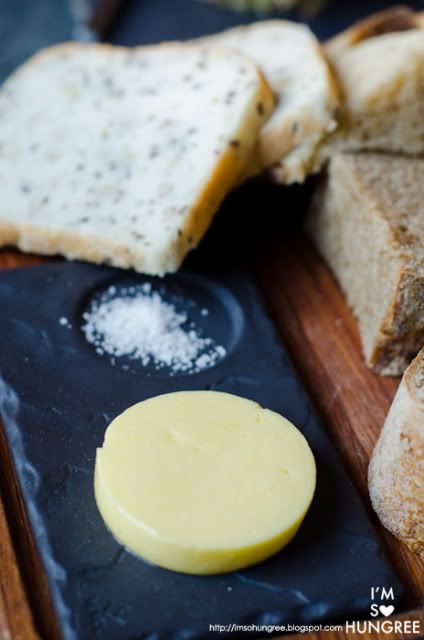 Soft, soft butter. Mmmhmmm. And they had gluten free bread for me as well!
The whole dinner that night was a food-blogger-wielding-SLR's dream. You will just have to envisage Bryan and I avidly flailing with excitement as each dish was presented, accompanied by a very brief and vague description from the waiter. On one hand, this description is a little annoying, because you really want to know what EVERYTHING is on the plate. And there's a lot of stuff. At the same time though, you end up eating everything a little more carefully to try and suss it all out!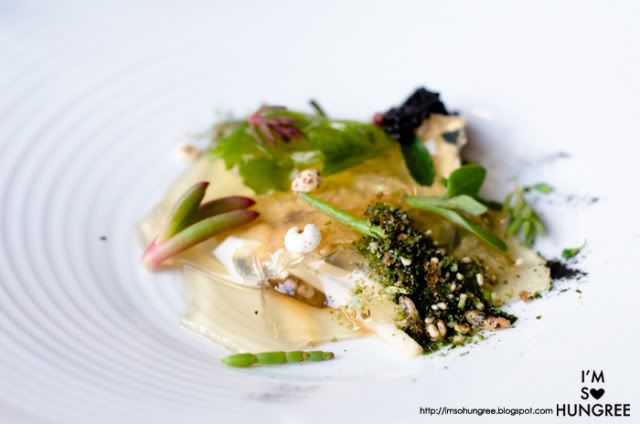 The first dish, smoked tuna, avruga and seaweed.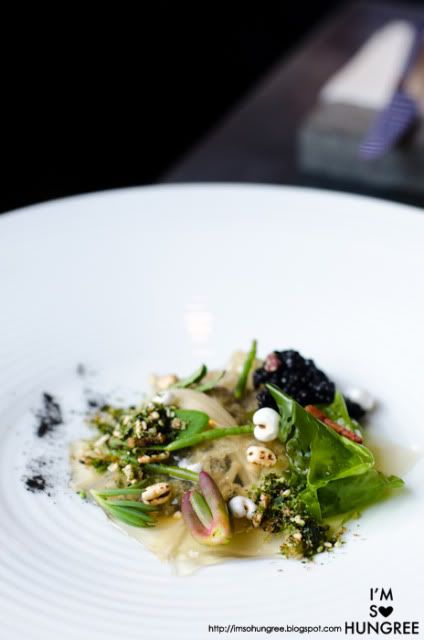 I don't think any of us breathed as we admired how elegantly everything had been tweezer-ed into perfection. It also was incredibly aromatic, and smelt like you were standing with the sand between your toes, eyes cast out over the big blue.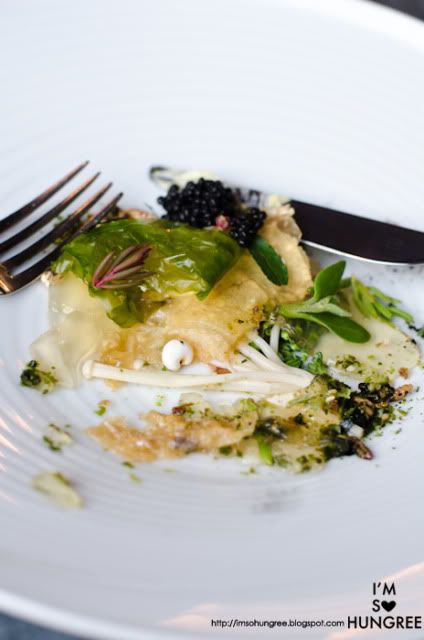 Delving into it, we found enoki mushrooms, crispy fish and puffed rice. We quizzed whether the jelly had miso in it. I loved the fantastic play on textures, which always gets me, the crispy, the soft, the slightly chewy.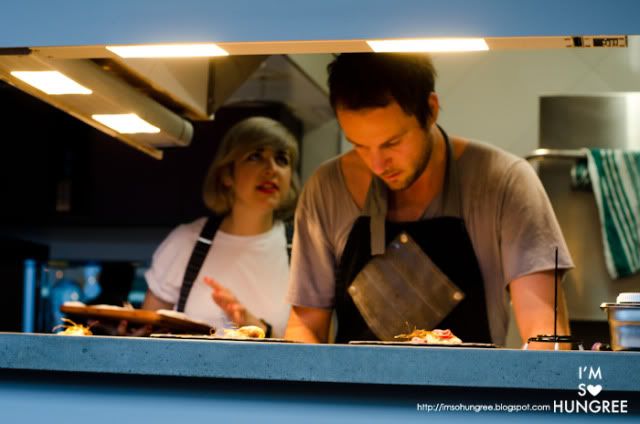 We really had the perfect vantage point to check out the chefs (Joel Anderson and Daniel Dobra) as they constructed our dishes. It was like watching an artist work, a little bit here, a little bit there, a smear of sauce as well.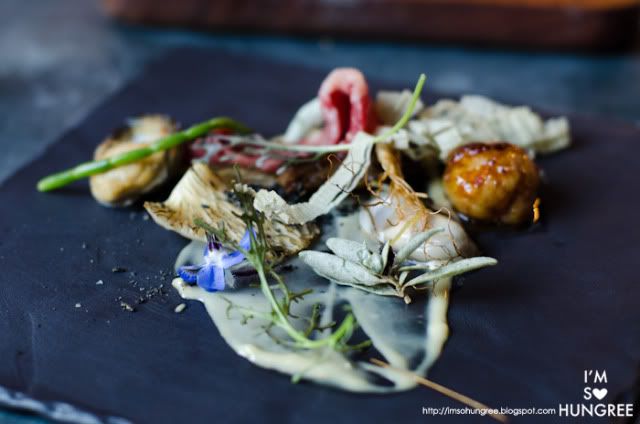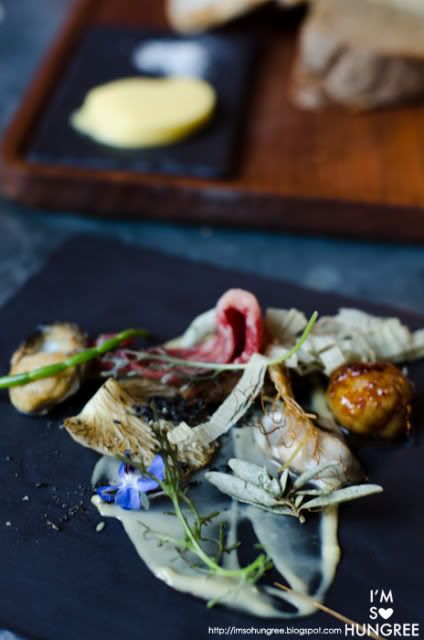 Beef and oyster. From the ocean, we move to where it meats the land. Again, on a warm plate, the food smelt amazing. A cooked oyster, a raw oyster, an oyster mushroom, beef, both raw and slow-cooked, all added their own flavours. I personally loved the addition of the raw oyster, as it really added a lovely sweet contrast. Oh and the bone marrow. Buttery, buttery bone marrow!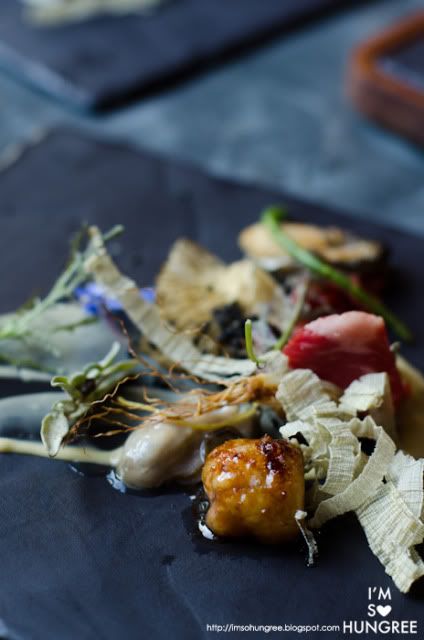 Anyone have any idea what the ribbony stuff is? It delighted the three of us, with it's smokey smell, yet it's seaweed flavour.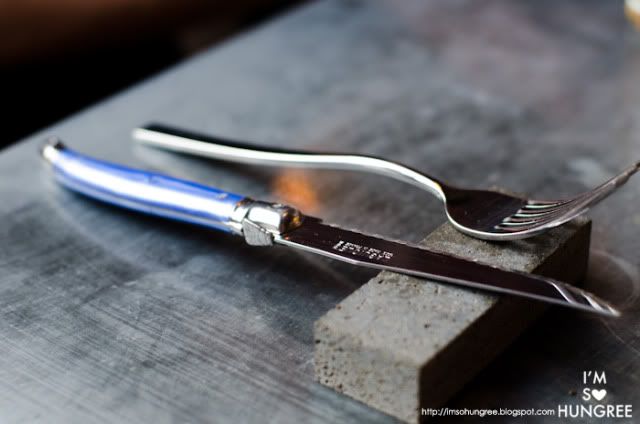 The knives came out. We knew we were getting more meat.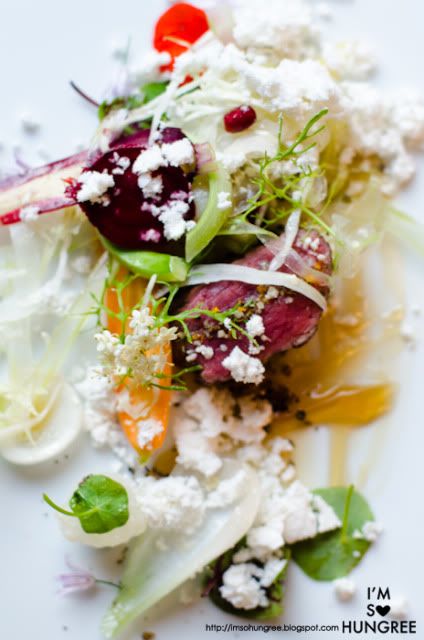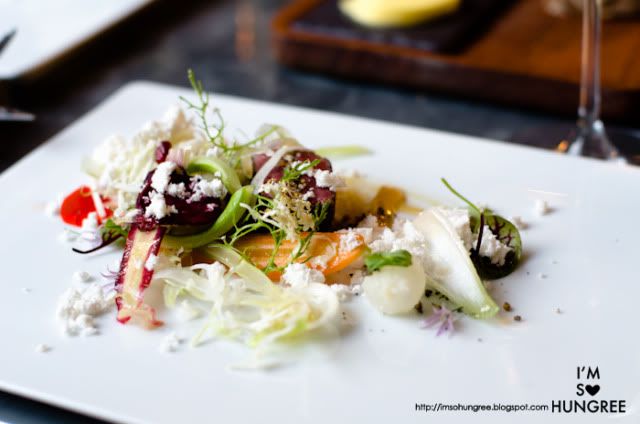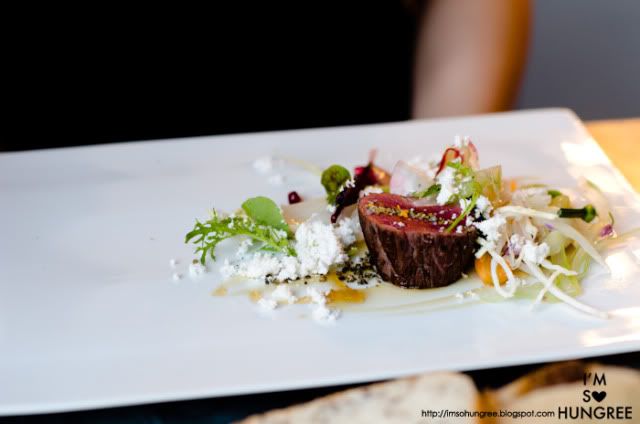 From the darker wintery beef, we moved onto a dish that just sung of spring. The dish came across as bright, light and airy, I was smitten with the colours! Venison, roast onion and cloves, the latter which could be detected in the white powder. The venison was gorgeously tender, cooked perfectly!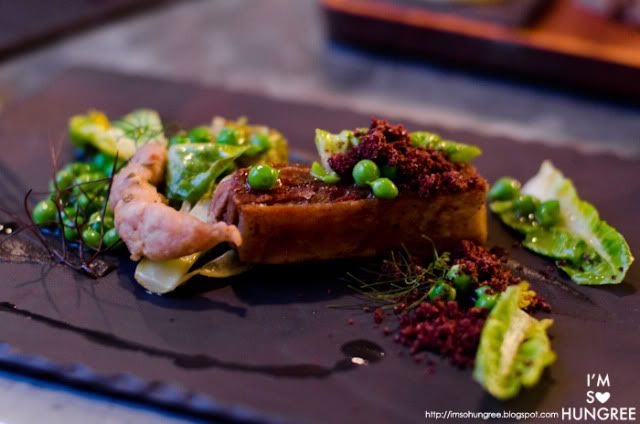 Peas, lamb, lettuce and mace. After all the elegance and hints of richness, this came as a bold statement in the meal. The lamb was near impossible to fault, it fell apart beautifully and was gorgeously rich and fatty. My mouth waters to think of it! I also enjoyed the lamb sweetbreads, which reminded me of chicken a little bit funnily enough!
However, I did find the brown 'powder' a little overwhelming, it tasted of aniseed and was quite potent to me!
Surprisingly after just 4 courses, I was feeling fairly full. Of course though, dessert was next.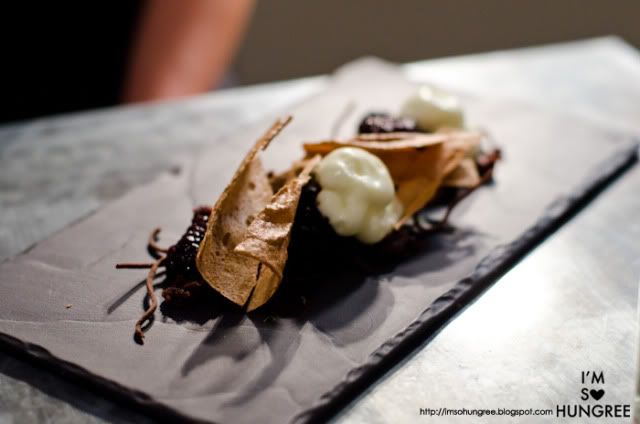 Blackberry, beetroot and basil. As we were in the holiday month, I loved how much the dessert tasted like Christmas. Yes, because I've held Christmas in my hands and taken a huge chunk out of it. All jests aside though, the wafer scrolls on top were gingerbread, which to me, is Christmas. I also loved the addition of the yoghurt foam, as it was so light and fluffy. It added the perfect amount of tartness to counter much sweetness. Such a unique dessert and although I tend to like my desserts rich and decadent, I really enjoyed this fresh take.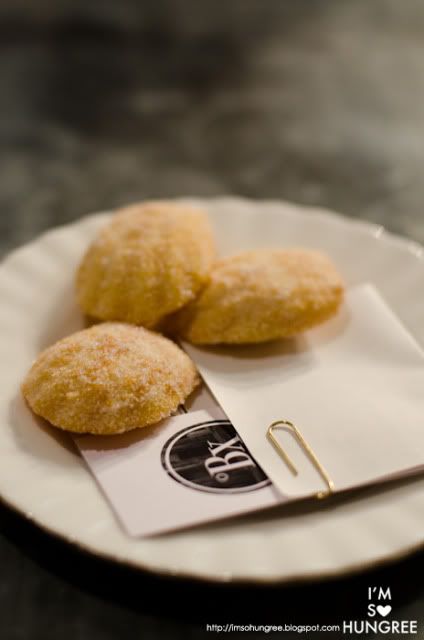 A couple of hours later, plenty of laughs and too many pictures taken, we got our bill with a side of cheeky madeleines, to finish us up.
I personally loved our dinner. It was really a bit of a flavour playground, with the waiters leaving us to our own devices to try and pick apart the different elements. And of course, the meal itself is an absolute visual spectacle. I'm personally super excited to come back maybe in another month or two when the menu changes up a little bit so that we can try something new...
Rear 412 Brunswick Street
Fitzroy, VIC 3065

View I'm So Hungree in a larger map