Deja-vu…it's Hong Kong again!
Wait…yes…yes. I know. I was in Hong Kong in September. I'm back already?
I didn't actually expect to be in Hong Kong again, anytime soon, but a last minute change in plans meant, instead of meeting some people in Melbourne, we would be meeting in Hong Kong.
Well who's complaining really?
Unfortunately though, I could only afford a very short 4 days away, since my parents were also overseas and someone has to watch the little brother. Oh and the dog. I swear. With having just brought Chai into the house, I was paranoid the whole weekend I was gone that he was going to destroy the house.
Fortunately this didn't happen.
And I still had a lovely few days in Hong Kong.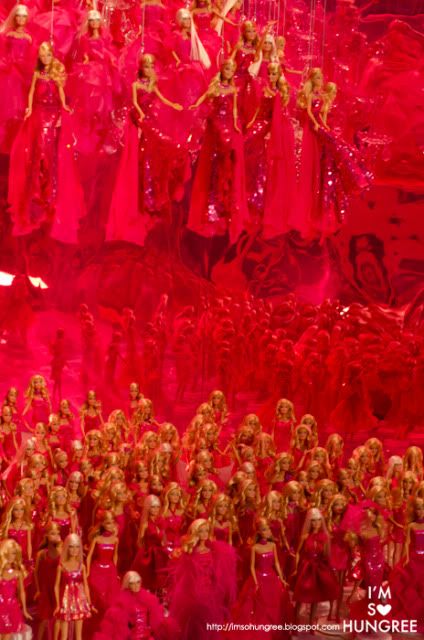 My first night was spent in Causeway Bay, hunting down Uniqlo and H&M store for basics, eating roast goose in random roast shops, where I sat in a booth with another guy and was embarrassed I had to order in English and therefore was also embarrassed to take pictures and look like a massive tourist (massive fail Asian!), and getting lost in Times Square in a Christmas Barbie land.
Life size cupcakes! Or not quite….
Shortly after, I trotted along to Le Salon De The de Joel Robuchon and had cake.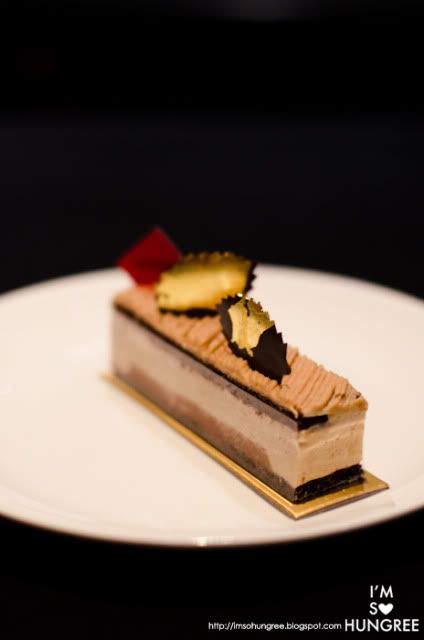 More specifically, a beautiful chestnut cake. I can't resist anything sweet with chestnut in it. I'm still convinced I can't find chestnut goodness often enough in Melbourne, so I pounce on it with the vigour of a cheetah on it's prey, when I get the chance!
I was a little surprised at the tiny little cafe, they didn't ask if I wanted to order tea or anything with my cake, which I wouldn't have minded, and they were even lazy enough to not take the plastic around the sides! Honestly! Service could be kicked up a notch!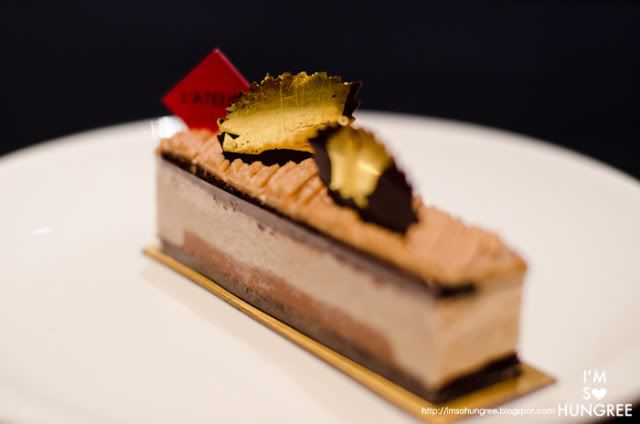 That aside, the cake was delicious. Nothing I didn't like. A hint of sour raspberry, which just gave a tiny bit of tartness amongst the sweet which enhanced the flavours.
Day two I woke up, got lots of work done in the morning, then shuffled out to find some lunch. Which didn't really happen until a lot later than planned because for all the eating places in Hong Kong, there are still queues everywhere and I hate lining up.
I ended up in Lane Crawford spending way too much on two pieces from T by Alexander Wang (but the dress was sooo worth it). Whoopsies!
Before my time alone ended, and I was to meet up with some of my friends, I decided to be a bit plush and sample macarons in my hotel room with Elton John on the iPod dock and a mug of peppermint tea.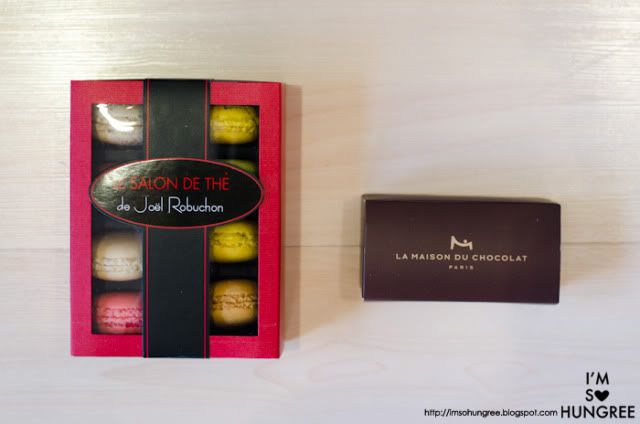 So the macaron-off? It was between de Joel Robuchon (who's macarons I had bought the day before) and La Maison du Chocolat (who wouldn't let me take a photo of the cute shop in the mall. Baww.).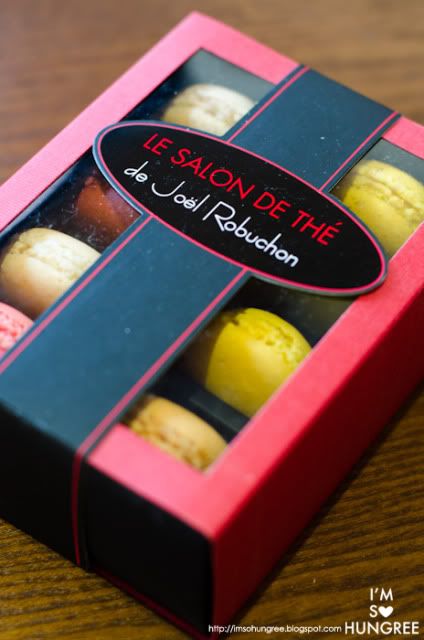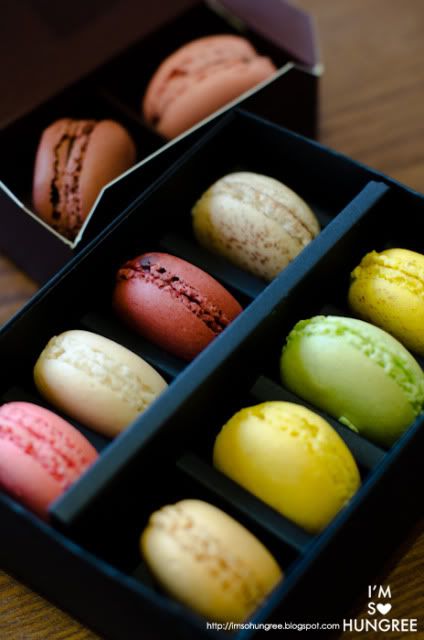 The macarons from Robuchon, although they looked a bit smaller, had more consistency to their look, with very neat little feet, and the La Maison shells having started to crack a little bit.
I decided for fair comparison, I would sample and compare the chocolate macarons.
La Maison first.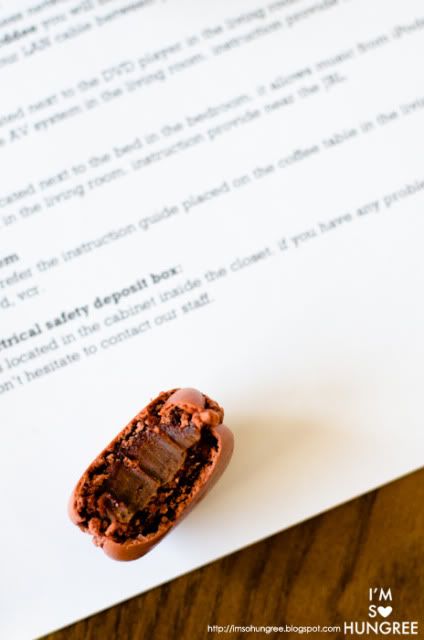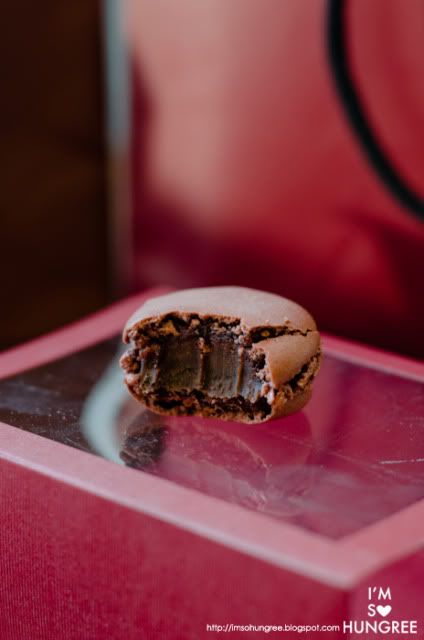 Oh my god! So much ganache! Whilst it certainly appealed to the side of me that is constantly reaching out to the pantry in search for chocolate, as a macaron, I found the ratio was quite a bit off. All cream and not much else! It wasn't too sweet though, as the chocolate was really lovely and dark.
Robuchon's macarons, although smaller, are much, much better proportioned. The shell is also quite deceiving as it was really lovingly crisp when you first bite into it, but is not too airy overall. The deep cocoa flavours also surprised me, as it appeared a little more red than brown and I think I overall enjoyed the flavour of this macaron better!
Hong Kong is easily one of my favourite cities at night. As unhealthy as light pollution probably is for the environment, it still is gorgeous. View courtesy of our hotel rooftop.
For dinner, my friends had booked us in for dinner at the very swank and trendy Zuma. My friends said it was in the same market as Nobu, but in Hong Kong, Zuma was regarded higher than Nobu!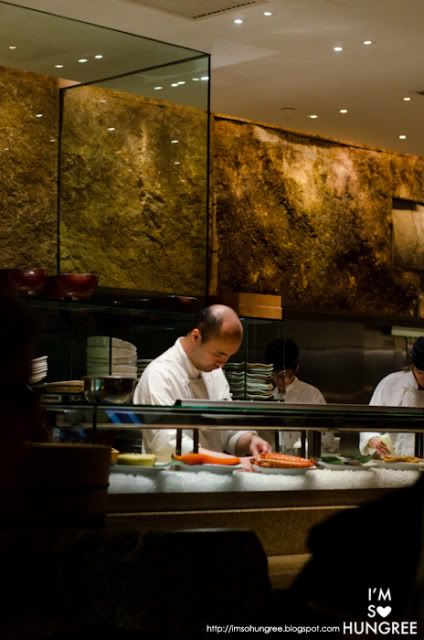 Naturally, being trendy and cool, and the place to be seen….you couldn't see anything. It was dark. So I didn't take that many pictures. The food though, was surprisingly pretty good.
Sake was had, along with chicken skewers, and my favourite of the night, (I think it was) unagi with uni. Um yum!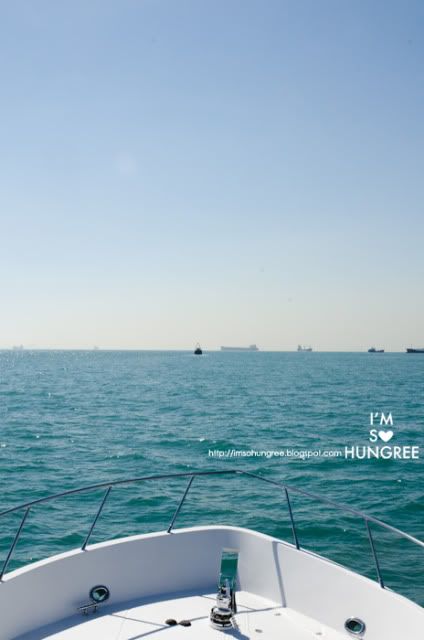 Day three saw us with perfect weather, a bit of a hectic morning and a long lazy day on a boat out in the bay. I forgot to mention the day before when I was in the mall I had picked up some truffled gouda to have on the boat. Oh my god. Again. Truffled gouda. Truffled gouda. It was heaven. I forgot to take a picture. Although you could see specks of truffle all through the cheese, every bite was absolutely infused with the truffle-y goodness. Need to find in Melbourne.
Oh and we had Oscar the grouch cupcakes. Although he looks a bit happy there. Win!
Le Salon De The de Joel Robuchon
Shop 315 & 401
The Landmark, Central
Hong Kong
The Landmark
Level 5&6
15 Queen's Rd
Central, Hong Kong
(852) 3657 6389
La Maison Du Chocolat
ifc Mall
Shop 2006
Hong Kong