Disclosure: I was invited as a guest to the following restaurants
With longer sunny afternoons and more gin and tonic inducing weather, it's lovely to see Fitzrovia sneak out of hibernation and extend their service out to a couple evenings a week. I'd been before with Brad and absolutely loved it, so couldn't wait to revisit when I was invited to!
I think Fitzrovia describes the food that chef and co-owner Paul Jewsen does perfectly, luxe comfort food; big flavours with rough edges, and I love it.
Let's start with the hot and sour crisp salt and pepper calamari with green papaya salad, Asian herbs, rice noodles, lime and cashews with a roast chilli dressing. Wow. Absolutely packed with flavour, this dish was vibrant, with sweet, aromatic citrus, a bit of heat and a bit of crunch. Could have easily eaten a whole bowl for this as a meal by myself!
Chickpea and organic black quinoa falafel with turmeric roast cauliflower and smoked eggplant caviar, sumac spiced lane, minted pine nut dukkah and pomegranate is also deliciously done, wholesome but also quite light and clean.
The free range chicken breast saltimbocca with crisp prosciutto, sage and taleggio, soft mascarpone polenta and crisp fried leeks was simply comforting flavours; I'm not usually a huge fan of chicken breast but Paul looks after it well here. Tender and juicy, deliciously seasoned with the prosciutto.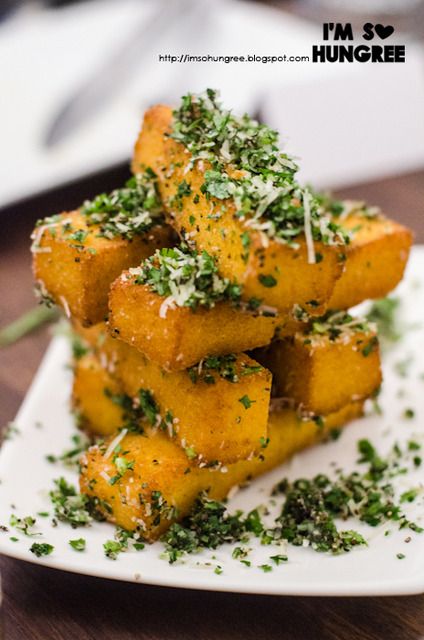 Every time I go to Fitzrovia, or know of people going, I simply rave on about their signature polenta chips, made with three types of cheeses and topped with truffled parsley and parmesan. Oh my goodness. Isn't it a feast for the eyes? Big generous jenga style chips, which are soft and fluffy, but so rich in cheese flavour simply slays me. You just need two of these to have a meal really, they're so darn rich!
I'm hardly in St Kilda as often as I'd like to be, but would always be more than happy to make the journey down if someone wanted to try!
I was quite surprised when I discovered how tasty Ethiopian food was, although my only experience with it had previously been at Little Africa. So when I saw that Saba's Ethiopian Restaurant had opened up, I was excited to have something a little closer to home for me (or at least not in the CBD).
Saba's is opened by 25-year-old Saba who migrated to Australia 16 years ago, and the restaurant is now a bit of a family affair, with mum working her magic out back and sister helping out with front of house.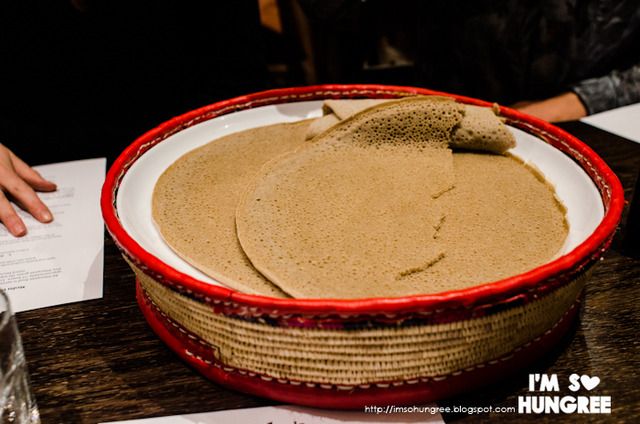 What's unique about Saba's is that it uses teff flour in it's injera (the brown flat bread), instead of regular flour, which apparently most other restaurants use, as teff is a bit more expensive and a bit harder to acquire. Fortunately Saba has been importing the flour since 2014, which is gluten free and native to Ethiopia, meaning you're getting Ethiopian food that's closer to what you might actual find in Ethiopia!
Now, Ethiopian food is not very photogenic, but it does have some other great and redeeming features. Firstly, it's damned delicious. From the meat dishes, vegetarian and vegan stews, and even the salads. From chickpeas, to a chicken dish covered in a red sauce that reminded me very much of sambal, the flavours at Saba were vibrant and hearty.
I was surprised how different the teff flour injera was, although we demolished many, many, many, many servings of it, by the end of the meal, I didn't feel bloated or even overly full, despite all the eating we did. It felt really clean.
The second redeeming feature about Ethiopian food, is how fun and interactive it is. Out come the great big woven baskets with the injera on top. The different stews and dishes are then poured in over the top…and off you go at it! Fingers and all, my favourite way to eat, especially this kind of food!
Saba's food is definitely made with plenty of heart and I can't wait to bring Brad back to try it together; the food is made for sharing, so make sure to bring a party!