I'm travel sick at the moment. Terribly, terribly travel sick. I've done a number of small trips this year, more than I've done previously (I think) and normally I come back refreshed and happy. But not this year. I just come back longing to have another trip coming up the following week, and perusing the internet for more travel sale deals.
I actually need to have another full holiday to plan.
But in the mean time, I'll do with breakfast pasta at Small Axe Kitchen and pretend I'm in Sicily - just for a little bit.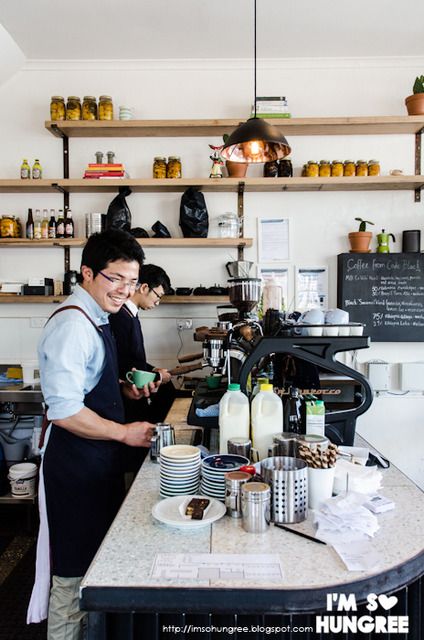 Recently opened on Victoria Street in Brunswick, Small Axe Kitchen is a bright and inviting space, and as mentioned, inspired by the colours and flavours of Sicily. From Italian cook books on the shelves, to Italian mints for sale next to the iPad cashier, to a menu which has almost nothing I've ever tried before (and that's fantastic). The Italian references aren't in your face, a little more subtle upon first glance, but when once I noticed them, I found it simply adorable, quaint and a little homely.
Service is with a smile from absolutely everyone in store, and why not? It's a sunny Sunday on a long weekend, tick tick.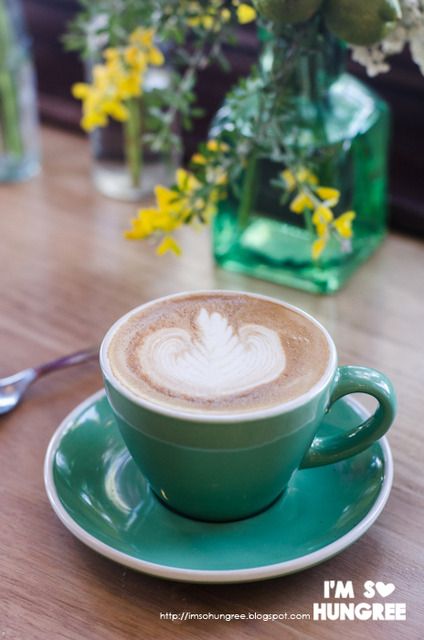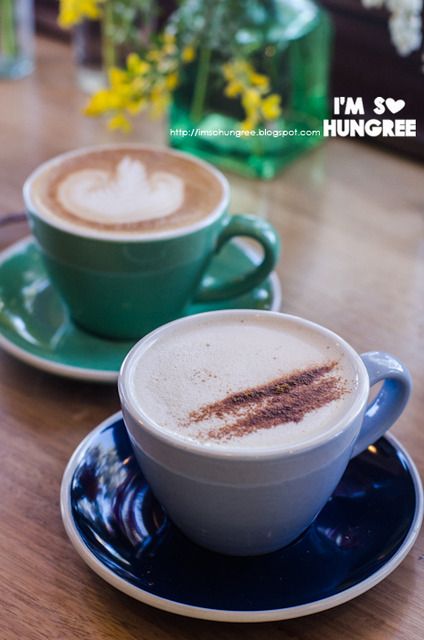 Coffee is from Code Black Coffee Roasters - and as we're wandering down Sydney Road after brunch (to satiate my need to op shop), Brad brings up (without prompting) that the coffee was good. He doesn't often do that.
Chai is smooth, sweet but still with a good bit of tea flavour in there.
As mentioned, I love the menu, as it mostly has non-traditional breakfast items, but that all read as delicious breakfast options - with Italian flavour. From a fried scamorza sandwich with green tomatoes, to Sicilian meat balls, to soft polenta with broad beans, peas and nettle. I'm normally stuck between 2 options, at Small Axe Kitchen I'm trying to narrow it down from four.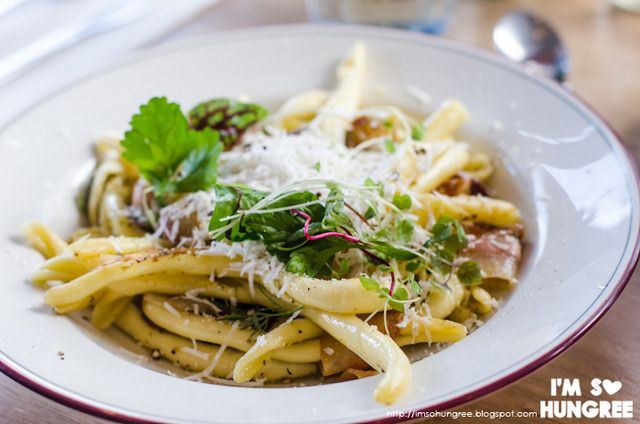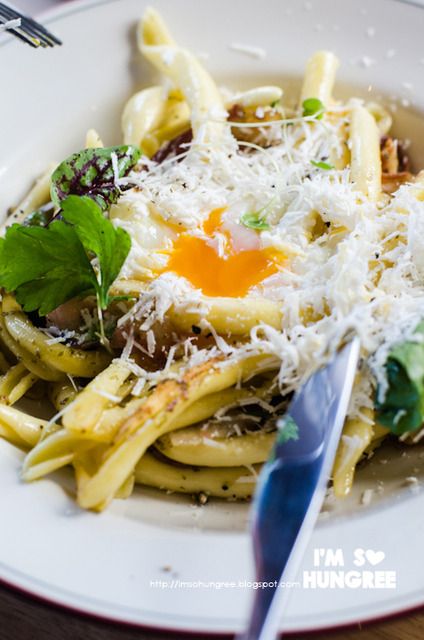 I instruct (or perhaps I dictated…) Brad to get the breakfast pasta with maccaruni, guanciale, peas, mint, salted ricotta and a slow cooked egg. It's just beautiful, hearty and wholesome, but somewhat surprisingly to me not overly rich. Perhaps just my bad perception that deliciousness equates to be drowned in cheese, but this balanced proposition is a fantastic start to the day. Especially if you need to be filled up like Brad does. I loved the long rolled pasta, which were perfectly al dente - great body. The gooey egg yolk in the middle was just perfection as well.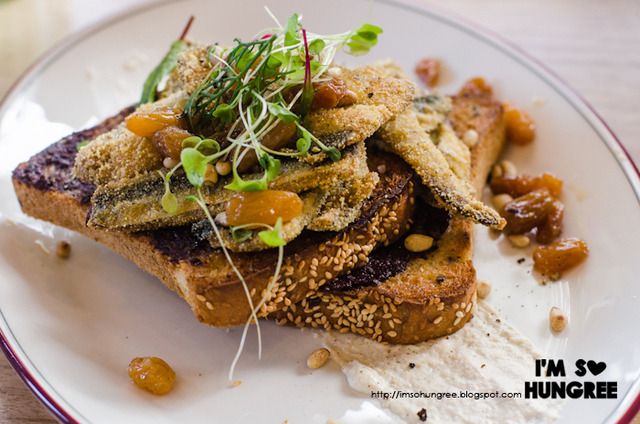 Although I initially thought I'd go after the smoked eggplant or charred octopus (especially after seeing it on Instagram - so pretty), when I realised there was polenta crusted sardines, on organic toast, smoked olive tapenade, golden currants and pinenuts, my decision was swayed.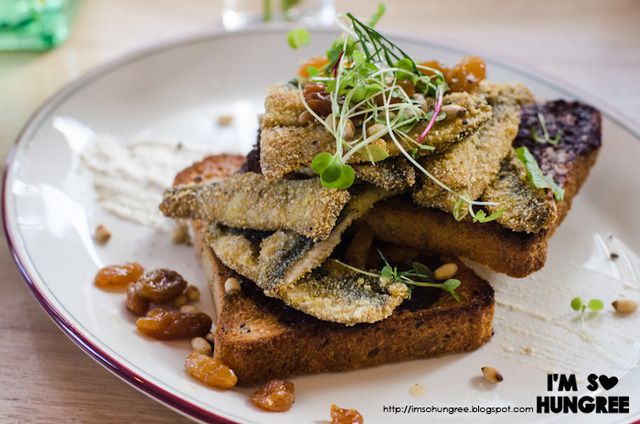 I love sardines, and these meaty little morsels are gorgeously golden on the outside and well seasoned. I go gaga over the smoked olive tapenade, the richness accented by the sweet currants. At first I worry there's too much of my gluten free toast, and not enough sardines to go, but I quickly realise that the sardines are stacked high, and I don't need to worry about that. Definitely very happy.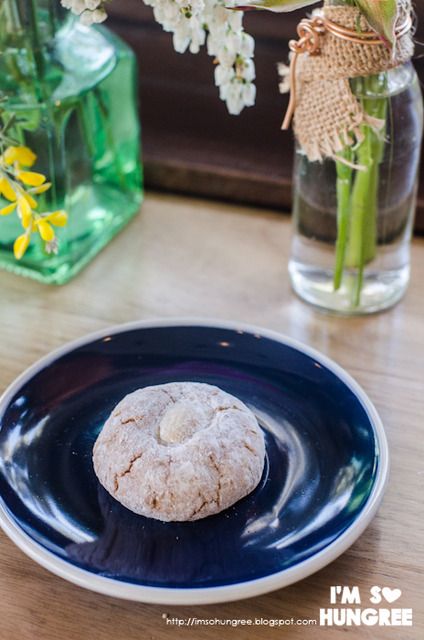 As Brad heads out to the street to look for an ATM (at the time Small Axe Kitchen was cash only), I eye off the sweet display - which are supplied by Fatto e Mano, and quickly devour an almond biscotti. All I would have been missing is an espresso - if I drank coffee anyway.
Basically, I loved Small Axe Kitchen. As the weather gets warmer, the outdoor seating area is going to be so good and well used (loads of outdoor seats, and plenty of space for all the doggies) and I want to come back to try everything. They'll also be starting 'Family Dinners' soon - there was a sign up list in store, and all six A4 pages I flipped through trying to find a space to put my name on was full! Good signs guys, good signs.