Did you know I've lived in Poland? For a year? Well. When I was three though, so other than playing with 'My Little Ponies' in the backyard with my neighbour, I unfortunately don't remember much. When I was in Europe with my mother back in 2008, she was super keen to make a trip back to Poland just to see how the place had changed, but we never got the opportunity.

When I told my Dad last Monday that the lovely Caryn and I were going to have Polish food, he was firstly, very surprised that a place in Melbourne served the cuisine and secondly, quite excited and babbled on about things I should eat and toxins I should drink.

Yes, we went to Borsch, Vodka and Tears. It was Caryn's birthday on the weekend, so as I do, rather than buying presents, I bought her dinner.

When I called earlier, they were apparently fully booked that night, but lo and behold, I waltz in at 7pm and am given a lovey warm seat right smack-bang, in the middle of the restaurant. I'm not too bad at this hey?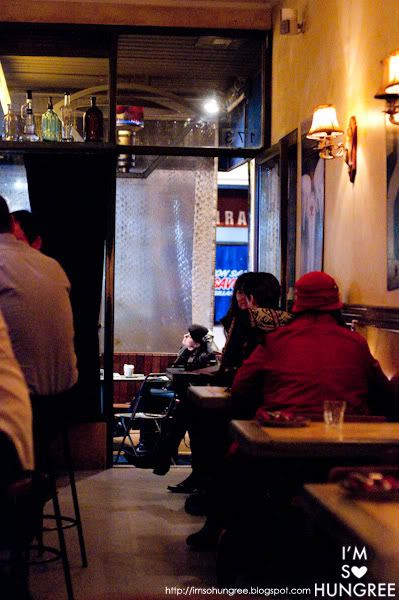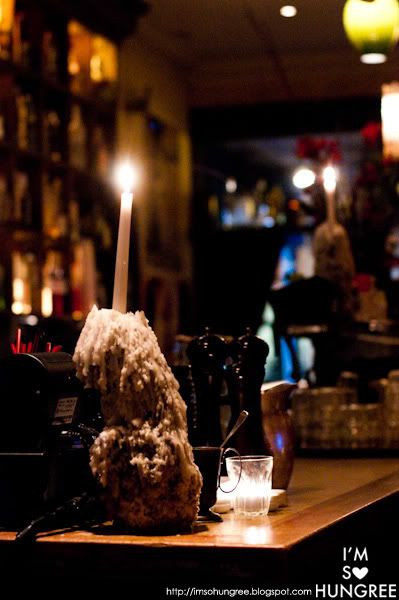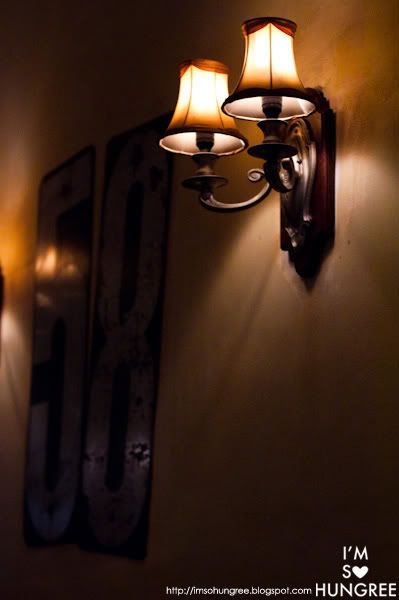 BVT (as I will refer to it from now on since I am a lazy typer tonight), is absolutely warm and charming inside, with curious memorabilia adorning the walls, I love a dimly lit wooden room.

Caryn, the silly girl, arrived a little later but it had not occurred to her to NOT drive. This dawned upon her as we poured over the three page long vodka list. Clear, sweet, fruity, herbal...? It was all here and all looking so tempting. We both vowed to be back, car free, to drink ourselves silly another night.

We resigned ourselves to trying to choose just one vodka, which proved to be quite tricky. The staff at BVT were very friendly and accommodating, coming to our aid with their recommendations as we went to and fro between different vodka's.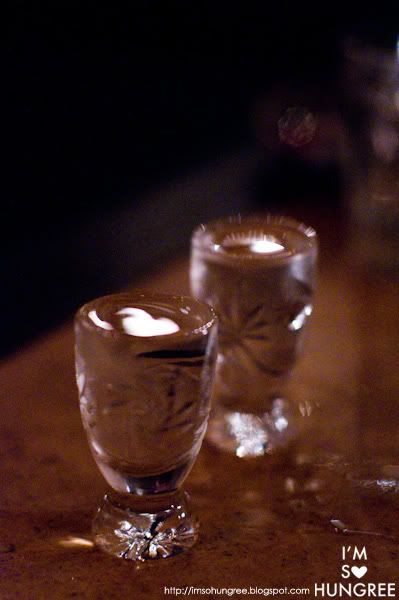 Eventually, I settled on the 'Pravda', a rye vodka and Caryn got the 'Imperia', described as "the most talked about vodka in hollywood, surprisingly also delicious, butterscotchy". Whilst Caryn could not quite find the butterscotch in her vodka, she did croon over how much easier it goes down. On my side, the Pravda was a delight, sweet and velvety (as described), it just slid down my throat without a care.

I apologise now for the graininess and how dark all these photos are. When I said BVT was dimly lit, I wasn't kidding. We opted to get a couple of tapas style dishes to share, rather than go all out and get a main each. We like little tastes of everything!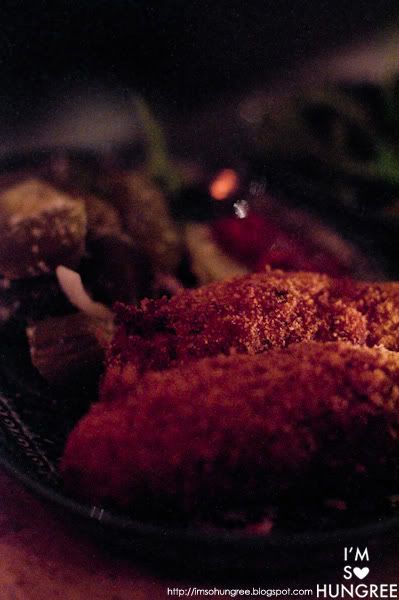 Shortly after ordering, with barely a moment to do our typical girly gossip, this was almost immediately presented on to our table, Caryn and I were both surprised with how quickly it came out! These are 'dziegielowka' or for those not so fluent in polish, lamb croquettes with garlic butter, saffron and the house chutney. Hot, hearty and delicious, especially with the chutney which just complimented it perfectly. The taste and flavour of the lamb really came through.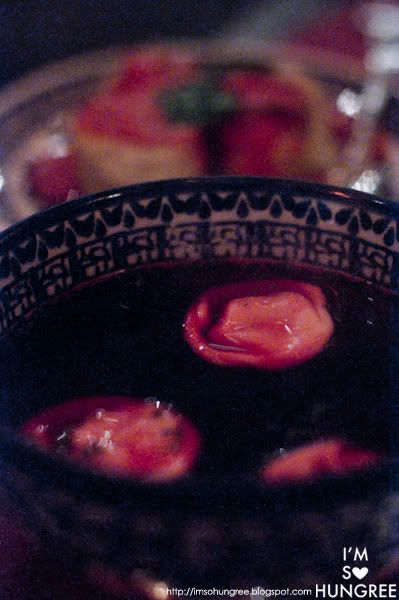 Following, was something my dad suggested to me, should we come across it on the menu. A simple polish borsch, which is a clear beetroot broth made with meat stock with a few beef (I think) dumplings. The dumplings I was quite underwhelmed by, the skin was incredibly thick, making it very doughy with not a lot of filler or flavour. The borsch itself though, I really liked, even if you don't like beetroot, I'd have to say to give this a go as it tastes....different. Quite sweet even. Caryn was not such a fan as she found it far too clear, being more of the type who likes a thick, hearty soup you can stir your spoon through.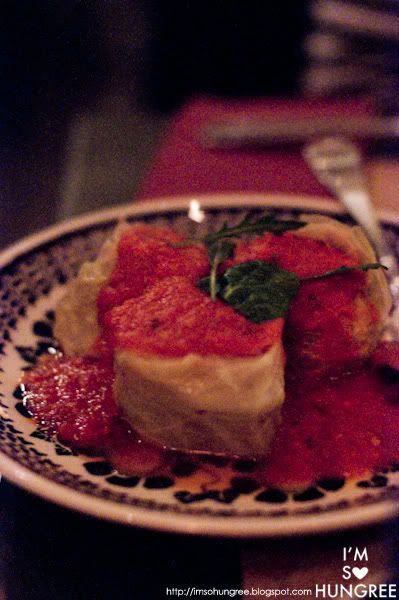 Another recommendation from my Dad, or the closest thing on the menu I could find that matched his description. Golabki, which is cabbage stuffed with veal, rice and vegetables, topped with a tomato sauce. These could've been a little hotter in my opinion, but they were still very tasty, the veal was a real flavour surprise, as they look quite innocently mild from the outside. This was liked by the both of us quite a lot.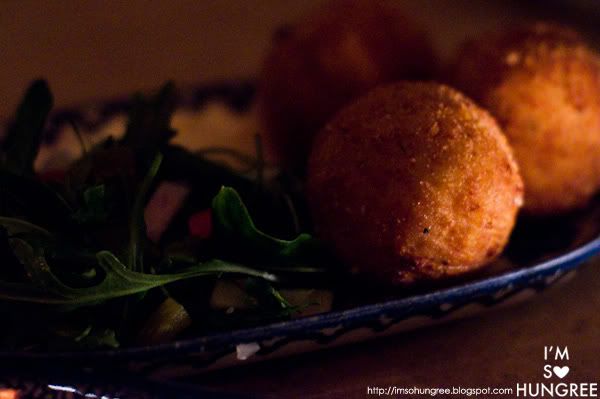 And lastly, 'pieprzowka', crispy fetta and rice balls served with garlic mayonnaise. Oh. My. Goodness. This was winter warmth in the most perfect little balls. These were piping hot, light and crisp on the outside, but soft, mushy and creamy in texture on the inside. Not to mention, rich. Rich with fetta. After eating these, I evaluated that wearing a high-waisted skirt was possibly one of the worst ideas ever. I was full to bursting after eating these guys for at least an hour afterwards! So uh, plan yourself and make sure you have room for these should you order them!

I've always been super keen on European food, from places such as Germany, Switzerland and Poland in winter, I love how warm and filling it is. Protein and carbs never looked so good and this meal was really the epitome of it. Filling, warm, meaty and yet, maybe a bit lighter than those bratwurst and schweinhaxe's from Germany, which really made it the perfect meal in milder Melbourne winters.

Oh and did you notice my new little logo on my photos? Slowly trying to make some changes...just gotta remember to keep this up!


Borsch Vodka and Tears
173 Chapel St
Prahran

, 3181