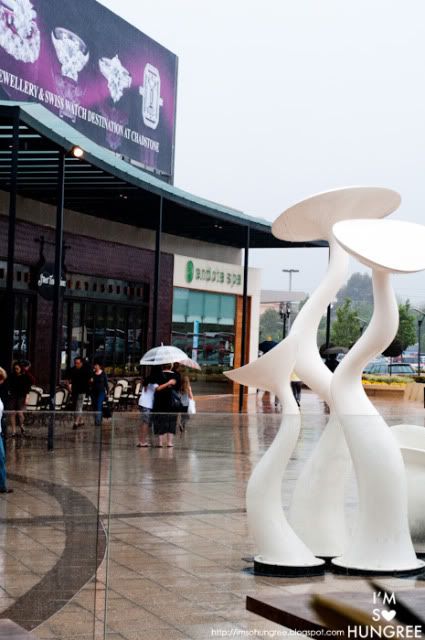 It's a Saturday.

It's grey, it's cold, it's rainy.

It's Melbourne. Although it's still better than London.

The masses endeavored to get out of the boredom of the house, but not get caught in the rain.

So naturally, Chadstone it is!

Brad and I had some specific things to pick up, toy guns from the reject shop and blue hair spray. Yup, halloween party was on the agenda. He was evil Woody from Toy Story and I was zombie Flounder from the Little Mermaid. But that's another story.

We strolled around the mall, occasionally (or a little more than) bumping into the squillions of people that seemed to be there. It gets pretty tiring, so I was very excited to take Brad to one of my favourite spots in Chadstone for a little coffee break.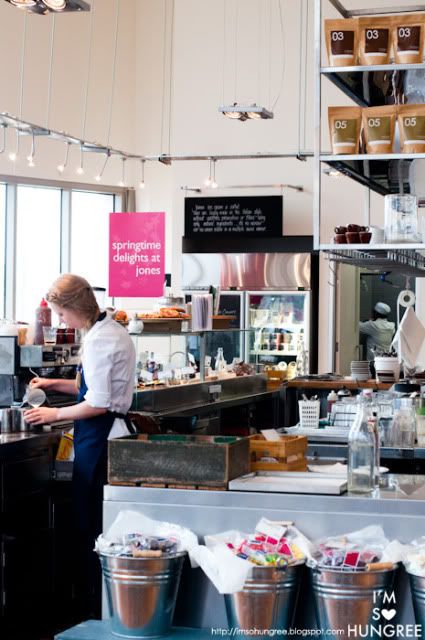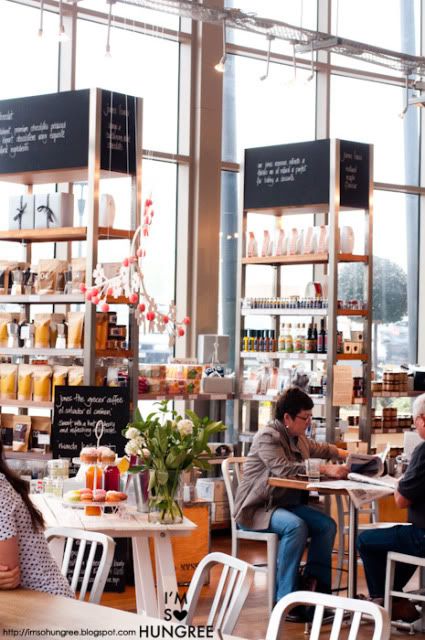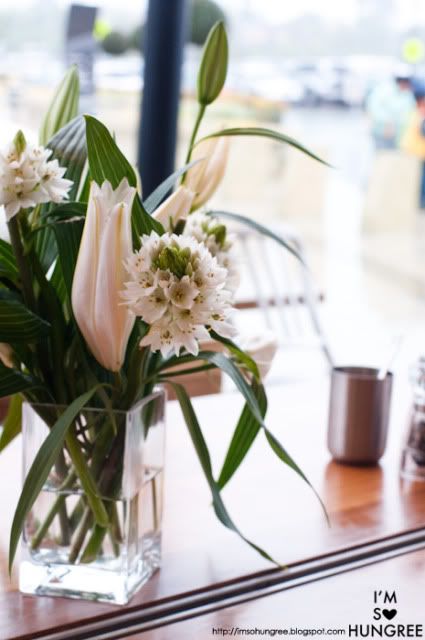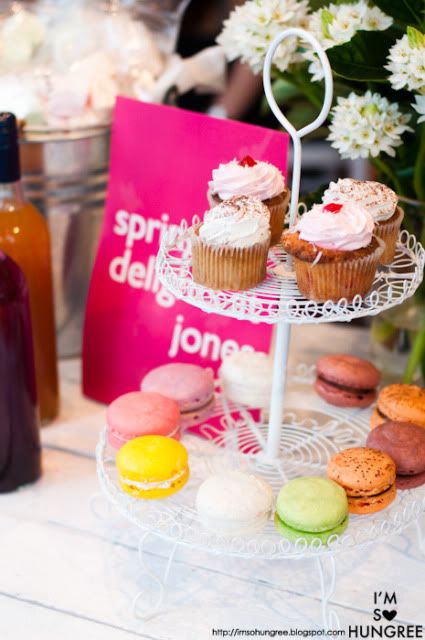 Jones the Grocer looks like it could have come off the cover of Vogue Entertainment and Travel. You could be in someone's very clean, traditional made modern kitchen with the shelves of gourmet products for sale, looking like a very well stocked pantry. And a cheese room. Did I mention a cheese room?

I'm always really relaxed when I come in here, there's something about how bright the place is, how airy, how clean, even when it's doom and gloom outside, there's always a sunny disposition in here.

There is a fairly extensive selection, other than what is in the pantry obviously! A nice selection of breakfast-y options, lunch options, drinks and a gorgeous display of desserts varying from macarons to rocky road to cakes and tarts. Jones the Grocer is where I lost my baked eggs virginity and gosh, they do them beautifully. The sweetcorn cakes are just lovely as well.

We were just here for a mid-afternoon coffee this time. (Sadly!)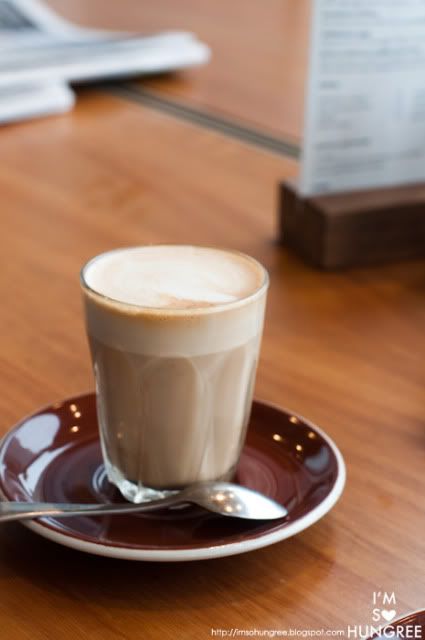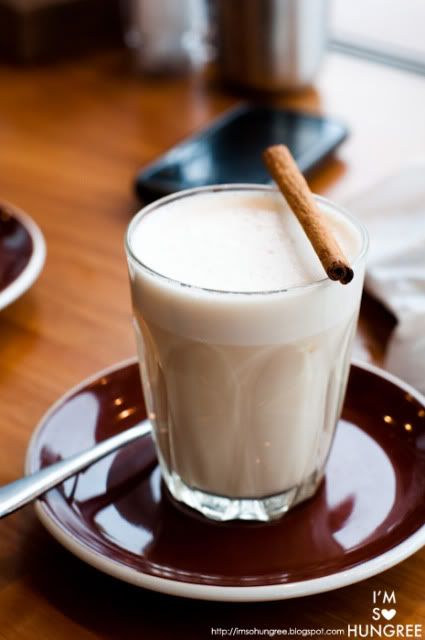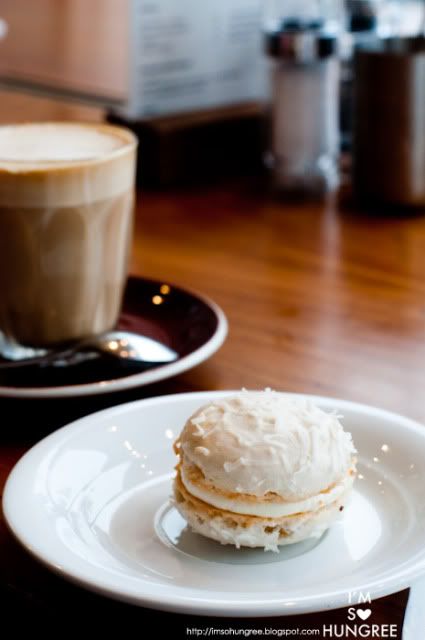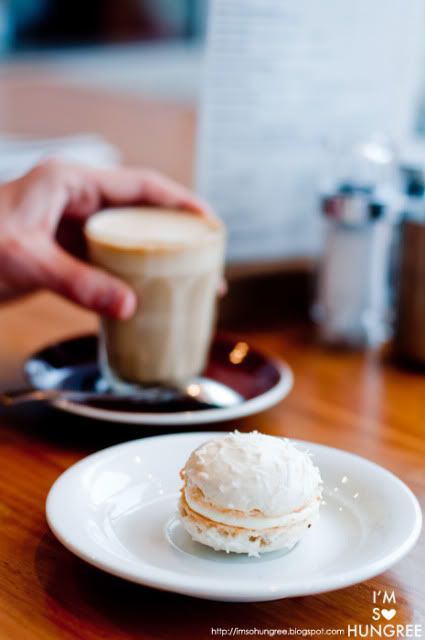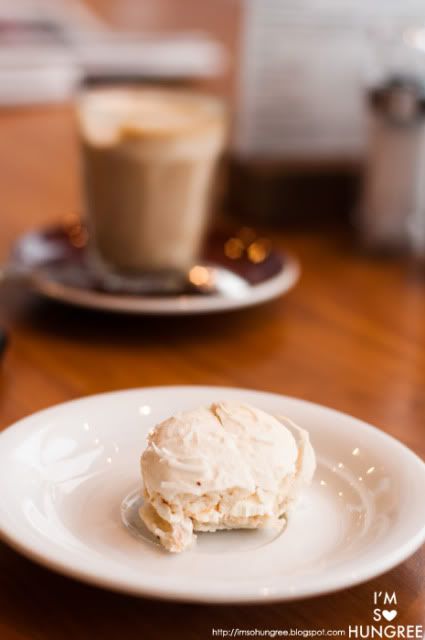 Latte, chai latte and a giant coconut macaron.

I felt like our lattes took a while, considering the place was pretty quiet. Never mind that but also I sadly felt like my chai latte was too weak. It was quite milky, although fortunately since it was a cold day, hot milk is still very soothing.

When I went to investigate the dessert selection, I couldn't help but notice the macarons. They were absolutely giant! I was skeptical, but couldn't resist and indulged in a coconut one. A bit airy, as to be expected, but the texture wasn't too bad otherwise and the cream between was just lovely. Great coconut flavour as well. Even if they weren't the best, I was contendeda and nommed away quite happily.

Whilst my chai fell a little flat, this is one of the places I would come back to as the atmosphere just draws me in.

And after a beautiful afternoon, Brad and I trotted on home (or dashed through the rain to the car) and made ourselves perfectly gruesome for Halloween. We were at a 'Disney Doom' party! Hope you guys all had fun on Halloween too! (Or at least had lots of sweets!)


Jones the Grocer
1341 Dandenong Rd Chadstone Shopping Centre
Melbourne

, 3145