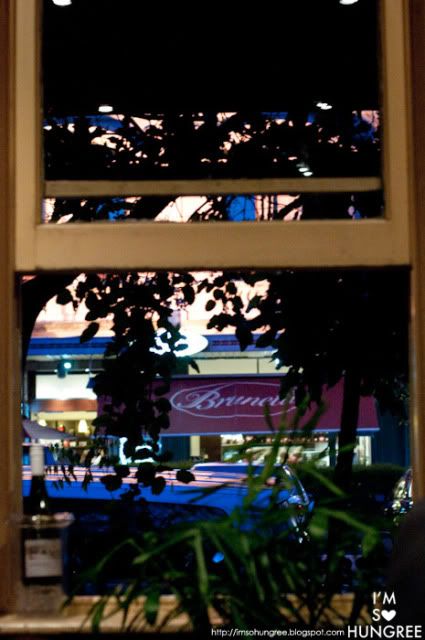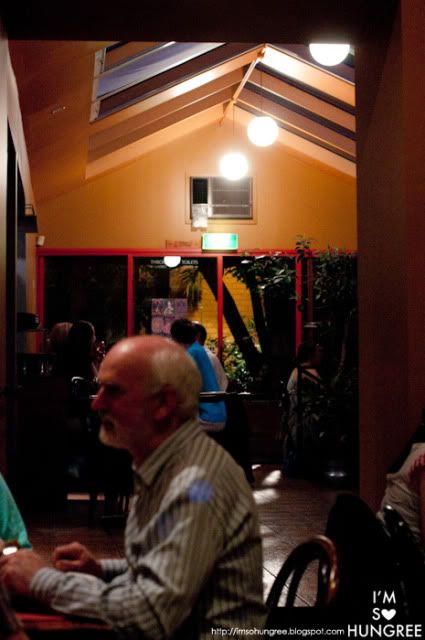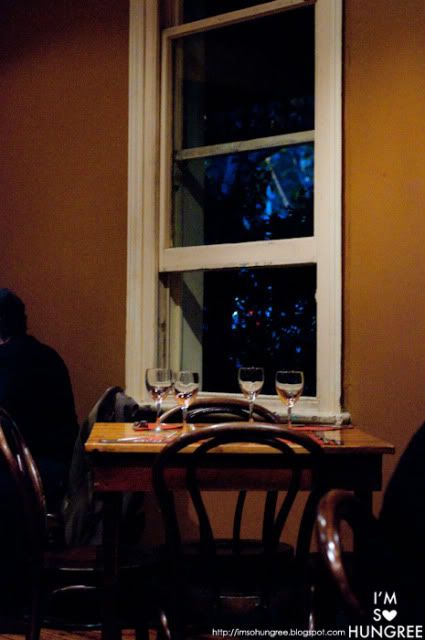 Just off a bustling Lygon Street, a street with a rather loud personality, opposite an always full Brunetti's, is an unsuspecting and modest little house (surprising considering it is bright orange). It's easy to miss, like a lot of Melbourne cafes and restaurants, but naturally once in, it's usually not what you expect from the outside! I sort of expected a slightly more Indian-esque interior, but it's really very simple and well, very orange.

Shakahari is one of Melbourne's vegetarian instutitions, having been around for over 18 years. The menu definitely has a slight Asian skew to it, but there is variety, with some fairly experimental and innovative dishes, along with some fairly basic and easy to love dishes (spaghetti etc. etc.). We were here for a friend's birthday, who has been vegetarian for quite some time and could not stop praising the food.

So I was quite excited!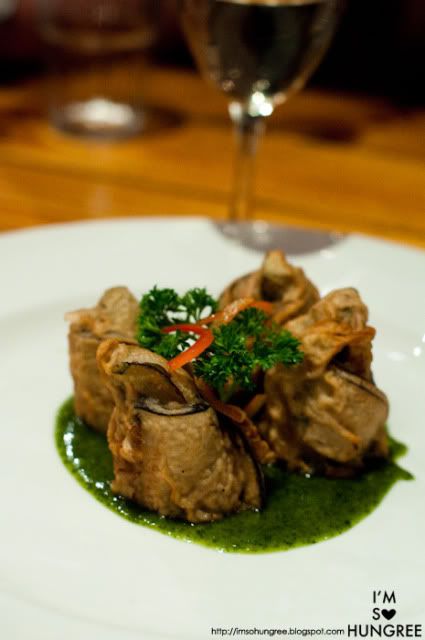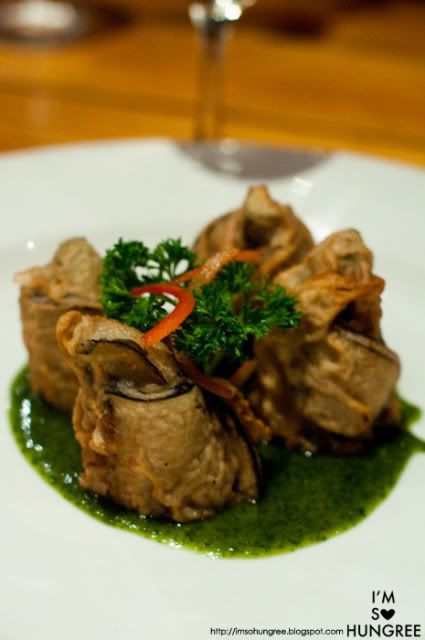 We got a few starters to share, the 'Avacado Magic' captured my imagination. Did I forget to mention they have a great assortment of gluten free menu items as well? Avocado wedges and red capsicums, rolled in thin eggplant slices then 'Tempura' fried in a rice batter, served with a jade green sesame coriander puree. Apparently a signature dish and I can certainly see why. It's almost like a vegetable sushi deep fried....lots of interesting textures, the tempura batter was tasty and just beautifully crunchy. Inside the batter and eggplant, the avocado and capsicum retained their original soft texture and added a nice sweetness. Quite an interesting dish!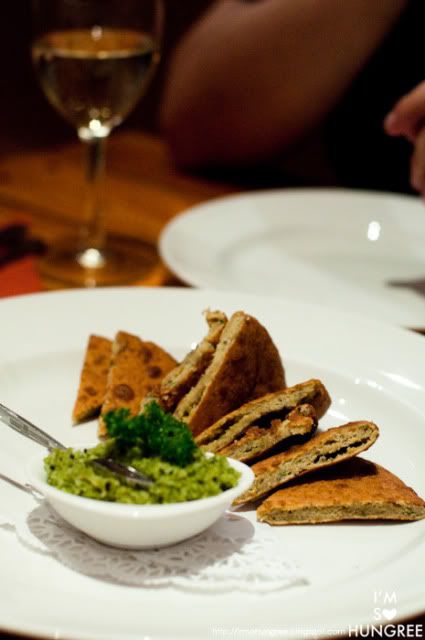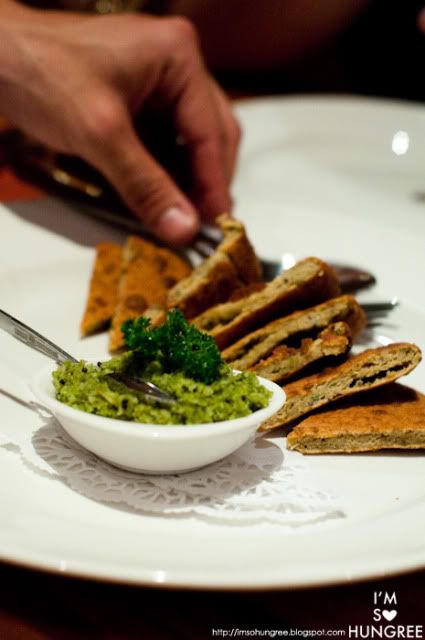 Another gluten free starter for sharing, the Chia, Buckwheat, Besan Trio. Crusty flatbread made of chia seed, buckwheat flour and chickpea flour. Served with a tangy, coriander and almond coconut dip. The flatbread wasn't so crusty as I somewhat hoped for, but the dip (more like a spread) was just to die for, I just wanted more!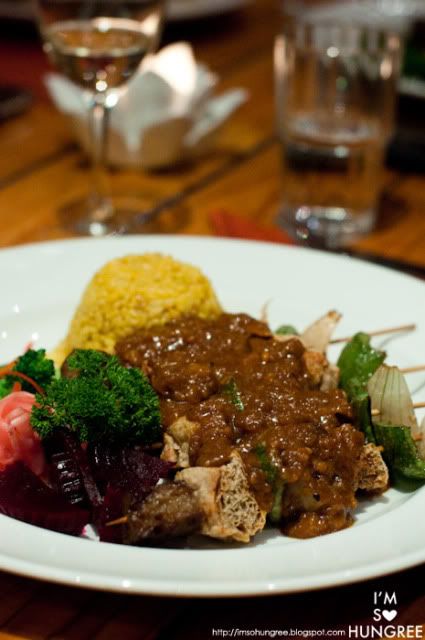 The birthday boy and David went for the 'Satay Shakahari', deep fried skewers of beancurd, seitan, onion and capsicum with a mild peanut sauce. Served with pickles, blanched greens and tumeric rice. I hadn't even realised these were deep fried when I helped myself to some of David's! It was really light and not particularly oily. And honestly, who doesn't love a good peanut sauce? Mmmmmm.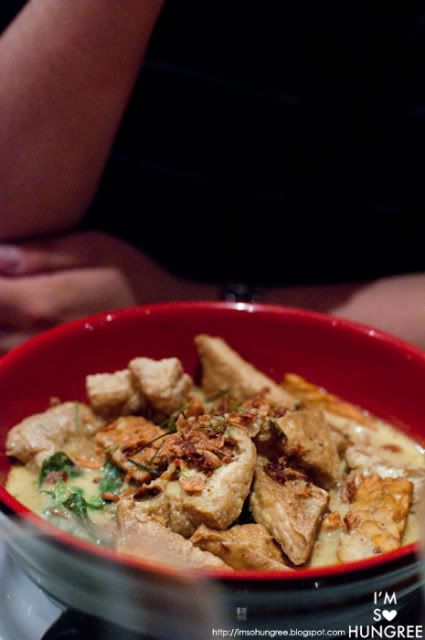 The birthday boy's brother went with the green, green laksa, with a buckwheat and wheat mixed noodle, lots of vegetables and a coconut broth. Beautiful and warming, the brother was complaining slightly that it wasn't really spicy and it didn't quite have the bite, but for most people I think it would be just enough. Great flavours, although don't have this if you like your super traditional Malaysian laksa!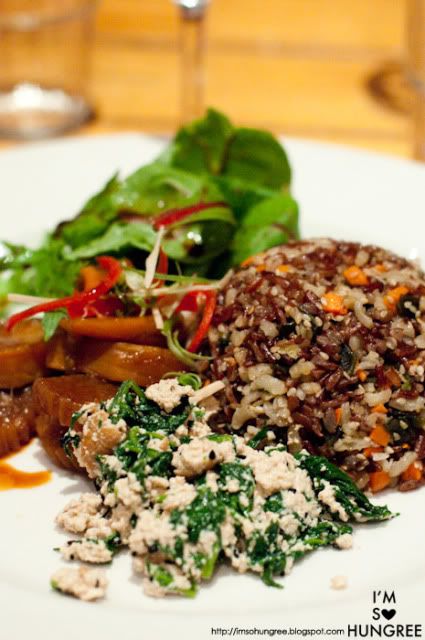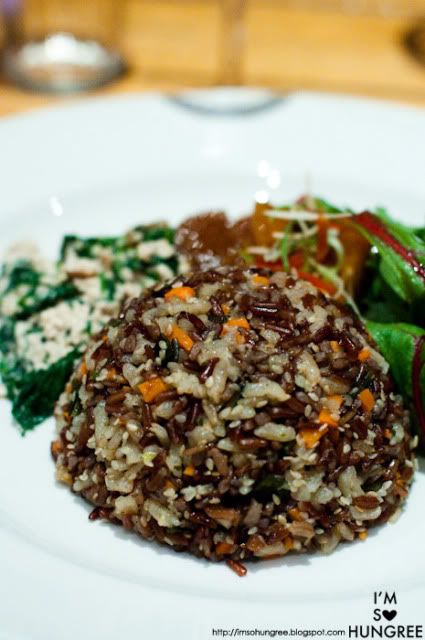 I opted for the 'Tokyo Awaken', unpolished red rice cooked with riso, diced kombu and vegetables. Served with a spinach and mashed tofu salad, ponzu braised pumpkin, leeks and daikon. Ah, so refreshing, I adore, adore, adore wild rice and it's not something you come across too often. I always fail at trying to describe the texture (what adjectives would you guys use...?) but I love the nuttiness and the flavour, there's so much more complexity to it than just regular rice. The spinach salad wasn't too excited, but I loved the flavours in the braised pumpkin and daikon. A very refreshing, healthy and tasty combination.

Service I felt was a little bit hit and miss, it took a while to get anyone's attention to get drinks, the first girl I managed to get to notice us, promptly told us she'd get the person looking after our table to attend to us. However, once we had our waiter's attention, he was quite courteous and the food came out very promptly. I'd describe the service as a bit casual and unpolished, but it doesn't damper the experience too much.

My friend made the comment that Shakahari is really the only vegetarian 'restaurant' in Melbourne. Yes, there are places that do, do vegetarian pretty well and yes there are lots of cute cafes or smaller places (like Yong Green Food) that do vegetarian well. But they're not quite under the same umbrella as a 'restaurant'. Which is a shame, Shakahari proves it vegetarian can be very innovative (the salad selection on the menu only had two items on it), satisfying and enjoyable.


Shakahari
203 Faraday St
Carlton

, 3053