I had a friend from Malaysia quietly let me know on facebook that she was going to be in Melbourne for the weekend and wanted to see if I was free to catch up.

Well of course I was! And when I heard she was staying near Chapel Street, I was all the more excited! What amazing gastronomical adventure shall I take her to?

It's funny though, what a horribly cold and rainy spring day will do to you, that and the fact that she had studied in Melbourne in her high school years and had vague memories of the place and wanted to go back to the places she remembered.

On her little tourist map of Melbourne she pointed to Victoria Street.

She was in the mood for pho.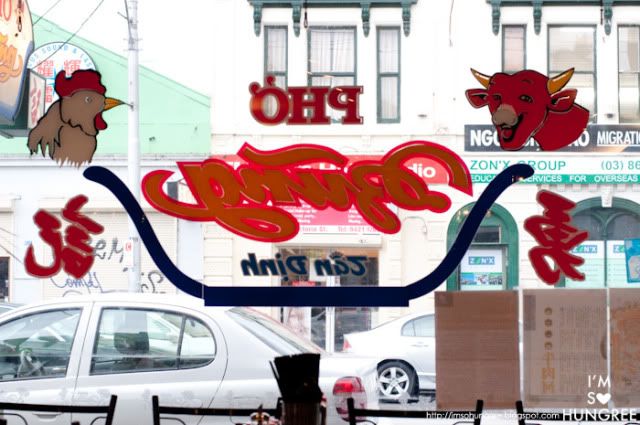 I'll admit to being a bit of a snob, I can't help but love trendy, new places. I love cafes with their city crowd and chic coffees. I love dining out at Western places to be frank. I of all people, for example, would probably never think of suggesting of going to Chinatown for a cheap eat.

But I will follow family to Victoria Street, I do take friends suggestions if they are in the mood for it, because at the end of the day, I know it's tasty stuff. And I can't fully deny the Asian in me.

Particularly on a day when winter is trying to creep back way too early!




Pho Dzung, is probably one of the better known Pho places along Victoria Street, also having a shop in the city (although I like this one better). At 6:30pm on a (have I mentioned cold?) Sunday night, the place was almost full to the brim with a generous sampling of people, busy clamoring away, slurping at soups and creating a nice lively buzz.




Whilst you can get rice dishes and an assortment of other things, why, oh why would you get anything other than the pho? Beautiful piping hot soup with a very generous serving of thick rice noodles that go down a treat. I know the favourite tends to be the rare or braised slices of beef, but I'm a fiend for tendon. Just quietly, I honestly wish they would do a tripe and tendon combination, mmmmm!


It had been a while since I last ate pho and I was almost surprised at how easily it all went down, the soup was just delicious, especially when one added a hint of chilli, lime and mint.

The sizes here are extremely generous and a small size is more than enough! At $7 (I think) it's an exceptionally reasonable price for a very filling meal! Have you guys ever seen the large? The bowl's probably big enough to go bobbing for apples in, seriously.


Pho Dzung Tan Dinh
208 Victoria St
Richmond

, 3121