It wouldn't have been fitting, when we had 7 days in Bangkok, not to take the drive out to the floating markets. Brad also commented that when his sister had visited Thailand last year, that she and her boyfriend rode elephants. A short google search later and we realised we could do both in one day.
And so our second day itinerary was made!
I fortunately had some family friends in Bangkok who lent us a car and driver, although almost all the taxi drivers you come across in Bangkok will be trying to sell you their services as a tour guide as well, if need be!
The Damnoen Saduak floating markets are the most well known floating markets in Bangkok and is within a two hour car ride from Bangkok….that is unless your driver is the driver we had, who got a bit lost on the way out, didn't seem to have any maps in his car and had to pull over to ask people directions every 15 minutes!
I was getting quite nervous when we hit around 3 hours on the road….but he eventually got us there.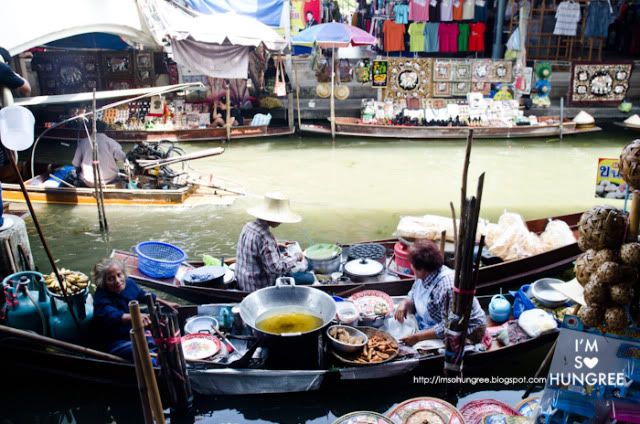 Do be wary if you do get a cab down, we were first taken to a place where you had to rent a boat for one or two hours to get to the market and have a little tour. Fortunately our driver realised he had made a mistake and quickly got us back into the van and took us to the walk-in entry. You will know you're close when there are arched signs going over the road saying 'Welcome to Damnoen Saduak Floating Market'! They're definitely working hard to pull in the tourist dollar!
Unfortunately, since we had headed out a little later than we would have liked, and of course taken a bit longer than planned, we missed out the peak lively period where lots of boats fill the channel and it was a little bit sparser than I was hoping for. Recommendations I've heard is that people (and tourist busses) generally aim to get to the market by about 9am, but if you want a more authentic experience, you should aim to get to the market by 7am!
However, at least when we got there at 11am, all the tourist busses and gone and it was fairly quiet and pleasant.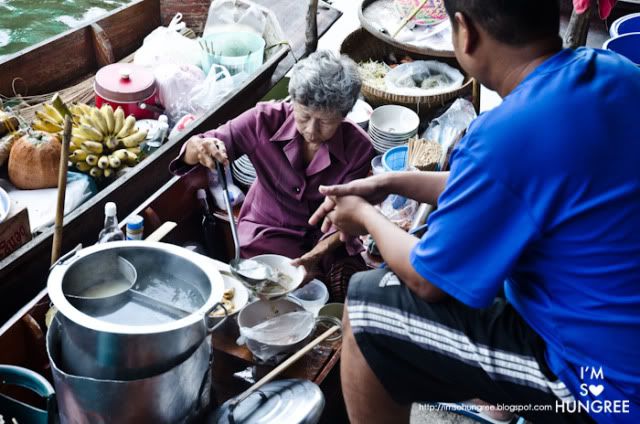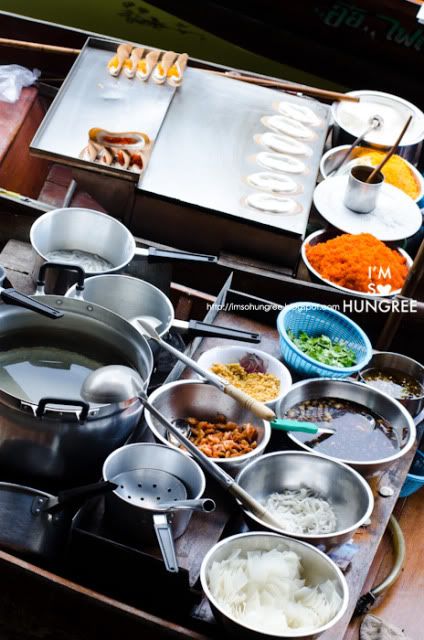 Once you get past all the tourist junk, it's just lovely to stand and look over at the boats manned by both young and old. I particularly enjoyed the boats which served up bowls of noodles or rice and just observing how they organised everything into such a small and narrow space! One would think cooking on a small boat would be a bit of a….perilous affair no?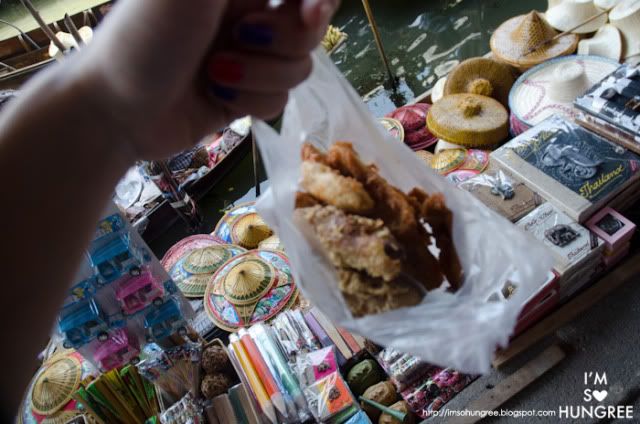 We picked up banana fritters, from a lady who I remember seeing the last time I was here, who puts your bag of goodies on one end of a stick with a hook, with a bucket on it. You take the bag of food, you pop your 20 baht into the bucket. Transaction made!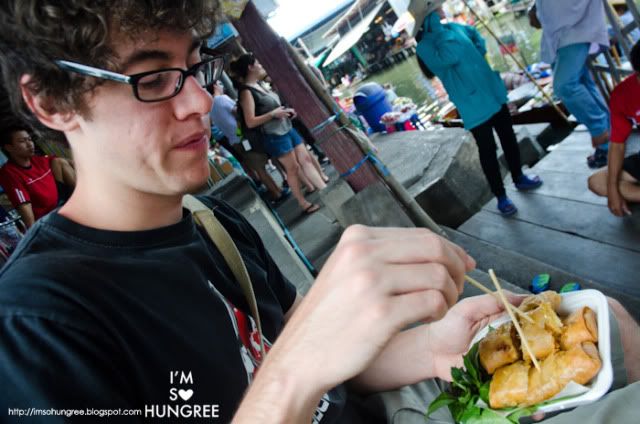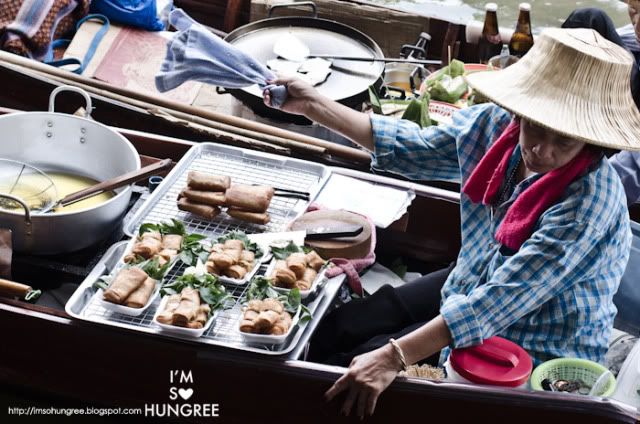 The spring rolls from this lady were surprisingly delicious, I was not honestly expecting them to be as enjoyable as they were! Freshly fried, they were quite hot to the touch, absolutely full of flavour and so, so, so crispy. Oh yes. The poor lady had to constantly wave her towel over the spring rolls to keep the flies off them! We also accidentally dropped one of the pieces into the river as she passed it over to us, and faster than I could notice, she replaced it. So nice!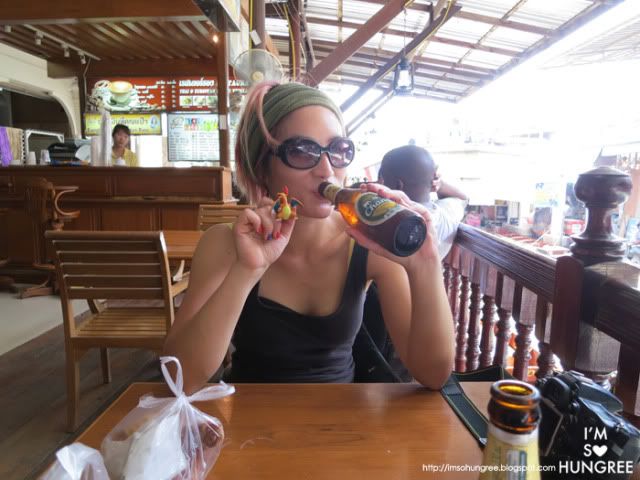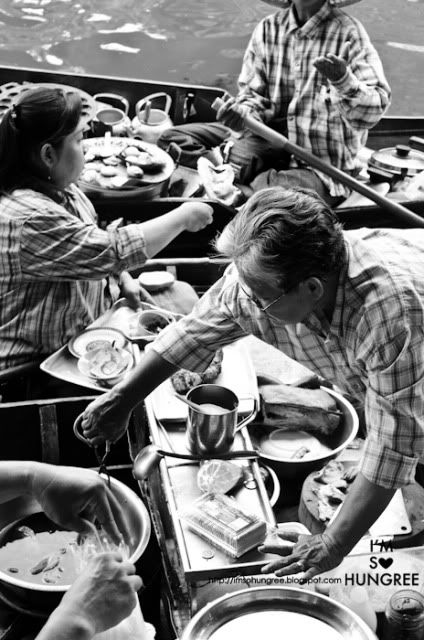 I would say it is quite easy to just dismiss the markets as being a massive tourist hole (which it is I guess), but if you've got a bit of time to sit, have a beer (surprisingly excellent value at the market), and just cast a lazy eye over the locals as they chit chat, mosey their way up and down the little channel, there's still a bit of the heartbeat, the life, that would have been here previously.
After our beer, we popped back in our van and took the hour drive over to the Samphran Elephant Ground and Zoo.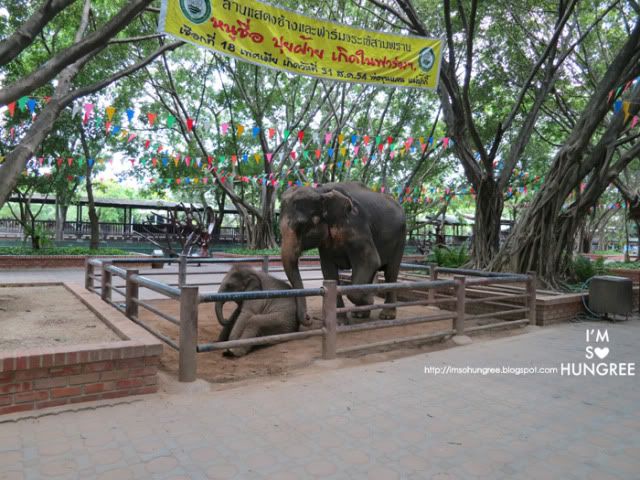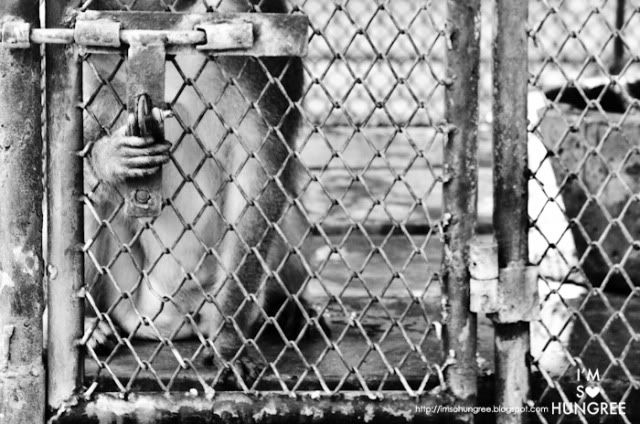 I had mixed feelings about this place. On the one hand, they did have a lot of elephants here, and a lot of elephant calves, which means they must be breeding and some preservation work going on. I just didn't fully like that during the day they had elephants chained up by the foot in enclosures and open areas, so that visitors could get quite close. It just didn't seem like the ideal way for the elephants to be 'displayed'. Visiting the zoo can also get a little expensive, as a lot of things have additional costs to them (entry, elephant ride etc. etc.) and all the workers are looking for tips.
However! At the end of the day, if some of the money spent was going back to the welfare of the elephants and other animals, and of course, to the people who were actually looking after the welfare of the animals, I don't think it's the worst thing in the world.
Besides, we had driven all the way out here, so we may as well enjoy ourselves…it's not everyday you can get this close to an elephant!
If you plan to visit, make sure you know what times the elephant show and the crocodile show are on, it is worth your entry to at least make it to the elephant show, which is very well done.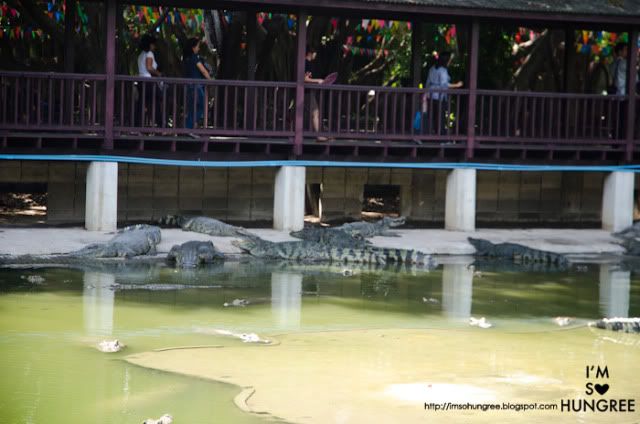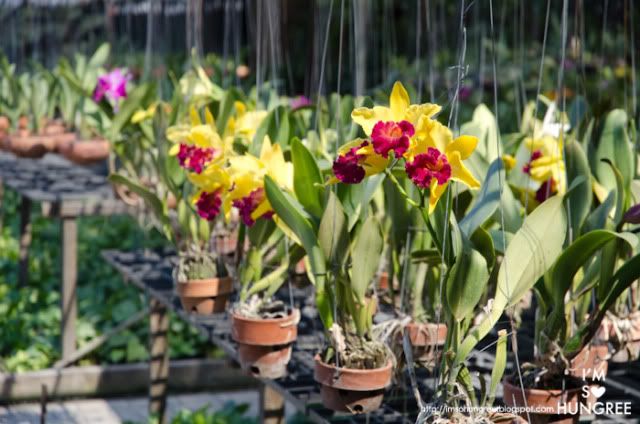 When we arrived, we went straight to go ride an elephant…which took a little bit to get to, the grounds are quite large! There were crocodile breeding grounds (with a pen dedicated to crocodiles 20-50 years old….wouldn't want to fall into that one…), orchid nurseries and a haunted house ride (which we didn't bother to check out), in addition to the elephants.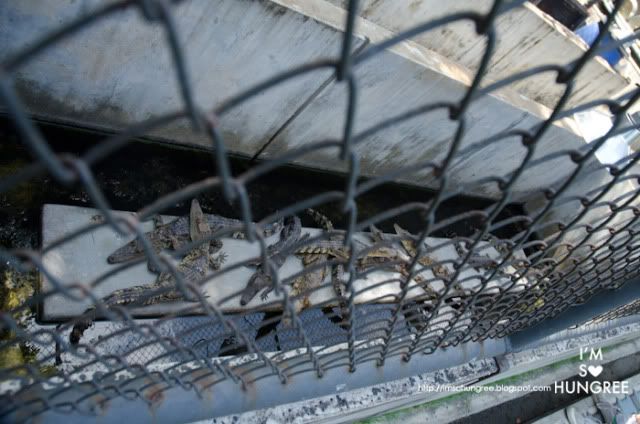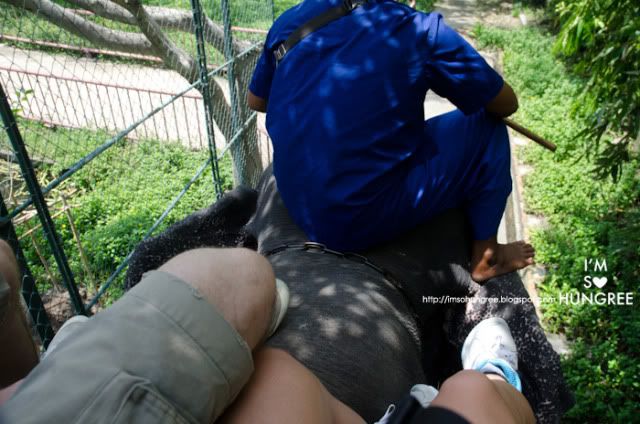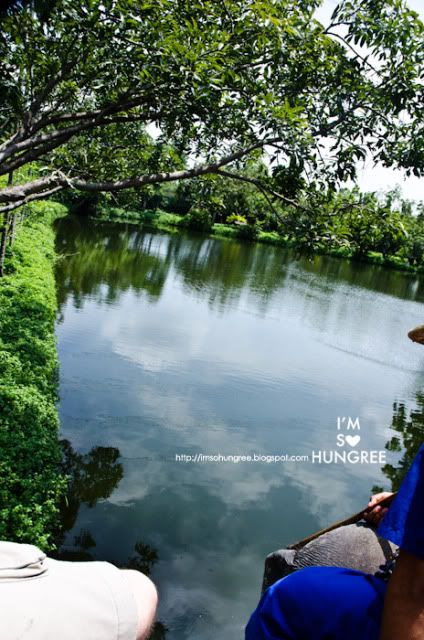 The elephant ride takes you around a beautifully manicured garden and pond, with your 'driver' stopping to occasionally pull a branch down for the elephant to pull down and have a snack on while walking around. It's amazing to see that by the end of the trip the elephant will have completely stripped a branch full of leaves to absolutely nothing! He even cleaned off all the bark!
The ride overall is incredibly relaxing, surrounded with green...riding an elephant...what could be more soothing?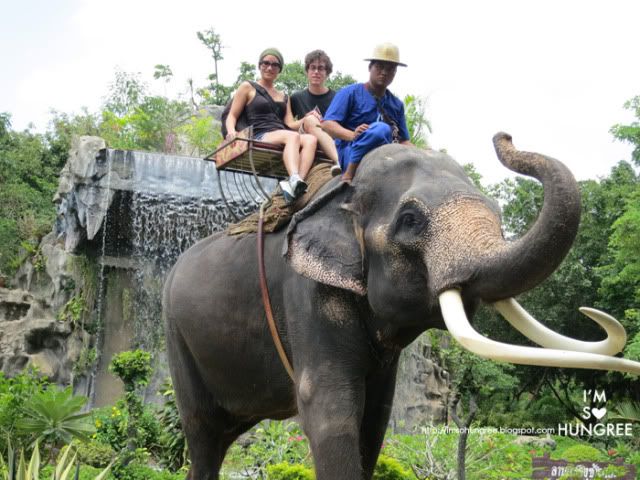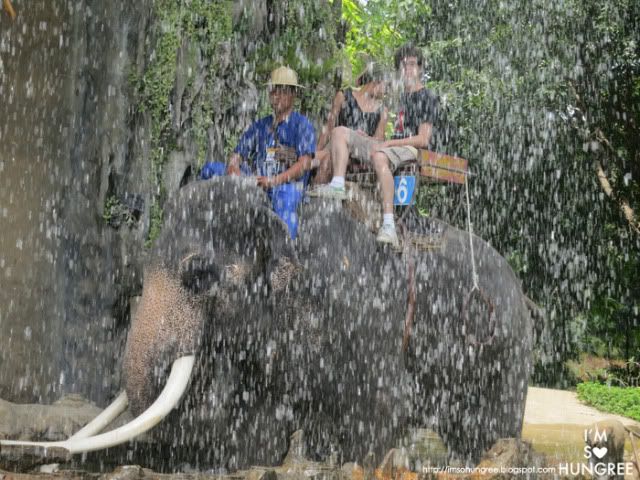 "Big Boy", is what his name translate to in English, is currently the oldest and biggest elephant in the park. He was actually born in the park and is now 40 years old! Just look at his beautiful big tusks! It was actually interesting to have some of the other elephants walk by us, which made us realise how much higher up we were!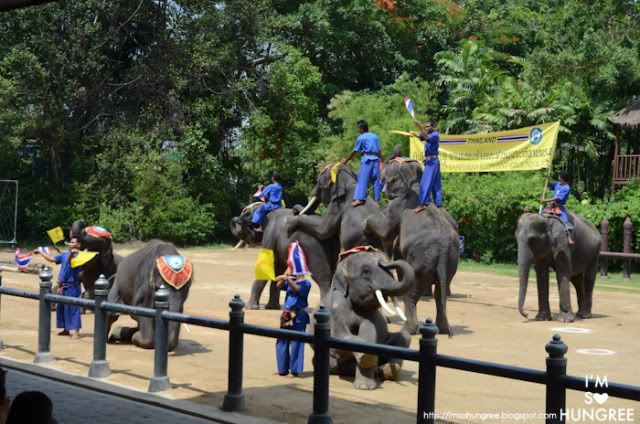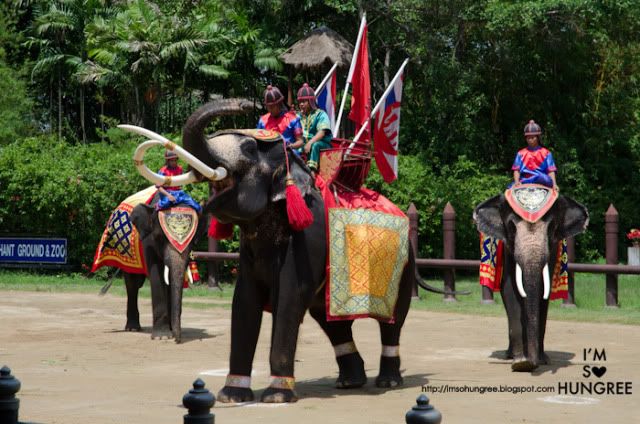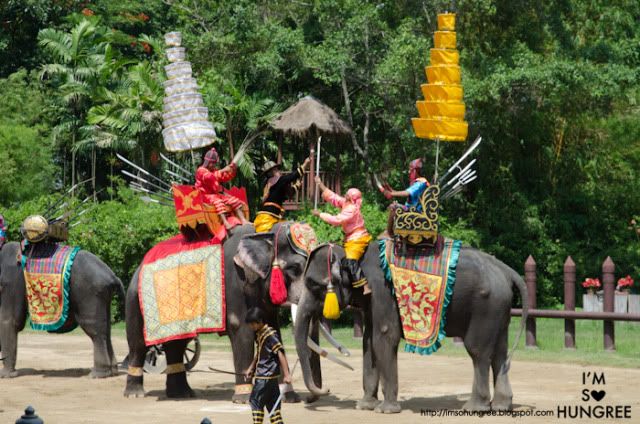 The elephant show was quite a bit of fun. It is fully narrated and covers Thailand's history with elephants, the importance of the elephants in Thai culture, how they were used in battle, the history of poaching and of course, what is being done to look after them now. The elephants really do put on quite a good show, there's even a number of costume changes, a bit of soccer (on quite a bigger scale) and pyrotechnics going on!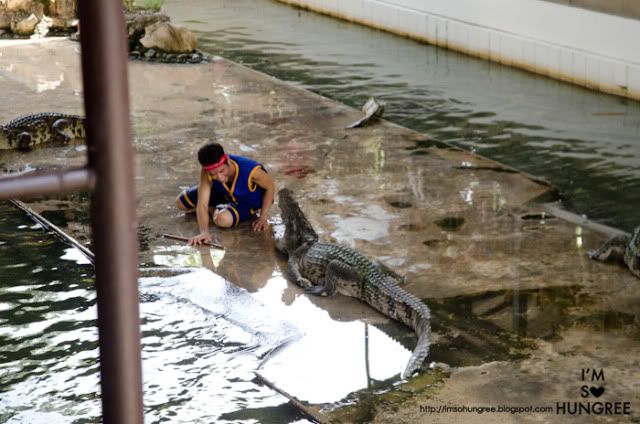 At the crocodile show, the handlers demonstrate putting their hands and heads into the little crocodile mouths…which can get a bit hair-raising to watch sometimes!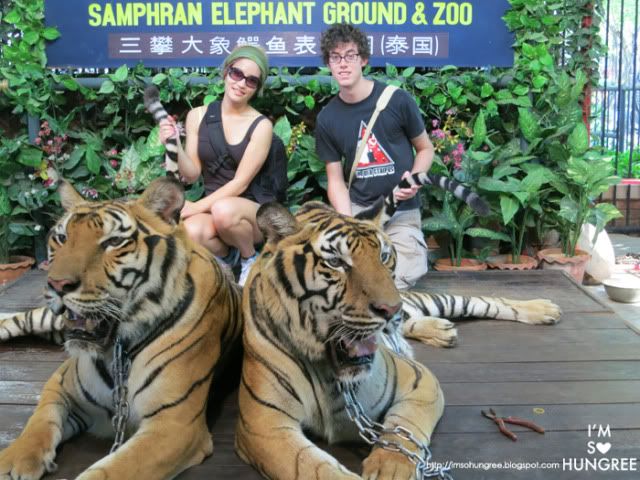 Before leaving, we decided to have a photo opportunity with the resident tigers, Mr. Oil and Mr. Lift. I know. So cute right? Right after this shot, and after we had stepped out of the area, they just flopped all over each other, rubbing each other's heads, like the big kitties they are. So cute right?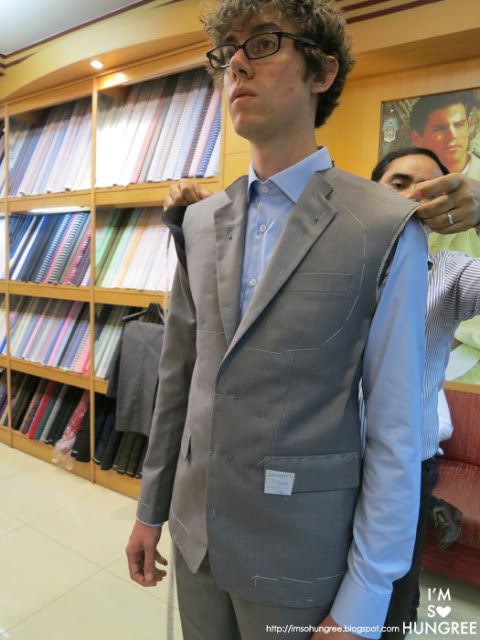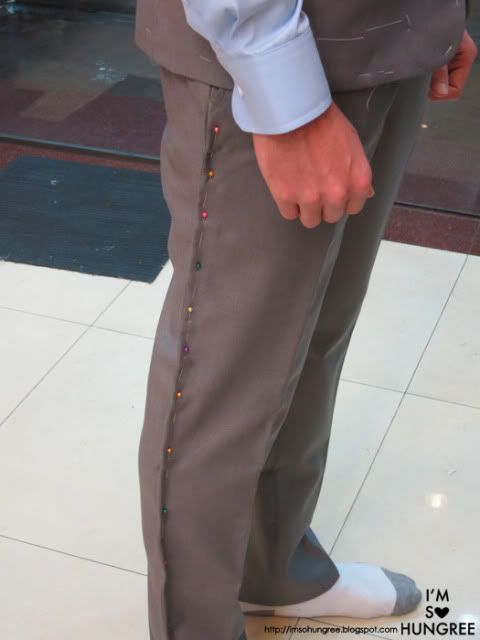 Upon getting back to Bangkok, after kicking our feet up and freshening up (both of us were just a wee bit sweaty….), we went to have Brad's first fitting/sneak peek for his suit. You do have to wonder, after taking all your measurements, how much would they need to adjust? Surprisingly…still quite a lot!
After a suit fitting, what do you do?
Run through the rain, to the little bar across the road to smash down a couple of Chang and Singha pints. And play a couple of rounds of scattergories. And once the rain settled, head off to find some food.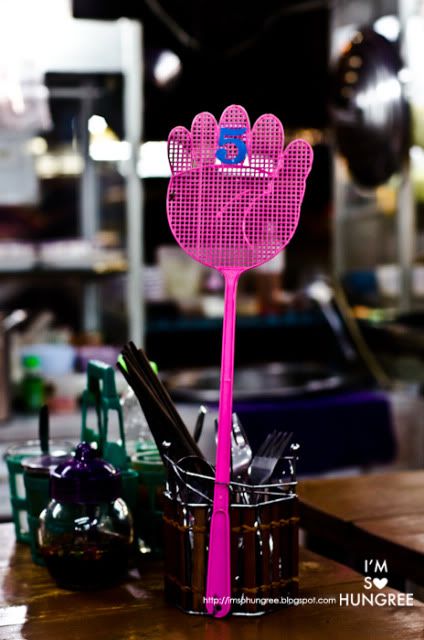 We found ourselves in a half street/half hole-in-the-wall restaurant, essentially a street side stall with more tables than most and a tent over the top, that was bright purple and smelt pretty darn good.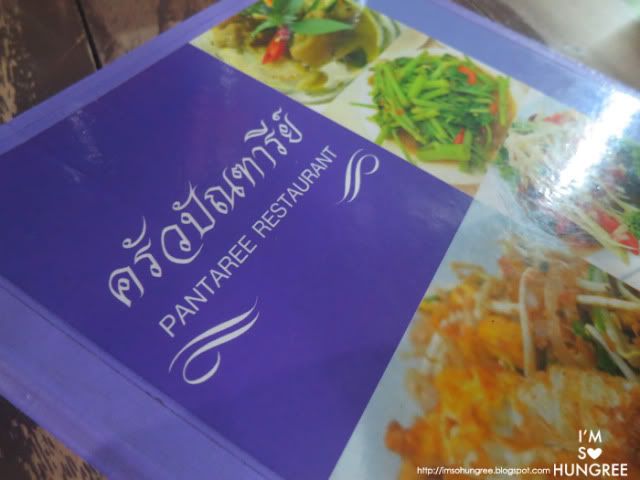 Pantaree Restaurant obviously catered to all crowds, it was open 24 hours, and had a healthy mix of both locals and tourists. The menu had plenty of som tam and Thai favourites for the locals….and pasta for the tourists who missed something a little closer to home. Was semi-curious as to how well they would do pasta here….
First thing was first. More beer.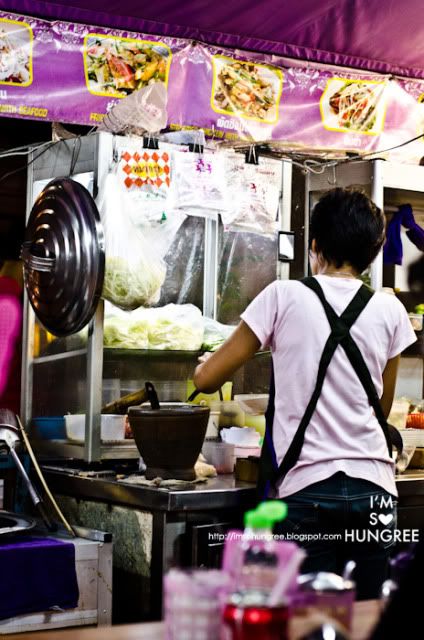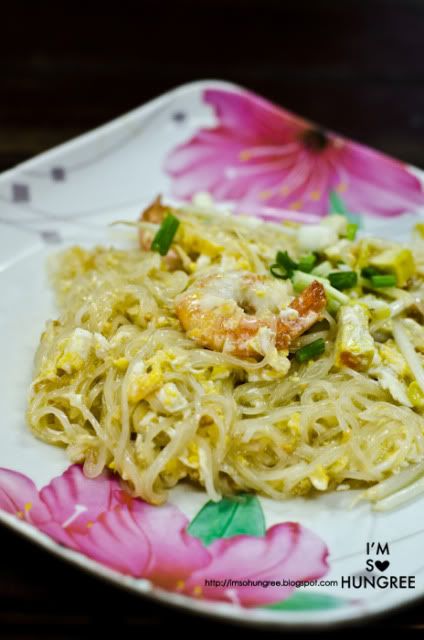 I'm not sure if it was because we were drunk, but we both thought the pad thai was pretty fucking delicious. Unlike most other pad thai's I had had, it was quite wet and with the thin white noodles instead of the wider ones, but it really was fucking delicious. Heaps of flavour, breath of wok and this soft texture which just made it perfect for slurping up.
Since this place was so close to our hotel, we did have the pad thai a few more times (it was only 40 baht ($1.50), why not?!) and each time it was still quite tasty…so I'm fairly sure I can say it wasn't delicious just because I was drunk…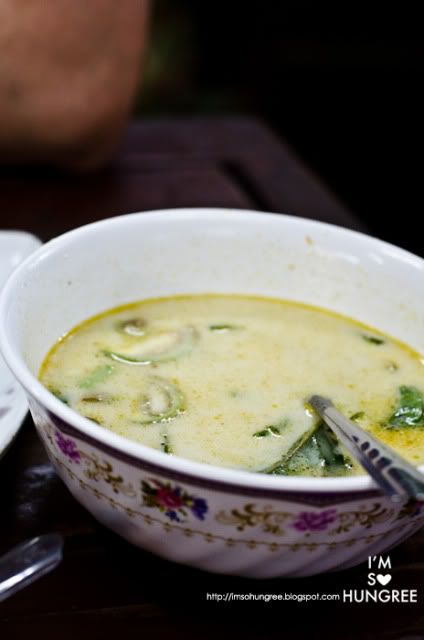 The green thai curry was not so exciting, I think it was a bit diluted overall.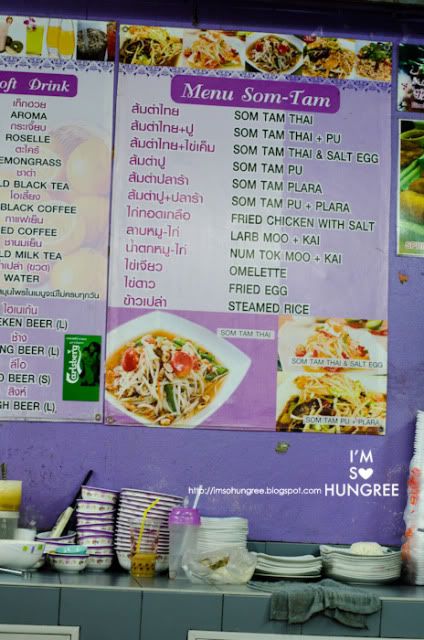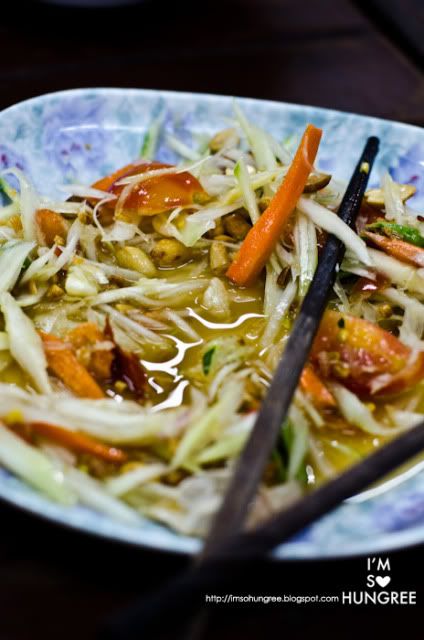 The som tam though…ah! I was so eager to dive into this I ur…forgot to take a picture before eating. Oops. Som tam is essentially a northeastern Thai green papaya salad, which combines all of the four main 'tastes' of the local cuisine. A bit of sour lime, hot chilli, salty and savoury fish sauce and sweetness. Everything is mixed and pounded together in a mortar.
This is really what I do love about Thai cuisine, the bright, lively and happening flavours. Nothing shies away here, it's all quite in your face…but in a harmonious way. Whilst not quite as spicy as some som tam's I've heard about, this definitely had a nice kick. I love the tanginess of the green papaya, it really is just so fresh!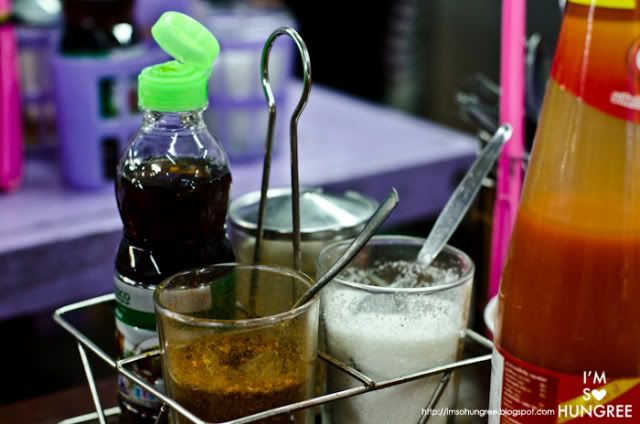 Whilst maybe not the most authentic Thai food in Bangkok, for the price tag (20-40 baht for most dishes), and for the overall deliciousness, I was more than happy to visit Pantaree a few times. It was also a fun little spot for people watching….you get some interesting couples in that area….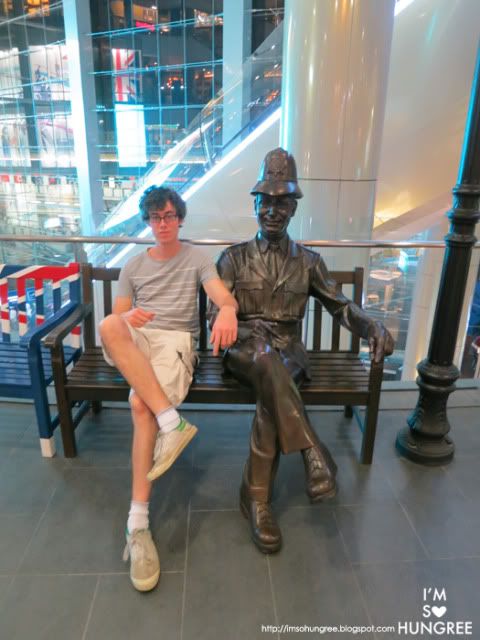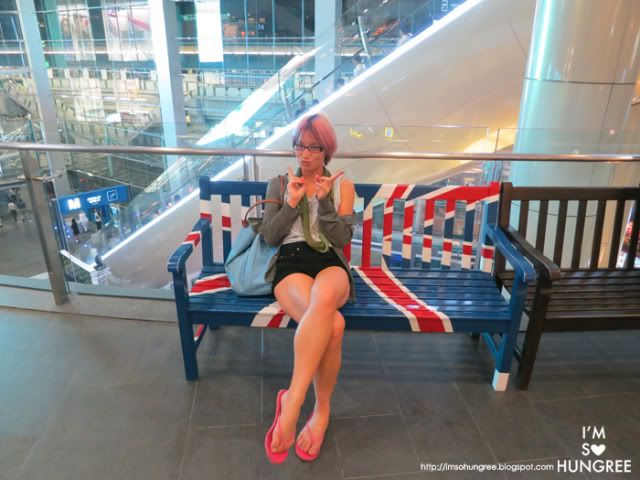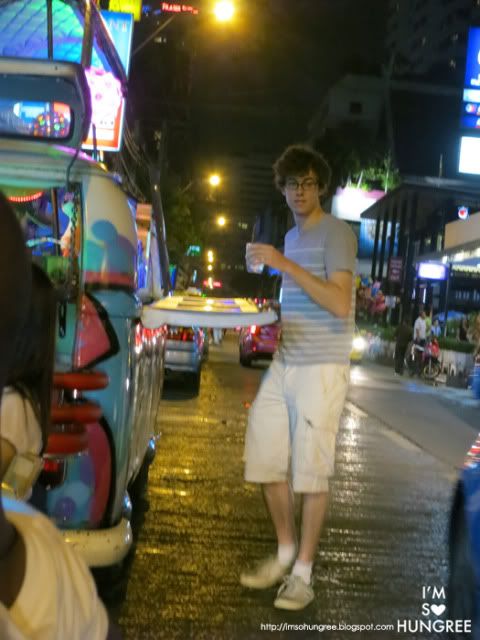 We finished our night wandering around Terminal 21 while it was closed and getting more alcohol at the cute little street side bars, VW Vans turned into cheap mobile bars! Gin and tonic was strong. I slept well that night….
2362 Sukhumvit Road, Khlong Toey