Disclosure: I was invited to dine as a guest of the restaurant
When someone says 'basement bar', I certainly don't think of an elegant, lush space, with lots of wood and plush leather booths. Yet that's what the Mill House has somehow managed to do, and believe me, I had been here for a gig prior to it's reinterpretation as the Mill House…and it's quite a change from barren concrete walls and sticky floors.
Like the space, when someone says 'bar food', I don't necessarily expect what Caryn and I were served the night we visited. Snuggled up into our booth, we were ready for finger food, easy to pop into the mouth nibbles and perhaps a bit heavier on the fried side. Dinner at the Mill House was anything but.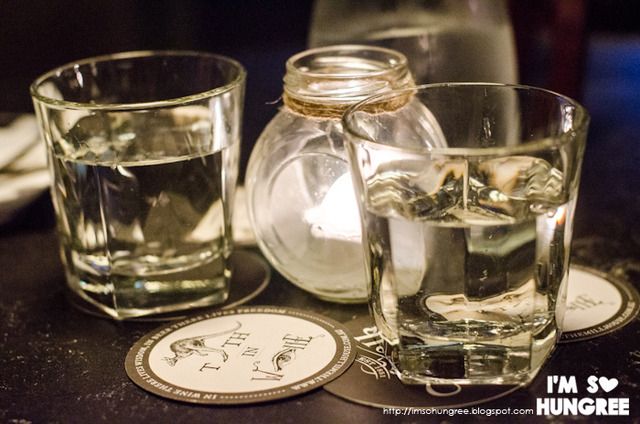 Chef Agustin Ortega at the helm is no slouch, with previous experience working at fine dining restaurants, he brings that fine dining finesse, along with the flavours of what he describes as 'New Latin Cuisine' which combines European techniques, with a latin twist (Peruvian specifically, since that is where he is from). HIs dishes are executed beautifully, full of flavour, and a little bit of fun.
Although the menu is usually designed to share, for this tasting we're given individual portions…so your meal might look a little different to mine!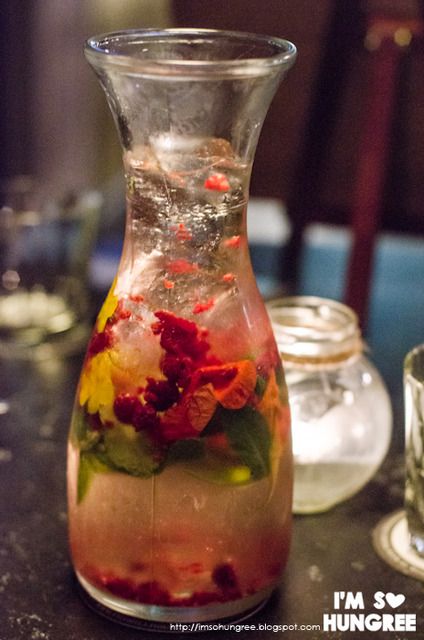 But first! Drinks. We start with a raspberry and mint white sangria with raspberry schnapps, which is both beautiful, sweet and very refreshing. Also surprisingly potent, at least for me, I think I only manage one glass; however Caryn knocks through a couple more…perhaps my tolerance has just gotten that bad recently…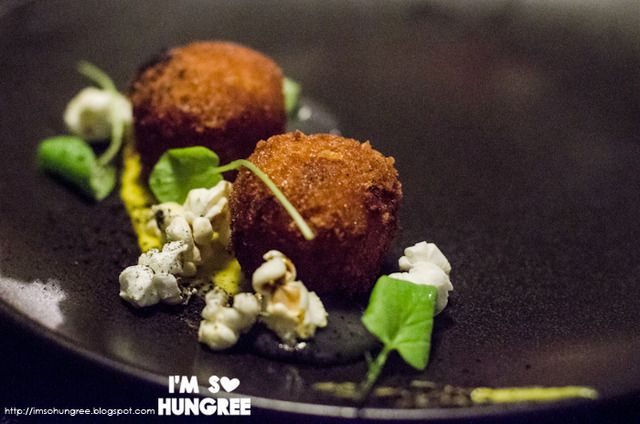 To start, corn croquettes with squid ink aioli, a little bit of corn puree and popcorn as well. Stunning, just stunning. The corn croquettes are sweet, but rich and creamy; perfectly fried on the outside. The squid ink aioli might not be optimal date food (black teeth anyone?), but it is delicious, and a little somethings salty and rich to balance out the sweetness of the corn puree.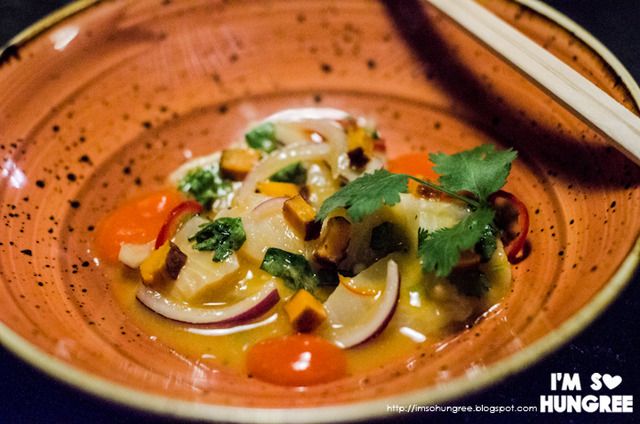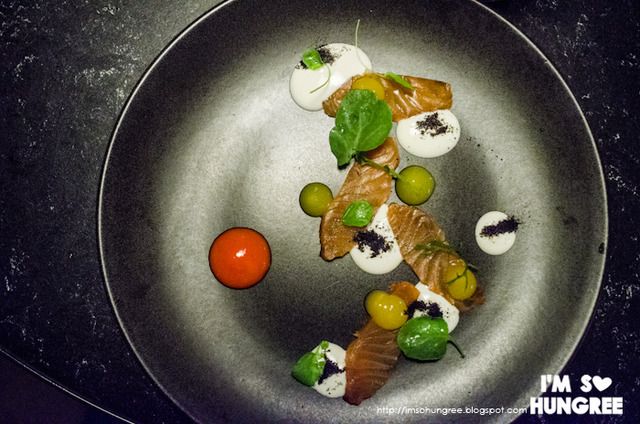 The king fish ceviche with pisco syrup and green onion is citrus, vibrant and with a bit of a kick! The cured salmon was also a very elegantly plated dish, that was very refreshing. Quite nice to have lighter and brighter options while drinking and not just fried!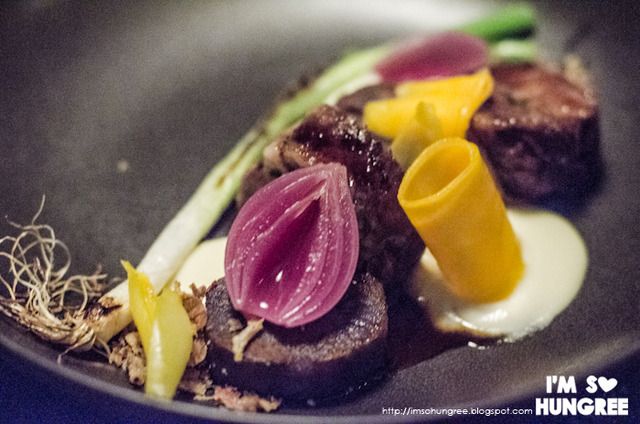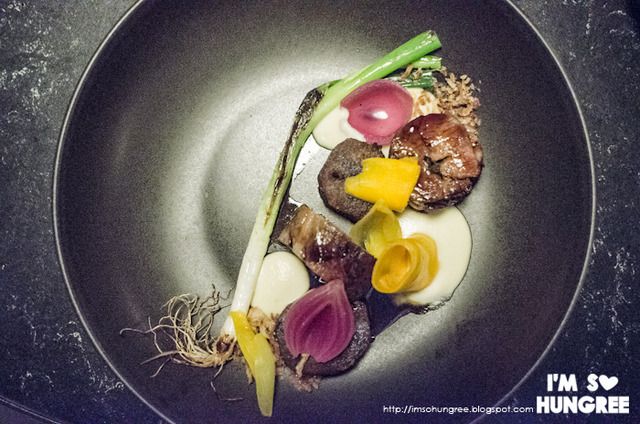 To make sure we were full, a serve of lamb shoulder with blue potatoes, textures of onion - pickled onion, onion puree and charred spring onion, fried shallots, pickled pumpkins and red wine jus showed up in front of us. Gorgeous dish, warm, hearty, full of texture and very filling. The lamb was so tender.
Between savoury and sweet, Caryn and I squeezed in another cocktail round. And man, did we pick well.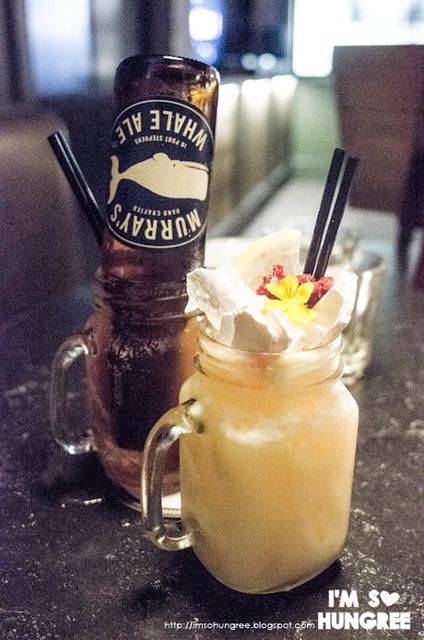 I got the 'Mill House Meringue' with Mount Gay rum, Licor 43, house made lemon curd, Sours passion fruit syrup and meringue. Oh man. Talk about a dessert in a cocktail, it was literally like drinking a lemon meringue pie. Sweet, but not overly, with the lovely citrus kick from the lemon curd. The rum kind of hides in there…so this is a dangerous little (or not so little?) cocktail.
Caryn got the 'Stories from the sea, The Kraken vs White Whale'. A mouthful. I know. And also an eyeful! Kraken black spiced rum, maple syrup, cinnamon syrup and a whole bottle of Murray's Whale Ale turned around and tipped into the glass. It's pretty epic. Basically a cocktail with beer as it's mixer, and before you ask, you drink it through the straw and the beer keeps seeping in. Surprisingly for being all booze, this is rich, and delicious; let's just say the maple syrup really comes through.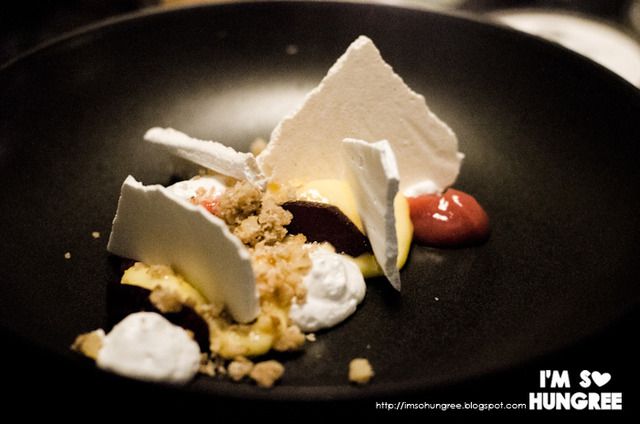 And as if I didn't have enough lemon curd goodness, dessert was a deconstructed lemon curd, with poached pear and walnut crumble. Again, not too sweet, and I simply loved the bright citrus curd flavour. Delish!
Although Caryn and I had some absolutely beautiful dishes at The Mill House, it was good to see that there were some comfortable bar favourites, sweet potato chips, chicken ribs and a good looking selection of pizzas (we saw some other tables order them and they looked delicious). There's definitely something for everyone here; that's all good too.