Which left me quite pleased when after giving Mr. B my list of places I would like to visit, he ended up being most keen with Henry and the Fox. Easy!
And so, on a Tuesday night, I found myself marching myself at full speed from a launch at Virginia Plains to the other end of town, after just missing a tram and deciding it would take too long to wait for the next.
Mr. B was quite chuffed that he was the first to arrive for a change and that I was late!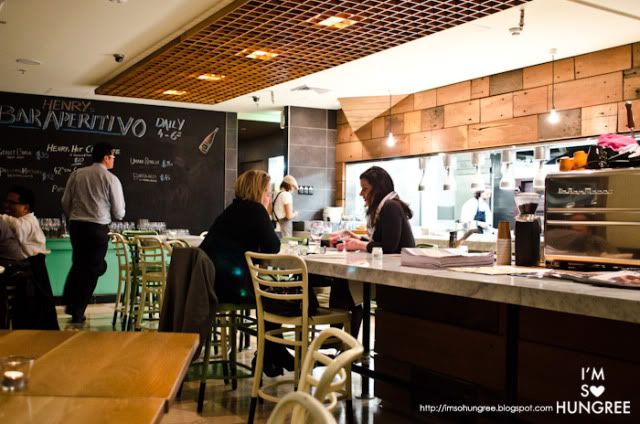 Henry and the Fox, located at the business end of Little Collins, is fresh, bright and friendly…also quite noisy! I was surprised to see the place so busy and bustling on a Tuesday night! Acoustics were a little bit of an issue, but Mr. B had wisely gotten a table a little away from everyone, so we weren't too bad off.
I loved how friendly the staff were, it was all polite, but chilled out as well and they helped make some great recommendations for drinks and food.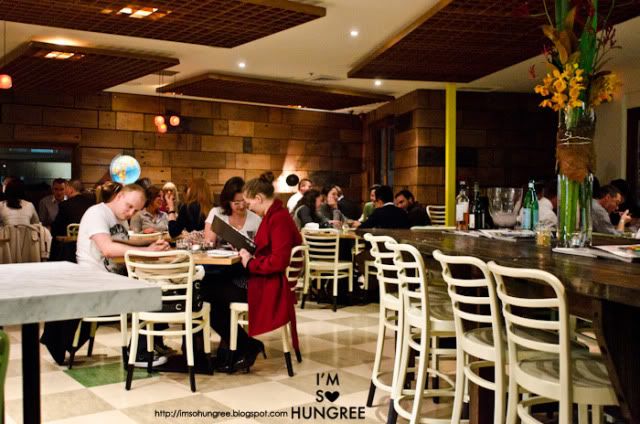 Mr. B and I terrible with ordering though. We sit down, open the menus and then catch up with how our lives have been going. And tend to neglect the menu. Oops.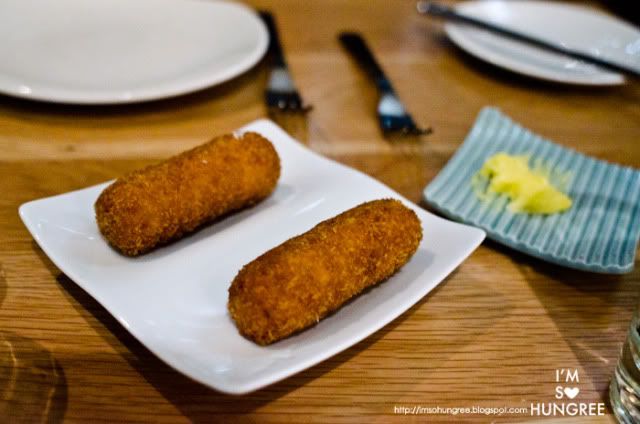 It was hard to decide what to have at Henry and the Fox, the menu is quite extensive! But we found it hard not to start with jamon and manchego croquettes, a bit longer than the typical, but fully delicious. Really cheesy and full of flavour, I reckon they are some of the best croquettes I've had!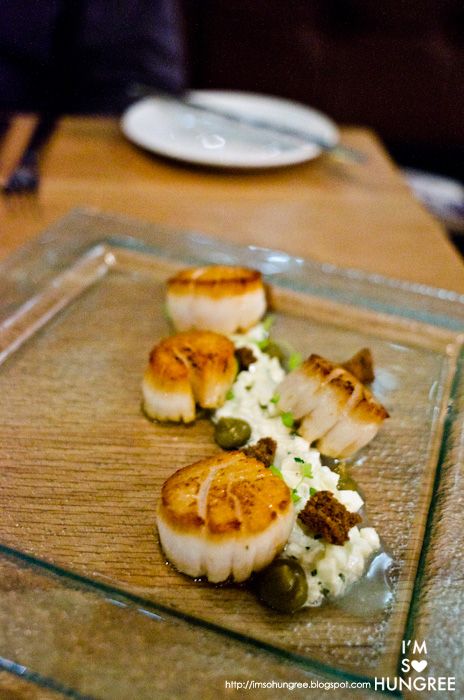 Our mouths watered as the seared scallops with apple and celeriac remoulade, caper and raisin puree and toasted pumpernickel were put in front of us. Smelling of buttery, delicious promises, it did not fail us. The scallops were cooked perfectly, smooth, buttery and just…sigh…sigh…happy sighs! The apple and celeriac remoulade were perfect on the side as well, to take the edge of the richness.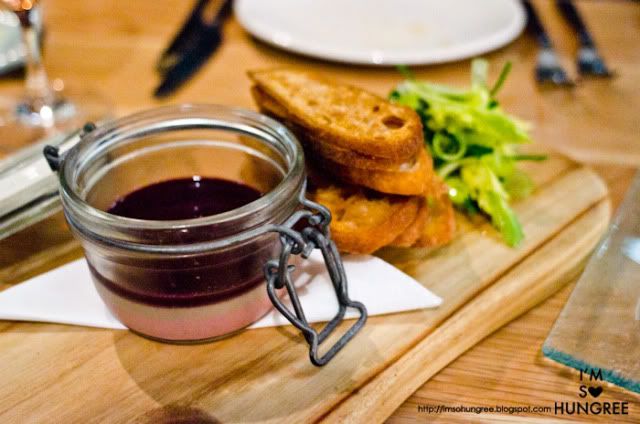 We're both pretty big advocates for parfait, and I loved the presentation of the chicken liver parfait here at Henry and the Fox. It's a pretty healthy serving, and although not the best parfait we've both had, it would be pretty hard for me to say no if someone offered it. Loved the crispy, crispy croutons.
I don't know about you guys, maybe it's just cause I'm a girl and an Asian and really suffer when I stupidly decide to mix up my alcohol (as I did this night, beer, wine, then gin, what was I thinking?!) and then I have trouble eating meats which are quite rich or fatty. My body just goes 'TOO RICH TOO RICH I'M BUSY WITH THIS ALCOHOL STUFF'. Is that just me?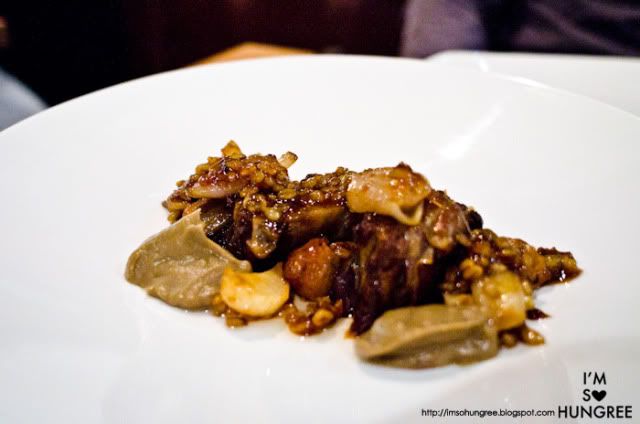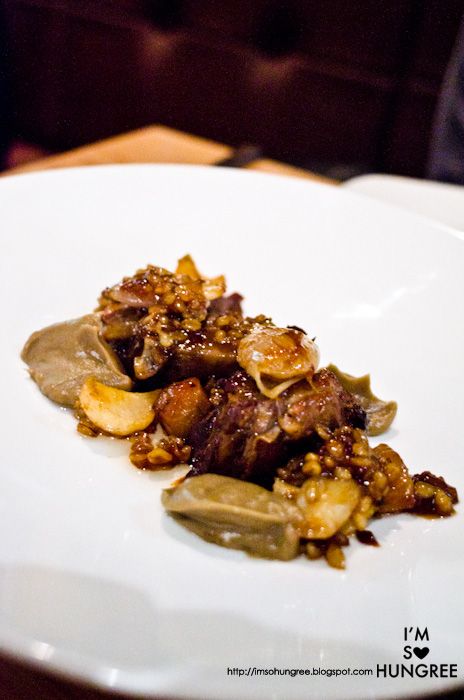 Which makes me a bit sad as this braised lamb dish was absolutely delicious, with jerusalem artichoke, shallots and pearl barley, with meat that was falling apart, layered with flavour, juicy and just…just…beautiful and I couldn't get myself to eat as much of it as I wanted. Le sigh. Fortunately Mr. B was more than happy to wipe up what I struggled with…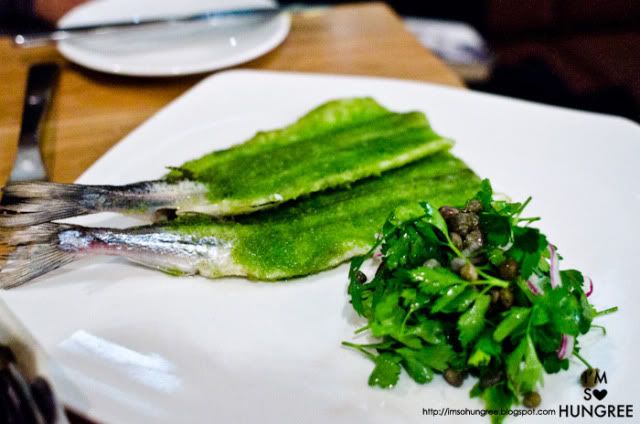 On the other hand, I was so glad we ordered this garfish (I think), with the onion, parsley and caper salad on the side, as it was the biggest contrast, light, refreshing and zesty, which my system seemed to appreciate a lot more. Didn't take me long to devour one of the fish by myself…and isn't that colour just gorgeously intense?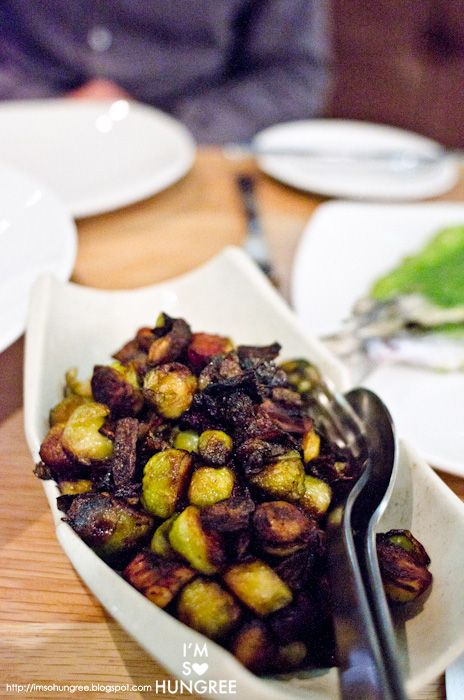 Our baby brussel sprouts with ham hock made for a pretty darned delicious side dish as well. It was an incredibly generous serving, I'm not sure if we even got through half of it!
And to wind up our night, sweets had to happen and after singing praises to the dessert I had had at the Electrolux dinner…well, it had to happen.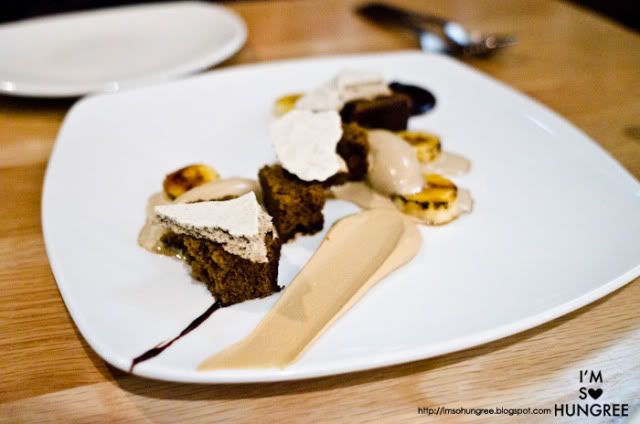 Warm gingerbread, caramelised banana, coffee ice-cream. You've read about it here and you'll read about it again. With a cake that is dense and moist, aromatic, perfect for mopping up the rich ice-cream with and caramelised bananas for that extra hit of natural sweetness…there's really nothing wrong with this dessert. Nothing wrong. It's still probably one of my favourite desserts that I have come across I think…big claim…but possible!
So far, when Mr. B and I have dined out, we've always had pretty good hits. With great food, great company and conversation about food that spans until the closing of the restaurant (we were the last to leave….again), Mr. B and I had a great meal at Henry and the Fox. And it was surprisingly more affordable than I had expected it to be, both of us parting with around $65 for the food and drinks.
Again, my only complaint about Henry and the Fox would be the noise level, so I wouldn't suggest it for that hot romantic date, but a bunch of rambunctious girlfriends on a girls night…? Could be a hit….
525 Little Collins Street