An izakaya is essentially the Japanese equivalent of a pub, some food, and some nibbles, although the nibbles are often much better (in my opinion) than much of the pub grub you'd find here in Melbourne!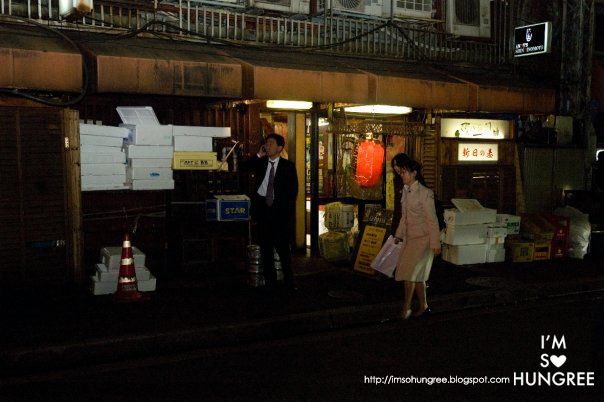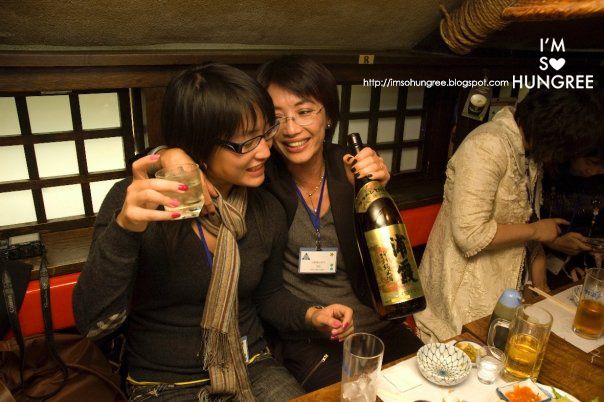 My first experience with an izakaya was actually in Tokyo in Ginza back in 2009, under some train tracks, which was owned by a British guy. It was an incredibly popular place, small and cosy, and filled with locals, more sake than one could poke a stick at and some awesome food. Way too much sake that night.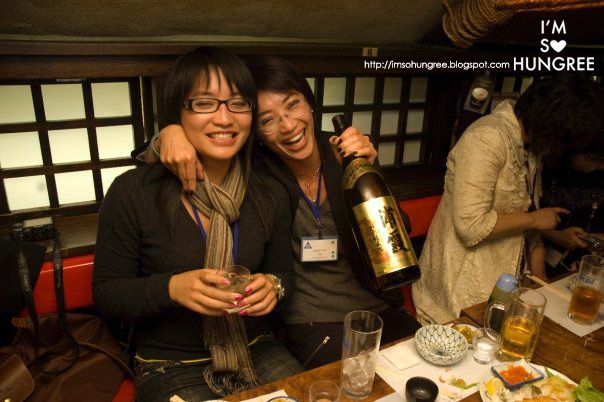 'Izakaya's' in Melbourne will never exactly replicate that same feeling, but I find that a lot of them are still pushing out some pretty decent food. Izakaya Jiro on Glenferrie road, in Hawthorn, is a great example of this.
I met Caryn here for dinner, as we originally wanted to go to Shyun, but she forgot to make a booking. Brad had visited Izakaya Jiro with a friend previously and said that I would like it, so I managed to get us a table on the same day.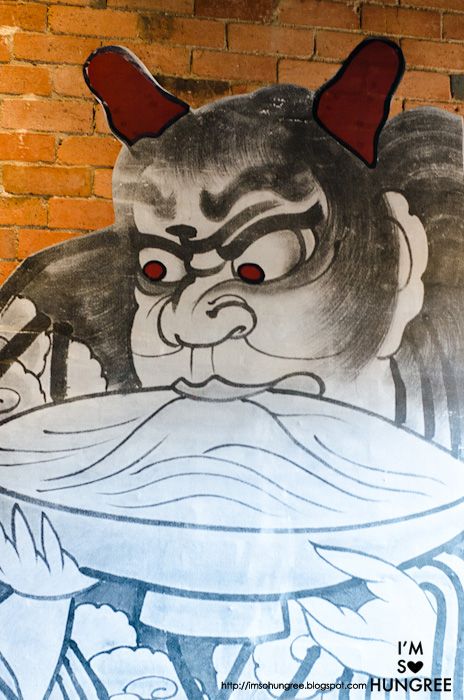 It's a cosy little fit out, combining a Melbourne aesthetic with twists of Japanese, bare brick walls, slick black counters, and pasted woodblock prints of demons, samurais and geisha girls gazing at you from the walls, maybe wishing they were eating what you were…
The dinner menu at Izakaya Jiro is quite extensive, which can make it tricky to decide what to eat! From yakitori skewers, to sushi, to main dishes, noodles and smaller nibbles, you could really get a bit of everything if you wanted!
As I had heard from Brad that the sushi and sashimi was just okay, Caryn and I decided to stick to lots of little nibbles to try as many different things as we could. However, a lot of our selection ended up being from the deep fried section of the menu...healthy...we are not. I'm always surprised how much food we're able to eat between the two of us…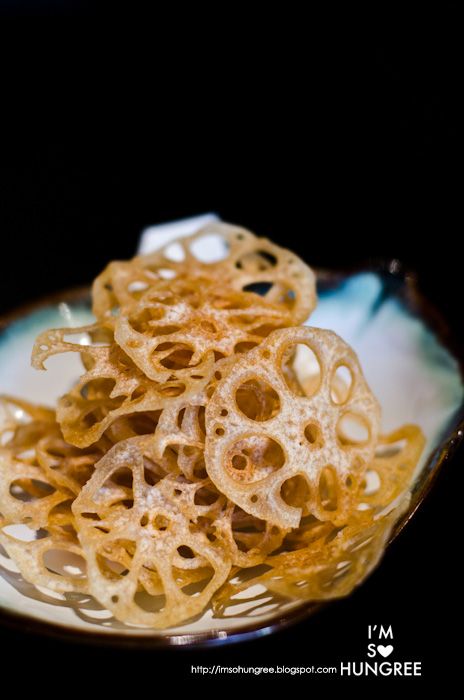 Renkon chips, which are sliced lotus roots. I love these whenever I can find them and at Izakaya Jiro they were particularly light and crisp, almost appearing translucent!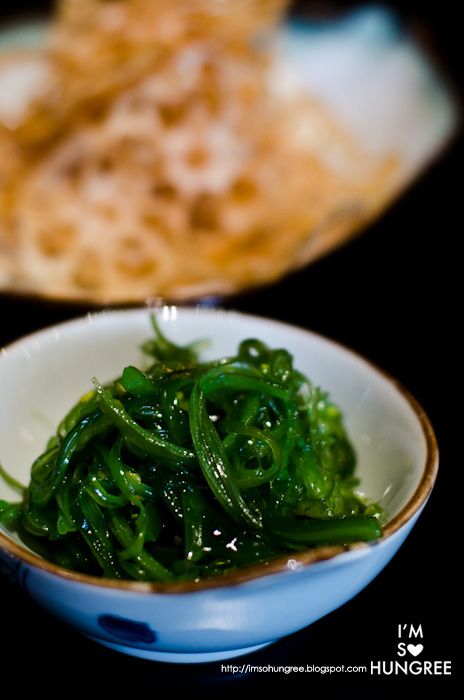 A small serving of seaweed salad to inject a bit of green into our meal, at $3.50, I thought it was pretty reasonable! Love when it's served nice and cool.
I don't remember exactly which skewers we got, it would have either been the butabara (sliced pork belly) or the yakitori (chicken thigh) to keep it classic. Well seasoned regardless and quite juicy!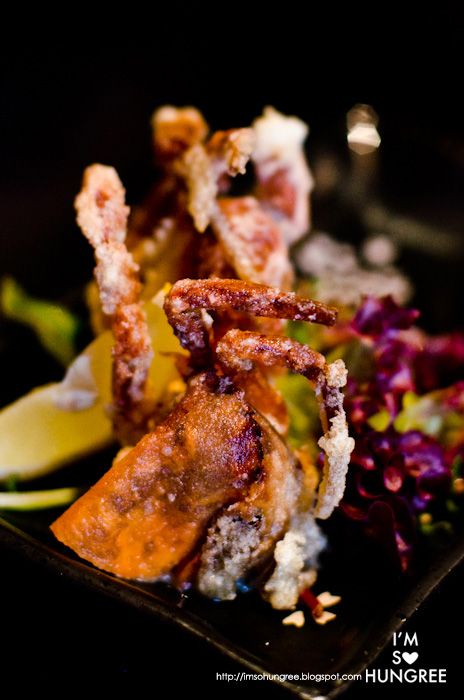 The soft shell crab is just gorgeously presented and just delightful, with just a little bit of crunch and not a hint of sogginess to be found. I kind of wish more places just served soft shell crab like this, whilst it's pleasant in a roll, it's so much better on it's own…!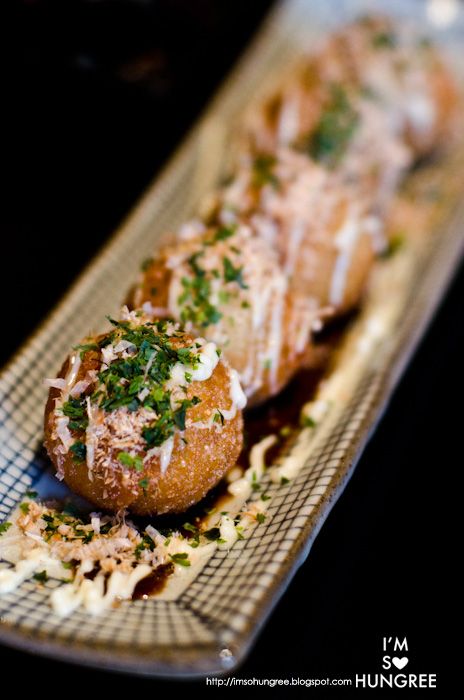 I love the takoyaki (deep fried octopus balls with mayo and special sauce) here! Whilst typically the balls are a bit bigger, and can tend to have a bit of a sticky doughiness to them all over and be a bit soft, these were actually crisp all around the outside and creamy on the inside, with chopped little pieces of octopus. Maybe not the most traditional serve of takoyaki I've ever had, but still a completely delicious rendition.
No visit, to anywhere with an 'izakaya' label, would be complete without a version of tori tasuta age, or deep fried chicken. I'm no deep fried chicken expert, but I really enjoyed these, not too heavy on the batter, but enough to have those enjoyable crunchy knobs on the ends. The chicken itself still tender and not dried out. Perfect beer food? Yeah I reckon!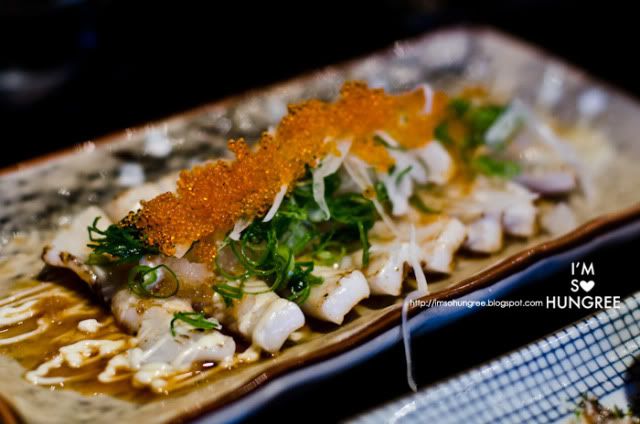 Ika Yaki, grilled squid garnished with white radish, spring onion, mayonnaise and ponzu sauce provided a reprieve from all that is deep fried! Loved the perfectly charred edges, which gave a lovely smokiness and how tender but springy the squid was as well. Also quietly smitten with the generous plating of fish roe, it makes the dish look so bright and cheery!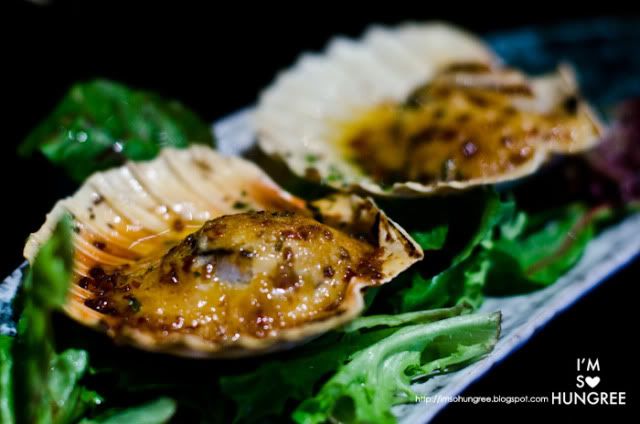 And for our last savoury, the hotate chilli mayo, grilled Hokkaido scallops topped with Japanese chilli mayonnaise. I mean, what's not to love? The scallops were pretty big, buttery smooth and with chilli mayo, doesn't chilli mayo just make everything perfect? I used to (somewhat) guiltily go to town with it on my nasi goreng when I used to waitress at Chillipadi after my shifts. Good times…
Whilst I don't always do dessert with dinner, particularly if I'm with Brad as he's not usually so keen on the sweets, when it's two girls at dinner, it usually always means that there's some form of sweet after the savouries!
First, the green tea panacotta.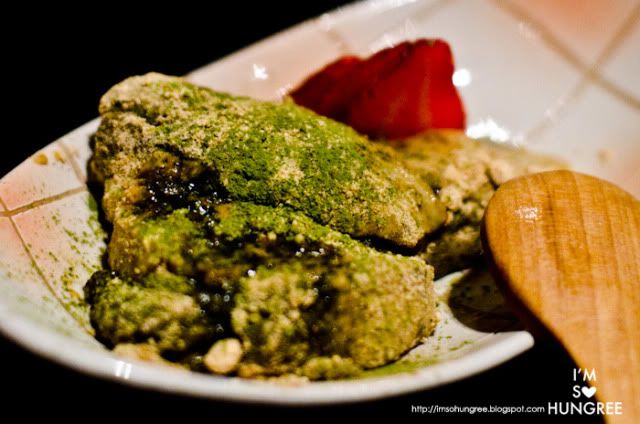 I'll be the first to say it, nothing what I expected it to look like. Nor is it particularly attractive, as a mound of spotty green blobs. But don't be fooled, this was pretty delicious! It was incredibly light, wiggling all over with a little nudge of the plate, and when scooped into was a pale yellow colour. Silky and smooth, the green tea coating cutting into the sweetness of the panacotta.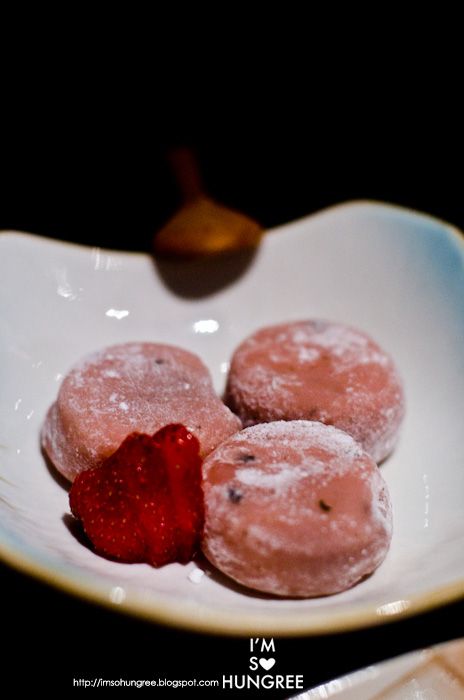 We also ordered the sakura daifuku, a strawberry flavoured mochi rice cake. These were okay to me, I'm not absolutely crazy about daifuku though, so I may not be the best judge.
When we visited, Izakaya Jiro still did not have it's dinner liquor license, so we did not have any alcohol, but it should hopefully be coming soon in January. In the meantime BYO is still accepted, although I'm not entirely sure if there was corkage or not!
Izakaya Jiro was a great little spot to catch up at, although the place got fairly busy, it didn't get too noisy and retained a cosy and intimate atmosphere. The staff are friendly and the kitchen is efficient, all our food coming out fairly quickly, but at a reasonable pace as well. No one likes looking like too much of a glutton when all the food hits the table at once and you're playing a game of tetris to try and get it all on there after all!
I also personally felt that Izakaya Jiro was pretty good value for what we had, the bill coming to about $30 - $35 per person, which isn't bad considering the variety of food we had and the fact that we were both quite full afterwards.
I've also visited Izakaya Jiro with my brother for lunch, where a smaller menu is presented with more sets, bentos, rich and noodle dishes, with most being around the $10 to $15 mark, and still of good quality.
Overall, I'm quite glad Izakaya Jiro has shown up in my neighbourhood, to serve up flavoursome food at reasonable prices in a chic environment!