Disclaimer: I was invited to the Australian Open + lunch, compliments of Jacobs Creek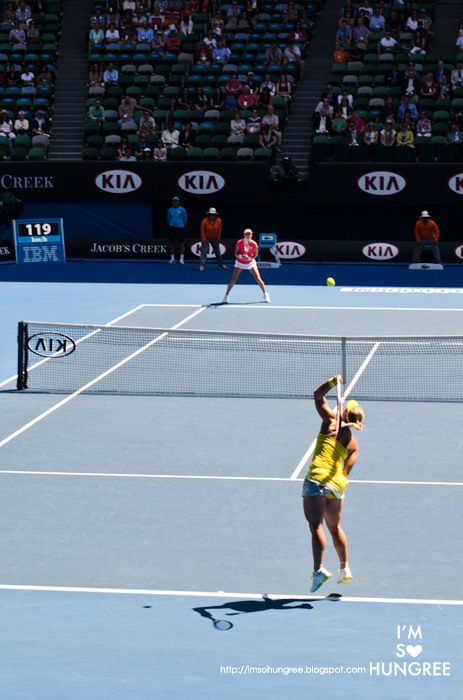 The Australian Open has come and long gone. Did many of you guys go this year? Enjoy some good matches? I think I was more into it this year than I have ever been, eagerly watching the finals at home with mum and screaming at the TV as Li Na went down, or cheering when Djokovic won. We all have our favourites!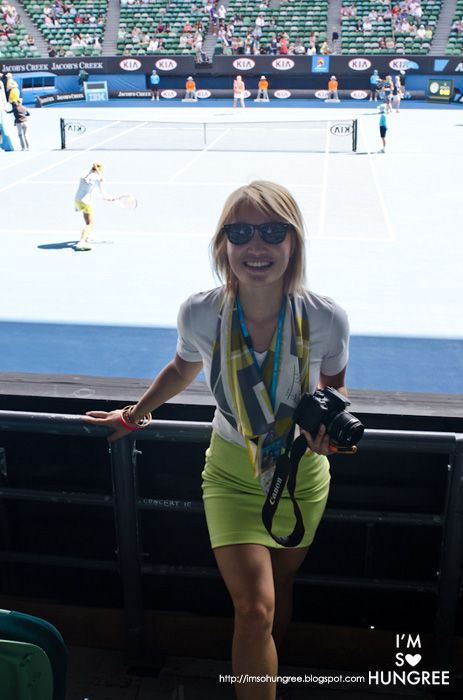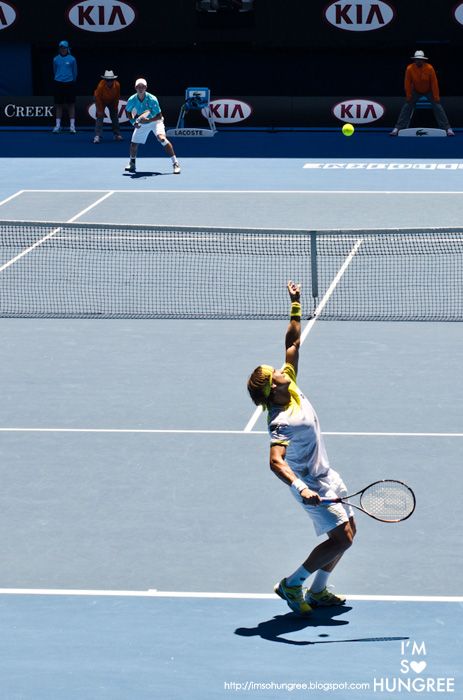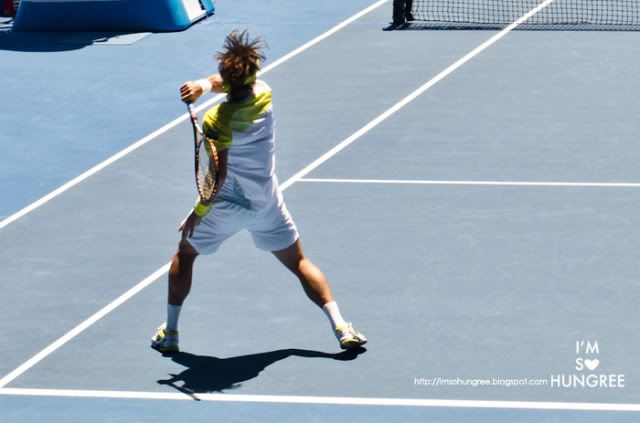 This year, I also got to watch some matches in Rod Laver Arena for the first time, thanks to Jacob's Creek who provided me with a ticket and also invited me to lunch! Thankfully our seats were in the shade, didn't envy those in the full sun! I was surprised at how much more intense it was to watch the game in person, you could feel the power the players really put into each swing.
I also now have a quiet girl crush on Angelique Kerber, even though she lost, I'm in awe at how toned and muscular her body is!
I had to leave in the midst of David Ferrer's match with Kei Nishikori to attend lunch and a wine tasting, although I guess it's not such a bad thing when it's being hosted by Jacobs Creek in their very chic dining room, the design inspired by their 'Cool Harvest' range launched in late 2011. Loved that the little deck area had astroturf! Love! I tried a glass of the Cool Harvest pinot grigio upon arriving, which was light and fresh, nothing overly complex, but very easy to drink.
Due to safety regulations and what not, lunch was unfortunately, a catered affair, so the focus here will be on the wines that we were here to try. Although the desserts were quite tasty…!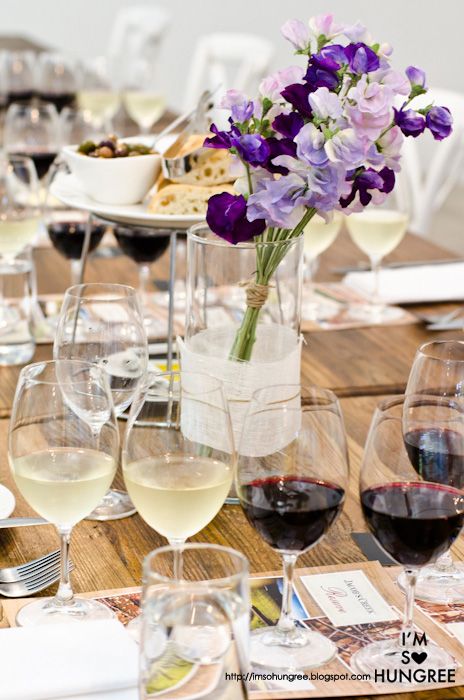 Personally, whenever I saw the Jacob's Creek label in the wine store, I would always just dismiss it. I had never really associated the name with quality, but I had never really given it a go before either and just from seeing it around, had made assumptions on my own. To me it was just that cheap stuff you got drunk off at the races!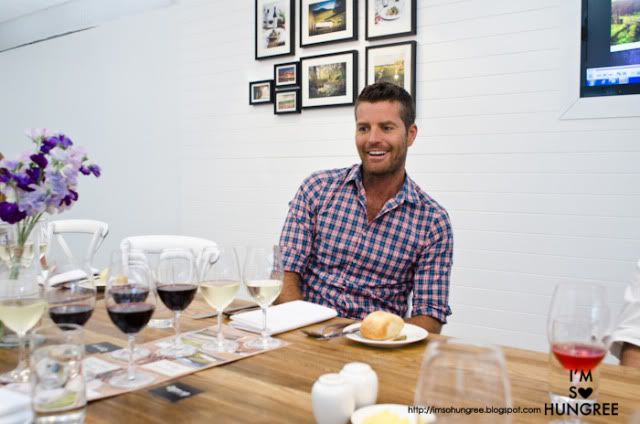 At this lunch, we were here to try the Jacob's Creek Reserve wines, which Pete Evans is the face for, a collection of some of their premium label wines, where with each wine, they really try to focus on each distinct region that the grapes are from. Did you know that Jacobs Creek have actually been in the Barossa for 165 years? I hadn't realised that they had been around for so long and as such, have a good relationship with their growers, or so I've been told!
So what to say about the wines themselves?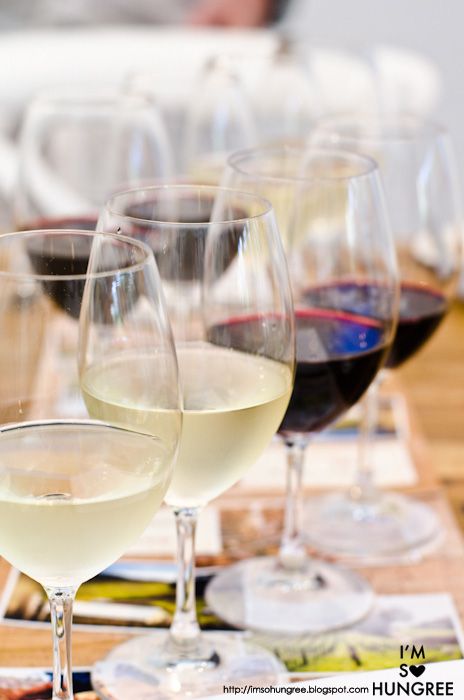 On a whole, I was pretty impressed! I'm no expert with wines, but I am always learning and like to think I can at least taste some flavours!
The Barossa riesling, with 2011 vintage, had had a challenging year with lots of rain. Still, this dry riesling had a soft and florally nose and a bit of citrus and acidity, which would make it a nice wine to start off most meals with.
The Adelaide Hills sauvignon blanc, coming from a cool climate gives it a lower level of sugars and alcohol, giving it a very ripe and full fruit flavour.
Changing it up, and on to the reds, the Coonawarra cabernet sauvignon was quite a mature, but bold in flavour, with a bit of a spicy nose, lovely soft tannins and lots of dark berry flavours. I quite enjoyed this one.
To be honest I wasn't a huge fan of the Barossa shiraz. My dad being the huge shiraz fan he is, had me drinking really big bodied shiraz's when I started getting into wine and I found this didn't match with what I expected, and personally preferred from a shiraz. I didn't find the nose was as fruity or expressive as I might have thought, and found it to be fairly soft and subdued, the body of the wine following suit and being quite mellow for a shiraz, in my opinion.
However, I can certainly see why other people would like it, and would make a great option for those who don't like really intense reds.
At around $12 - $18 a bottle though, how can you go too wrong at the end of the day? I was surprised at how accessible the price made the wines, and also generally the range of wines they had beyond the Reserve range. I mean, you could be really fancy and splurge $50 into the Johann Shiraz Cabernet from their super premium range if you wanted! That's what I do love about Australian wines though, it can be so accessible!
Pete Evans was also a lovely host, and although a little quiet at first, once you got him talking about pairing wine with food, he didn't really stop! It was nice that he seemed quite interested in our blogs as well, asking how long we had been blogging for and our different approaches to it. He also chatted to us about his upcoming restaurant, Little Hunter in the CBD, which I'm looking forward to checking out when it's open. And no, he did not discuss about his daily eating plans, nor did I ask him about them...you all know what I'm talking about...
All in all, it was a really lovely afternoon, and after about 5 glasses of wine over lunch, I toppled back to my seat in Rod Laver where I caught the end of the men's match and had a laugh at Maria Sharapova's in-game sound effects in a happily tipsy state. Ice-cream was consumed as well. How was I to resist?