Update: I've just found out that on the same day of this posting, Garden Tuscany has decided to close operations. So although you might not be able to visit, I hope you can still enjoy the write up, and maybe be inspired to one day open somewhere your own! :)
Discloser: I was offered a discount on my meal
Have you guys ever thought of opening your own cafe or restaurant? I know my dad has, being the passionate cook he is, but with everything he's got going with his current businesses he's a little bit tied up.
However Lance, Sam and Stella, have taken their dreams, run with them and turned it into reality, by converting their backyard into a cosy little pizza haven in Moonee Ponds.
I had previously seen a lot of blog posts about this restaurant in previous years but hadn't seen anything recently, so was curious to check it out for myself on a Saturday night and see what it was like.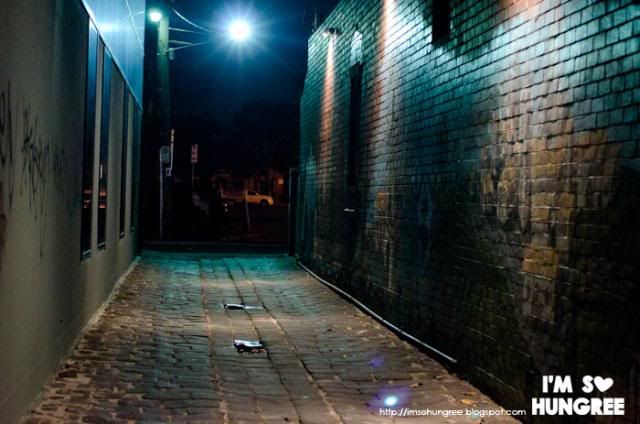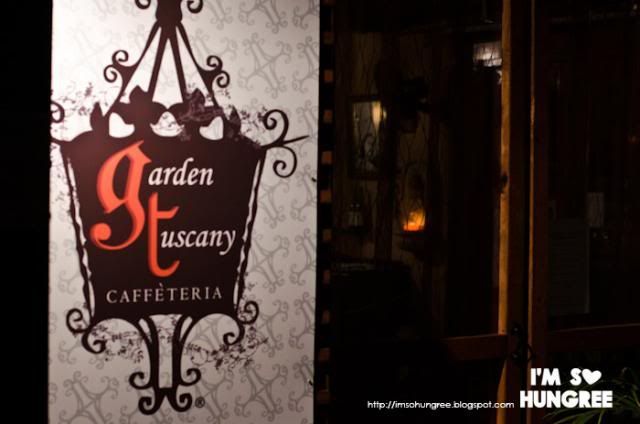 It's a little difficult to find at first, if you don't know what you're looking for! Fortunately I tend to be pretty good with my research, so although Brad and initially stumbled down the wrong alley, we didn't have too much problem finding the cobblestone lined one we were looking for which led us to Garden Tuscany.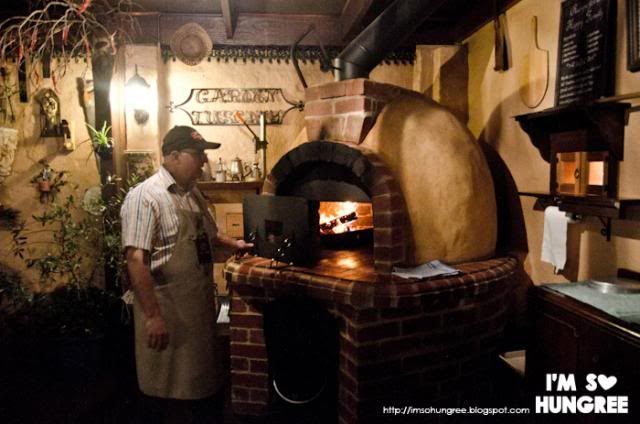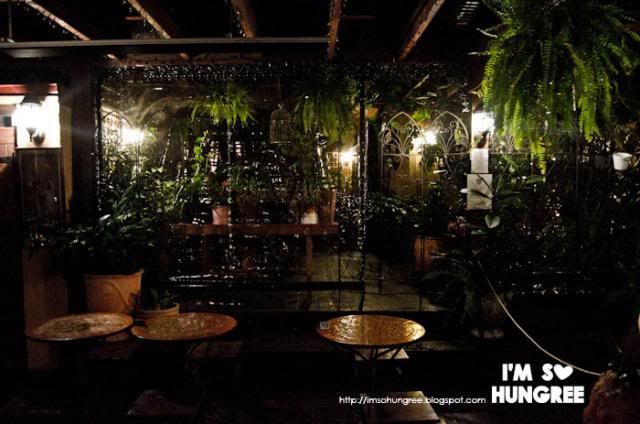 You step inside into the enclosed courtyard and sort of immediately forget that you might have been in Melbourne. In the courtyard, a wood fire oven, which they built themselves, one brick at a time, is roaring away, prepping for the evening orders and in the interior the terracotta tones have me reminiscing of my family trip in Italy a few years back. Ah Sienna…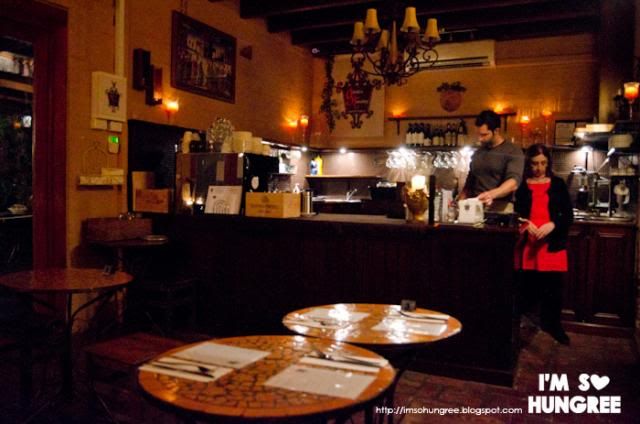 It makes sense that the space is often used for engagement parties, weddings and other grown up celebrations of the sort, as it's just gorgeous and incredibly homely and inviting.
The only issue I might have had is that there are only stools available to sit on, which means you can't be sitting around for too long (I max out at around an hour on stools), but pizza isn't usually something that takes too long to eat anyhow.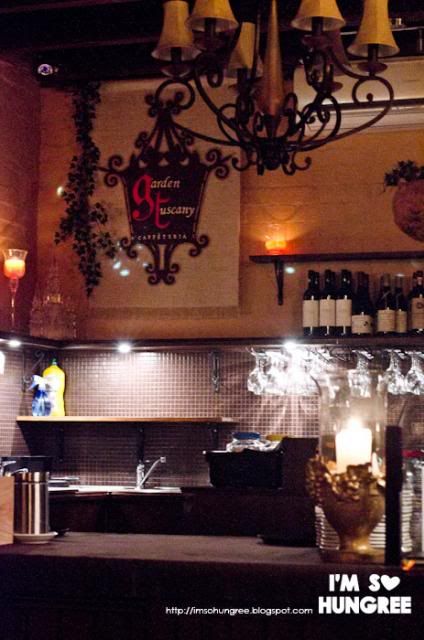 Regardless, Brad and I still made ourselves comfortable and quite quickly made our orders! Although you can do entirely ala carte, there is also a 'set menu' deal, where for $27 per person, for two people, you get the choice of an entree, two pizzas and two desserts…not a bad deal!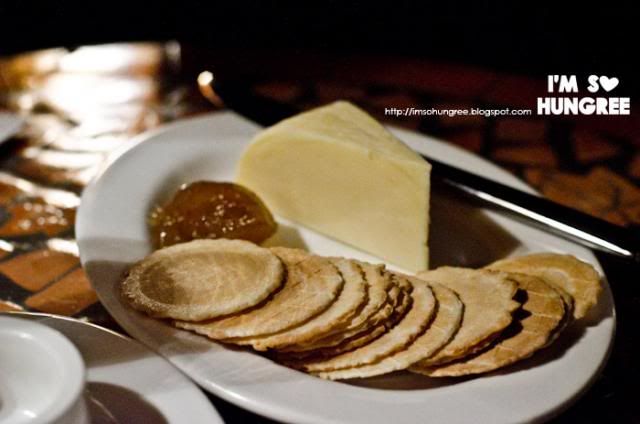 Although usually cheese is to wrap up a meal, I couldn't help but jump onto it when we were offered a semi-hard Italian cheese, with a little fig jam which was just the perfect thing to stimulate the appetite.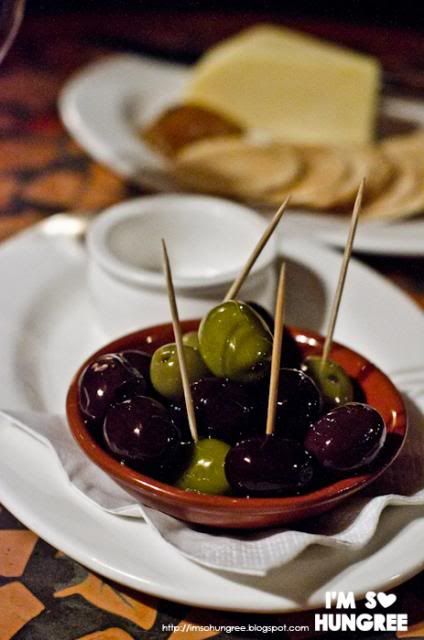 We also opted to try their selection of marinated olives, which were just scrumptious. I do enjoy an olive or two usually, but we somehow managed to nearly get through the whole serving, between the two of us! Incredibly generous serving!
Sam, the pizza maker of the family, has been making pizzas at family gatherings for years, meaning his wood fire pizzas are rustic and made from the heart. I loved that the pizzas are a small and modest size, making them perfect for one person.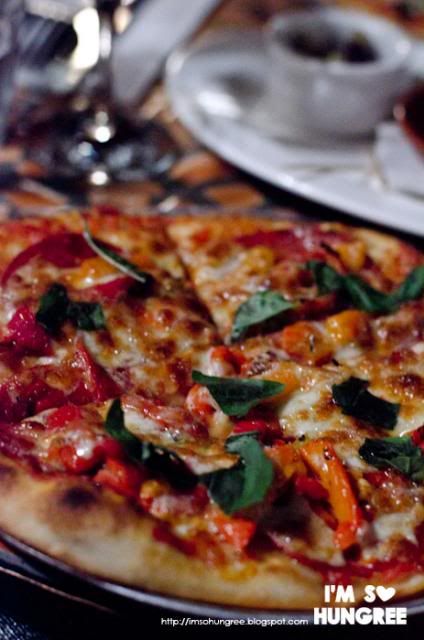 We ordered one Melanzane with tomato, roasted eggplant, mozzarella and fior di latte, and for something with a traditional Italian flair, the Salami, with tomato, calabrese hot salami, roasted capsicum, mozzarella and fresh basil.
Although thin crust pizzas seem to be all the rage at the moment, I loved the pillowy and fluffy base these had, especially with the generous piling of melty cheese. Cue Lady and the Tramp moment…except with a pizza slice.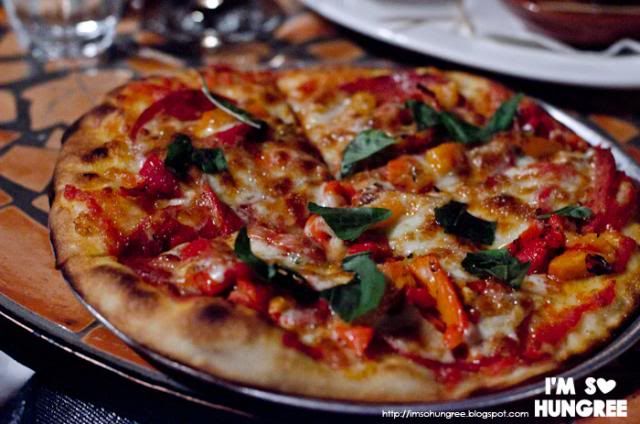 The salami pizza, with generous thin slices of salami, wasn't too hot (as it might imply on the menu) but definitely gave a nice warmth in the mouth, which was perfect on the rather cool night it was.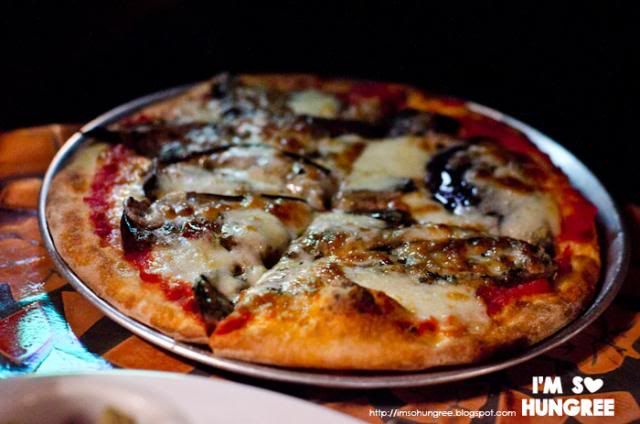 I do have a thing for vegetarian pizzas though and was simple enamoured with the Melanzane, the roasted eggplant had such a lovely charred flavour to it, which made it so sweet and supple. And again cheese. Loads of cheese. I'm simple to please!
After that it was time for dessert, made by Stella who's eyes just lit up with excitement when we asked for her suggestions.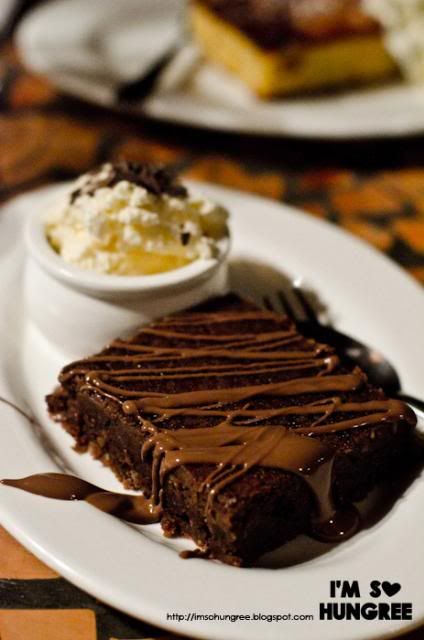 The artisan chocolate brownie, a rich and flowerless chocolate, macadamia and almond brownie, was drizzled with pure melted chocolate and served with a scoop of vanilla ice-cream. Oh lordy! She was a rich one! It was wonderful that the brownie was warm and the melted chocolate over the top really added that hit for those who are a bit chocolate crazy (like me). The nuts provide a bit of texture through the brownie, giving it a bit of crunch.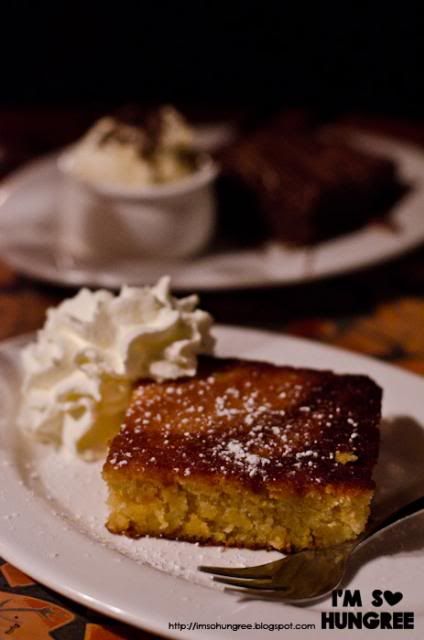 I was though, somewhat surprised that I enjoyed the 'real' orange and almond slice, more than the chocolate brownie! A zesty flowerless slice, dusted with icing sugar and served with whipped cream, this dense and smooth slice just won me over completely. The citrus flavour was prominent, but didn't taste artificial or overpower it. So although I do normally hog the chocolate desserts and let Brad pick at whatever I leave over, I found myself pushing the brownie to him and polishing off this slice!
Garden Tuscany made for a lovely meal, in an incredibly cosy environment. It was very quiet the Saturday we went, as they had only recently opened up Saturday nights (on top of their Thursday and Friday night opening hours), making it the perfect spot for the family for a reasonably priced and delicious weekend dinner treat!
I really admire what this family was able to do, right out of their own backyard. Although I understand that getting the appropriate permits and not what may have been a bit of a pain, there is something so incredibly endearing about these family grown restaurants that is missing from the increasingly growing hipster culture. My only complaint that Moonee Ponds is a little out of the way for me to make it a regular fixture in my week! Someone open something out in the east please?!
32 Young Street
Moonee Ponds