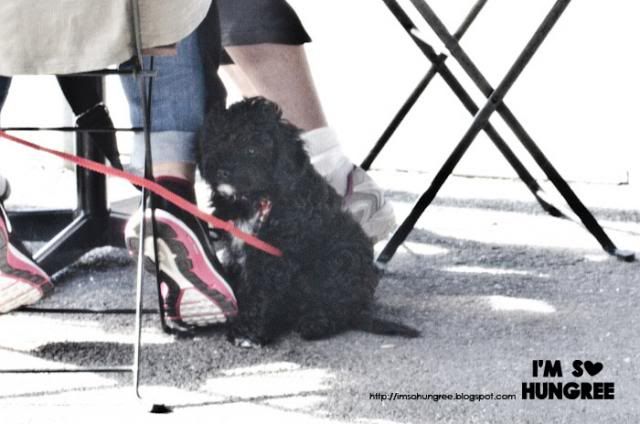 A couple of weeks ago (or more like a month ago), I came across a dog that looks like the puppy version of my dog Chai. Look how cute it is!
I mean seriously, they look pretty alike right? In hindsight I should have totally asked what breed the lady's dog was, because I would love a better idea of what Chai's mix is.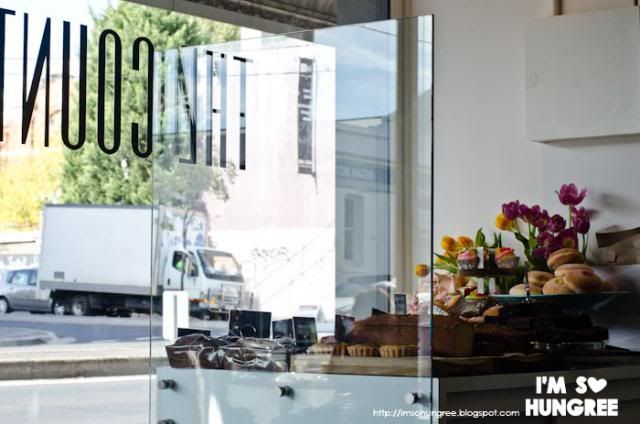 We came across this puppy when Brad and I visited The Counter on Auburn Road. I had previously driven by it and been allured by the beautiful, elongated typeface that was used at the front of the cafe. There was something retro, yet elegant about it, so I decided we should visit. Good enough reason as any right?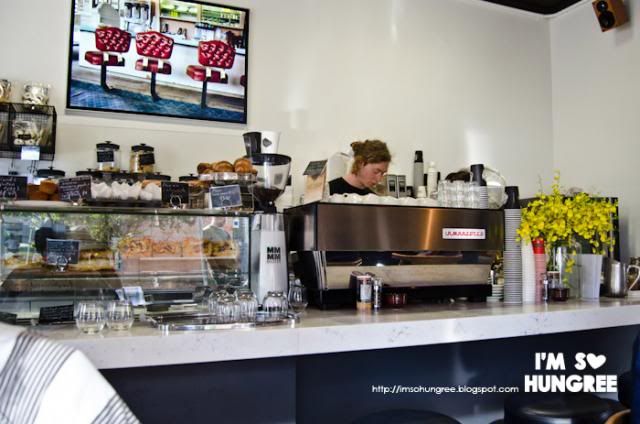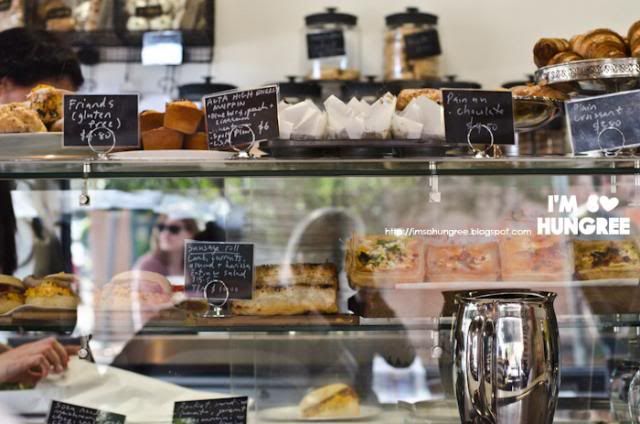 It's a cosy little space, with freshly made sandwiches, baked goods and sweets all on display. Although I was tempted to jump straight to the fluffy looking doughnuts, Brad and I took a seat instead and perused the dine in menu instead, for some morning sustenance.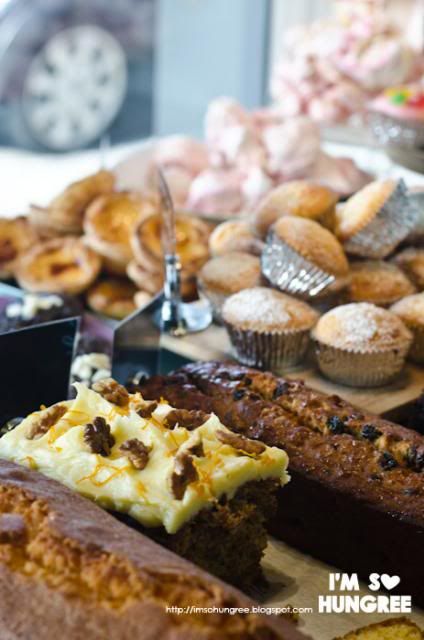 The place was buzzing from the moment we arrived, with parents and families lining up for their coffees and sweets post-Saturday morning sports and activities. They were really pumping out the coffee there, and it's obvious this is a local favourite.
However, as a newcomer, I was a little underwhelmed with how long it took to get anyone to notice that I might like to eat something.
Although takeaways were busy, their dine-in tables weren't full, although they were well spread out, with a few tables in the front, inside and out in what I assume is a little courtyard out back.
Brad and I were situated inside, so the staff would have to pass us to go out and would see us upon coming in from outside as well.
We weren't offered drinks upon sitting, which happens and is fine, they were pretty busy I guess. So after Brad and I properly decided on what we want to eat (which usually takes a little while), he then proceeded to put his head down to read The Age on his iPhone, while I bobbed my head up and down seeing if I could get anyone's attention.
The staff must have walked out to clear plates and bring out coffees at least 5 times, without a glance over to us, despite me raising my hand and quite overtly sticking my head up.
15 minutes in and 10 passes later, it was getting ridiculous and I had to make a rather stern and loud 'Excuse me' to a waitress as she went to start wiping up the table next to us.
I don't often like to pick at service, because I have had experience as a waitress in hospitality and know that things can be overlooked now and again, but I was pretty unimpressed in this situation when it felt like all the waitresses had blinkers and earmuffs on.
Phew. Now with that all done, on to some better news!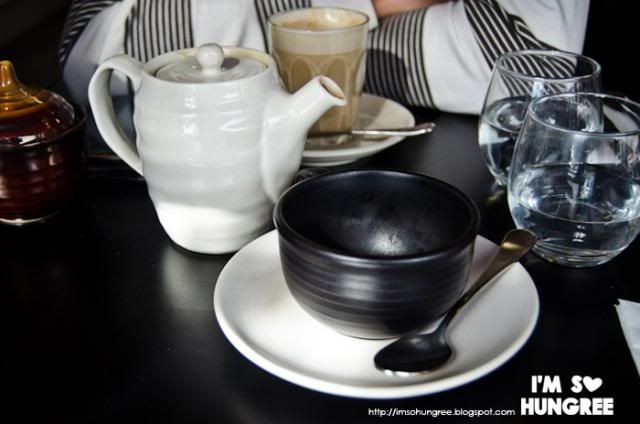 No chai latte for me unfortunately, only a chai tea, which was actually quite a nice change, leaving me feeling light and invigorated. Brad's latte looked quite smooth and lovely as well.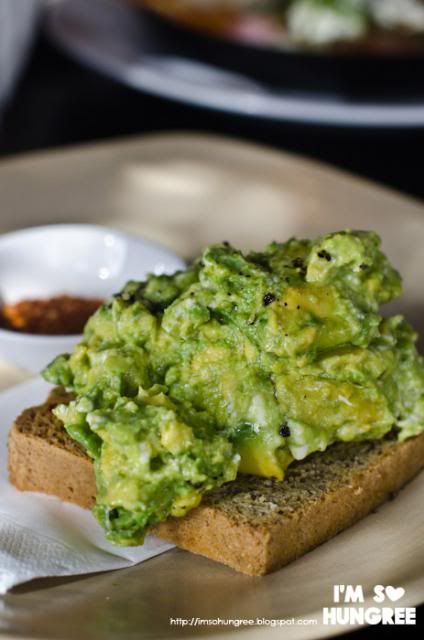 I decided to get the smashed avocado with feta on gluten free bread with chilli flakes. A simple dish, although maybe not the sexiest of presentation and I felt that putting a tissue under the bread and avocado wasn't entirely practical. Despite that though, I really liked the gluten free bread, which was wholesome and nutty and found the avocado and feta mix incredibly smooth and surprisingly quite light.
I did suggest that maybe a twist of citrus wouldn't have hurt to give this a slightly brighter flavour though.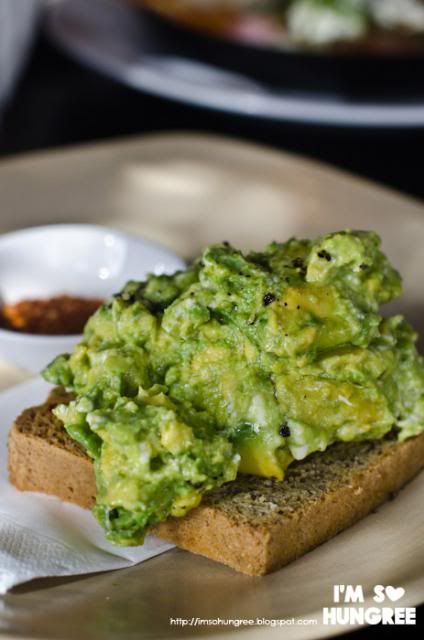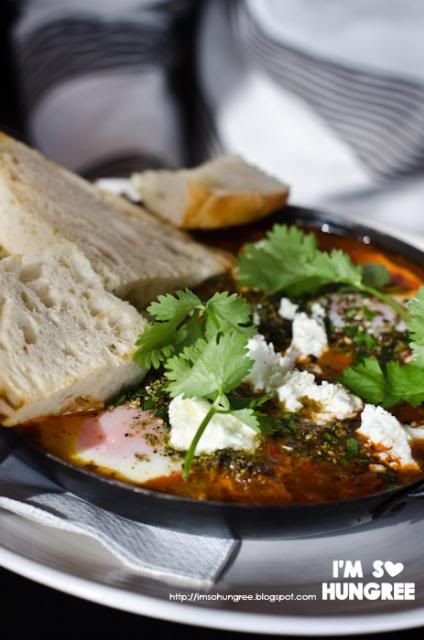 Brad ordered the Shakshouka Moroccan baked eggs with merguez sausage, meredith feta and pistachio dukkah. Oh lord have mercy. This was delicious. With that slightly runny and stewy texture that Brad and I both like, it was just perfect for mopping up with the (again) rather delicious bread on offer, I believe this bread was baked in-house. I really enjoyed the feta which gave a creaminess to the baked eggs, but a bit of contrast in flavour as well.
Very wholesome and very hearty, this is an awesome dish for the colder weather we're dealing with now.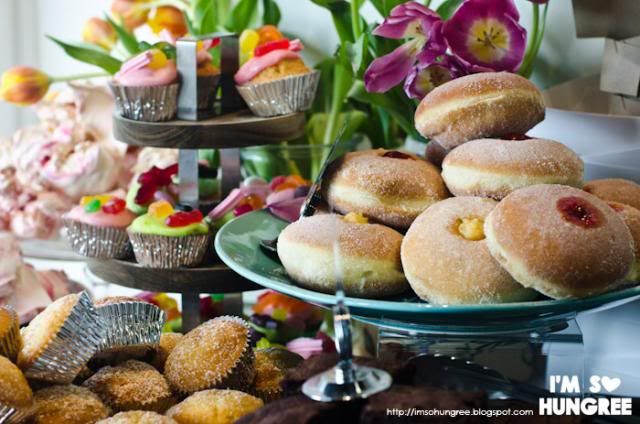 I didn't try any of the sweets, although I was sorely tempted, as we had lots of leftover goodies at home from one of mum's bake night extravaganza's and I couldn't really justify buying anything.
When we did go to pay, the waitress who had been looking after takeaway orders the whole morning, did apologise about how long it took to serve us, so it was refreshing to have it acknowledged at the least.
It's a bit hard to judge overly negatively on somewhere on the first visit, but a first impression does count, especially when I'm hungry and I figure an experience had should be shared. I'm not sure if I would come back for another sit down meal, more because there are just so many other options in Melbourne, but I will probably come by to get a sneaky little takeaway when the sun decides to pop out one afternoon.