I sometimes wonder what a bunch of bloggers eating out looks like from an outside perspective. It's just such a norm to me to have our big black SLR's out, move plates around between people and hear the familiar sounds of the shutter doing it's thing.
According to a twitter user who happened to be in the same restaurant as Bryan, Jo and I, we look like food paparazzi. Well I guess that makes sense, and can you blame us really? The food at The Town Mouse was so beautiful.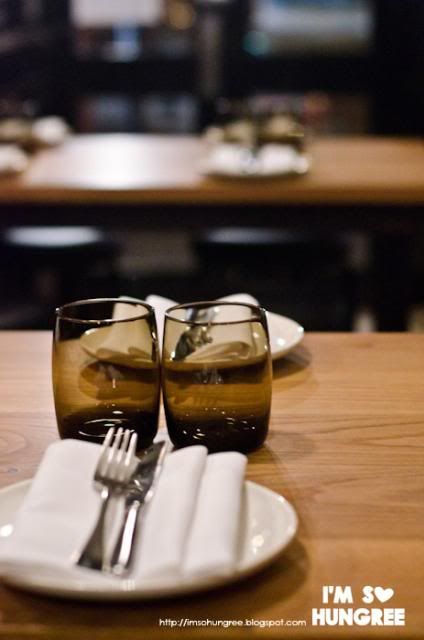 Let me take a step back here. A while ago (what a 'while' is, I'll let you guess) Bryan, Jo and I randomly organised dinner at The Town Mouse, which resides where Embrasse once lived, via twitter, as we always seem to do! I don't see Bryan and Jo as much as I used to these days, so it was lovely to have the opportunity to catch up with them.
It was a cool Sunday evening, and street side parking was a little bit trickier than I had expected it to be, but it wasn't too long before I stepped through the black facade of the Town Mouse, into the slick, art-deco meets modern, interior.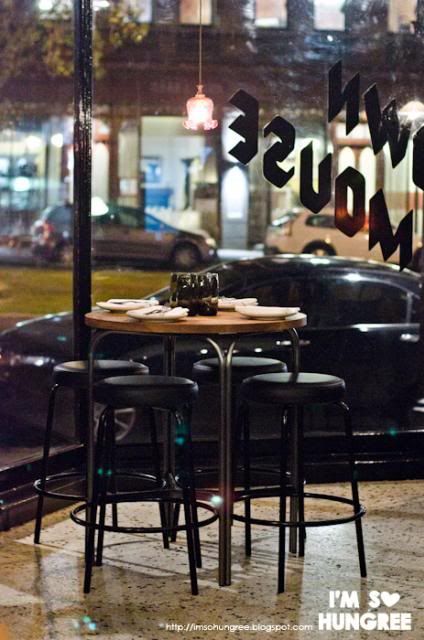 I loved her tall stools, the elegant and thin legs on the tables and the stools, leaving a rather uncluttered feeling, making the rather cosy and intimate space, feel more spacious than it might have been.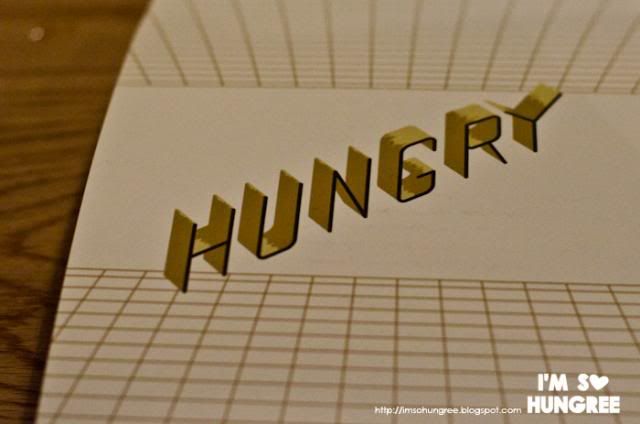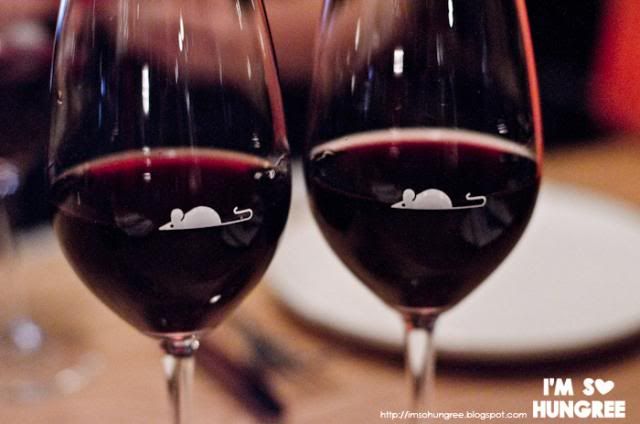 Whilst the interior is slick, there's a couple of cute quirks, with 'Hungry' and 'Thirsty' menus, and little mice on your wine glass to indicate how much you would be drinking per glass. So cute!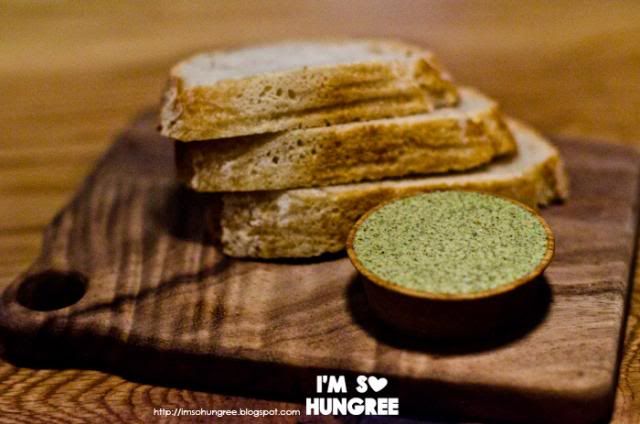 We started with some bread and seaweed butter. Oh? What a tickle to the senses this was! We all commented that it tasted a bit like matcha, or green tea, which was just delicious. It spread onto the sourdough bread so smoothly as well. Completely sinful, considering it was quite a generous serve of it too!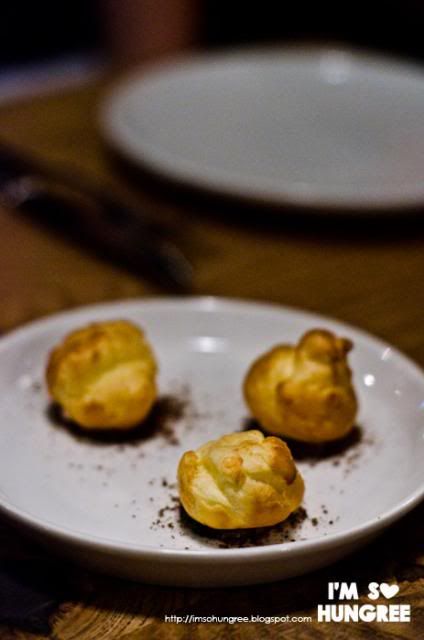 The goats cheese profiterole's with caraway, thyme and their own honey, are a bright way to get the palate going. With a slight crunch on the outside, that gave way to a soft and fluffy interior, these were surprisingly cold and very refreshing. I had somehow expected them to be warm, but was not upset in the least with the surprise.
The menu was a quirky read, and although not long, it was still quite difficult to narrow our choices down…as one really just wants to eat everything.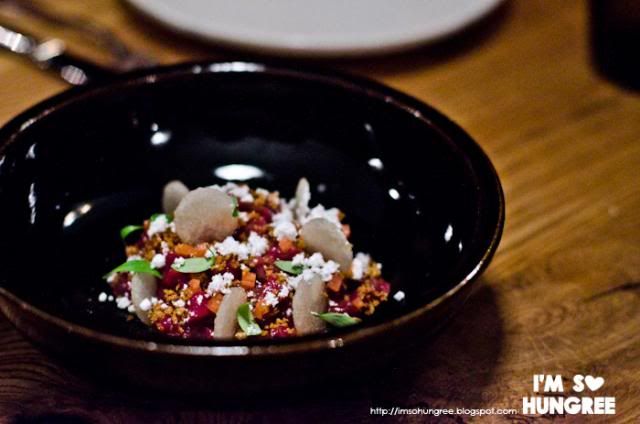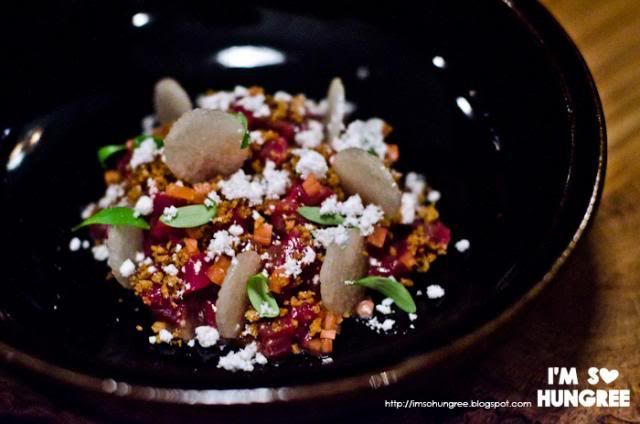 Possibly one of Bryan's favourite dishes of the night was the venison tartare with pickled radish, nashi pear, ginger and wasabi. Oh, so light and a real firework of colours, it was so bright, a hint of wasabi there, a crunch of radish, beautifully balanced out with a twist of citrus. Very clean, but bursting with flavours and textures.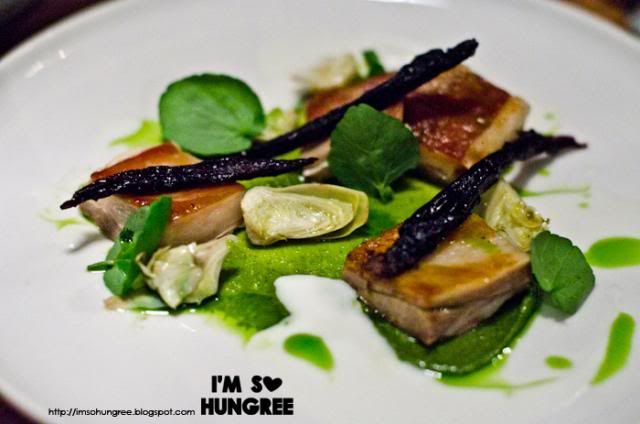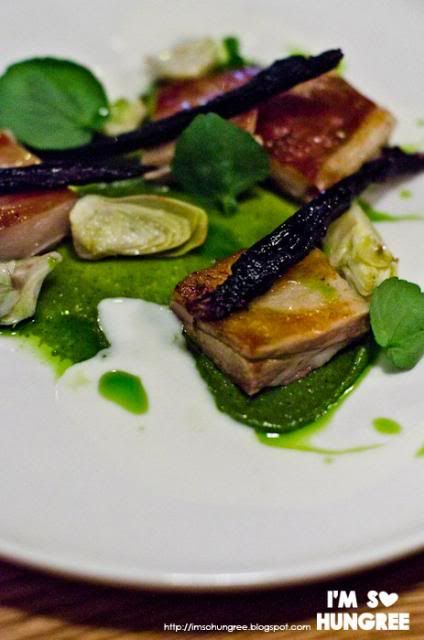 I'm personally kind of over pork belly (unless my mum is making it), however lamb belly, with dried carrots, artichokes, goat's milk, pistachio and orange blossom, intrigued me quite a bit. And I fell in love upon sinking my teeth into the fatty, tender and sweet pieces of meat. Sure, no crackling, but I just loved that rather than having a thick layer of fat, it was a little more in proportion to the amount of meat there was, making it just melt on in your mouth the whole way through.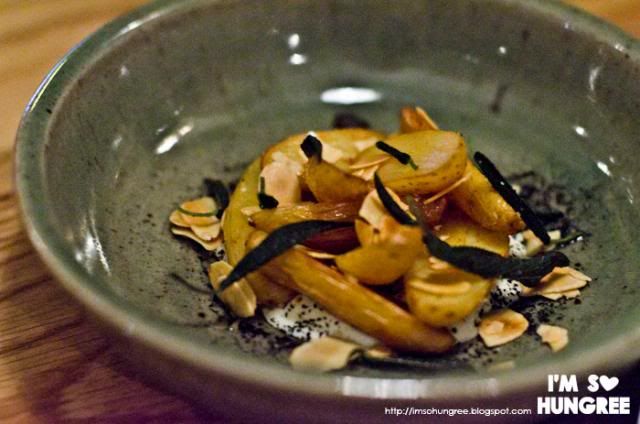 I don't often go for potatoes, but Bryan and Jo were keen to try the Kipflers cooked in toasted hay, buttermilk, crisp sage and almond brown butter. The scent of hay definitely wafted through the air as it reached our table, and it was certainly a comforting dish.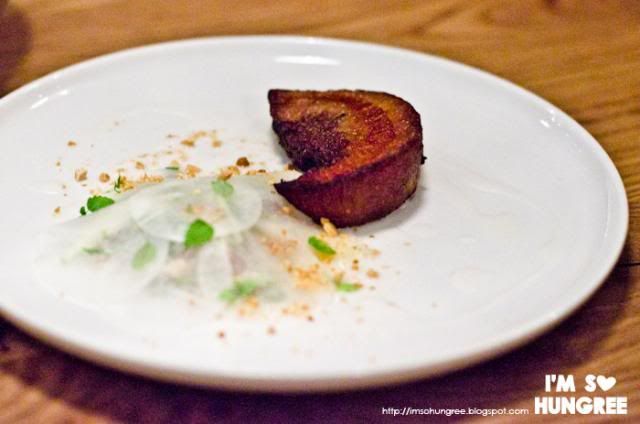 I thought the blackened pork jowl with smoked carrot kimchi, cos, green apple and peanuts looked to be quite a small serve, but goodness, it's got some delicious fat packed in there. An incredibly tender piece of meat, I honestly think pork jowl should be the new pork belly. I loved that the pork just seemed to have fat almost marbled through it (I can't think of a better word to use right now), giving it a consistently smooth texture throughout. The smoked carrot kimchi side initially was not something I might jump at, but I did enjoy that the bright and zesty flavour (with a nibble of chilli) balanced out the richness of the jowl.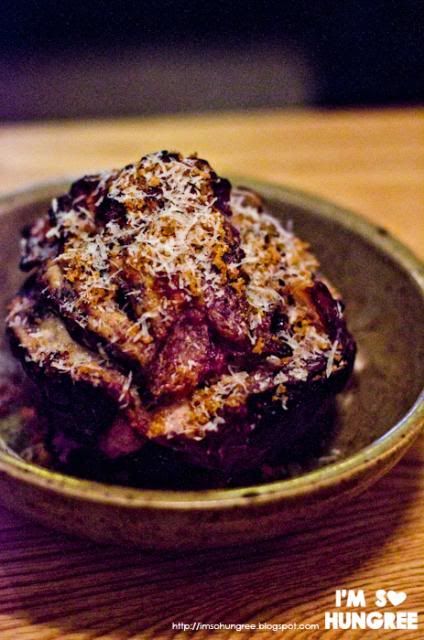 The surprising favourite dish of the night (at least for Jo and I, I think), was the slow roast red cabbage with prune, parmesan and red apple.
Oh, I breathed it in, died, came back to life, took a bite, died, and came back to life for more.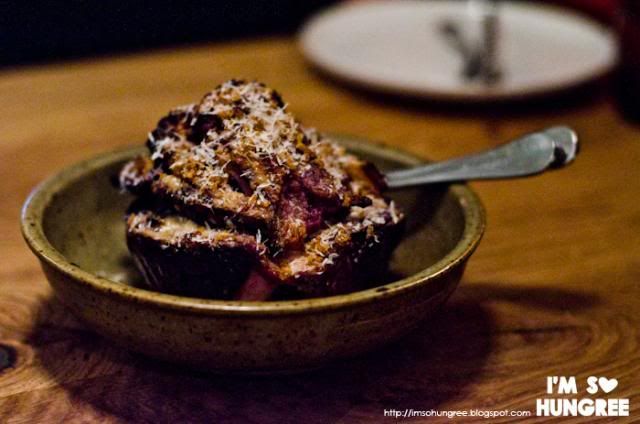 This was completely comfort food, which always tastes better when you know that the wind outside is sharp and nipping at your toes. It was rich in the mouth, but surprisingly not heavy in the stomach, which meant you kept going back for more. I loved that they weren't light handed with the parmesan, rather than sprinkling it on, they really poured it on, but the sweetness from the prunes and red apples keeps it from completely overwhelming you, as it sneaks onto your palate, camouflaged by the red cabbage. If this is still on the menu, it's really a must have this season.
We were satiated, but not stuffed, which only meant one thing.
I had pretty much decided on my dessert, after seeing it on the Dessert Correspondents blog post of Town Mouse, and jumped straight to the chocolate tart, with Thai flavours.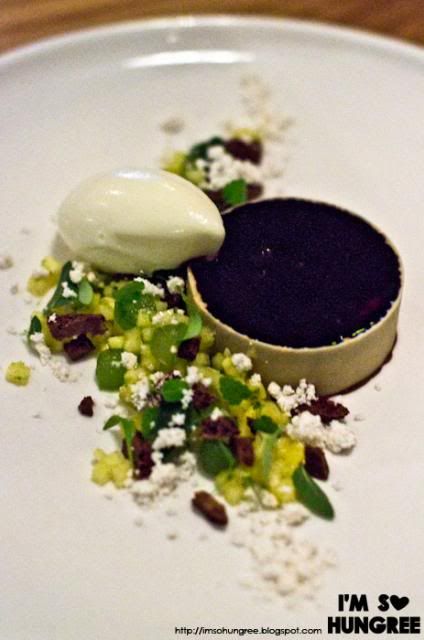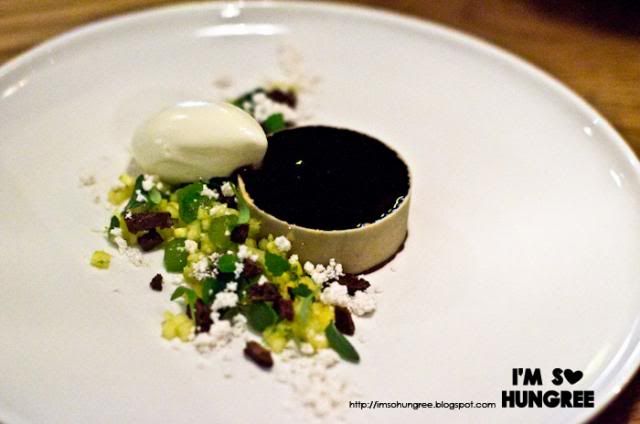 Not particularly descriptive, but mainly because they just want to surprise you I think. Whilst it completely blew the minds of Jo and Bryan, I absolutely loved it. It messes with your head a bit, as a soft chocolate tart is married with coconut, basil, lemongrass, chilli, peanuts…absolutely every key flavour to Thai cuisine could be found here. I adored the playfulness. Somewhat savoury, but still completely dessert, to me at least.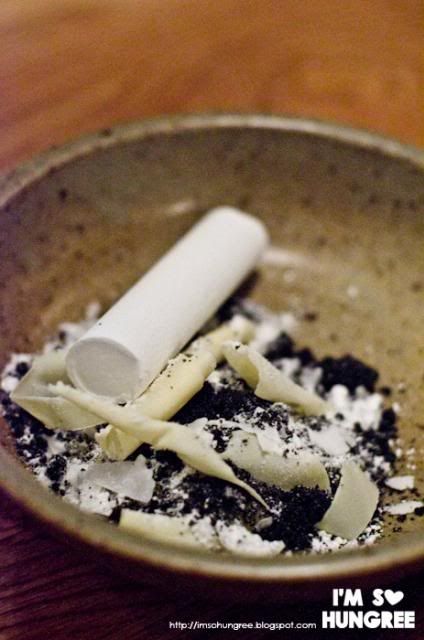 Jo got the lemon and yuzu curd with white chocolate, burnt coconut, spiced rum and coconut sorbet. I think this dessert confused me a bit, not so much with flavours, but with presentation. How was one supposed to eat this?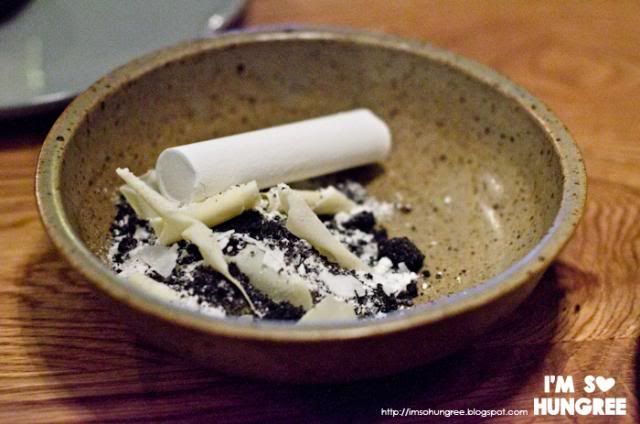 But I suppose then, food becomes the entertainment, almost like a mystery film, as you navigate, unsure what everything is initially, your way through the citrus flavours, crunchy meringue and surprising little gelatinous cubes housing a super hit of rum! Clever, and lots of fun.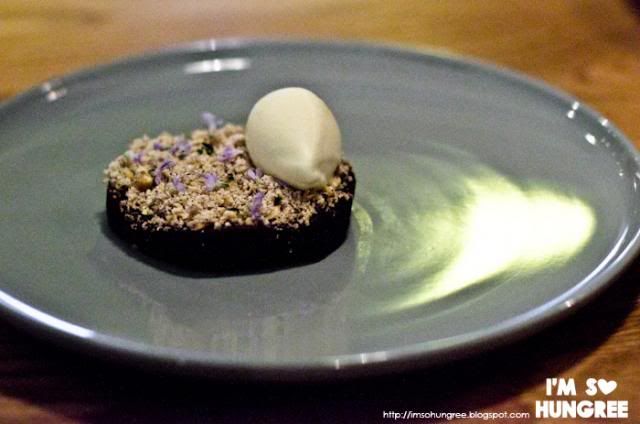 Our last dessert was the warm rooiboos braised quince with walnut, verbena, coffee and white ale ice-cream. As I tend to be a 'sweet' dessert fan, this was not something I would normally choose and probably my least preferred dessert out of the three we had. Having said that though, this might be a good one for the guys, generally speaking. The ale sorbet was intriguing and quite potent, and the quince itself was served warm, making it quite comforting in the autumn weather.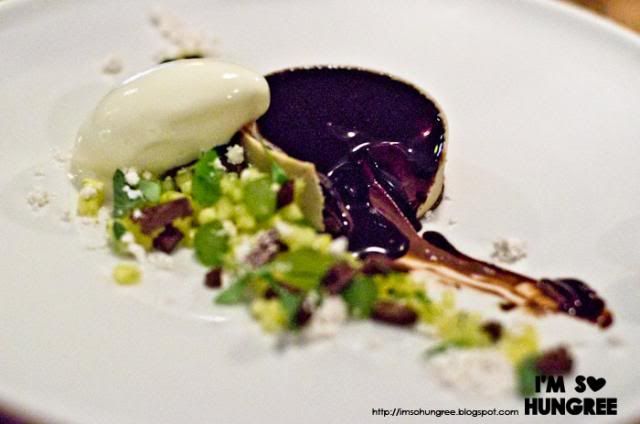 In my period before visiting the States, where I was trying to generally eat out at slightly cheaper places, the Town Mouse was a refreshing visit to the beauty and quality that is Melbourne's culinary scene. The focus on flavour, and doing something a little different really stands out here. I do look forward to keeping up and seeing what's going on with this little mouse through the seasons…
See what Bryan and Jo thought too!
Let's Get Fat Together
The Hangry Bitch