Now that Brad and I have been dating for a little over 3 years (how is this? I don't know!), we don't go out for dinner as much as we used to. He's not as invested in food as I am, and he has occasionally gotten a little grumpy at me for choosing dinner places that are a bit more than he'd like to spend (although I can't blame him, I need to watch my spending too!).
So I'm always on the hunt for, and eager to try out, new and fun dinner options that don't do stabbity stabbity things to the wallet.
Which is why I went running to Meatmother (with Brad in tow), when I had seen the menu. A meat tray with a side and toast for around $20? Yeah. Sounds pretty good.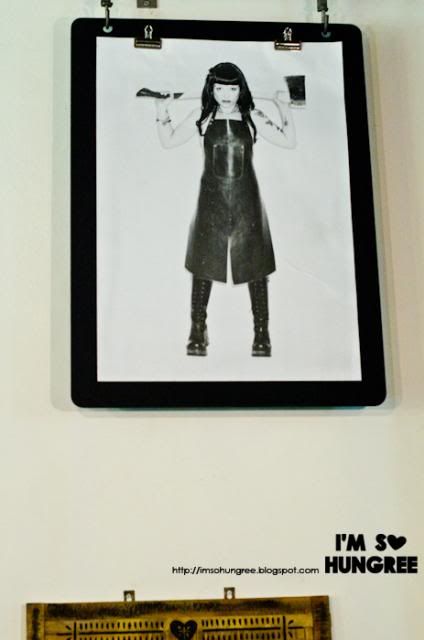 Meatmother is a new fixture on Swan Street in Richmond, offering house smoked, free-range slabs of pig and cow, American style. She's dark, and a little grungy, with thick wooden counters and a slight macabre theme going on with the decor. Knives and cleavers are neatly lined up underneath a skeleton of a goat head. Don't mess with this mother huh?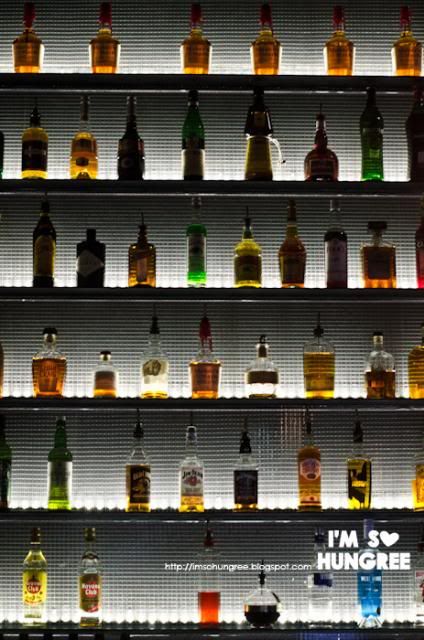 I did love the wall of alcohol though, it brought in a little bit of modern and a whole lot of cool.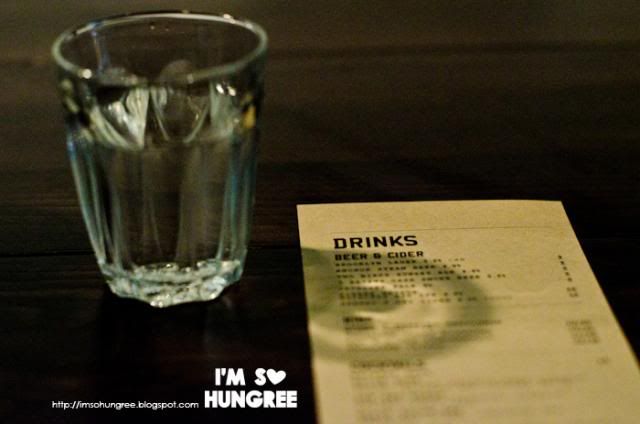 On a Tuesday night at around 6:30pm, we had no problem getting a table at the counter downstairs for two, although upstairs was already fully occupied. This didn't really bother me, as I preferred the quieter ambience that downstairs offered. It did fill up throughout the course of the night though.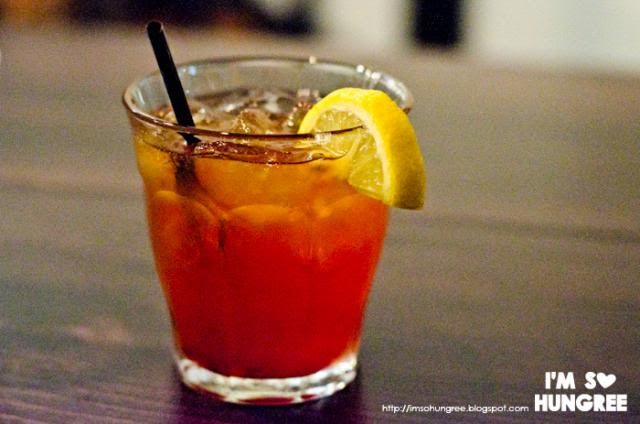 I decided to have a mini splurge and tuck into one of their $15 cocktails. The Black Widow Tea, with sweet tea vodka, lemonade and chambord had me grinning stupidly from ear to ear. There's vodka in this cocktail? You could hardly tell, it was so sweet and light, but not overly sugary (as iced tea can be like sometimes). It tasted like lazy summer afternoons, with the sun shining on the green grass by a shimmering lake.
The menu is small, real small, but it's good, because it's always nice to see a restaurant just focus on doing a couple of things well, rather that try and do everything.
Although I was sorely, sorely tempted by ribs, when I asked the waitress what she would recommend out of the four meaty options, she informed me the beef brisket had just been pulled out of the smoker, and that it was pretty much the optimal time to try it out.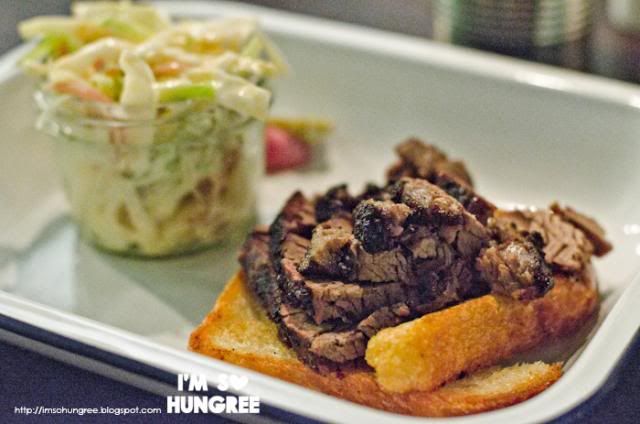 So I succumbed to the promises of smokey deliciousness and got the beef brisket with chipotle slaw.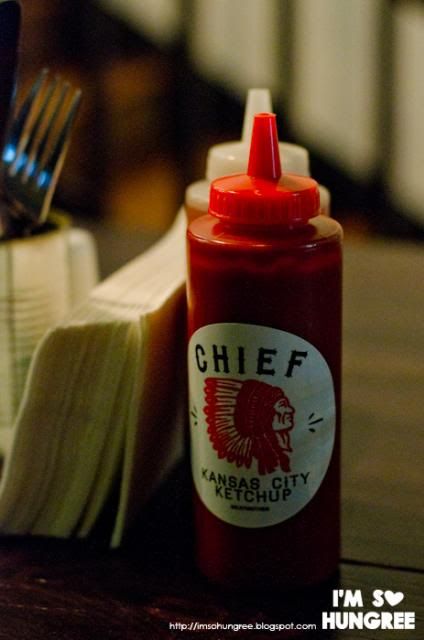 Ahhh. That smokiness! It was definitely present, but not overwhelming, giving the beef a nice richness. I guess I'm not super familiar with smoked meat, so I found it a bit drier than I had expected, but nothing that a little Kansas City ketchup couldn't help with.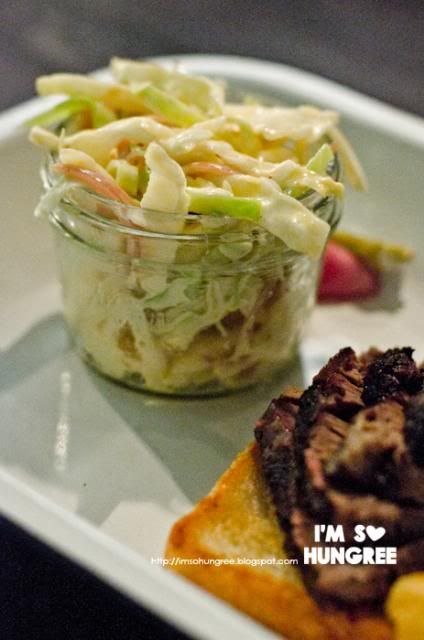 Although meat is the feature of the restaurant, the sides certainly aren't neglected, and the chipotle slaw was delicious. Like. Best slaw ever. With still crunchy veggies, and a generous sloshing of chilli, mayo, something goodness. So moreish. That toast is also just pure buttery and crisp sin.
Although I very much enjoyed my beef brisket, I instantly had food envy when Brad's spare ribs came out.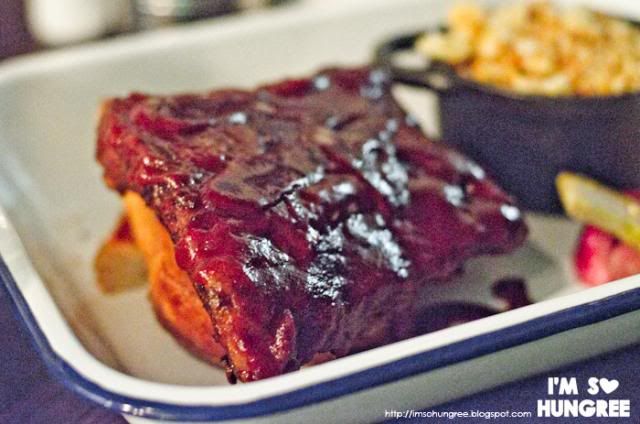 Oh. My. God. Check out that shiny sauce sheen. Watching him pick at each bone, chewing the sweet, smokey and tender meat did make me a little jealous. There's something so satisfying about just getting messy with your food isn't there?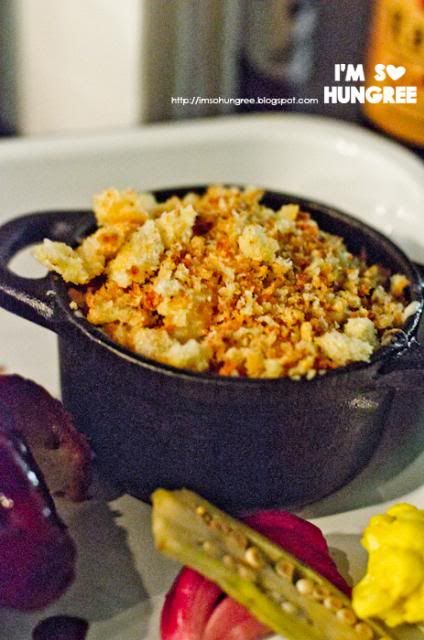 Brad got the Mac Cheese side, which had me just quivering in excitement to be visiting America, land of the Mac n' Cheese. The smell of melted cheese was just intoxicating and mixed with the soft macaroni was just so comforting in the cool evening. What made it for me though? That little sprinkle of crunchy bread crumbs on top. Oh my god. Cheese and all the carbs, how could you ever go wrong?
Although full, I wasn't stuffed and the bartender cast a knowing look in my direction as I leaned in to ask about dessert. There were two options, a sticky date pudding and a frozen key lime pie, the bartender suggesting the former.
Although I would normally go with a suggestion from a waiter or bartender, I could not go past the idea of a key lime pie and so ended up with a modest portion of frozen goodness in front of me.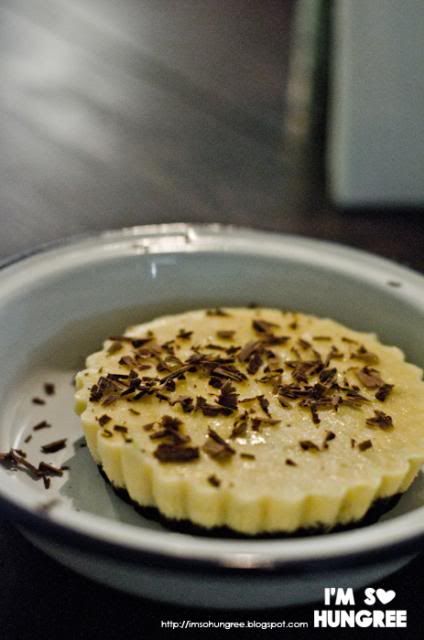 As I keep telling everyone, it tasted like a frozen lemonade. I loved how it lightly fizzled on the tongue and made for a rather nice and light way to finish the night…although I pretty much ate the whole thing myself (Brad only had two bites of it, literally). The benefits of a boyfriend without a sweet tooth I guess…?
I liked Meatmother quite a bit. I enjoyed how easy going and laid back it was, the reasonably priced menu (dinner with drinks, dessert and all ended up being $35 each) and the friendly service we got that evening (although I have read people giving more negative reviews of the service elsewhere).
I wonder if Meatmother was an accurate glimpse into what I might be tucking into when I'm in the States? I guess only time will tell…