"Hey guys, I'm going to Sydney for a weekend, where should I eat?"
The one response that I got from absolutely everybody?
I couldn't quite understand. See, I'm the sort of person who doesn't really go out for grilled meat or steak, as to me, that's something generally that you can do at home on your own fairly easily.
However, since Porteno, which is an Argentinian grill restaurant, was literally the only recommendation that I heard from every single person I asked (including Pete Evans!) I made the decision to make sure I visited when I was in Sydney with Ben.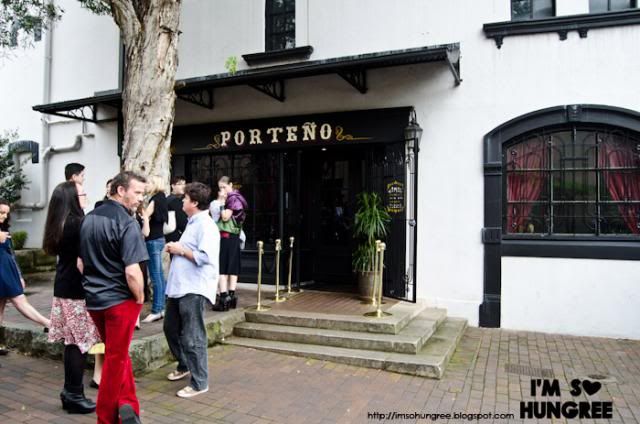 So on Mardi Gras night, rather than line up to see the parade and craziness on Oxford Street, we took ourselves to Surry Hills and lined up outside the restaurant around 5 or 10 minutes before 6pm, when they opened. We were surprised to see a fairly decent sized crowd by the time we got there!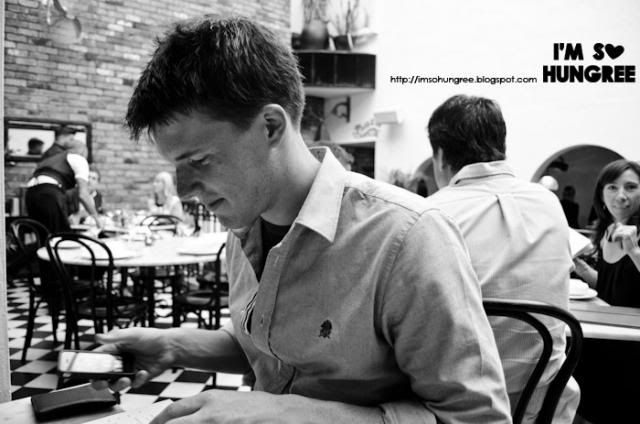 I was half nervous that we wouldn't get a seat and be waiting for an hour as the first round of people munched away happily, but fortunately that wasn't the case, and as we were guided to our seat, I just got caught up in the buzz of the place as the senses all switched on. It was exciting.
There was the distinct and decadent aromas of meaty goodness grilling away, the buzz and chatter and the beautiful room with the high-ceiling that acted as a skylight giving warmth to a black and white themed interior.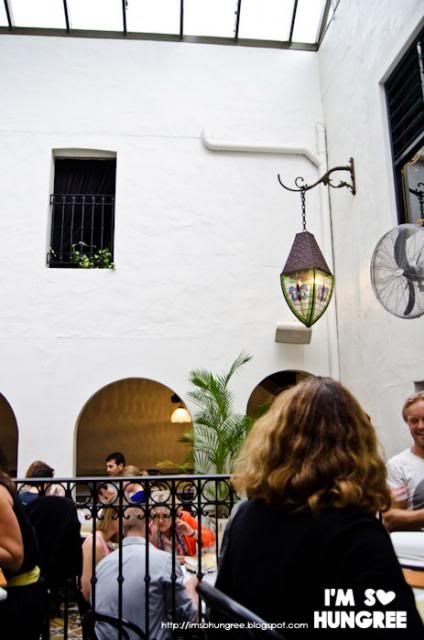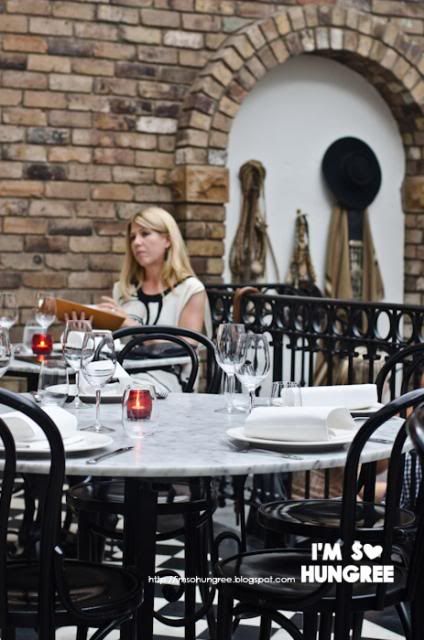 Can I just take a moment to talk about the interior and the atmosphere it evokes? It just worked. The combination of white walls, brick, checkerboard floors, black iron railings, the little window with a railing and some greenery which made you feel like you were outside trying to sneak a peek into some senoritas boudoir, I felt like I was somewhere in South America. Although I've never been myself, I've seen photos from my parents travel there some years ago, and I could just imagine the tables being cleared and an Argentinian tango starting up to an accordion.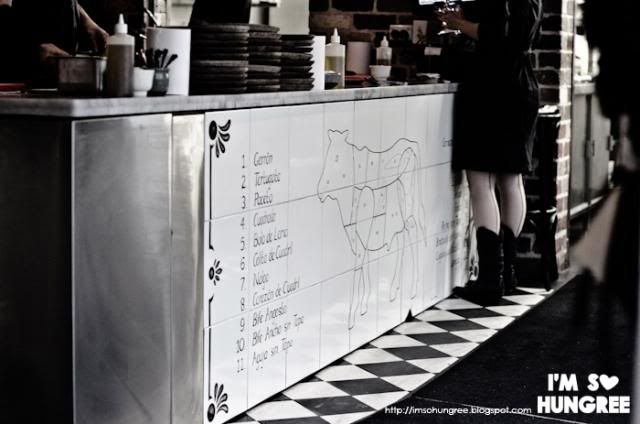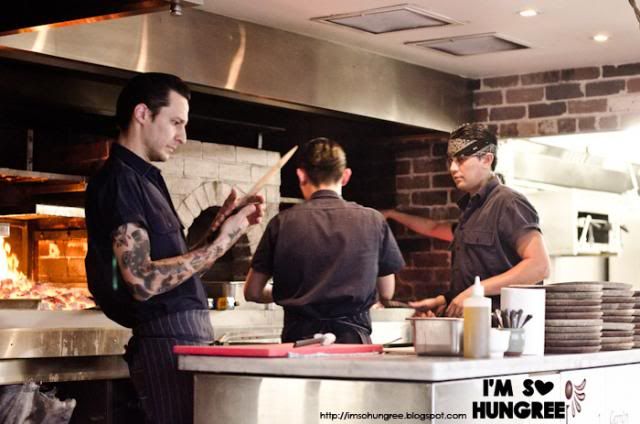 Ben and I were grinning like stupid kids, as we got swept up in the atmosphere and the excitement, noting that all the chefs had tattoos and looked like all the cool kids from Grease, with the waitresses also carrying a certain cool sassiness around with them as well.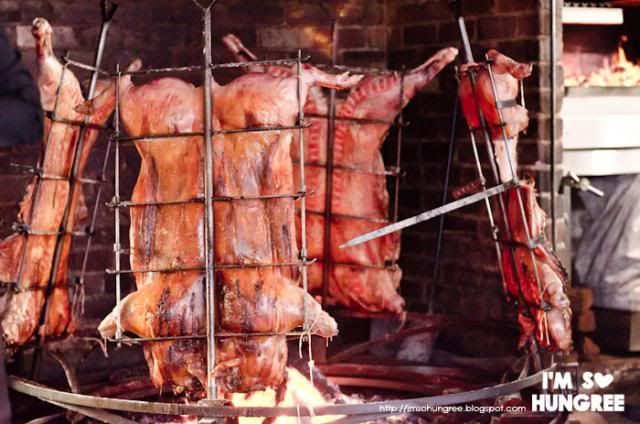 And can I mention, we were sitting right next to the traditional Asado?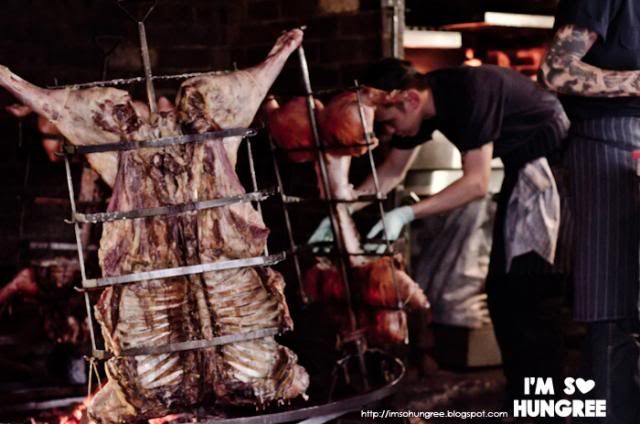 An Asado is essentially a pit of fire, where they have their pig and lamb, slow cooked over a wood fire for 8 hours. Yeah. Our mouths were watering the entire time we were there.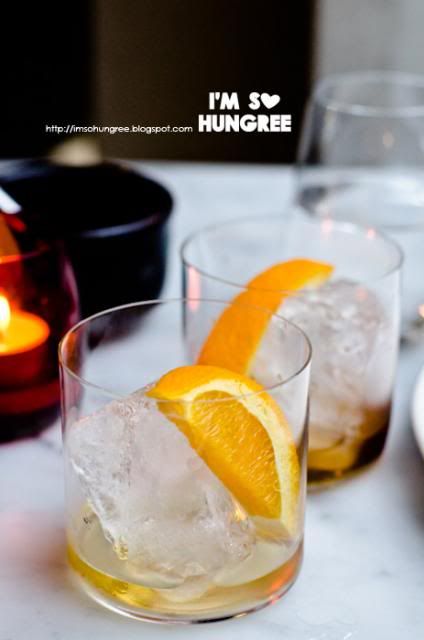 We started our evening with a couple of aperitifs as we drooled over the menu. A Lillet blanc for me and possible some Montenegro for Ben? I don't remember. I do remember that these glasses were the most delicate and beautiful things I had held in recent times though.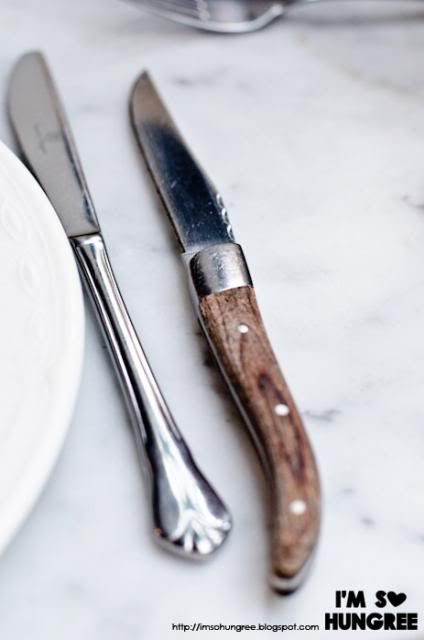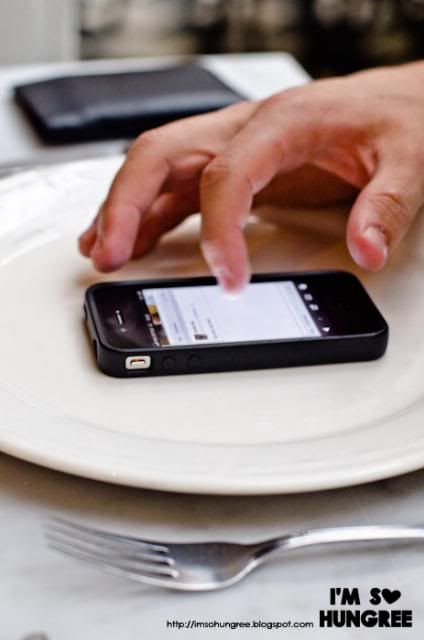 We ordered, got some serious meat knives, and made sure to apologise to any vegetarians who might see our Asado pit pictures on Facebook.
Then we started with chorizo, their own housemade pork sausage goodness. I had never seen chorizo cut so generously, nor seen them so plump and seductive. Although these weren't spicy enough to be burning our ears off, there was definitely a nice kick of spices and warmth in the mouth. I died for the tender meat, the generous amounts of fat throughout and adored that there was so much flavour without being too salty. It was served with chimi churri, with is a classic Argentinian condiment which went very well. Brilliant way to start off our night.
Our night was only going to keep going better as our mixed plate of Chanchito a la Cruz and Cordero a la Cruz reached our table.
8 hour woodfired big and 8 hour woodfired lamb.
Where do I start? What do I say?
You've already heard me sing about the intoxicatingly delicious aromas of the meat, the result of the long slow cooking process.
I don't think Ben and I could say anything as we took our first bites. Both the meats were so lusciously tender and juicy, but wholly cooked through. Mix that with a bit of crunchy skin and we're pretty much in meat heaven.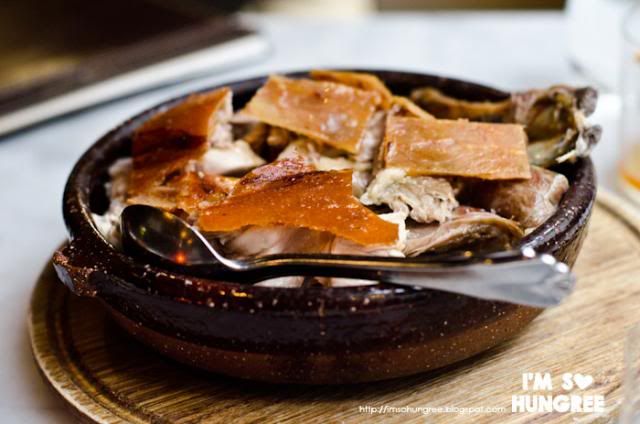 I loved the rough chunky cuts, giving the pieces of meat we had a bit of body, to really appreciate how juicy this was, as they melted away in your mouth. Although we loved both, I did prefer the pork a little bit more, as I quite enjoyed that for the rather lean bits of meat we had, they were still so succulent, whilst Ben preferred the lamb, maybe because there was a bit more of a moreish fatty goodness to them? Who knows, who really cares, because if either of these showed up randomly in my life I would be a pretty damn happy girl.
On the side, we enjoyed a white polenta with provolone cheese with barbecue radicchio, rosemary and an anchovy dressing. Goodness, so creamy and smooth, I was amazed to see the polenta like that! I could have almost just eaten on it's own, especially if it was a cold night out, it was just so incredibly comforting.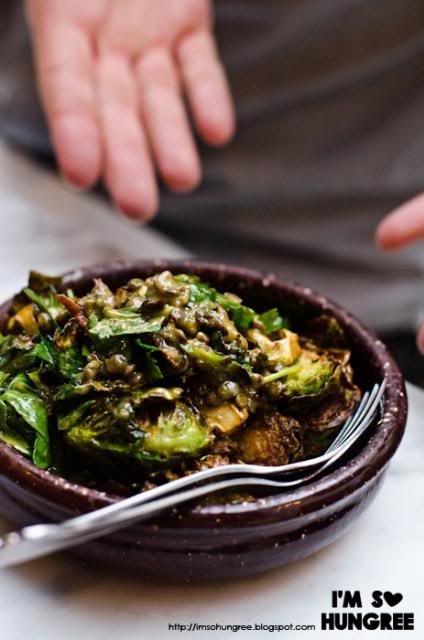 To make ourselves also feel a little 'healthy' (or something) we had the Repollitos de Brusela Frito, crispy fried brussel sprouts with lentils and mint. Brilliant. Have never had brussel sprouts like these before, I adored the crunch and the freshness from the mint, but also the sauciness that the lentils sort of provided. Happy sighs…
Although we devoured our delicious treats with vigour, we eventually slowed down, determined to get through as much as we can and enjoyed a cocktail each (although I forgot what we ordered).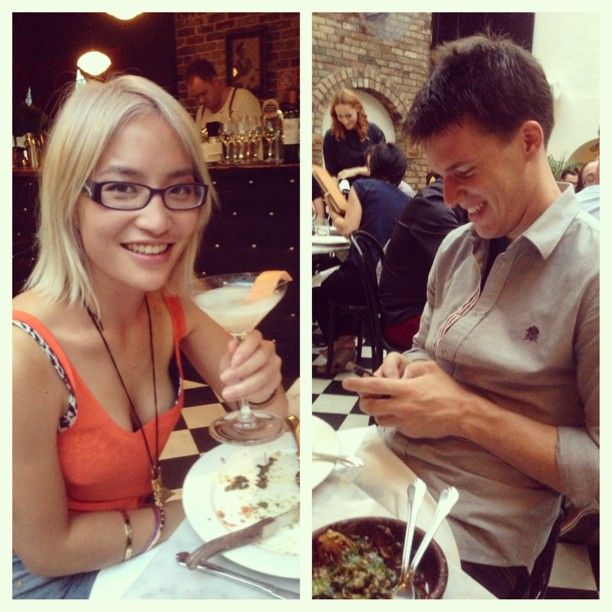 You see those happy faces?
We were happy. Very, very happy.
However, we were not quite finished with Porteno yet. Dessert was still on the agenda!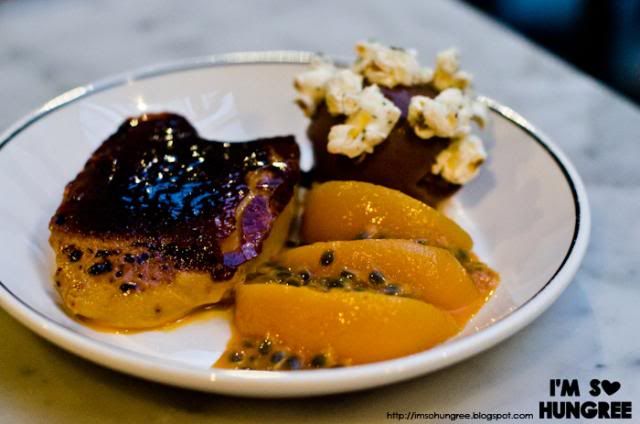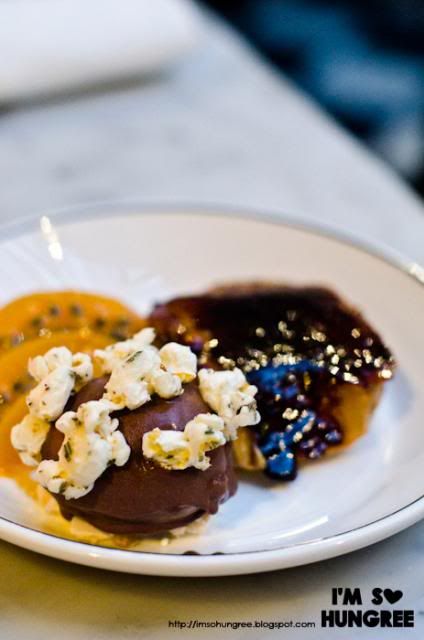 Which is when we met the Leche Quemada, a burnt milk custard with peach and chocolate ice cream. Oh goodness. The burnt milk custard was like sweet, smooth, caramel goodness with a thin sugary crust. Yahum. I loved the addition of the salty popcorn which just gave texture and depth to the already super chocolatey ice-cream. The peaches with passionfruit were a nice little touch of freshness as well. Oh joy. Happy joy. Can I marry a dessert? Although I guess it wouldn't pay the bills…
Ben and I agreed, Porteno was one of the best meals we had in a long while. Everything was just delicious and incredibly memorable. It was one of those meals with multiple moments of speechlessness, as we were just blown away by the texture and flavours. But it was more than food, there was just such a great atmosphere and a good feel vibe. Porteno have truly got it down pat.
So now, whenever someone asks me where to eat in Sydney, I'll sit them down with a cup of tea and tell them about this wonderful place I've eaten at called Porteno….