Disclaimer: I dined at The Commoner as a guest of Wasamedia. My meal was complimentary. However, as usual, my thoughts are based on my thoughts on my experience at the time.
I'm pretty terrible when it comes to watching movies. As a child, absolutely everything scared me and my aunt loves to remind me how when we went to watch Aladdin in the cinemas, I spent the whole movie on her lap...facing her. This has led me to missing out on a lot of classic movies as I've grown as up (which Brad always berates me for and has worked on fixing), as I had an innate fear that whatever I was watching was going to scar and terrify me for life.
I've gotten better now though. Really. Although '2001: A Space Odyssey' left me totally freaked out as well last year...
And although I don't watch horror and thriller movies at all (I even flip the channel when commercials for them come on...), I still decided to suck it up and make my way to the Commoner's 'Poultrygeist' degustation dinner. If you're thinking chicken ghosts, it's not quite that. Or at least...I didn't sense any....
Over the next year, every other month (starting this month in February obviously), The Commoner will be drawing inspiration from slightly modified cult classic movie titles, and serving up a matching dinner. 'Poultrygeist' is a spin off from 'Poltergeist', a horror trilogy based around a family who are being stalked and terrorised by a group of ancient ghosts, who talk to one of the daughter's through the tv and kidnap her through the closet. Eerie. Eek!
Fortunately though, the only horror that awaited Caryn and I at The Commoner, this particular night, was the poultry carnage that we were going to unleash. Yeah!
The Commoner is somewhere that has been on my eating list for…well…ever. Located on Johnston Street, a stone throw away from Brunswick Street, it has a personality all of it's own.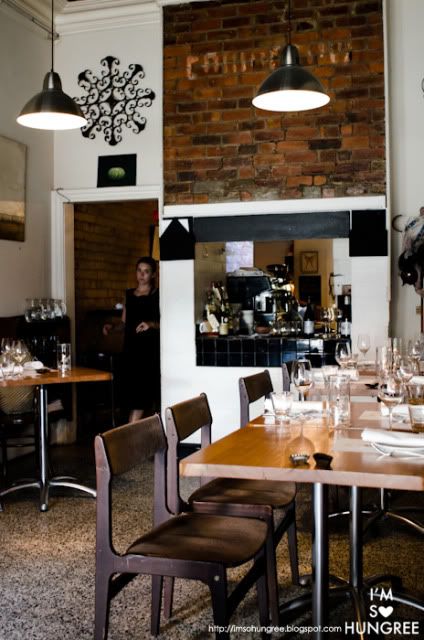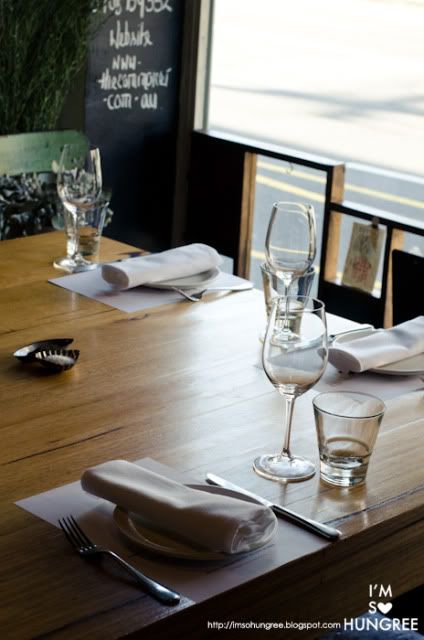 Although rather unsuspecting from the front, The Commoner is a gorgeous little hideaway from the urban cool, and is homely and welcoming. For me, it was the small decorative touches that made the place, in the sense that nothing was designed to go together and probably came from all over the place, but it all worked together to create it's own character.
The table feather decorations were extremely appropriate for the theme tonight, and could be found draped here and there as well.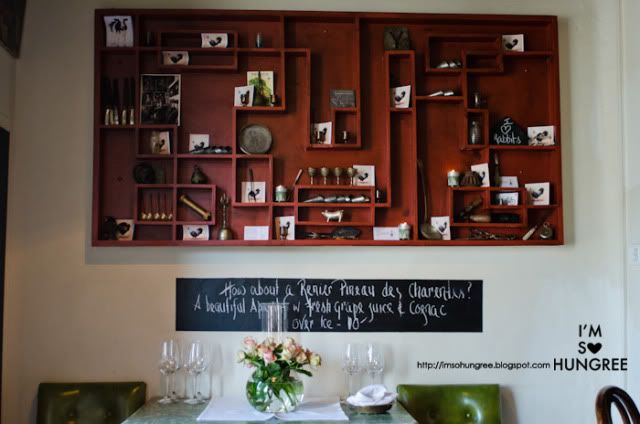 I was smitten with the wooden red labyrinth-esque shelf hanging across the wall from me, filled with all sorts of knick-knacks. I particularly liked the little pig with his curly tail. So cute!
Another thing I also really liked, was that on the two seater tables, rather than having people sit across each other, which is the norm, they were sat next to each other on a 90 degree angle. Once the restaurant filled up, it really made the room look much more intimate and cosy. Small, and odd things that I notice, but to me they make a difference!
Since I arrived a bit earlier than everyone else, I scuttled around and checked out the upstairs dining areas, which are just lovely. I love the 'Rabbit Trap' room, which fits a small group comfortably.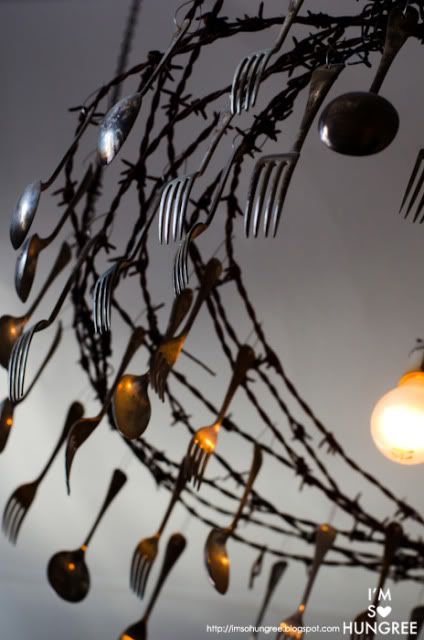 The bar area which is upstairs is also lovely, and I particularly love the seats by the window. So much lovely light!
However, before long, the other people who were sitting on the communal table I was a part of had arrived and I quickly hurried back down (heels and stairs do not go together so well) and prepared for food.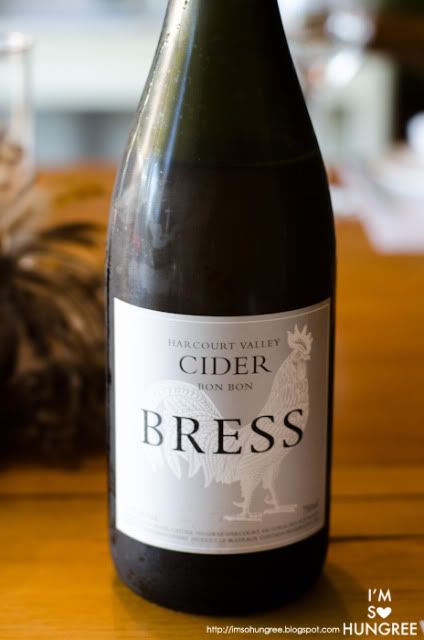 Before we embarked on the 5-course menu, we sampled the Bress Harcout Valley Cider Bon Bon. What a perfect way to start on a warm evening. It was much more full-bodied than many of the other cider's you'll find out there, really rich and wholesome. You could really taste the apples and to me it was quite viscous, making me think of honey or dessert wine. Totally yum.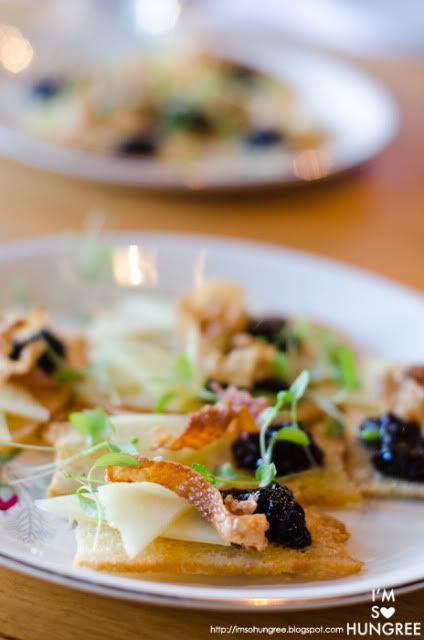 Before long we had our first course of Ossau-iraty (which Wikipedia tells me is a French cheese made from sheep milk), crispy chicken skin and onion jam.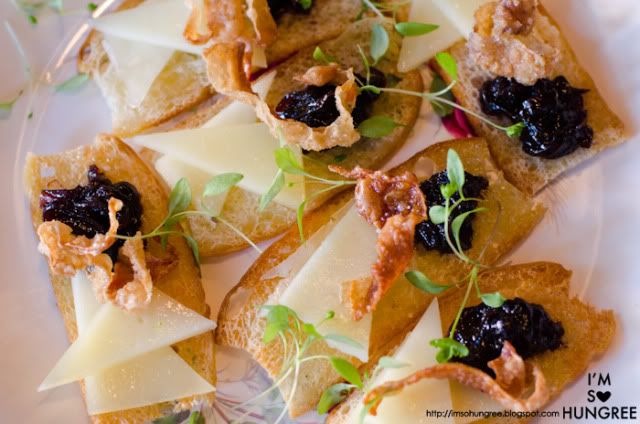 There was indeed a moment where the table was void of conversation, and just the crunch of the crostini and chicken skin was all that reverberated in that space.
The crostini was buttery, the chicken skin sinful, it reminded me a lot of the deep fried pork chicharon from the Philippines, except a little more refined! The Ossau-iraty I found was quite mild and soft, it's gentle and delicate flavour was a good partner for the chicken skin as it did not overpower or compete with the other elements. That onion jam was pretty awesome too. Want it in a jar to bring home…
I just realised I forgot to take pictures of the wines! Oops! But anyway, the next wine we had was the Mon Redon Cotes du Rhone Blanc. It was quite a dry wine, Caryn was not so keen on it as she tends to prefer a slightly sweeter wine.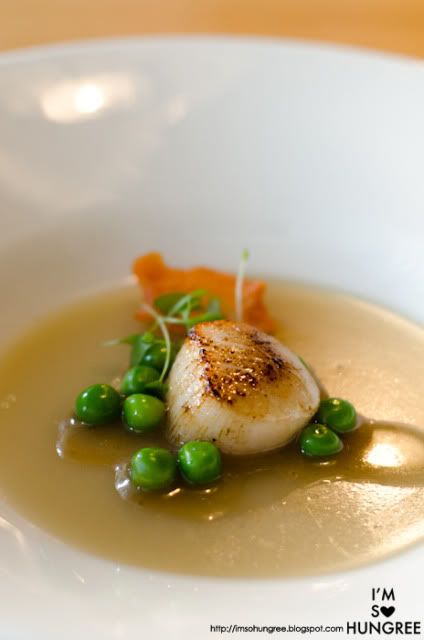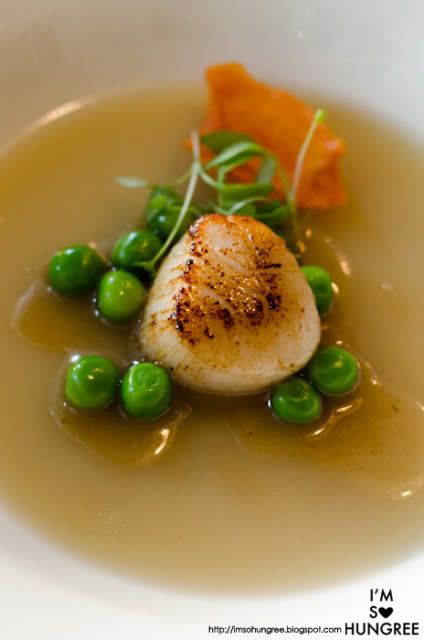 As these plates were served, we all sat there sniffing the air, which was filling with the aroma of the perfectly seared scallop, served on barnyard jelly with fresh peas and a carrot crisp. The scallop was just gorgeously cooked and had a lovely texture.
Caryn and I however, weren't so sure on the 'barnyard jelly'. Although it looked more like a soup or a sauce when it first came out, it really was essentially a stock jelly with chardonnay vinegar. It was served chilled as well. There was a bit of sweetness to it and tasted alright. It was in fact a bit refreshing, but I think the texture threw a lot of us off as it was so different! Quite a bold move and it's always interesting to try something different, but just personally not quite my cup of tea, maybe someone else's?
Caryn's observation of the next wine, the Bress La Gallina White, a blend of viognier, chardonnay, sauvignon and a range of other white varieties, amused me. She lifted the glass to her nose to have a sniff and then quietly conferred with me…"This wine smells like chicken!". Really though, it was the that woody, savoury, chardonnay smell coming through, at least to me, although it tasted a lot sweeter than it smelled. Quite fruity, with peaches being one of the flavours I managed to figure out. Still learning wine, etc. etc.
Our next course, I thought was almost like a spin on the typical charcuterie platter. Just with like, cooked meat. We had a spiced neck sausage with mustard fruits, scotch egg with piccalilly and a pheasant terrine. Absolutely all elements were delicious. Where to start?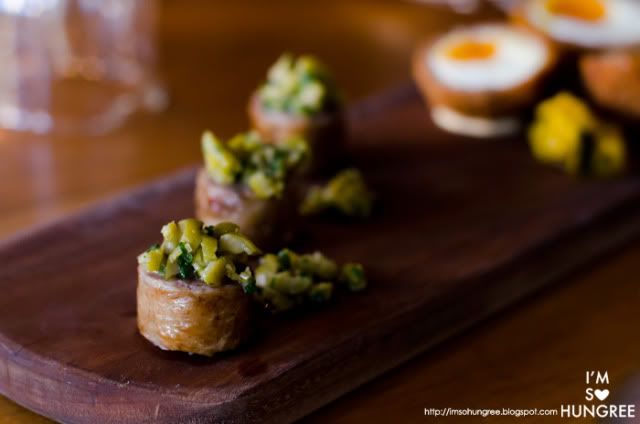 I think my favourite of the three would have been the spiced duck neck sausage, it was delightfully hearty and warming in the mouth, like a really mild curry from the spices. The spices gave a little bit of a tang as well. Could have just had this on it's own for lunch!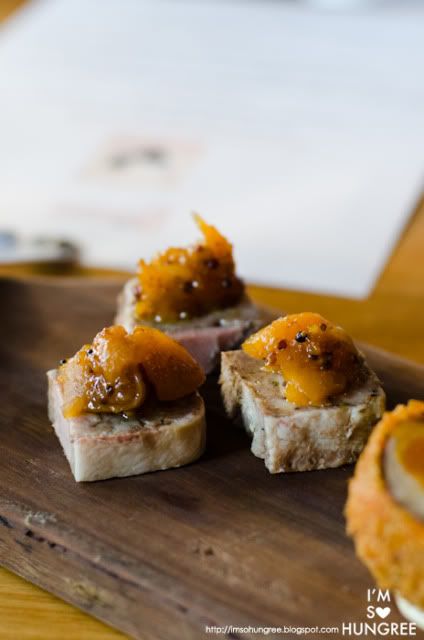 I would really like to say more about the terrine other than it was yummy, but I'm not very well versed in terrine and it's subtle and delicate flavours. It did have a lot more flavour than other terrines I've tried.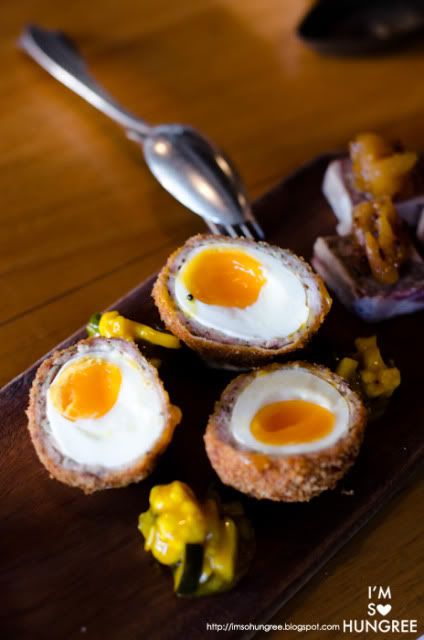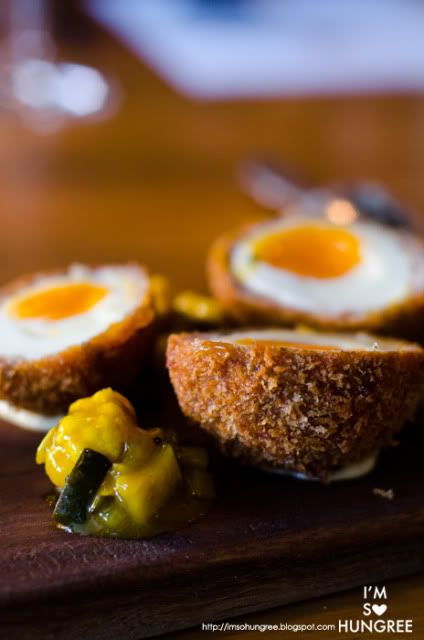 The scotch egg was a favourite around the table. The piccalilly on top reminded Caryn and I a lot of the Malaysian achar, although it was much sweeter and sour at the same time. I really liked that the egg yolk wasn't fully cooked and that you could just mix it in with everything. For being deep fried, it wasn't oily at all either, the crumbing was perfect.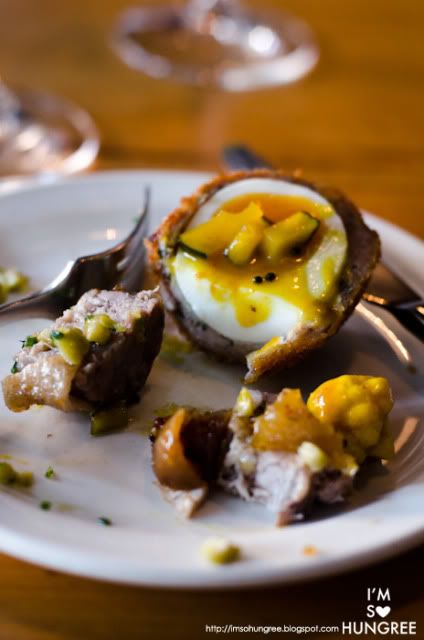 Throughout the night we had absolutely exceptional service from the waitstaff, who knew exactly what they were doing and all about the food and wine. It was great when they came over with the wine and excitedly told us about the different wines, what flavours we could expect, where the wines were from and every other question we had under the sun (or moonlight by this point probably…).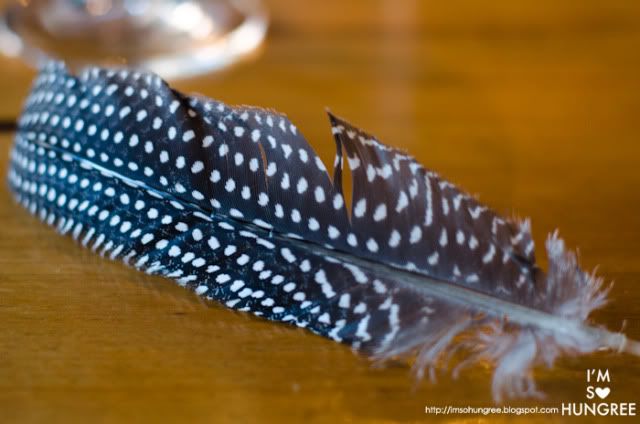 A feather from one of the birds from the Bress property.
Jo Corrigan, the owner of The Commoner, who was present and looking after us, was especially passionate about every aspect of food and drink and it was an absolute pleasure to be able to meet her. Originally from a bush town in New South Wales, she moved to Sydney when she decided she wanted to be a chef and also spent 12 years living in London before coming back to Melbourne. I was impressed at her knowledge and love of local produce and wines, talking at length about Bress, where most of our tipples were from. Happy and passionate people are just so infectious, you just get swept up in their excitement!
The next glass of wine we had was the Bress La Gallina Red, a blend of tempranillo, garnacha and syrah. A gorgeous, easy to drink red. I found the nose quite plummy and this reflected in taste as well, a nice structured red.
Next, we were presented with the brined and wood grilled quail with pickled butternut, quinoa and date puree. Wow, these birds looked beautiful. The whole quail was quite a visual statement, which again, smelt beautiful. Jo brought us out finger bowls and told us to really get into it. As best as we all did to try and stay civil and neat, there's really nothing like pulling the bird apart and digging meat out of every little crevice. And there was heaps of meat on this little bird, so juicy and tender, really perfectly cooked. Plus that little bit of gravy? Like your grandma would make for Christmas.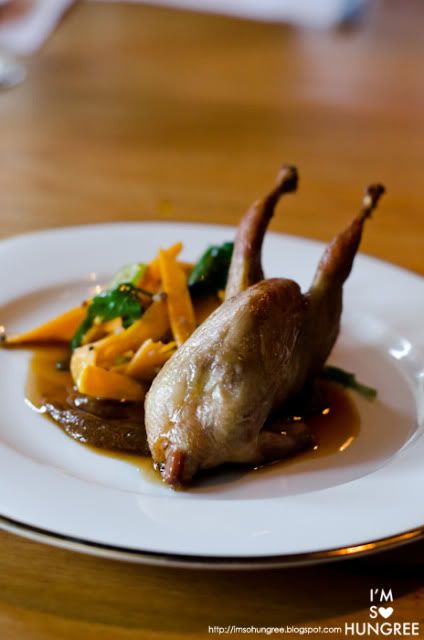 I also loved the pickled butternut, it was really light and refreshing, which was perfect as it balanced out the dish, added some freshness and didn't make it too rich. Easily a favourite for the night, with many voting it as their favourite when we did a post dinner debriefing.
The dessert wine was Pennyweight Gold, from Beechworth. Caryn again, amused us all with her frank and blunt observations, claiming upon first sip that this one tasted like pancakes. And everyone agreed. But it is a lovely thick and sweet dessert wine (naturally), I tasted apricots and enjoyed that although it was sweet, it wasn't too sugary. Although I was sort of hoping for a lingering taste on the palate, I found it was quite short.
We were all hanging out for dessert, which was a sumptuous duck egg brulee with summer rhubarb and sumac shortbread.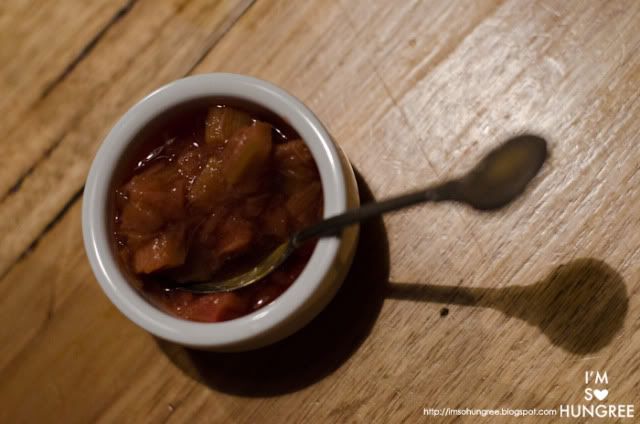 Oh. Just so rich and delicious. I was amazed at how thin the caramel top layer was, absolutely gorgeously done. The rhubarb we added in to the brulee was a lip-puckering tart. It complimented and cut the richness of the brulee well. Was so sad when I finished eating this. Wanted more!
Honestly, after this experience, I can't say enough good things about The Commoner. The food was absolutely delicious and creative without being pretentious, Jo and her staff looked after us very well and it was just an incredibly comfortable space to be in. Caryn and I had a peek at the ala carte menu and instantly starting drooling. With offers such as parmesan and truffle croquette's and a rare beef rump with BONE MARROW MOUSSE, how were we not supposed to get excited? Definitely will be back to try that out.
Poultrygeist is usually $80 for 5 courses and $110 all up for the food and wine. With prices like these I'd totally be back in the upcoming months to try some of their other degustation dinners. Later in the year check look out for 'Whisky Business' or 'Planet of the Canapes'. My mum's already fired up for the April installment of 'Claws', where we should be chomping down on crustaceans with crunch. Duh-dun. Duh-dun. Duh-dun….
Disclaimer: If you missed it the first time, I dined complimentary of Wasamedia.
122 Johnston St Fitzroy,
VIC 3065

View I'm So Hungree in a larger map