I totally under-appreciated hawker centres when I was younger. Man I was missing out on so much.
I'm 'technically' a Chinese-Malaysian, and so, whilst growing up, since I lived in Hong Kong and then Melbourne (I know, I'm a confusing one), I spent a lot of time travelling to Malaysia and Singapore to see relatives. And it would be on these visits that we would be dragged to the good ol' local hawker centre.
No air-con. Noisy. I was brought up as an expat kid in Hong Kong. I was a little bit spoilt. Just a weeee bit.
These days though, I'm glad I've grown to appreciate and love being at hawker centres. The heat, the noise, it all adds to the atmosphere and authenticity. Although, it can be daunting to go to one on your own, and without any prior knowledge of who serves the best what and when their stores are open…all that great local knowledge.
Which is why it's wonderful to have friends who know the place and why I was so keen to catch up with Bryan in Singapore when I found out our trips would just overlap!
He gave me a couple of options of things to eat…some interesting ones including fish head steamboat….but I could not turn my eyes away from claypot rice. Although it is something my mum does make fairly frequently at home, I had just had a boozy weekend in Bali and completely and utterly needed the comfort of something warm and comforting nourishing my belly.
And shit man. Rice. Rice is so good.
So on Monday night, Bryan and his parents, patiently waited for me as I got lost in the MTR system, and picked me up from Braddell station and whisked me off to eat.
Bryan's parents are some of the loveliest people I've met, and it's easy to see where Bryan gets his kind personality as well.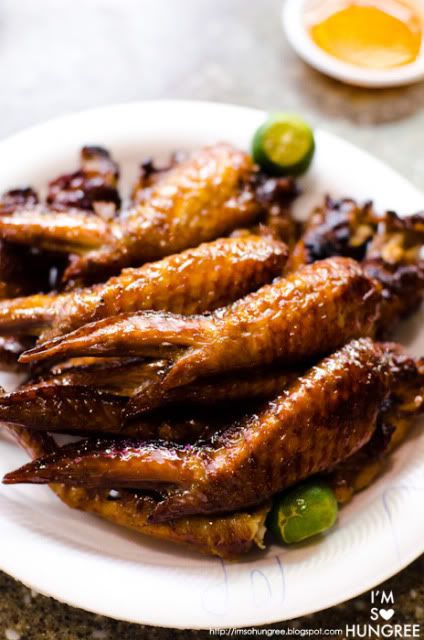 Once we had found a table, his parents were quick on the food. I swear, I had just seated myself when bam! Chicken wings! Succulent, juicy-looking, shiny, shiny, shiny, chicken wings. Bryan's parents were quite particular with which store they bought these from, and I tell you what, I'm not going to question them, as they were quite excellent!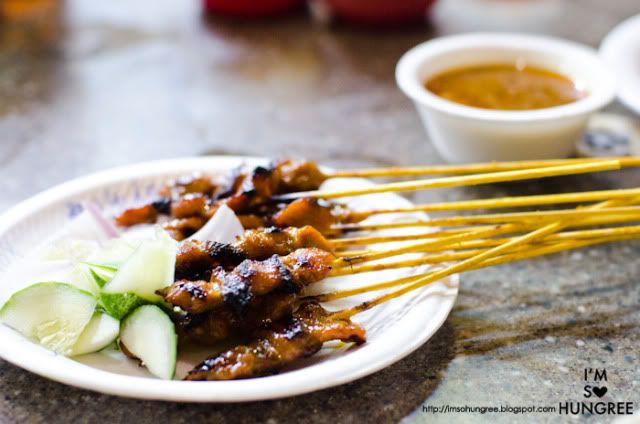 When the satays came out, I smiled at the scrawled price on the edge of the bowl. It brought me back to the days I spent in Germany in the pubs. The men who served you beer and bratwurst, would bring out your goodies and then scrawl on your beer coaster how much you owed them. Keep it simple right?
And onto the main event we went. Not one, but two rice claypots! Apparently if you order the bigger sized claypot you got less rice. So to compensate, and get a better rice ratio, Bryan's parents got two smaller ones. Which was still loads of rice. Heaped with choy sum, chicken, lap cheong (chinese sausage, my favourite), sitting there looking pretty and steaming away, I could feel my mouth salivating.
But I would have to wait, as Bryan's mother prepared the rice in her own way.
After picking off all the toppings and putting them aside momentarily, the rice was gently fluffed with a chopstick, before being drizzled with oil….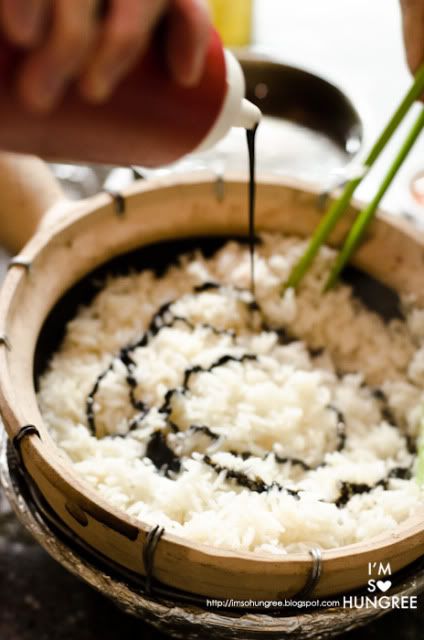 …and black sauce. Not that I know exactly what it is, but it's black. And delicious.
Then it's all very well mixed so that the sauce coats the rice…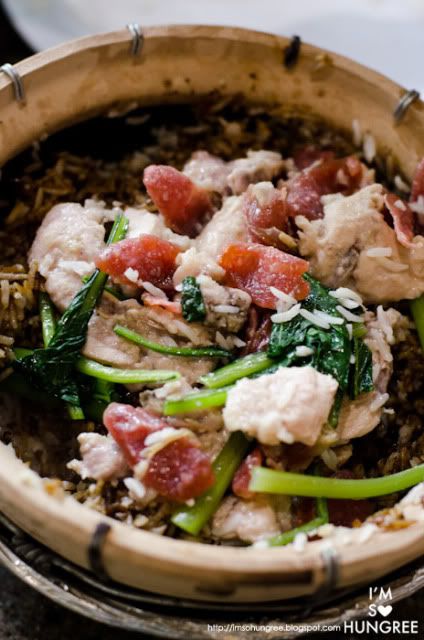 …before the toppings are all put back in together.
I know I sighed happily as I had my first bite. The rice was perfect, not too soft and mushy, and with the sauce, it was just…I hate to keep using the word, but comforting. It was a carb overload and I was diggin' it. Totally.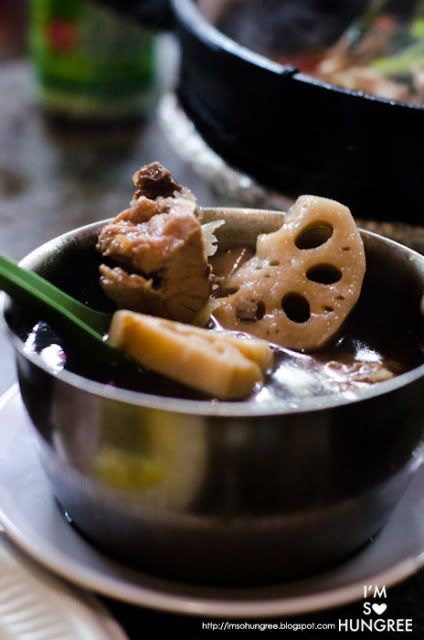 We also had some soups on the side, a lotus root soup and a wintermelon soup. Both of which were a nice compliment and took the edge of the oil and meat in the rice.
I'm not sure how, but we did polish off all the meat starters and our two bowls of claypot rice. It always surprises me how in hot countries, we always tend to eat hot or spicy foods, but it's always just right somehow. And especially at hawker centres, the flavours are earnest and not too complicated.
I'm definitely glad I got time to meet up with Bryan and his parents and dig into something un-fancy but great. The joys of the internet connecting us all eh?
Blk 75 Toa Payoh Lorong 5
Lorong 5 Toa Payoh Food Centre
#01-330M, Singapore 310075