So this meal was on Valentine's day…which just shows how behind I am in getting posts up, but let's just pretend we're still in February…anyone else thinking this year is running away too quickly?!
Anyway. Brad and I initially had absolutely no plans for Valentine's day. Instead, he was supposed to have indoor soccer and I was just going to…lounge around at home. Valentine's day doesn't really have any significant meaning to us, and it's not like we never eat out, so we don't need to make it an excuse to do something special. That's just our (or maybe my) personal take on it.
But then my friend G (who I literally call G, because he's so fly), from Hong Kong, caught me on Facebook and said he was in town for the week.
Tuesday was my only day free. And I told him we should get dinner that night.
G was like, are you sure Ash…?
Oh right. Valentine's day. Screw it, let's head out anyway.
Turns out, Brad's indoor soccer match fell through and G had always wanted to meet Brad…so dinner for three it was…on Valentine's day.
We had been hoping to get into Longrain, as I was told there were about 30 seats that were left for walk-in's when I had called the night before, but at 6:30…? All taken. What?!
Many other restaurants sold the same story, sure, it was expected, but it was still annoying. I was hungry. And decided it was very important to keep reminding Brad of the fact.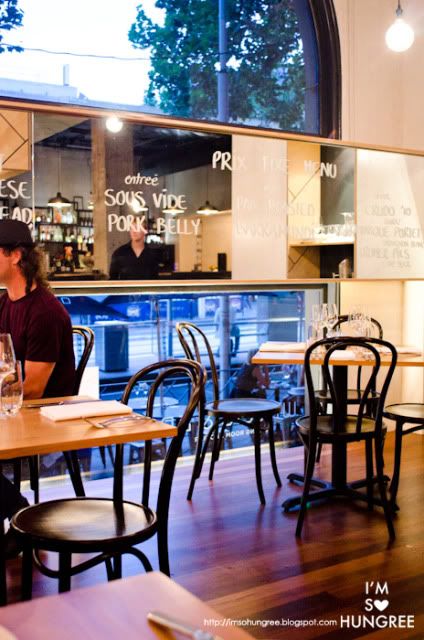 So we wandered around and wandered around the city for a while, until Wallis & Ed caught my eye. Since they could very comfortably fit us and the menu looked surprisingly reasonable, we happily plonked ourselves down and promptly ordered a bottle of wine from the very well informed and friendly wine guy.
Although it did look like they had one of the most extensive gin selections, which I am very keen to come back and sniff around a little more at…
The space is surprisingly contemporary and spacious, especially next to it's big brother, the Windsor hotel. We had arrived in the evening, so we were obviously getting the fading light, but I could imagine during the day, it would be just be a lovely space filled with light.
Whilst we had the option of getting the Valentine's day menu, we opted to go ala carte.
On a warm night, such as it was, it was impossible for me to go past the heirloom tomato and buffalo mozzarella salad. Loved the variety of tomatoes and how refreshing it was. Would have quietly liked some basil, but that's just my love of caprese coming out…
I had been eying their cheese of the day, scrawled out on a blackboard, situated almost perfectly in front of me and could not say no to trying it. I forgot to get down exactly what cheese it was, but it was a mild, creamy blue, beautiful with the finely sliced apples. I honestly prefer my blue cheese with more…grunt and bite in it, but this was just luscious in texture.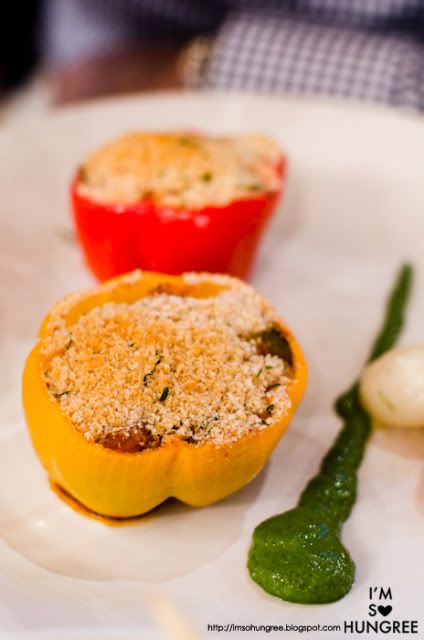 G being a vegetarian, went for the ratatouille in baked baby pepper, with salsa verde and meuniere vegetables. So strange to me when people call capsicum's 'pepper's'. It's a capsicum! But they did make very cute little vessels and G really enjoyed his dish.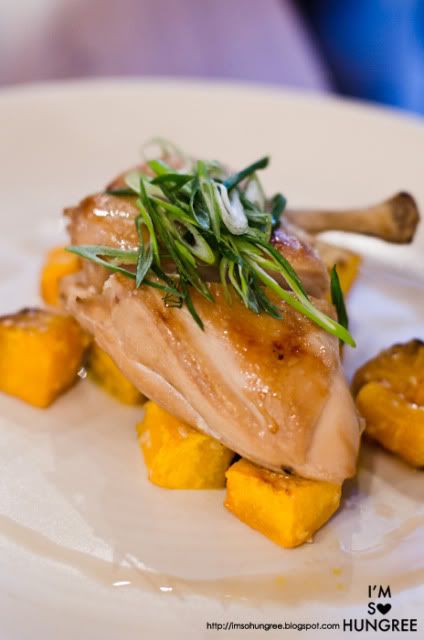 Brad got the drunken chicken with honey roasted pumpkin. I found the plating a bit…minimalist here, almost modernist in a way, showing the ingredients for exactly what they are. I had a nibble and don't really remember if the chicken tasted very 'drunk', but it was well cooked.
I went for the cumin spiced lamb rack with chorizo and kipfler potatoes. Frankly, my dish was the prettiest. Not being biased or anything. Totally.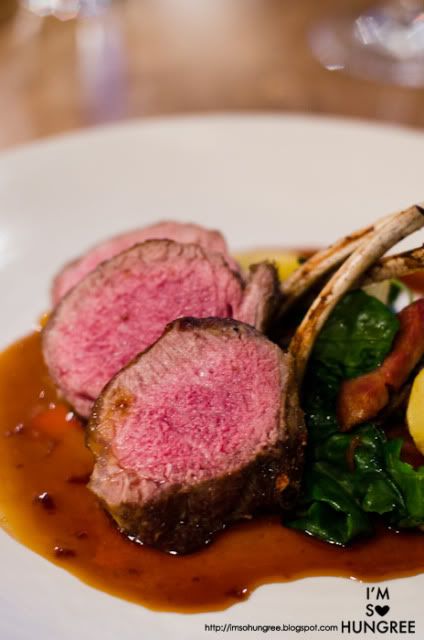 But my lamb was perfectly cooked, just look at that colour! I really enjoyed the addition of chorizo on the side, not that I needed more protein, but that added a nice little extra punch of flavour.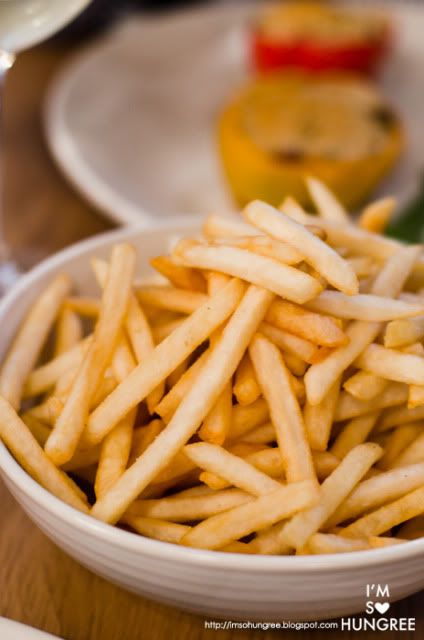 And fries. Dude. Fries. Shoestring fries with rosemary salt. You know I'm having my potato craving when I order these in a restaurant. We demolished these. Totally. In this generous bowl, there was not a soggy chip in sight, all lying quite neatly, straight as matchsticks, which is exactly how I like them.
I've never gotten people who like soggy fries…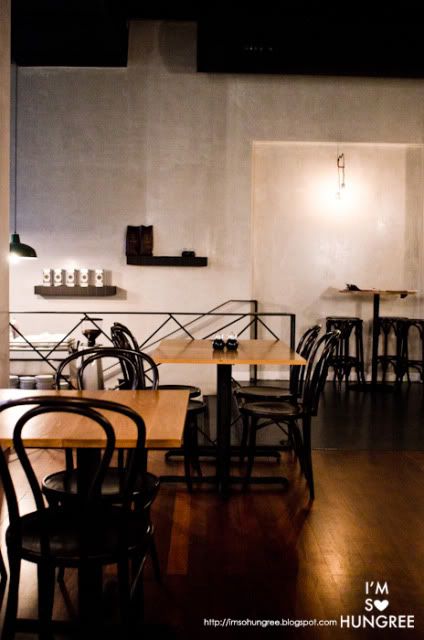 I was quite tempted to order dessert, but I think we had gotten a bit over ambitious with ordering that bowl of fries on the side…and instead, we finished our 'romantic' night for three at Madame Brussels with a jug of something deliciously alcoholic while looking out over the city.
1 Bourke Street
Melbourne, 3000

View I'm So Hungree in a larger map