They say three times a charm.
And so seems to be the case with the Breakfast Thieves for Brad and I, a cool little cafe in the backstreets of Fitzroy.
We had tried, twice before, to enter the hideout and take our share in the goodies to be had, but both times, we were denied entry as too many other thieves had gotten in before us.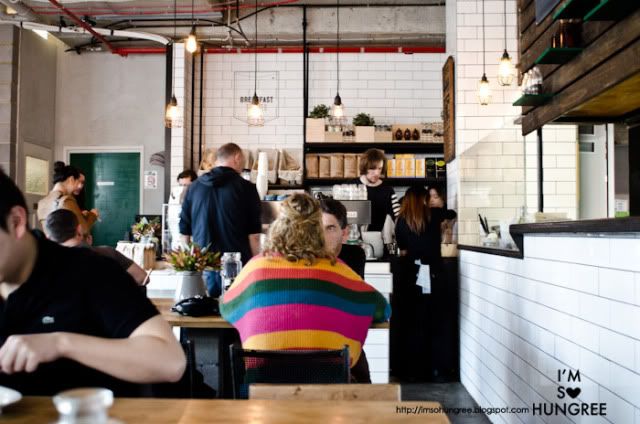 We decided to give it one more shot and on the third try, we were finally granted a seat at the communal table.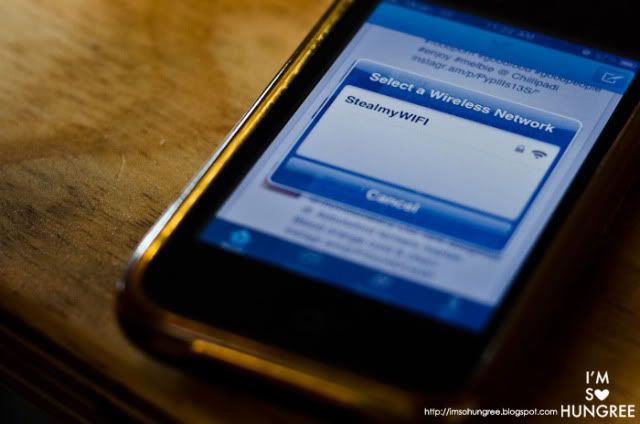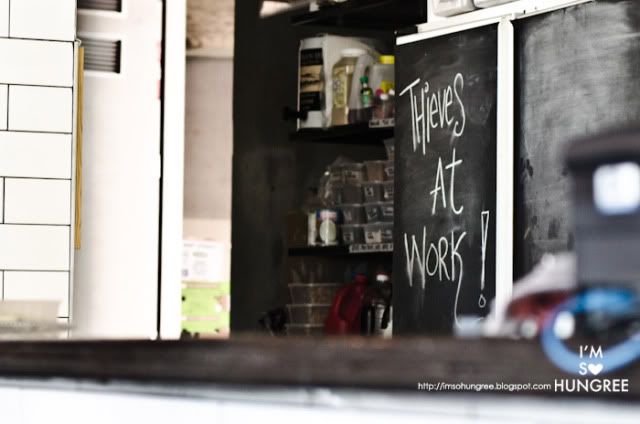 The den of the Breakfast Thieves looked fittingly, almost like they just found an empty space, dragged in a couple of chairs and tables for the goods to be served on and well…who needs to refurbish the ceiling?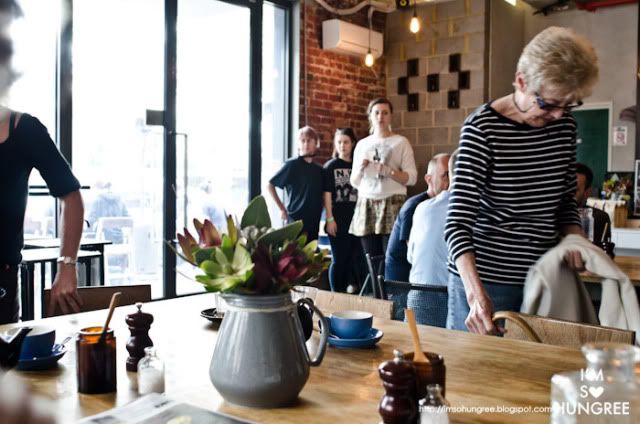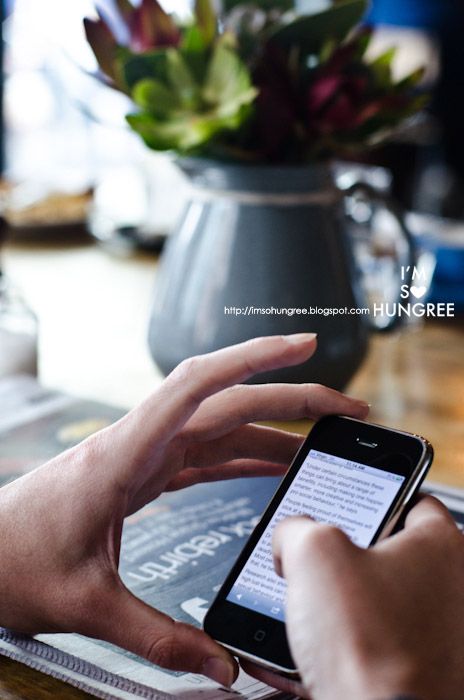 The small space was simple and unfussy, although adorned with little tidbits of luxury, nothing enriches a space like fresh flowers right? It felt like a gathering space, buzzing with hungry thieves of all sort.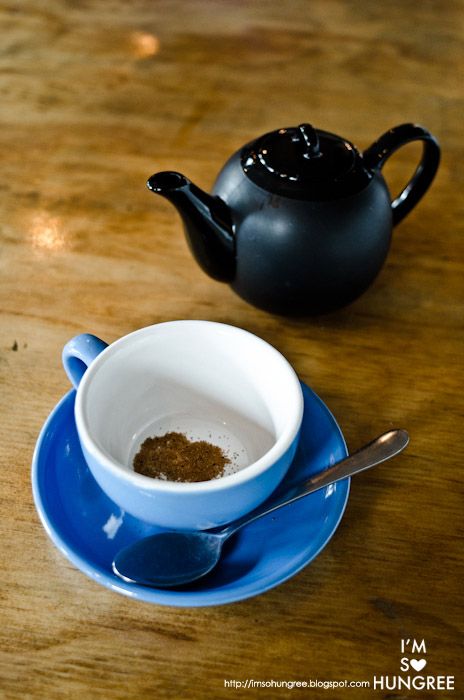 Latte for Brad, chai for me.
The soy chai (yellow boxes neatly lined up behind the coffee machine tells me it was with bonsoy, yay!) perked up my senses, with spices that nipped at the tongue and a smooth sweetness to help it go down the back.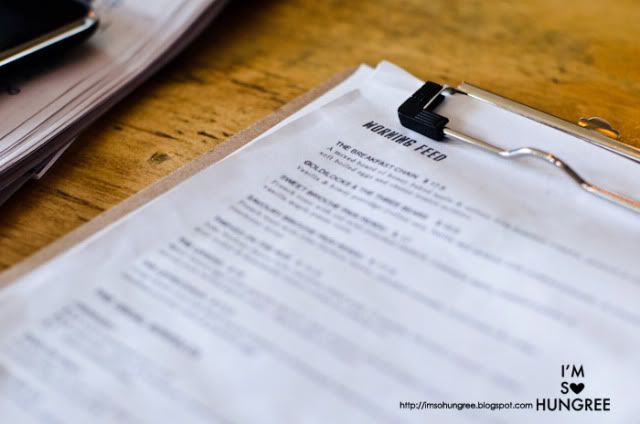 The menu is littered with quirky and appropriately themed names, with Thieves on the Run, the Pick Pocket or even Goldilocks and the Three Bears, potential criminals to put on the plate!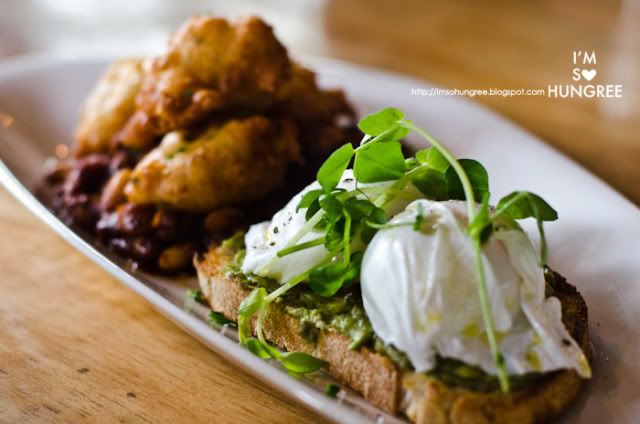 Brad snatched himself a Leprechaun, with crisp sweet corn and basil spiced fritters with homemade baked beans, a side of smashed avocado and poached eggs on toast in his cauldron at the end of the rainbow. Pure gold!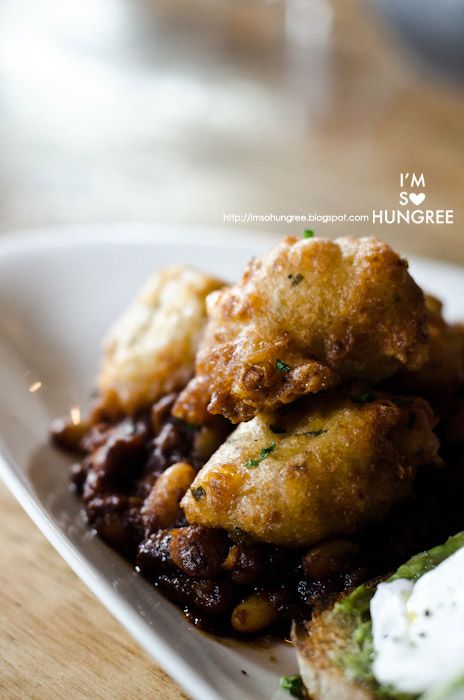 Why did I not order these? It's like, all my favourite things on a plate. I love these sort of corn fritters, all deep fried goodness, crunchy yet fluffy, and not too doughy. And then eggs. And smashed avocado. Swoon! Brad did comment though that he found the corn fritters and beans a little bit on the sweet side for him, which is surprising considering it's such a savoury looking and sounding dish.
I decided to deter from my usual pickings, and went for the Breakfast Chain, a mixed board of honey baked apple and sultana's with hazelnut crumble, honey vanilla yoghurt topped with homemade granola, a soft boiled egg and cheese toasties.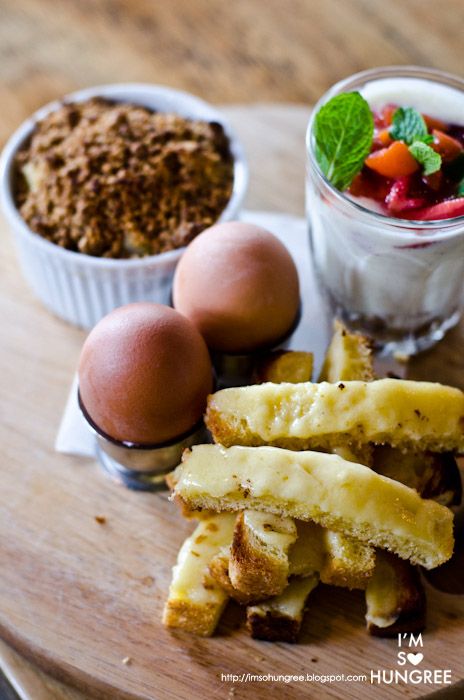 My nose kicked in first, as a waft of melted cheese on top of buttery brioche scurried up my nostrils and into my brain. There's just something so sensuous about that isn't there? I loved the presentation on the wooden board, very rustic, almost medieval about it. Kind of makes me think of the thieves guild on Skyrim…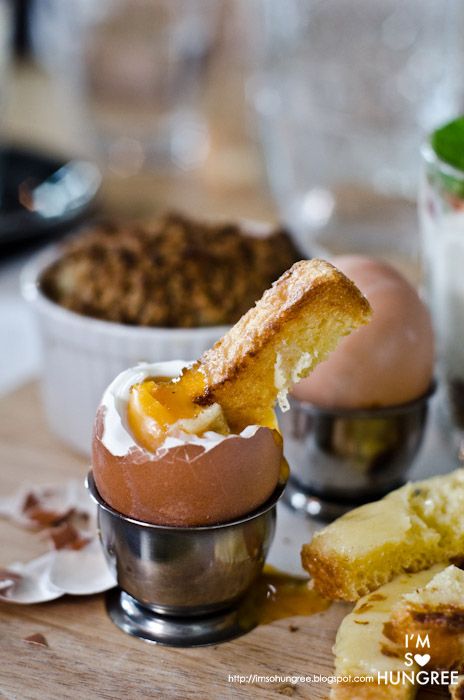 I adored those cheese toasties. Warm and cheesy and melty and stretchy. They made for a fairly rich breakfast, but they were heaven. Especially when dipped into the soft boiled egg yolk. Honestly I might not have minded my yolk to be a little softer, just so I could really whizz the cheese toastie around in there, but it did it's job perfectly well.
By the time I got over the amazing eggs and toasties, I kind of realised I still had a lot of breakfast left. I essentially had 3 mini sized breakfasts on one plate!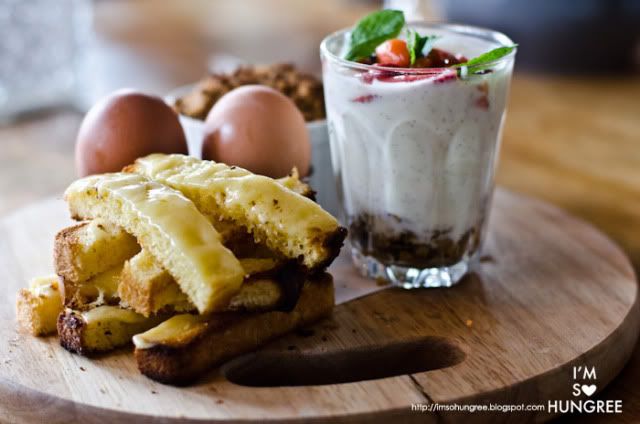 The crumble was lovely in flavour, but a bit dry, I personally prefer the fruit to be a bit softer rather than crunchy. The yoghurt and granola though, were absolutely perfect, with just a sprinkling of berry sweetness on the top as well. I always love vanilla yoghurts where you can actually see the vanilla speckled through it, you pretty much know the flavour will be fairly intense!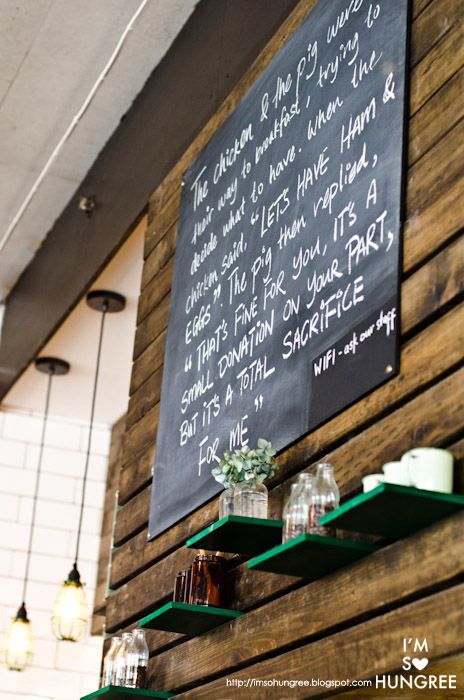 The thieves are generous with their portions, Brad and I rolled out with bellies filled with goodies, I'm pretty sure I was full until dinner time that day…if you do plan to visit, I would suggest going in on a pretty empty stomach!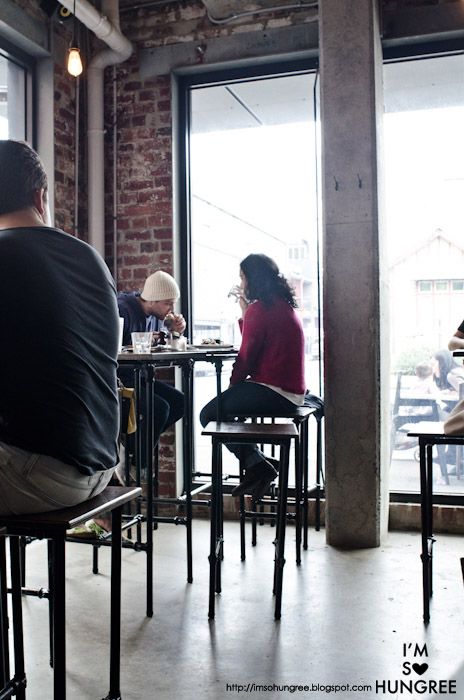 I loved Breakfast Thieves. I can't actually think of anywhere where I have tried 3 times to get a seat, but there's always a first and just as well it was with Breakfast Thieves. I honestly think it's one of the best breakfast's in the Fitzroy area, in both value and flavour, the thieves know how to drive a hard bargain…
Shop 1, 420 Gore Street
Fitzroy 3065