I love how Melbourne suburbs really tend to have their own personalities. I remember having a conversation with a friend and she was saying how her boyfriend didn't really like Prahran because it was…too clean and not grungy and gritty enough like Fitzroy or Brunswick.
The B.East is so Brunswick.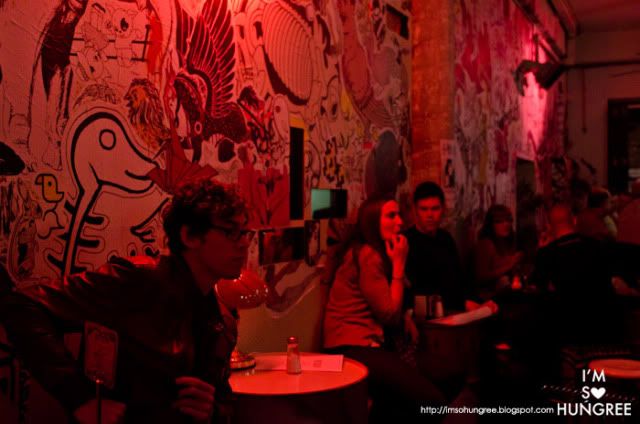 Bar, live music venue, burger joint. All mashed into one big explosion of black paint, no lights (other than some red neon lip light, hence weird lighting in all these shots), the most random imagery plastered on every square inch of wall, mismatched lamps that could have come from your grandma's lounge room, stools made of milk crates with blankets tossed over them and steel barrel tables.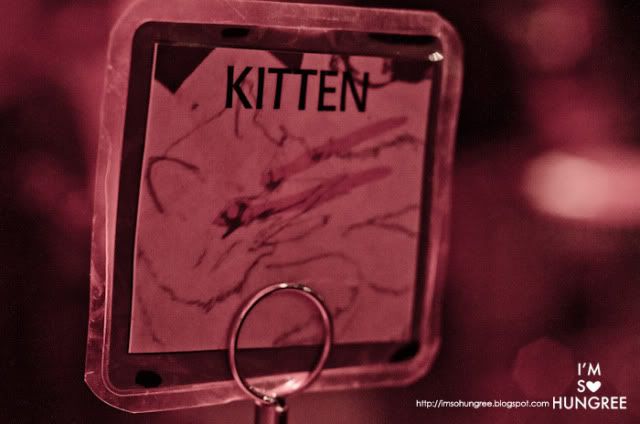 Fuck. This is Brunswick. This is hipsterville. There's freaking kittens with lasers on our table number/identifier.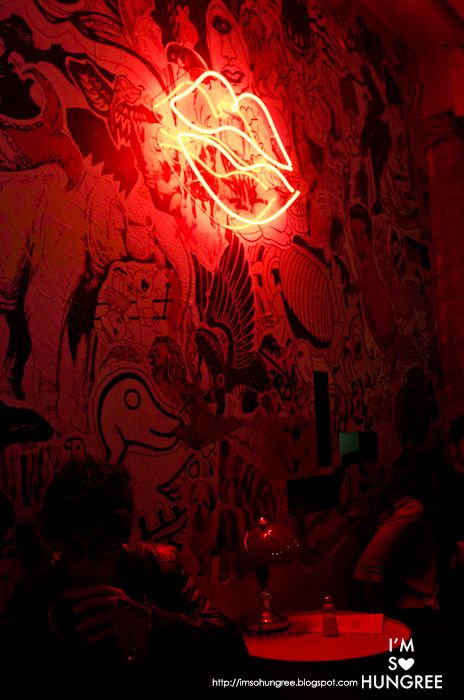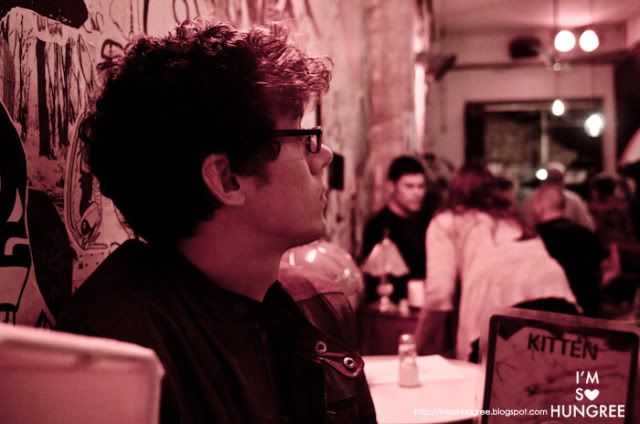 The place was busy, we didn't know upon entering if we needed to find a table or where the ordering happened, but once we got our orientation we figured it out. We parked our butts next to a barrel table, and looked through the menus before going up to order at the counter.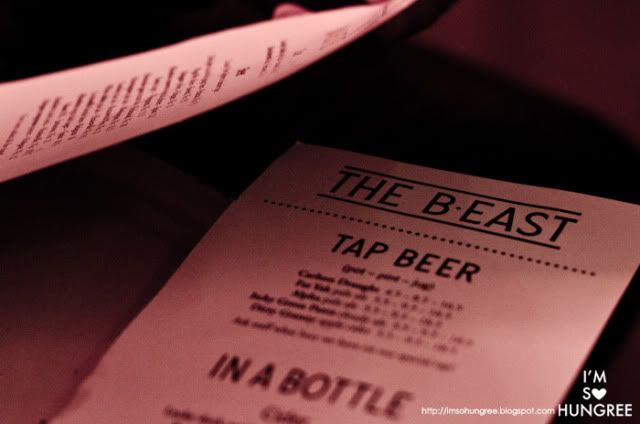 The Bacon Martini on the cocktail menu beckoned me, then taunted my lack of testosterone, as I did not have the balls to down bacon infused vodka, garnished with pork crackling, at least on an empty stomach. Oh and sober. I'll get you next time…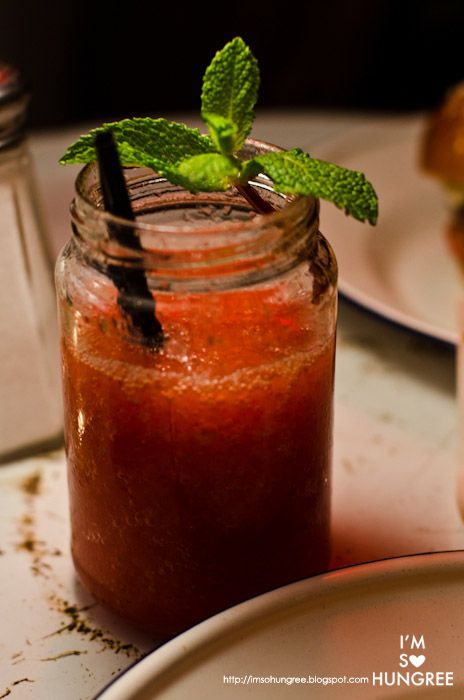 Instead I went with something a bit girlier and got the jam jar mojito, in a jam jar, obviously for that hipster cred, blended with sweet berry goodness. Bit on the sweet side, but quite enjoyable. I also discovered that the lamp on our barrel table worked, hence, light! Yay! Then Brad complained of blindness. Boo.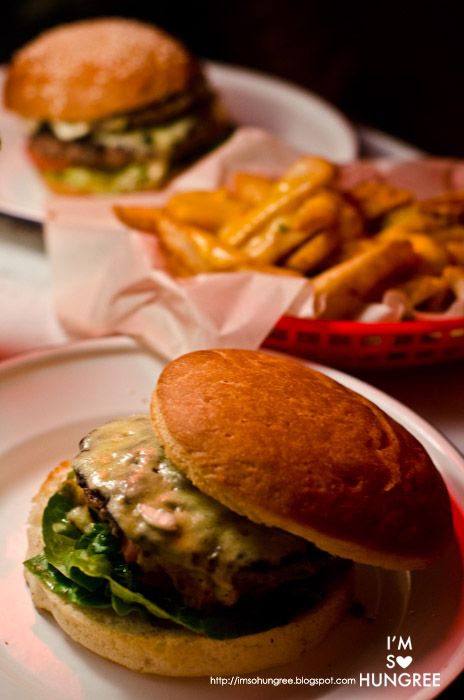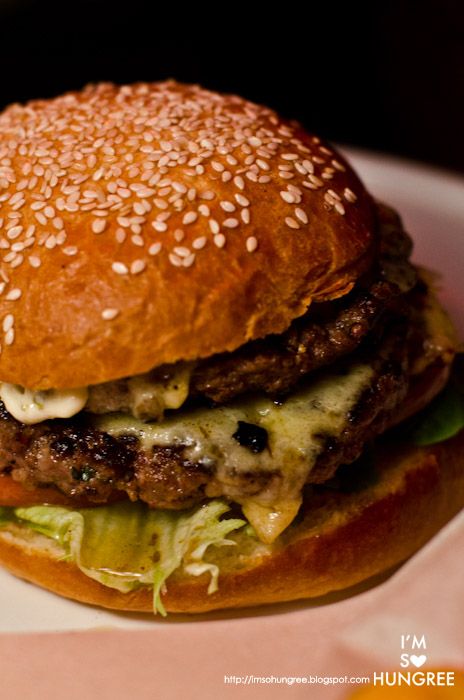 Brad got the Sexy B.East, double beef, double cheddar, pickled red onion, lettuce, tomato and jalapeno mayo. I don't think I tried it, but Brad did like his burger and I mean, look at that gooey melted cheese. Double of it. What's not to like?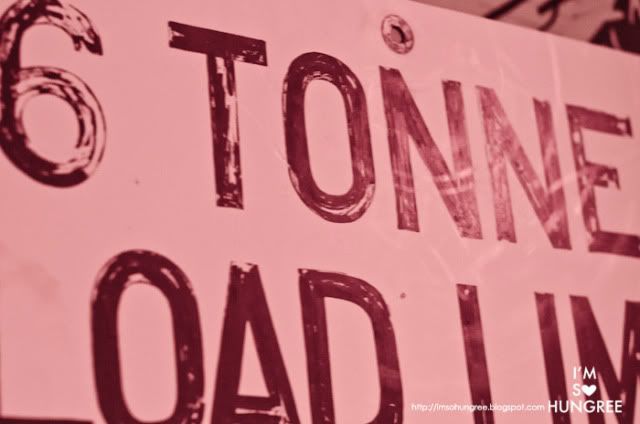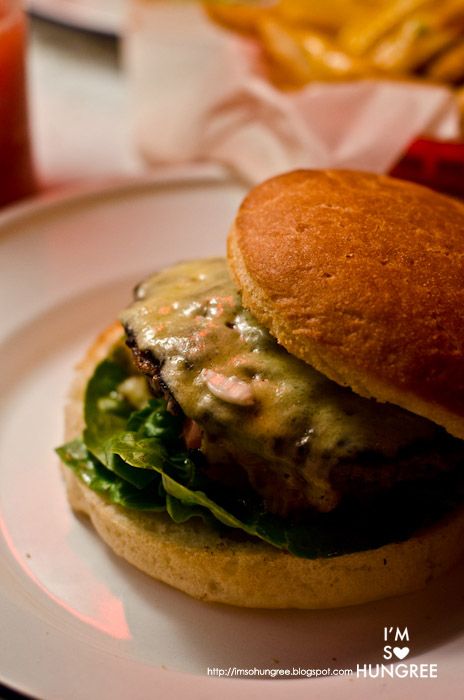 I got the Classic, with B.East beef, vintage cheddar, pickled red onion, cos, tomato and tomato relish on a gluten free bun.
Now, this looked pretty good. It always pleases me to see cheese that is shiny and slick with oil from being well melted on top of a burger. The burger patty and cheese itself were great, but the gluten free bun was a bit of a let down. It was pretty crumbly, breaking in half within the first bite or two. I mean, I know that tends to be a characteristic of gluten free bread, but I've had gluten free buns which have held together much better.
My second issue with my burger, was the patty to bread ratio. My bun was giant compared to the patty and by the time I did finish the patty, I had almost half my bun left. Just seemed a bit much to me. I don't think I would mind if the bun was smaller to fit the patty, as it would feel more in proportion and more enjoyable to eat. Since there was so much bread in general the burger experience was a bit dry.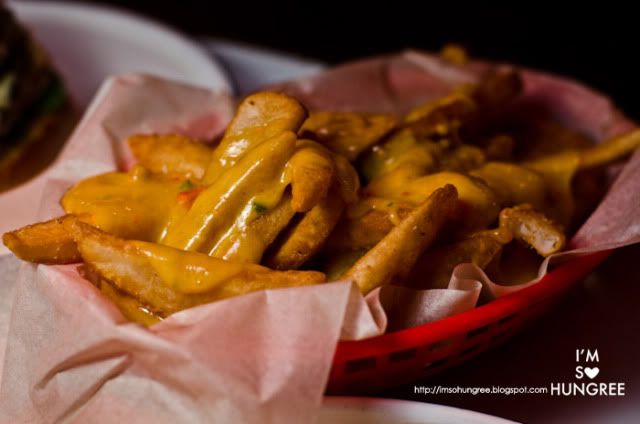 However, not all was lost thanks to chilli cheese fries. Applause. Melted gooey, stretchy cheese on thick cut, crispy and fluffy chips. Could have used a little more chilli, but overall, I was pleased. I was quite pleased.
So B.East? A little hit and miss for me. I didn't love my burger, but Brad liked his. To be fair I am judging the gluten free bun, but as we do have a lot of great gluten free burger options in Melbourne, I think that if you're going to provide a gluten free option, it may as well be good. B.East is also not my typical scene, it's quite noisy, it's dark. But then, maybe Prahran is more my suburb and Brunswick may be more yours...