2 years ago I was taken to a most gorgeous French restaurant, run by one the smiliest and hospitable French men I have ever met, with a very well cultured silvery moustache, in Ho Chi Minh city. I distinctly remember telling my friend who shared this little treasure of a restaurant with me, that I wished I could take Brad here.
Well, 2 years later, I did exactly that.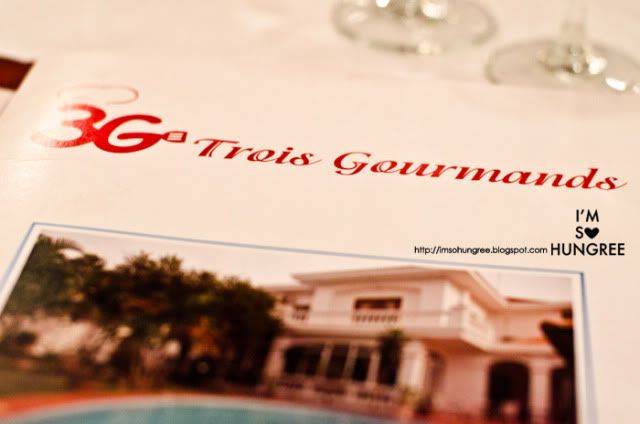 Although Le Toit Gourmand had moved from District 1, into an elegant and spacious, traditional colonial house in District 2, and been renamed to 'Trois Gourmand'.
Getting to Trois Gourmand is a bit of a trip, and I was quite glad I had had the foresight to take screenshots of the maps and directions the website provided (which I highly recommend you do too if you ever visit), to help our taxi navigate to the restaurant.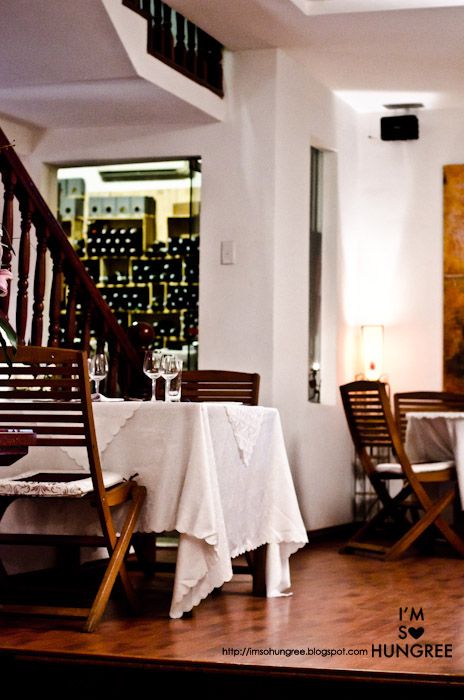 Nestled in a quiet residential area, you step through the gates into a tranquil oasis, with a lush garden, pool and soft lights. It's all quite romantic.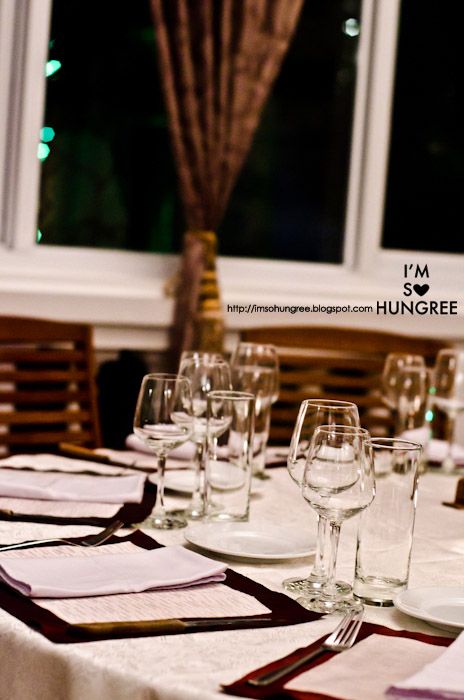 The interior is white table cloths paired with deck style chairs, relaxed fine dining. I love how bright and airy the place it is, the warm timbers creating a very soothing atmosphere. It makes for a perfect date night spot, as they generously space out the tables, ensuring you have plenty of your own space.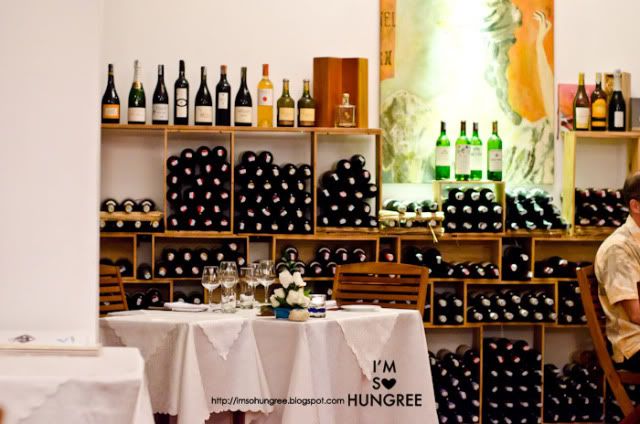 The owner of Trois Gourmand, is still the charming French man I mentioned earlier, Gil. Portly, smiley and with that very distinguished silvery moustache, he welcomes you into the space like it is his house. He offers you wine and his love of wine is evident (he has a sommelier background), his collection is on display to be marvelled. He even imports his own selection of French wine to cultivate the ultimate wine cellar in Ho Chi MInh!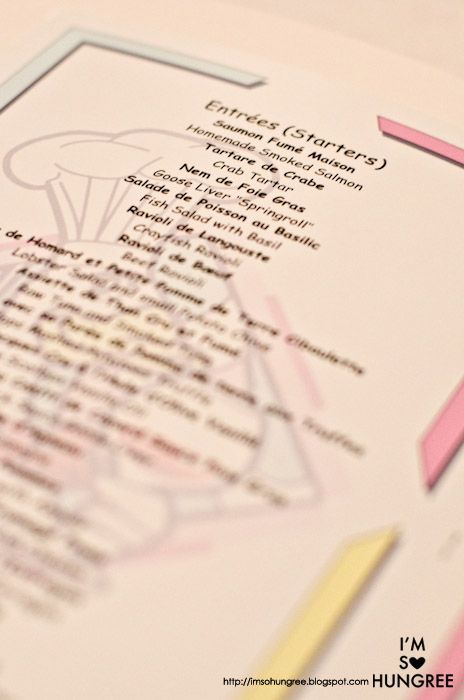 The menu is filled with French classics, dotted with a couple of Asian twists and no qualms about flourishing a truffle or two. You pick and choose your menu, with an extensive list of entrees and mains, you can pick one or two of each, depending on how hungry you are and what your budget is.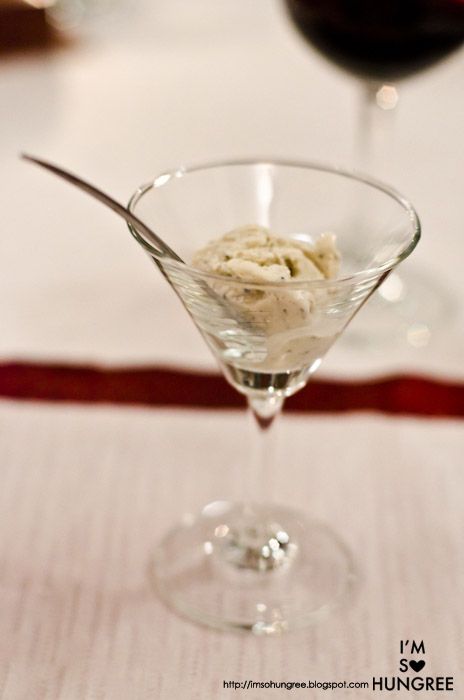 And then you are given truffle ice-cream to start. Yes. It is the best kind of palate cleanser/starter/refresher, whatever you want to call it, that you could ever have. In a tiny martini glass, it is richly infused with truffles, that is easy to smell, and is just so arresting in it's unusual combination of cold, icy and…truffly.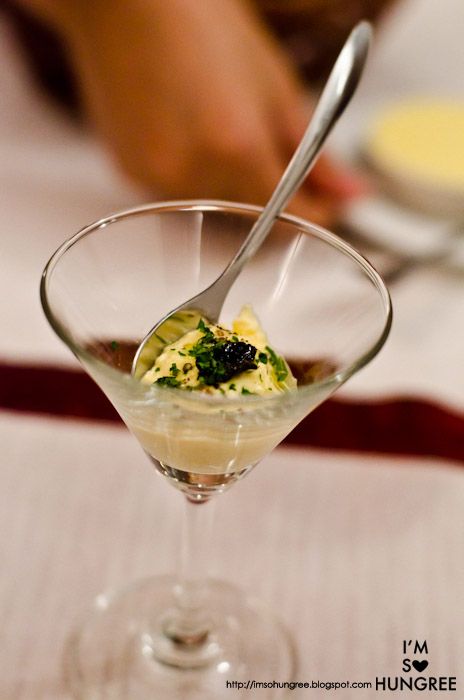 Following that, another little amuse bouche of scrambled eggs with truffles. Yup. Two rounds of truffle already. It's creamy, with silky folds, it's just one, or maybe two mouthfuls, but however many the mouthfuls, it is glorious.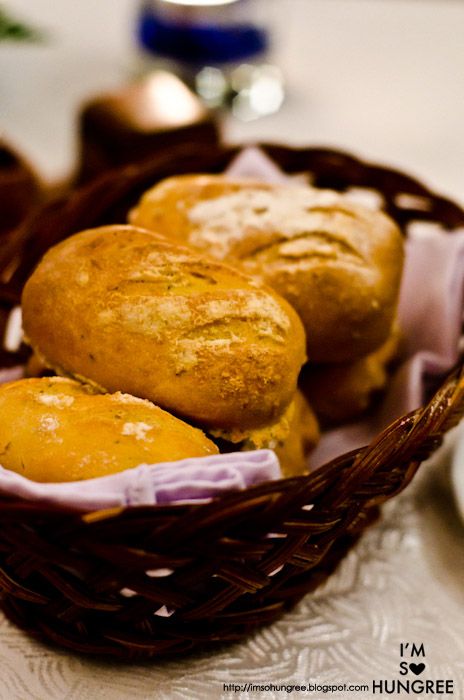 I don't think I'll ever tire of swooning over bread from Vietnam. Seriously, I just love the crunchy crusts and the fluffy light bread inside them. I could easily just buy some from the bakers and munch on it, without any condiments!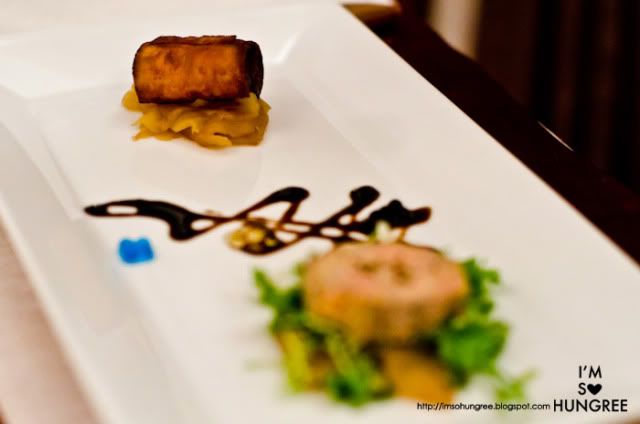 At my insistence that one of us get it, Brad started with the foie gras spring roll which was just as amazing as I remember it being last time. Searingly hot, the outer casing just crisped away to reveal the smooth and ever so rich foie gras within. A most unusual way to have this 'noble' ingredient, but it just worked so well.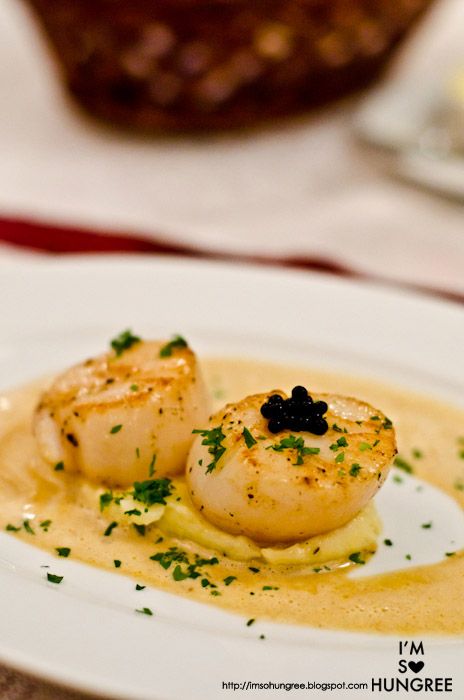 I had some buttery scallops (with a little potato puree I think) which were just a lovely way to start the meal for me.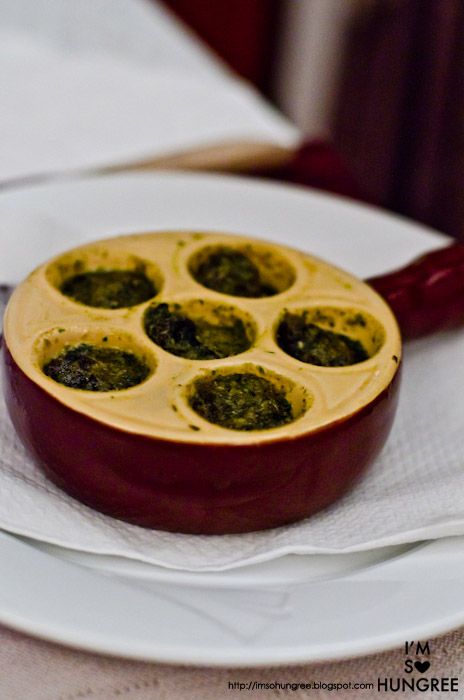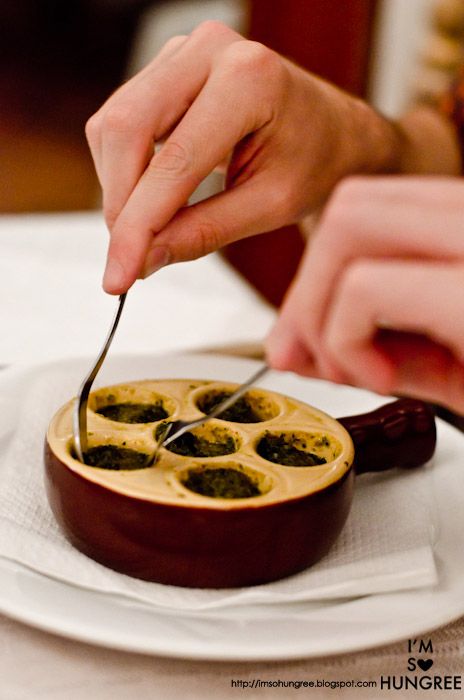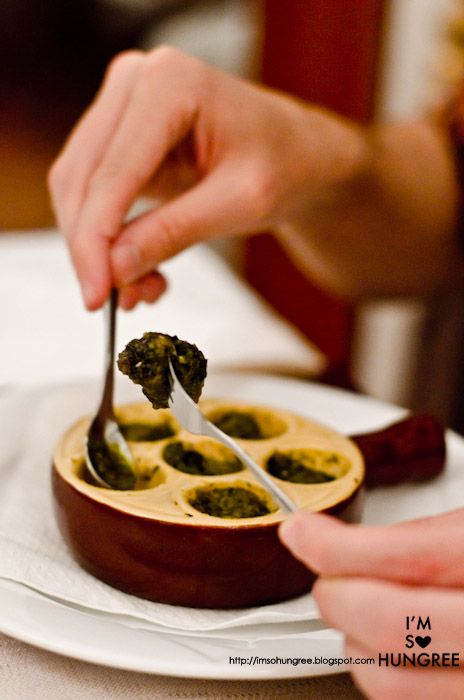 Being in a French restaurant, Brad decided it would be hard to go against a classic and for his second entree, ordered some escargot. Dripping in butter and slathered with garlic and herbs, the smells intoxicated the nose and each escargot was a slightly chewy, garlicky little morsel. Mmhmm.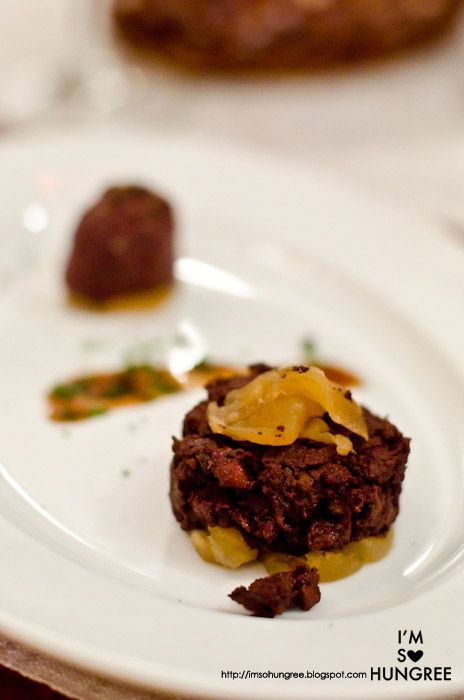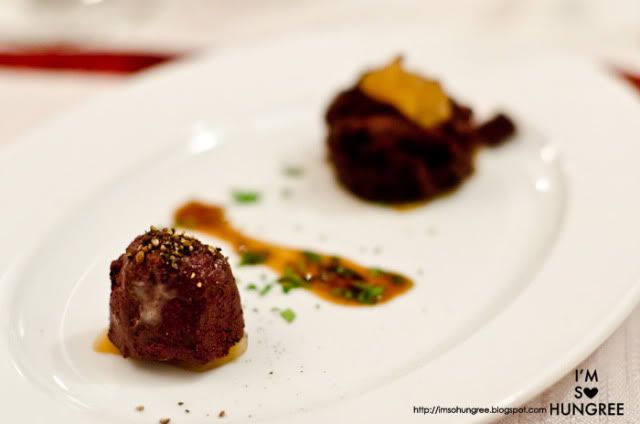 I couldn't help repeating what I had last time, and ordered the black pudding with apple. Black pudding is served two ways here, a giant thimble of black pudding served cold and a short, fat cylinder of hot black pudding, on a little be of apples. They both take on quite different characters, the hot black pudding really heavy and rich in the mouth, and the general meaty flavour I found was much stronger. The cold serving was still very enjoyable and a little more elegant and refined on the palate.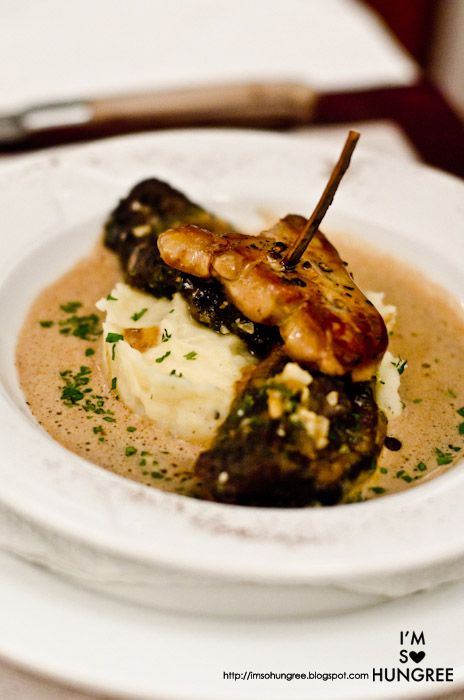 On to mains. Although we were feeling quite full already! And just to make matters worse, we both got pretty darned rich mains. As you do. Beef cheeks on truffled mash with…wait for it, foie gras, for Brad. It is kind of ridiculous. It is kind of fabulous. Actually it is plenty fabulous. It is rich through and through, with decadent, smooth and creamy mash (or puree maybe?), and the succulent beef cheek that just fell apart in the mouth. And just to put you over the top, the disgustingly, but beautifully rich foie gras. This had every opportunity of overwhelming the dish, but it worked well…it just ended up being…well, very heavy and food-coma inducing.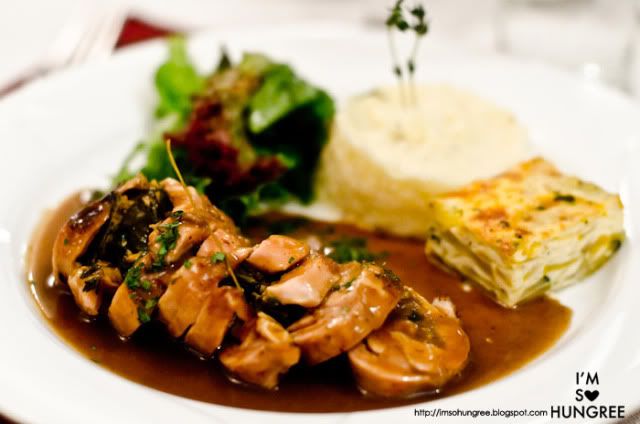 And although my dish did not have the magic foie gras or truffle in it, I still struggled through it, a stuffed rabbit leg with mash, a little potato stack/gratin thing and some greens. The rabbit leg was to die for, the meat was tender and juicy, although I did find the thick and dark gravy rather overwhelmingly rich. Especially after a couple of glasses of wine! Thank goodness for a handful of greens on the side to get something a bit lighter in the system. I was a touch disappointed with the potato offerings though, the little gratin/bake thing was served cold and I found the rough texture of the mash not as desirable, especially after seeing how creamy and smooth Brad's was!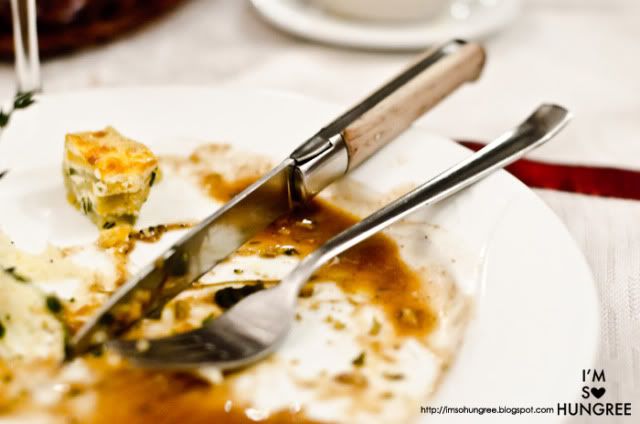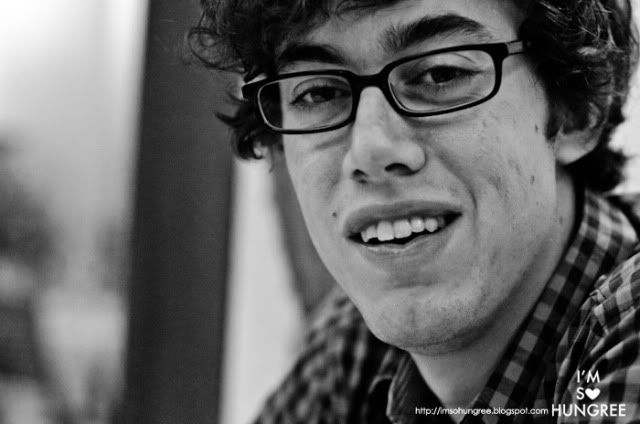 We eventually managed to get through everything, albeit quite slowly. Brad might have had to eat more of my dish than he should have…
Then while waiting for my friend, who said she would join us for dessert, it was cheese time.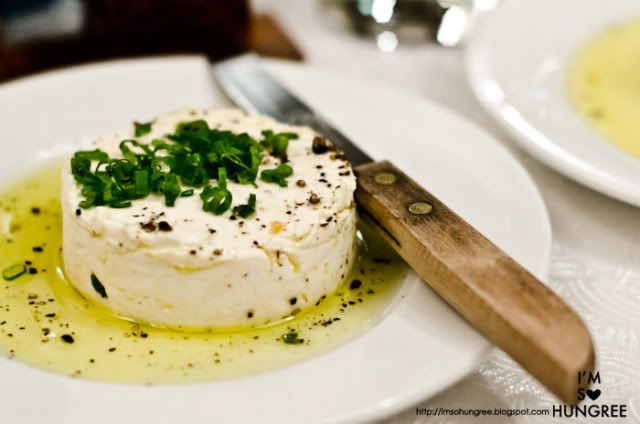 But not just any cheeses. These cheeses are homemade by Gil, and my, he is awfully generous with his handiwork.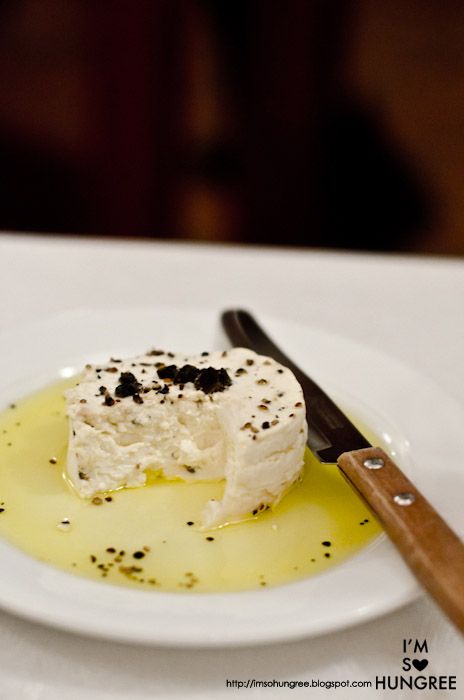 There is a selection of two soft cream cheese, one with spring onions and the other showered with mushrooms and truffles, which spread onto bread like a dream and have a delightful tartness to them, complimenting the other flavours.
We were given a full serve of the truffle soft cheese. We nearly ate all of it. I do not kid.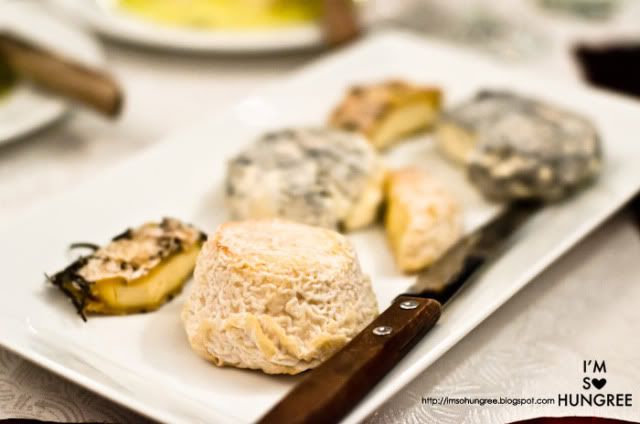 And just because that is not enough, we are also given a plate of hard cheeses, my favourite was infused with rosemary. I loved smelling like I was outside in a herb garden, there was a nice saltiness to it that complimented the savoury herb.
So my friend ended up running fairly late. We just sat there eating cheese for a good hour. They did not once think of taking away the cheese from us. How many places do you know like that? So unrushed, so relaxed.
Finally my friend did arrive, Brad and I had had time to digest our rich meals and it was time to consider the sweeter side of things.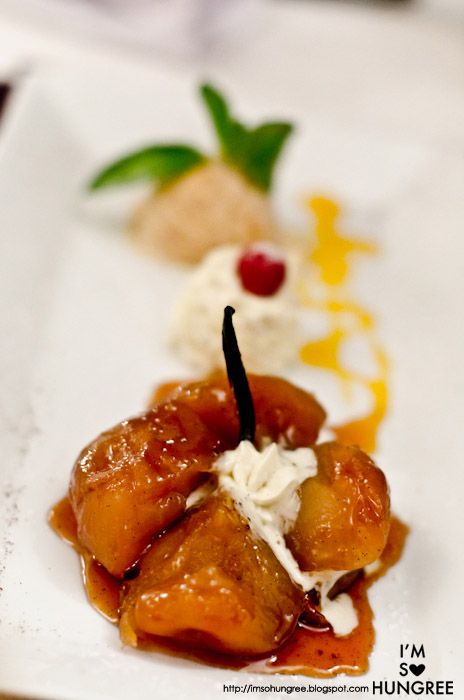 A tarte tartin for Brad, which was richly caramelised, lots of pomme, not so much tarte, but y'know, that's totally okay with me.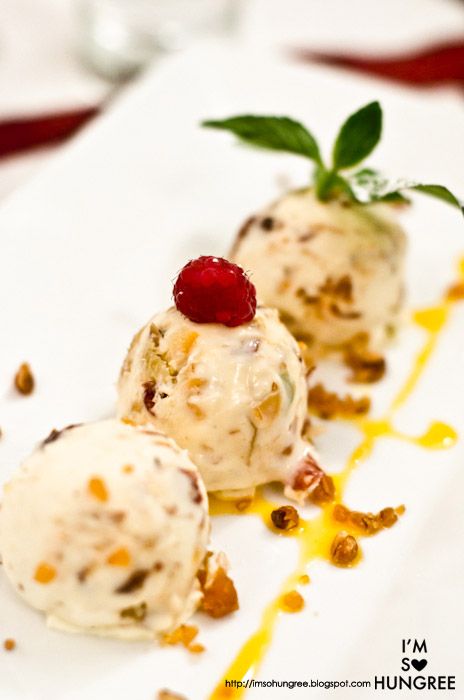 At my friend's suggestion I got the nougat ice-cream, which came dotted with candied fruits and nuts. Not something I would usually pick, given my preference for rich, creamy and chocolatey goodness, however this did dessert, although sweet, was quite refreshing and a much needed relief from the heaviness of everything else in our meal!
We laughed, we gossiped, we discussed life over dessert and took our time to pay the bill (which was ridiculously cheap, something like $120 including a bottle of wine) and slowly rolled our bodies over to the door and into the cab they called for us, to head off to another bar to continue drinking elsewhere (where I then proceeded to damage my 50mm lens. Sigh!)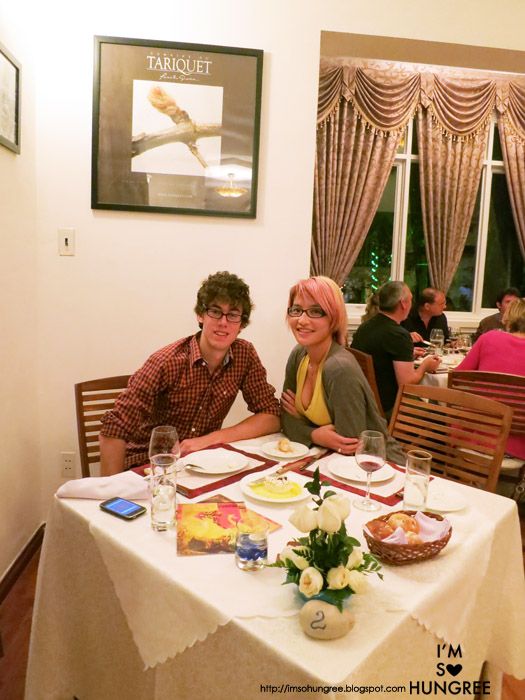 I do adore Trois Gourmand, it is amazing value for money for the traveller, although it is quite rich, but maybe it's just because we happened to not menu plan very well and chose all of the richest dishes. There are some other great looking seafood dishes on the menu that may have made for a lighter meal! It's a little bit of something special, the atmosphere is welcoming and relaxing and it's a nice little escape from the scooter lined streets of Ho Chi Minh.
So if you're ever in Ho Chi MInh, and looking for a special meal to treat and pamper yourself with, consider Trois Gourmand. Actually. Don't consider. Just go. Just go and enjoy a little bit of homemade cheese magic. You know you want it.
Thao Dien Ward, District 2