It's been quite a while since brunch came up on my blog, and this makes me a little bit sad, as brunch is one of my favourite things in the world. Brad and I usually have Sunday's reserved just for us to go brunching and I've always found it be a nice little bonding time for us. So here's our visit to St Ali North, the new hot kid on the block that has everyone aflutter.
We checked out St Ali North on the first Sunday of 2013. This was potentially a bad move as I was worried, since St Ali North is still fairly new, that people would still be on holiday and there was the potential for there to be long waits for tables, food, anything! I don't pride myself on my patience by any means!
But there are some days where you just feel like you really need to go somewhere in particular, and I was having that day with St Ali North.
So we drove up Nicholson and wandered around a little until we realised it was more on Park street, behind the bike shop on Nicholson rather than on Nicholson itself. Don't be fooled by the address!
It's a very clever move though, situated right behind a bike shop, next to a bike riding path, and also along a fairly quiet road off Nicholson with plenty of parking, makes it incredibly accessible and convenient. Couple that with one of the most well known cafe names in Melbourne…all that's left is to serve good food and drink!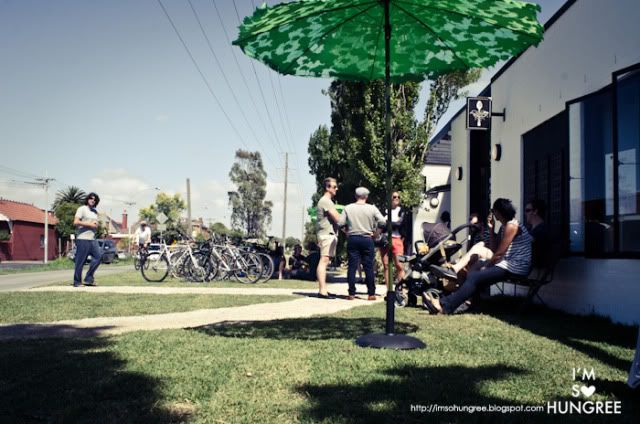 When we arrived, the place was pumping, so we left our names and were instructed to sit under one of the umbrellas on the grass, which was actually quite lovely as it was one of those cool but sunny days. Definetly pleasant in our current weather, although when winter comes around….might not be quite as pleasant!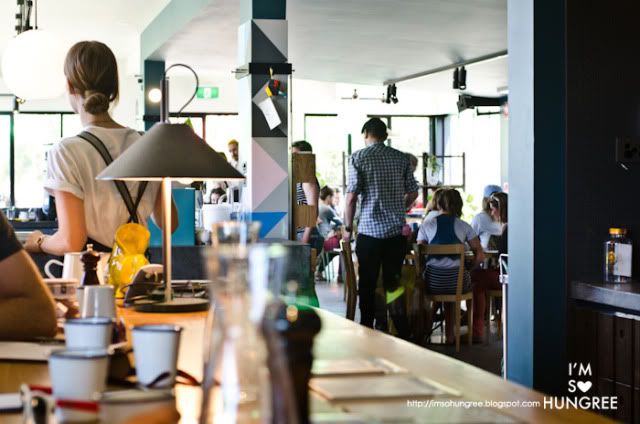 Fortunately it was only a 10 minute wait, or maybe even less, then Brad and I were plonked onto the long bar/counter space.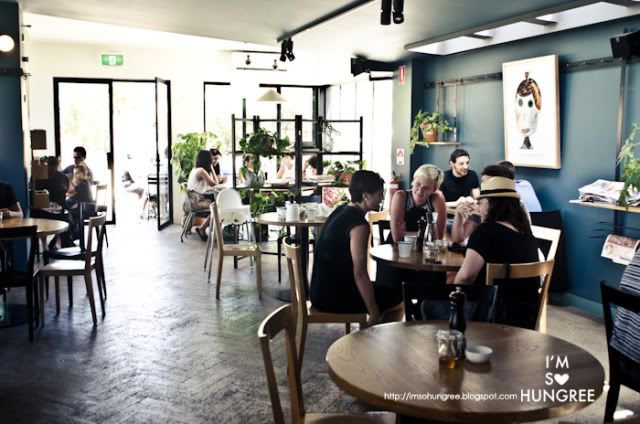 The St Ali North space feels very different to it's older sibling in the south. Breaking away from the ever popular 'grungy chic' and bare brick cafe look, North is far slicker and cleaner, with cool colour palettes and plenty of light. There is a lightness and breeziness to the interior which I enjoyed.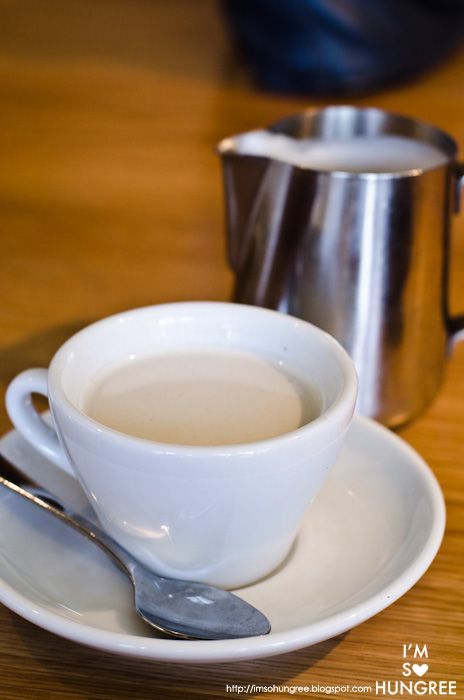 Whilst I love the soy chai lattes at St Ali in the south, I wasn't as enamoured with the one at North. It comes in a smaller jug, without a strainer, thus no obvious presence of tea leaves and spices like at St Ali in South Melbourne. I found the milk not as rich and creamy as I might have liked it and the flavour a little bit on the lacking side. I am assuming they are pre-straining it before it goes to the customer, but I think they may not be leaving in the tea and spices long enough to infuse a bit more.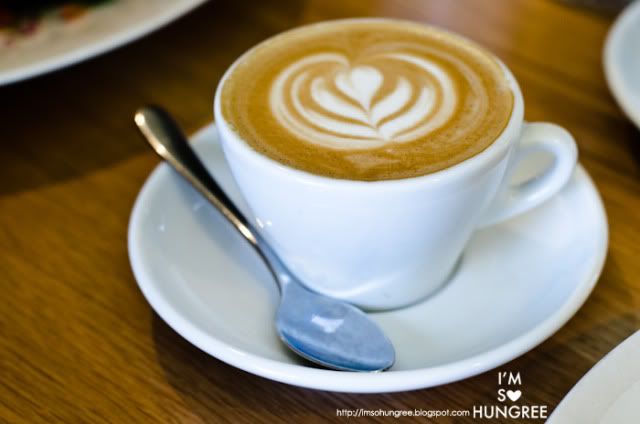 Brad's latte took a while to come out, actually not appearing until after our food had come out when we chased it up a few times. A little bit surprising at the coffee mecca, although they were absolutely pumped, but still, I have been at as busy cafes and had my full order come out in a timely manner.
But to move onto a brighter note, the food at St Ali North was pretty darned delicious. The menu was fairly short and sweet, but also seemed to be a little more dressed up, with some rather interesting offers.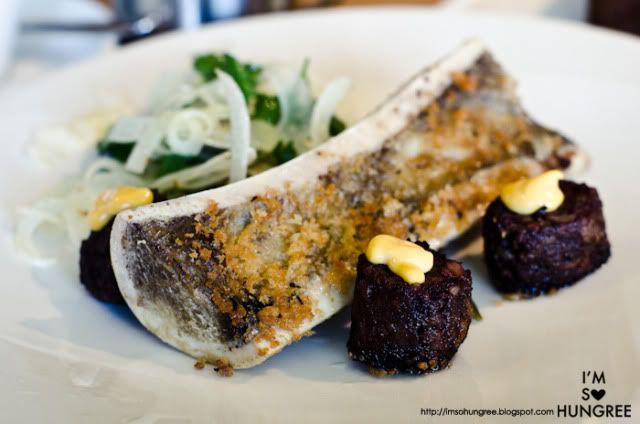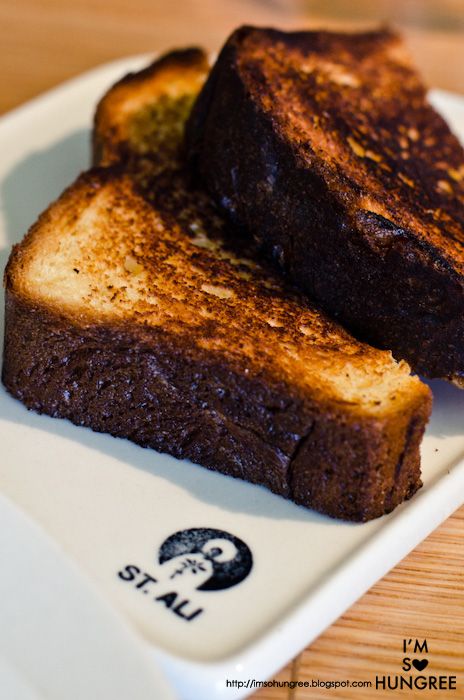 After having seen it on Instagram on several occasions, it was a bit obvious I had to have the bone marrow with morcilla, coffee, egg yolk emulsion, fennel and capers. Sure, a bit rich and cholesterol lovin' for brunch, but it's not everyday, so surely it's okay! Unctuous and decadent bone marrow, lightly freckled with bread crumbs, was just a dream on fluffy, buttery brioche. Black pudding was less on the metallic side and just a satisfying meaty mouthful, the egg yolk adding an additional round of gentle richness (not that the dish was missing any!)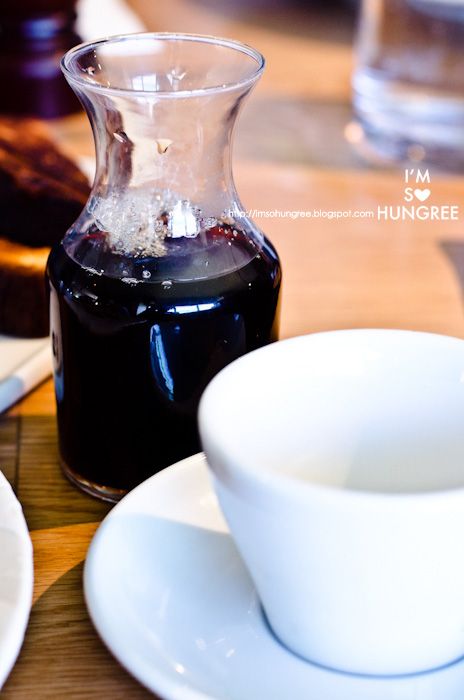 When the dish was listed with 'coffee' on the menu, I didn't quite realise that it literally meant I was going to be served a filter coffee! It's supposedly an experiment in pairing coffee with dishes, so to be a good sport, although I don't drink coffee I did try it out. I'm not much of a coffee connoisseur, but it wasn't too bad to my tastes. Not overly bitter, adding a bit of softness to the otherwise quite rich dish!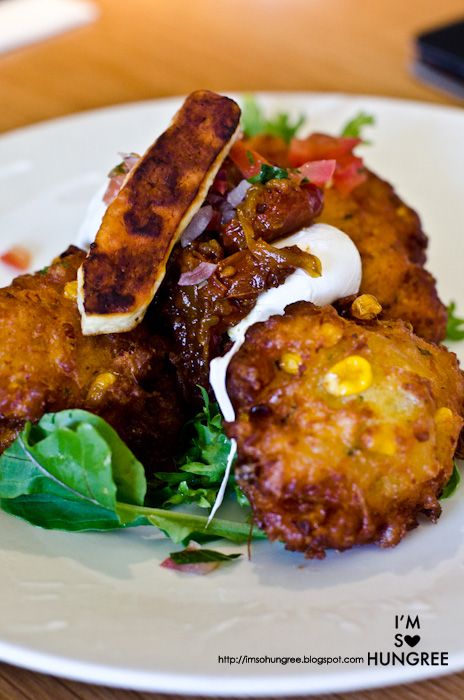 Brad got the famous "My Mexican Cousin" dish which I did very much love at the St Ali south outlet. With sweet corn fritters, kasundi, haloumi, greens, tomato and poached egg. I had a few bites, and immediately kind of wish I had ordered the dish myself (although it is very hard to go past bone marrow)! The fritters were beautifully sweet, crunchy on the outside and fluffy on the inside and well seasoned. Even better than what I had remembered (although I hadn't had them in a while either I guess).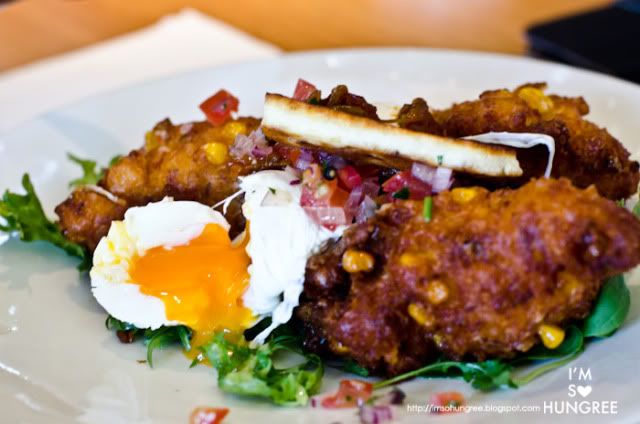 My only beef with the fritters, is that at $21.50, I found it a little bit on the expensive side. I'm pretty sure they weren't that much when I first ordered them a year or two ago! At that price I would hope to see at least a little more haloumi on the plate, but I also suppose that the three fritters (which you're not going to get replicated anywhere else in Melbourne (that I know of yet)) plus the egg is pretty filling, so you are still getting a pretty good feed.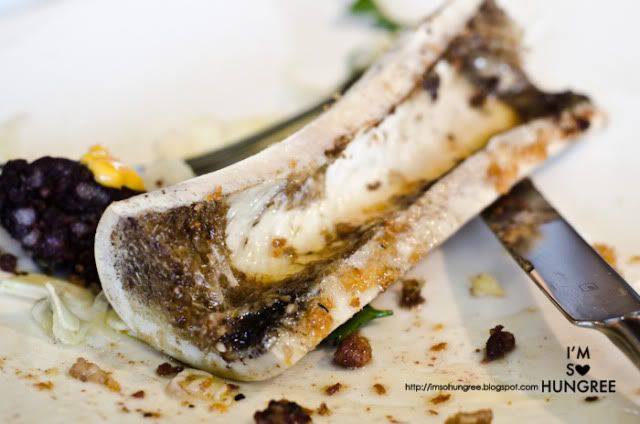 What was to come next though, quickly spun away any niggle of negative thought.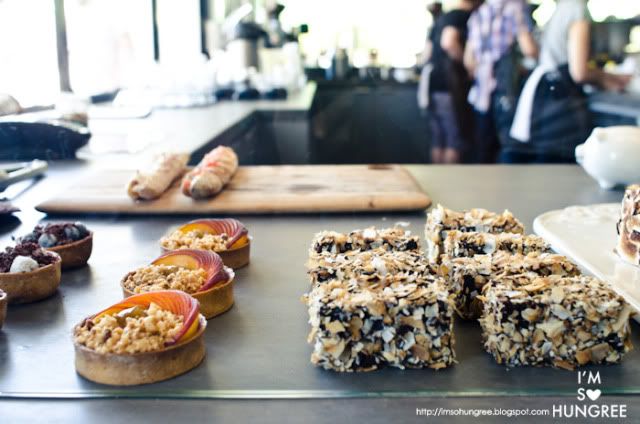 I had seen Daisy Instagram the most beautiful looking meringue cake she had while she was at St Ali North, mentioning that it was gluten free. Having had spied these slightly rough around the edges meringue-iced cakes through the dessert counter on the way in, I decided I needed to have one.
What I discovered was pure bliss.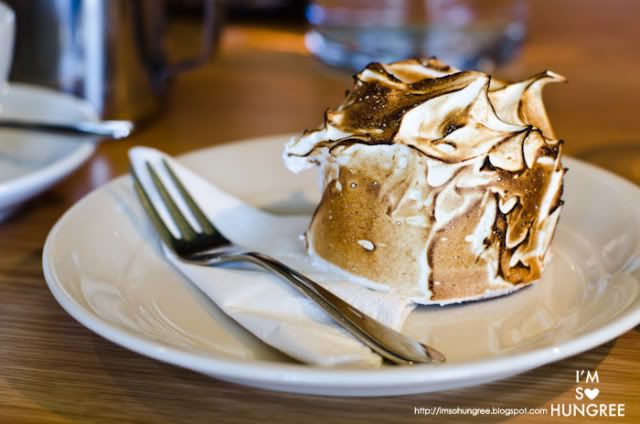 Lightly caramelised and soft meringue coating a lemon (and I assume almond?) sponge cake, which was gorgeously moist, not overly sweet with a nice big of tang.
But a few more bites in is where, with great surprise, I discovered the real beauty. Sometimes ignorance, and not fully knowing what you're eating, can be such bliss.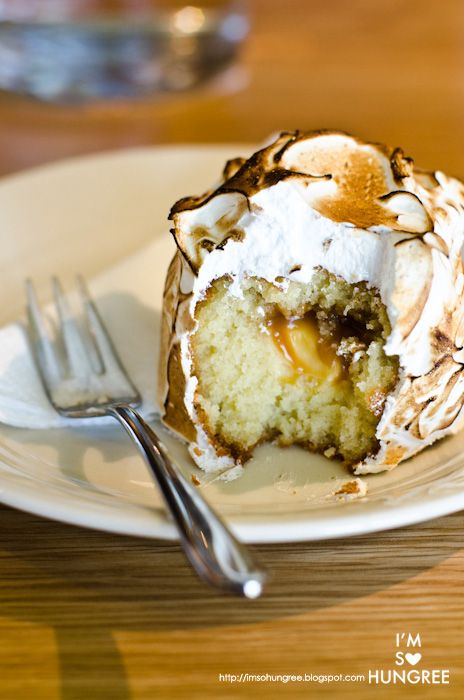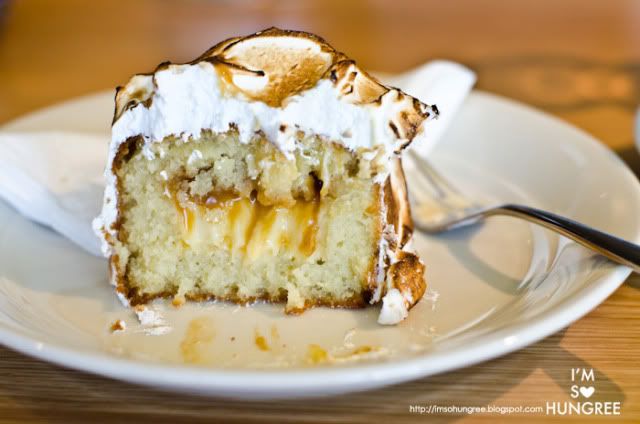 It was cold on the tongue, it was sweet, it was citrusy, it was salted. Right in the middle of this cake was a bit of lemon curd, with plenty of zest and, the best part, a healthy dose of velvety salted caramel. I died. Came back to life, had another bite and died again. And again. I pretty much ate this whole cake myself. Beautiful sweet, sugary goodness.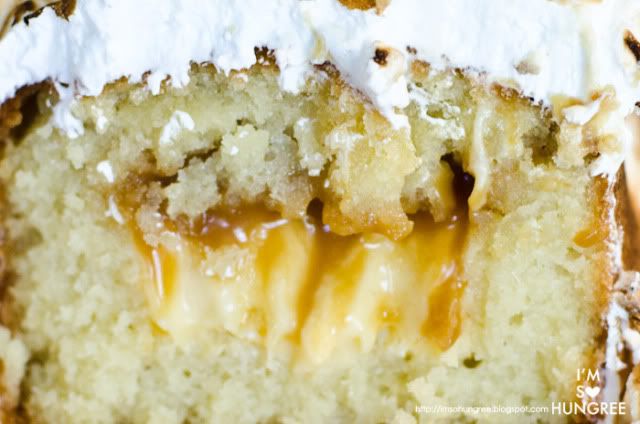 If nothing else, I would return just for this dessert. And maybe the rest, if they were as lovely as this!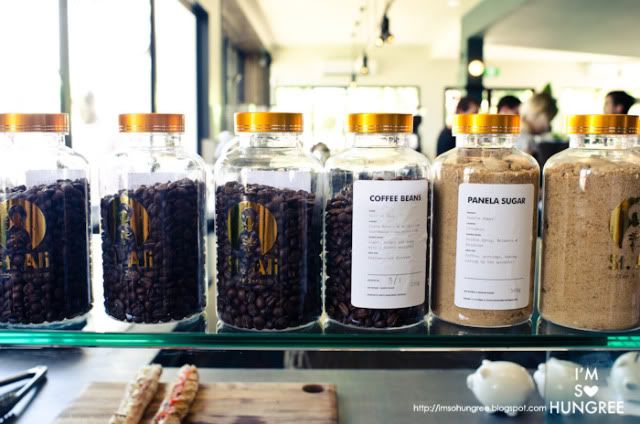 On the whole, whilst there were a couple of bumps with service, I think St Ali North certainly had some charm and some good offerings on the table, but I can certainly see it not being for everyone either. If you're the sort who just wants a laid back, comforting big breakkie, maybe give the North a miss, but if you're willing to wait (or show up during the week instead of the weekend) and have a little patience, you may have quite an enjoyable experience as well!