Twitter is such a wonderful thing. I have tried explaining it to my parents, which is hopeless with my mum as she's not particularly technology literate, and my dad just can't grasp the idea in his head, although it often seems he's actually chained to his computer. How have you guys tried to explain twitter to non-users? Would love some ideas!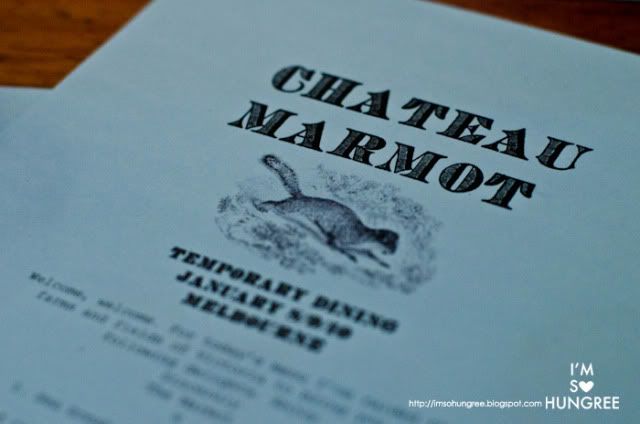 But back to what I wanted to talk about, so I saw on Twitter that there would a few nights of 'Tempoary Dining' at Storm in a Teacup, by Chateau Marmot. Ooh? My interest was piqued since I had always wanted to check out Storm in a Teacup, so a flurry of clicking and reading and trying to figure out who would willingly go with me ensued. I mean 5 courses for $60? Too good a deal to pass up!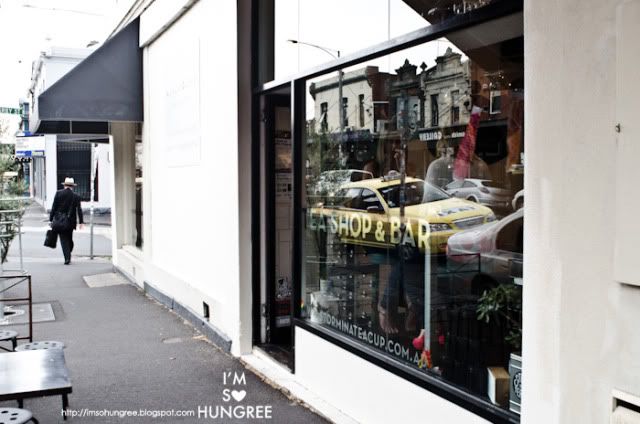 Initially only two nights were offered, but fortunately, seats then came up for a third night, Tuesday night. Bryan doesn't work Tuesdays, it was a done deal!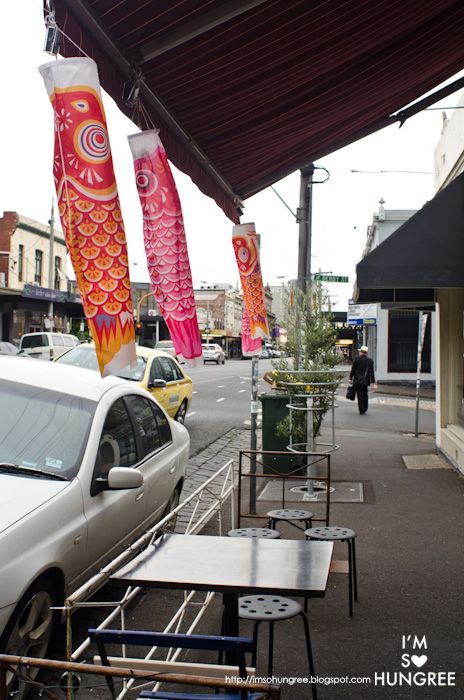 But what is Chateau Marmot? According to their website: "
Chateau Marmot is all about bringing the creativity and excitement of fine dining to an unexpected location near you, minus the stuffy atmosphere. Starch should be on potatoes, not table cloths."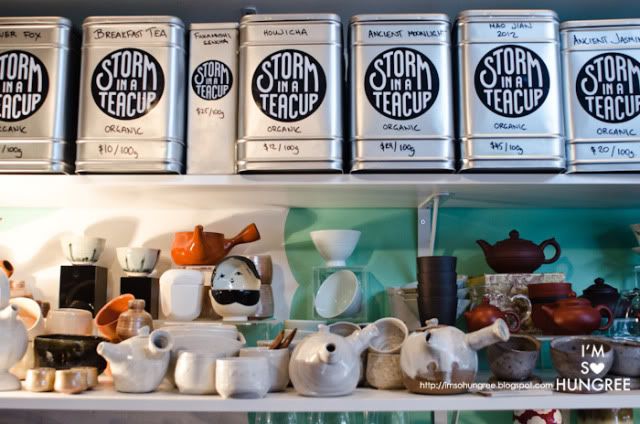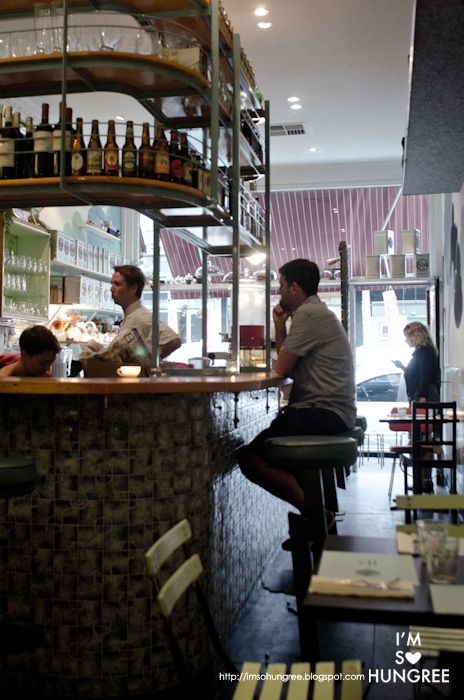 And so Bryan and I found ourselves in a little corner of Storm in a Teacup, an adorable, brightly coloured and quirky space, neatly sitting only twenty plus excited eaters, ready to be fed by Miles Dupree. Miles is an Australian born chef, originally from Sydney, who was last working in the UK. I could list his credentials, but I'm sure you just want to see the food.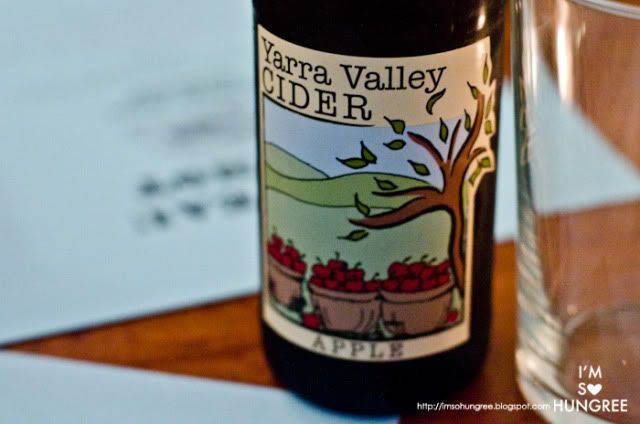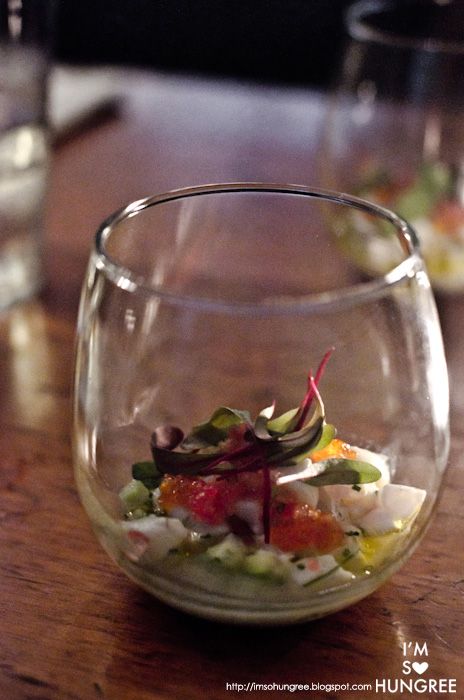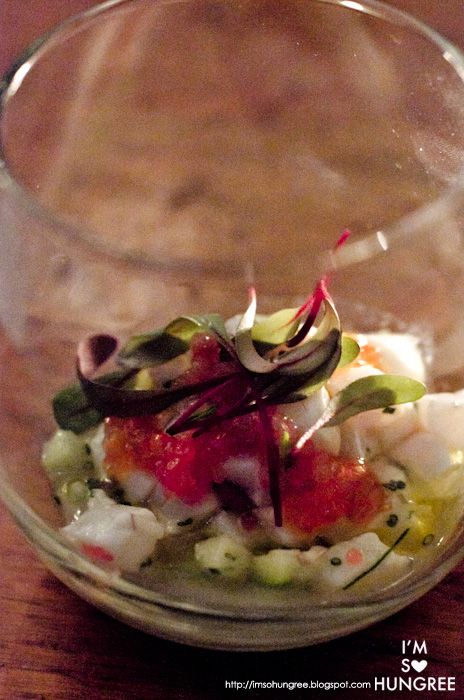 Sea bream ceviche with finger lime, a light and zesty (although not sour) way to start our meal, awakening the palate. Packed with many little components, a freshness of mint, springy fish, crunch of cucumber, it was exciting and well balanced.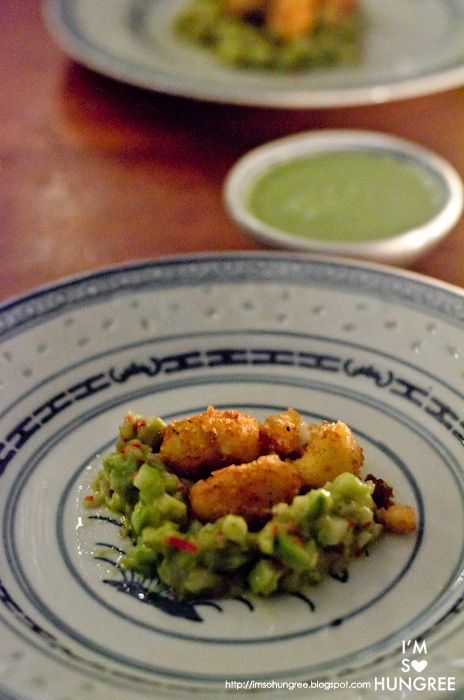 Second course, keeping in the Southern American feel, creamed corn croquette with an avocado salsa and jalapeno sauce. Bryan and I both loved this warm, sweet, tangy and creamy dish. The flavours were well rounded and incredibly wholesome, the jalapeno sauce adding a nice warmth in the back of the throat (kind of wanted to bottle it and take it home with me!)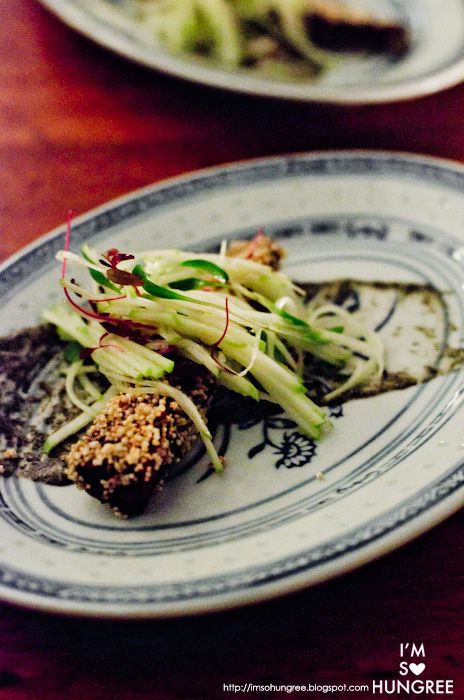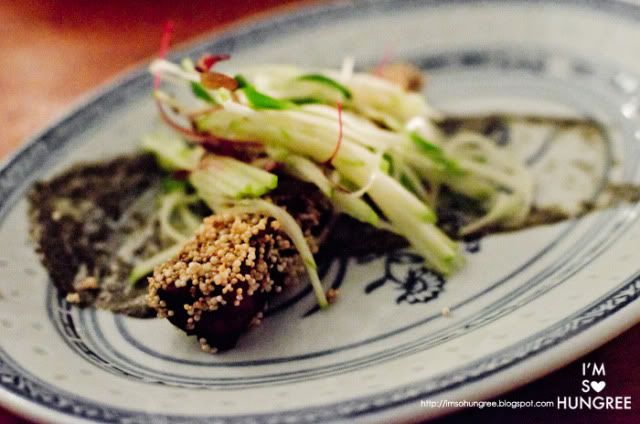 From South America, to Japanese inspired flavours! Glazed eel coated in amaranth with an apple salad and nori smear. This was surprisingly playful! I loved the crunchy amaranth, which was kind of reminiscent of popping candy when chewed on. It was also again a very balanced dish, with the crispness of the apple cutting through the richness and sweetness of the eel, which also had a bit of smokiness to it.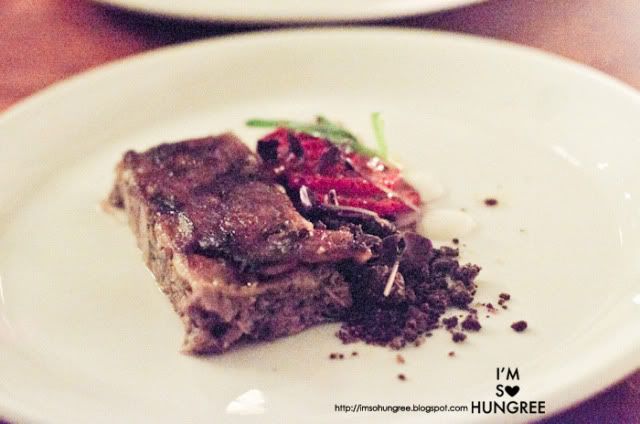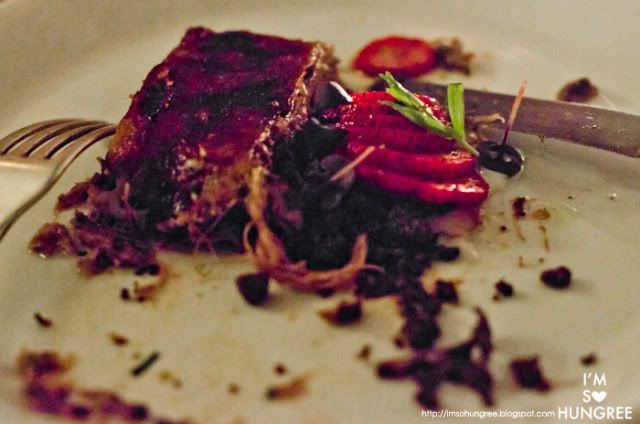 Long before this dish hit our table, we were smelling it as it wafted out of the makeshift kitchen in the middle of the store. Just intoxicating! Crispy duck leg with a strawberry salad, almond cream and liquorice soil. Whilst the glossy duck wasn't particularly crunchy, I didn't mind at all, as it was simply unctuous, tender and so deliciously cooked. Oh the fat left in it just made me roll over in a blob of happiness. It was a curious dish all the same, the punchy and bright strawberries making it really jammy and almost dessert like. I also very much appreciated that the liquorice soil wasn't too strong and just gave a nice little edge to it. It was a slightly challenging dish conceptually, as it was quite a bit sweeter than one would expect for a main, and Bryan kept commenting that it was more like dessert, but for me, I still found it all delicious.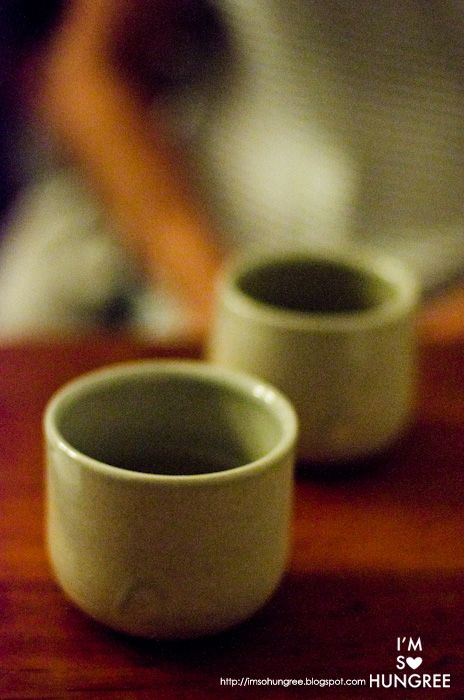 A brief reprieve before dessert with a sample of some of the beautiful tea Storm in a Teacup has. We were treated to a lovely green tea from Southern China (I didn't catch the name properly), which was lovely full and rounded in flavour. Gorgeously aromatic. Look forward to coming back and trying more!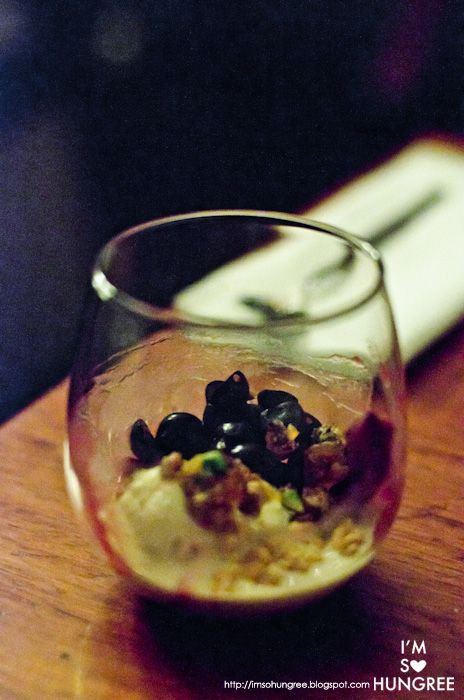 And finally dessert, rhubarb, jasmine and blueberry verrine. Whilst we were very well informed as to what all the little components was in it specifically…well, Bryan and I were too consumed with trying to figure out how to take photos. Which didn't really come out anyway. Oh well! There was a creme anglaise somewhere in there, there were chunky crunchy bits, sweet, plump and perfectly in season blueberries with rich rhubarb. Loved the hint of jasmine in there for a little something special.
Although the whole experience was a little bit on the slow side (almost 3 hours for 5 dishes!), the food was beautifully executed and well thought out. Flavours were exciting and unique, as promised and unlike anything I've had in Melbourne yet. As we both had early mornings, I regretfully had to miss out on the cheese course (an additional course) but will certainly be keeping a keen eye out for potential future installments....!