Hey guys! You all been having a good week? My week's been crazy but all good fun. I've been absolutely loving reading your responses on my HUNGREE GIVEAWAY BONANZA post, and am definitely thinking a spa treatment of some sort should be organised for myself, mmhmm!
This week, some of you might know that I started a two-day-a-week internship at kikki.K in the marketing department, and this has me absolutely thrilled. I've been nervous, but immensely enjoying my time as well.
The office is beautiful, as you may have all guessed, open spaces, lots of white, so clean and organised. I love being in there, as I hardly feel like I'm actually indoors, as there's just so much natural light!
But anyway, my point is because of a crazy busy weekend, this new internship, and the fact that I've had events to attend both evenings, I'm a little behind with the blogging and photo editing, so I hope you'll forgive me if there's a bit more than three day gap between my posts. Right...right?
So for now I'm going to share a couple of pictures and a few words (…or not, when does that ever happen?) about my dinner trip to Hammer & Tong 412.
You know the place, it's where The Brix used to be, and is now the place everyone is raving on about for brunches and the sheer deliciousness of well…everything. You know how much I am smitten with the space.
With so much good press for brunch (and loving it myself), I was eager to see what dinner offered up and with my good friend Bruce on a Saturday night, who I had not seen since our expedition to Hell of the North last year.
In the evening the Brix is a rather relaxing space, they could easily take everything out, pop in some leather couches and turn it into a cigar and whiskey bar, that kind of atmosphere you now? When we visited, it was only their 4th weekend doing dinner service, and there were still a few kinks in service that they were working out.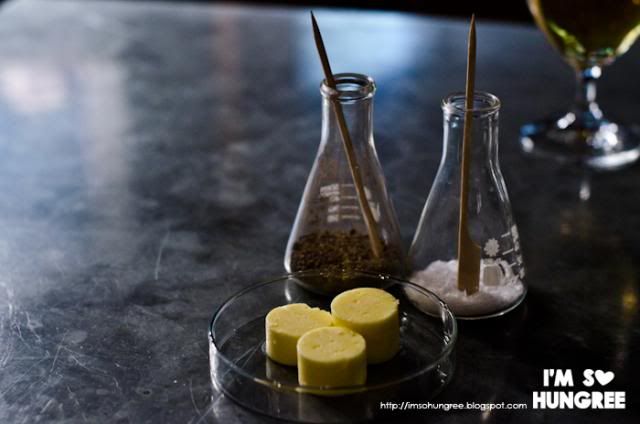 For example, despite rather tasty looking butter gracing our table, we weren't offered any bread, not a big deal anyway (since I don't want to fill up on bread before a meal) but it's dinner standard. But you know, Bruce and I totally get it, he's had experience with a cafe trying to do dinners and it's a very different vibe and it can be hard to get staff who are used to a more casual style of service to up the ante for an evening service. Really though, at the end of the night, we were looked after very well and despite a few hiccups, there was nothing that left me with a bad taste in my mouth.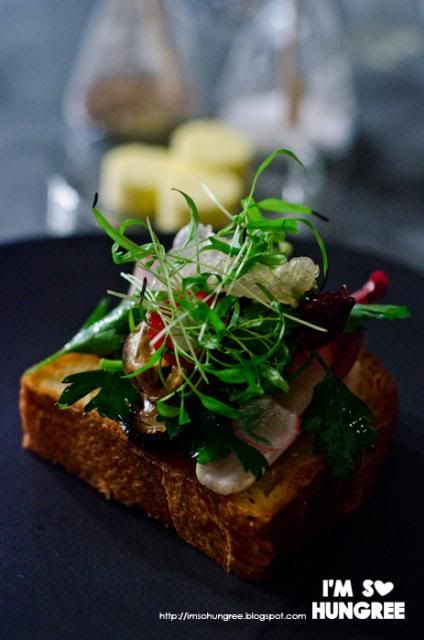 Like, literally. The dinner menu at Hammer and Tong has been well thought out and beautifully executed. Not too fussy or fancy, but still rather creative. We started with smoked mussels served on brioche with lard and roasted garlic. I'm not normally a fan of mussels when I'm out (as my mum cooks them so easily and so well) but smoked was not something I had come across and these were pleasant, with a subtle aroma to them. The brioche was to die for in all it's golden toasted, fluffy goodness.
The sweetbread lamb wontons with almond puree, shimiji and smoked onion were so moreish. Two pieces each was not enough. Wonton skin that was dangerously crispy (in the good way) with a smooth and tender sweetbread inside.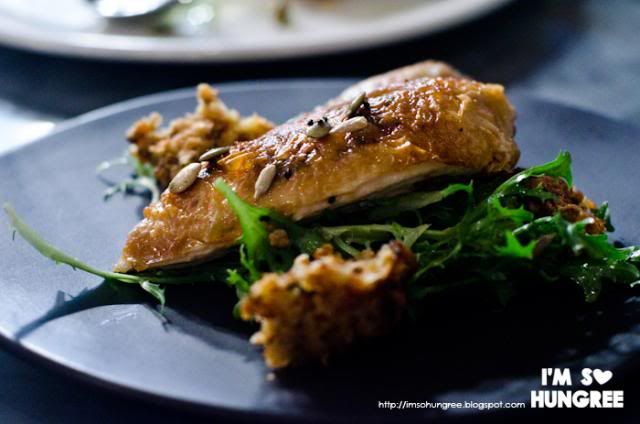 Okay guys, what I'm about to tell you might just be one of the best kept secrets on Brunswick Street (or not, but it's a secret now since dinner is still rather new). The slow roast chicken, with bread and pine nut stuffing and endives? It's on the 'Larger' portion of the menu, so we assumed it'd be a good serve for one, so we ordered that and something else…however, Hammer & Tong give you the whole chicken. One full chicken. For $26. And not just one whole chicken. One that's juicy and tender and seasoned beautifully. The 'stuffing' is actually scattered around the outside of the chicken, which gives it a nice crunchy texture (since it's not soaking up all chicken juices and stuff).
The photo above is just one quarter of the full serve.
I was absolutely distraught when we had to let half of it get thrown away because we couldn't finish it and they wouldn't let us take it home. C'mon, surely you can see I'm Asian. I would have totally treated that leftover chicken with utmost care!
Don't look at me like that! We had also ordered the kangaroo sirloin with cauliflower puree, kale, push pepper and beetroot jus, and between the two dishes, we were struggling! Although the kangaroo was a bit more of a leaner serve, it was still rather generous, with plenty of blushing pink protein to get through. I loved the generally earthy flavours in this and the crisp kale was just gorgeous. So yummy!
On the side we decided to keep the brussel sprouts trend going (we had ordered them at Henry and the Fox last), and ordered the brussel sprouts with candied bacon, manchego and rice puffs. The thick cut bacon cubes were honey sweet, turning it into bacon candy. I adored the flavour the bacon parted to the brussel sprouts, it was just perfection and the rice puffs were a bit of textural fun as well.
After sadly parting with our leftover chicken, we kicked back in our seats and caught up on each other's lives and discussed the bizarre obsession South Korea has with plastic surgery. Seriously, it's kind of ridiculous!
At one point during this gossip session, I noticed that the kitchen had some cleaning tools out and wondered if they had started cleaning up without offering dessert…oops, they had! But, they handled it very well. Although we couldn't order the dessert of our choice, as the deep fryer had been put out of commission already, we were offered the coffee pot de creme, with white chocolate hazelnuts and mr. whip, on the house. Very, very sweet of them.
Oh lordy, this was certainly a treat. Lightly infused creme with Dukes coffee beans, it was like eating a delicate coffee cloud. So airy and delightful. Then you get the crunch of the hazelnuts, which just gives it a real earthiness and roundness in flavour. Sigh. Swoon. Happy.
Hammer and Tong continue to do themselves justice, by translating a well received brunch menu into something a little more upmarket, but unpretentious and scrumptious in the evening. My top tip would be to definitely just get the slow roast chicken to share, unless they change their portion size. I mean, a group of four girls would eat very decently with one chicken!
I loved everything we ate and would be back in a heartbeat, making sure next time that I get my purple grape jelly doughnut with peanut butter dessert…. ;)
Rear 412 Brunswick Street