Brunch seems to be appearing less on my blog lately. I'm not quite sure why that is. I guess for a while, Brad and I didn't have a lot of weekend mornings together, for one reason or another and I also think I'm getting a bit lazy to try out new places.
You know what I mean? It can be risky to try out a new brunch place, when there are so many around of varying quality, and of course your old favourites you can't help but fall back on, which I think Brad and I had been doing in more recent times. Maybe I've just been getting a little bit overwhelmed by blogging (again) so not having to bring my camera out with me during a meal made for a nice change.
But some weekend mornings I would wake up with a name on the brain that would not budge. One particular morning, it was Twenty & Six Espresso. Maybe because we had been drinking at a friend's place up in North Melbourne the night before? Hmmm.
The very cosy little space was bustling when we arrived and I initially thought that there would be a wait for a seat, but fortunately some spaces had cleared by the window as we arrived. Double win for me, seat straight away and gorgeous lighting for photos!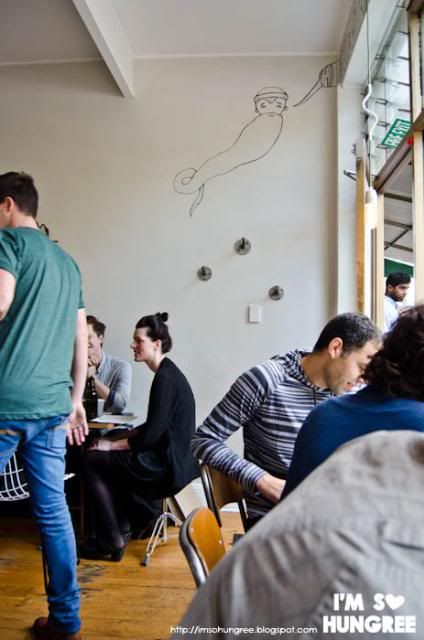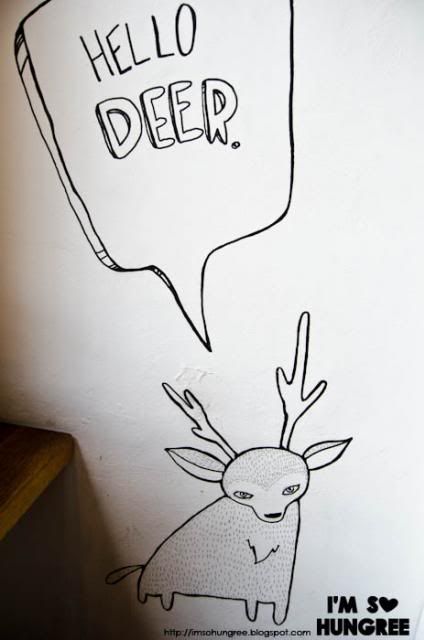 The interior of the cafe is adorable, quirky with adorable little doodles here and there, and a pastel palette, giving the place a rather playful and light atmosphere.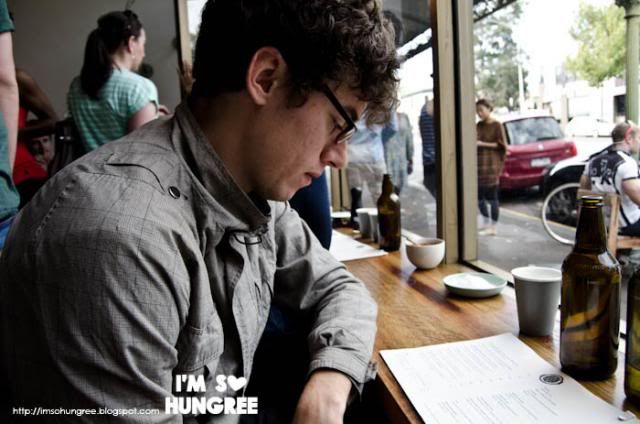 Now, I understand cafes get busy on the weekend, and thus mistakes happen, but we did hit a couple of bumps with service, in the manner of getting our drinks.
Our drink order didn't arrive until after our food, and was initially mixed up. I probably wouldn't mind so much usually, but it gets a little sore when the couple next to you, who arrived after you, gets their drinks before you.
Despite our hiccups with service though, I was quite impressed with the food offerings.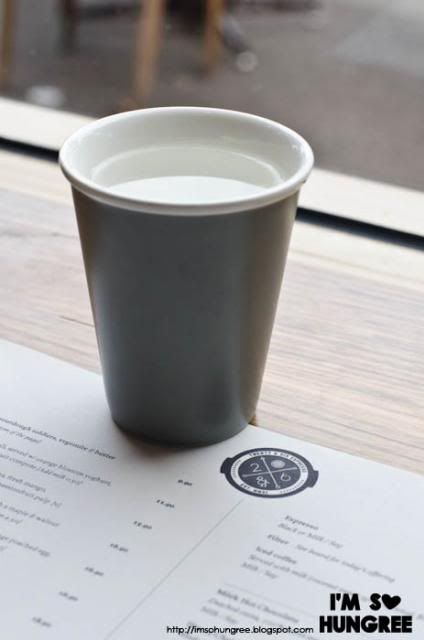 Twenty and Six has a short and creative menu, not a baked egg or dash of hollandaise in sight. Instead creations such as organic Balinese black sticky rice and pork belly bao tempted the taste buds.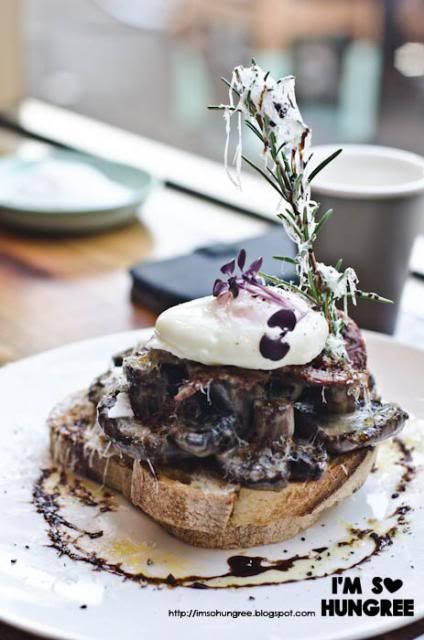 Brad ended up going with The Hunter, portobello mushrooms, roasted with balsamic, red wine and rosemary, with spanish chorizo on sourdough with creme fraiche and truffle oil. He added a poached egg to the dish as well.
It arrived looking like something that might fit in MONA, kind of artsy right? Rosemary tree and all? It also smelt amazing, with truffle and rosemary aromas lazily lingering in the air as I was busy snapping away. The nibble I had of these were a lovely mix of sweet and tangy with the lovely rich balsamic. It was a very generous serve and definitely lasted Brad the day with the addition of the poached egg.
I opted for The Russian, with vodka and lemon house cured salmon tartare, free range poached egg, dill and lemon creme fraiche with a seed and sprout sourdough. This was quite different to the usual breakfast, but felt very clean and fresh. Breaking the egg over the tartare was just beautiful, as the yolk just melted away into it. The tartare had a nice hit of citrus, and was just so cool and refreshing.
I do also have to make a special note of the bread, which really was just to die for. Nutty with an incredibly crunchy crust. Toasted to absolute perfection. I was initially just going to have one bite, but ended up having half the slice. Oops.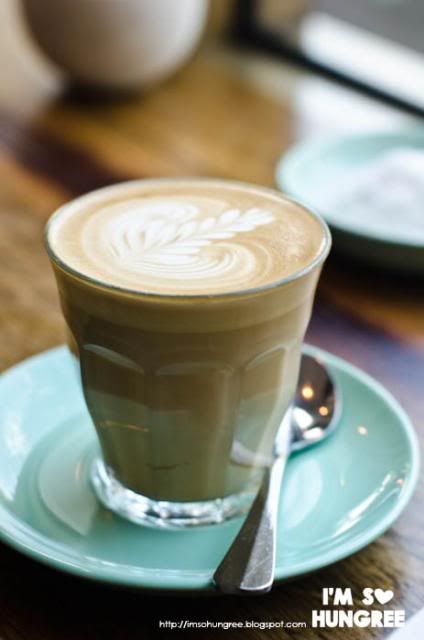 When our coffees did arrive, I asked Brad how his latte was and he simply responded with 'Good'. Clearly he's a man of many words, but he uses every word to it's full effect, which means he really liked the coffee.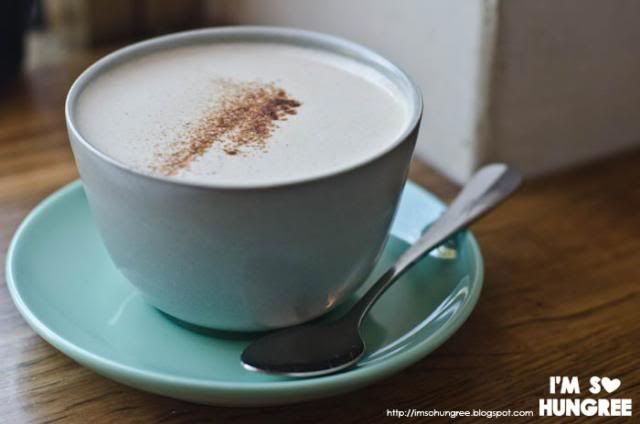 My chai, which is a house made with their own blend of spices, was just lovely (when I finally got it). It was dark and velvety, and not too sweet, with nice hints of spice. I should have probably asked to have a bit of honey in it, but it was still perfectly pleasant without.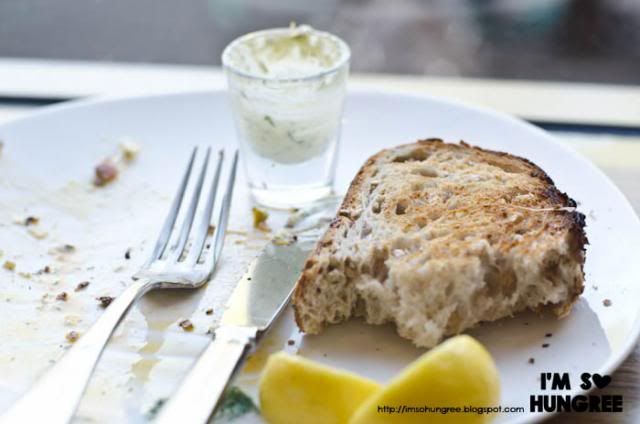 All in all, it would have been an amazing meal if we hadn't encountered the bumps in service that we had, but everybody has an off day now and again. I would still absolutely love to return, as I loved the creative menu, which on a whole was executed well. I just might not visit on the weekend or, at the very least, peak hour.