Disclaimer: I was invited for a complimentary High Coffee experience
"Should I wear my heels or my boots?"
"Oh god, I forgot to put eyeliner on!"
This is typical mother-daughter banter that goes on before either of us goes anywhere, whether we're attending something separately, or with our own set of friends. For all my mum's good taste, sometimes she just doesn't accessorise so well, whilst I'm usually just needing to check that I don't look like a hoochie-mama (although who doesn't like those?)
On this particular Saturday, with a bit of sun and icy winds (makes dressing complicated), mum and I were dolling up to head to the Intercontinental Hotel for 'High Coffee'.
'High Coffee'? I hear you, it's usually 'High Tea', but Intercontinental has decided there's too much of that in Melbourne and are giving the typical afternoon tea a little twist on it's head. And offering it every single day, not just weekends!
Intercontinental originally started High Coffee in Sydney last year, which is catered more to that market, before deciding to launch it here, surely a natural choice where coffee fanaticism is surely at it's height.
Also yes, I'm not a coffee drinker, but I don't know how I could turn down sweets and nibbles and espresso martinis. Would you?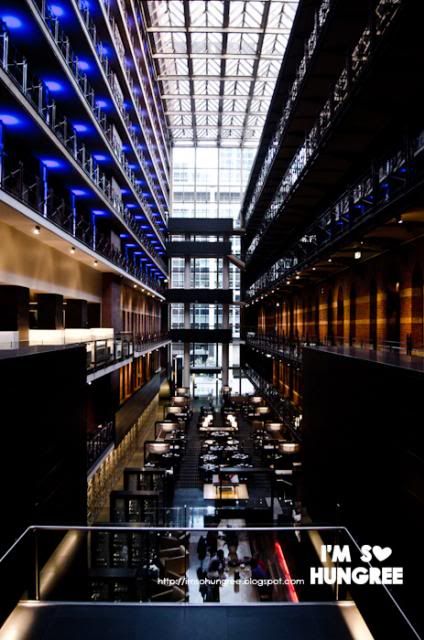 It had been a while since I had been in the beautiful Intercontinental hotel (I mean, how often do I expect to pop by?) and I had forgotten how beautiful and unique the building was. The hotel is actually comprised of two buildings and a laneway, which was once a working laneway until the hotel came along and put the glass top over it, so you have this kind of cool vibe of being outside…but with weather control. Aww yeah!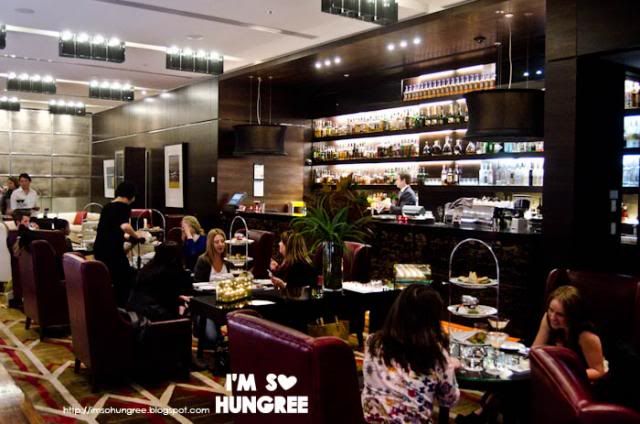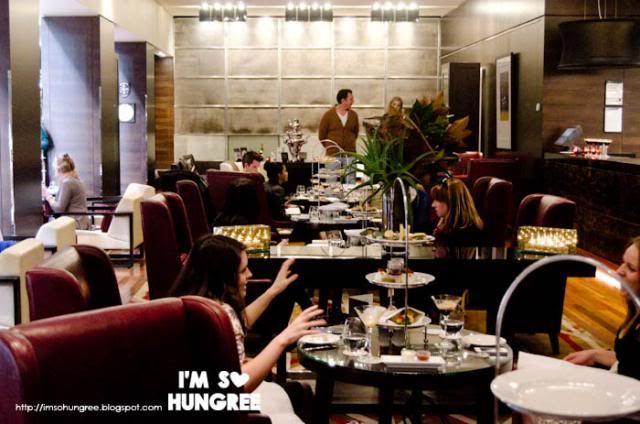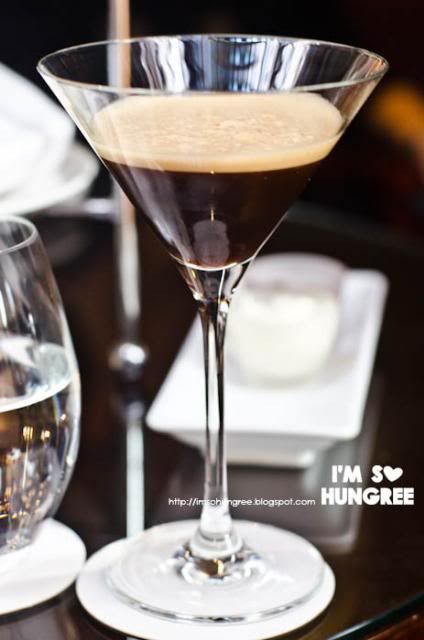 After enquiring with the concierge, we strolled on into the lush Market Lane Bar, which was all plush carpet, leather and dark woods, where we were greeted with an absolutely delicious espresso martini. Sweet, but not overwhelmingly so.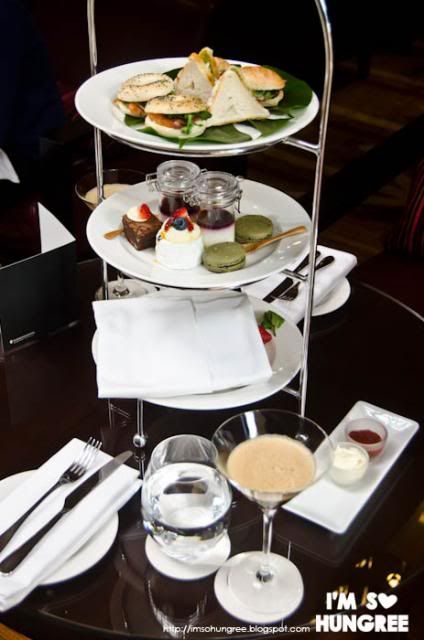 We opted to sit at a table that overlooked the laneway, letting you bathe in a bit of natural light, mum commented that it would be beautiful on a sunny winter's day! Awaiting us at the table was three-tiers of scrumptiousness, with some sandwich type savouries up top, desserts in the middle and scones at the bottom.
One thing we did find as we sat down, because the chairs are quite large and clunky, you do feel like you are seated quite far from your friend if you're sitting opposite each other. Fortunately there was enough room for mum to wiggle her chair (slowly) over to be a little bit closer though!
As we had arrived a little later than some of the other tables, we noticed some other nibbles floating around and when we enquired, we learnt how the order was supposed to go, which is always good to know before we start tucking in! We were to start with the sandwiches, which would be replaced with a plate of hot savouries. Following would be a sorbet cleanser, then we had to tuck into the scones before finishing on the desserts. Phew! Let's get to it then.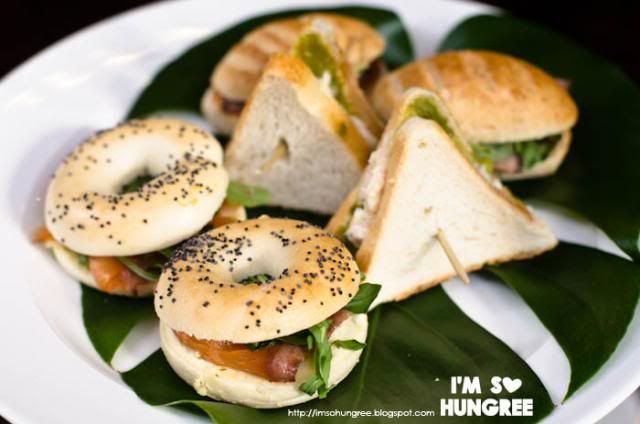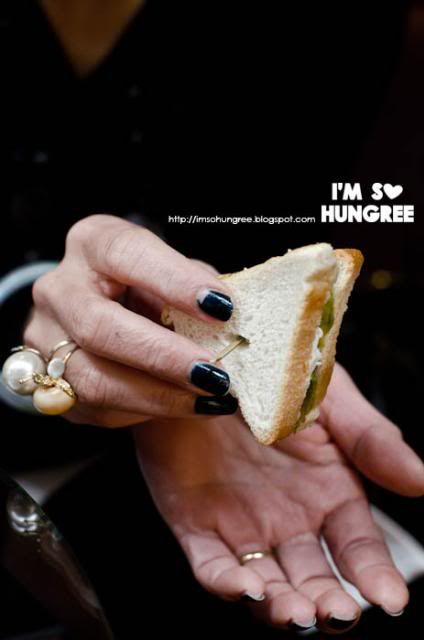 I was surprisingly impressed by the sandwiches (because let's face it, they are just sandwiches). The roasted chicken and avocado with bush tomato triangles, with crust left on were just darling and quite tasty! I'm kind of a sucker for mayonnaise though and these had just the right amount to not turn into a big mess, but to certainly get you wanting more.
The wagyu beef with cucumber relish and watercress panini was packed with flavour for such a small little thing, and I loved the sweetness of the relish. There was a bit of a tanginess to the cucumber relish, mildly pickled perhaps? Loved it.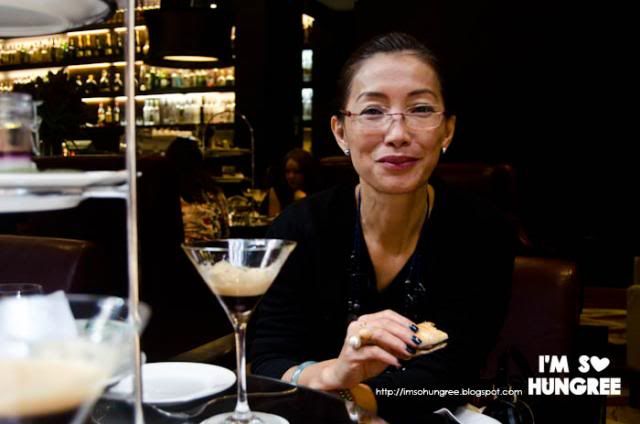 And lastly the smoked salmon on rye bagel with mascarpone and lemon myrtle was fresh and quite light. I quite enjoyed the sweetness of the bagel as well.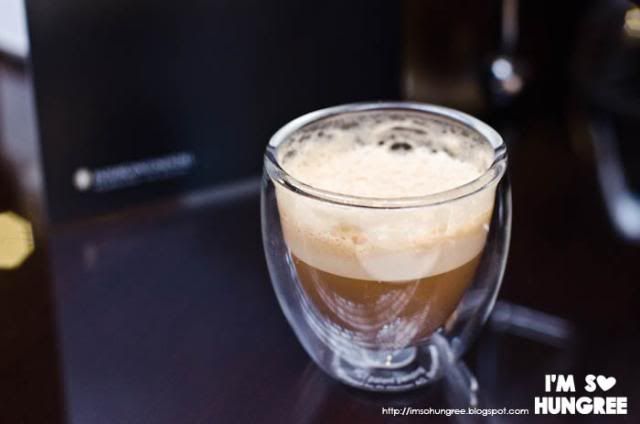 As our sandwich plate got taken away to be replaced with a warm one, we were given a Cafe Freddo, essentially an espresso with a dollop of ice-cream in it. I looked at this briefly and wrangled with it in my head. Would I be up all night? But it's ice-cream. It doesn't count right?
I compromised and drank half, I couldn't taste any hint of coffee bitterness at all, and found this incredibly smooth with a subtle richness to it which was very pleasant. Fortunately I was also not bouncing off the walls, but I could definitely feel a little tremor in me as the caffeine started to kick in. Also, how cute is the glass? Love them, want them!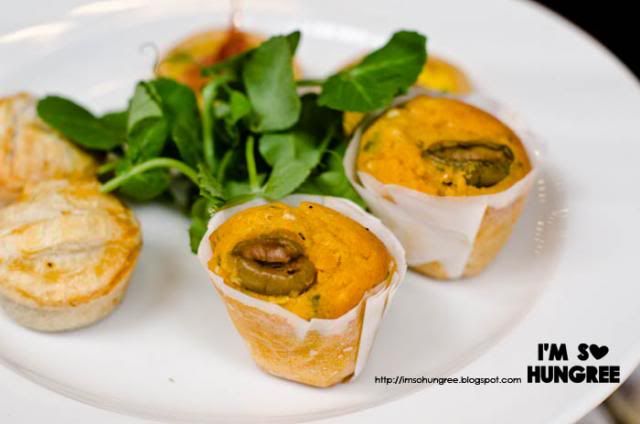 I loved that the warm savouries, actually came out nice and hot. They were on the small side, but it was plenty, seeing as we had lots of food to still get through!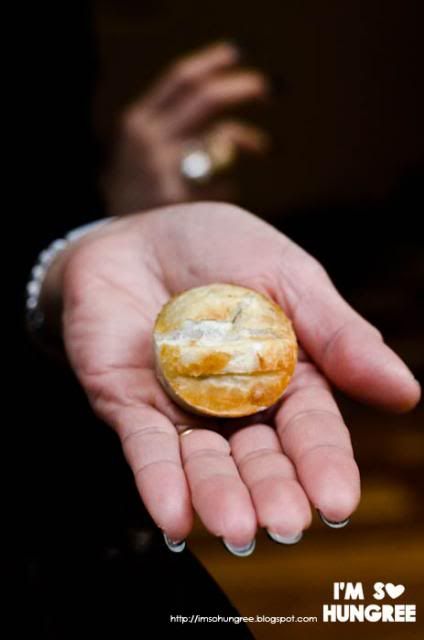 I mean how cute are the homemade beef and burgundy pies? Cute as a button! Although the pastry could have been a little shorter (although I imagine it's hard to do when the pie is that small!), the pie had a smattering of spices and just tasted very homely.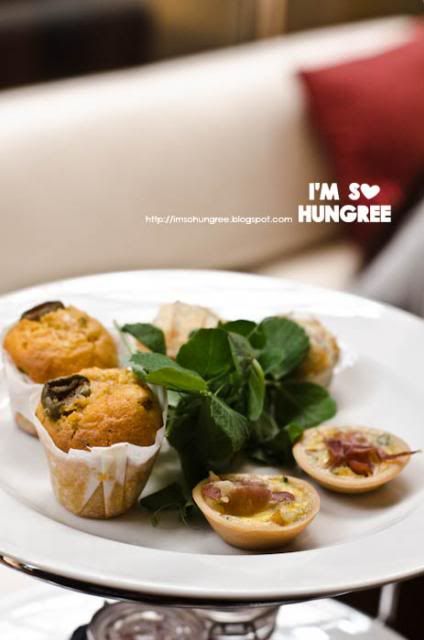 The prosciutto and green asparagus quiches were small, but packed a huge punch, with soft, creamy and cheesy filling, neatly encapsulated in a nice warm shell. A touch salty, but great with a sip of Cafe Freddo…!
To wrap up the savouries, we finished on the feta and olive mini muffin, which mum and I both loved. So warm and spicy, it warmed the mouth like a curry does. A super savoury muffin, but absolutely delicious. I could have done with a few more of those…!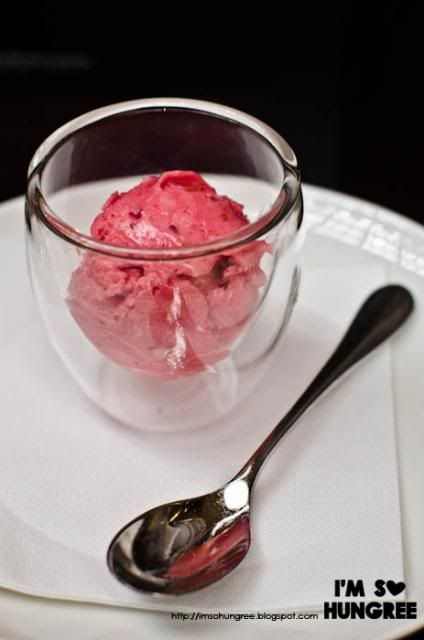 Mum and I (or more likely just me) then promptly hassled the very sweet waitress to get our palate cleanser sorbet, which today was a raspberry sorbet. You could tell this was made with plenty of fruit and I loved the grittiness you get from the seeds, letting you know that fruit was actually present.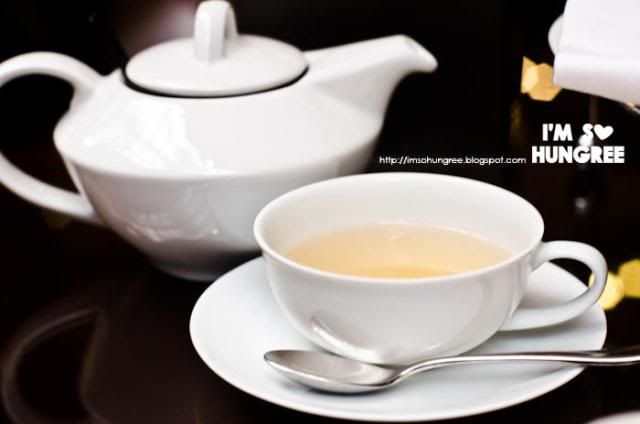 Although we were offered more coffee, mum and I opted to have a tea instead, which come in these beautiful teapots, that I thought sort of looked like UFOs. Just a tiny bit right?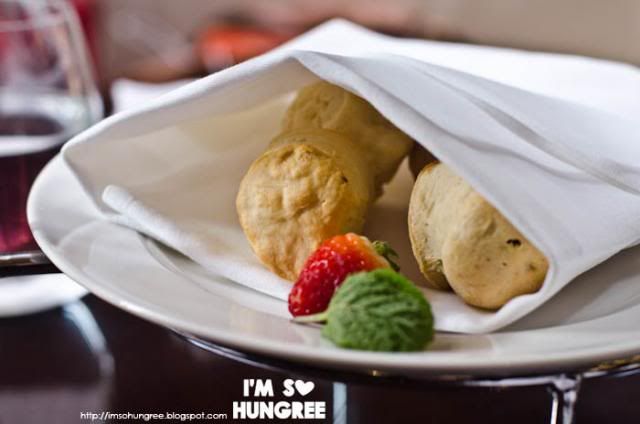 We moved on to scones, although since the scones had been at the table, probably a bit longer than us, they were not warm anymore, despite being neatly wrapped up in a napkin.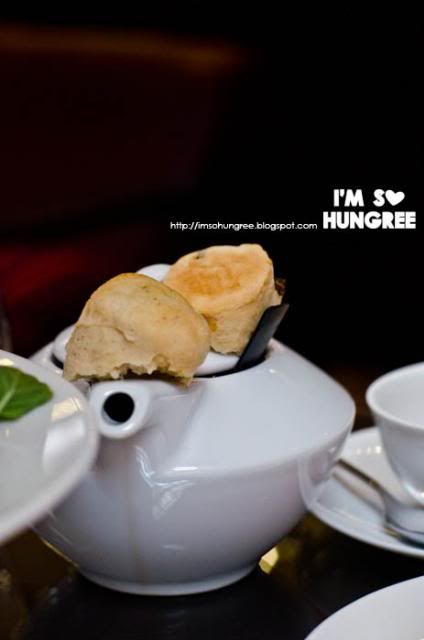 My mum's like the MacGyver of the kitchen, or anything to do with food really, and she figured we could warm up our scones (at least a little) on our teapots!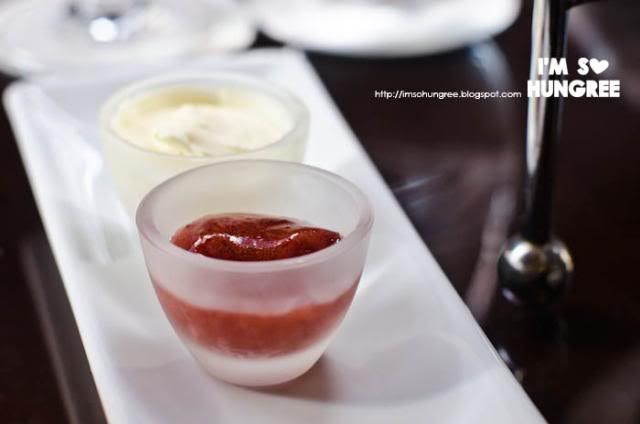 There were two types of scones, plain and with fruit (I surprisingly enjoyed the fruit scones better), and although they were cold, I was still pretty impressed with the texture. They were still fairly fluffy and light and absolute sin with the clotted cream and home made strawberry jam. Seriously. That clotted cream. Urrgghhhh, so good!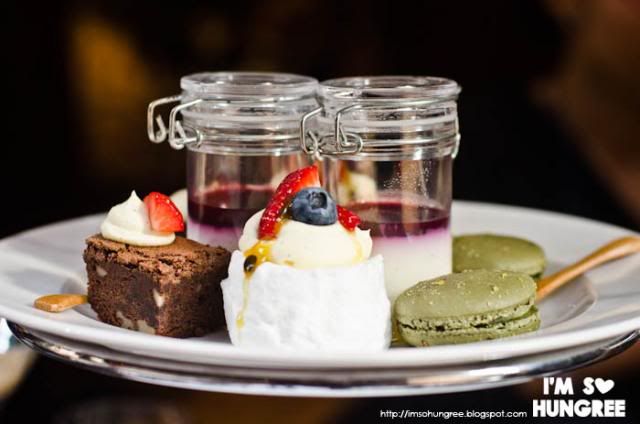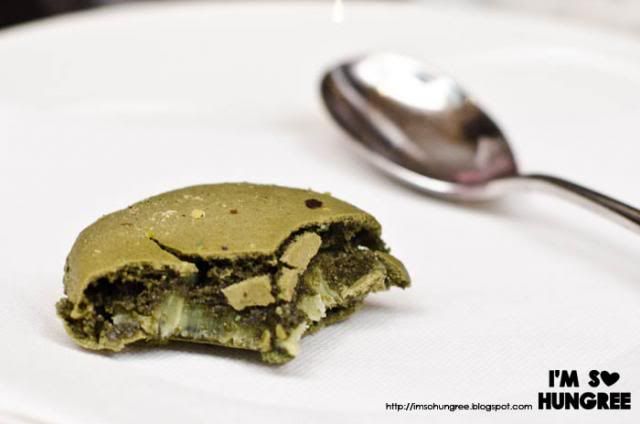 I was starting to struggle, though somehow, mum was still powering on and was the first to reach for the plate of sweets. On the whole, they were fairly tasty although tended to lean towards being a bit too sweet. The pistachio macaron was quite impressive with a lovely crunchy exterior, but soft, chewy interior with just enough ganache.
The first few bites of the mini pavlova with fruits are lovely, especially with the vanilla cream (I think) on top, but once you run out of fruit and cream to have with the pavlova, I found it to be a little too sweet. Maybe just a little too much pavlova to topping ratio?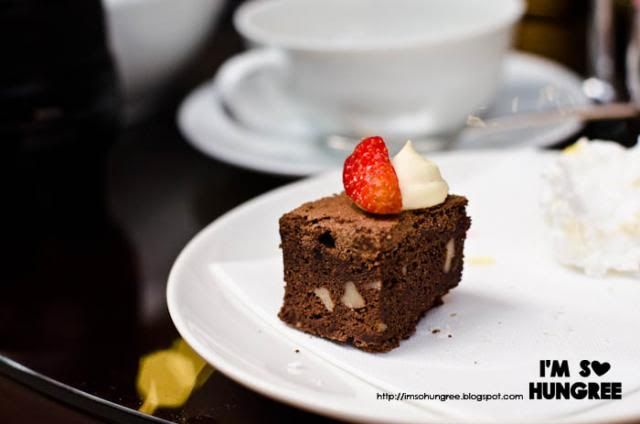 We also had a little inconsistency with the Coveture chocolate and macadamia nut slice with Chantilly cream, mine was quite nice and crumbly and mum found hers was a little bit too wet and too much like fudge for her liking. I did appreciate the richness of the chocolate in this though, and that it wasn't overloaded with sugar. Although I think some may have struggled with the richness, this was right up my alley!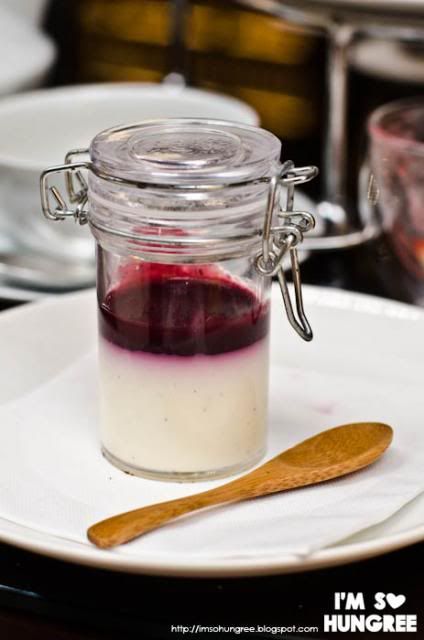 We both agreed that we loved the vanilla and raspberry pannacotta, not at all sugary sweet, but with a nice tang from the raspberry. It was all berries and vanilla, exactly as it should be. Probably our favourite dessert on the plate!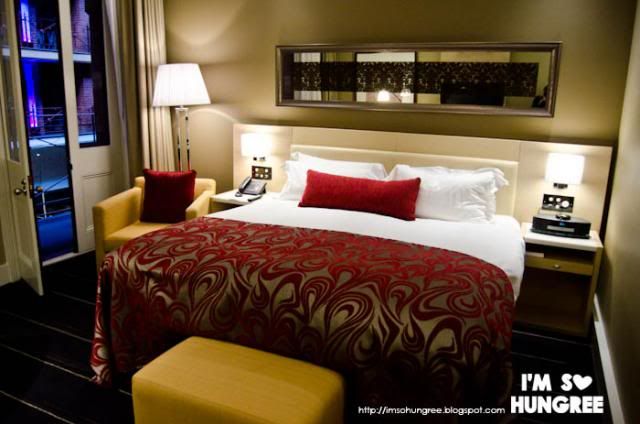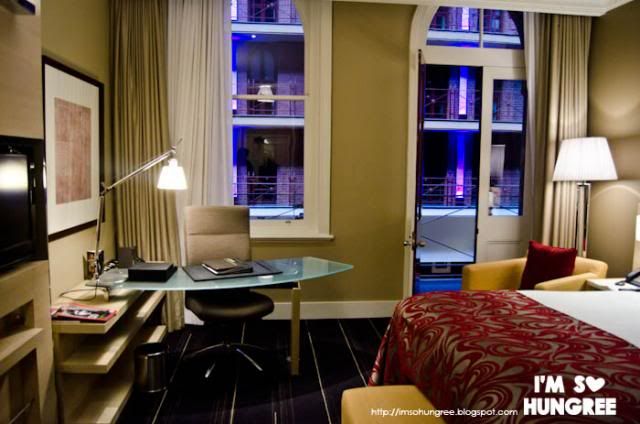 By the end, I was so full I could have burst. So as mum continued to sip her tea, I decided to move a little bit and pop up and have a sneak peek at one of the balcony hotel rooms they were letting us check out. The room is cosy, but quite sumptuous with rich trimmings and a couple of modern touches.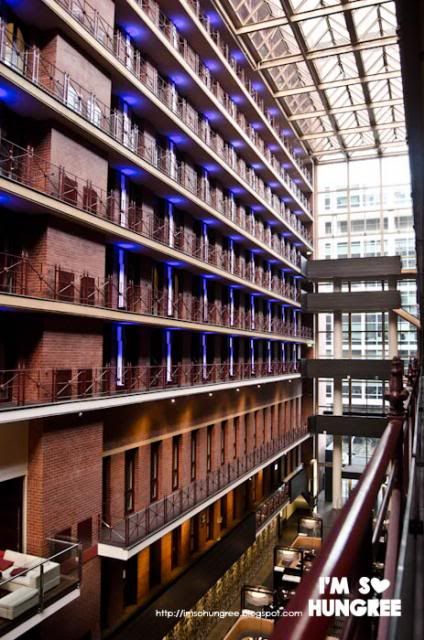 The 'balcony' actually overlooks the covered laneway, which means it's always good weather outside! If you're staying here, you can also have your High Coffee set up on your balcony, would make such a lovely treat!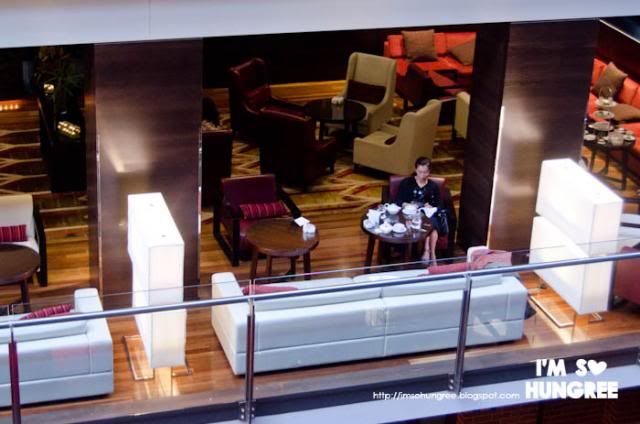 My mum and I very much enjoyed High Coffee at the Intercontinental, we left full and happy and felt incredibly looked after. When I think about it, at $55 a head, I feel that this offer is incredibly good value, especially in Melbourne. It's not just that you get generally tasty and well executed food, with great drinks to match, but you also get a very personal experience in an absolutely beautiful setting. I found the waitstaff who looked after us, were very vigilant in making sure that our experience was smooth and that plates were taken away and replaced as necessary and also made us feel very welcome, having a little chit chat and happily explaining what each of the different items were.
From what I have been reading of other high teas, many tend to be of the 'buffet' option where there is not really as much of a personal touch to the service, which I sincerely felt that Intercontinental had.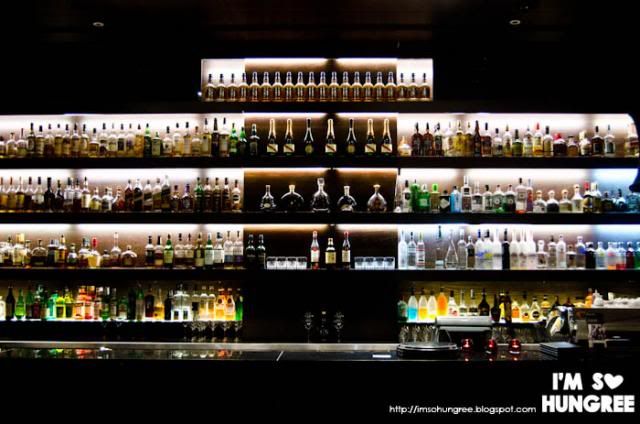 So if you factor all that in as well, I think you might actually be looking at one of Melbourne's best value 'afternoon soirees' (after all, it's not exactly high tea and it is available everyday!). If I had a girlfriend who I wanted to spoil on their birthday? Yeah, I'd bring them here, with a well stocked bar we could aways go from High Coffee to Happy Hour after all...
High Coffee at Market Lane Bar
Intercontinental Melbourne The Rialto