Disclaimer: I was invited for a complimentary meal at the Town Hall Hotel
I was having dinner with one of my good friends the other night and he made a comment about really being into chef-owner restaurants at the moment. Is that the right terminology? I'm not sure, but I'm guessing you know what I mean. When the chef is the owner of the restaurant as well, there tends to be a lot more love and personality in the place and in the food.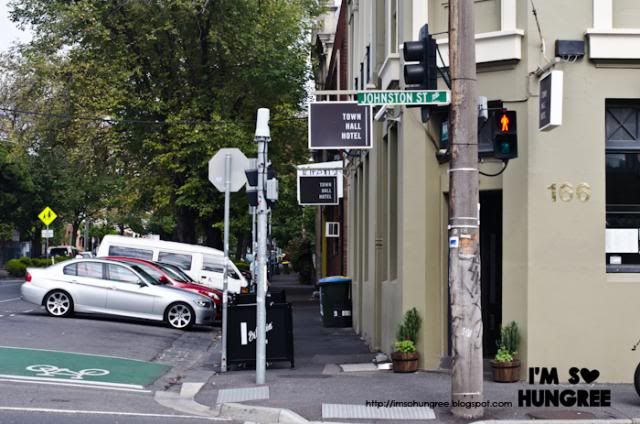 Which is what I found when I went to have lunch at the Town Hall Hotel in Fitzroy a few weeks ago, owned by chef Harry Lilai and his wife Michelle and their business partner and manager Stuart Neil.
Located on Johnson Street, between Smith Street and Brunswick Street, it's one of those places I have driven past a countless number of times, but never thought of going into. Oh my goodness, what have I been missing out on?!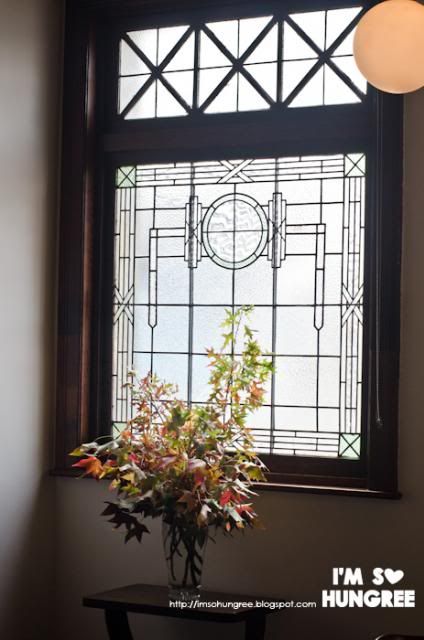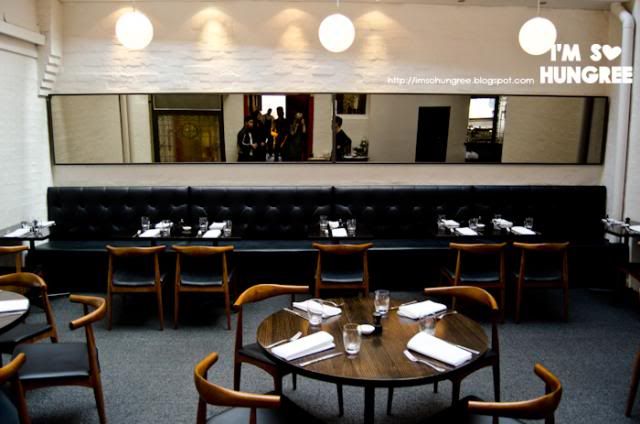 The Town Hall Hotel is all old school charm, with a fresh face. I loved how the light just poured in lazily through the beautifully framed and intricate windows. The Town Hall Hotel was split up into quite a lot of areas, but each was beautifully done up. From the more casual front bar, to the intimate dining rooms at the back, one with white walls and dark accents, the other with white table cloth and flowers on the table.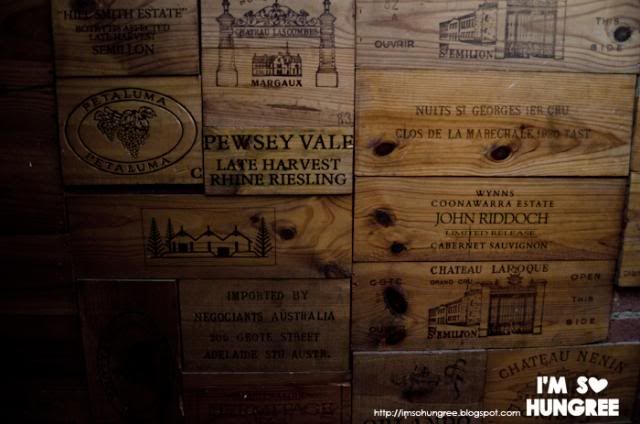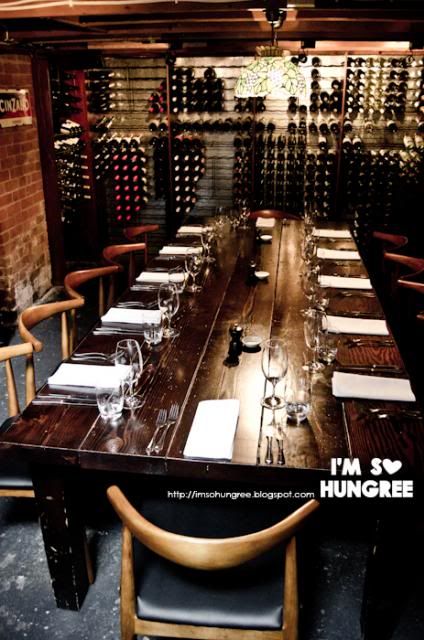 There was also an awesome wine room, squirrelled away down in a basement like area, which had brick walls just lined with wine bottles. Apparently a lot of cheese and wine launches are had down here…couldn't ask for a much better setting!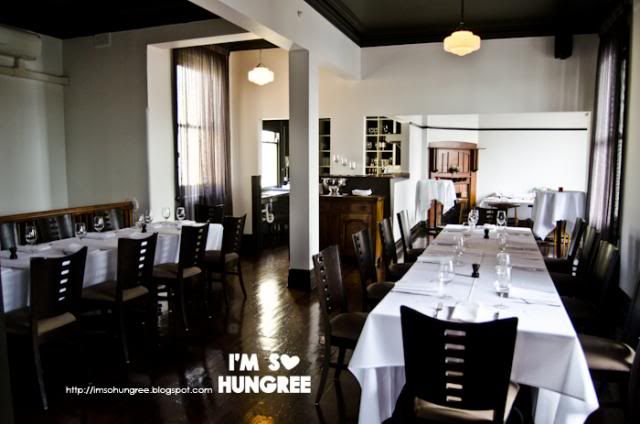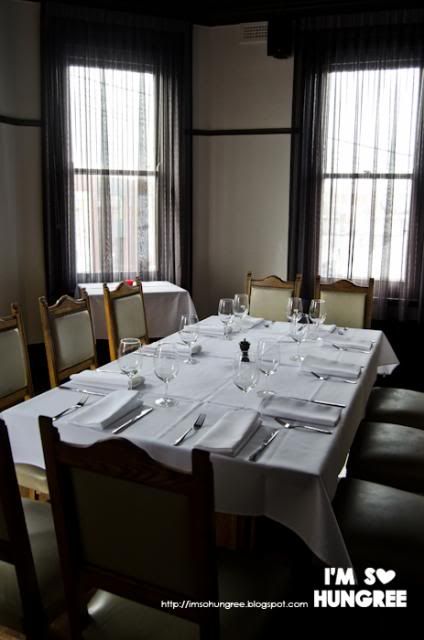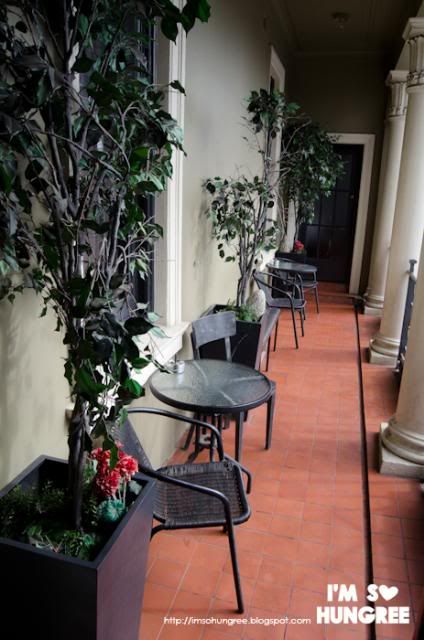 You could already tell how passionate Stuart Neil was about the restaurant, while giving a couple of us bloggers the grand tour around the restaurant, keen to point out details, show us extra kitchens (yes there's a second one upstairs next to the function rooms!) and make sure we were kept smiling and entertained.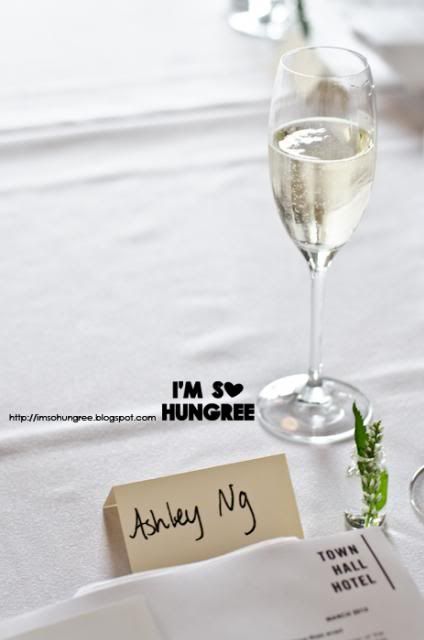 With front of house experience that reads like the Age Good Food and Wine guide (Cutler & Co, Momo, Exard, Taxi, the Stokehouse…), Stuart was a most gracious host and you could tell he enjoyed his work. Absolutely meticulous, no detail escaped his eye, and he almost always brought food around to Allan and I first, so that we could shoot it before everyone else got into it!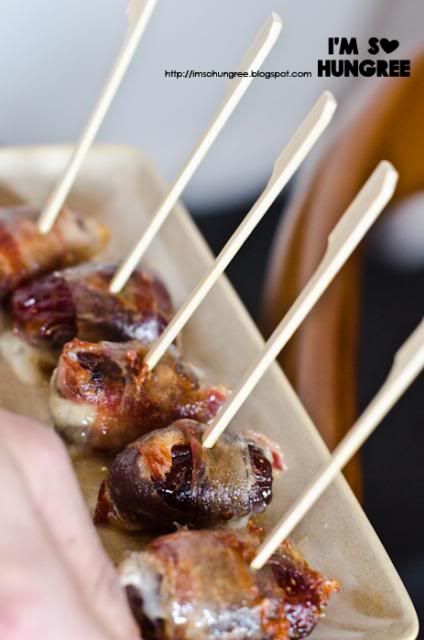 We started our lunch with hot dates filled with taleggio and wrapped in pancetta. Oh my goodness, piping hot, the dates were soft and sweet which just married with the saltiness and savoury of the pancetta and taleggio. Oh melted taleggio. Oozing taleggio. So naughty but so nice. I had two.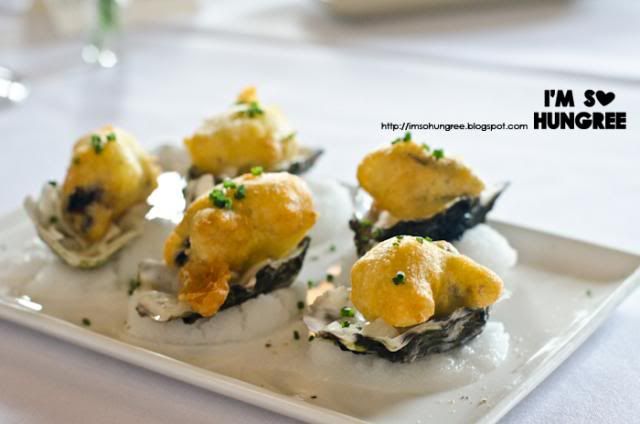 Following that we tucked into chickpea battered oysters with pickled fennel. I was all about the fennel here, although the chickpea batter itself was delicious and kind of nutty, the fennel just brought this to a whole new level, making it bright and vivacious.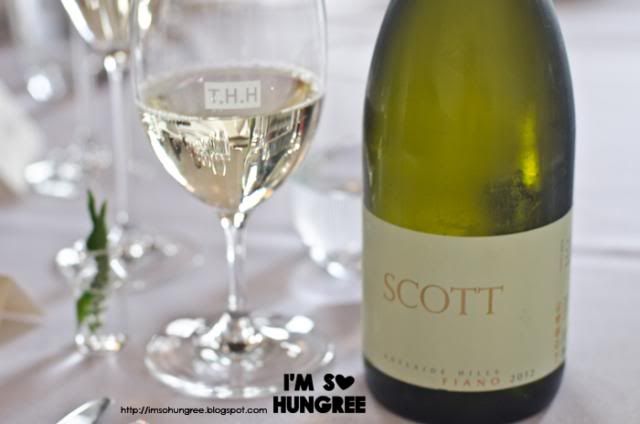 Stuart had picked out some absolutely gorgeous wines for lunch, and we drank very well. Almost too well. I was half worried I wouldn't be able to drive home! The 2012 Scott Fiano from Adelaide Hills was the perfect starting wine for lunch. Light and smooth, with just a little twist of acidity there to keep the taste buds alert.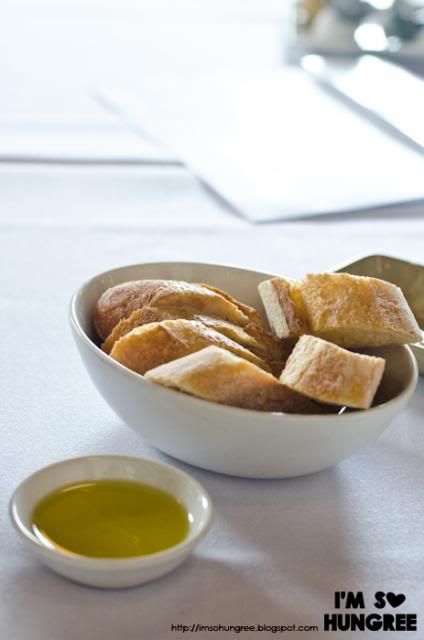 I would have tried the bread…but who really has time (and tummy space) when the entrees keep coming out?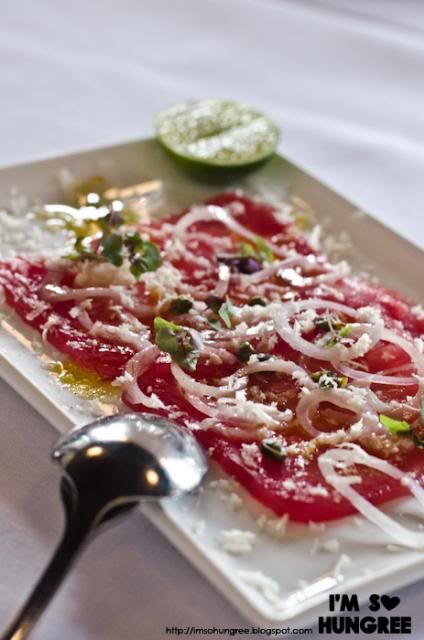 Yellow fin tuna crudo with shallots, horseradish, capers and sweet saffron dressing completely seduced the eye with it's vivid magenta hue. The tuna itself was smooth, but I still just adored how Harry continued to make these proteins so vibrant, adding a bit of contrast to this smooth and sweet tuna with the sharp and crunchy onions.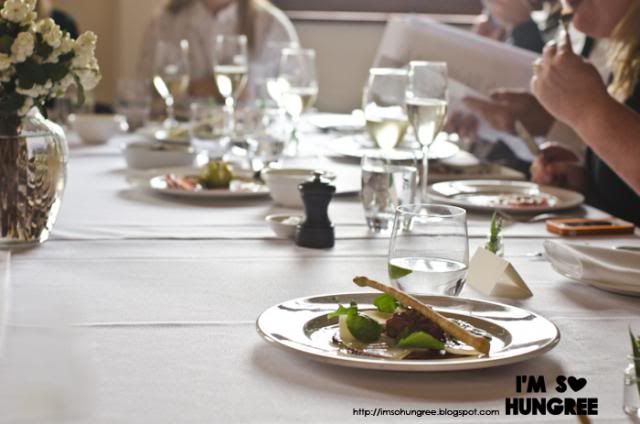 I'm a bit sad I didn't get a better picture of the seared beef carpaccio with truffled beef tartare and reggiano shavings. I'm so used to either just having a beef carpaccio or a beef tartare, but not together. The different textures of the beef played off each other very well, and there's nothing like truffles. Nothing.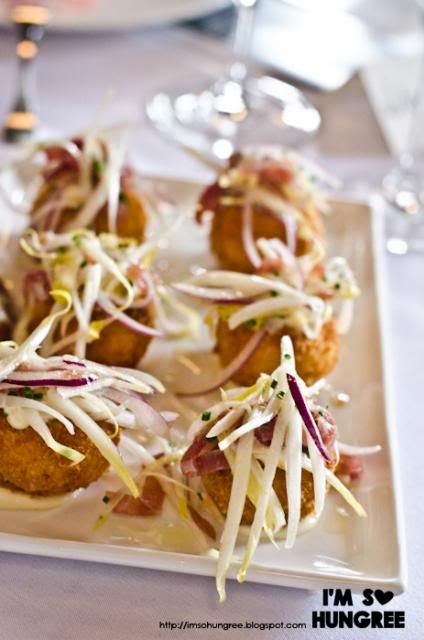 Harry's apparently crazy for baccala, and after having it the way he cooks it, who can blame him? I don't know if I can look at another arancini the same way after having the arancini of baccala with salad of parma ham, red onion and witlof here. The smokiness really came through, and it had a rather addictive crunch around the exterior. It kind of tasted like a fancier fish and chips to me, without the chips though. There was also something about the texture I really liked, I'm used to noticing all the rice grains in an arancini, but this was much smoother. Unusual, but delicious.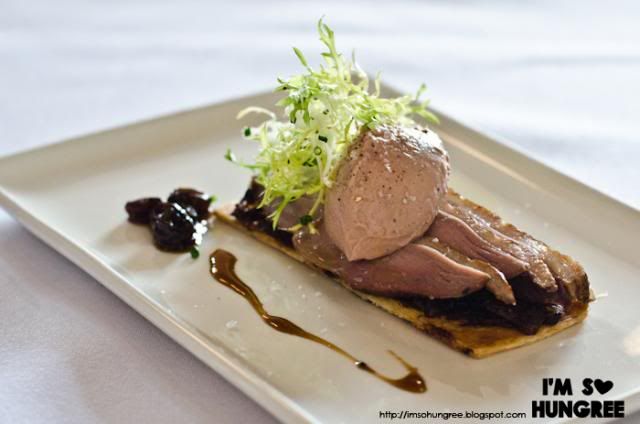 Smoked duck breast and onion tart with a duck liver parfait. This was a little bit hard to share, as it's clearly designed for one (glutton) to enjoy all their own with finely sliced slivers of tender duck on top of a thin pastry. It was quite difficult not to swipe the carefully spooned out parfait all onto my plate when it came to me to get my serve.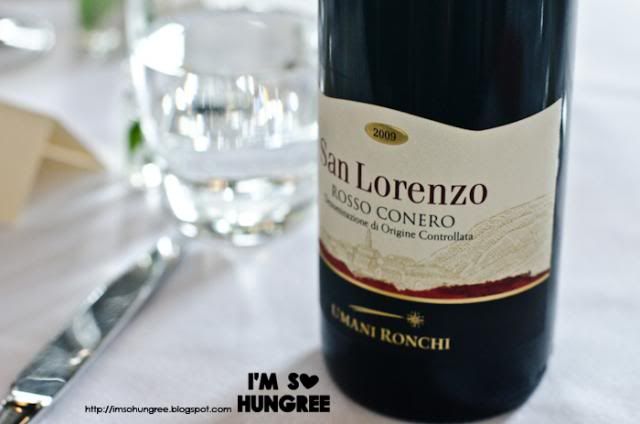 Before moving on to the pasta dishes, we changed our wine gear to the reds. The 2009 Umani Ronchi San Lorenzo Rosso Conero DOC instantly won Allan over with it's soft plummy palate. Soft on the tannins, we wondered if it have enough structure to go with food…which it certainly proved to as we moved into carbohydrate central.
Generously sized tortelloni of pumpkin and leek, prosciutto, lemon button and fresh ricotta made for a rather surprisingly light pasta treat. Zesty is not usually an adjective I would apply to any savoury carbohydrate, but it goes very well here. Zesty and sweet (thanks to the pumpkin). The pasta itself was quite structured and gorgeously al dente. It was also a tiny bit cold by the time it got to me, but we had a pretty big table and therefore a lot of people to get around!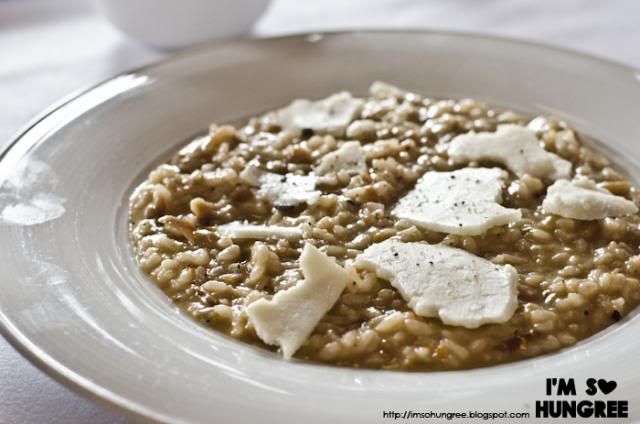 Although we had one zesty pasta dish, Harry didn't hold back on the cool Autumn afternoon we were having and sent us straight into comfort food land with the risotto of porcini with confit garlic and truffled pecorino. Ah. I died. Multiple times.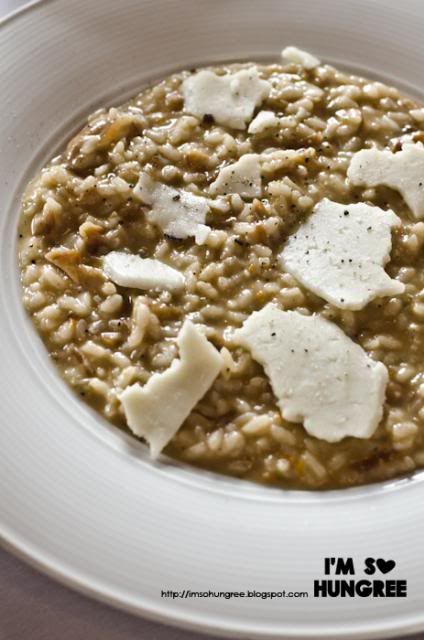 I kind of wanted to keep the plate to myself, but that's not very ladylike I suppose. Beautiful texture, I kind of need to go back for this. More garlic and truffle goodies please.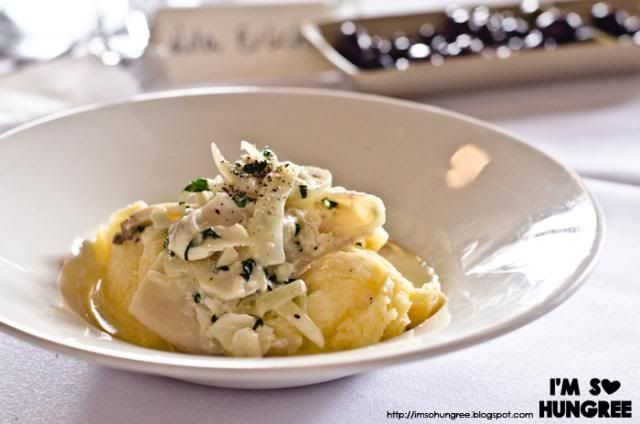 The creamed baccala with white onion over soft polenta is probably as close as it gets to The Town Hall Hotel's signature dish. This my friends, is perfect for the upcoming colder months. You can't really tell when baccala turns into polenta, and end up with just spoonfuls of warm and creamy goodness, with a smokey and salty edge. Pure comfort.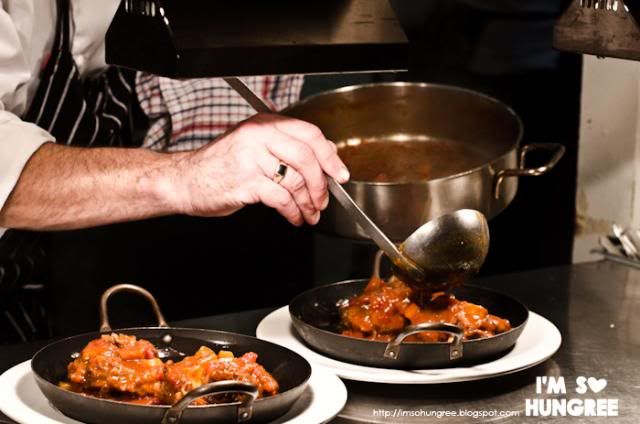 So I haven't had a chance to tell you about Harry yet. Harry is an absolute gem. Twinkle in the eye, generous grin, big hearty laughs and all the passion in the world for his cooking. When he wasn't in the kitchen, preparing another round of food for us, he was at some spare chair at the table, leaning back with a glass of wine and merrymaking with the rest of us, making sure he got around to everybody to check how the food was.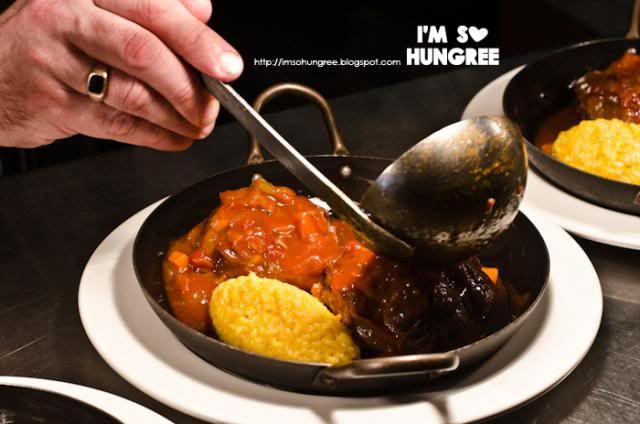 I love watching a chef work on their food, so I snuck over to watch Harry plate up an osso bucco dish (oh yes) and when I commented that it's the perfect dish for Autumn, he very easily convinced me that everybody should just have braised dishes all year round and that he would always have one on the menu, despite the season, as he absolutely loves them. He also groaned about editing a menu, complaining over the many ideas that were always in his head, that he would love to share with his customers, but also be cautious of overwhelming them at the same time. You can't help but smile.
For the record, Allan and I did comment that the menu read very well, easy, non fussy, didn't have to read anything twice. This is something totally underrated these days!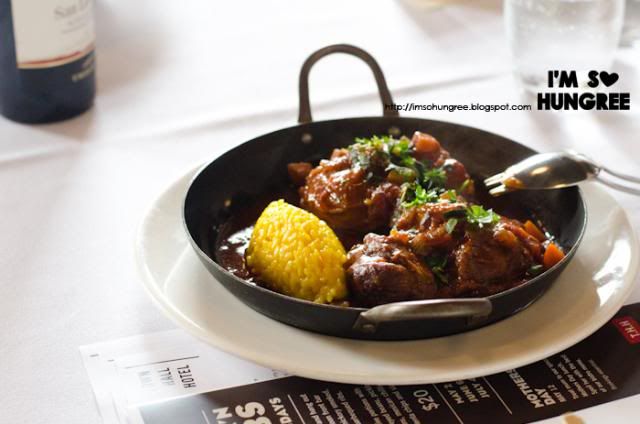 And before I forget (although really how can I?) the osso bucco milanese with saffron risotto and gremolata, casually lying about in a gorgeously hearty stew, just flopped off the bone and melted in the mouth. I was quite enamoured with the saffron risotto as well, which was just so bright in flavour and sweet.
But there's still dessert.
Stuart comes over to our chairs, kneels down to our level and informs Allan and I the following: the chef is preparing the tiramisu, bombolone and a surprise dessert that he won't tell me…do you still want the chocolate pudding?
And, literally, even before we had a second to think: So that's a yes? Okay I'll let him know.
And to the kitchen he went. That, my friend, Is a clever man.
While waiting for dessert, Stuart also poured us a little dessert wine. The 2012 Peregrine 'Charcoal Creek' Riesling was one of the tastiest dessert wines I've had recently. It was delicate and sweet with lots of stone fruit flavours, not too sticky or sugary. My kind of thing.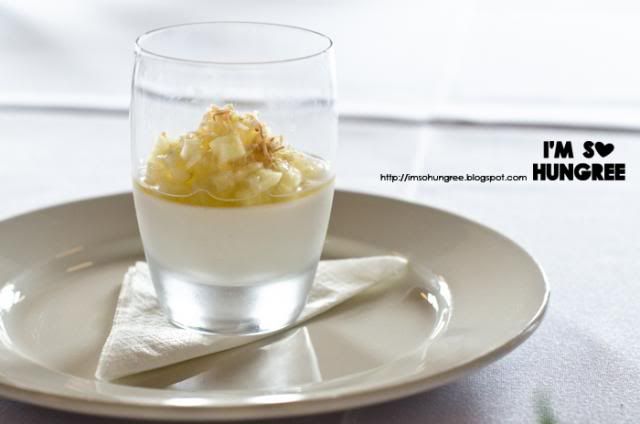 A coconut panna cotta with pineapple and lime salsa, gracefully glides onto the table. So delicate and elegant in flavours, it is an absolute treat after the rather filling food we've been having. It's a very Italian style panna cotta, or so Henry tells us, in that it sort of melts into liquid on the tongue, instead of having a bit more density, achieved usually with more gelatin, that is a little more common these days. It was kind of like a pina colada in dessert form!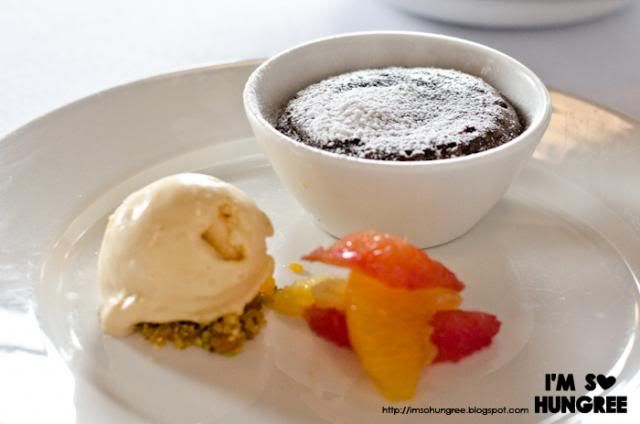 The hot chocolate pudding with citrus compote and malted ice-cream is naughty. So naughty. Piping hot, the centre is literally just molten dark chocolate, which wraps itself around a spoonful of ice-cream and transports you to sugar heaven. This was great as it wasn't too sweet, with a real emphasis on good dark chocolate. If you're a chocolate addict, with a thing for the dark and handsome, take note of this darling.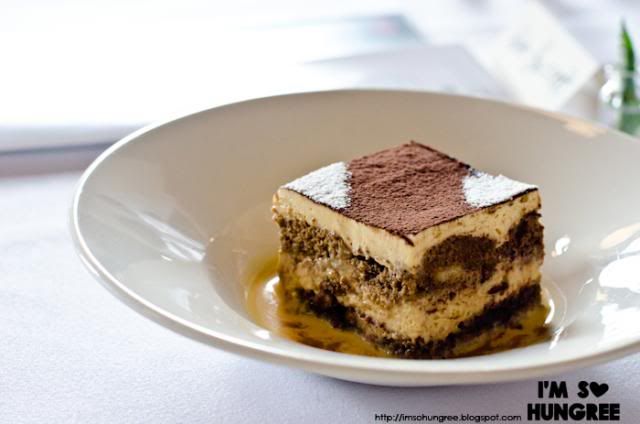 I found the simple presentation of the tiramisu endearing. No fuss, no muss, just simply rustic tiramisu. Cream, sponge, coffee, it's surely hard to get this wrong?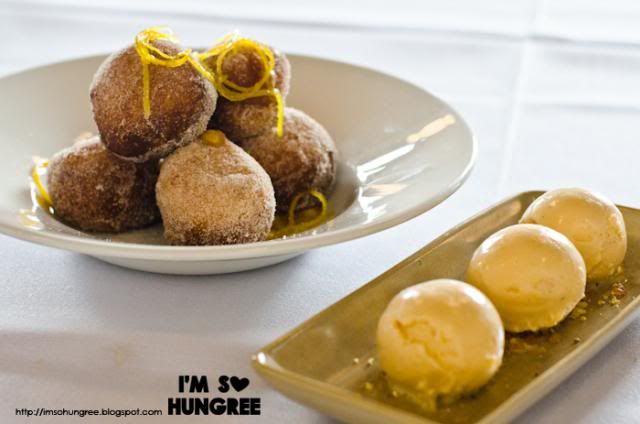 And lastly (no I'm not sure where we found all this tummy space) a generous serve of the bombolone made it to the table. Custard filled Italian doughnuts with orange blossom and honey ice cream. Sugar dusted, fluffy with a kind of crumbly texture, these were warm and soulful. The honey ice cream was a great pairing with it.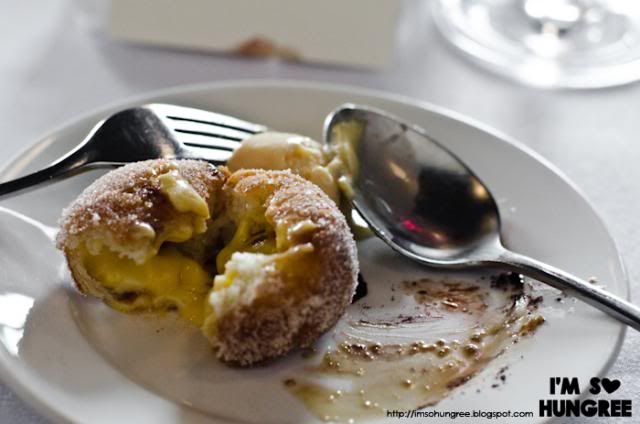 Allan and I slumped back in our chairs and although the offer of tea and coffee (to aid with digestion) was a tempting one, I unfortunately had emails awaiting me at work. Although Harry did invite us to stick around, drink a bit more and wait until dinner to start all over again...!
I was extremely impressed with this little gem in Collingwood, that I very embarrassingly didn't care to notice earlier. It'd make a lovely place for a cosy date, or for a casual, but nice night out and caters well to bigger groups as well. The only thing that's a downside for this gorgeous little gastropub (can I call it that? I think so...) is that parking can be a bit tricky during lunch, but there are some 2 hour spots down the side streets, floating about if you can get one!
I felt as if I was leaving Stuart and Harry's home as I got my coat on and my car keys out. A beautifully lit home, with hearty, wholesome, but creative food as well and good company. I vow to be back for more baccala arancini and delicious wine from that winelist...!