How does one even start to write about Los Angeles?
Whilst it's not my favourite city in the USA, it is still a very interesting one, with many layers, lots of different people and a bit of a glamorous facade which can be a bit hard to see through sometimes. It's one of those places where if you've been once, you don't really need to go back again. Whilst I pine for New York and San Francisco, Los Angeles doesn't really have a spot in my heart. However, I still liked getting to know the place again and whilst I may not want to revisit in the very near future, there's always a lot to say about it…!
Brad and I fortunately had a really great flight getting in, so we both arrived feeling fairly fresh and excited, after our 12 hour flight from Auckland to Los Angeles.
When we arrived, we had opted not to get a car, despite a lot of people suggesting that we do. This stressed me out enormously, as I of course wanted us to have the best experience that we could have, but by the time we added it all up, having a car for even just a couple of days was actually not that cheap, by the time you included a GPS. But as I mentioned previously, it all seemed to work out pretty okay since we factored enough time to walk almost everywhere (great way to work off all those cupcake calories…!)
So we took the LAX Flyaway bus, you have to wait under the green bus sign and wait for the right one (some go to Van Nuys) to Union Station ($7 each, you pay when you get to Union Station) and from there, rode the red metro line ($2.50 each) to the Vermont/Beverly station. From there, we had a solid 20 minute walk (in a straight line at least) to our hostel, Stay On Beverly.
We walked by many Mexican groceries, Salvadorian restaurants (99c pupusas!) and mechanics on our way to the hostel. As we strolled through, since it was around 6pm, you could hear small mass's congregating and singing their hymns in Spanish.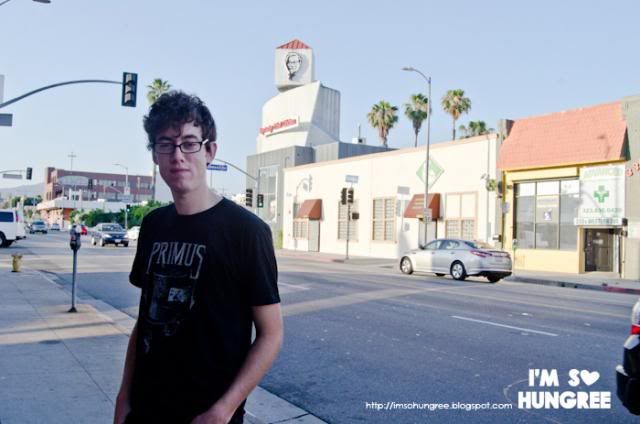 It was kind of weird while walking down a rather wide, but empty sidewalk. Plenty of cars driving by, the odd kid on a skateboard, a cyclist or two and a couple of women doing their groceries, but for the most part, it was quite spread out and quiet.
I loved the Stay On Beverly Hostel. A little bit obviously named perhaps (as it is located on Beverly Boulevard), but just perfect for our needs. This isn't your typical hostel, as there is no check in procedure, and we almost saw nobody during our stay in the hostel. You book in advance (obviously), and it's around $75 to $90 a night, depending on how many people are in the room. A few days before arriving, Bo, the owner, emails you two sets of pin numbers. One for the main door and one for your room.
When you arrive at the property, which does a good job of keeping itself understated and not too obvious (if you are walking down the road looking for it, it's right next door to the Mobil gas station), you simply punch in the first set of codes into the keypad at the door and then the second lot for the room of your door and voila, you are in!
Bo is supposed to knock on your door to see your ID and credit card at some point in your trip, but because Brad and I were out pretty much everyday from about 8am until late afternoon, we never ended up doing this, which didn't seem to be a problem (I was half worried we would be kicked out).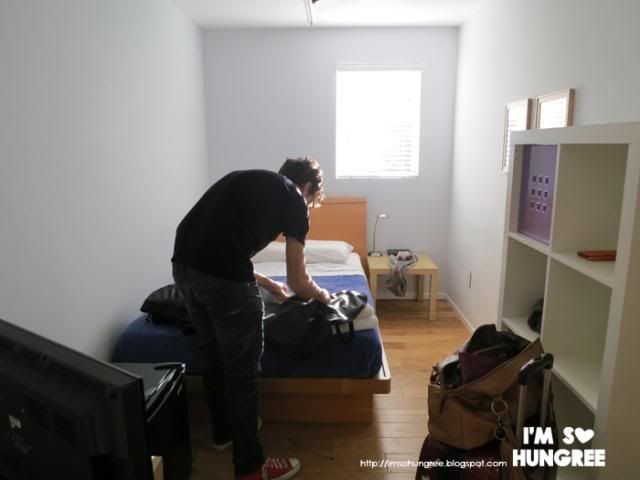 Our room was very comfortable and very clean, with enough room for a double bed, some storage units, a desk and a little mini fridge. Bo provides complimentary bottles of water (which were replaced everyday) and towels. There are three bathrooms in the hostel, I was expecting a stall or communal type shower, but each bathroom was actually a full individual bathroom with a shower, sink and toilet, which was quite nice. We almost never had to wait to use these.
What's also lovely, is that there's a 10pm 'quiet time' rule. If you're looking for a party hostel, this is not going to be your spot, but if you want somewhere quiet to get over the jetlag, here's your place!
Stay On Beverly was situated in Wilshire, sort of wedged between Koreatown and a very Latin American part of town, and on a whole, a lower social economic demographic. Not that it was unsafe or anything, the area was great and I loved being fairly close (5 to 10 minute walk) to a variety of foods, supermarkets and convenience stores.
What I did find interesting though, was that in the matter of a couple of blocks (although they are pretty big ones) you could see the landscape change completely from one that was a little grittier, a little unpolished, to one where the lawns are manicured, the cars a bit shinier and the sidewalk doesn't have a stain to be seen anywhere. This seemed to happen everywhere in Los Angeles, with the touristy areas coming across as somewhat plastic and unreal, and a little more character and grit, slipped in-between all the glitz.
Which is why I was quite pleased we stayed in the area we were in and that we walked everywhere. You could observe these changes so much more and get a taste of both sides of Los Angeles, see a little more of that personality. Although we didn't quite make it into downtown, so I can't say I've really seen all of Los Angeles just yet.
But anyway, back to more delicious tidings.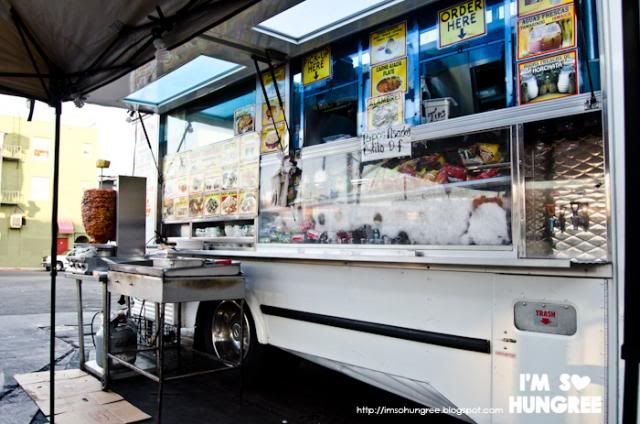 Goodness. When I punched in our address in Yelp, the options for taco trucks were endless! It was really interesting to see people comparing the trucks too, some were incredibly faithful to their favourites, but some people were far more open in trying out and endorsing as many as they could. It was a little overwhelming. I think I picked Chiqui's Tacos though because it was the closest, with the best rating. It was 'only' a block away, although it still took a good 10 to 15 minutes to walk to. Block's are freaking huge in LA!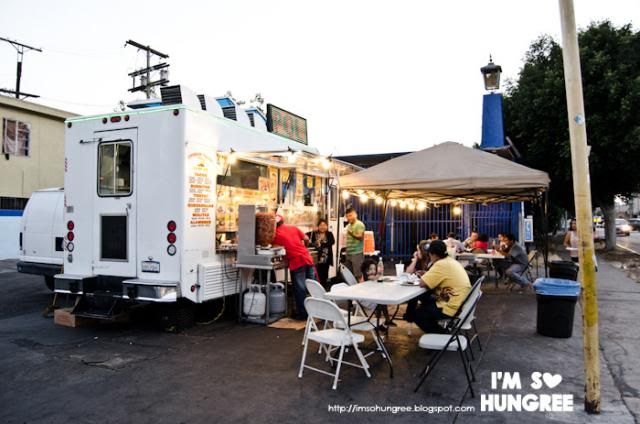 Chiqui's Tacos sets up shop everyday, quite faithfully, at the Melrose carwash on Melrose Avenue (obviously). What I love is that even though it's a truck, since they have a spot they show up at everyday, they actually set up a little awning with tables and chairs, so that you can effectively 'dine in' with them. Brilliant!
Walking up to the truck, I was so kind of nervous, how does one order from a truck? What does one order? Will I sound stupid if I ask what asada or pastor is?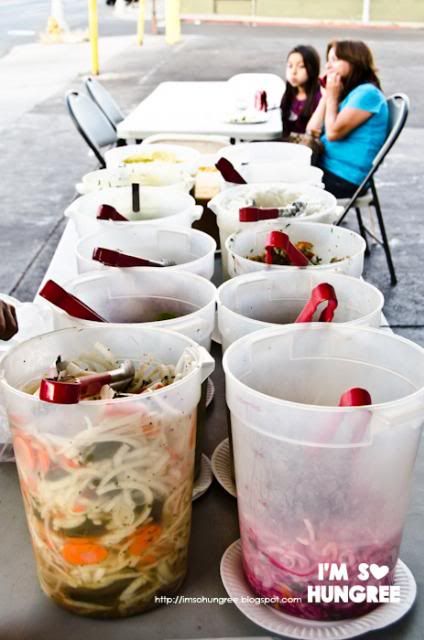 So I kind of uh, just winged it. I knew I wanted tacos. I knew what chorizo was and I knew what lengua was and within a matter of minutes (maybe even just a minute) the guy inside the truck was calling me over to grab the tacos from him and head over to the table with buckets, BUCKETS of condiments. You want salsa? You can have ALL the salsa. Onions? Tomatoes? You can have it all.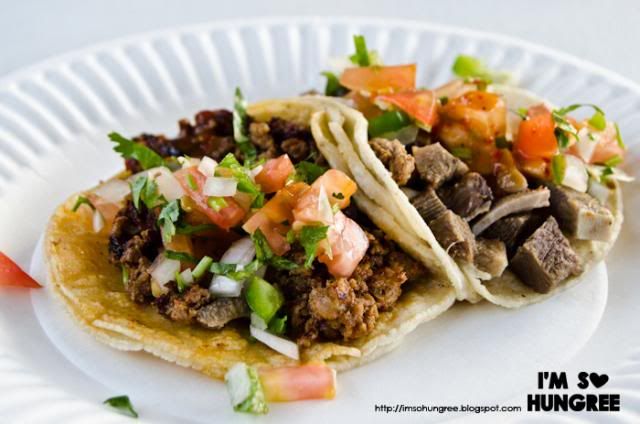 I was a little shy to ask what everything was, so again, I just winged it, threw some stuff on to my tacos and sat down to experience my first $1.25 tacos in Los Angeles.
How was I ever paying $6 in Melbourne? Maybe I was just slightly ravenous since we hadn't eaten for around 6 hours, or maybe I was just loopy since my body clock was a bit out of whack. Whilst both may have been true, I don't think either contributed really to the fact that these were just plain delicious. The chorizo with a gorgeous little bit of kick and the lengua not being overly chewy. I really enjoyed just how clean these both tasted as well, no cheese to be seen here. Just beautiful corn tortillas, a generous serving of protein and loads of beautifully fresh condiments at the ready.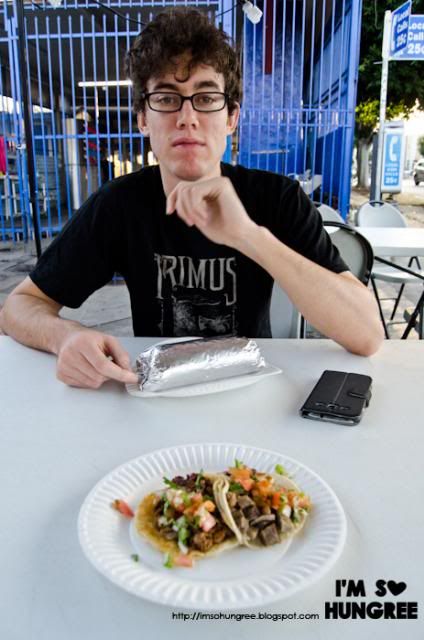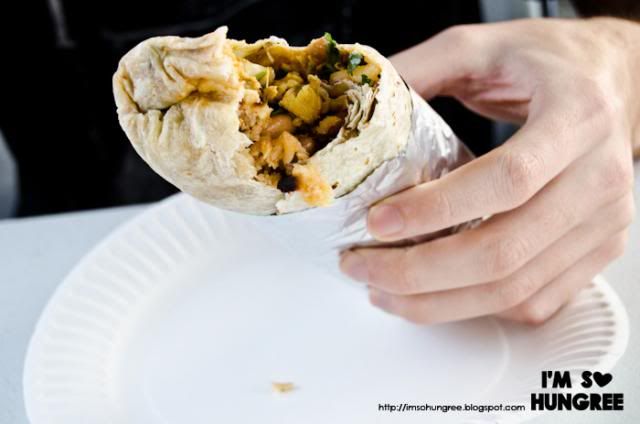 Brad's a bit of a burrito man (Burrito Brad? Could be a new superhero), and loved that his burrito was piping hot, packed with beans and just overall really tasty. Again, clean but hearty.
After realising we had only spend $7.25 on these things, we figured we had to try more.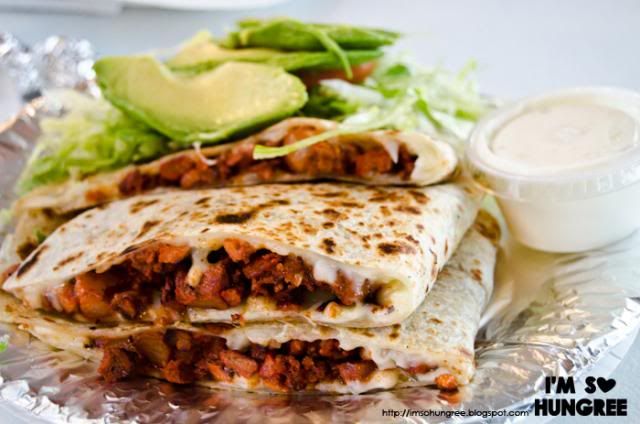 So an al pastor quesadilla it was! Al pastor meat is similar to a turkish donna kebab or greek gyros, where it's cooked on a vertical rotisserie and the meat is shaved off as required, usually it's pork, and man, is it delicious! Arriving enveloped in tortillas, you can just tell the marinade's been seeping into this for hours with all that colour and it comes through in flavour and texture, so tender and so juicy! Whilst the tacos sported no cheese, they certainly made up for it in the quesadilla which was just wrapped up in the stretchy, gooey stuff, but without going completely overboard.
This generous serve (and believe me, it was generous) was a mere $6. Sigh. Sigh. SIGH. HAPPY SIGHS.
I also tucked into some homemade horchata, which I had been first exposed to at the Immigration Museum MELT festival preview. For $1.50 I got a huge cup that I filled up with the giant vat of horchata next to the truck. It was heavenly, heavily cinnamon infused deliciousness. Much spicier than I had had in Melbourne and rather filling, I struggled to get through all of it after all our food!
By the time we left, the other tables around us were filling with hispanic families, the young, the old, who were all laughing and eating away happily. I quietly eavesdropped on the Spanish banter and couldn't help smile at how beautiful the language sounded (wish I was good with languages!). It was a lovely atmosphere and a great way to start our trip. Actually, we liked Chiqui's Tacos so much, we even had dinner here before we left LA too!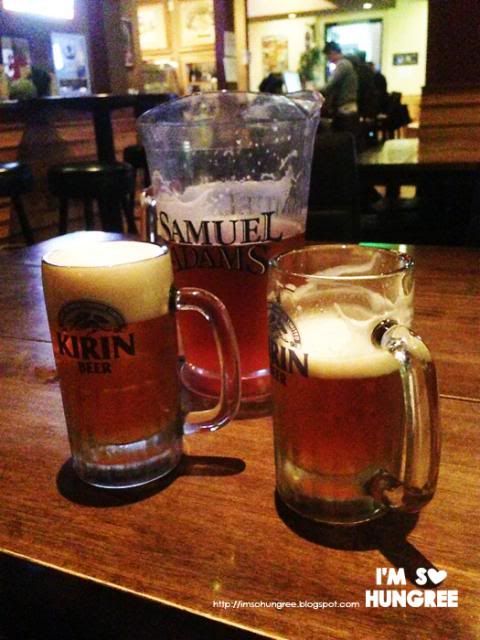 After our scrumptious Mexican feast, we strolled over to the Biergarten, which wasn't far from our hostel either, where Brad and I discovered that American jugs are one litre and that American beers are…well very hoppy. I also discovered that I don't really like beer that hoppy. Which meant Brad got through about 700mLs of beer on his own. I got a glass down at least.
We didn't eat at Biergarten, but the menu has a curious combination of Korean and pub food. Have some Kalbi in your quesadilla. Or a German fried rice (with german sausages and sauerkraut). I do kind of regret not tucking into some poutine…maybe for next time...
You know guys, I really wanted to give you a thorough but quick write up of Los Angeles. I don't think that's going to happen though.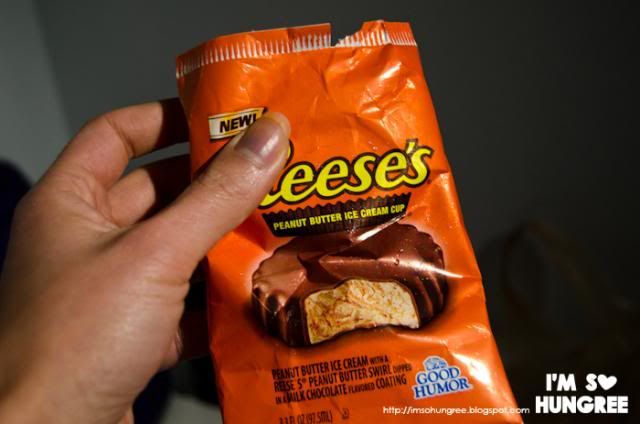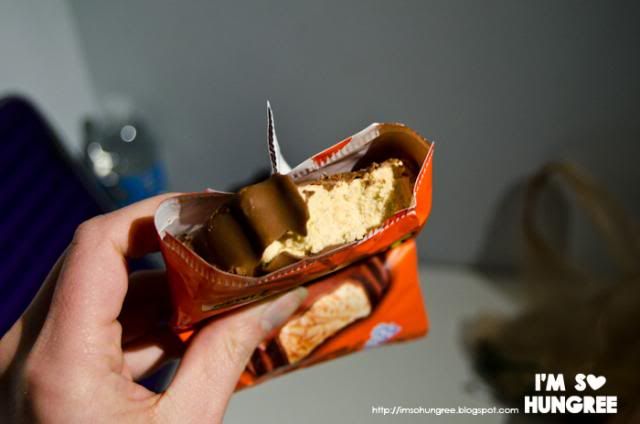 So in the meantime, until the next post America post, where In-N-Out and Universal Studios will hang out, dream of this Reese's Peanut Butter ice-cream cup I found at the Mobil gas station next door to our hostel. Dream of it's sweetness, it's smoothness, of cold peanut butter and the crunch of the chocolate shell.
If I could have I would have brought the lot home for you guys. Really!