Disclosure: This post has been sponsored by Australian Mushroom Growers for their 2013 Mushroom Mania campaign. Venue was of my choosing, meals paid for and as always, my opinions my own :)
My family rarely eats out as a unit. It's really only for special occasions, such as birthdays. There are several reasons for this. My dad travels a lot, which means he eats out a lot when he's away, so when he's home, he loves to cook and pop open a bottle of wine without the worry of needing to drive somewhere later. My parents generally both think eating out in Australia is too expensive (which it is really, but what else is one to do?) and my brother…well he's a bit of a homebody sometimes and is quite content to spend his evenings sewing away in his room.
However there are always two things I can guarantee my brother will leave the house for, with no special occasion attached. Anywhere that serves Japanese food, or gluten free pizza.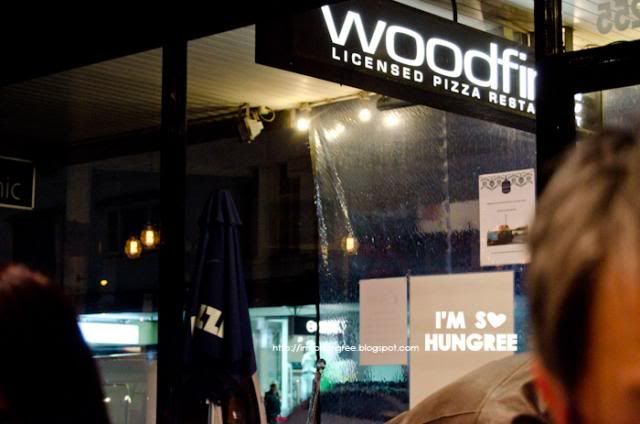 So when I told my dad that one night I was going to check out a pizza place in Ivanhoe with my brother, that did gluten free pizzas, I was quite surprised when he decided we should all go together! Well, that basically just means more pizzas to eat then, so no complaints there right?
We bundled into the car, crossed fingers that the traffic would have died down already and made our way to the Woodfire Cafe Pizzeria on Upper Heidelberg Road.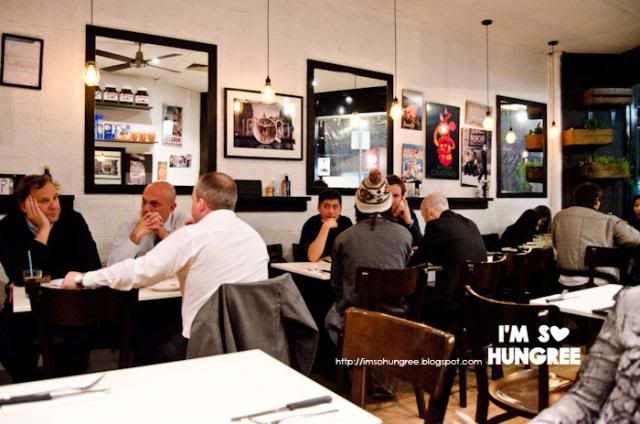 I was quite surprised how busy the little space was on a Monday night, with several large tables, which meant making a booking had been a decent move.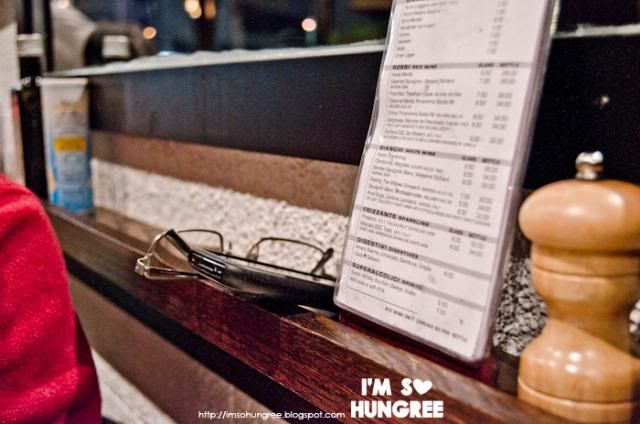 The restaurant was basic, but quite cute, with a couple of pictures and photos to liven up the white walls and exposed light bulbs. My dad liked the edges around the restaurant, where the menus are propped up, which he used for his glasses and iPhone, to keep them away from the mess that was going to be pizza later!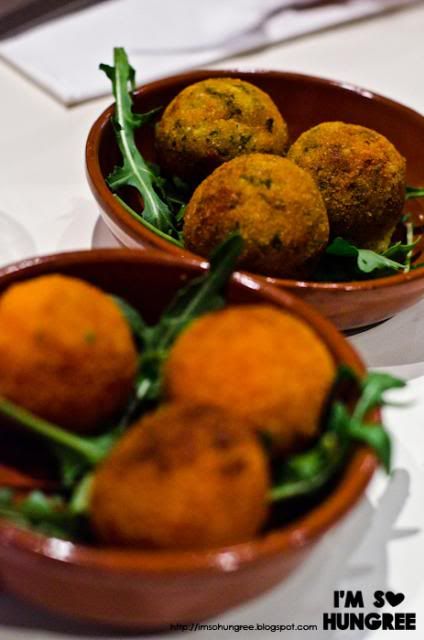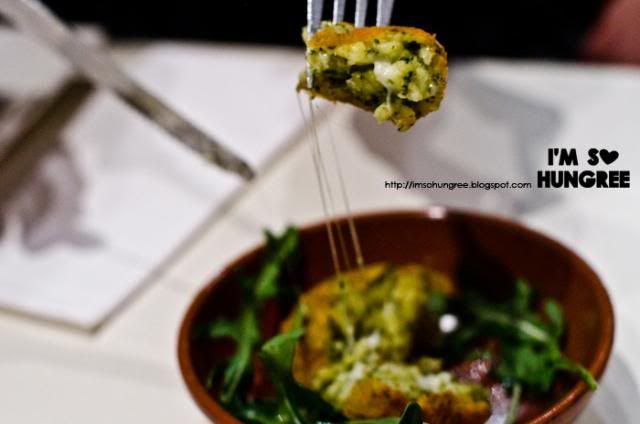 We started our evening with a couple of mini arancini specials, one plate with bolognese aracini and the other with a pesto combination. We found these needed a touch of salt, and were a little on the dry side, but a good size as a nibble.
But then it was on to the main event…pizza time!
We decided to get two gluten free pizzas and one with a regular base, as my dad was curious to see what the difference was like.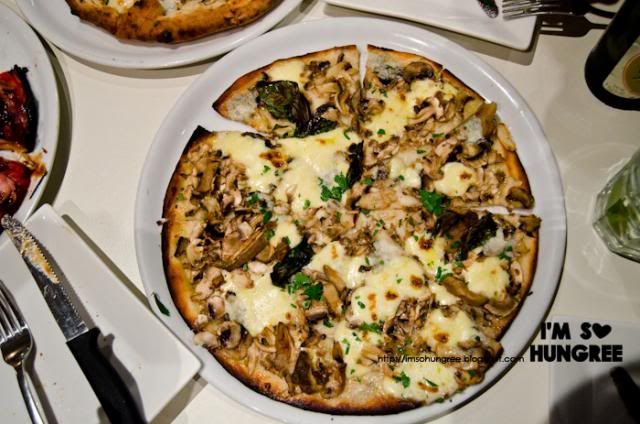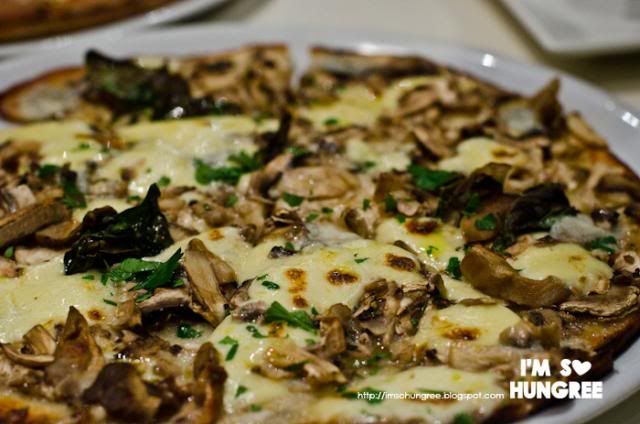 I naturally had to get the mushroom pizza, since it's Mushroom Mania month, with truffle oil, field mushroom, porcini mushroom, gorgonzola and fior di latte. Honestly, when I'm out for pizza, I almost always gravitate to a mushroom variety as my first choice. I just love the combination of cheese and mushrooms, it's so naughty, but since the mushies are so good for you, I don't feel as guilty munching away. The mushrooms were so sweet, especially with the generous dollops of fior di latte and were surprisingly not too oily. I also loved that the gorgonzola gave a nice savoury hit in small doses.
My only complaint in general might be that I found the gluten free base a little bit wet, and had to resort to a knife and fork to at least get the middle of the pizza, but on the plus side, it wasn't too stiff or dry. It's a tricky balance with gluten free bases…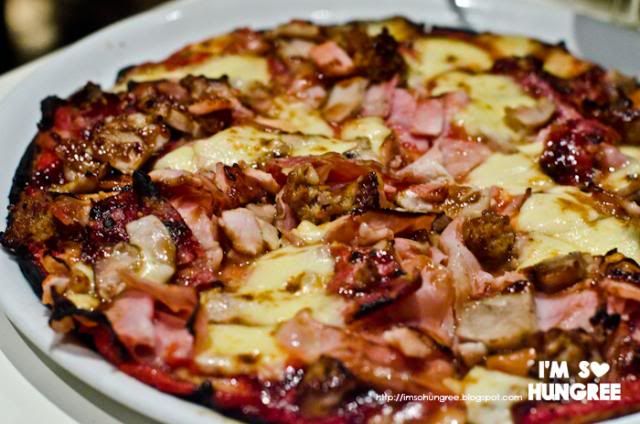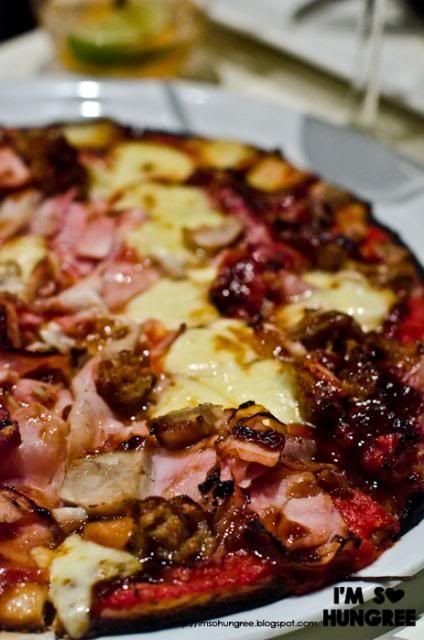 My brother ordered the meat lovers pizza with napoli sauce, mozzarella, shredded ham, chicken, hot salami, Italian sausage, bacon and barbecue sauce. Goodness, it was an absolute meat extravaganza! Loads of toppings, although a bit on the sweet side, probably from the barbecue sauce. Loved the thinly sliced ham on this though..mmhmm.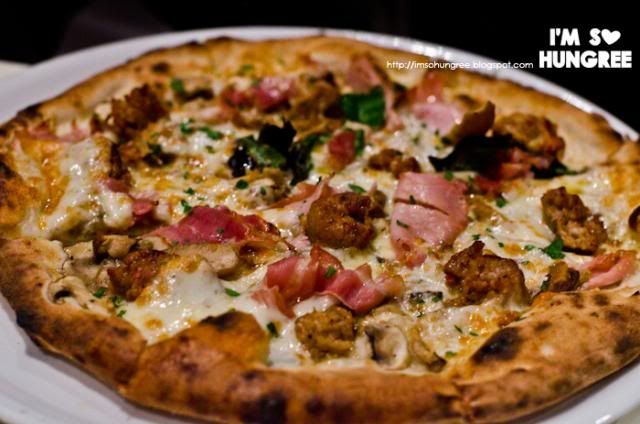 Dad decided for the regular base he would order a Porco Porcini 2 pizza (I don't know what happened to number 1), with truffle oil, fior de latte, provolone cheese, Italian pork sausage, pancetta, porcini mushrooms and parsley. It wasn't quite as lavish with the toppings as the other two, but it was still well balanced. It looked much prettier than the other two!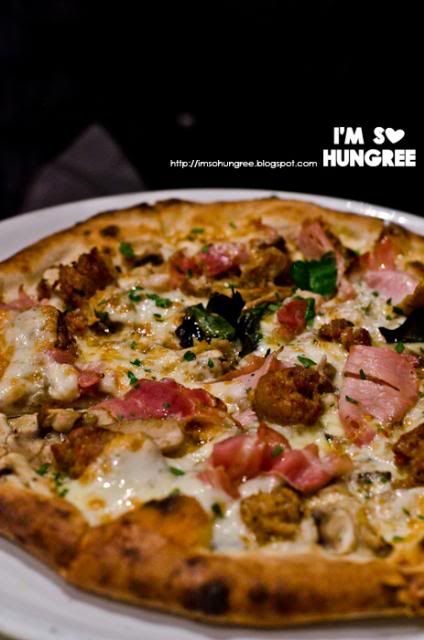 Dad commented that the regular base had much more texture and flavour to it, that the gluten free base was missing. I had a nibble, and honestly, I didn't think it was that different, but he deemed the regular base superior (which it probably is, I'm just in denial).
I thought Woodfire Cafe and Pizzeria made for a perfectly pleasant local, with people popping in for takeaways, but having a glass of wine before departing. The pizza bases as mentioned were a tiny bit on the wet side, but the toppings didn't feel too oily or too heavy at all.
All in, it was a rather jovial impromptu dinner for my family, and we had a great time poking fun at each other, and brainstorming stuff for work (hey, when you work in the family, it happens all the time. Sigh). We ended our night with a quick visit to the supermarket to restock on important supplies (chocolate ice-cream and milo, of course) before bundling home and putting on the documentary about Bill Cunningham.
And just a little reminder for you guys, there's a great little (or big) giveaway going on as part of Mushroom Mania month! Make sure to check it out! Maybe you could use your restaurant voucher on a mushroom pizza too...hmmm?