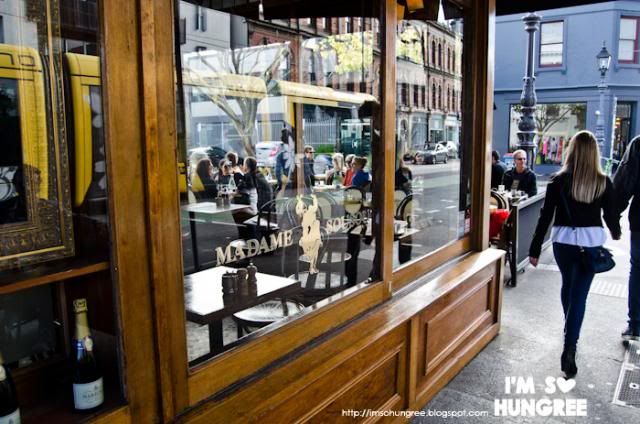 Why did no one tell me to visit Madame Sousou, sooner than I did? It was one of those places that had always been on my radar, one of those cafes that I always opened up on Urbanspoon when deliberating where to have brunch, but was always inevitably closed.
I don't really know why. Maybe because Melbourne just has too many cafes, because the lure of new and shiny is too tempting or perhaps I'm just terrified of parking in Fitzroy, because it really is kind of a pain in the butt sometimes.
But no matter the reason, I am most glad I finally visited the weekend before Brad and I jetted off to the states (cough cough, backlog, cough).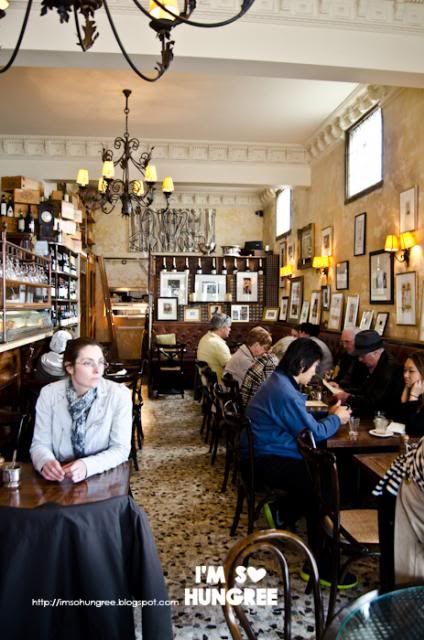 Stepping into Madame Sousou, you could be forgiven for thinking you were in a gorgeous little bistro in Paris. Stained glass windows along the top, lush leather seats, ornate iron chandeliers, boxes of wine piled up high, and let's not forget the wall collaged with memorabilia, bits and pieces, all work to create the space. Madame Sousou feels like it has been lived in, which gives her quite a charming character and atmosphere.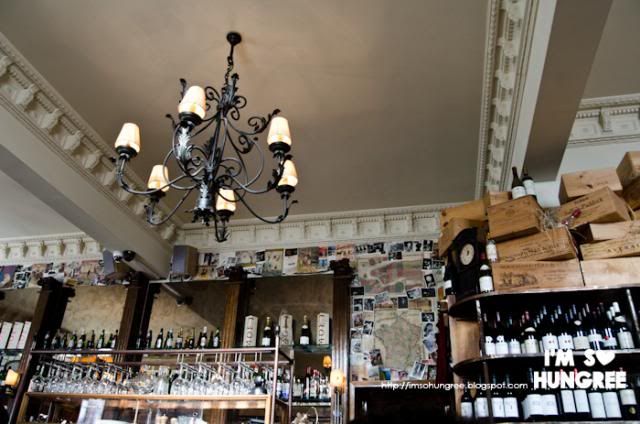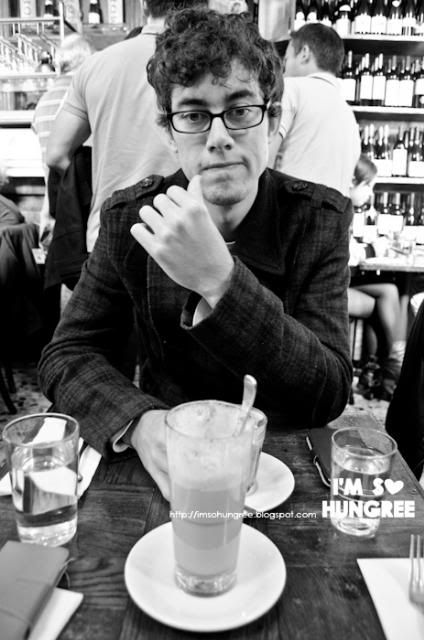 The place was bustling away when we arrived, but we were able to score a seat straight away for two at around 12:30pm.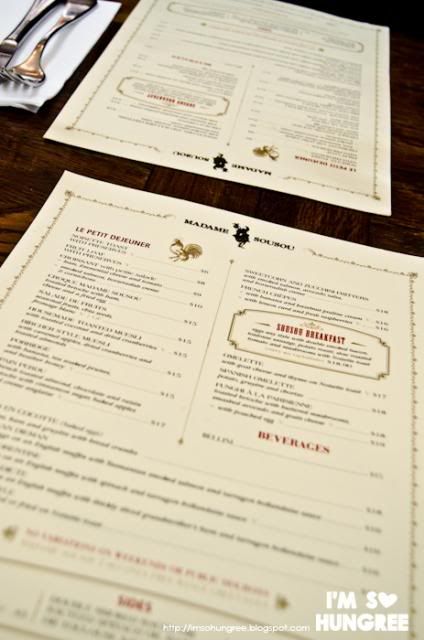 The menu speaks of breakfast favourites, but with a French twist here and there. There is a emphasis on eggs, florentine's and benedict's a tempting option, with a couple of lighter options and some French crepes. Of course.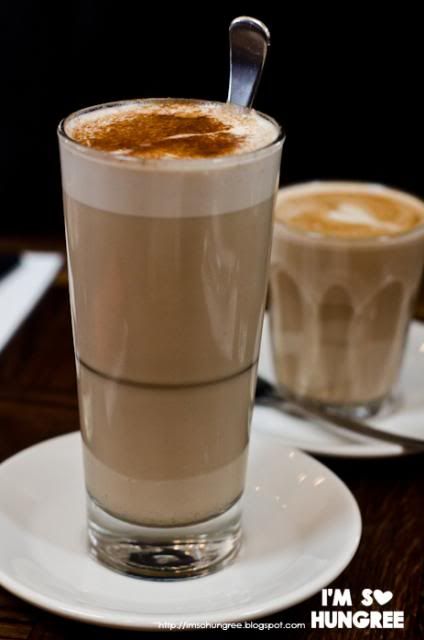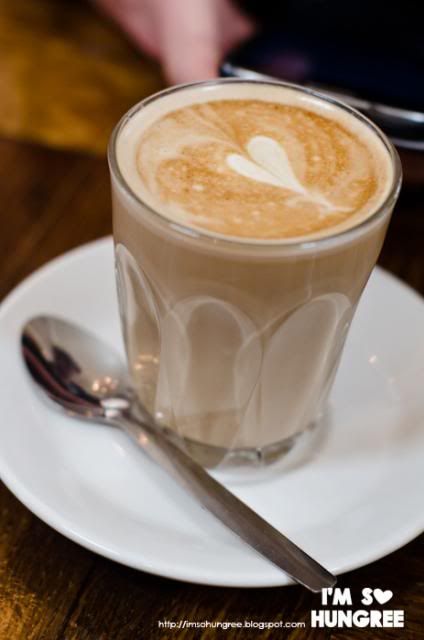 While the table next to us tucked into a bottle of champagne (12:30 on a Sunday? Why not?), I loved my tall soy chai, which tasted distinctly of honey sweetness. I thought Brad's latte could have used a little more foam at the top, but he finished it with no problems, so that's just me nitpicking. How cute is the little heart though?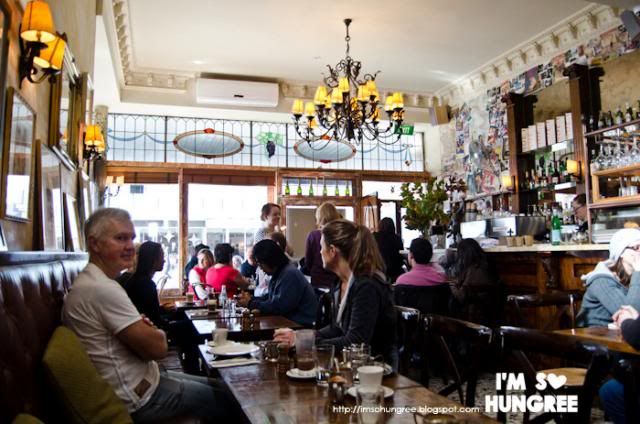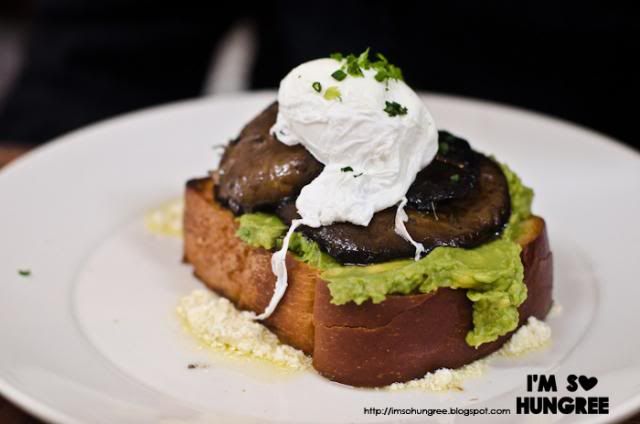 Brad went with Funghi a la Parisienne, toasted brioche with buttered mushrooms with smashed avocado and goat cheese rondelle. Being the boy he is, he added a poached egg for an extra dollar for the protein hit.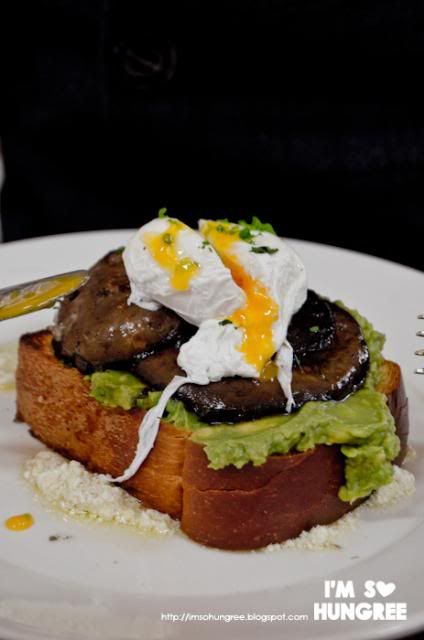 I really had food envy when his dish came out. A thick slice of buttery brioche is just one of those things that just gets those saliva glands going, especially when the egg is perfectly cooked as well. It's just so beautifully constructed, and the avocado looked so smooth and fresh as well.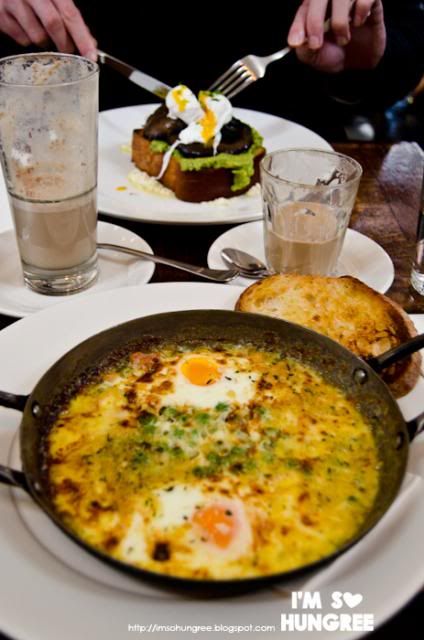 After a bit of uhming and ahhing, I opted for the 'œufs en cocotte', Madame Sousou's take on baked eggs with peas, ham and gruyere with bread crumbs.
You know how I said I had food envy over Brad's dish? Well that didn't really last for too long.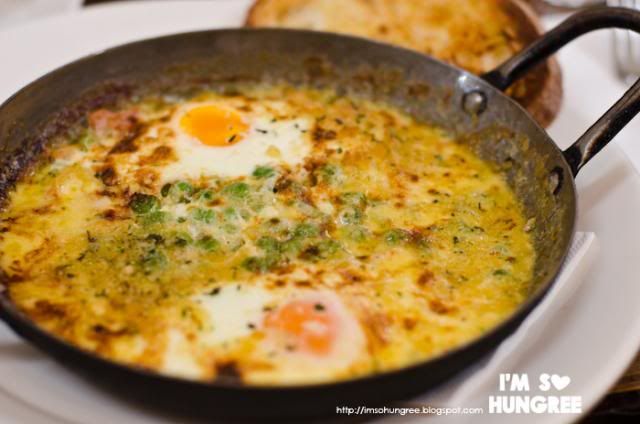 I mean, when the smell of oozy gruyere is wafting up to fill your immediate breathing space, you get a bit distracted. Just a bit. These were really sinfully cheesy baked eggs. Possibly the richest baked eggs I had ever come across, but I say that with all the glee in the world.
The yolks were a bit firm, but it worked for this variation of baked egg, as they were perfect to roll up in the stretchy gruyere and just be hit with a decadent mouthful. Peas are not a typical addition to baked eggs, but they worked to help cut through a bit of the richness and provide a bit of freshness.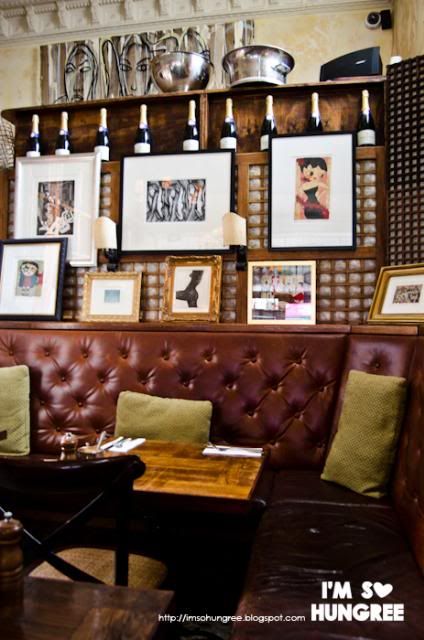 Madame Sousou is a flirt, I left absolutely smitten and charmed by the cosy and welcoming bistro, where the service is quick, but with a broad smile on every face. Where water is topped up with ornate silver jugs. Where the dishes tempt your eyes and seduce your palate.
I think I might be due for another date….