So even if you've been to Universal Studios in the Gold Coast (which I haven't), or the one in Singapore (which I have), it's worthwhile popping into the one in Los Angeles.
It's pretty simple to get there, just pop on the red metro line and ride to the obviously named 'Universal City' stop, cross the road and wait for the shuttle which will take you up past the carpark and to the entrance of Universal Studios! When we arrived, relatively early on a Friday morning (maybe around 10am-ish?), since we were still under the influence of jetlag, we only had a short line for tickets and found ourselves in the land of film magic pretty quickly.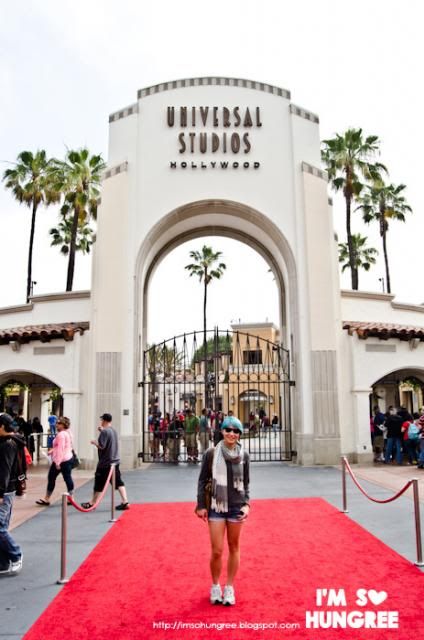 So why do I say that the Universal Studios in LA is worth visiting?
Well firstly, because it is the home of Hollywood, duh!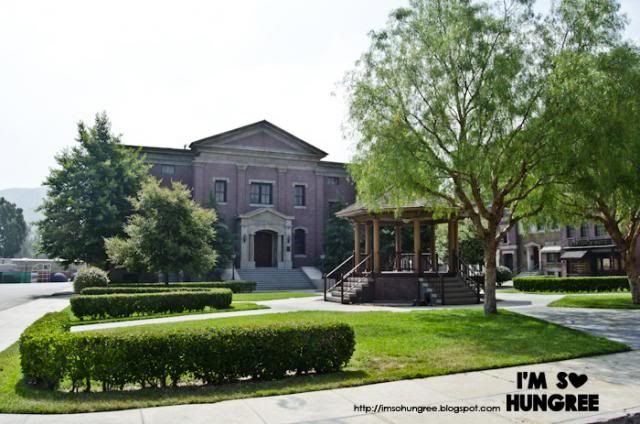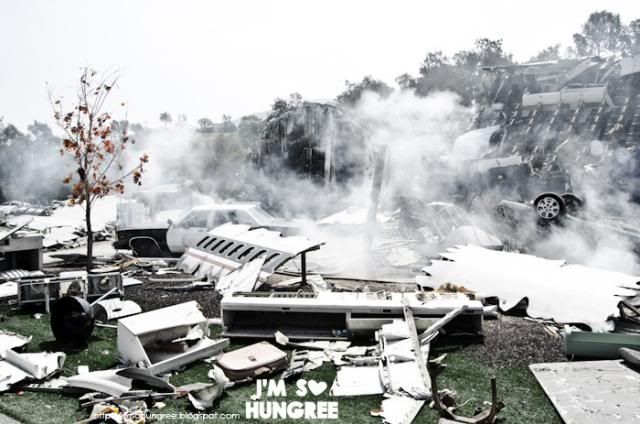 Secondly, because you're not going to get to go on the backstage tour, where the shows and studios all are, anywhere else in the world. Not going to lie, seeing the Mystery Machine got me excited. Seeing where some of the scenes from Back to the Future were shot was cool. Having a guy follow our little shuttle out from the Psycho house with a knife had me gripping to Brad's arm and laughing in an amused horror. The King Kong 3D experience is pretty darned cool.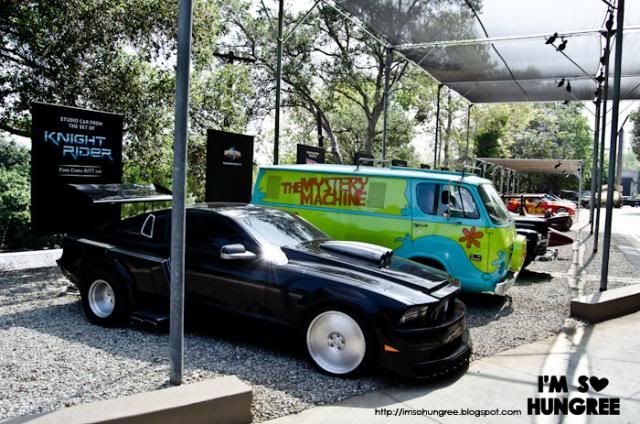 It's a pretty full on tour and many reviews I read recommend lining up for it as soon as you get there, if you're there early in the morning.
And so now I am also suggesting the same. Since we got through early it only took us about 15 minutes to get on one of the shuttles that take you around for roughly an hour. Later the queue was easily a 30 minute wait…and it's not even the weekend!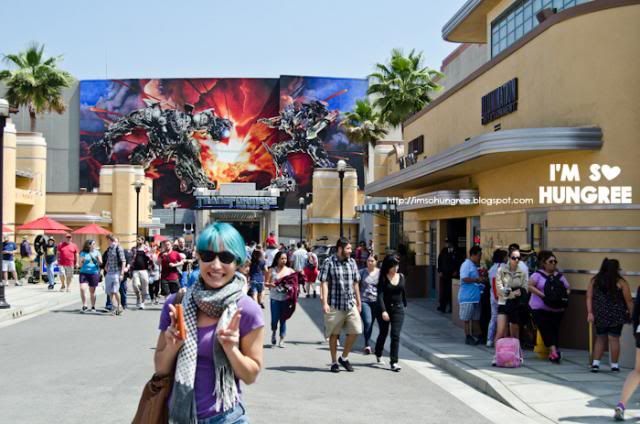 Thirdly, even on only 3 hours of sleep, I managed to power through the whole day with enthusiasm and energy, I was honestly surprised that I wasn't tired at all…so that must be a good thing right?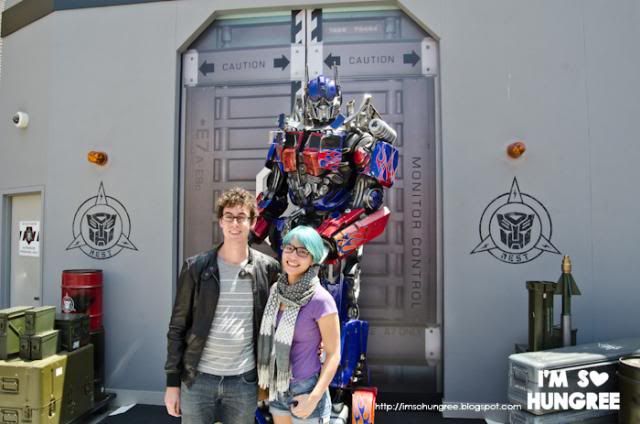 Of course I naturally loved the Transformer ride again and got a total kick out of the photo opportunities with rather impressive looking Transformer costumes. It kind of made me sad when people didn't take the opportunity to really talk or interact with them, since they were actually voiced by someone inside who would make appropriate in-character comments about the people taking pictures with them. Megatron was a hoot, for sure!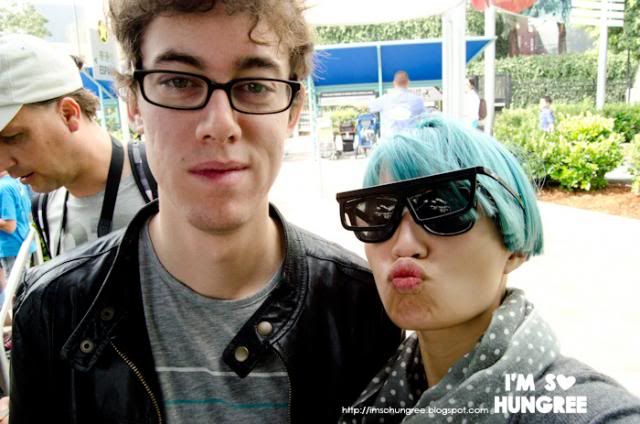 The only thing I didn't really like about the Universal Studios is in LA was the fact there was no 'real' rollercoaster. It was all virtual. Everything used 3D glasses. Where my g-forces at yo?
When it came to food options, there were a number of places to get food from, although it all essentially revolved around American comfort food. We did the silly thing of wait until lunchtime to eat (to get our body clocks in sync) which meant that we were faced with long queues everywhere when we actually wanted to eat. You could get Mexican, pizzas, fried chicken and much more, but we settled for some good old barbecue, Flintstones style!
One thing that also worried me a bit while we were waiting to order, was the fact that when we lined up at the Flintstones BBQ stand, there was actually a sign inside that mentioned their burgers contained certain chemicals which could potentially get cancer…and the number of burgers flying out of that place? Hmmm. Surely this is kind of questionable?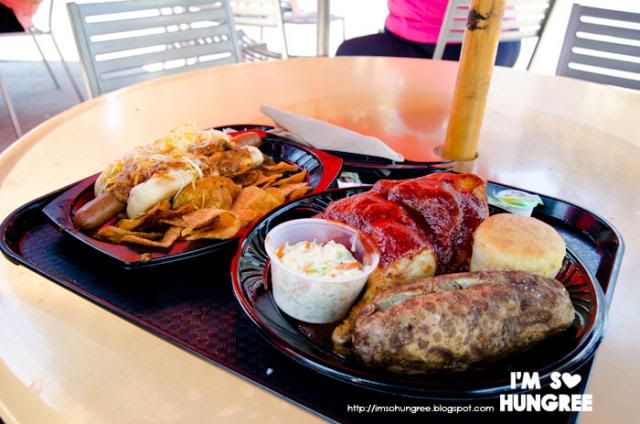 American meals confuse me so. I got a barbecue chicken, which was freaking huge (I'd need two faces if I wanted to faceplant all of it at once), smothered in sauce, with coleslaw on the side (okay I get that), a baked potato that was longer than my face (okay I get that too)…and sweet cornbread? That was kind of cold and dense?
No I don't get that. You don't need to put sweet into everything savoury Americans. It's okay. Really.
At least the chicken was juicy, even if it was smothered in sweet sauce, which meant it was a bit of a messy affair licking it all off the fingers afterwards, while having great remorse over what I just did to my body. I did like the really thick chips that Brad's chilli and chess dog came with though. Great crunch. The food was also quite reasonably priced for being in a theme park.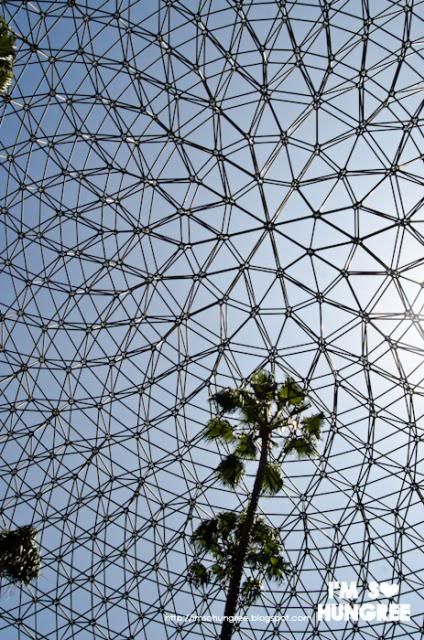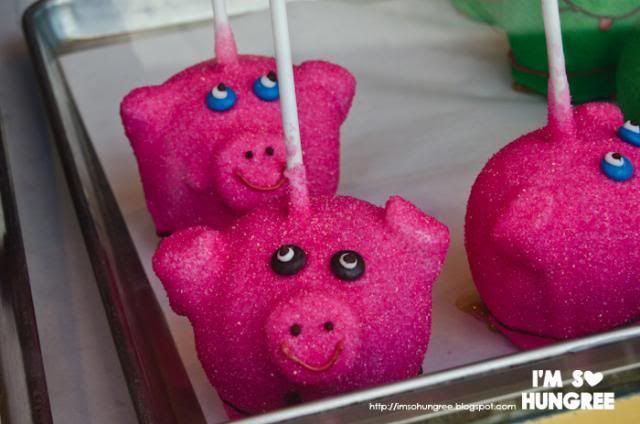 After Universal Studios, we walked around the CityWalk just outside the entrance, which is curious experience in itself. It's almost like a shopping street…that's a themepark in itself. We were tempted by a sky diving simulator, but not bothered to line up, and made sure we replenished with fro-yo (and also escaped the heat).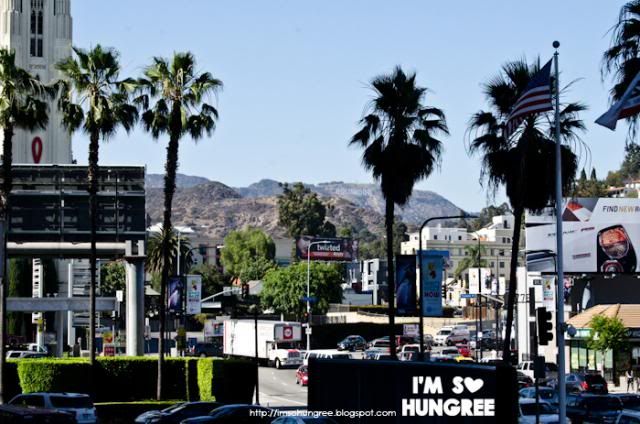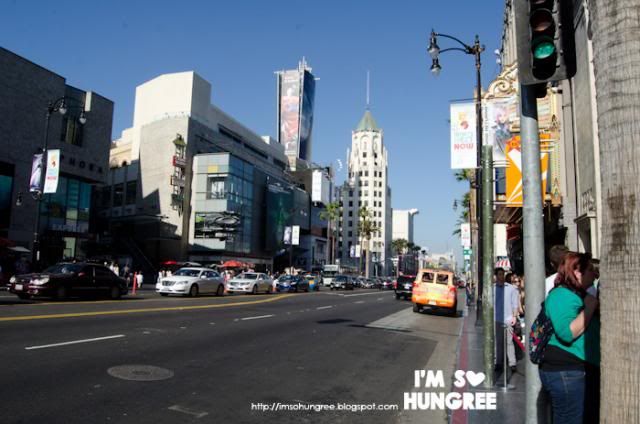 We popped onto the metro afterwards and made our way back to Hollywood Boulevard to do the usual touristy thing. It's funny actually, going through my photos, I don't have a lot of photos of the Boulevard itself, for some reason, maybe I was actually getting tired? But to sum it up, there are a lot of people on it, people wearing costumes who want you to take their pictures with them, homeless beggars and people yelling at you with placards to check out their $5 bags. It's certainly exciting, but rather exhausting as well!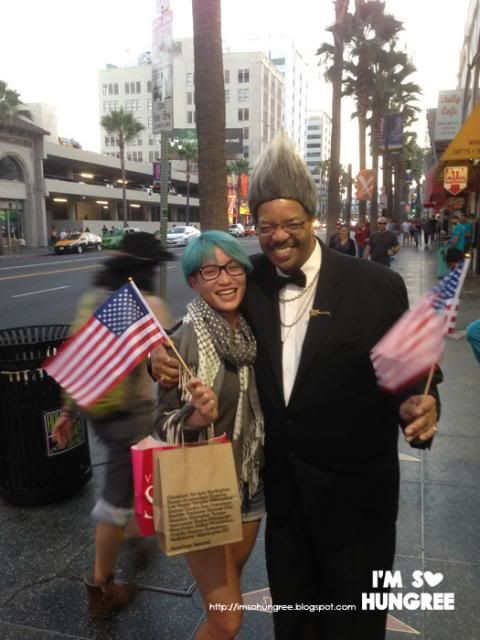 This guy was much more polite and complimented me on my hair, before we got our picture taken with him.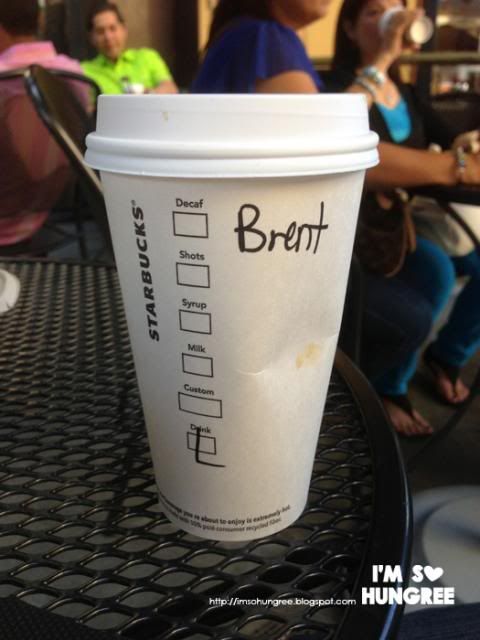 Brad was mistaken for Brent and discovered how Starbucks cup sizes worked, since it was his first time ordering for them. His coffee buzz was a little more than he was planning to get...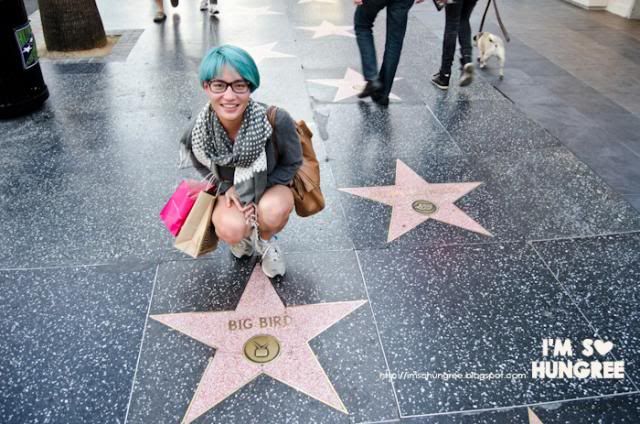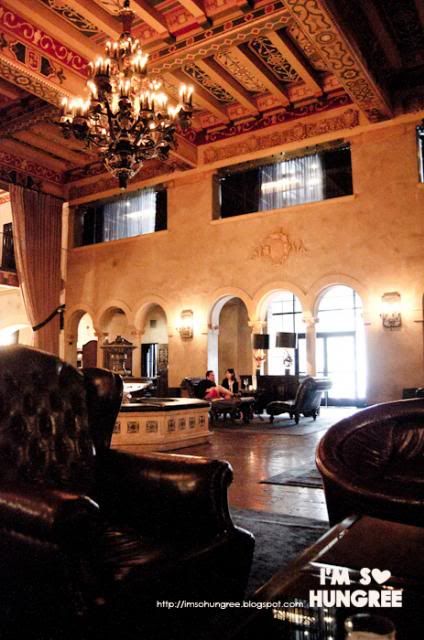 In contrast to the madness and people traffic outside, Roosevelt's door softly open to welcome you into a dimly lit, breathtakingly gorgeous space, that just for a moment, takes you off to some old mansion in Europe.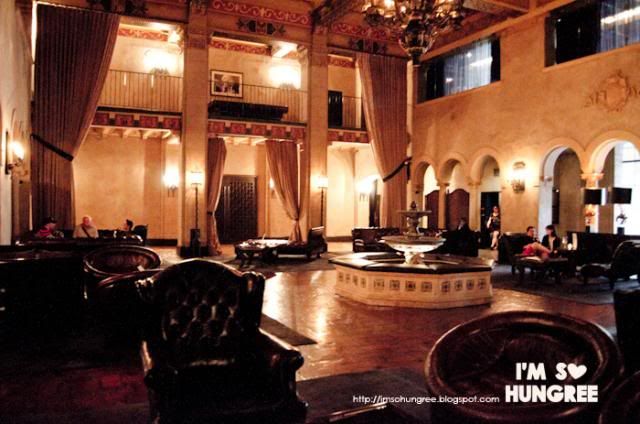 Furnished with lush leather seats, chandeliers and just the most exquisite details (loved the gorgeous little fountain in the middle), it's high ceilings and hushed tones were such a relief after being on Hollywood Boulevard.
Honestly I'm quite surprised it wasn't busier since it really is in a prime location, just minutes away from all the main theatres along that strip, but I'm happy if the Roosevelt Hotel stays as a bit of a hidden secret (although I don't mind sharing it with you lot, because I know you'll all respect the place).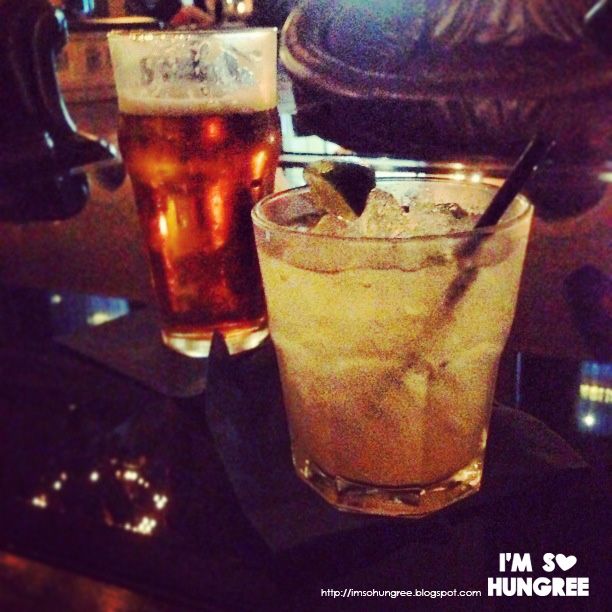 I mean really, $5 happy hour (5 to 7pm) cocktails, beers and wines? I got quite comfortably flushed on two gin based darlings (which are usually around $16 otherwise! Eek!) and comfortably leaned against Brad and sunk into plush leather goodness.
Although for the record, I tipped the bartender, tried to make some friendly small talk and he could have honestly been a bit…warmer I felt. I've always found bartenders in Melbourne to be good natured, chatty and warm (and if you're a guy, surely it's good to be a little flirty) but didn't get any of that here in this particular instance. Basically, what I'm saying is that for those who are like "You need to tip to get good service," that argument doesn't have legs for me.
But that's another conversation for another time and maybe I just got him at an off time.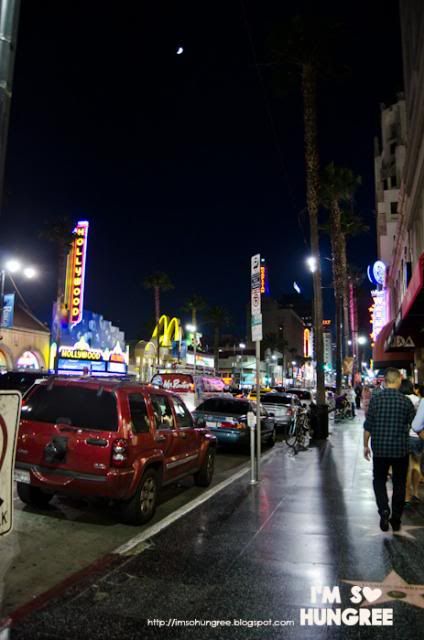 I loved that the shops opened late in America in general, as after a couple of tipples, I dragged Brad over to do a little more shoe shopping, before strolling on back to the metro and back to our hotel. Where I got my first full night of sleep. Thank goodness!