You know, I was going to save this and do this post a bit later…but…dude. Burgers.
You know the names. You must. Whilst I didn't eat as many burgers as I should have in the States, I naturally made it to these two places, on each coast, that hardly need an introduction.
In-N-Out, beloved by the Californians, especially on road trips or late nights, founded in 1948 and still kicking. The place has been around so long, they've got a 'not-so-secret' menu that everyone knows, but can't be found in the shop. It's kind of cool. Unintentionally, not in that pretentiously hipster way.
Shake Shack, whilst it may not have the years on it that In-N-Out does, having been set up in 2004, has quickly become a staple 'must-do' while in New York and have already expanded their empire overseas (please come to Australia one day?) The menu's a bit bigger than In-N-Out, with most meals and needs (except breakfast) covered, but with that longer queues as well. Like. Much longer queues.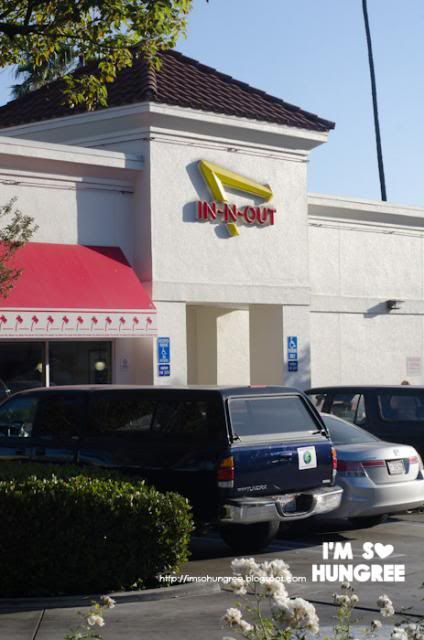 Let's start with In-N-Out.
Brad and I visited the In-N-Out on West Sunset Boulevard, just a block away from the craziness of Hollywood Boulevard, after a long day at the Universal Studios…on 3 hours of sleep. Seriously, jetlag you're a bitch. I was somehow still totally pumping on energy though, not sure how that works!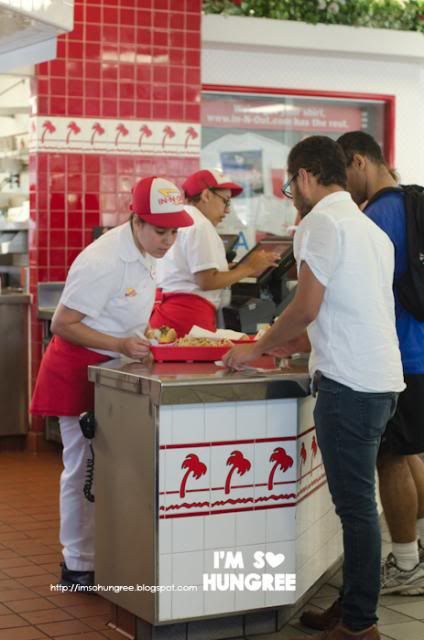 The West Sunset Boulevard location was your average sized fast food establishment but even at the early dinner hours of 6pm was completely packed out, with almost every seat taken!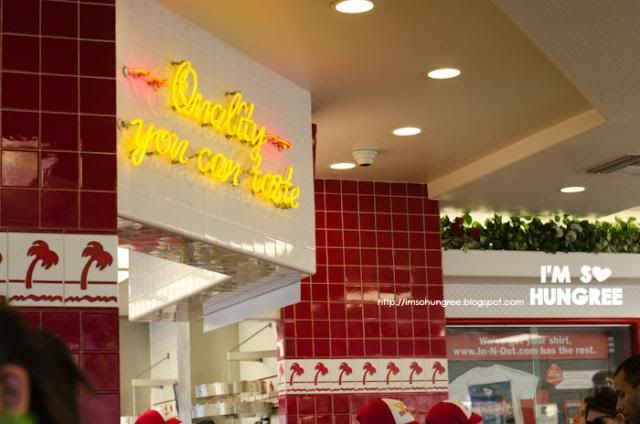 I found the decor charmingly retro, squeaky clean white tiles, quirky palm tree motifs and adorable neon lit signs. It felt a little like a time warp, but in the best way possible.
It's kind of amazing watching In-N-Out bang out burgers like nobody's business. Since there are only burgers, fries and a handful of drinks available on the menu, it's obvious they've got their procedure down pretty solidly.
By also keeping the menu so succinct, I assume they've managed to keep the costs down too. I was floored for two burgers, fries and a drink we paid like…$7? Maybe? Dinner for two for $7. Can't get over it.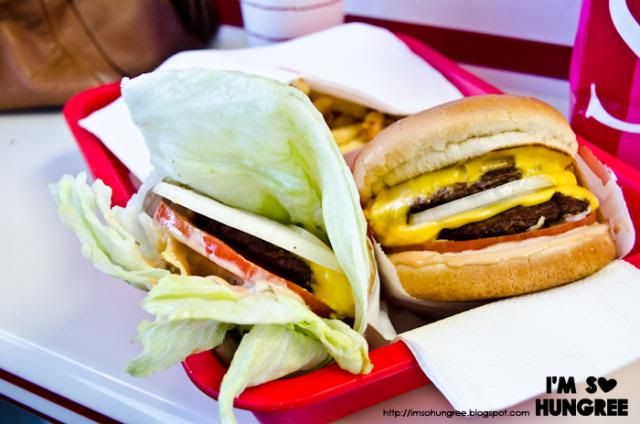 It didn't take us long to get our little red tray of joy.
And oh man. What a joy. I got the cheeseburger 'protein style', which means in place of the bun you get your burger wrapped up in a lettuce leaf. Great for those who want to be gluten free too!
I found the burger (which is advertised as 100% pure beef) to be really very tasty, tender and well seasoned. Definitely more flavoursome than any fast food joint back in Australia! I loved that the cheese was melted just enough so that it wrapped around the burger. I loved that there was mayo. Sweet, sweet mayo in both of our burgers. I'm not sure about you guys, but the right amount of mayo completely wins me over in burgers.
Brad got the 'Double double' (more cheese, more meat) and I had a wee nibble just to see what the bun was like. I found it to be light, sweet and fluffy, which really complimented the beef patties quite well.
It's kind of interesting that in the country of excess, a lot of places do rather modest sized burgers, that could be good for a snack, or a meal for someone who's not that hungry. If you were super hungry, you could easily down 3 cheeseburgers…or have a stand off with the '3x3'…which includes three beef patties….tempting no?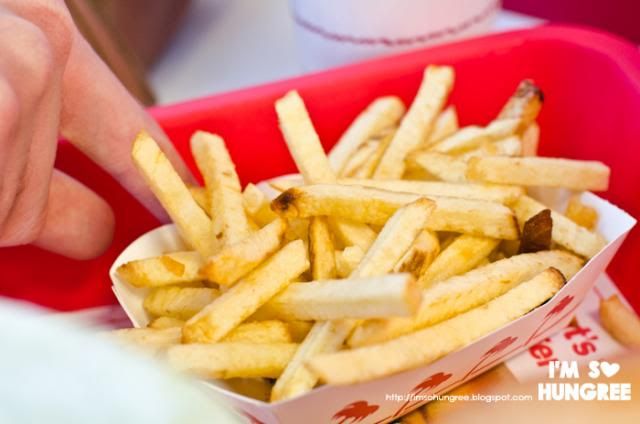 Whilst the fries weren't super crispy, they still had a rather nice crunch to them and an enjoyable texture. I liked that they had the remnants of potato skin on either end, as I felt it just added a bit of extra flavour. These really had a pleasantly rich potato flavour to them, rather than just being all salt and crunch. I do kind of wish we had gotten the chilli cheese fries though…ah well…
Brad and I liked In-N-Out and if we had had a car would have probably seen it a lot more (although my waistline probably thanks me for not doing so!). I really can't get over how cheap it was though and can certainly see why America kind of runs on fast food…it's cheap and tasty, but not overly healthy, but I guess you could be eating much, much worse (deep fried everything? anyone?).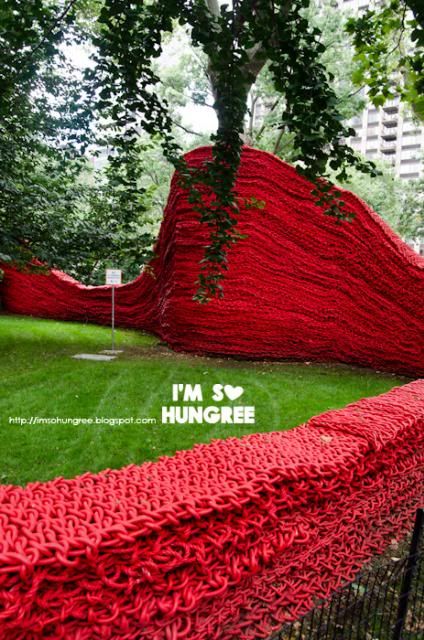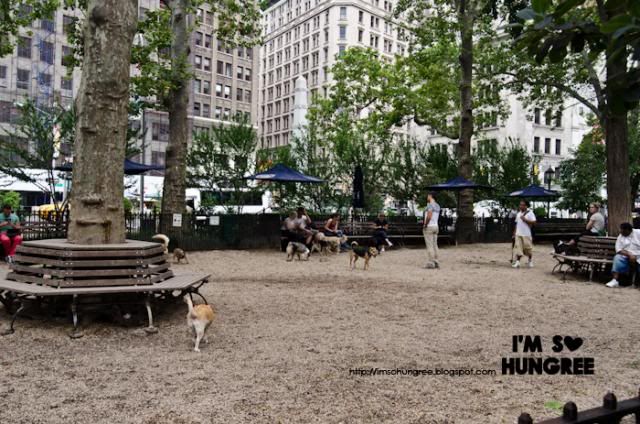 We first encountered Shake Shack wandering from our hotel in Koreatown down to Union Square to check out the market. As we passed by Madison Square Park, after looking at some artsy rope installations and squealing over the dog park (or maybe that was just me), I noticed that Shake Shack was open…and there wasn't much of a queue happening.
It was 11:20am at this time.
I looked to Brad and although we had had breakfast not too long ago, decided we could do an early lunch.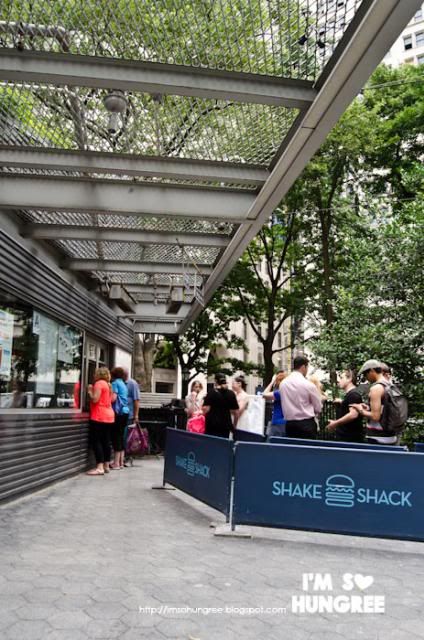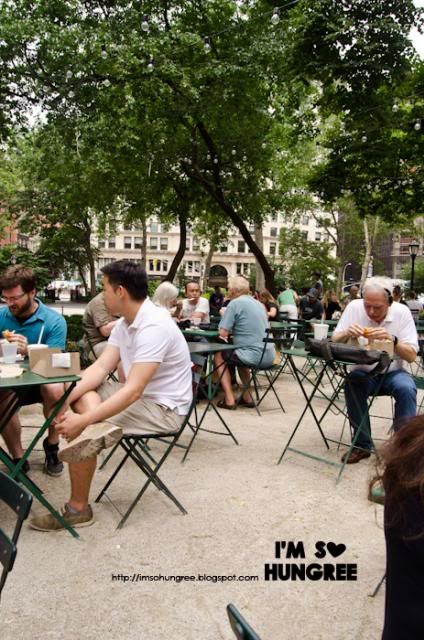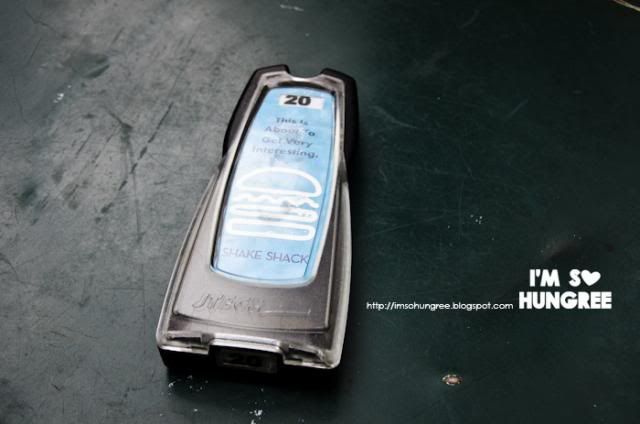 So we popped into the line, and waited around 5 minutes before we got up to the counter, placed our order and wandered over to a seat, watching our electronic ding dong thing that would tell me when food was ready. Seriously, even when I'm watching it and know it's going to start vibrating and making noise, I still jump. Every. Single. Time. Brad loves it. Grr.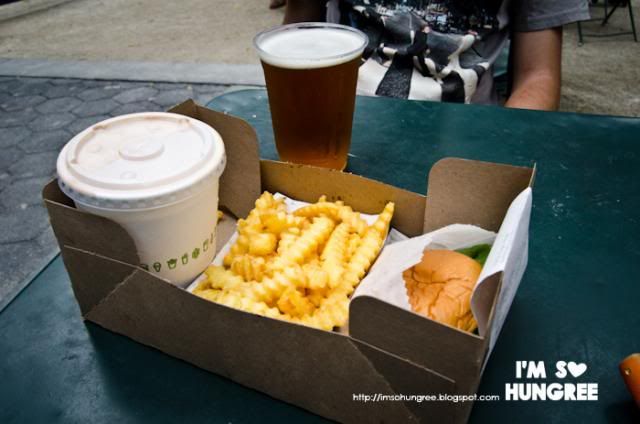 Since it was still relatively early in the day, we just ordered a serve of chips and one Shackburger (cheeseburger with lettuce, tomato and Shacksauce) to share between the two of us.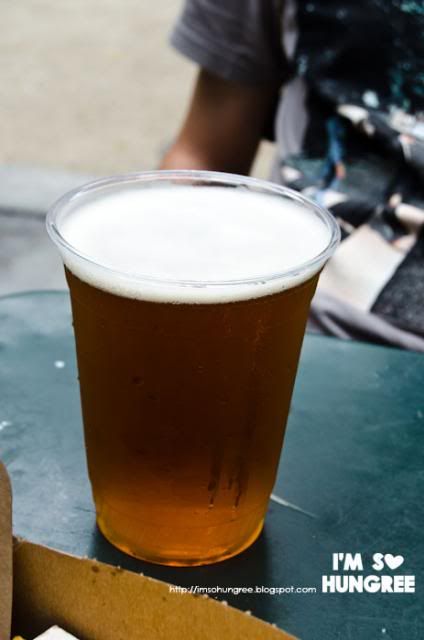 Brad had their ShackMeister ale, brewed specially for Shake Shack by Brooklyn Brewery, which was a cool and refreshing treat in the hot weather. I liked that it was quite bright in flavour and not too hoppy, which made for relatively easy drinking.
Also drinking beer in a park. Um yes!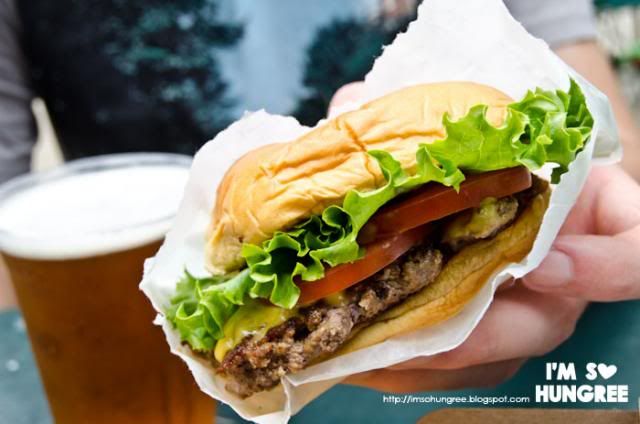 The Shackburger is quite a treat. Lovely juicy tomatoes, soft bun, and tasty beef pattie. All of the elements that lend to a good burger, but for the point of this post, in comparison, I think I preferred the In-N-Out burger better. Brad thought the Shake Shack's burger tasted more beefy, but I thought that it wasn't as well seasoned as In-N-Out's. And for me, the big thing it was missing was that hit of mayo I had at In-N-Out. Sure, it meant that Shake Shack's burger was much neater and tidier to eat…but I've always said I love food that's finger lickin' good.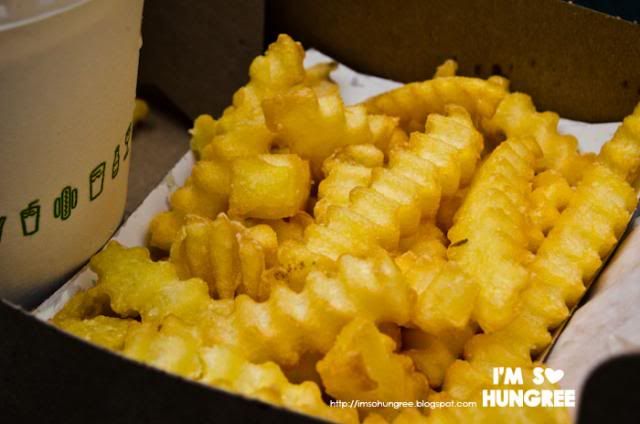 One thing that In-N-Out definitely had over Shake Shack were the fries. Although a generous serve, the crinkle fries were soft, with no contrast in texture and were overall rather bland in flavour. We didn't actually finish these, which says quite a lot I think.
What Shake Shack does though, that will always mean they have a soft spot in my heart, are their shakes. Lord have mercy.
I tried the black and white shake in Madison Square Park and it was just perfection. Hits you with a big bout of real chocolatey flavour, has a nice thickness in texture so that you can swirl it around your tongue with glee, but not have it get stuck in the straw on the way up…and just…everything. Everything. Especially when it's like 30 degrees out. I wish I had words for it, but even in front of Brad when I took my first sips, I just went silent. Then turned away and had a quiet moment to myself.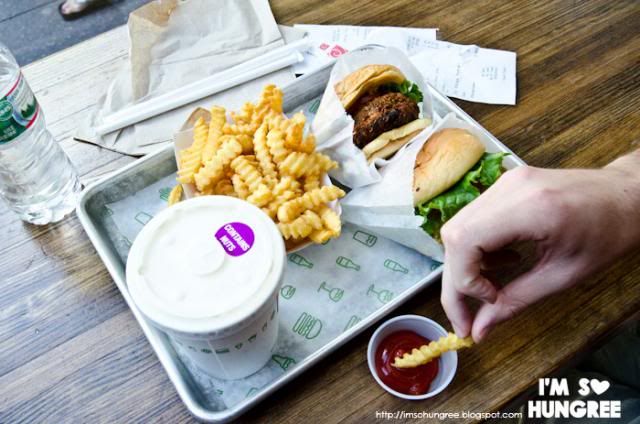 The second time we had Shake Shack, we stopped by the Upper West Side location, which is pretty much next to the Natural History Museum, where I met the peanut butter shake and fell in love all over again. There are just zero words. Zero.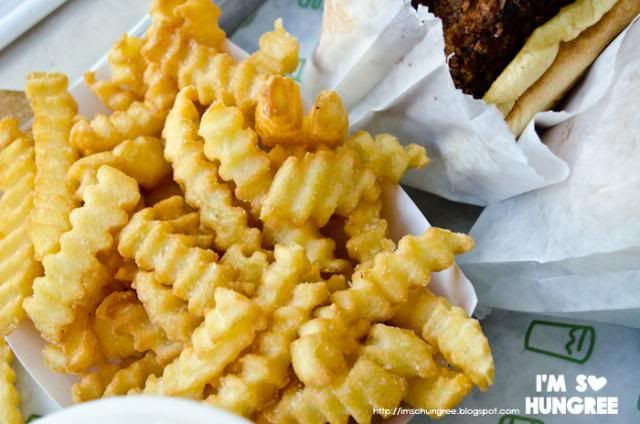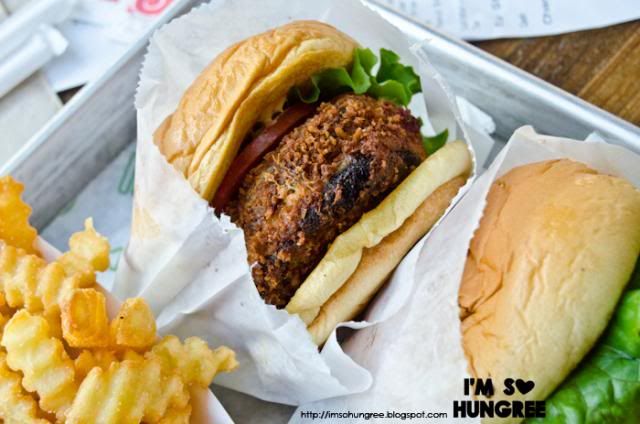 The fries were a bit crunchier this time, but still for the most part quite unremarkable, however the 'Shroom burger I had, with a crisp-fried portobello mushroom filled with melted muenster and cheddar cheeses, topped with lettuce, tomato and Shacksauce was quite delightful. I loved that the mushroom had been fried, giving texture to the burger, but also keeping the juiciness of the mushroom intact. I think I might've preferred it over the regular beef patties even!
Brad and I were quite fortunate to beat the lines as we went at rather odd hours. After we got our meal at Madison Square Garden, once it hit 12, the line started to creep longer and longer around the park, I was floored to watch it grow! And at the Upper West Side, we must have gotten there at about 3 or 4pm, and found that a spontaneous crowd suddenly descended upon the place as we left.
So to put it in a nutshell, on the basis on burgers and fries, I personally preferred both at In-N-Out in Los Angeles. Not to say that Shake Shack was bad though! Shake Shack is fabulous due to it's variety as they also have hot dogs, frozen custard ice-cream concretes (which I missed out on sadly) and booze too for when you want to make your meal a little fancier with a glass of vino, so there's something for everyone.
And I'd quite happily drop by any time for a shake. Or two. I actually nearly did two at one point. I was so tempted. They were so good. Maybe three? What do you think the gym has to say about that? Hmmm….
What about you guys? Have any of you done both? I'd be interested to see what you think and if your thoughts differ to mine!