Disclosure: I dined as a guest of Le Flaneur.
Le Flaneur is dressing up for the evening.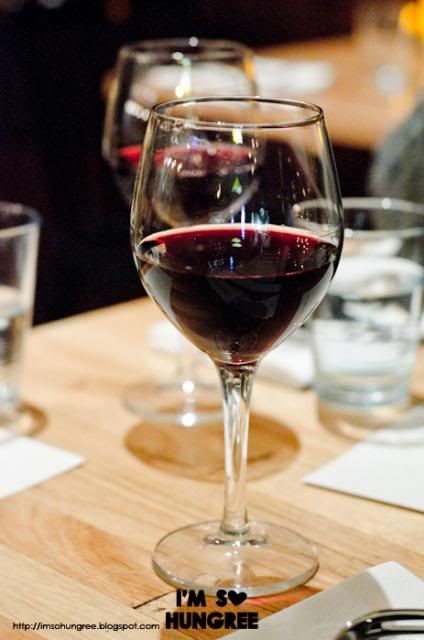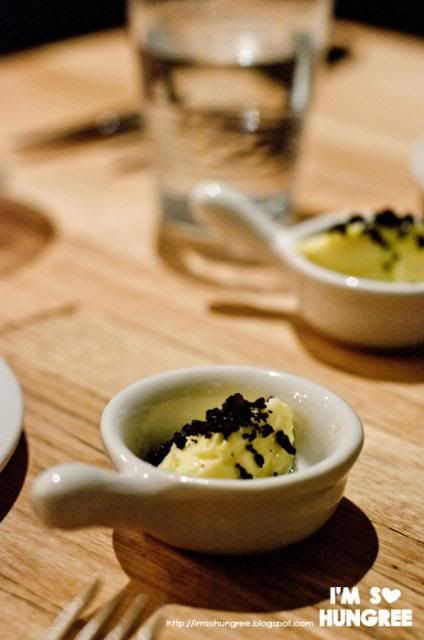 Put away the coffee cups, pull out the wine glasses. Have your bread that's been toasted to perfection, lightly brushed with butter, that's been sprinkled with chopped black olives. Seriously delicious.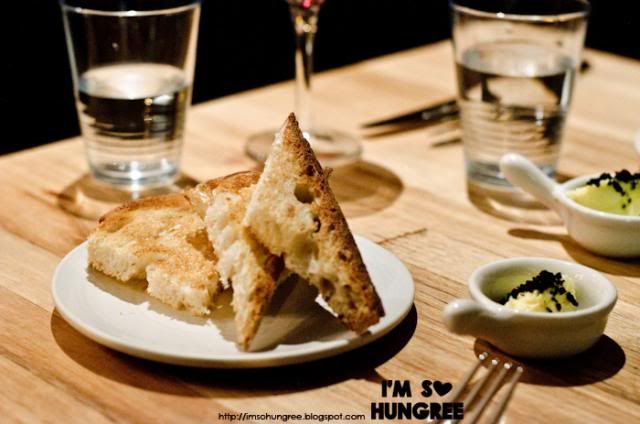 Yes, Le Flaneur, which I have written about before, having enjoyed their charming interior and darling brunches on numerous occasions, are now open for dinner on Fridays and Saturdays.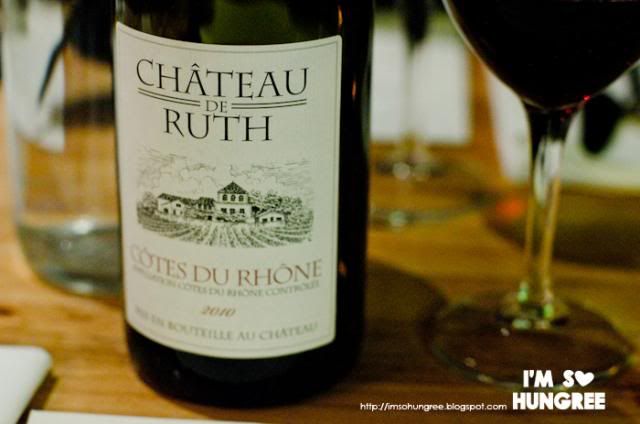 I visited with Brad, Allan and his friend Agnes. Even though Brad and I much closer, we were surprisingly the later party to arrive, although Allan had perfectly pre-empted our arrival and had gotten a bottle of red for us to share. Allan knows what he's doing!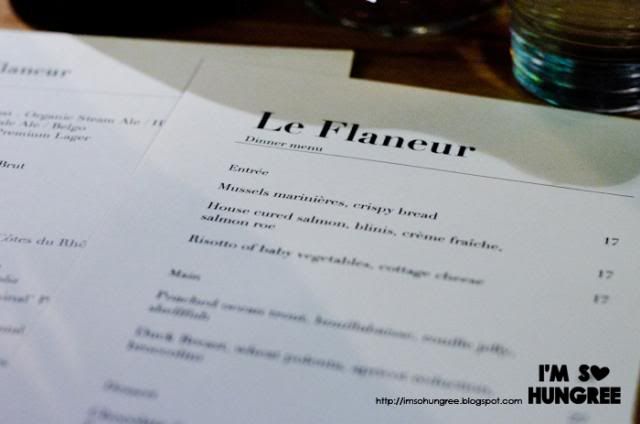 The menu is small and changes every two weeks, with a handful of entrees, two main options and two dessert options, you'll fortunately not have any problem deciding what to try, as you'll simply just have to get everything! I mean, that's what we did! And although by now, you won't be able to eat what I have, I hope it gives you an idea of what you could potentially expect!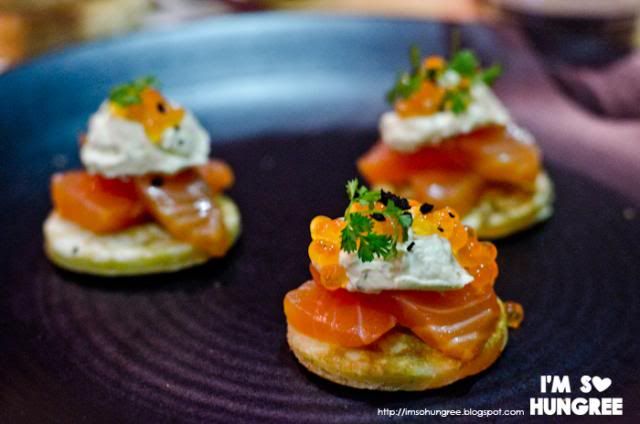 The house cured salmon bellinis were fresh and surprisingly very zesty, with a nice hit of lemon in the creme fraiche. I enjoyed the smooth and chunky cuts of salmon, it was lovely to have something to sink your teeth into and really get a mouthful of freshness. The fish roe on top added a pop here and there in the mouth, a playful little texture. I don't think this would be everyone's thing, as the zest was quite strong in flavour, but I thought it made for a nice fresh start to the meal that woke up the palate.
The mussels marinieres were so, oh just so, so sweet, and so fresh. I just kept reaching for mussel, after mussel. The sauce was just beautiful, not too heavy but so incredibly moreish.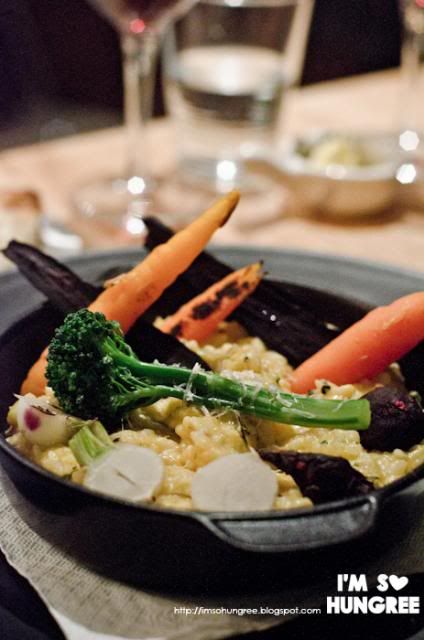 We were all a bit surprised by the size of the risotto and were commenting on how we could quite comfortably have it as a main. A medley of colourful vegetables, this was quite creamy, rich and heavy, so it was just as well that we were all sharing!
I honesty don't remember who got which main, as we were swapping the around so much, but for both, we all thought that they were quite generous with the protein portions.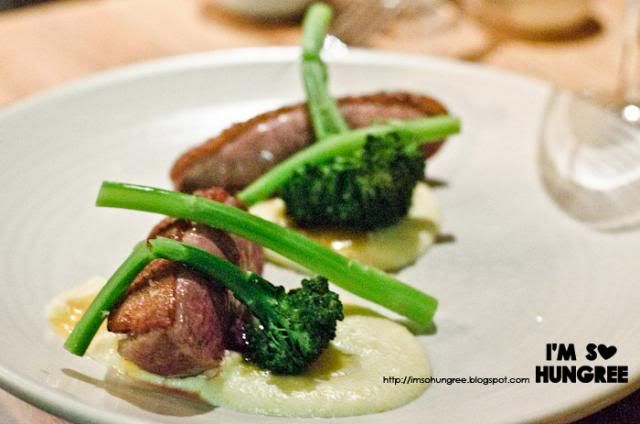 Take for example the duck breast served on very generous spoonfuls of soft wheat polenta with an apricot reduction and broccolini. It too me a while to get through all the meat! And how lovely the meat was, blushing pink and so tender, with crisp skin. I adored the apricot reduction, which was so sweet and fruity and an unexpected addition as you don't really see it on the dish, or just assume it's a bit of the jus.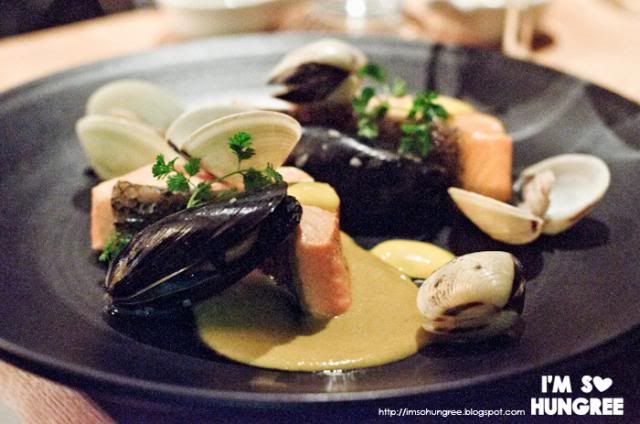 The poached ocean trout with bouillabaisse, rouille jelly and shellfish was also quite generous with the proteins, with two healthy portions of trout. I feel like trout's not something you see on menus very much at the moment, and I should probably educate myself more as to why, but it's a fish I do actually quite like the flavour of and it was refreshing to have something different. Whilst I do love a bouillabaisse, and was a little sad not to see it as a soup, when reduced and quite a bit thicker, it did make for a lovely sauce that just wrapped everything up quite nicely.
We were naturally wiggling in our seats with excitement for dessert and we weren't disappointed!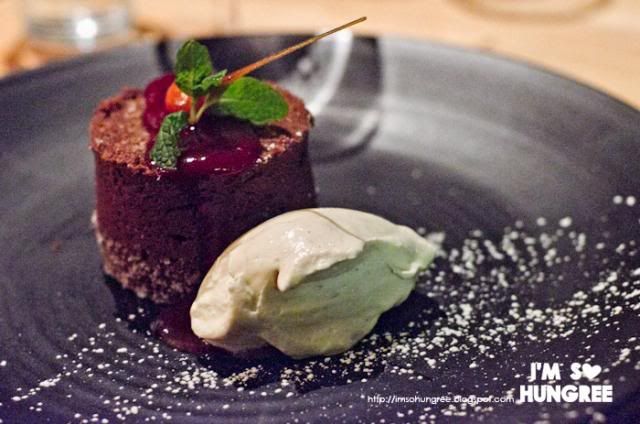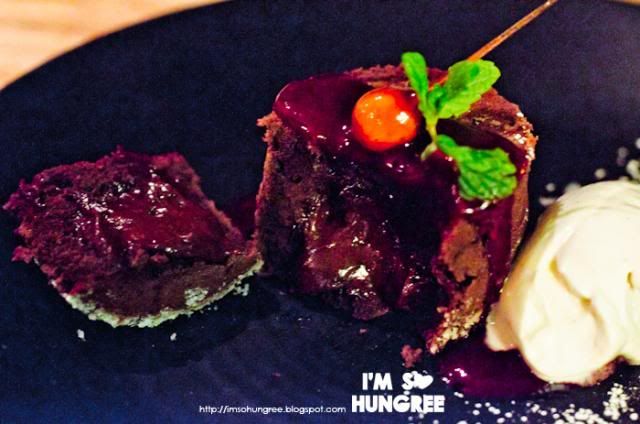 Chocolate fondant flavoured with raspberries and tonka beans, is expected and perhaps a little typical, but never unwelcome. Especially when it's soft and gooey and all ganache like inside and it just makes you melt on the inside as well with joy to see it. Or me anyway. Maybe not Brad so much. It had a lovely deep cocoa flavour, with a touch of raspberry to pick it up a bit.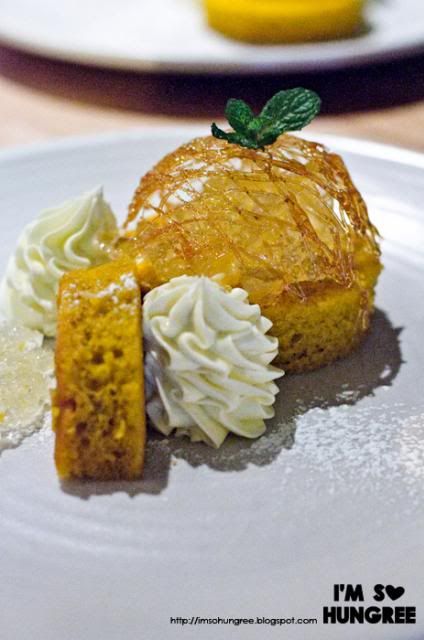 Although I do usually favour desserts of the chocolate kind, the carrot cake with orange blossom creme fraiche, surprisingly spoke to my taste buds more. Soft, light and fluffy, with only a subtle hint of orange blossom (I'm not usually crazy for orange in desserts) and a crackle or two of the caramel net over the top, I think overall I found this dessert a little more exciting with more elements to it.
In all, it was a lovely and quiet meal in a rather relaxing environment, with good company. Brad and I calculated later that the meal would have probably cost around $55 a person for food, which I think for the portions and quality was pretty good value. Although I've enjoyed Le Flaneur as a brunch spot, I do feel that with dinner they are taking it to a much higher level and letting the chef get his fancy knives out to play with for a little while.
And really, why not add a little French twist to your week every now and again. Even the waiter had a French accent (which Brad gave me evil eyes for swooning over) and you'll always have something fresh and different every time you visit.
5 Church St
Hawthorn
,
VIC
3122